I feel as parents, most of us try our best to educate ourselves on child safety. But sometimes I'm surprised when I'm talking with another mom and she doesn't know about certain safety measures. However, that's the thing about parenthood, there's no school to attend. You learn by either self-education or by others telling you.
When baby proofing comes up with other parents, they'll talk to me about putting safety locks on the kitchen cabinets, safety latches on toilets, and outlet plugs in electrical outlets. But they rarely mention anchoring their furniture or appliances, like TVs, to keep them from tipping over onto their children.
If you have children in your house, it's imperative that you anchor furniture, electronics, and appliances.
The Consumer Product Safety Commission (CPSC), along with IKEA, announced a repair program that includes a wall anchoring kit for their dressers. The program was spurred after two children died earlier in the year after their IKEA dressers tipped over and fell on them.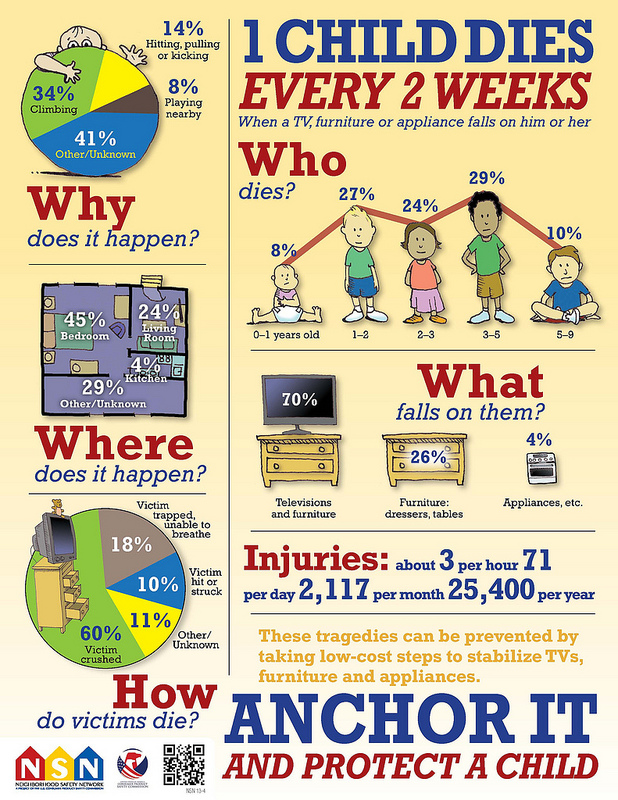 image via Consumer Product Safety Commission
But please keep in mind that tip-over incidents can happen with any kind of furniture or electronic, not just IKEA-specific items. I applaud IKEA for being pro-active about sharing the message. If you visit their site, on every item page, even items that aren't furniture, they have a blurb about preventing tip-overs and a link to their information page.
According to the CPSC, a child dies every two weeks as a result of a tip-over incident– most are under the age of 5. And of the 363 fatalities reported from 2000 to 2011, 62% of the deaths involved a falling TV.
When the CPSC and IKEA wall anchoring program was announced, the Washington Post published an article on it. In the article, they interviewed Jackie Collas, a mother whose 2 year old son died as a result of an IKEA dresser tipping over and falling on him. If you don't read the article, here's the excerpt that stuck with me.
While she waited for an ambulance, Collas desperately tried to resuscitate the small boy. After his funeral she would learn that Curren had no vital signs when the paramedics took over. CPR wouldn't have saved him.

Knowing that, she wishes she had stopped lifesaving efforts that day, she told the Philadelphia Inquirer.

"I would have held him a little longer," she says. "While he was warm."
After reading that, I was left with tears pouring down my face. As a mother, my heart ached for her and her family. After the tragedy, Jackie started a blog where she shares Curren's story and her journey.
So today I wanted to share how we anchored the dresser in Owen's nursery to the wall.
I made a short video showing how little effort it takes to tip over a dresser. Please watch it below. (There's no sound.)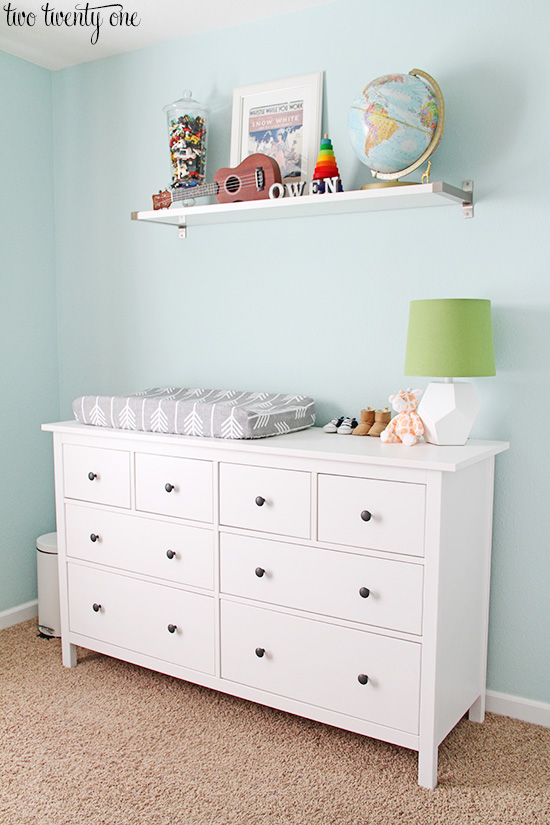 We purchased eight of these furniture straps for a total of $18. So I'm going to show we installed them.
Whatever straps you get, just make sure you read and follow the instructions.
** In our next house, we'll most likely upgrade to steel cables for extra assurance. You can buy steel cable installation kits here and here.
Disclaimer: follow the directions for your specific furniture and electronic anchoring kits.
Supplies Needed to Anchor Furniture
furniture strap kits (we used these)
stud finder (here's ours, but here's an inexpensive one)
tape measure
cordless drill (this is optional, but suggested)
impact driver (here's a drill/impact driver combo)
pencil
If you need to secure your TV, here are some TV straps.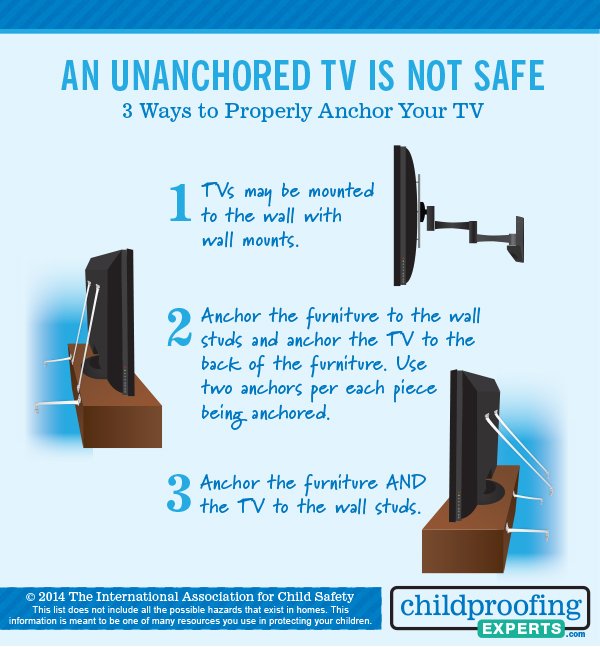 image via The International Association for Child Safety
Find the Studs
Furniture straps should always be secured to studs. So start by locating them with our stud finder and mark the studs behind the dresser.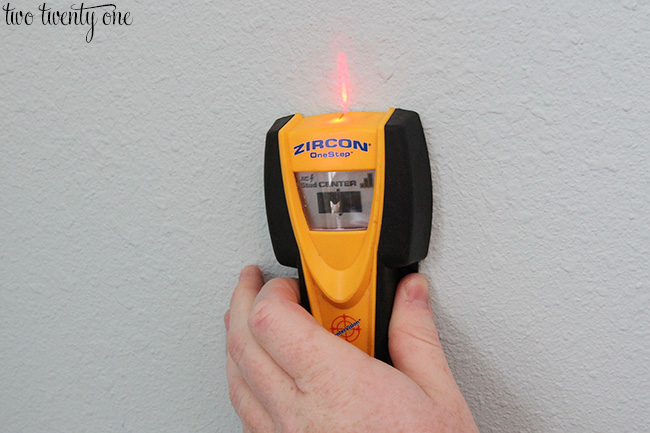 Pre-Drilling
The straps we used are supposed to be secured to the wall nine inches below the dresser.
Start by pre-drilling the holes that are smaller than the screw with your cordless drill. This is done so the screw will go in easier and be less likely to split the wood. The furniture strap bracket serves as your guide for where the pre-drilled holes should go.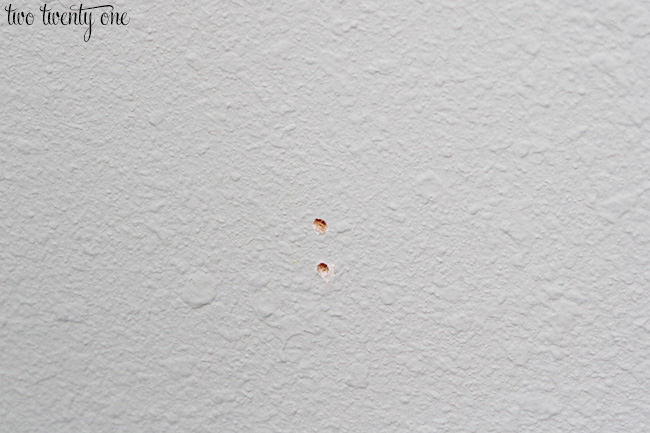 Drive the Screws
Drive the screws into the studs with an impact driver, securing the bracket to the wall. Impact drivers just help to not strip the wood. They also function kind of like a hammer, so while it drills, it hammers the screw into the wood.
Here's the drill and impact driver combo set that we own. But here's a more inexpensive drill and impact driver combo set. If you don't have both, you can always ask your friends or family if they have two that you can borrow.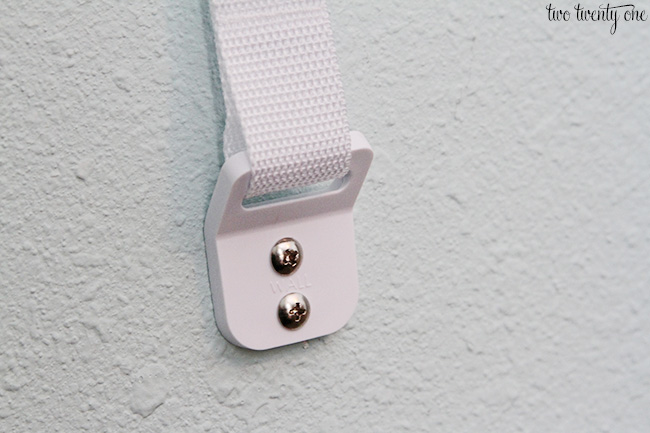 Mark the Dresser
Move the dresser back to its original spot to mark where the furniture bracket needs to go on the dresser. Use a pencil to mark where to put the bracket.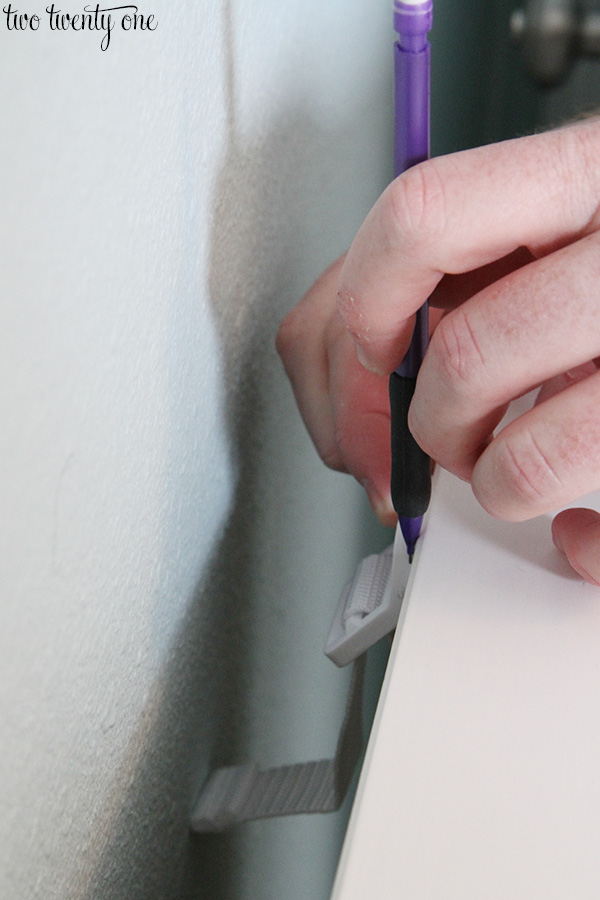 Pre-Drill the Dresser
Then, move the dresser back out and pre-drill two holes, using the bracket as your guide. Erase the pencil lines.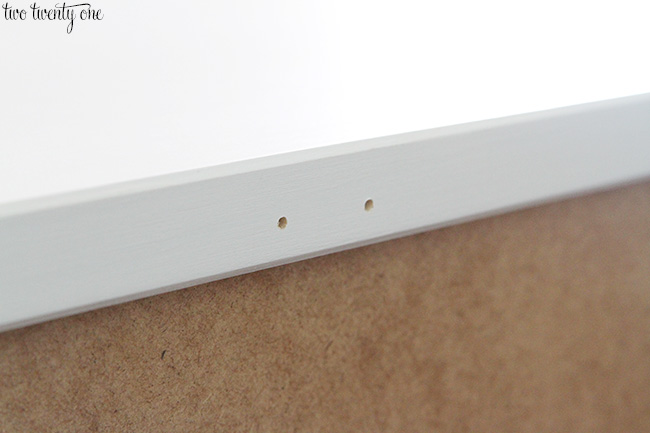 Drive the Screws
Next, drive the screws into the dresser.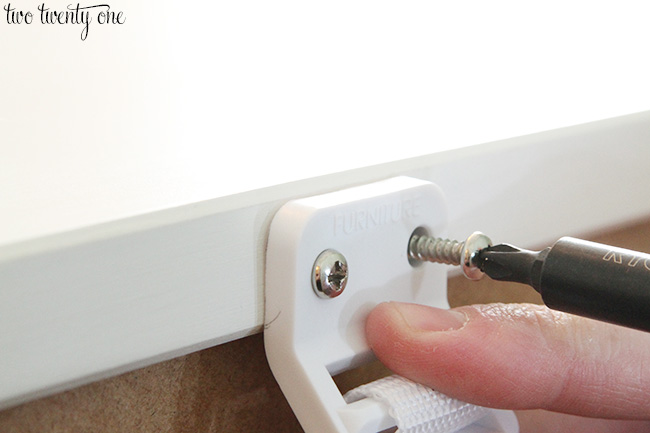 Attach the Straps
Then, slide the dresser back into place and hook the silver buckle to the strap on the furniture bracket. And tighten the straps.
After you are done, test out the straps.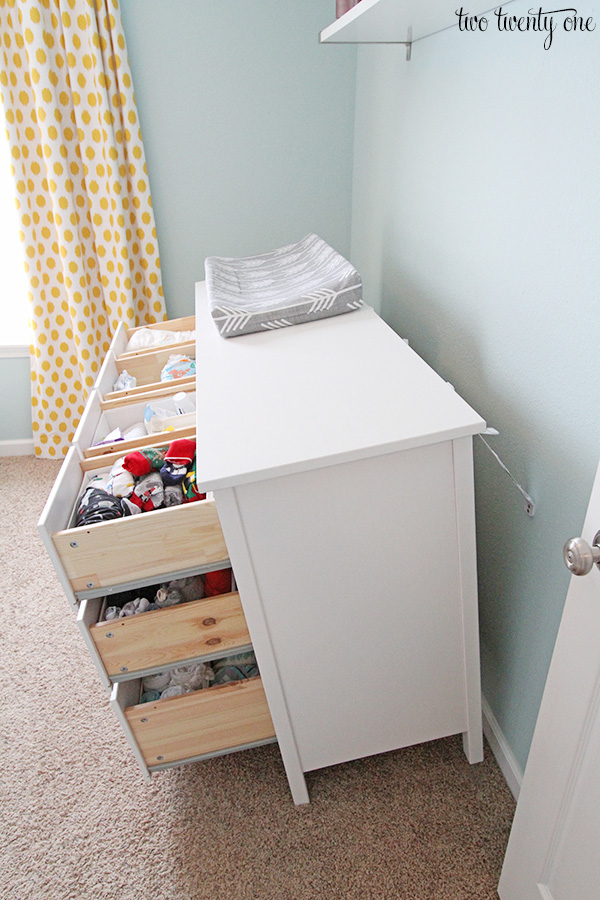 As you can see, they do their job.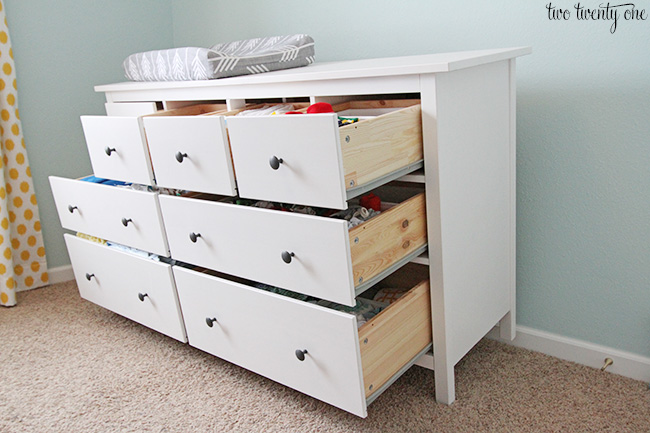 After installing the furniture straps I felt more peace of mind.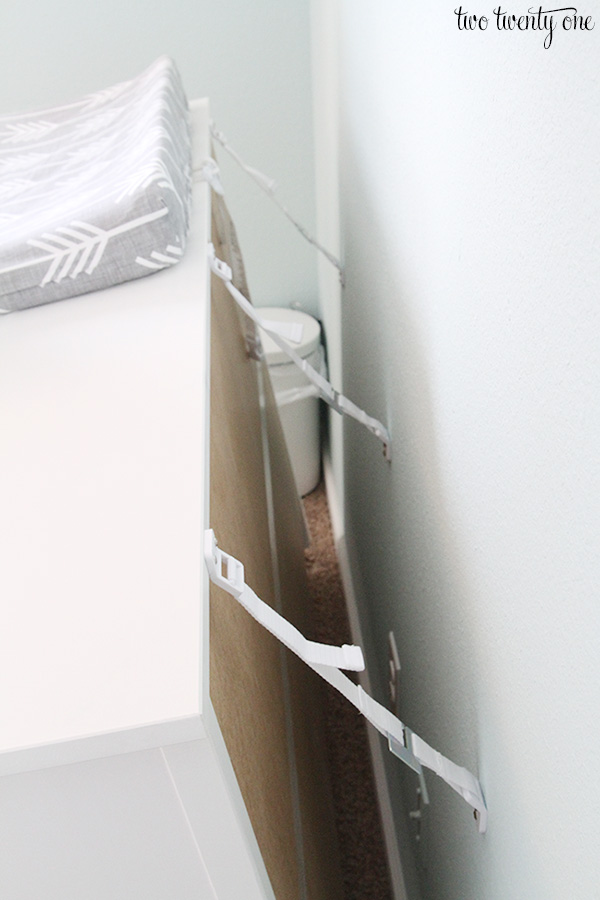 Note: We tightened the straps more after taking the photos– it was harder to see with them when they were tightened all the way.
This project was really easy to do and did it in less than hour.
If you haven't already, please anchor your furniture, appliances, and electronics. And please share this with your friends. Let's keep our mini-mes alive and well.
And remember, if your child spends time in other homes or places, like a daycare facility, in-home daycare, or friend's or relative's home, make sure the furniture and electronics are anchored there as well.
And while I have you here, just a reminder to never put your kiddos in their car seats with winter coats or snowsuits. Actually, no one should wear a heavy winter coat in a car. And for more info on winter coats and car seats, hit up The Car Seat Lady.