Nursery Dresser Organization
The other day I showed a sneak peek of Owen's nursery dresser organization on Instagram (@twotwentyone). Well, today is the day I share my nursery dresser organization tips and tricks with you. Get excited.
I love our 8 drawer IKEA Hemnes dresser in white stain (if you're debating between white stain and white, check out this post I wrote on the subject). This dresser is a great piece of furniture for the price, and I think it works great in a nursery.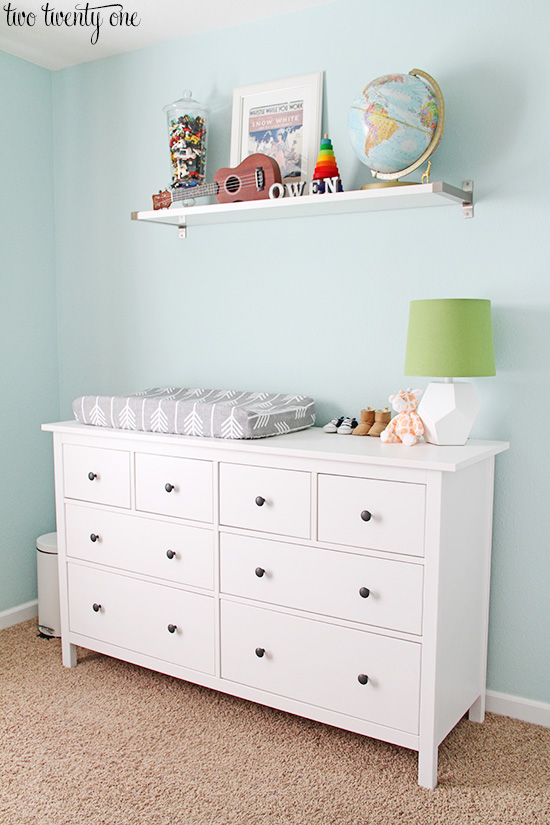 Nursery Dresser Organization Supplies
one compartmented drawer organizer (found HERE)
How to Organize Baby Dresser
I'm going to show you the drawers starting in the top left and work my way through all the drawers and end on the bottom right.
Drawer One
Since we use the dresser as a changing table, which is hands down the best use of space, I put diapers and an extra package of wipes in the drawer. More wipes are stored in the nursery closet.
We originally had our wipe dispenser in the drawer, but we ultimately decided it was easier to have it on the top of the dresser to the right of the changing pad.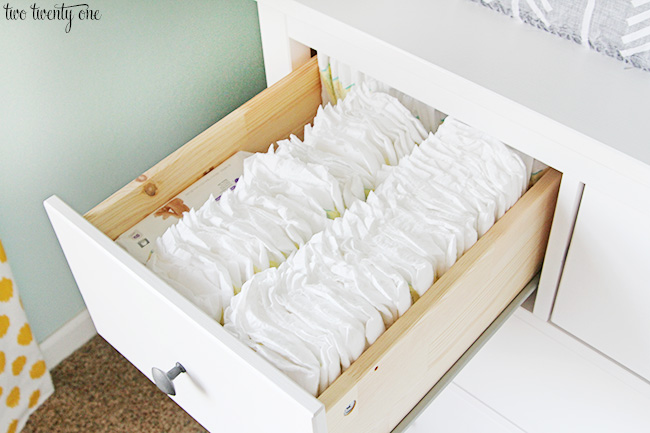 Drawer Two
washcloths
diaper creams
diaper bags
changing pad covers
movement monitor
The second drawer from the left houses our absurd amount of washcloths. We use them under Owen's booty when we change his diaper as an extra layer of protection. Because I could care less if the washcloths get stained with poop. Plus, I can always bleach them. But we also use them for other things, like wiping up spit up.
This drawer also contains butt creams, powder, diaper bags, Owen's movement monitor (I seriously love that little device– it's the only thing that gives me peace of mind when he's sleeping. Read more about it here), and extra changing pad covers.
To be completely honest, there's usually one of those changing table blankets (the gray and white striped material) over the gray and white arrow changing pad cover because I don't want that changing pad to get stained. We love the changing table blankets, which explains why we own four of them. Hey, they're only $5 at Ikea.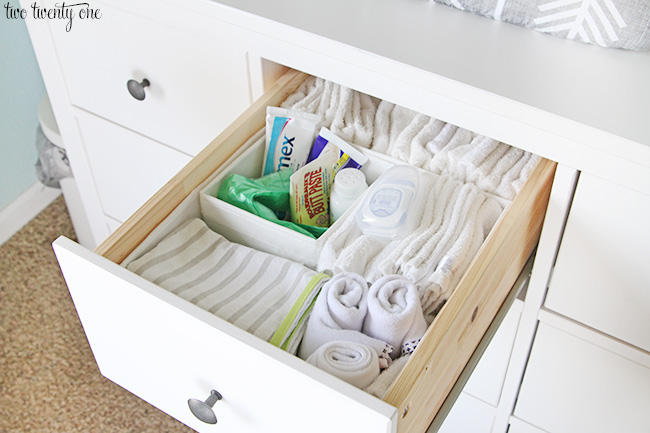 Drawer Three
newborn clothes
3 month pajamas
This drawer has changed a little bit because I took this photo before Owen was born. Since I didn't think he would be in newborn clothes for very long, I dedicated this drawer to his newborn clothes and 3 month pajamas. I was wrong about how long he'd be in newborn clothes though. He wore them for a little over a month.
I used the drawer organizers to help with the nursery dresser organization, which separates his clothes into pajamas, white onesies, regular onesies, and one piece outfits.
I'm a big fan of rolling clothes when it comes to packing my suitcase, and I found that this method works great for putting Owen's clothes in the dresser.
Now this drawer is dedicated to his size 3-6 month pajamas. You'd think my breastmilk contained steroids because this kid is bulking up.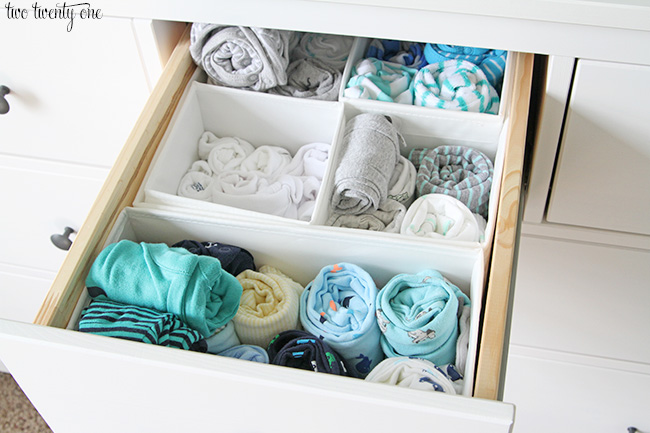 Drawer Four
newborn and 3 month clothes
This drawer has his short-sleeved onesies, long-sleeved onesies, one piece outfits, pants, and socks.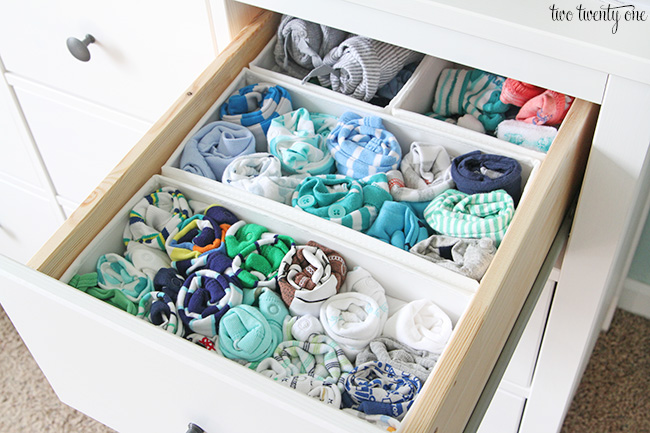 Drawer Five
hats
healthcare and grooming kit
pacifiers
washcloths
diaper bags
wipes
The middle left drawer is sort of a catch-all. I used a drawer organizer with compartments for this drawer.
I'll just go ahead and list everything that's in this drawer. Hats, lovies (the blankets with heads), thermometer, Nose Frida, lotions, bath washes, washcloths, petroleum jelly, bulb syringe, grooming kit, pacifiers, pacifier clips, diaper bags, and wipes.
Behind the organizer I'm hoarding some of his hospital stuff (receiving blanket, beanies, measuring tape) until I find a better place to put it. I may or may not have also saved a size newborn diaper from the diaper package we brought home from the hospital. I held the diaper in my hand the other day and almost got a little weepy, amazed that he was once small enough to fit into that size. Seriously, motherhood makes you soft– emotionally and physically. Hah. See what I did there?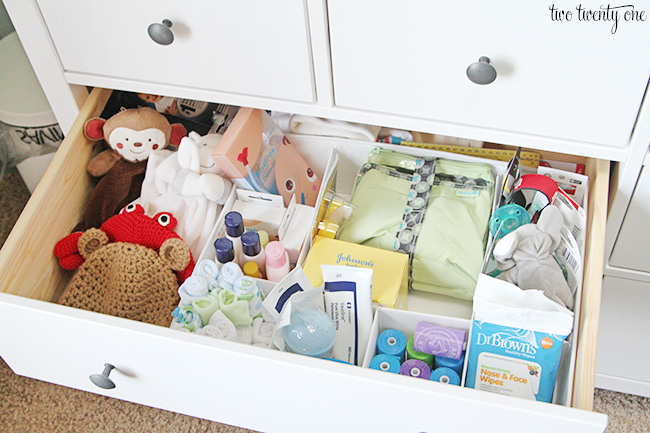 Drawer Six
bibs
swaddle blankets
swaddles
burp cloths
This is probably my favorite drawer. Doesn't it look pretty with all those fabrics?
In this drawer, you'll find bibs, DIY burp cloths, swaddle blankets (found here and here), and swaddles (found here). I've found that you can never have too many burp cloths.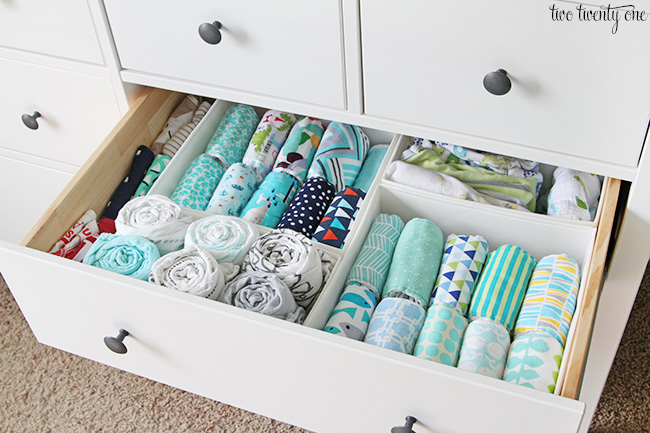 Drawer Seven
baby blankets
mattress pads
boppy covers
6-9 month clothes
The bottom left drawer is where I keep his blankets, crib sheets, mattress pad, boppy covers (I got mine from this shop), and some 6-9 onesies and pajamas I've already washed.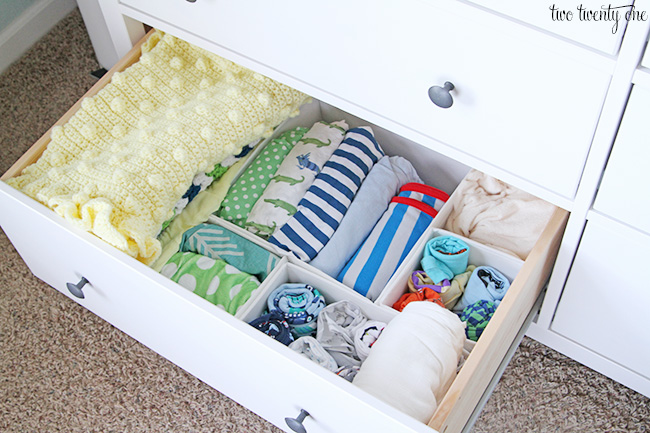 Drawer Eight
I use the bottom right drawer for 3-6 month clothes I've washed– socks, one piece outfits, pants, pajamas, long-sleeved onesies, short-sleeved onesies, baby legs, and extra bibs.
But now that Owen is fitting into most of these clothes, some have moved up into the drawers on the top row. I may end up moving the drawer with the burp cloths down to this drawer and the clothes into the former burp cloth drawer.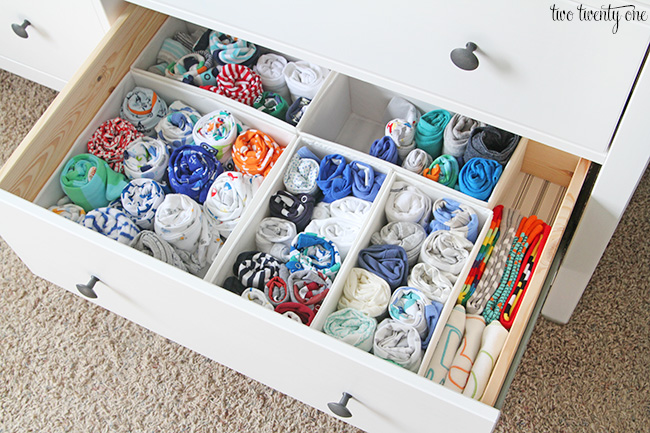 Nursery Dresser Drawer Organizers
If you live near an Ikea I recommend investing in the drawer organizers. If you don't live near an Ikea you can order the organizers from here.
They make organizing clothes, especially baby clothes so much easier. And like you saw with the catch-all drawer, they also help with organizing random items too. Plus, like with most things found at Ikea, they're inexpensive. A set of 6 organizers is only $8. Since we live 2 hours from an Ikea, I stocked up on them on our last trip. And I've already used them for other things, like the postpartum care kit I put together in our master bathroom.
I purchased 5 sets of 6 (35 total) organizers for the dresser. For the configuration in the photos, I used 7 small, 10 medium, and 5 large, plus the large organizer in the left middle drawer. So I didn't use all of the smaller organizers, but I've used them in different places around the house.
Anchor Baby Dresser
The IKEA Hemnes dresser tips over VERY easily– see the photo below (look at the back leg). All it takes is a child opening most of the drawers. PLEASE anchor all the furniture and electronics in your home! A child dies every two weeks as a result of a tip-over incident. These deaths are 100% preventable. I strongly encourage you to read my blog post on how to anchor furniture and electronics.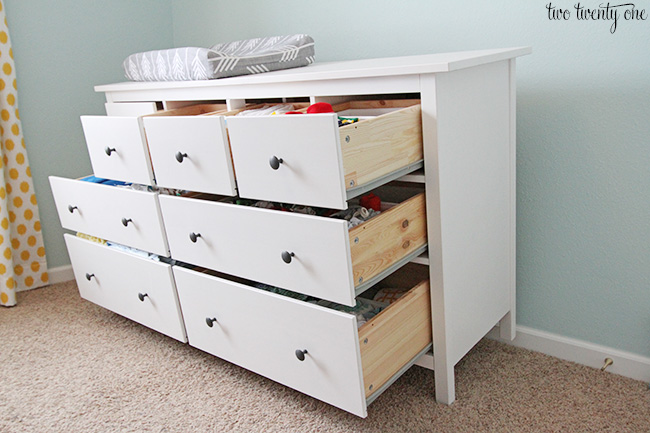 Baby Organization Boot Camp
Want to get the rest of your nursery organized? Sign up for my FREE 5 day Baby Organization Boot Camp email course! I'll show you how to get your nursery organized in less than a week!
7 Month Nursery Dresser Organization Update
Interested in how the dresser looks 7 months later? Click here.
Organized Nursery Closet
Need help organizing your nursery closet? I've got you. Click HERE to read about the nursery closet!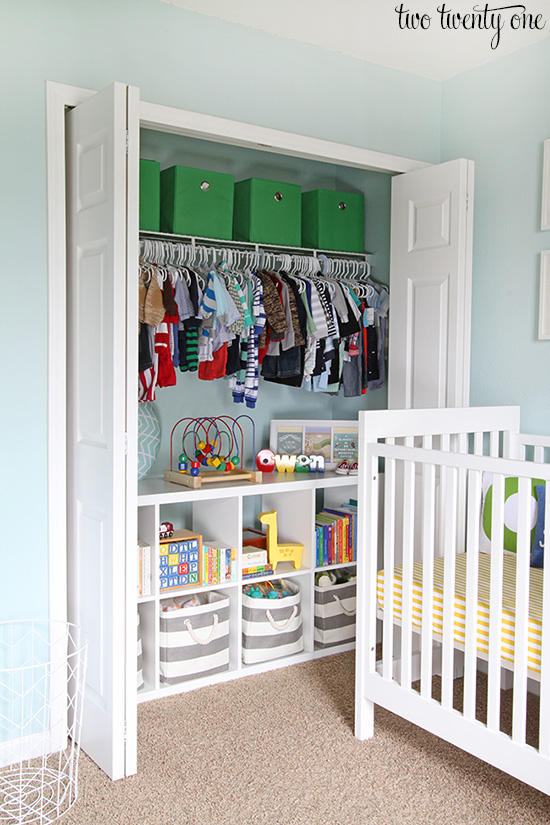 Conclusion
Curious if I'm happy about going with the white stain dresser over the white? Check out this post I wrote about the difference between white stain and white.
Want to know something specific about the nursery (wall color, where I purchased something, etc.)? See the nursery source post here.
Want to know my baby registry must haves? Click here.
Want to save this post for later? Pin it here: