It's been quite some time since I shared Owen's nursery closet. And I'm often asked what it looks like now compared to when he was a newborn. So I figured I should share his organized kids closet.
*when said kid forgets there are toys in his closet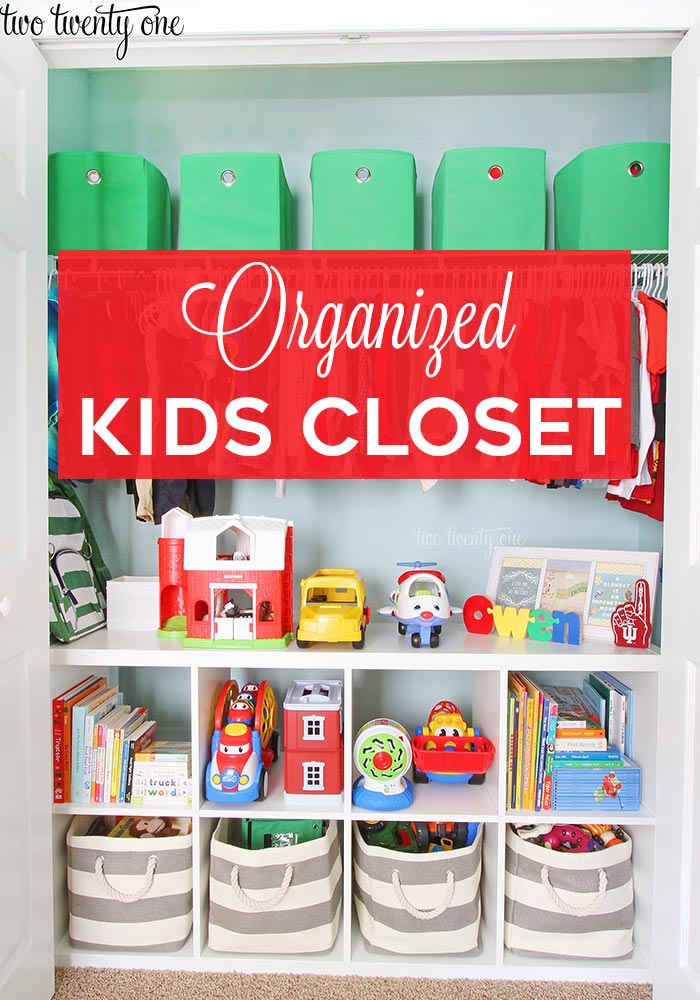 As a refresher, here's what it looked like when he was immobile and unable to drag everything out of the shelving unit in the closet.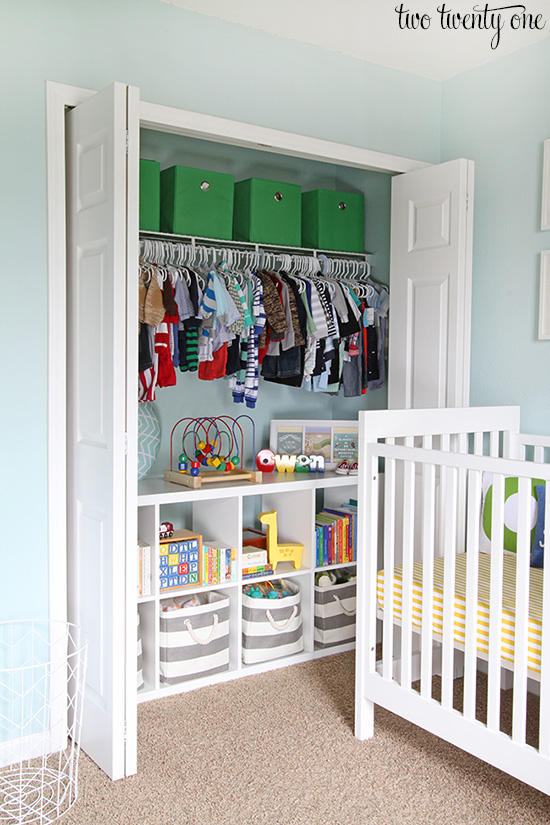 And here's how the kids closet looks now.
Totes On Top
I still use the inexpensive green totes on the closet shelf for extra storage.
The following things are kept in the totes: extra baby wipes, extra diapers, clothes he hasn't grown into yet, toys that are too old for him.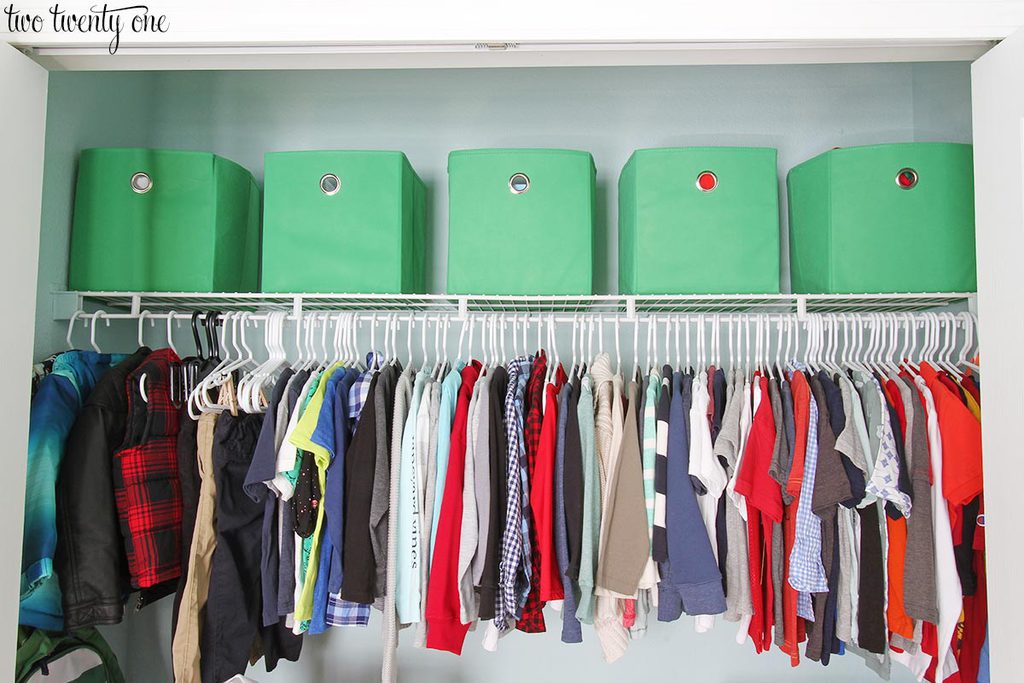 His large backpack, Little People farm, vintage LP bus, and LP airplane are stored on top of the shelving unit.
And yes, I still love the shelves, which fit perfectly in the bottom of the closet.
Kids Closet Organizer
The cubbie shelf serves as a kids closet organizer. A place to store all his toys, books, and puzzles.
His 'Owen' puzzle sign and framed illustrations from his aunt still reside on top of the shelf. I got the puzzle sign from Zulily, but you here's a similar one.
The other shelves house his various books and toys.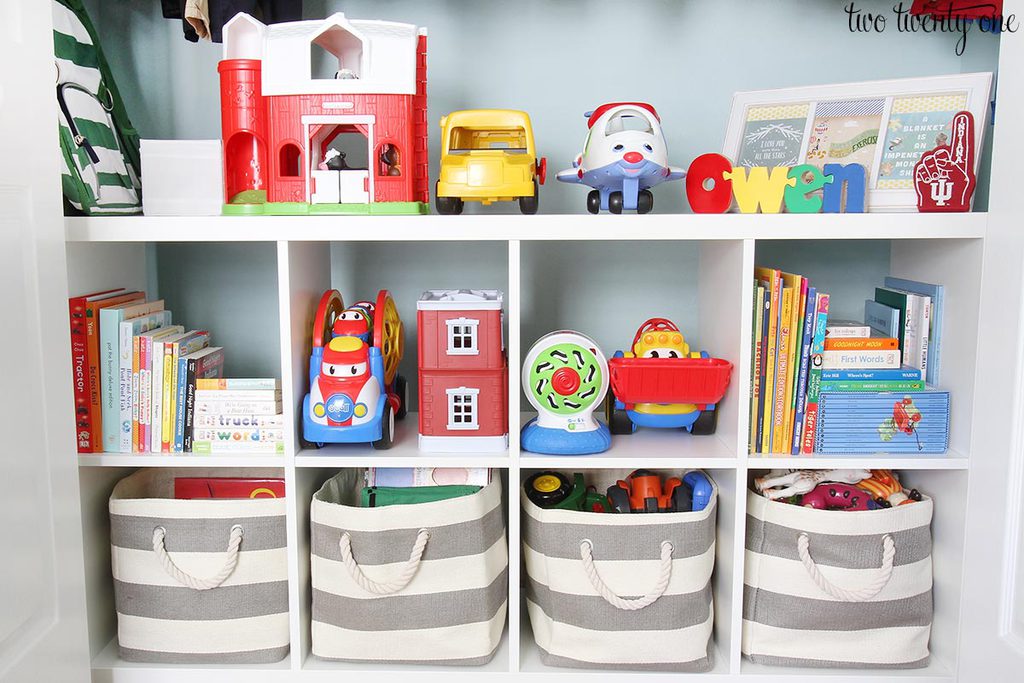 If you didn't pick up on it, I cleaned up and organized the shelves when Owen wasn't present to immediately undo all of my hard work.
Gimme All the Bins
I will forever love these 11″ x 11″ striped bins. Since they're flexible, Owen can sit on them and they still live to see another day.
Unfortunately, they're light enough that he can drag or carry them out into the living room.
I try my best to keep the bins categorized when it comes to books and puzzles.
In case you missed it, here's a post I did on organizing puzzle pieces and toys that come with a bunch of small parts.
P.S. those number matching pops are a big hit around here.
When you think your kid couldn't possibly need another vehicle, someone will give him a tractor.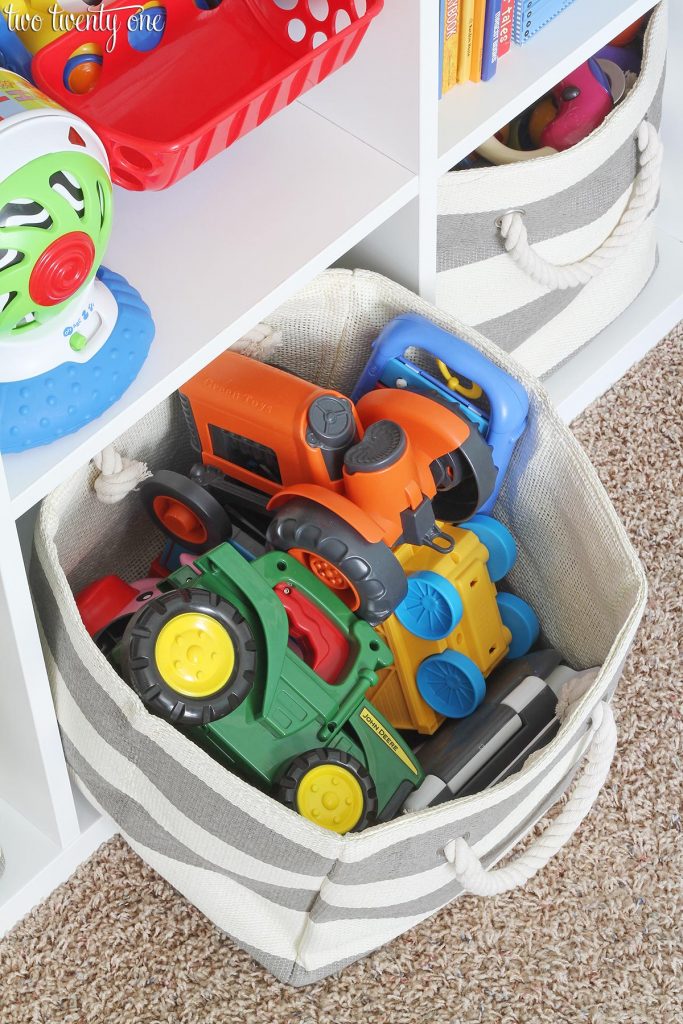 We try our best to rotate his books between those in the living room and those in his closet to keep things interesting for him. Although he's definitely drawn to certain books, like this one and this one.
I keep a bunch of his baby toys in the very last bin.
This concludes our organized* toddler closet tour.
*when said toddler forgets there are toys in his closet