Hens and Chicks Plant – Care and Grow Guide
Hens and chicks are my favorite succulents. Why? Their scientific name is Sempervivum Tectorum, which means "live forever" because you have to try really, really hard to kill them. In this post, I'm sharing tips for growing hens and chicks. If you have a definite black thumb if you kill these bad boys, and perhaps you should stick to the silk variety of plants.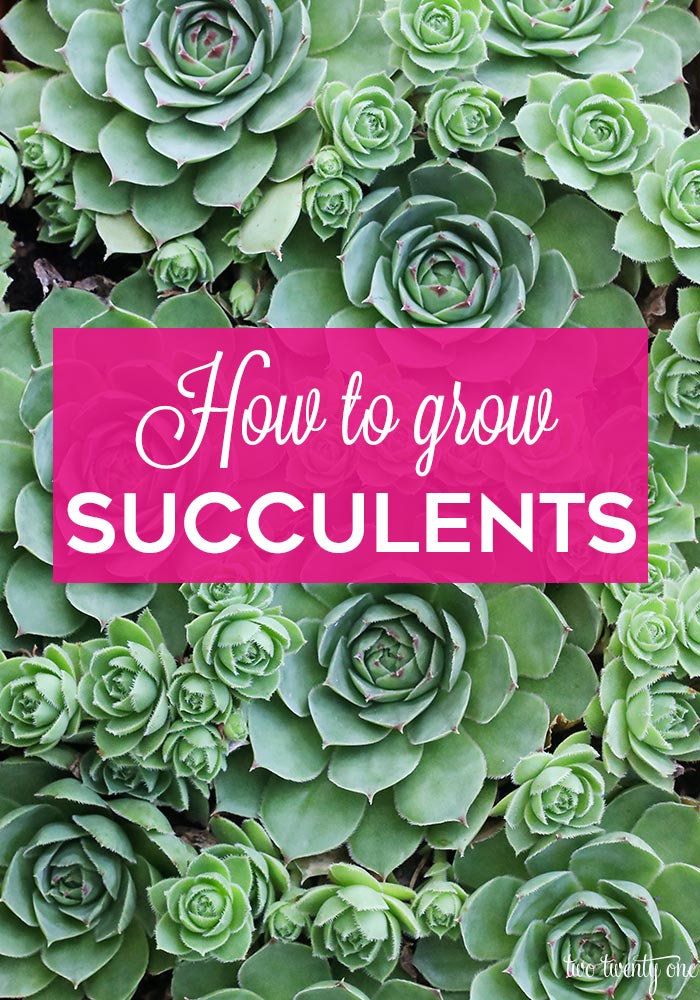 My parents have been growing them for years in a large terra cotta strawberry pot near their front door. These suckers propagate so easily, they started to sprout up on the ground surrounding the pot. Craziness. So a couple summers ago, I asked my mom if she would bring me some hens and chicks so I could plant them in some containers on our back patio.
While peonies are my specialty, I thought I'd share some things I've learned about growing hens and chicks for the past couple years.
Planting Hens and Chicks
Let's talk about planting hens and chicks first.
 The other night I needed to transplant basically all of my hens and chicks plant because both the pot and bowl they were growing in broke. The white pot kept flaking the finish off and it annoyed me having little pieces of white glaze everywhere. Here's a photo of the pot after I had started the transplant process.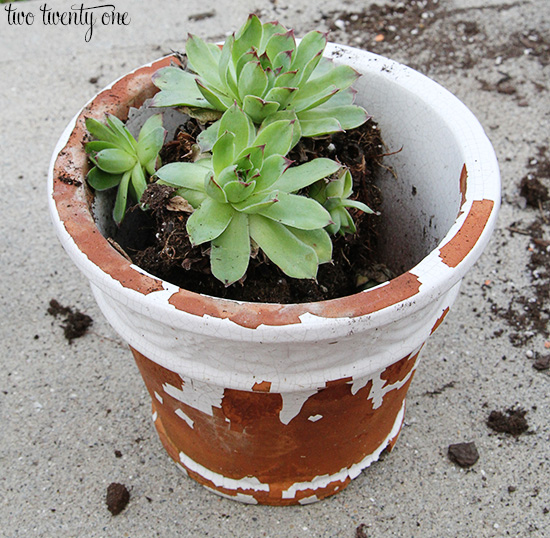 I ended up putting all the hens and chicks sempervivum from the white flaking pot into a blue strawberry pot I picked up at Home Goods.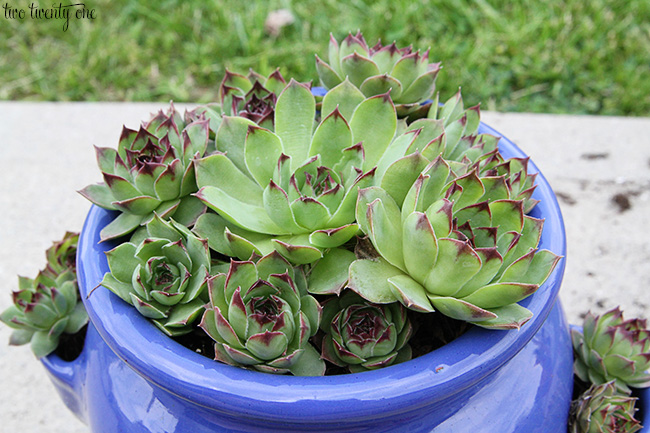 To demonstrate that these things will grow anywhere, I give you the busted vintage bowl they were growing in. The bowl broke this winter but that didn't seem to bother them. They just spilled out onto the ground.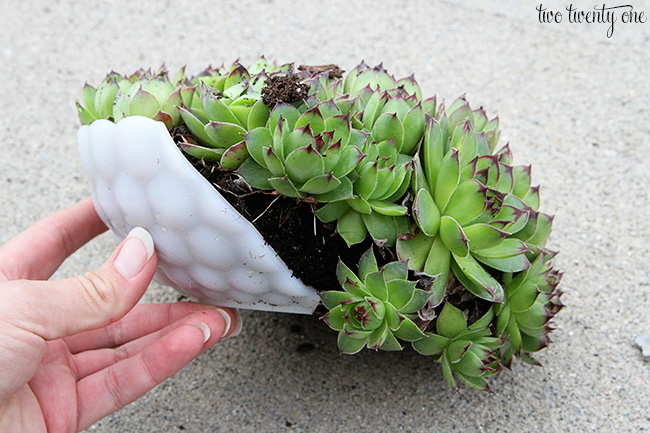 Breaking up the hens plants and transplanting them is super easy. I start by separating them.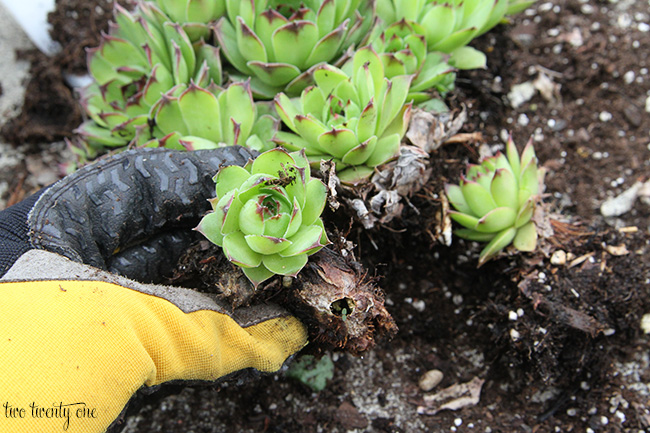 I clean off the dead stuff at the base of the succulent plant and pull off the excess soil. Then I put it in its new home. That's it.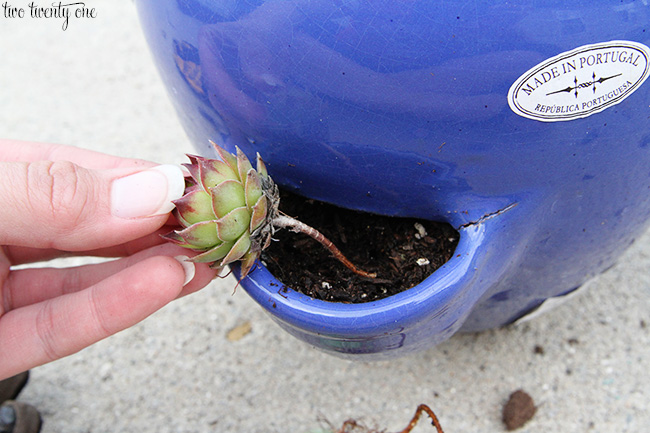 I transplanted most of the hens and chickens from the broken bowl into this pretty teak planter box my friends at Minwax sent me last year. I stained it dark mahogany, and I love it.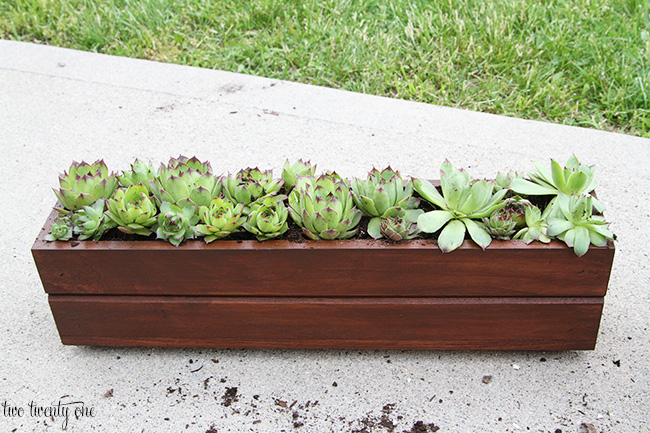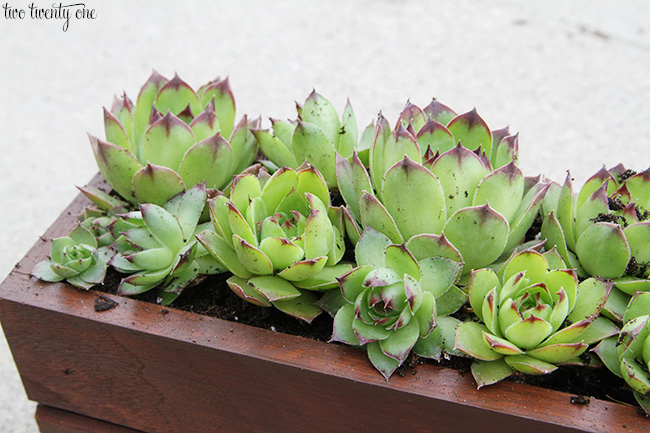 Jack had to check everything out. He finally gave his approval.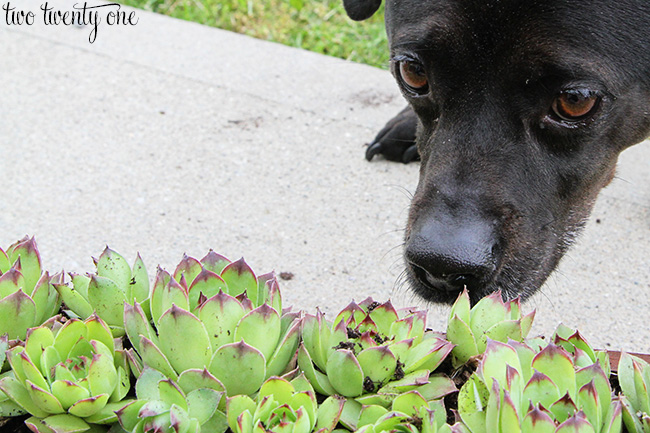 Facts and Tips
• they prefer full to part sun (I grow mine in full sun)
• they grow best in zones 4-8 (I'm on the border of 5-6). Find what zone you live in here.
• the growing season is late spring to late fall
• provide good drainage
• don't over-water– these are drought tolerant, but make sure you give them enough water during the summer heat
• they're cold hardy so you can leave them outdoors in the winter
• I keep mine outside during the winter months and they do fine. I do pull them closer to the house though.
• they live for 2-3 years– but since they reproduce so many chicks you'll never have to buy more
• hen plants will produce a tall center flower stalk that blooms before the plant dies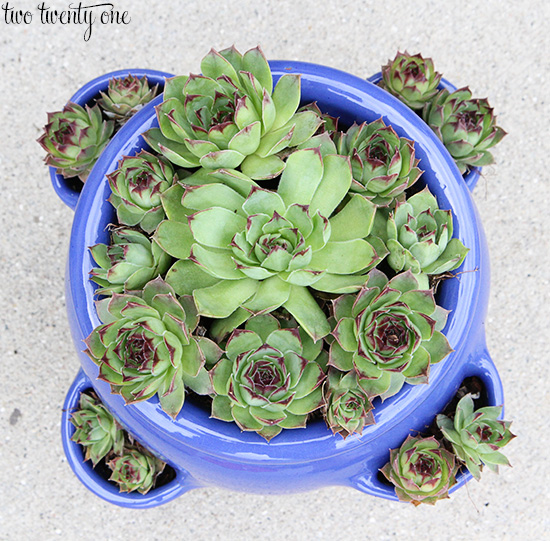 Purchase Hens
I'm offering hens (succulents) for purchase to my Patrons. Plus, I'll share a hens and chicks care document on Patreon. And I'll create a thread where people can ask any questions that aren't covered in the document. Remember, once you get the hens they should keep multiplying so you only have to buy them once.
While I'd love to give away tons of hens, I have a limited quantity so it's going to be first come, first serve. And I'd also love to give them away for free, but it would cost me a small fortune to ship that many boxes.
Click here to head over to my Patreon page!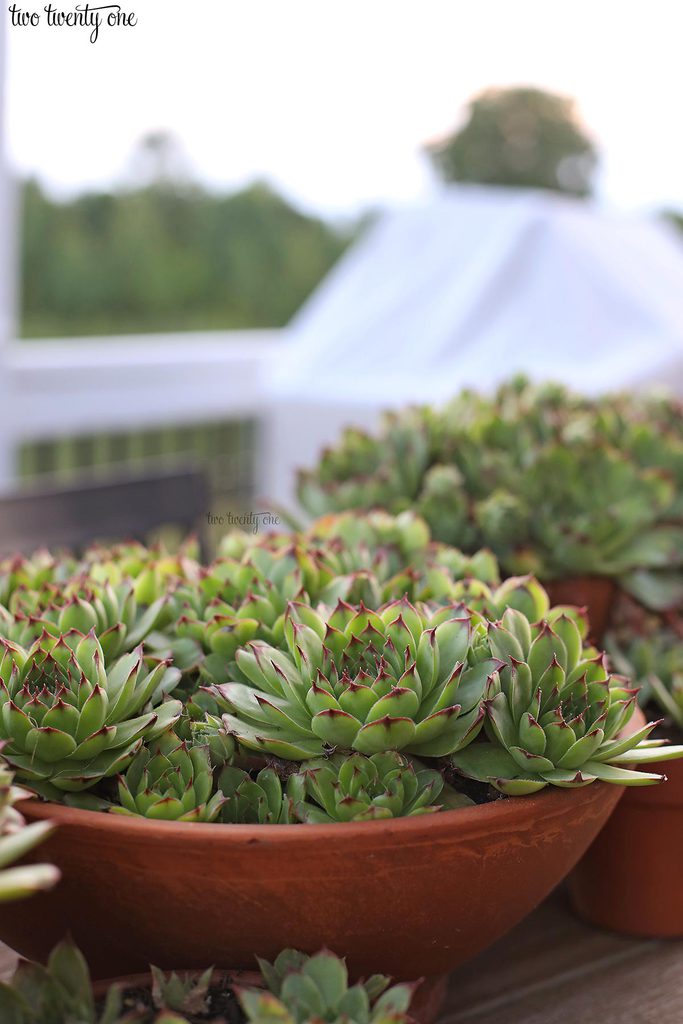 Are you currently growing hens and chicks? How's it going?
If not, think you'll give these a try?