Since I kind of showcased the pink peony topiaries this week with all the dresser turned TV stand coverage, I thought I'd post the tutorial again for those of you who missed it the first time around.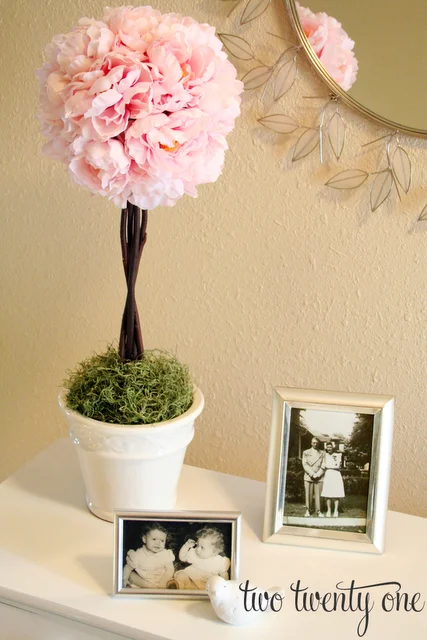 I made these peony topiaries for our wedding last June (as in June 25, 2011). I chose peonies because they're my favorite flower. I mean, my bouquet was pink peonies and green hypericum berries.

The topiaries flanked the fireplace we were married in front of. I also made the
moss covered monograms
and
ampersand
that set on the mantel.

I used the following materials:
floral foam (Dollar Tree)
bundle of 5 twisted willow branches (JoAnn)
Instructions for how to make one topiary:
1. Take the peony heads off of the stems.
2. Begin placing some of the peonies in the foam ball to determine spacing.
3. After determining spacing, remove the peonies.
4. Begin applying hot glue to the green tip of peony and inserting it in the pre-made hole.
5. Continue step 4 until the entire ball is covered with peonies.
6. Insert 4 floral foam pieces into the pot.
7. Determine the center of the pot and insert a bundle of twisted willow branches into the floral foam.

8. Use the remaining 4 floral foam pieces to secure the willow branches in the pot. You may need to use your knife to cut the foam to fit.
9. With your tape measure, measure 16 inches up the willow branches and make a notch with your scissors or knife.
10. With your hedge clippers, chop off the willow branches above your notch.
11. Take your peony ball and insert it on top of the willow branches, making at least a 1 inch hole in the foam.

12. Put hot glue in the hole in foam in peony ball and immediately place on top of willow branches. Hold it in place for a few minutes, allowing the glue to dry.

13.
Lay the Spanish moss over the floral foam in the pot, covering it so that the floral foam is not visible.
If you wish to secure the moss, glue it to the floral foam using the glue gun.
My topiaries came out to be 27 inches tall. Kind of a random height, but I went with what looked best proportion-wise to the peony pomander and the white pot.
Note:  I'm typically not a silk flower fan, but this option was much more cost effective for our wedding than getting the real deal. (The topiaries cost me about $32 each, so $64 total. MUCH cheaper than the $65-$155 per topiary quote I got from my florist.)  Also, I think they look better than your usual silk flower arrangements because I used expensive-ish silk flowers.
Have you ever made a topiary?
What's your favorite flower?
Did you DIY anything for your wedding?