So remember back in March when I dragged Brad into a not-so-nice neighborhood to buy a $50 dresser from a delightful man on house arrest? You don't? Here's a refresher. Remember how I said that "I have big plans for this beauty. Big plans"? Well, today is your lucky day, friends.
I give you: Craigslist dresser turned custom TV stand.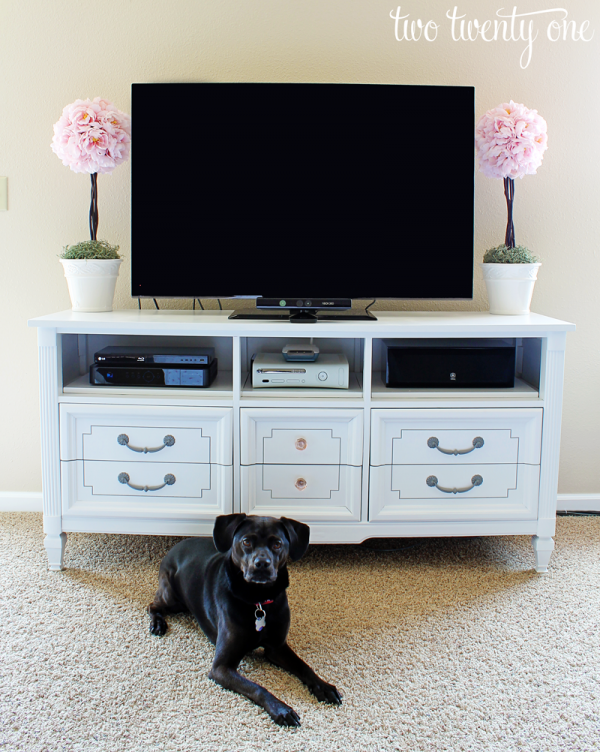 Isn't my model adorable? He's available for bookings. But please note that the only payment he accepts is treats.
The original dresser was kind of pretty, but it needed way too much work. Painting over all the imperfections was the easiest way to go.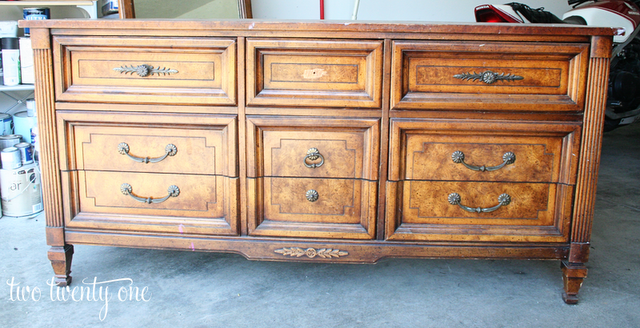 It fits our 47 inch TV and all of Brad's our electronics perfectly. And there's plenty of storage for DVDs, video games, and video game accessories in the drawers. I flanked the TV with the peony topiaries I made for our wedding.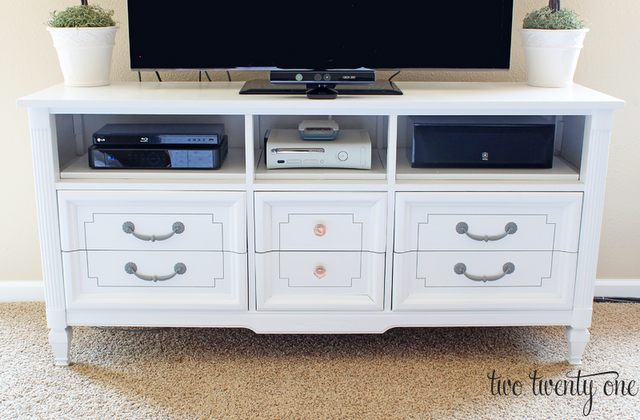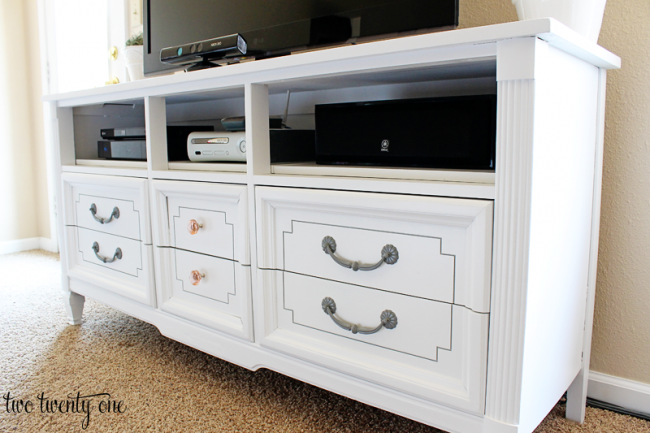 I kept the original hardware for four of the drawers. I spruced them up a bit with some spray paint.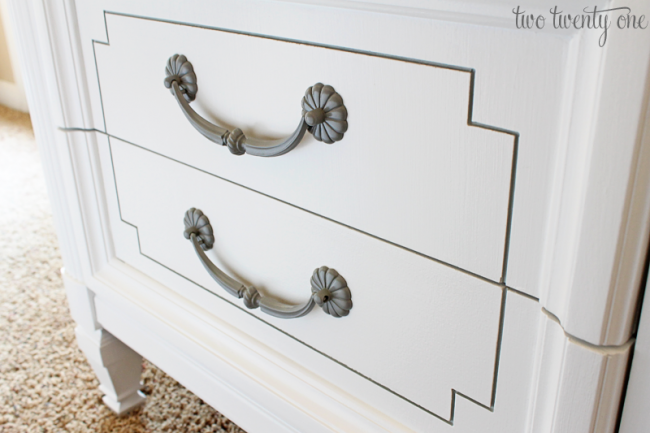 I used hardware I had laying around (purchased from the Hobby Lobby clearance section) on the other two drawers.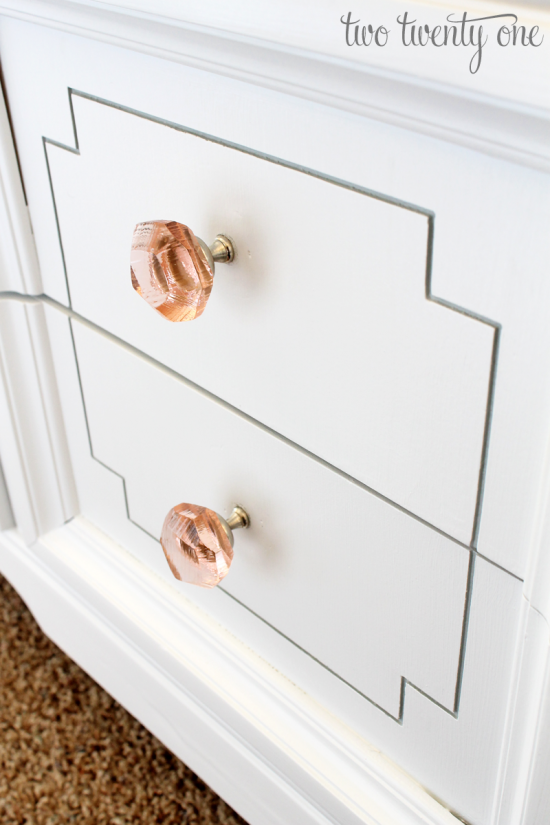 After priming it with two coats of Zinsser (with Penetrol), I painted it with Valspar ultra white latex paint conditioned with Floetrel. I used leftover grey paint from my sewing machine cabinet makeover for the detail on the drawers.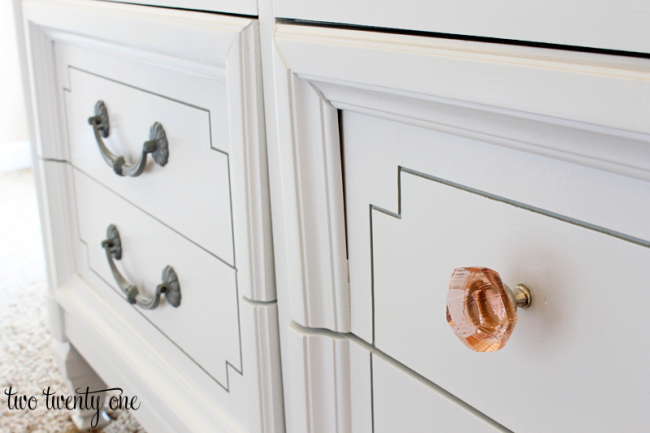 In order to make a shelf for the electronics, I took out the top drawers.
I explain how I made the shelf here.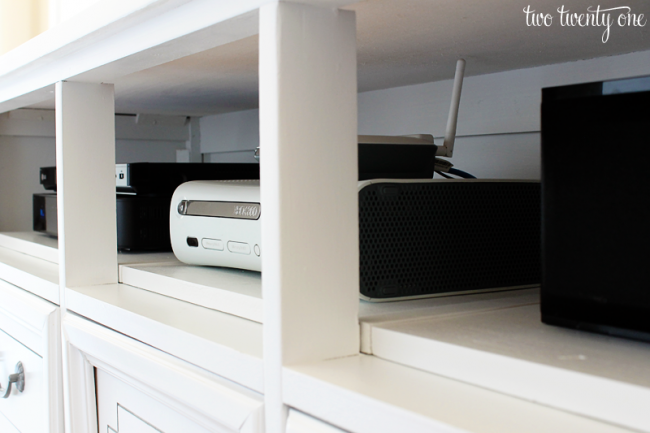 I lined the dovetailed drawers with shelf liner I found at Marshalls.
I paid $6 for two rolls, and I have a roll and a half left. Hmm, I wonder what other shelves and drawers can I line in our house…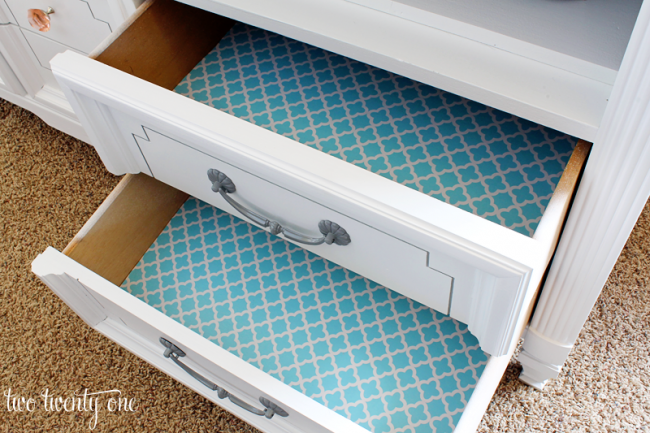 In case you're wondering, here's the breakdown of how much dough I sunk into this beauty.
Dresser: $50
Wood for electronics shelf: $16
Primer: $10 (I have 1/2 gallon left)
Shelf liner: $3 (I have a bunch leftover)
Hardware: $4
Paint: $0 (already had it)
Spray paint: $0 (already had it)
Grey detail paint: $0 (already had it)
TOTAL: $83
Want all the details on how I transformed this beast into the beauty it is now?