The other day, I was waltzing down the ribbon aisle at JoAnn Fabric and this beautiful green and white striped grosgrain ribbon stopped me dead in my tracks. Jackpot. I knew exactly how I'd use it– to make the perfect preppy spring wreath. And of course I had to go with pink peonies because they're my favorite flower, and it's no secret that I love the color combination of pink and green. I mean, they were our wedding colors.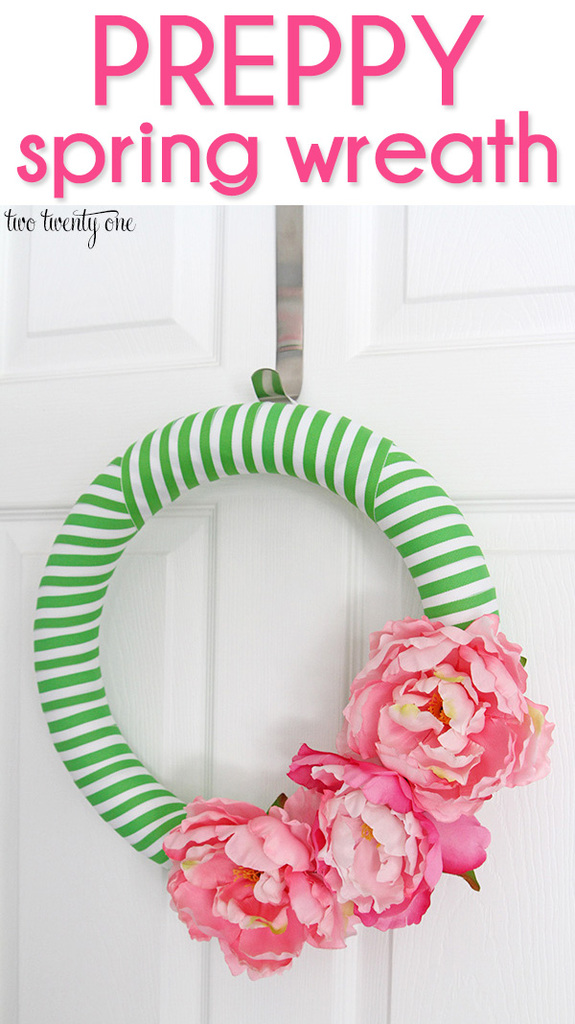 SUPPLIES
2 rolls of Offray green and white striped grosgrain ribbon (JoAnn Fabric)
14″ Styrofoam wreath form (Hobby Lobby)
Silk peonies (Michael's)
hot glue
hot glue gun
scissors
small piece of ribbon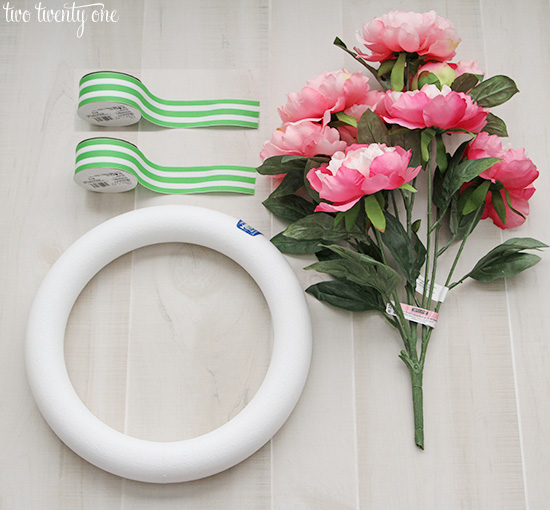 I started by cutting some strips of ribbon. I tried wrapping the ribbon without cutting it but I couldn't get it to look how I wanted it to. Then I just started wrapping each piece around the wreath and gluing it. I would overlap the green stripes on the edges so the stripe pattern lined up.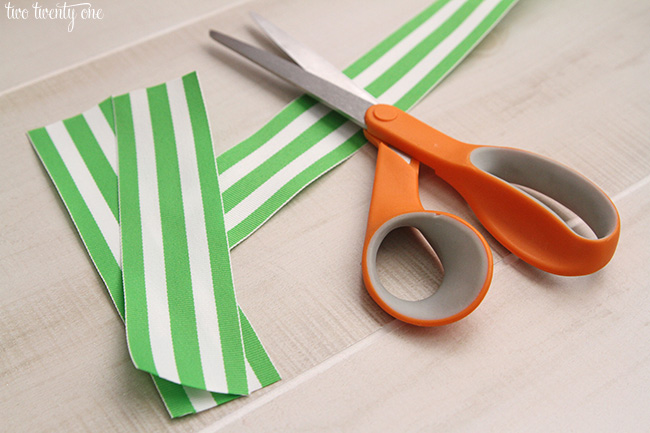 To attach the peonies, I pulled them off the stems, cut the little plastic parts of them, and hot glued them onto the wreath.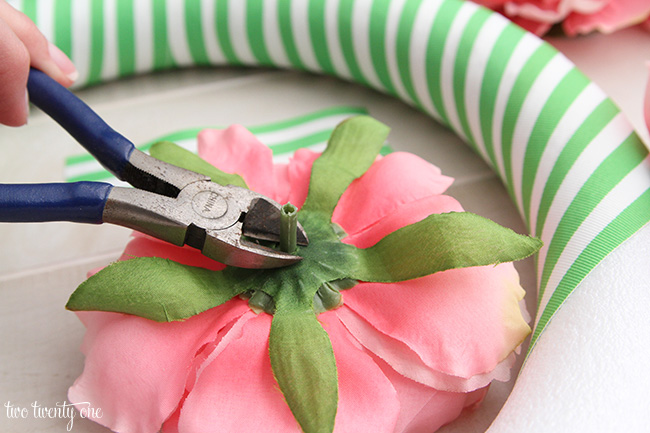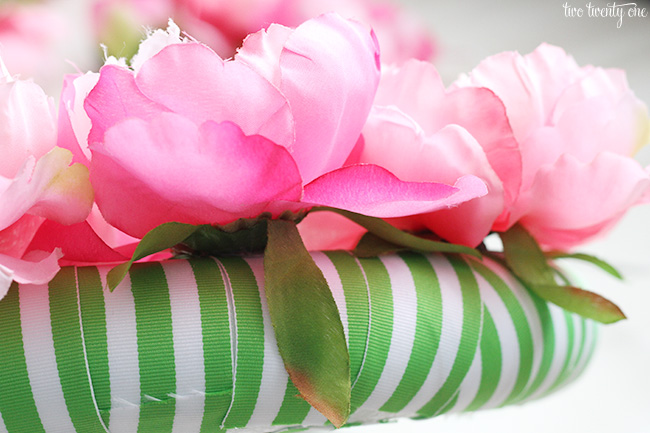 For the hanger part I wanted to do something that would be mostly hidden and wouldn't take away from the wreath so I grabbed a little piece of white satin ribbon. I hot glued it onto the back of the wreath.
As you can see, the back of the wreath isn't pretty, but no one will see that anyway.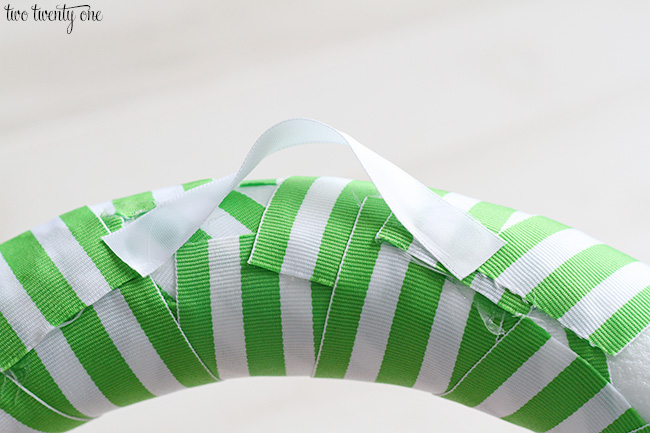 I'm not gonna lie– this was kind of a frustrating wreath to make. It's probably because I'm a perfectionist, and I wanted the stripes to line up just right. But I love how it turned out.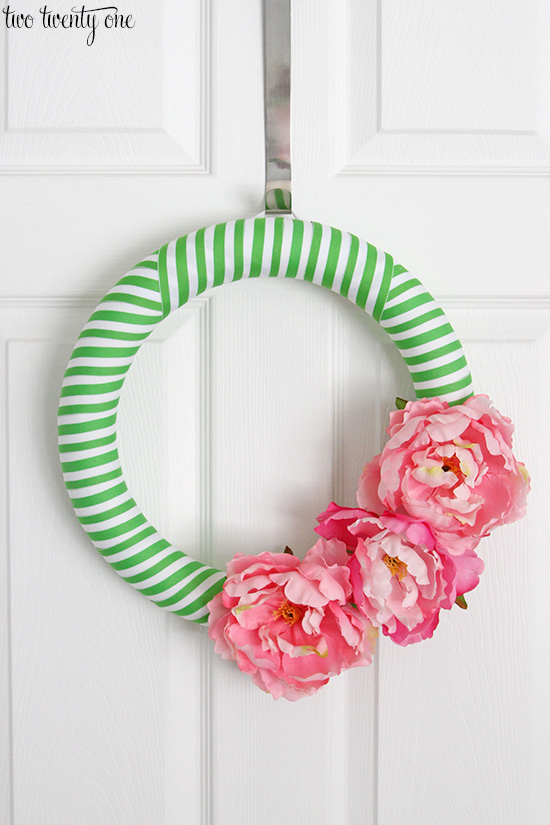 If you want to make a ribbon wreath like this and you've never made one before, I recommend using non-striped ribbon to ease into striped ribbon. You can always make a striped design by layering a different colored ribbon on top of the base color. If you're truly ambitious and want to do exactly what I did, I suggest buying a third roll of ribbon– I barely scooted by with 2 rolls.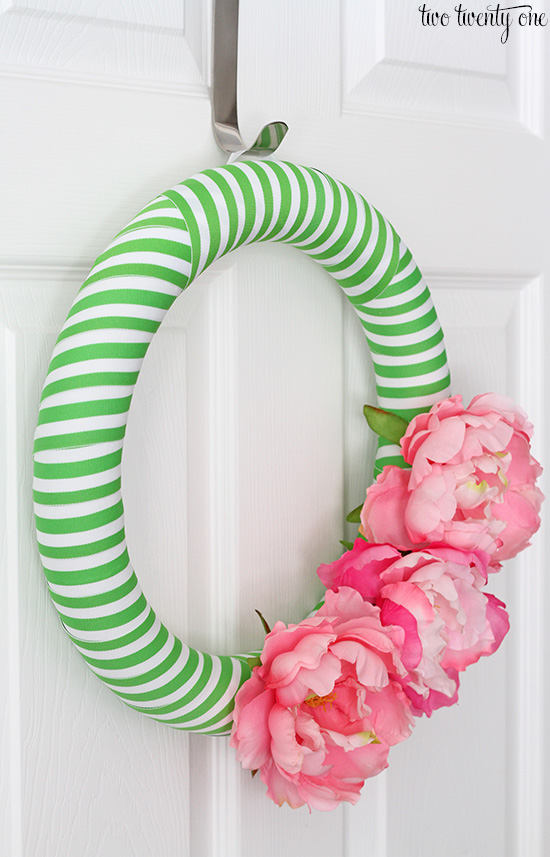 COST
ribbon: $5
wreath form: $3
peonies: $6.50 (for the bunch)
TOTAL: $14.50
*I used 40% off coupons for the ribbon and wreath form. The peonies were already on sale for 40% off. Remember those coupons, people.