Powder Room Design Plan- Spring 2021 One Room Challenge – Week Two
Alright, it's Week Two of the One Room Challenge– time to take a look at the powder room design plan. Last week, I shared how the room currently looks.
The Vibe
The vibe is English country. Floral wallpaper, muted colors, traditional-style console sink, cute toilet. I'm also going to do a board and batten wall treatment.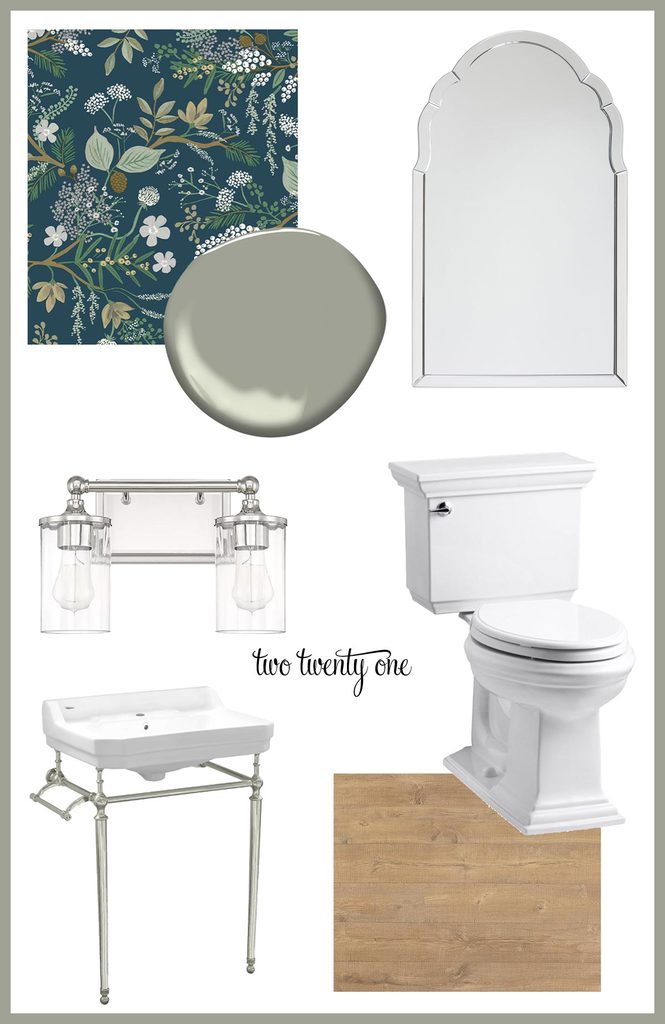 Floral Wallpaper
The powder room design centers around the wallpaper, which I actually bought during a Black Friday sale back in November. I like how it's a floral wallpaper but not super feminine. The pinecones butch it up, no?
Wall Treatment
I want to add board and batten to the walls. I plan on using this board and batten tutorial.
Wall Color
The greens in the wallpaper are a little too vibrant and punchy for what I'm going for. So right now the plan is to use Benjamin Moore Oil Cloth on the board and batten and trim. Oil Cloth has an LVR of 35.5 (0 is black, 100 is white) so it's going to be on the darker side. I'm currently not too concerned about that but I also haven't put the color on the wall yet so…
Console Sink
I had to pivot when the sink I wanted was backordered until July. I ordered a different console sink, and it arrived in two days. The sink I bought is also $250 less than the sink I originally wanted. I'll put what I saved toward the mirror (see below).
Why a console sink? Good question. Since the room is so small, the console sink will keep it from looking too crowded.
Toilet
I really don't want to drop the money on this fancy toilet, but I think I'm going to have to because, well, it's a pretty toilet. Only the best for our guests… and two boys, ages six and three.
And a toilet is an investment piece. Like, this toilet should last 10+ years, right?
Lighting
Because of the tight fit in the powder room, I don't think I'll be able to make sconces flanking the mirror work. Also, I don't know if my marriage can withstand an electrical job like that, and then fixing the drywall above the mirror where the original light would be removed. Could we hire that out? Yes, yes we could but that's not our style. We prefer self-torture.
Currently, there's a 2-light vanity light above the mirror. So I think I'm to going to have to stay on the 2-light vanity light track, but I'll update with something that's not reminiscent of a flying bird. I haven't made a firm decision on the light fixture, but here's the one I put in the design plan.
Flooring
The flooring isn't changing. I love our flooring.
Mirror
I love this mirror, but OMG why is it so expensive? Have I mentioned I'm funding this makeover on my own because every brand I reach out to ghosts me or wants an insane amount of deliverables for product only? Anyway, I'm going to have to sell some of my wares on FBMP to help fund this mirror.
Accessories
The sink comes with a rack to hang a hand towel so I'm going to go with that for the time being. I'm still looking for a cute toilet paper holder that doesn't cost $500.