Powder Room Transformation – Spring 2021 One Room Challenge – Week One
This is my very first time participating in the Spring 2021 One Room Challenge. Can you believe it?! Don't answer that truthfully. I'm very excited about this challenge. I chose to participate because I'm a person who needs deadlines. So I'm hoping the ORC will push me to start and complete this project.
I've chosen to transform our main level powder room. Why this room? Well, I wanted to do something fun and different and push myself design-wise. And I feel like fun and different are things one can pull off in a powder room.
Selecting this room seems great on paper and in my head. Until I think about how my young children are the ones who use this room the most. Then I start to question why I'm pouring around $2,000 into a room where young boys are the principal users. But we're just not going to think about that, ok? Ok. Denial is the name of the game.
The Powder Room
Alright, let's talk about the powder room. It's pretty straight-forward– toilet, sink, lighting fixture, mirror. And like most powder rooms, it's small. I didn't measure it, but I'd say you could comfortably fit three to four adults in the room. Using my wide angle lens is a must when shooting the powder room.
Here's what the powder room looked like when we moved in nearly four years ago: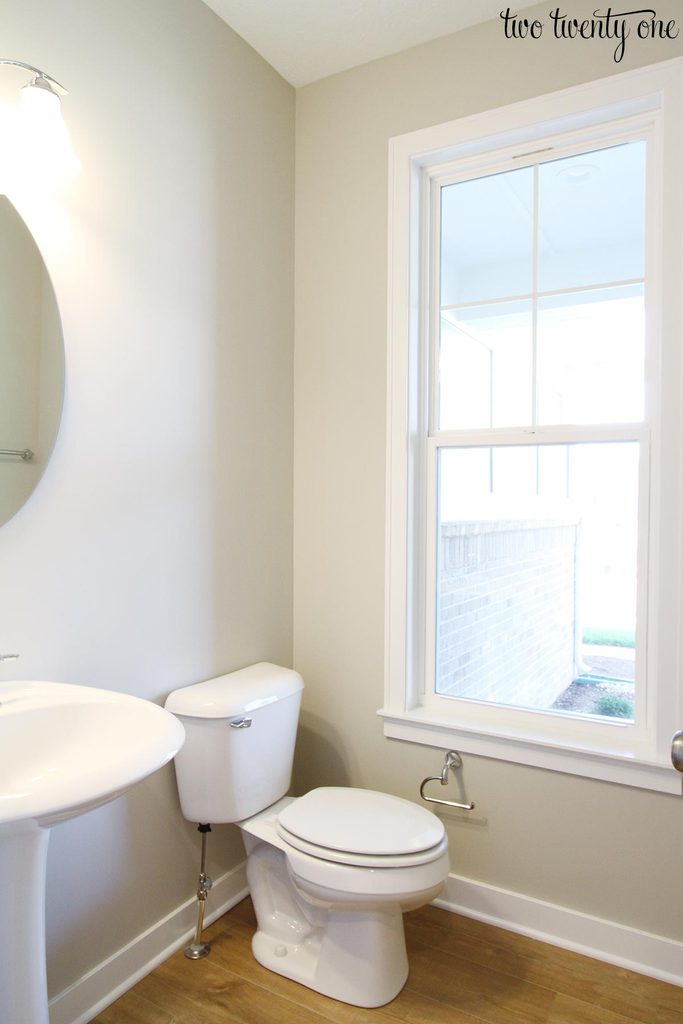 And here's what it looks like now: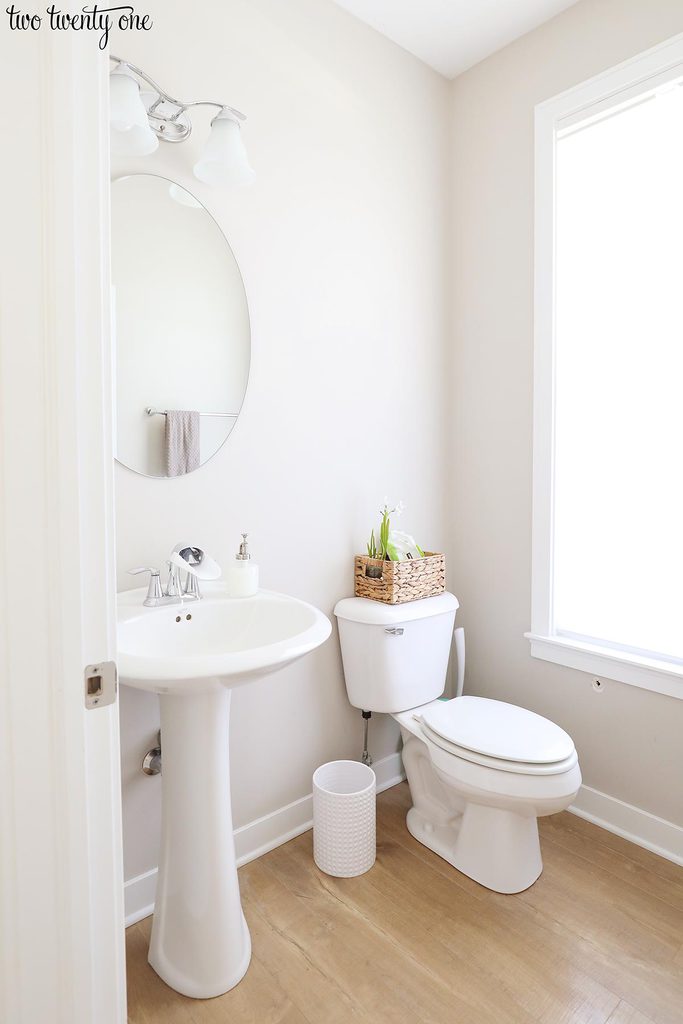 I know, I know. I've done so much to the space it's barely recognizable.
The powder room is at the front of our house. The north-facing window in the room looks out onto our front porch. Since the window is north-facing, I have top-down, bottom-up light filtering shades on the window. I tried 2″ wood blinds but it looked like a dungeon in there.
Now, let's go over some of the details in the room.
A Man Chose the Towel Rack & Placement
I loathe this towel rack. Who puts a 24″ towel rack in a powder room? In case someone wants to take a bird bath in the powder room? And who puts said towel rack across the room from the sink?  So after my six and three year old, or anyone, really, washes their hands, they trail water across the room in order to reach the towel. Q#!$)WO%GHW!
And speaking of towels, with the pandemic there has been no reason to have nice towels in the powder room so I gave up. That's a kitchen towel.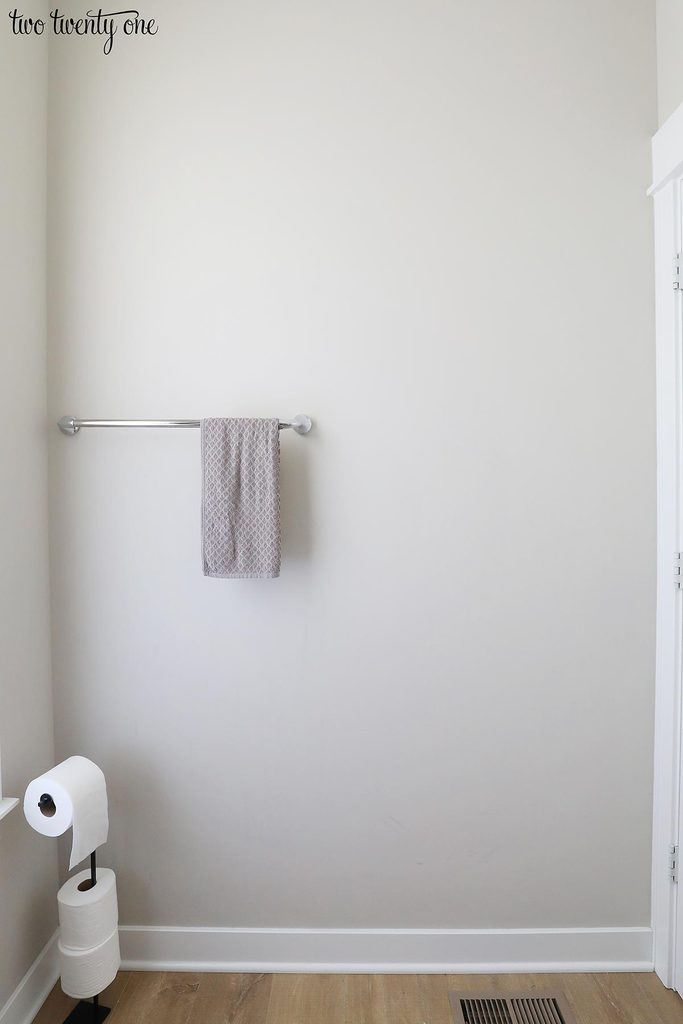 Take a good look because the towel rack's days are numbered. The plan is to put a towel holder next to the new sink, or on a towel holder connected to the sink.
There's a Hole in This Wall
Did you get the My Big Fat Greek Wedding reference? Yes, there's a hole in the wall. The toilet paper holder fell off of the wall a year or so ago. If you know anything about this house and our builder, this shouldn't shock you. And like I said above, with no people coming into my house, I've had no motivation to make things look nice. To remedy the toilet paper holder situation, I invested in a free standing toilet paper holder (seen above). My friend bought it to use as a wreath holder for the holidays so I figure I can use it to display a wreath this holiday season. I love a multifaceted product.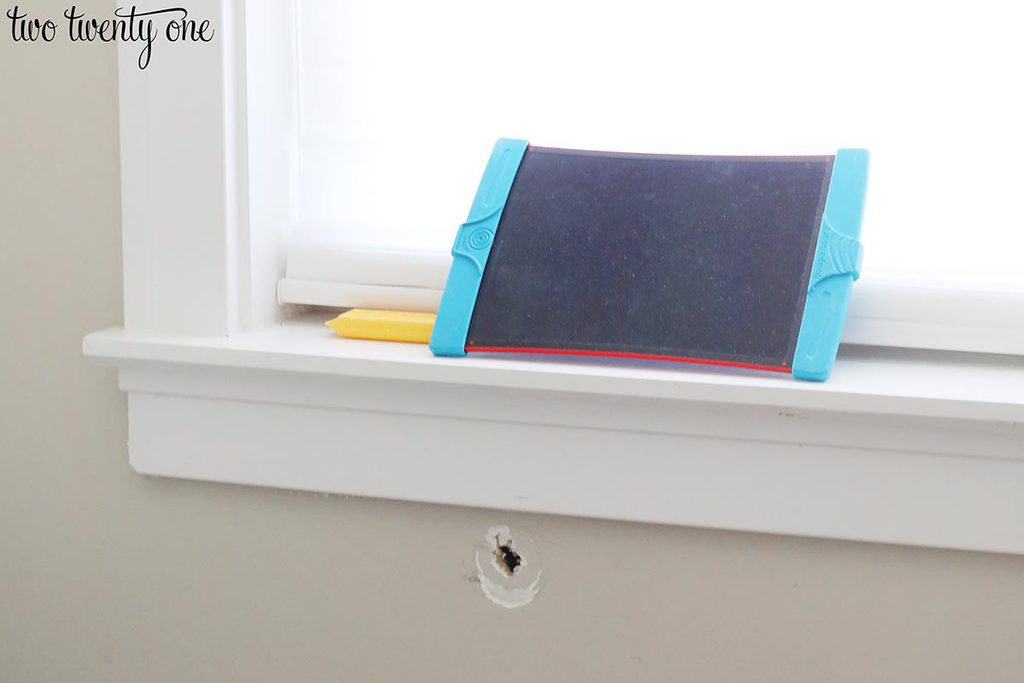 Light Fixture or Seagull Sculpture?
So when we built this house, I went with the bare minimum lighting package because none of the lights they offered were cute. At all. I figured we could replace the fixtures over time, which we have. Whenever I look up at this light, all I can see is a seagull gliding in the sky, looking for stale French fries to gobble up. Don't get me wrong, I've seen worse fixtures. But I just can't unsee it.
I'd love to do sconces in here, but I don't know if I'll be able to swing that. So I may have to find a cute vanity light that doesn't give off Ave vibes.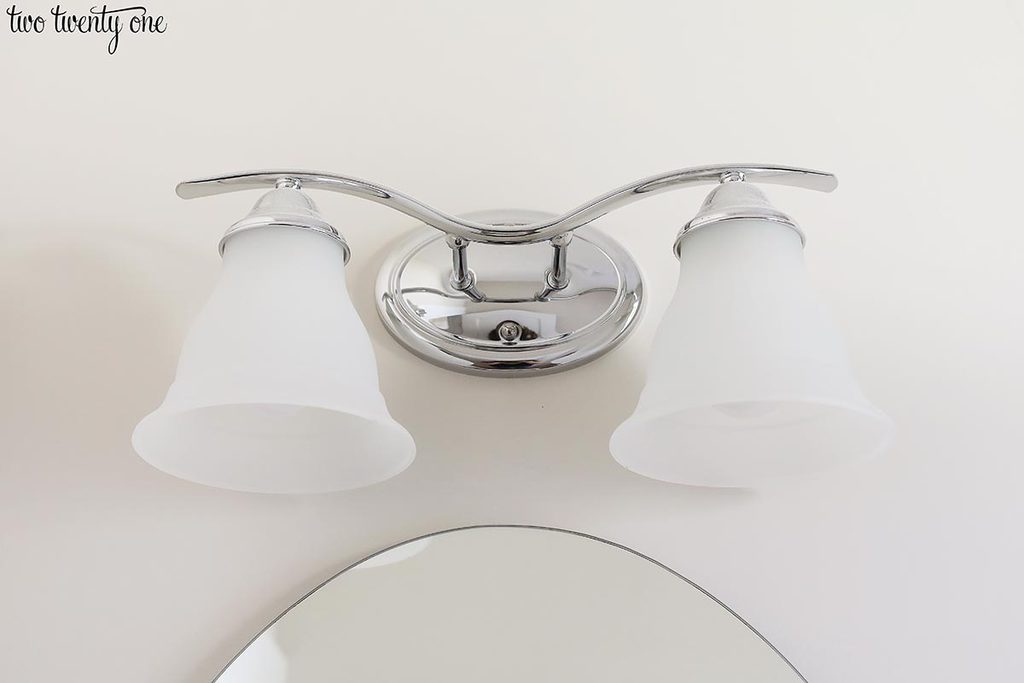 Sink or Fountain?
This pedestal sink drives me nuts. The kid extender thing is on the faucet because when you use the faucet without it, the water splashes off of the sink stopper like a very low-budget fountain. Nothing says "welcome to our home" like sprinkling our guests' clothing with water splashes.
The sink fountain is going.
The mirror is super basic. There's no need to talk about her. She's joining the sink at the Habitat Restore.
And if you're looking at the photo and thinking "Is the light switch misaligned with the outlet or is that the angle of the photo?" They're misaligned. Again, if you've been around for the past four years, this is par for the course.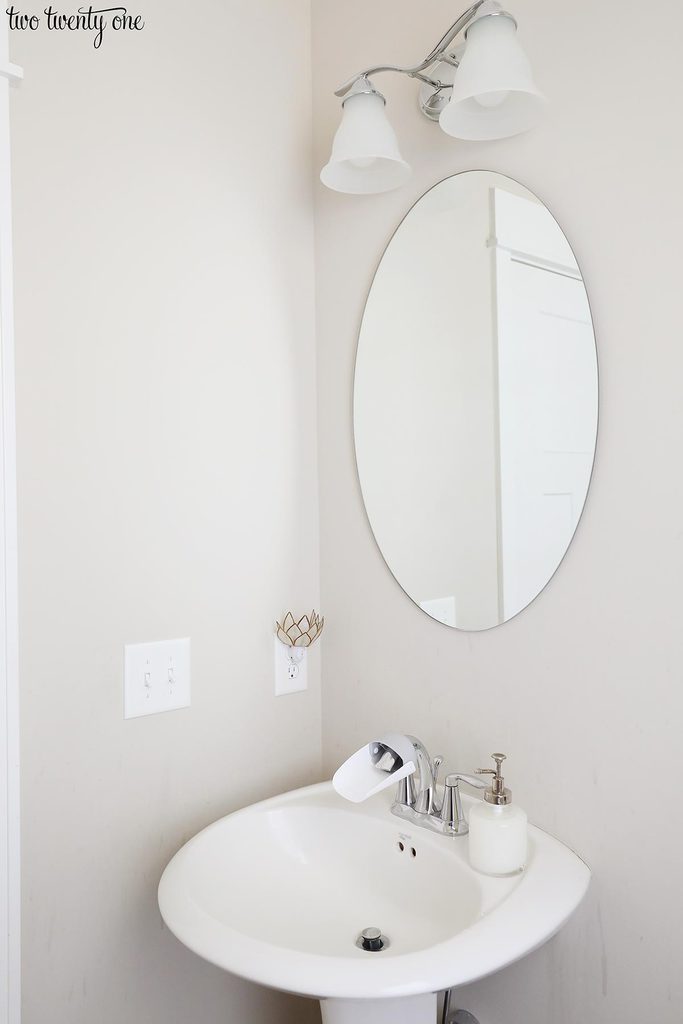 Garbage Paint
When we were building this house, our paint options were no paint at all, or have the entire house painted one color. I didn't want to live with primer walls for who knows how long so we went with the paint option. Looking back, it wasn't the best decision. But how was I supposed to know that they'd hire painters who used 1/2″ nap rollers on smooth walls? And this isn't shocking at all, but they used the contractor grade flat paint, which is terrible (see photo above). The paint is being painted over. With quality paint. Using the appropriate roller nap.
Now that I've roasted my powder room, let us get to work! And by 'us', I mean me.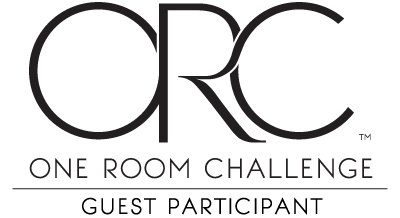 Be sure to check out the other designers here!