I figured I'd follow up last week's not-so-uplifting post with a more positive post– a new house tour.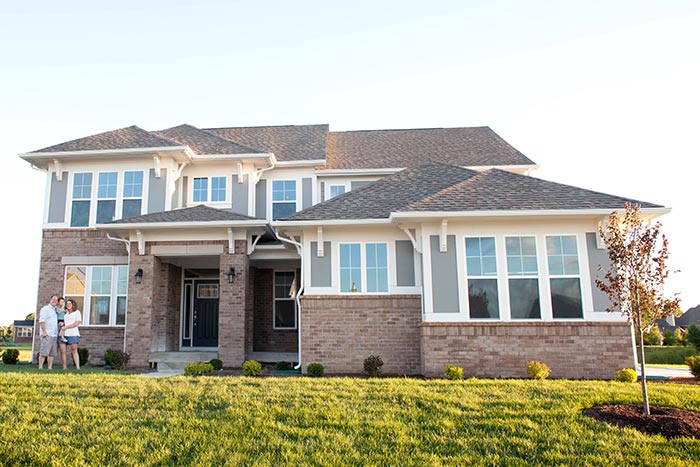 I'm not gonna lie, these aren't the best photos. I ran over to the house after we closed on it, and before we started moving stuff in so I only had a limited amount of time to take pics of the empty house.
I'm going to keep details at a minimum because I'm working on a home building series, and one of the posts will be about going to the design center and choosing all the features and materials in the house. However, I will start off by saying the wall color throughout the entire house is SW Worldly Gray and the trim is SW Extra White. Worldly Gray wasn't my first choice, but we had to choose from six colors and this was the one we chose. And by 'we' I mean me because most of the design decisions were left up to me. Obviously.
This is the view when entering the house. There's a coat closet to the right and my office is to the left.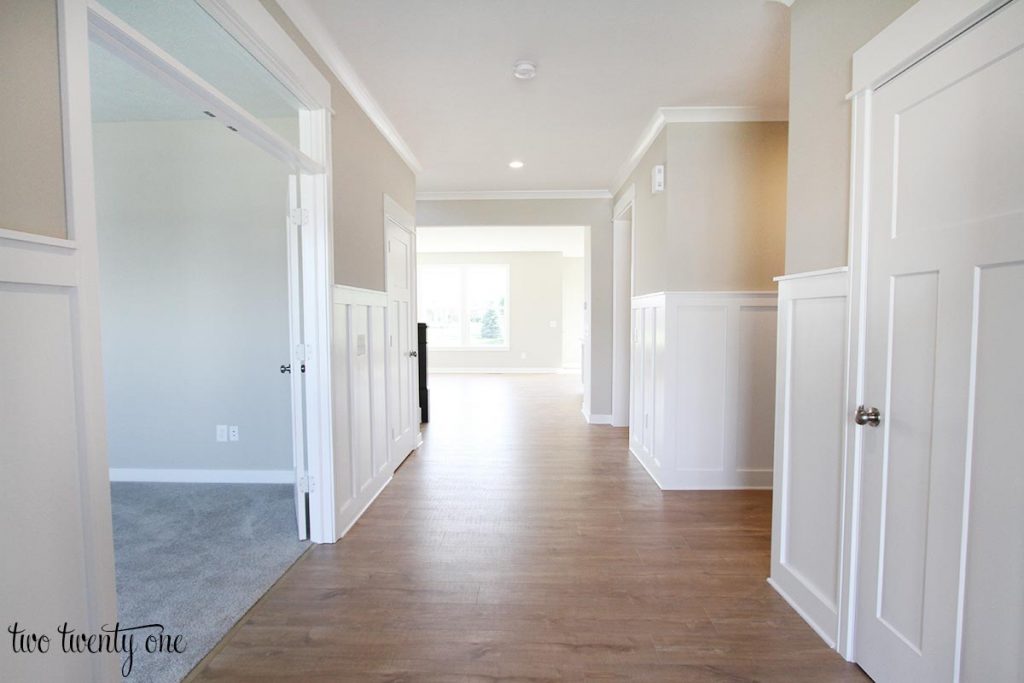 In the original floor plans, my office is the formal dining room. But since I feel formal dining rooms are a waste of space and I needed an office, we paid extra to have the opening closed in and a set of doors French doors installed.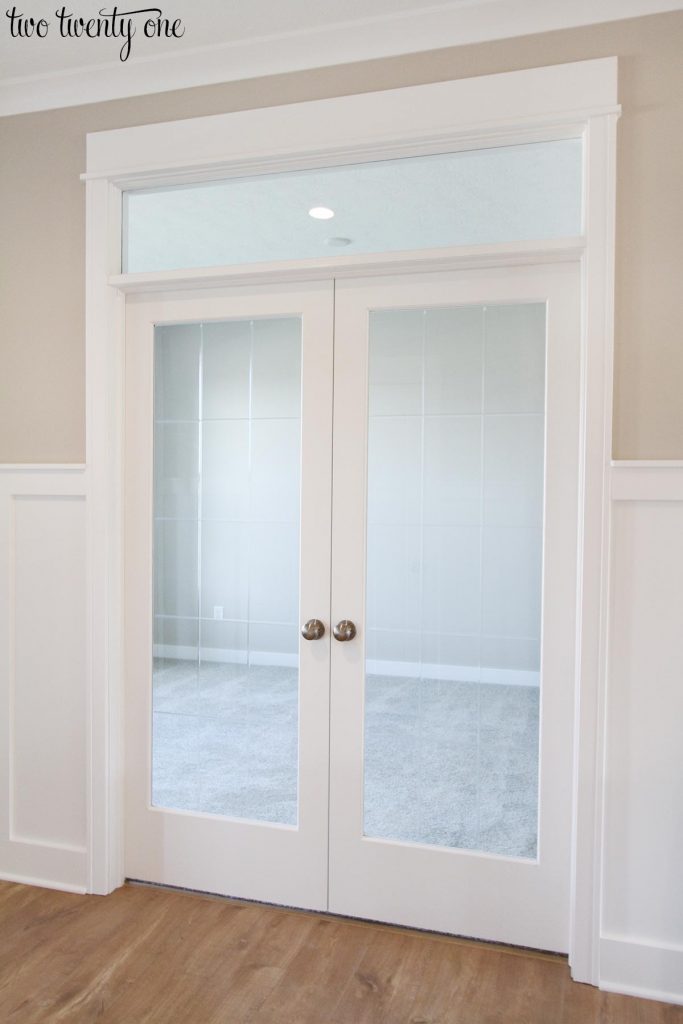 My new office has tons of space for my workstation and desk, as well as the boxes I've yet to unpack. The buffet and card catalog are also living in here until we decide their permanent homes.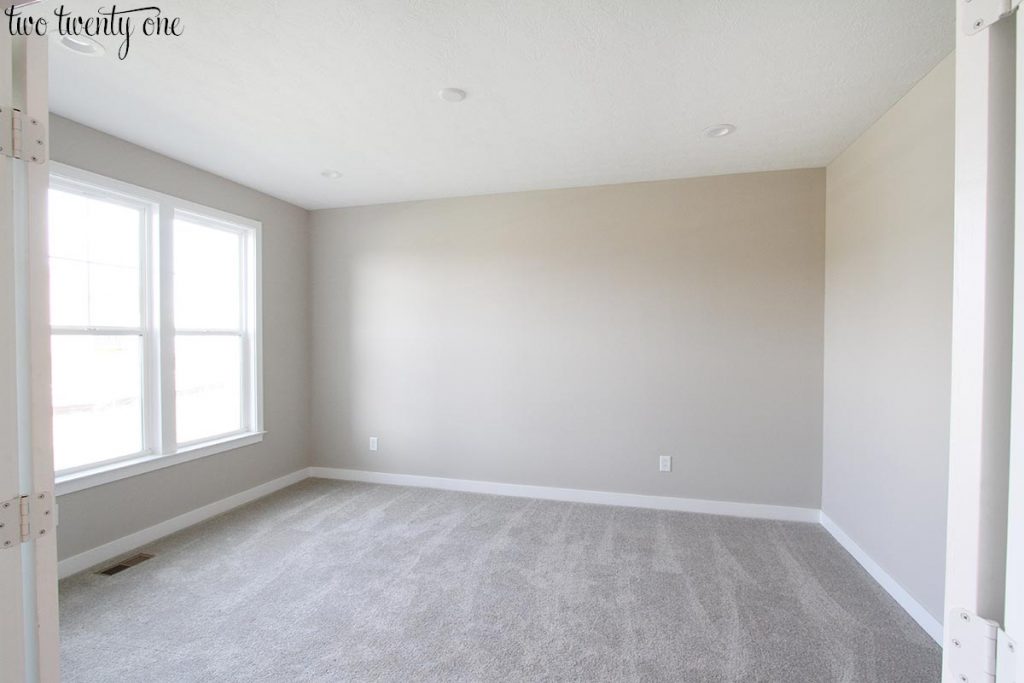 Across from my office is a little hallway with a closet I'll use to store stuff for my office.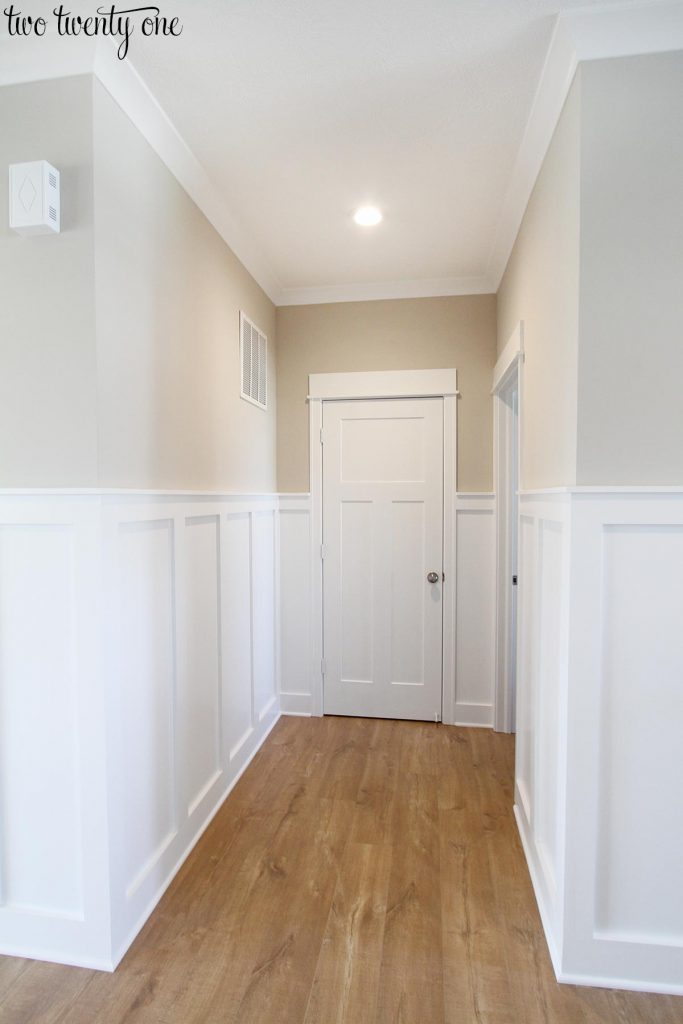 The main floor half bathroom is also down the little hallway. Don't worry, I put up some temporary blinds since taking this photo.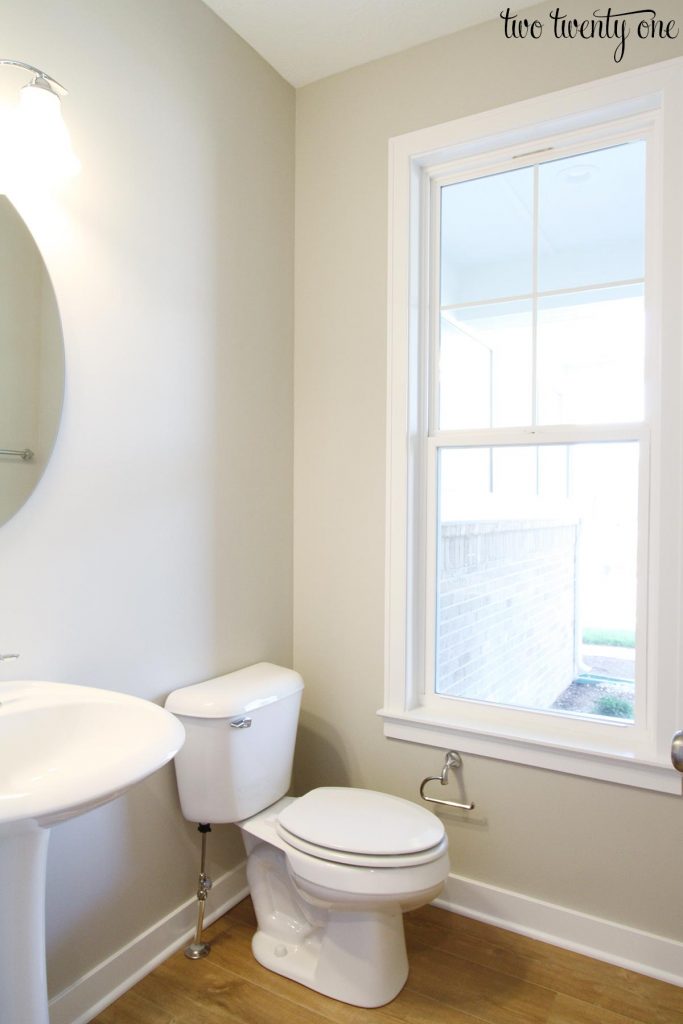 The back of the house is completely open. I know they keep saying open floor plans are becoming a thing of the past, but we love the layout.
And all the windows.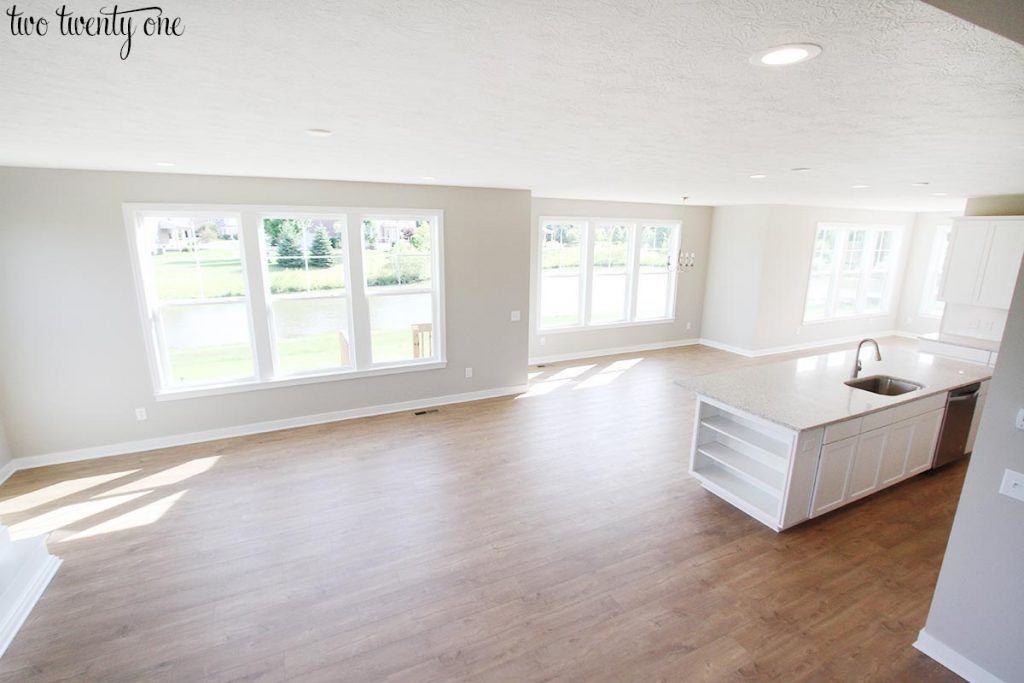 In the original floor plan, the fireplace is a corner fireplace in the left corner where that window is located. We paid $500 (everything is an upgrade) to have the fireplace centered and flanked by windows.
We're really happy with that decision because it makes the room feel more classic and timeless.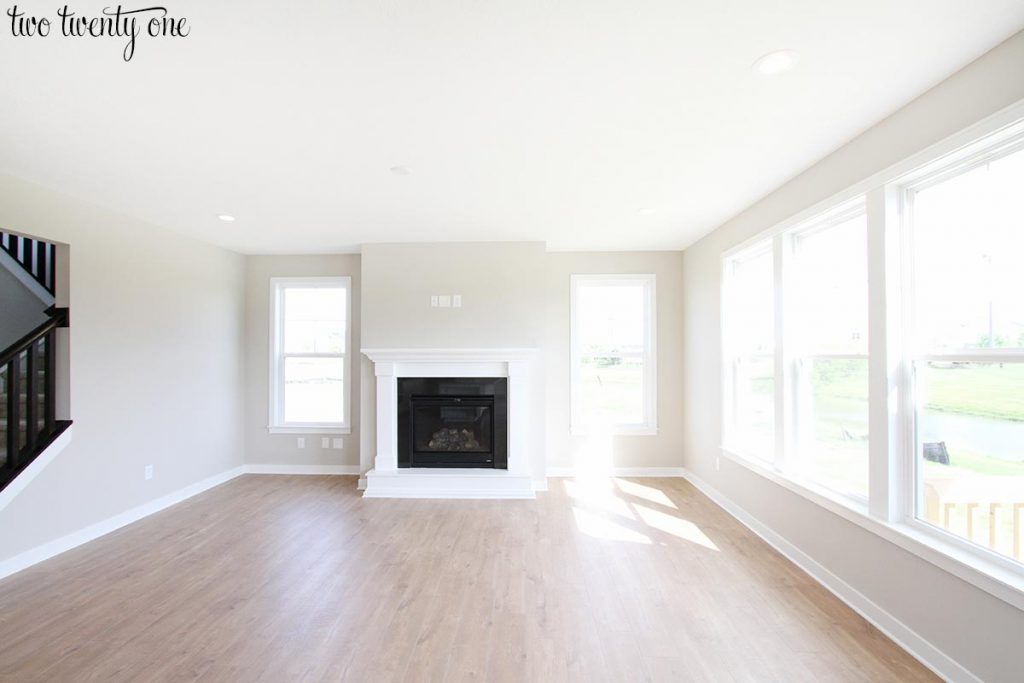 The kitchen is in the center.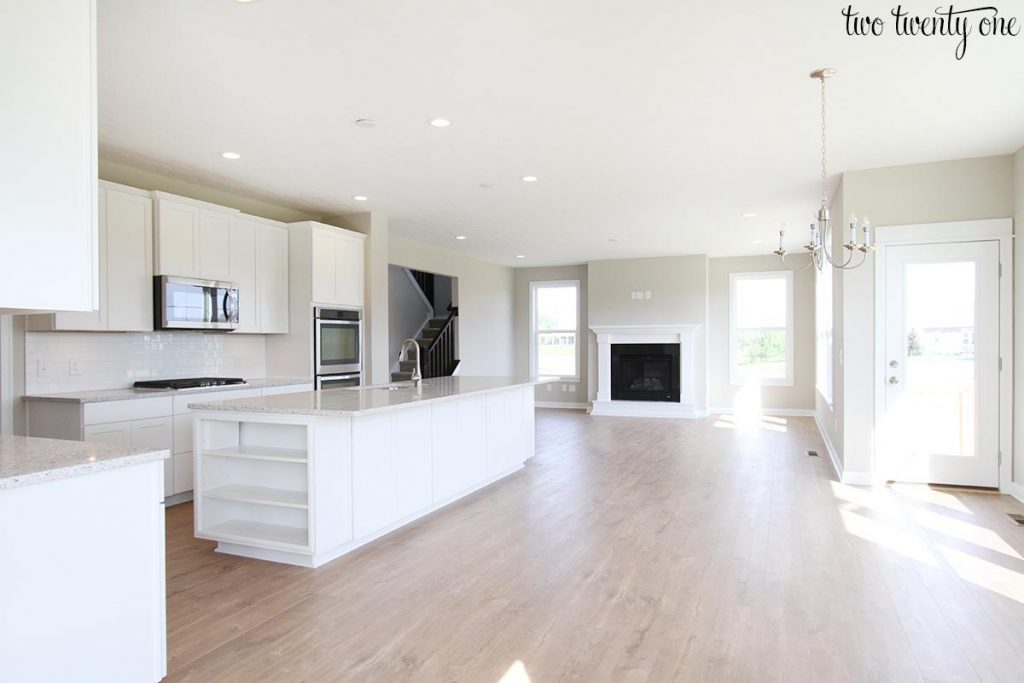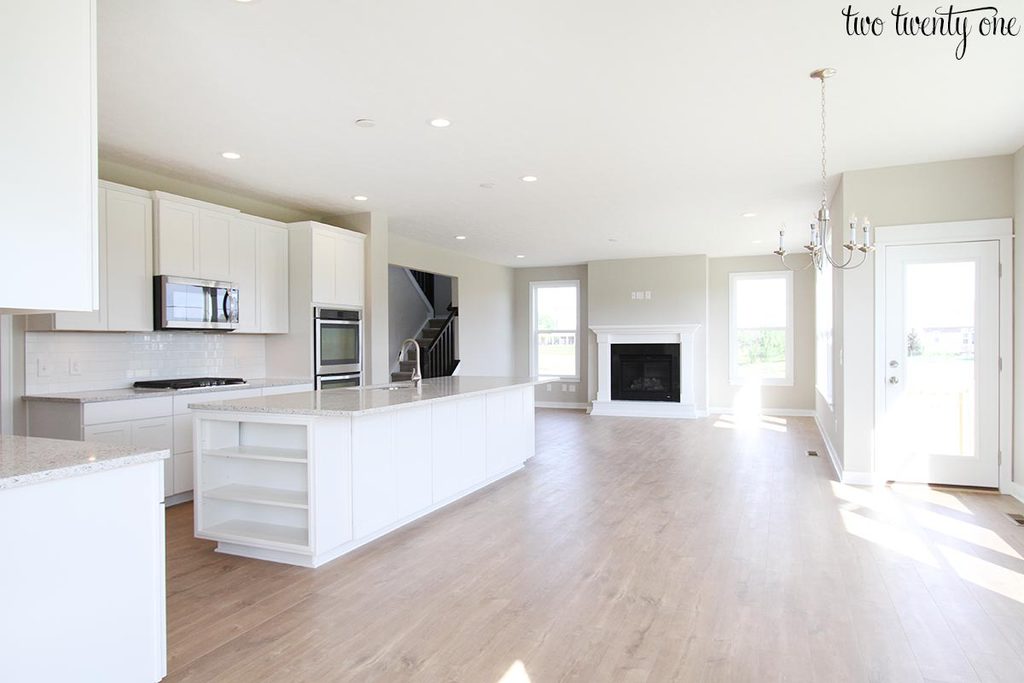 The island is massive– clocking in at 11 feet long. There's bookcases on each end. And I still need to make a decision on pendant lights.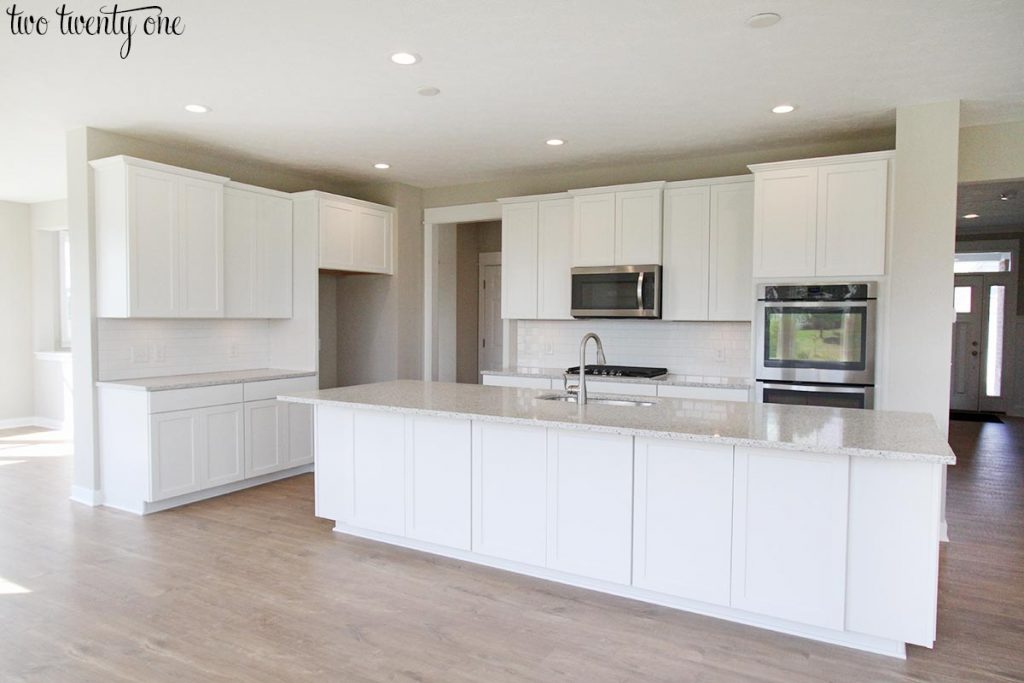 I'm so excited to have a double oven and gas cooktop. The microwave above the cooktop wasn't ideal but I didn't like the builder's hood option. Maybe someday we'll move some things around and put in a hood.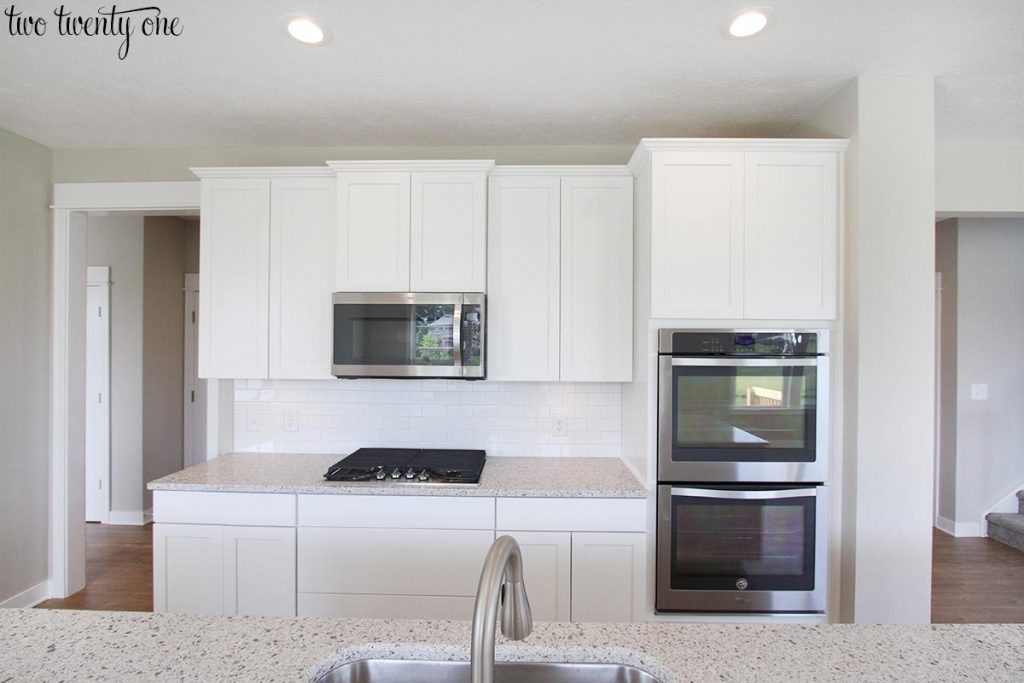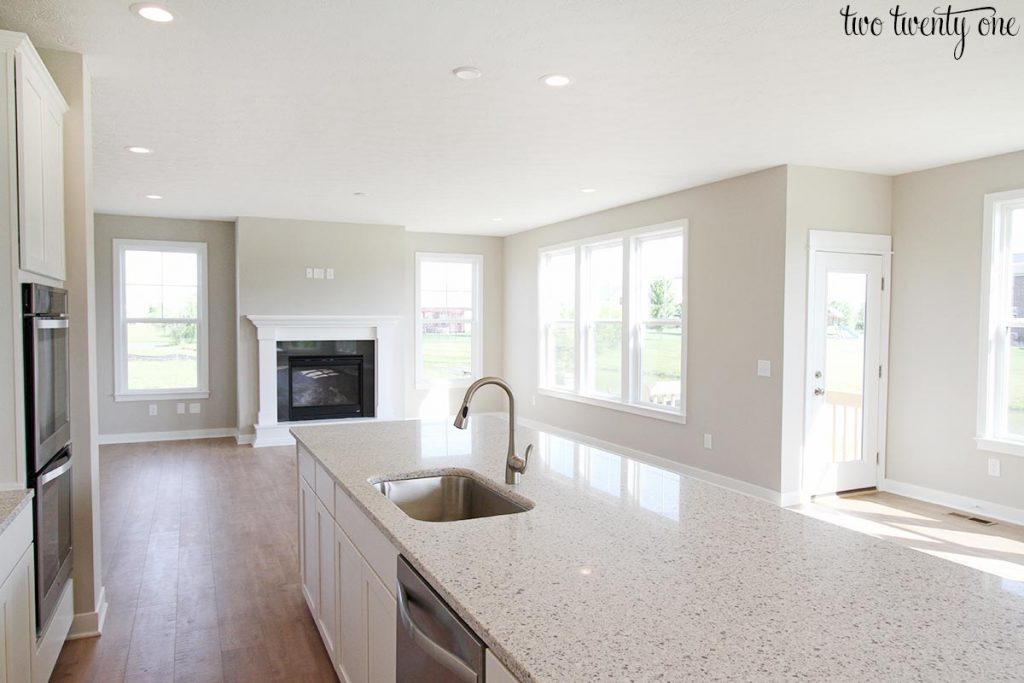 The dining area is directly across from the kitchen. Don't worry, I'm getting a new light.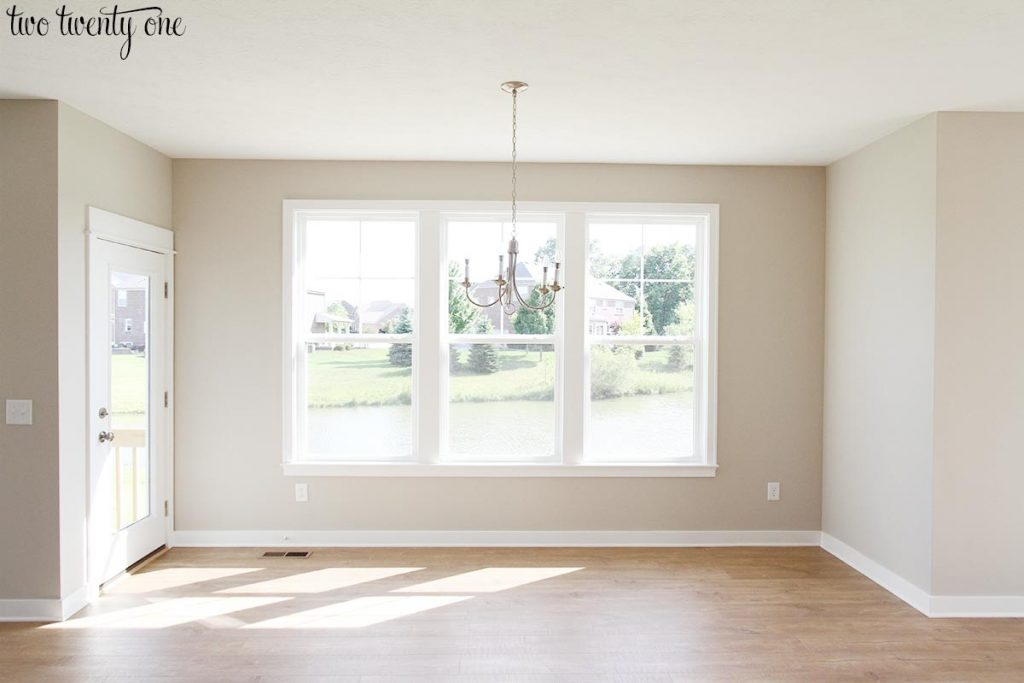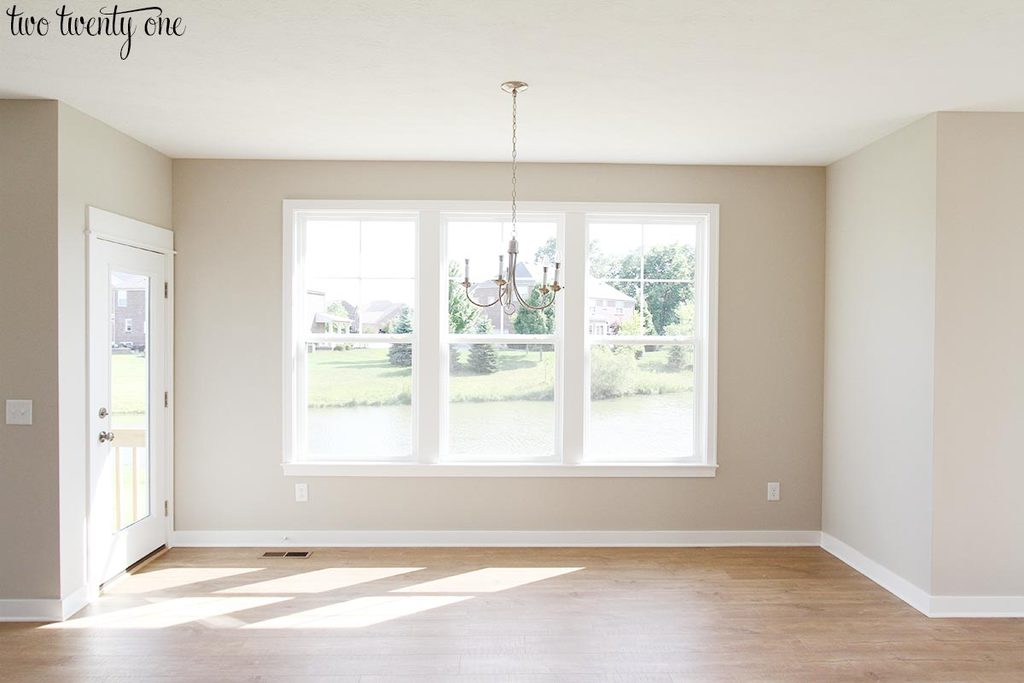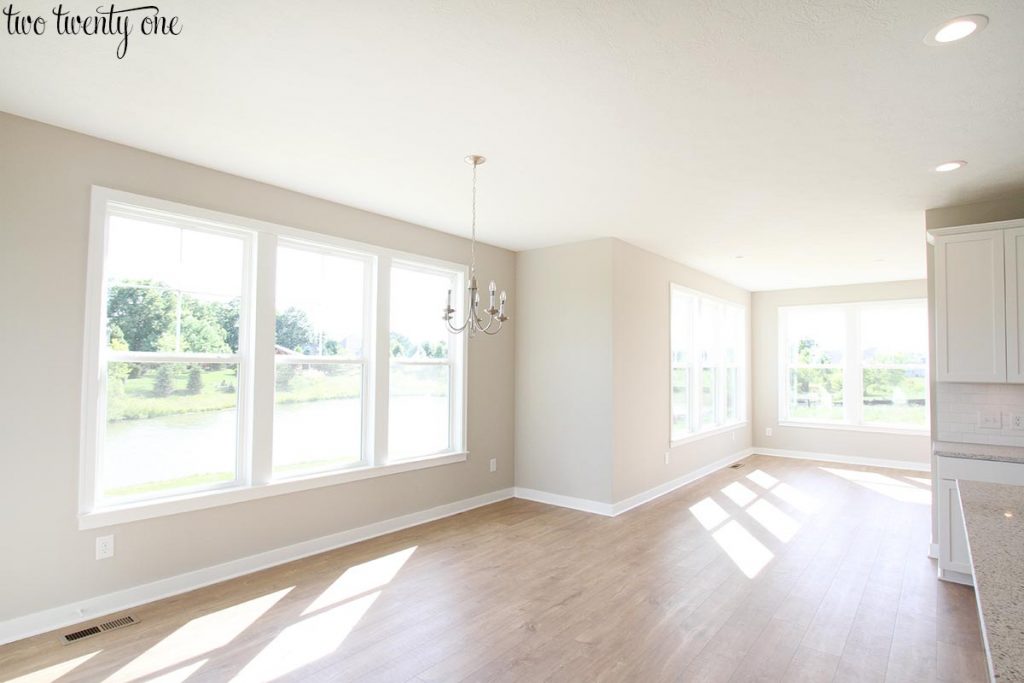 Owen's playroom is on the other side of the kitchen. I love all of the light in this room, and the views of the lake.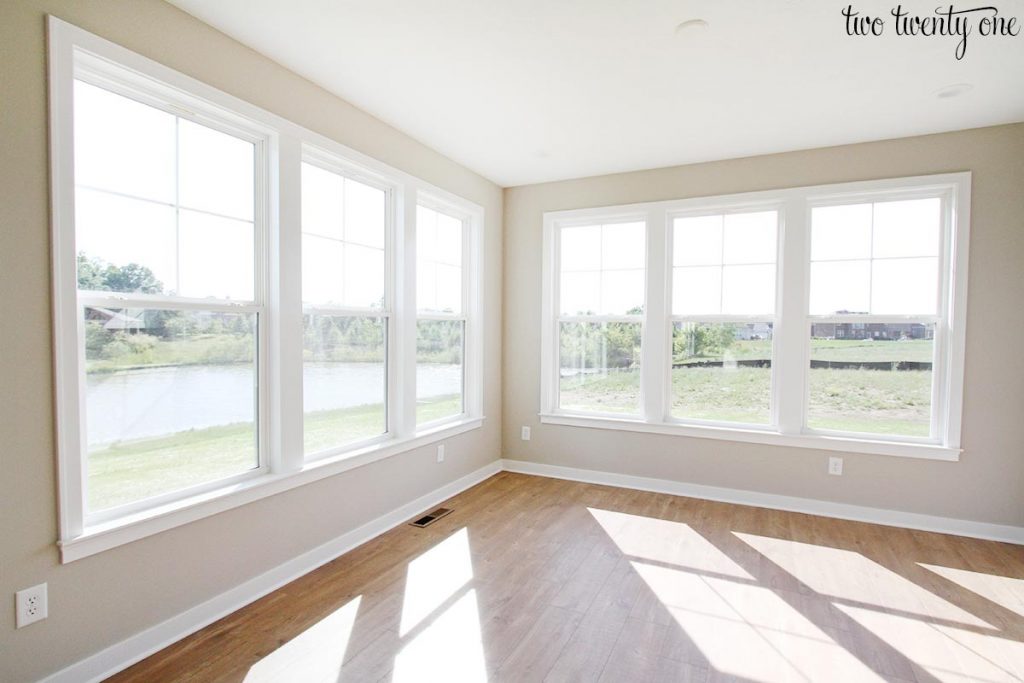 This little hallway leads to the planning center, walk-in pantry, and a closet.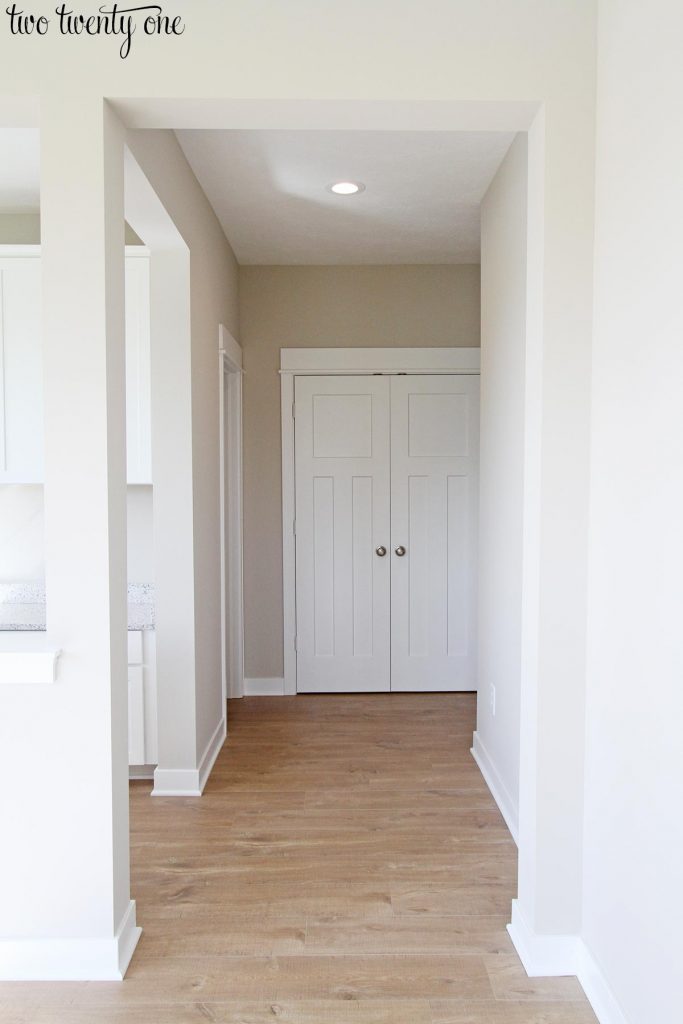 The planning center will be used mostly for Owen's arts and crafts area.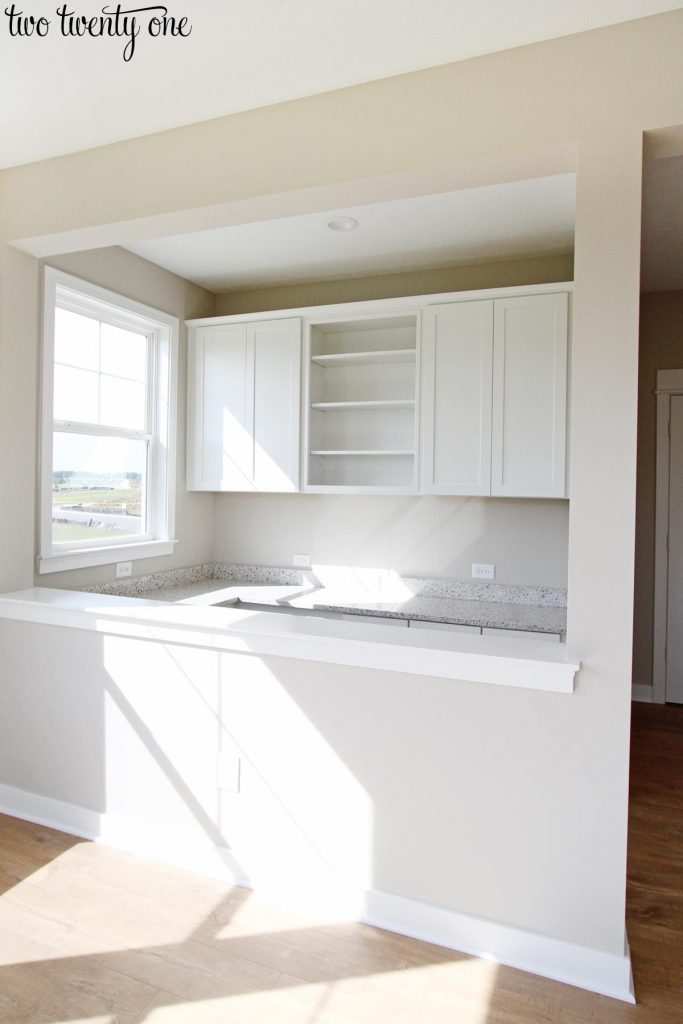 Behind the kitchen is our mudroom area with four built-ins.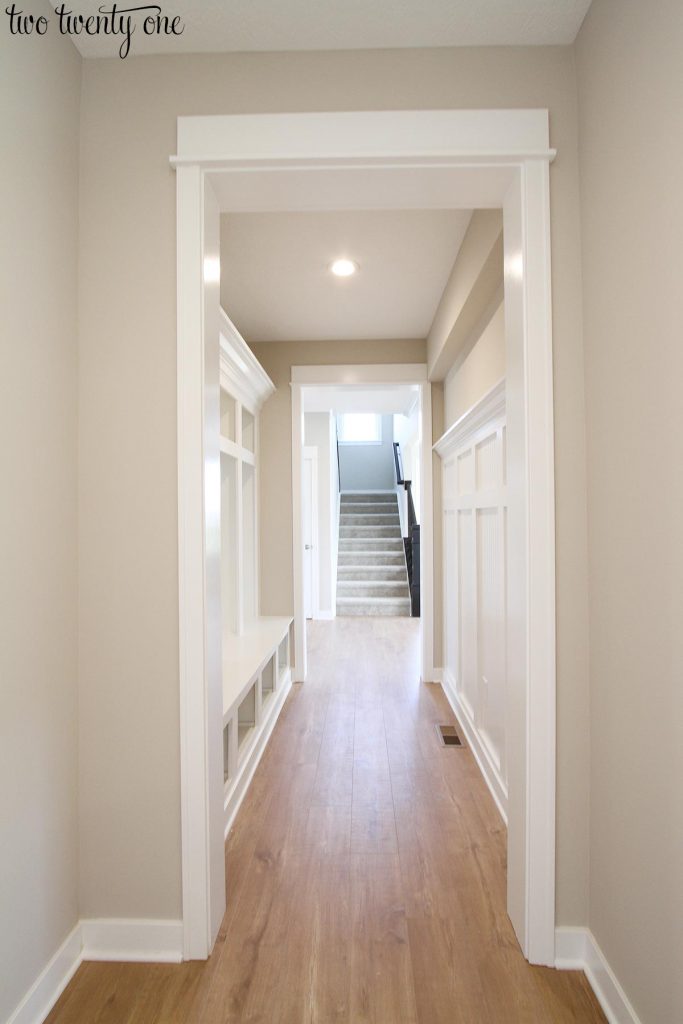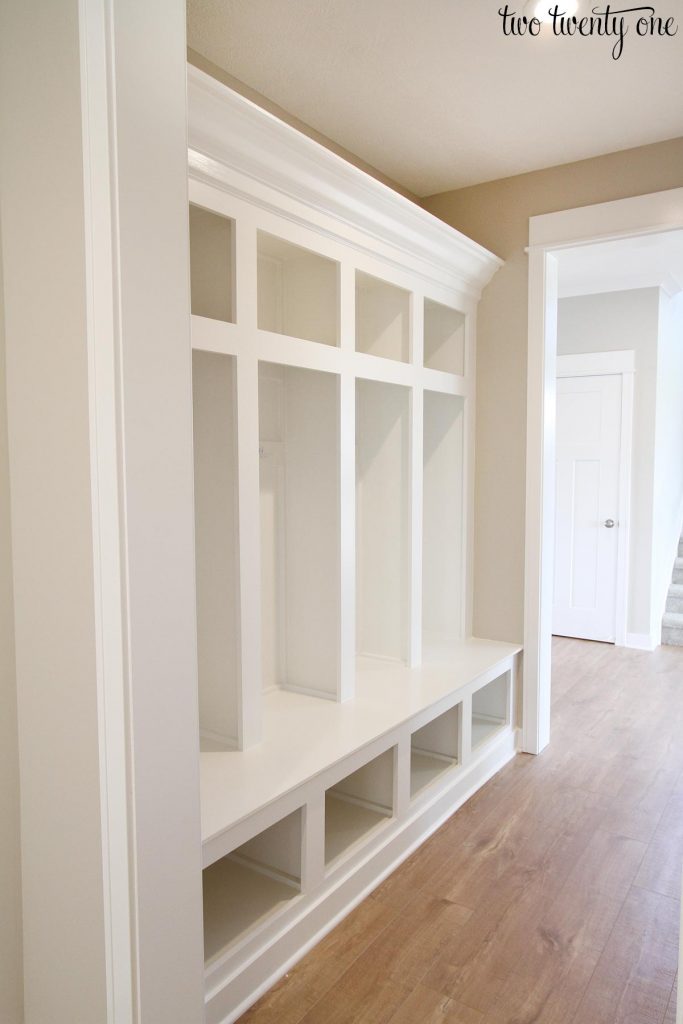 Stairs– pretty self-explanatory.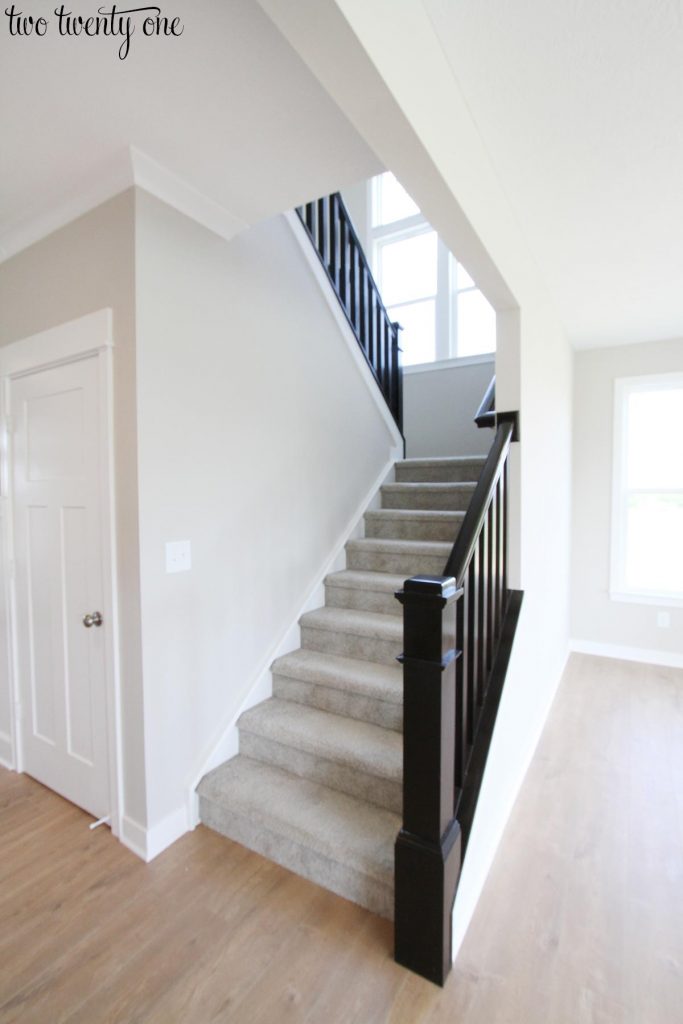 Don't worry. I already replaced that light.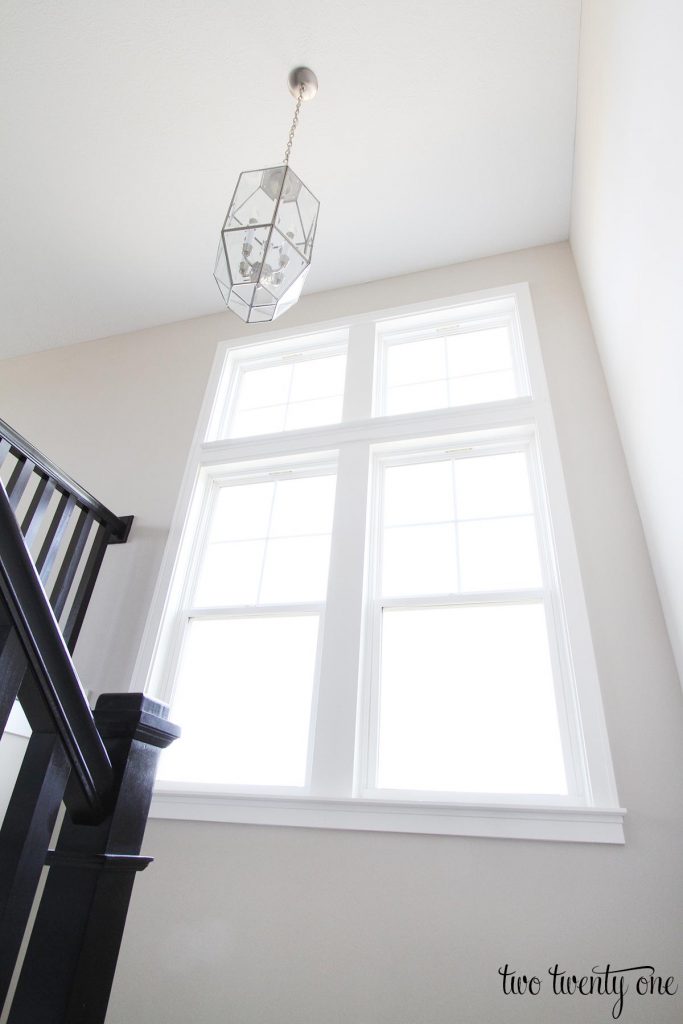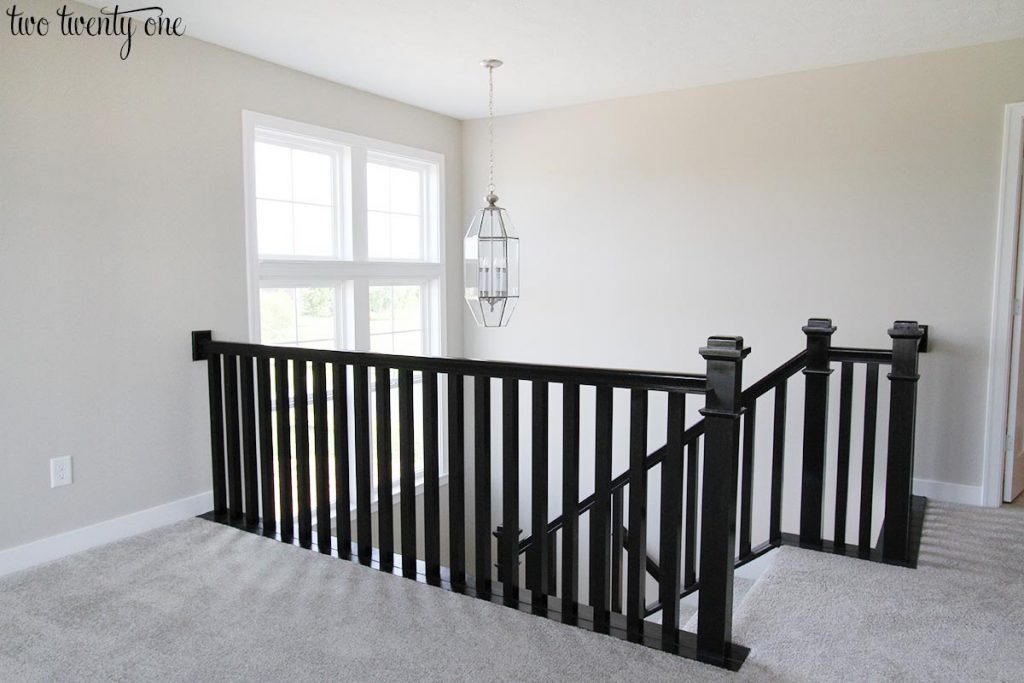 There's a bonus room at the top of the stairs. We plan on putting a pull-out sofa there in case we have more than one set of guests visiting at one time.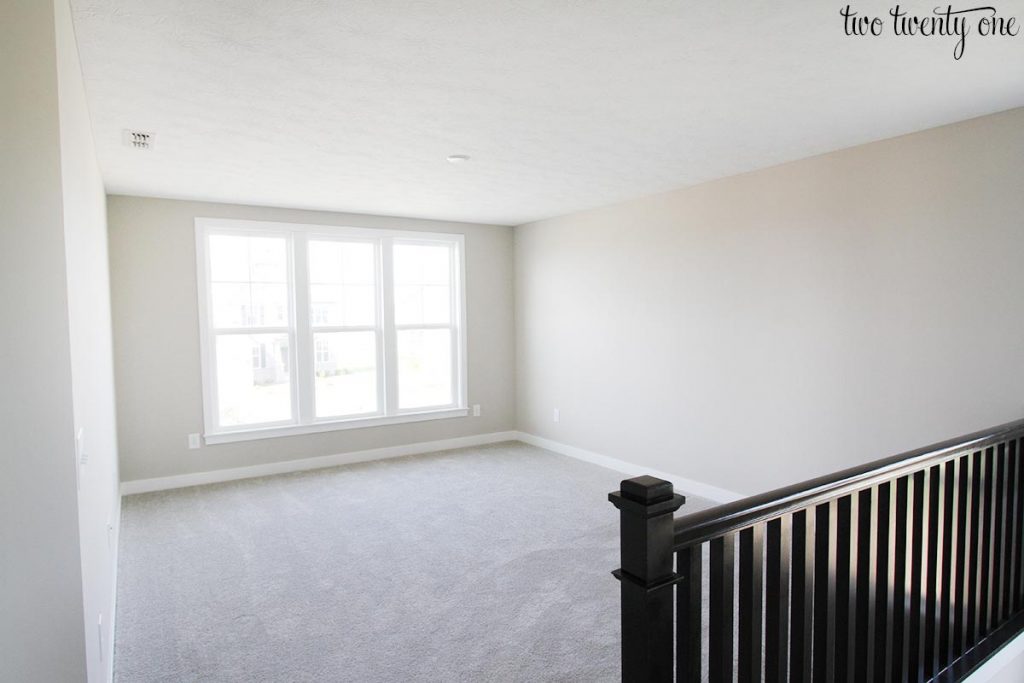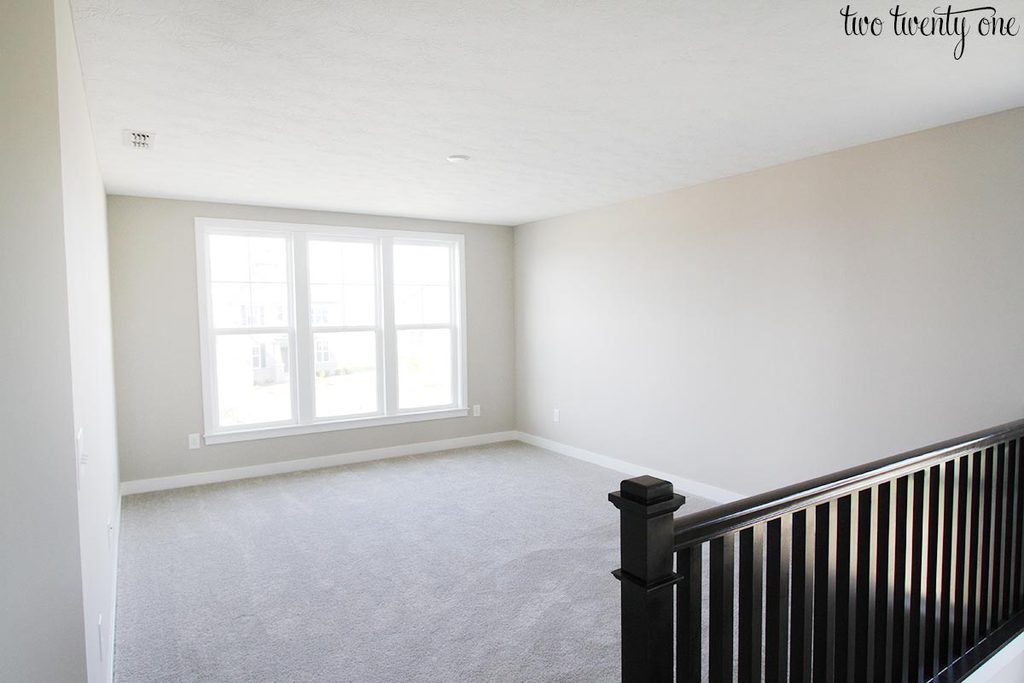 Here's our master bedroom.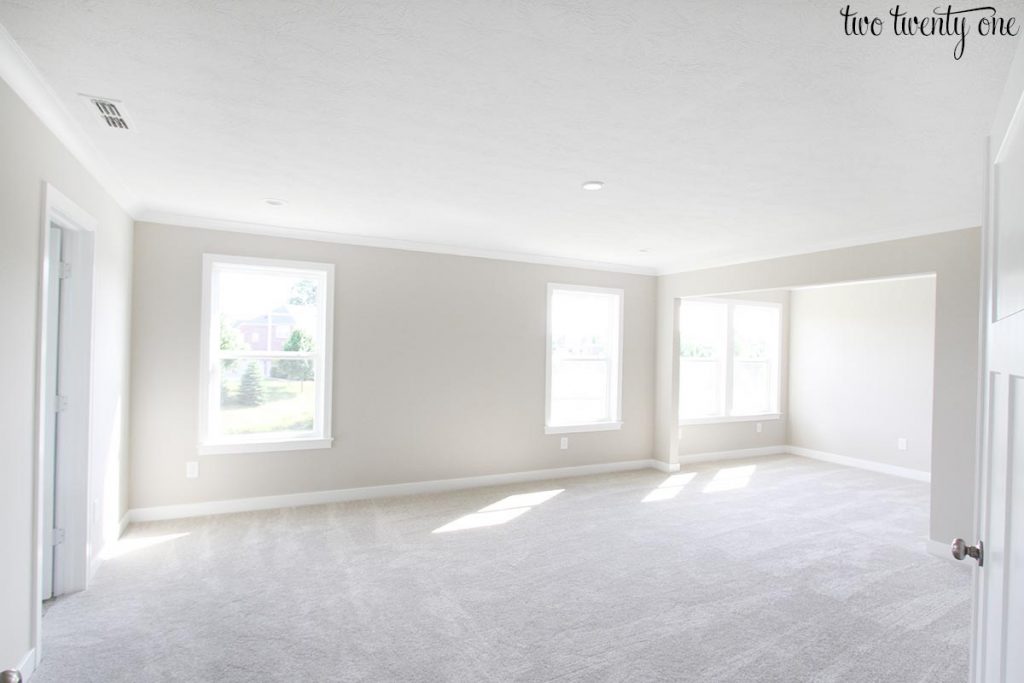 It comes with its own sitting area, which isn't really necessary for us, but we'll take it.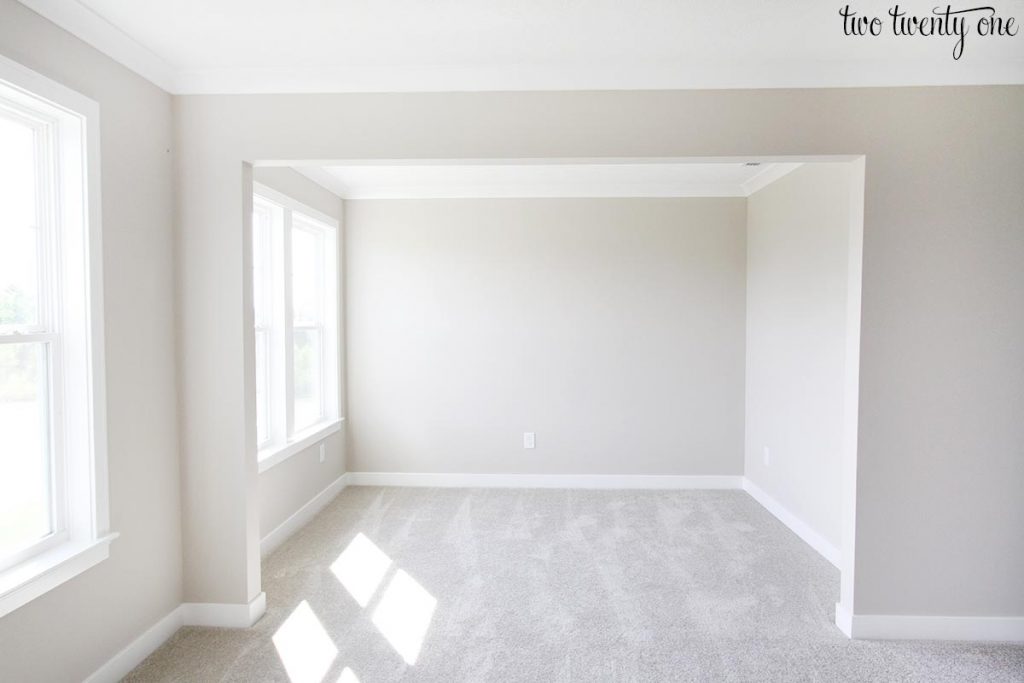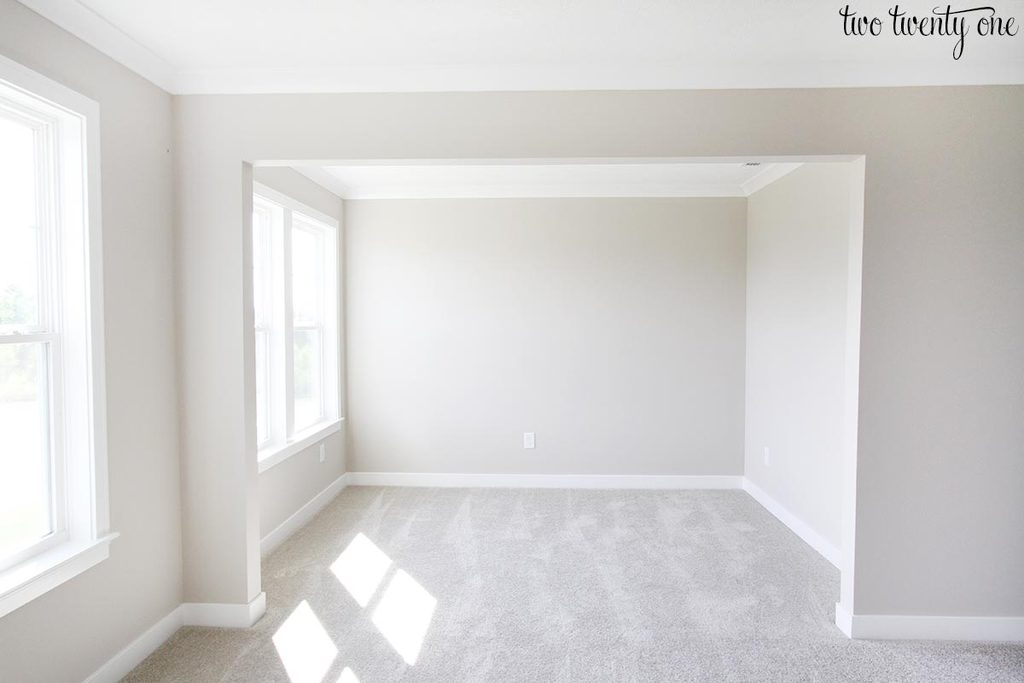 Our master bathroom has two separate vanities, which is a plus.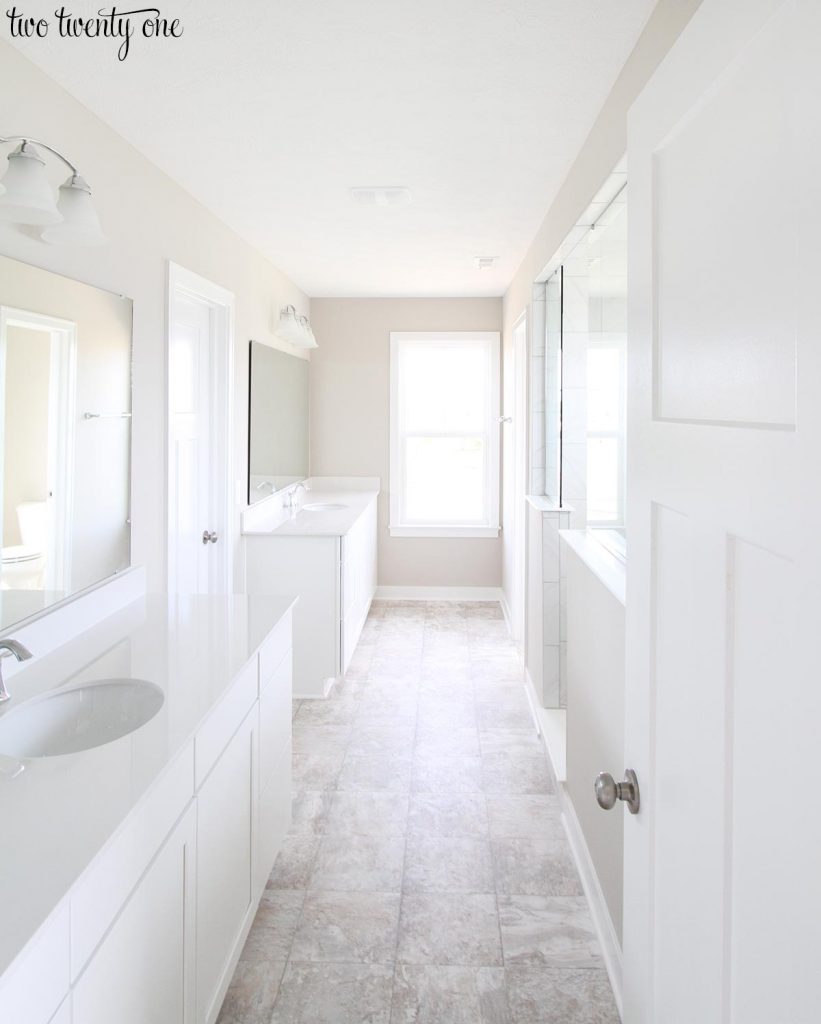 The water closet.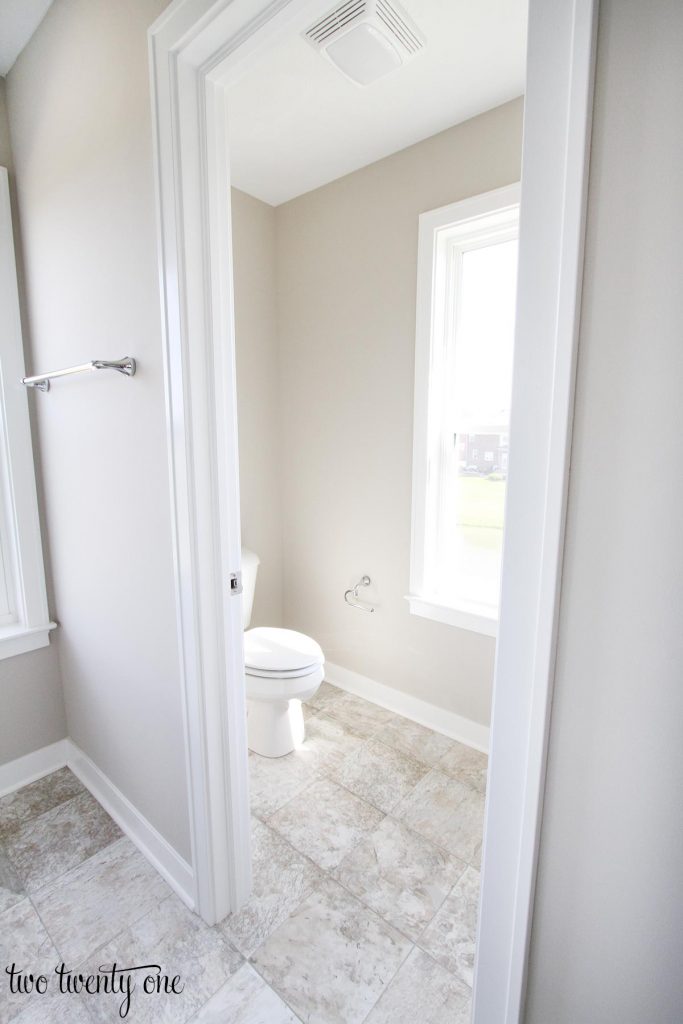 It also has a fancy walk-in shower. This was the one thing Brad wanted to have. And since I'm not a bathtub person, I was on board.
We plan on changing the flooring someday because that vinyl isn't my style.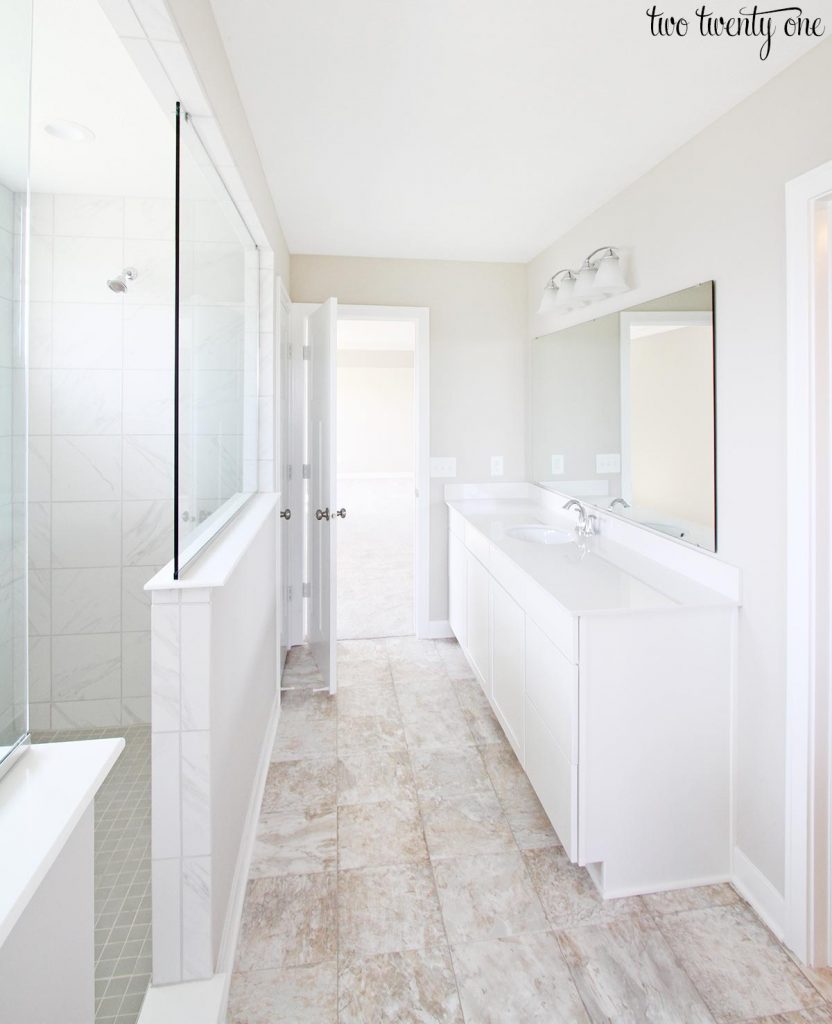 Our master walk-in closet. It comes with a lovely set of boob lights. Contain your jealousy.
We don't know if we should work on a solution or revel in the boob light splendor.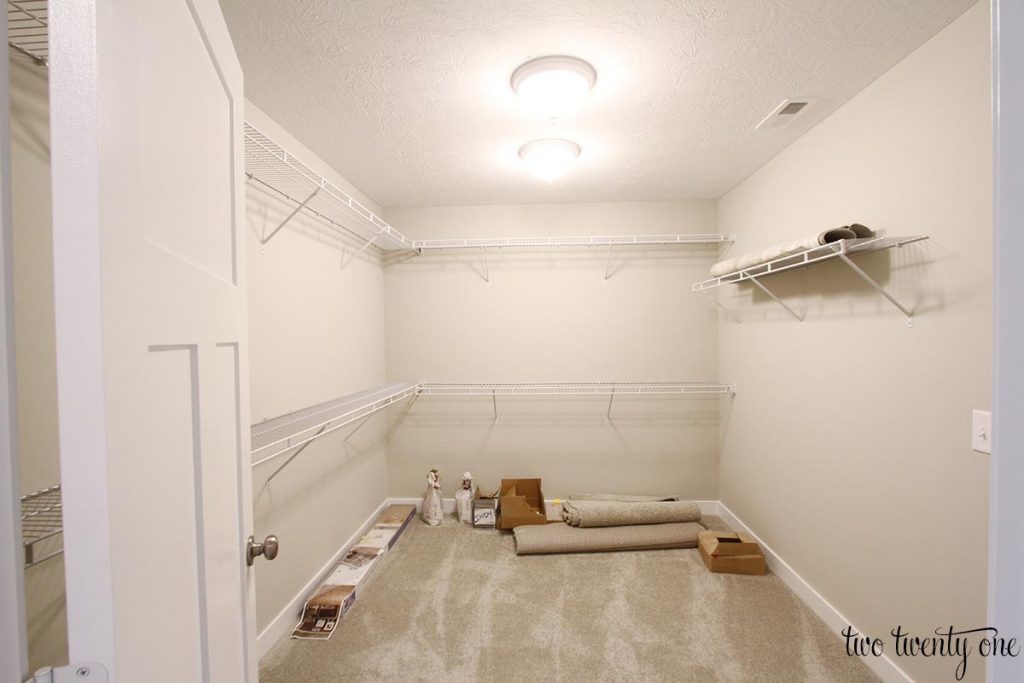 The guest bedroom comes with its own bathroom (another upgrade– you're welcome, guests).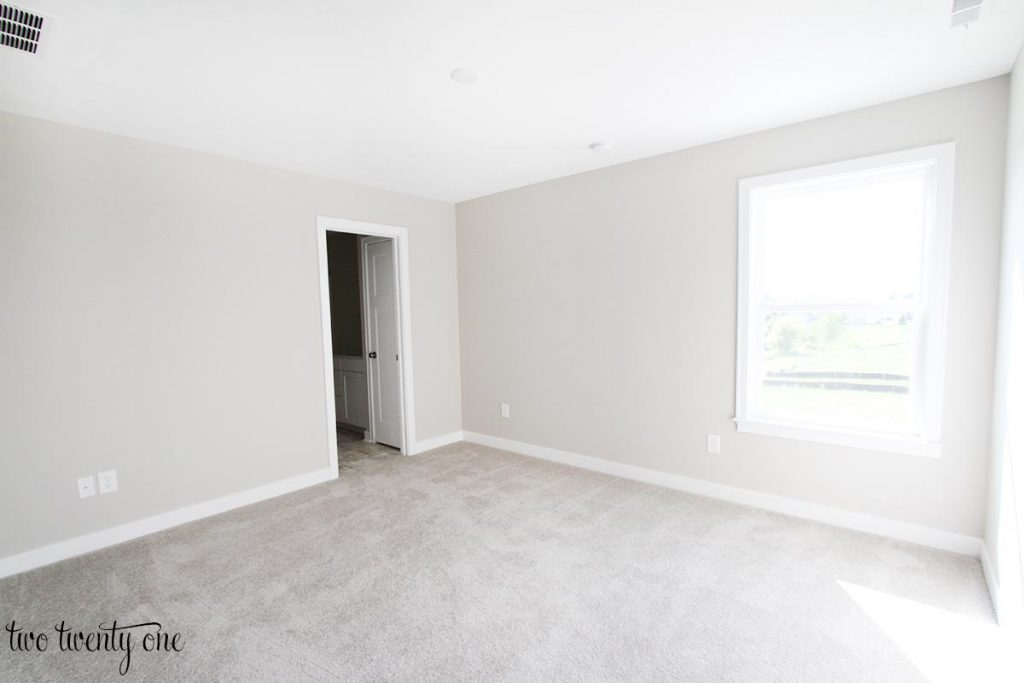 The bathroom even has a small linen closet so my mom never has to ask me for a washcloth ever again.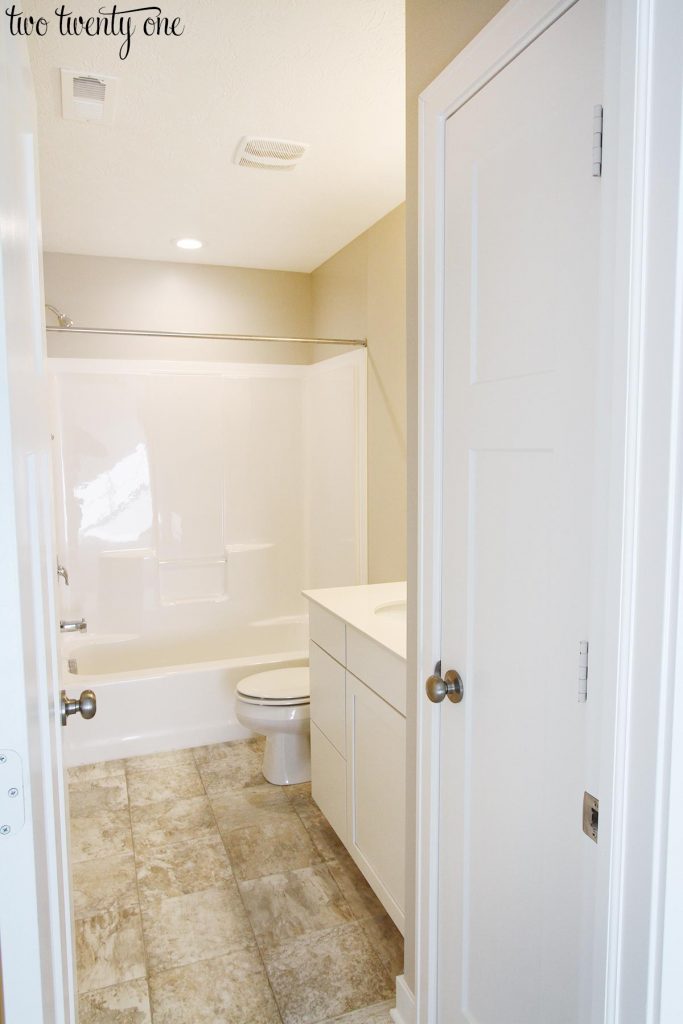 This bedroom is currently vacant.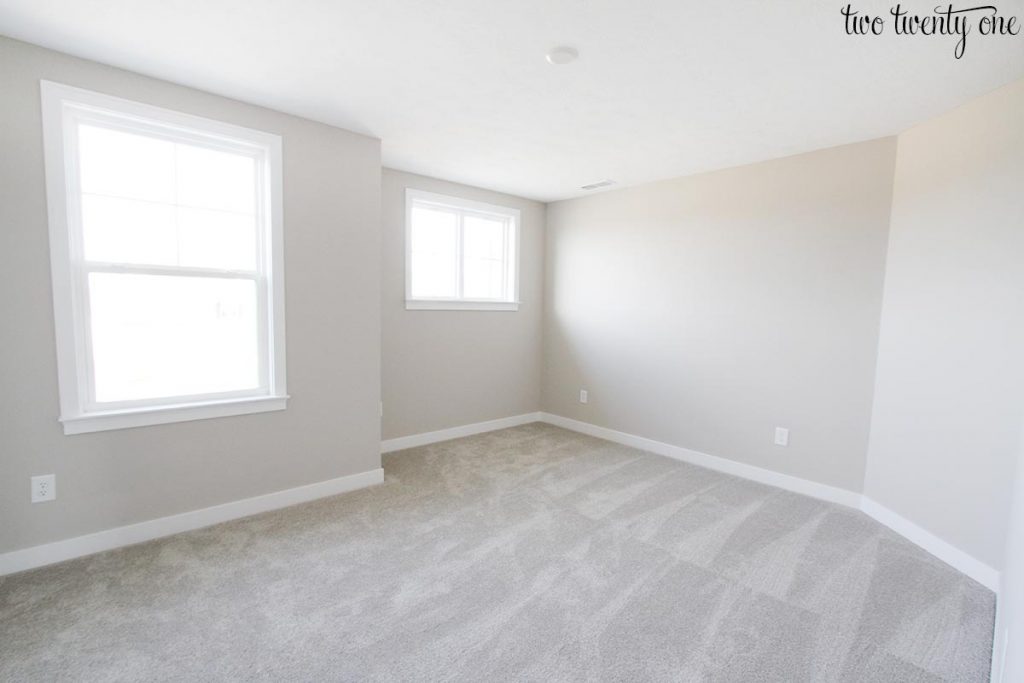 Owen's bedroom. That little window is going to be tricky to address.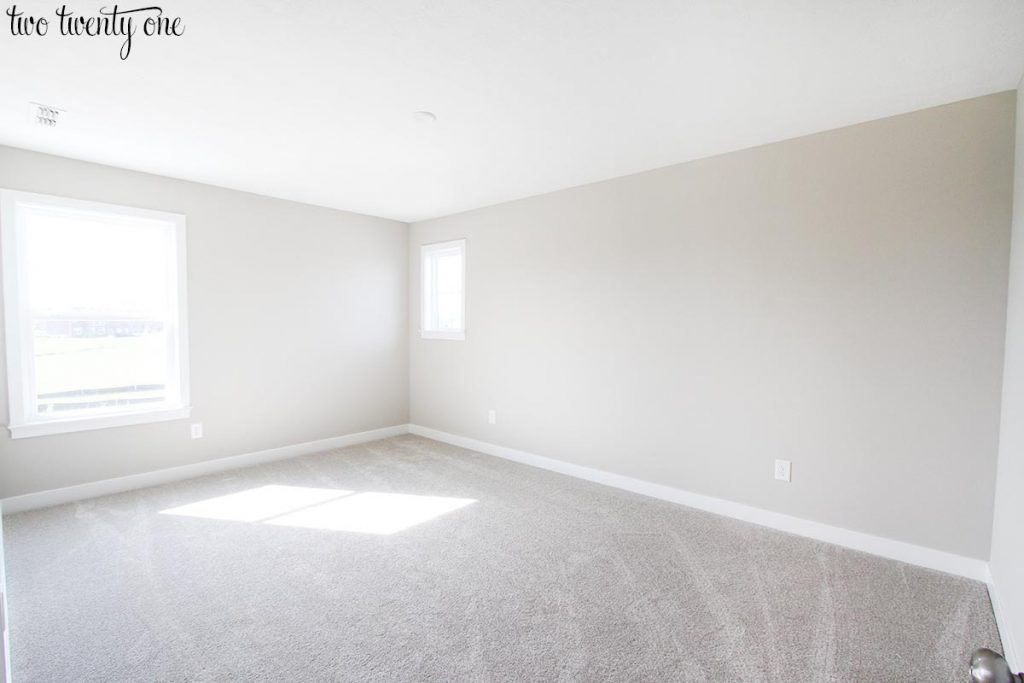 Owen's bathroom comes with a double vanity.
Apologies for the super yellow photo, it doesn't look like that in person.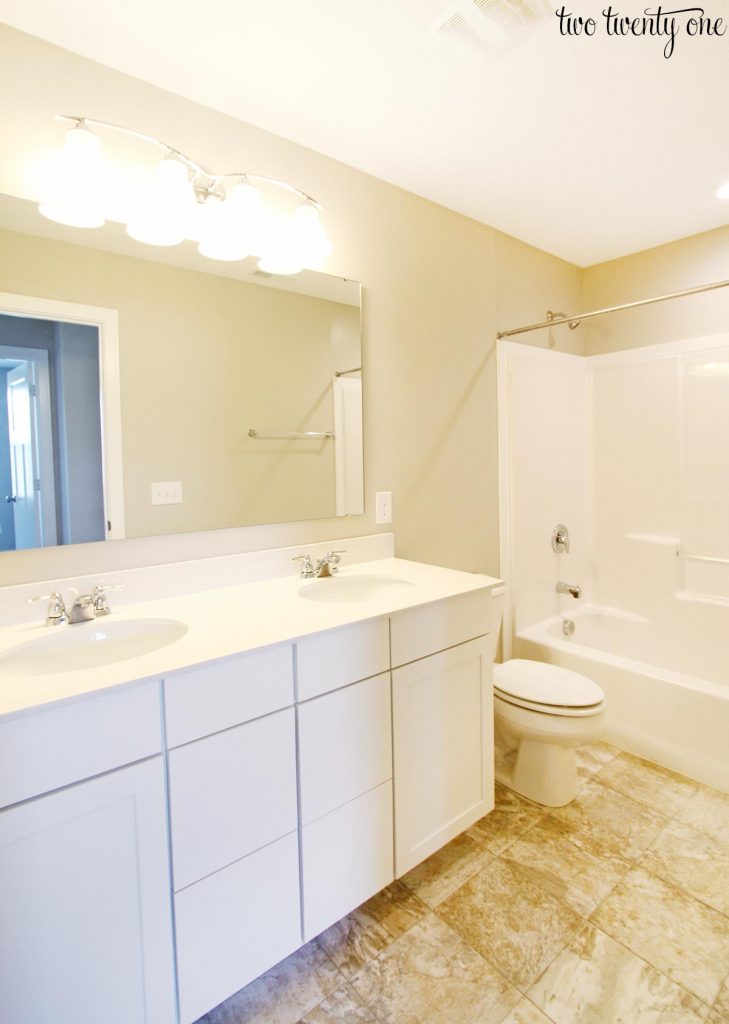 Our laundry room is also upstairs, which is nice. We added a utility sink (upgrade). Eventually, we'd like to add cabinets and a sink. And swap out the vinyl flooring– again, not my style.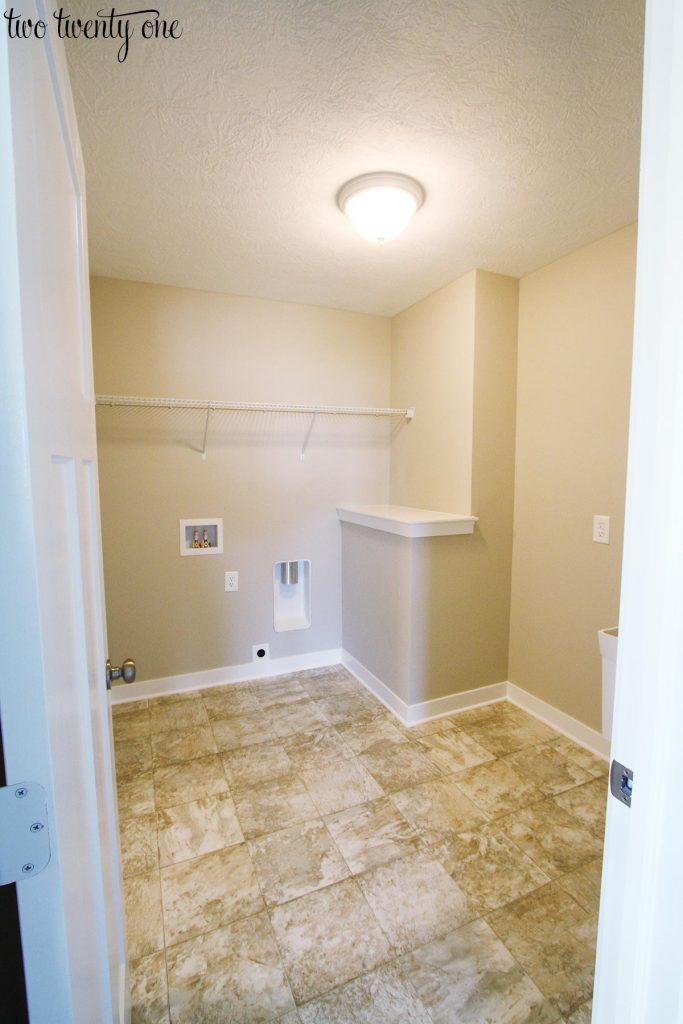 The view when you come down the stairs.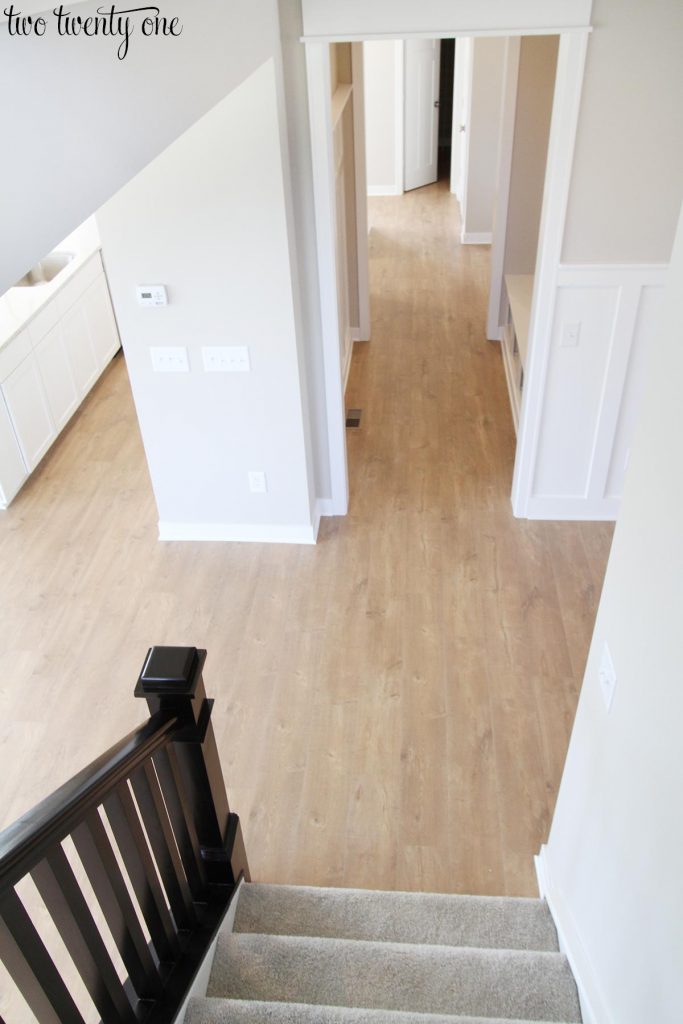 We also have a partially finished basement. I won't show you the unfinished parts because they're just dark and boring.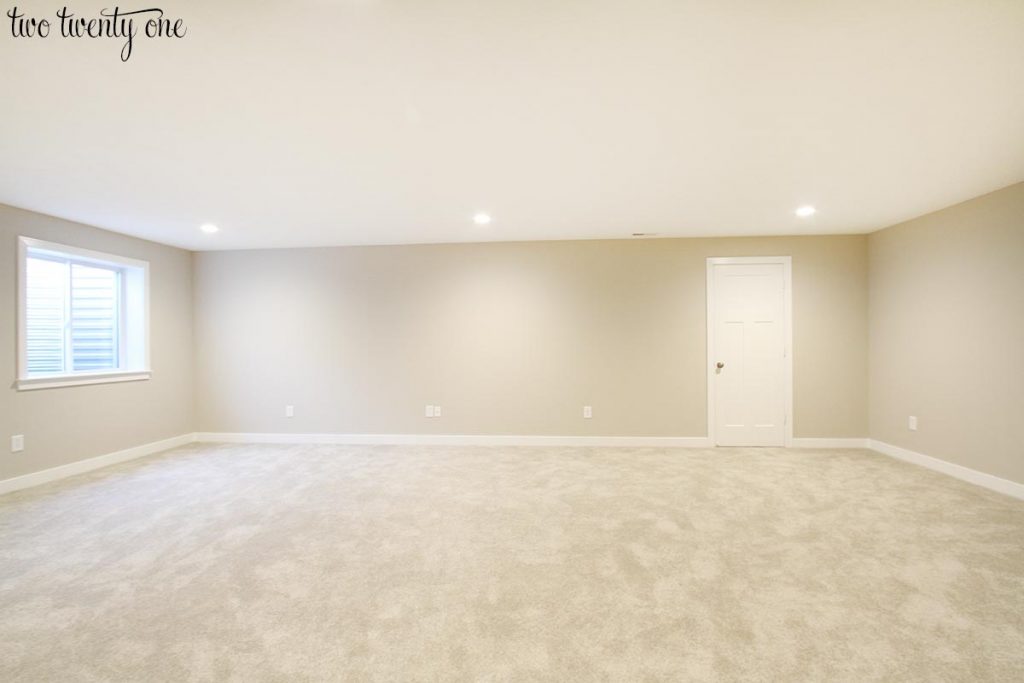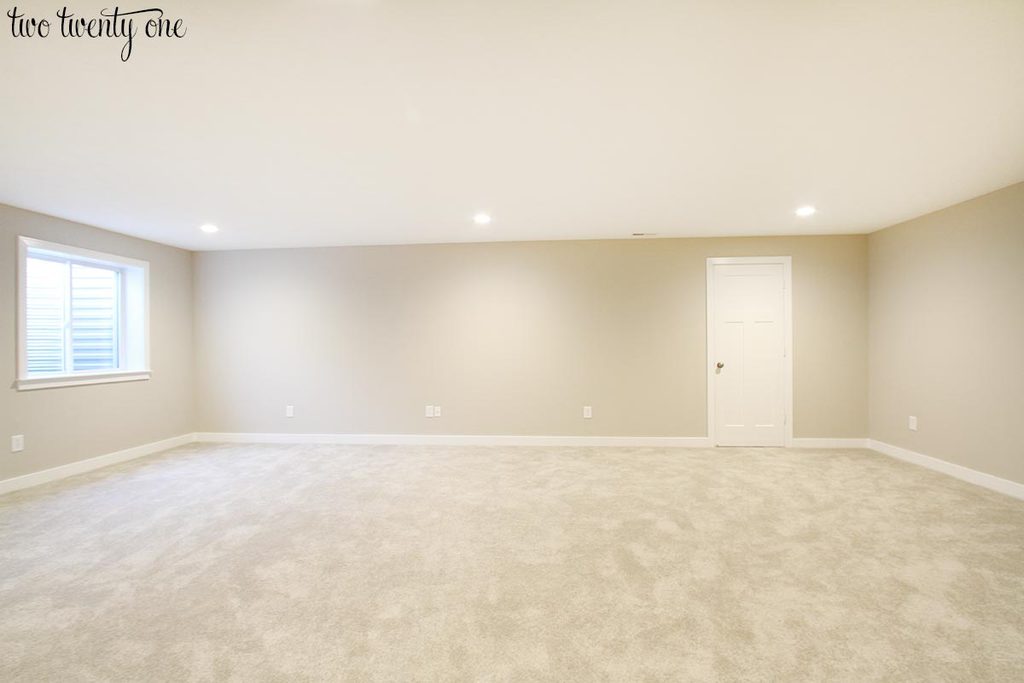 This concludes our new house tour. I hope you enjoyed it!