Transportation Birthday Party
Last weekend we hosted approximately 60 friends and family members for Owen's 3rd birthday party. It was a transportation birthday party because the kid loves all vehicles. We also celebrated Brad's birthday and us being in the new house (this is was the first time most of our friends and family had seen the house).
Currently, my rule is a big birthday party every other year because it's expensive, time-consuming, stressful, and exhausting. I was in bed the night of the party by 10:45PM, which is unheard of for me. And Brad and I both required a nap the following afternoon. The sacrifices we make for our children.
For the full transportation birthday party experience, let's start outside the house and work our way in.
Outdoor Transportation Birthday Party Decorations
Guests were led into our house via railroad tracks, made with black duct tape, and traffic cones. For reference, if you have a longer walkway, it'll take at least two rolls of tape, not one. Just letting you know so you don't have to send your husband to the store the morning of the birthday party for more duct tape. And lemonade mix. And ice.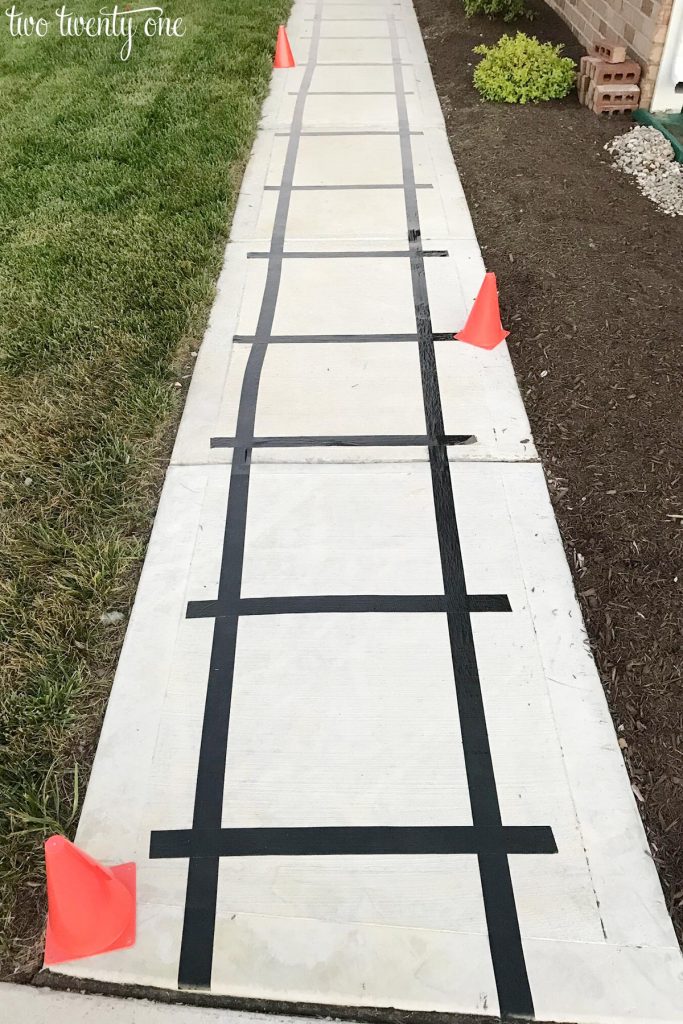 The traffic cones on the steps weren't just for decoration, they also served as a gentle reminder for people to use caution when ascending the code violation porch steps.
We had more hanging fans on the door, but they fell off so just imagine approximately 4 more fans adorning the door.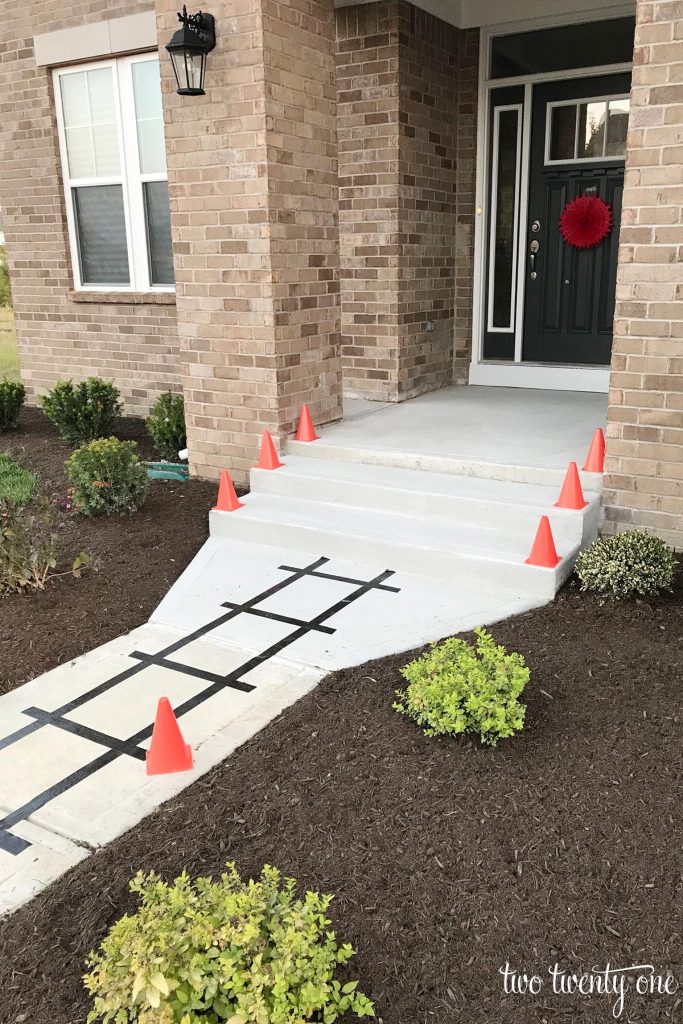 Printable Party Pack
I bought an editable, printable transportation birthday party pack that I used for a lot of the decorations for the party. After downloading and editing everything I wanted, I had it all printed at Office Depot. Then, I cut it all out. This is a party decor strategy I highly recommend.
I used the colors from the party pack as the main party colors– red, blue, green, yellow, orange.
I decorated the mantel with a transportation-themed 'Happy Birthday' banner and hanging fans. If you haven't gotten on the hanging fan train for party decor, you need to get on board. Choo choo.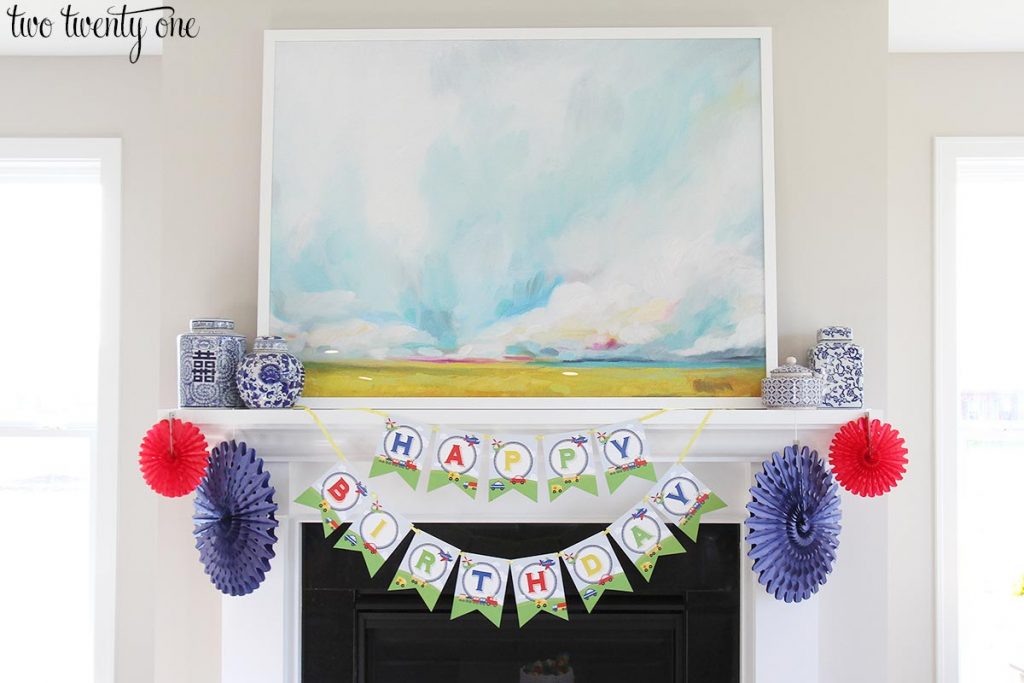 Party Decorations
Clusters of balloons were attached to the dining table chandelier with fishing line– an easy and inexpensive decoration. We set up two card tables for additional seating.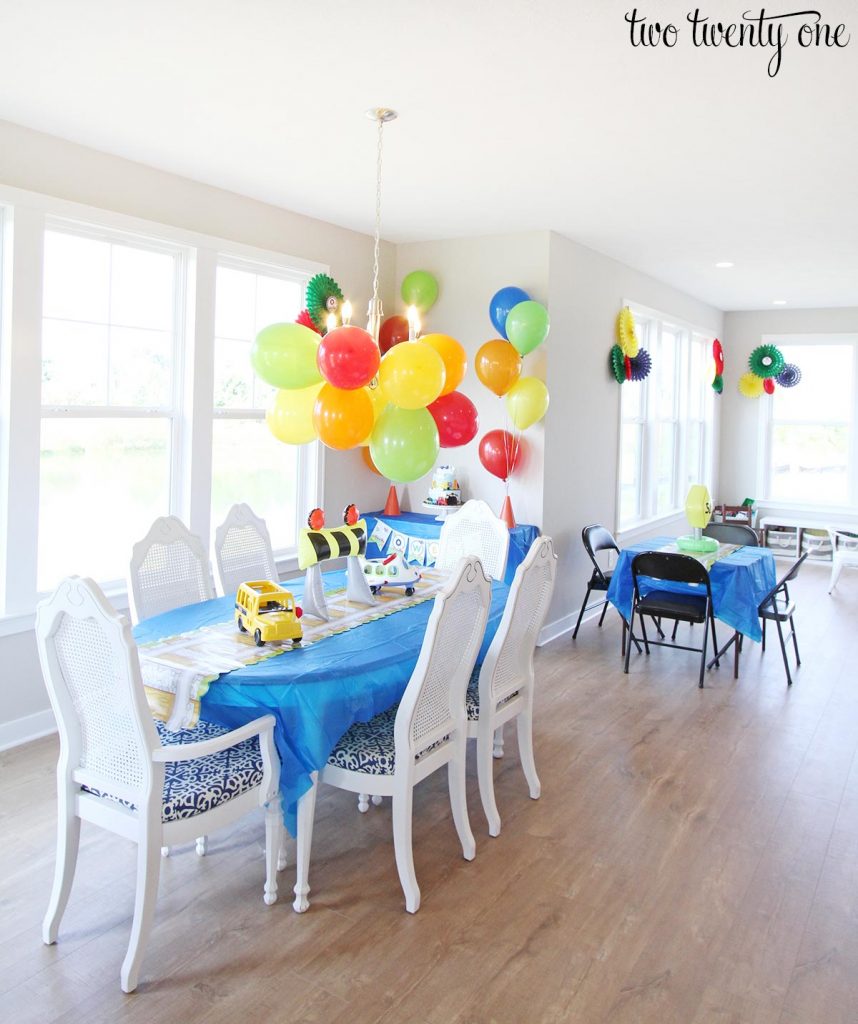 The nice thing about having a transportation themed party for your three-year-old son, is that you can use his toys as party decor instead of hitting up the party supplies store.
I got some train track table runners and a set of inflatable traffic/construction signs to put on the tables.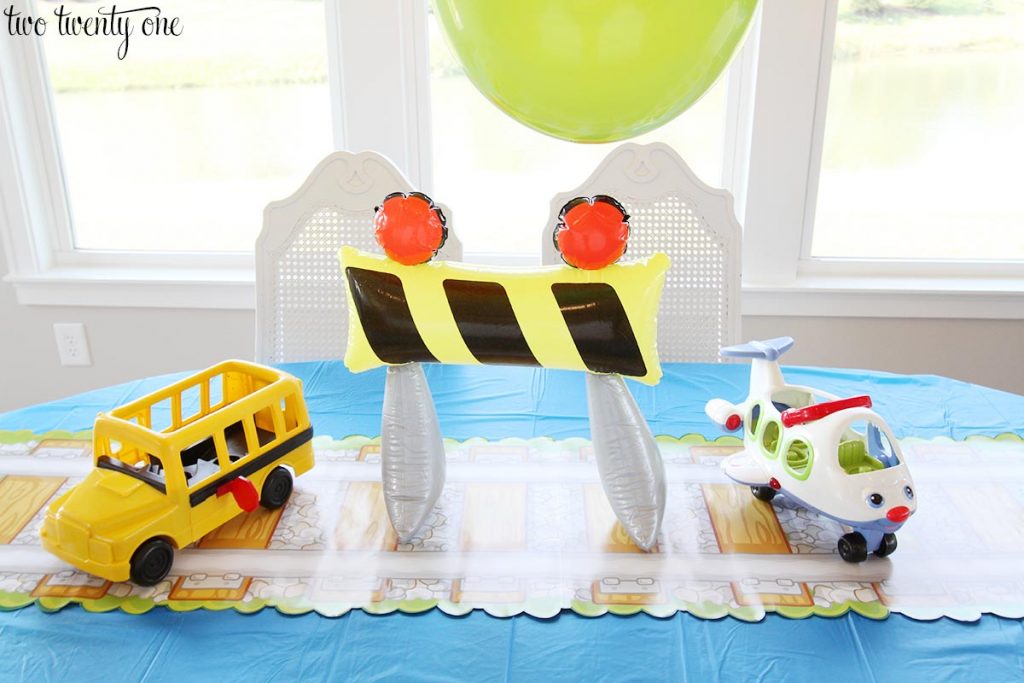 I decorated the corners of the windows in the living room, dining area, and playroom with clusters of hanging fans. To up the ante, I cut out these party pack circles and taped them to the center of the biggest fan in each cluster.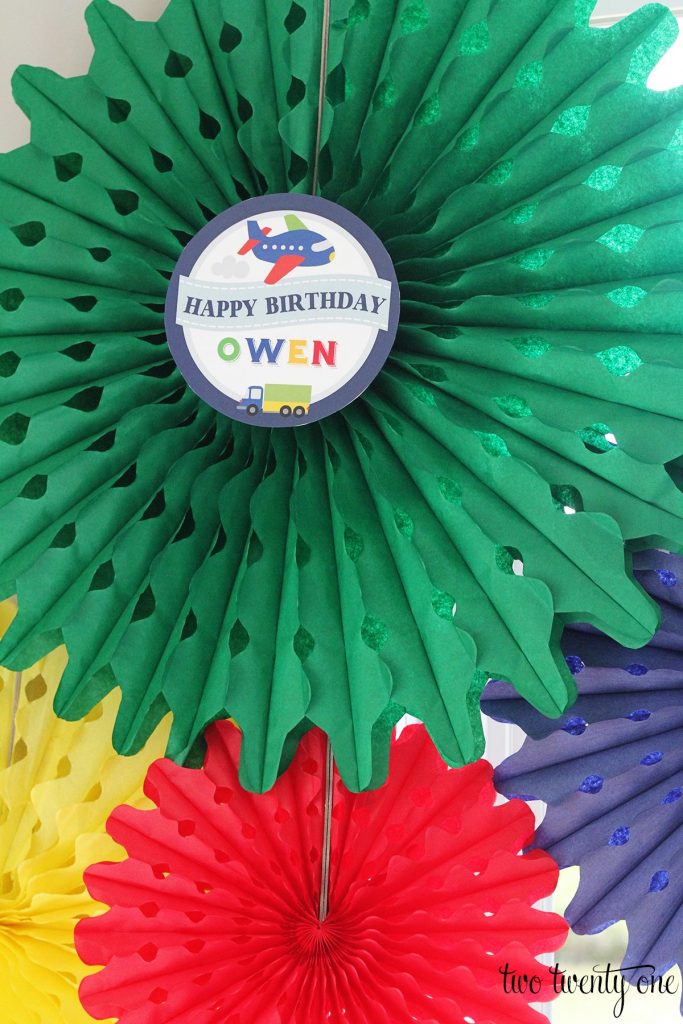 Party Food
We set out the food on our kitchen island. I added some transportation birthday party flare and height to the feeding zone with some balloons. Brad was kind enough to go along with my vision and drilled holes in the top of the traffic cones so it could look like the balloons were emerging from the cones. I used the excess traffic cones to decorate the island. The food tents went along with the transportation theme.
The menu included: meatballs, Chick-fil-A chicken nuggets (Owen's favorite), spinach dip and Hawaiian bread (recipe found here), veggie tray, pasta salad, fruit salad, potato chips, pretzels, and Goldfish crackers.
Shout out to my mom for preparing the spinach dip and my Aunt Connie for making the meatballs. And another shout out to my friend Jen for all her help with the party. We have plans of going into the party business together later in life because we rock the cake cutting and ice cream scooping game.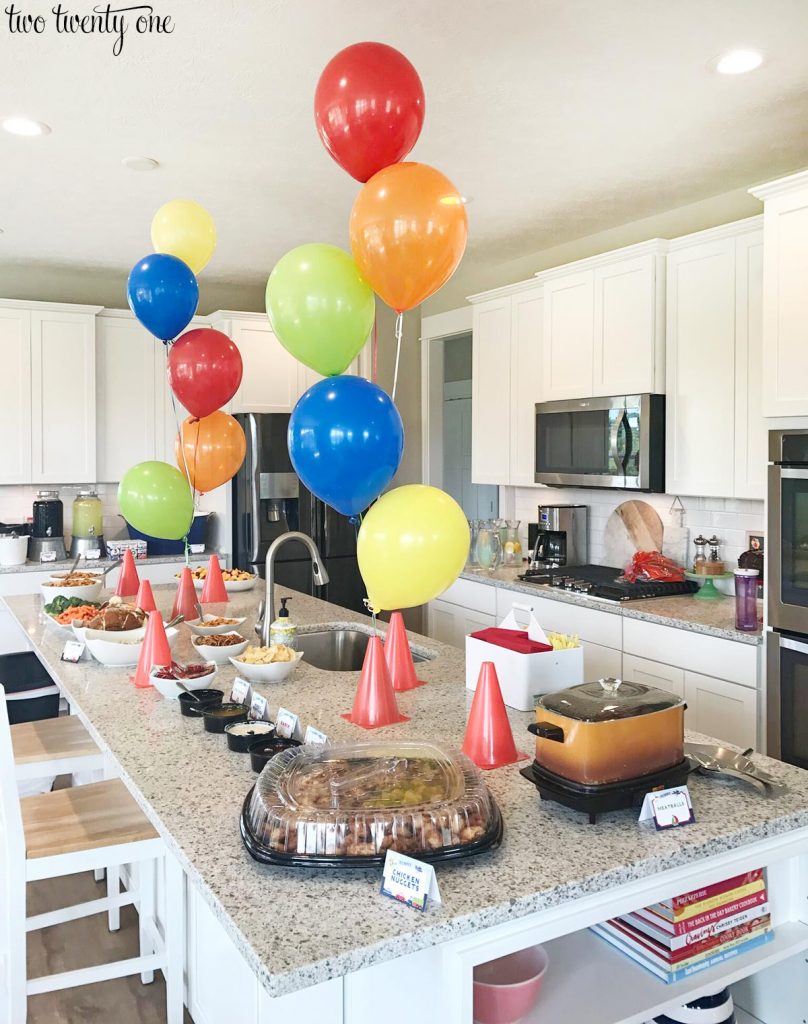 Drink Station
This little area of our kitchen is perfect for a drink station. I got orange cups because they're reminiscent of traffic cones. The drink choices were sweet tea, lemonade (Owen's favorite), juice boxes, water, decaf coffee, beer, and wine (my favorite). I also set out two ice buckets so we wouldn't have to refill the ice as often.
I jazzed up the juice boxes with personalized, transportation-themed wraps. The 3 year olds in attendance didn't seem to care, but I knew, deep down, they appreciated my efforts.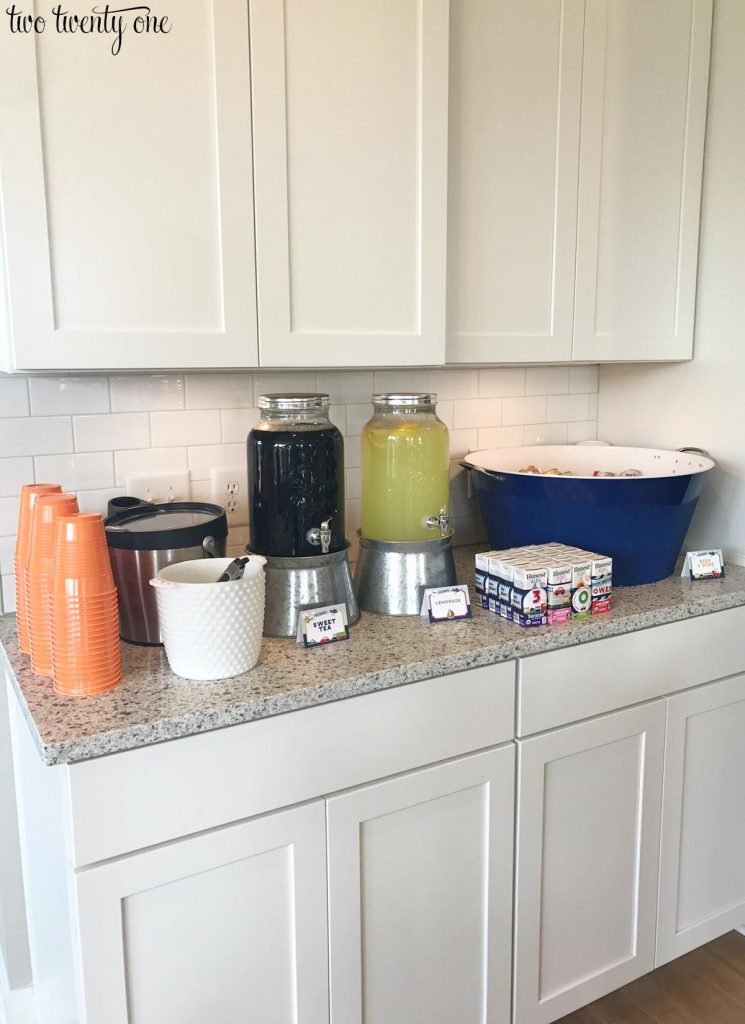 I got these delicious cans of wine from Costco. I went this route because I didn't have to worry about buying different varieties of wine and uncorking bottles. Plus, when people were finished with their beverage, they could throw the can in the recycling.
For the record, I'm greatly disappointed in whoever opened a can of fizzy chill red, took, what appeared to be one sip, and left it on the kitchen island. You should be ashamed of yourself.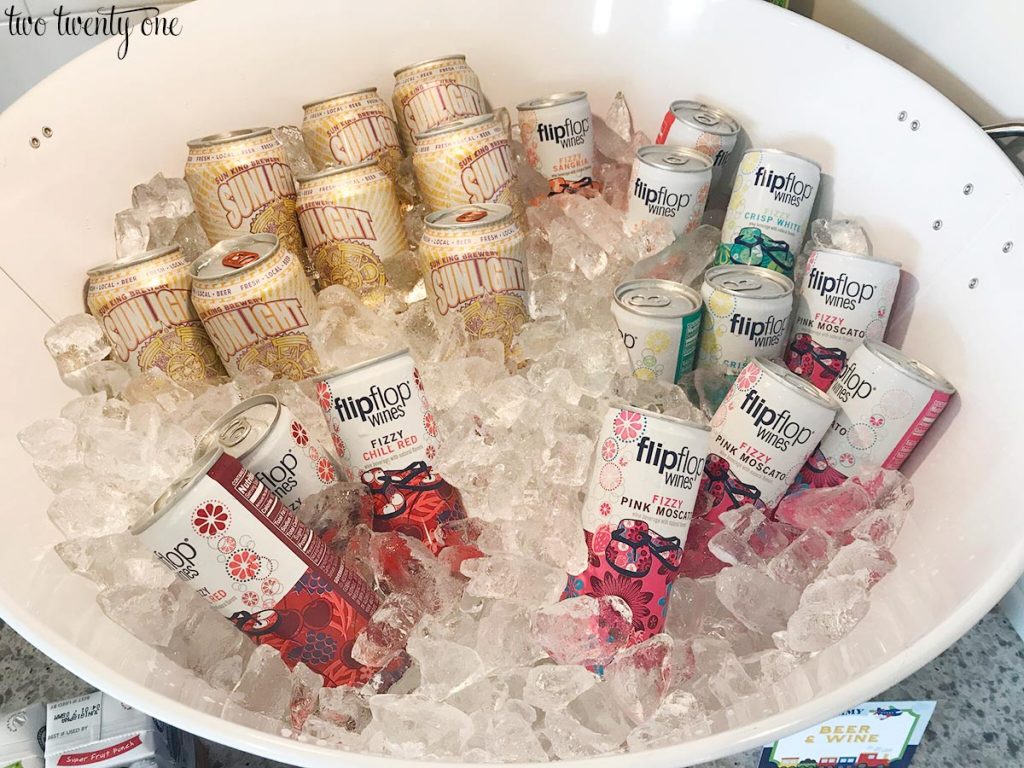 Transportation Birthday Cake
I used our old entryway table as the cake table. I probably could've flanked the cake with pair of vehicles to fill that space, so learn from my mistake.
However, I made an 'Owen' banner from the transportation birthday party pack to beef up the cake table decor.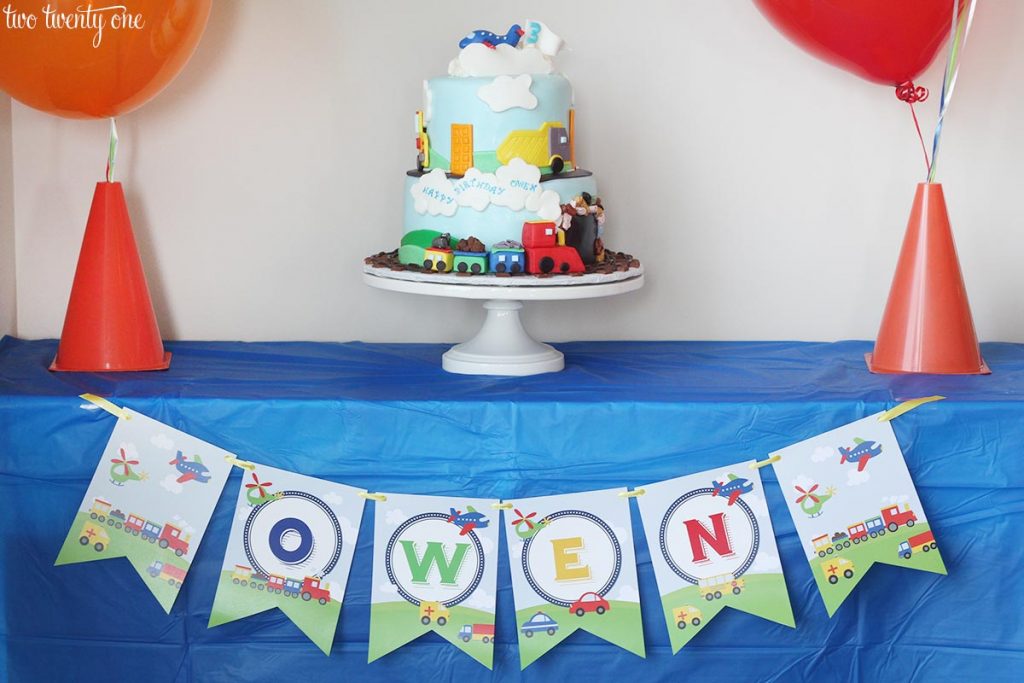 Owen's birthday cake turned out really well. He LOVED it. I used a few different cakes I spotted throughout blogland as the inspiration and the baker executed it perfectly.
In case you're wondering, the top tier was salted caramel cake with caramel buttercream icing and the bottom tier was vanilla cake with strawberry filling. Delicious.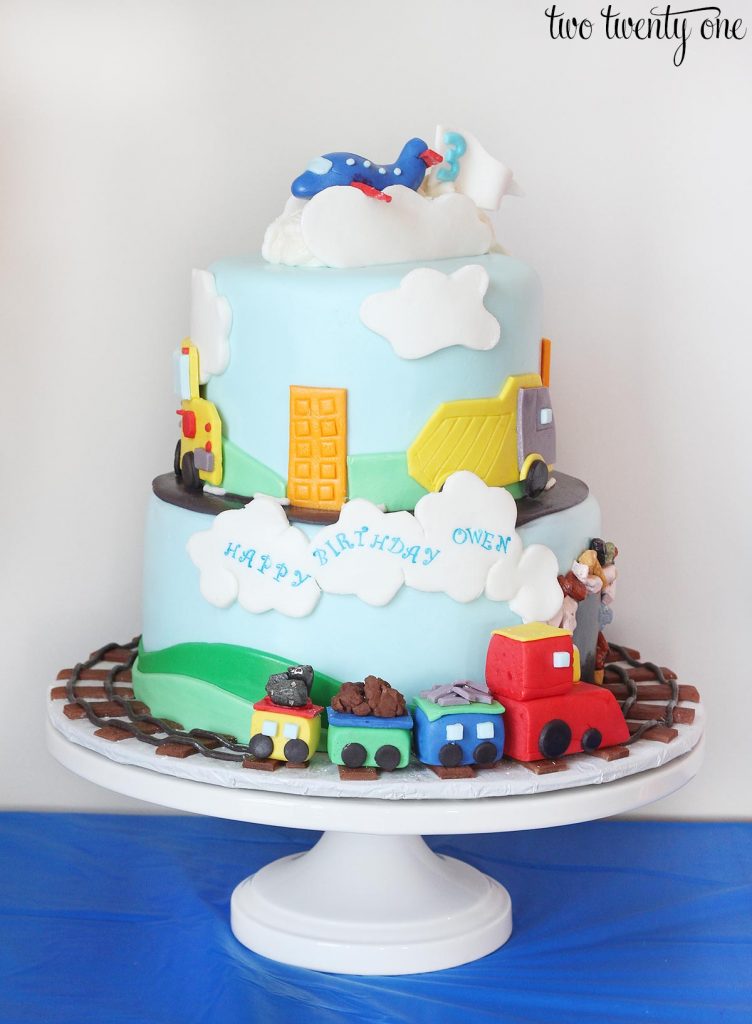 I'm sure you're wondering– yes, Owen tried to eat the fondant train engine.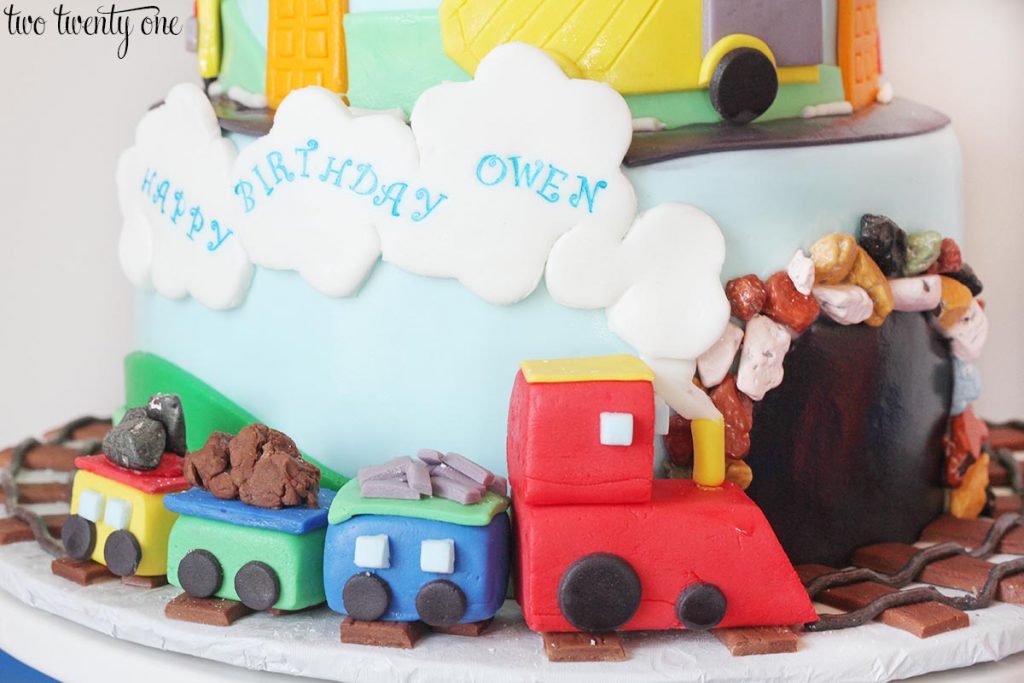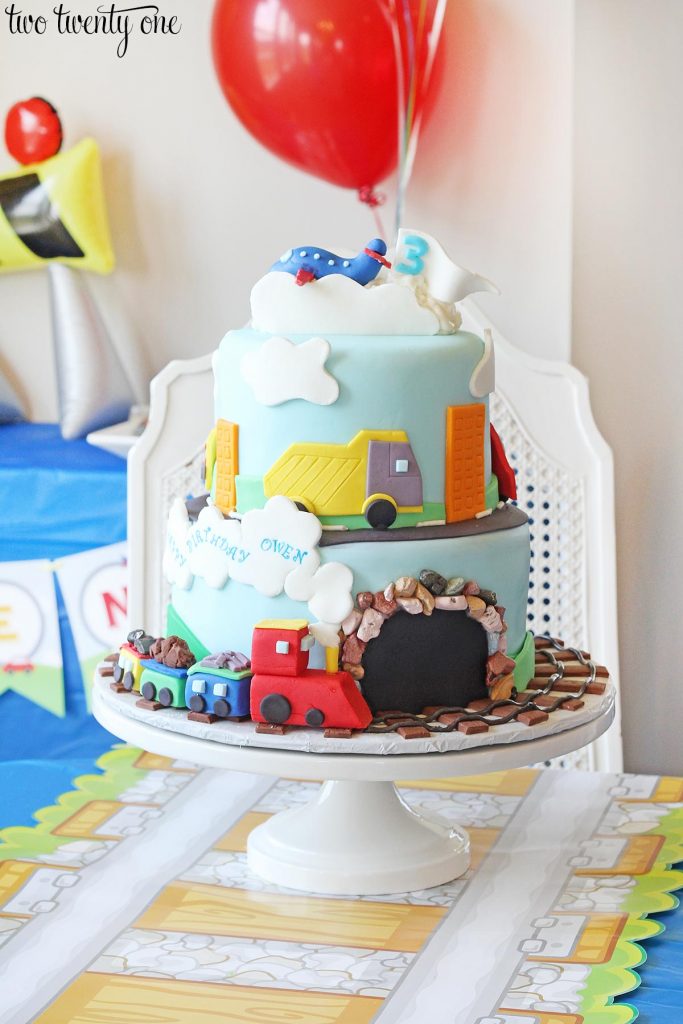 But that wasn't the only cake present at this celebration. You probably don't know this, but Owen was born two days before Brad's birthday. I tell Brad I gave him the best 30th birthday gift– a child. But Brad is kinda salty about having to share his birthday because it's all about Owen now. I tell him we should've planned that out better. Oh well.
It definitely doesn't look like I added the '+ Brad' to that letterboard an hour before the party, right?
Maybe Brad has a point.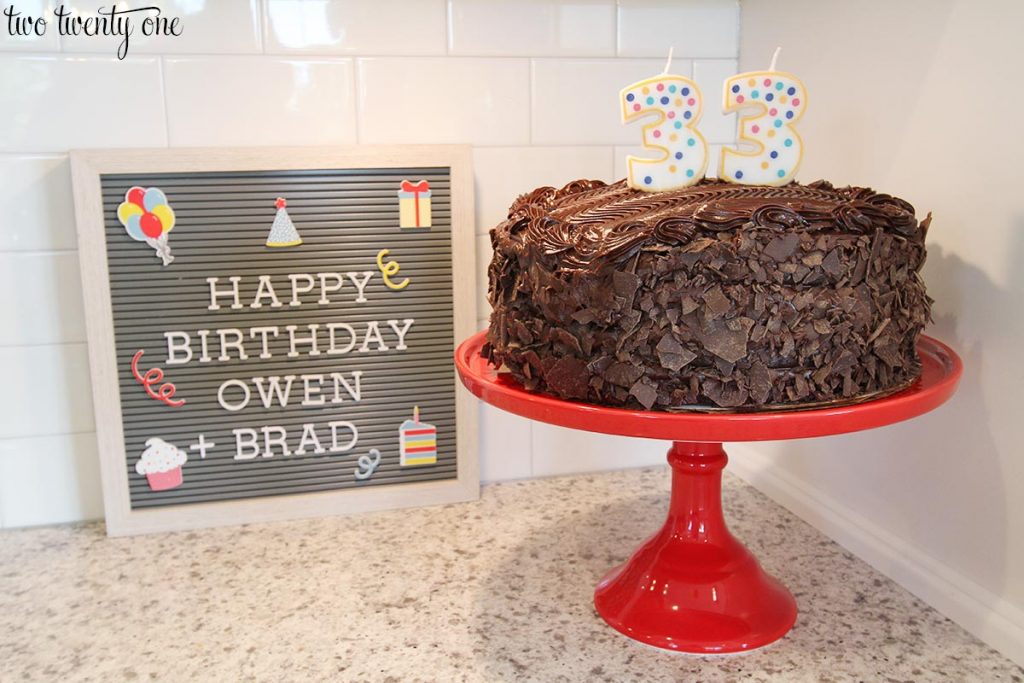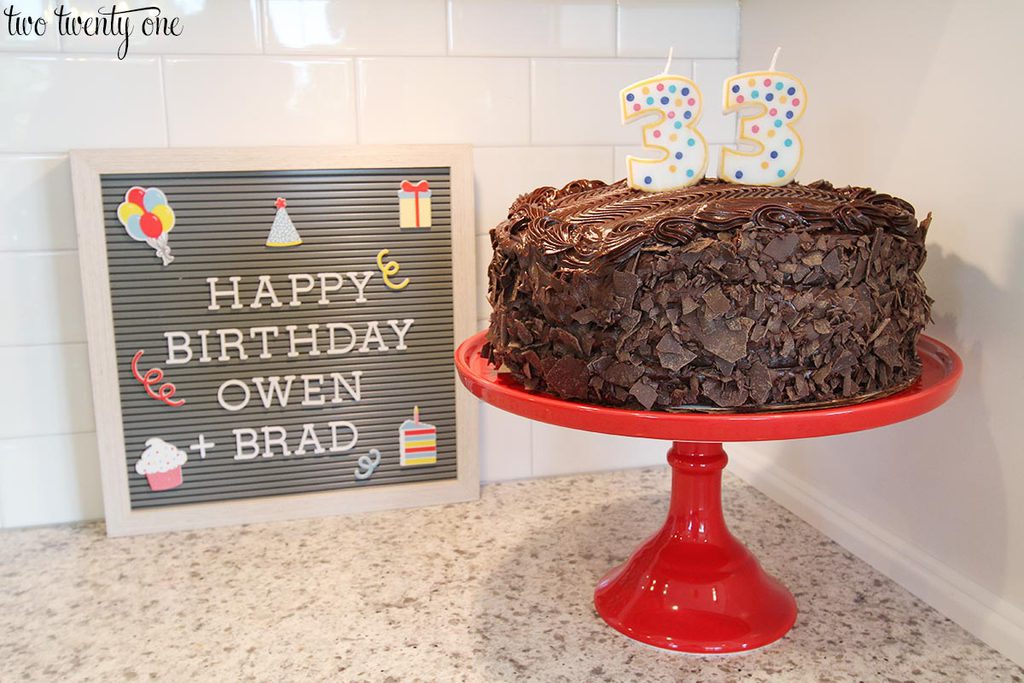 The massive chocolate chocolate chocolate cake is from Costco ($16.99!) and tastes like heaven. I even had a preggo friend message me a few days after the transportation birthday party and ask how she could acquire said cake. These are the kinds of friends you need in your life– ones who appreciate a good cake and can't stop thinking about it days later, pregnant or not.
Party Favors
When guests entered the house, they dropped gifts for the birthday boy on our dresser. But after the presents were opened, I quickly turned the dresser into the favor station for people to grab their goodies before exiting the house. I decorated the dresser with a banner I concocted with photo booth props from the printable party pack and ribbon.
Tip: Don't want to risk damaging your furniture? Use washi tape to hang decorations.
I had little train buckets filled with traffic sign suckers, fruit snacks, airplane whizzers, and train tattoos for our pint-sized guests.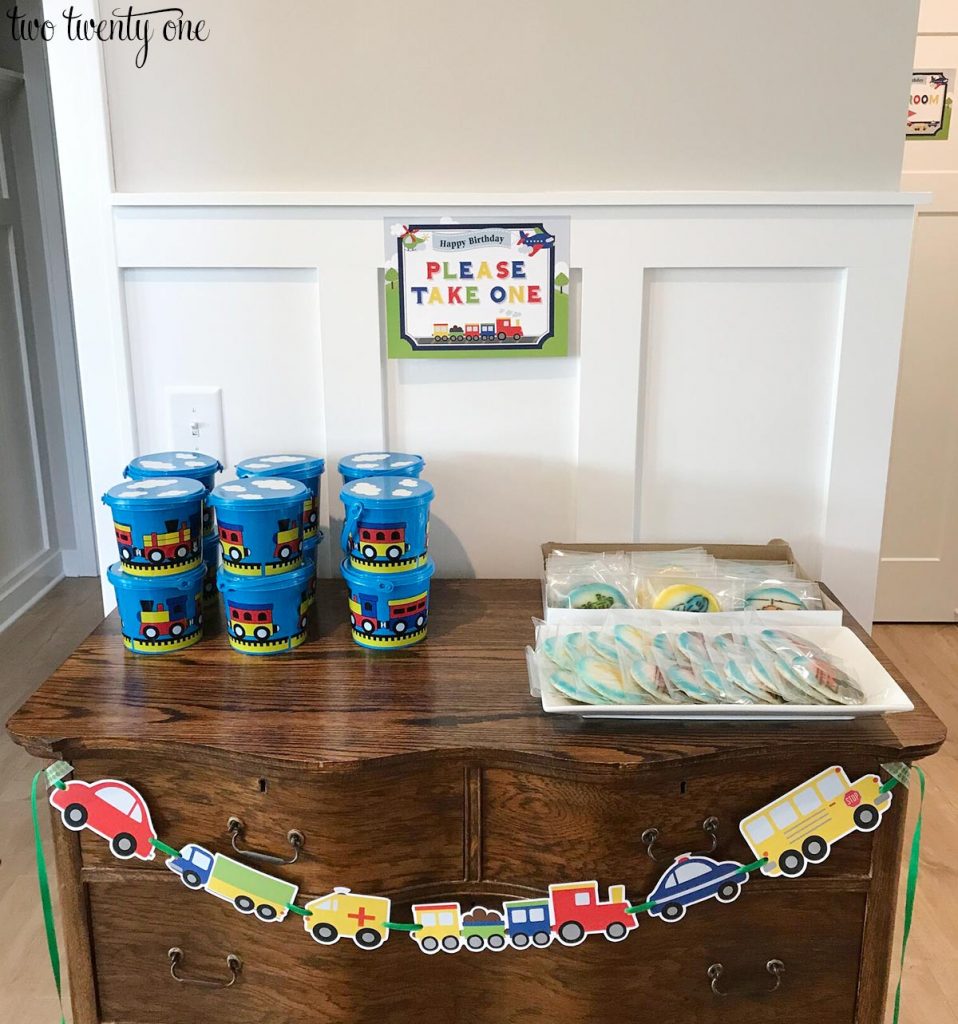 It's a tradition of ours to offer these cookies from Donut Bank, a bakery in Brad's hometown, as party favors for all major life celebrations. We had them as favors at our wedding, Owen's first birthday party, etc.
Shout out to my mother-in-law and brother-in-law for getting the cookies and transporting them to our house and my cousin Whitney and Jen for putting them in the cellophane bags.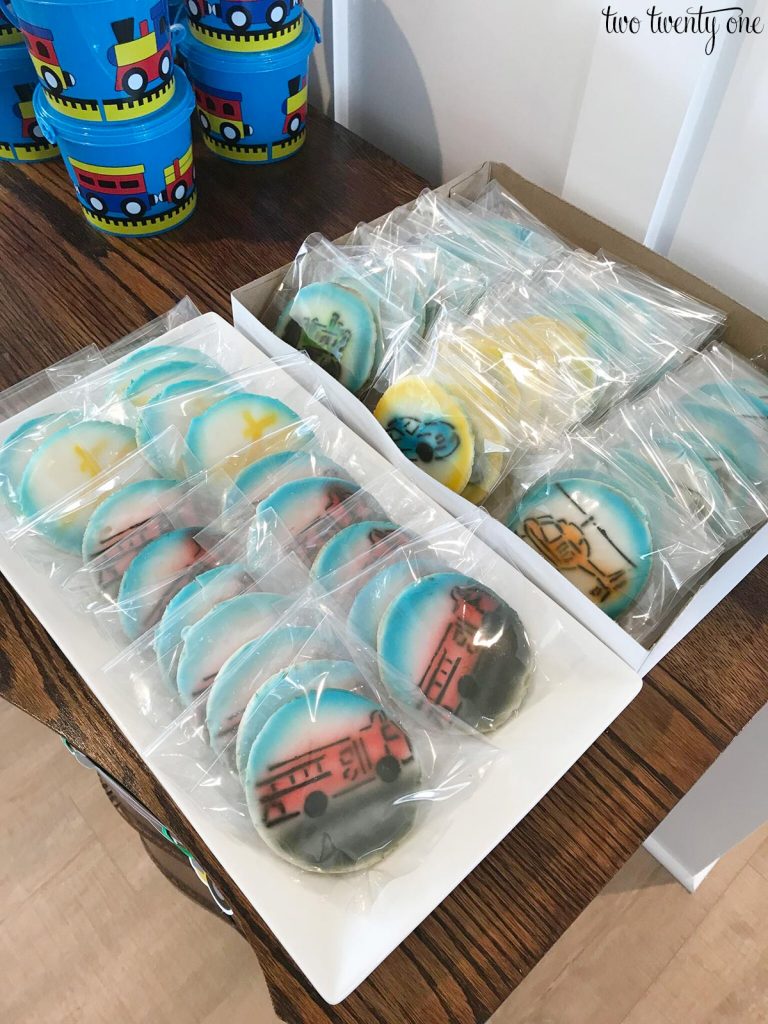 All in all, everyone had a blast and we enjoyed celebrating with them!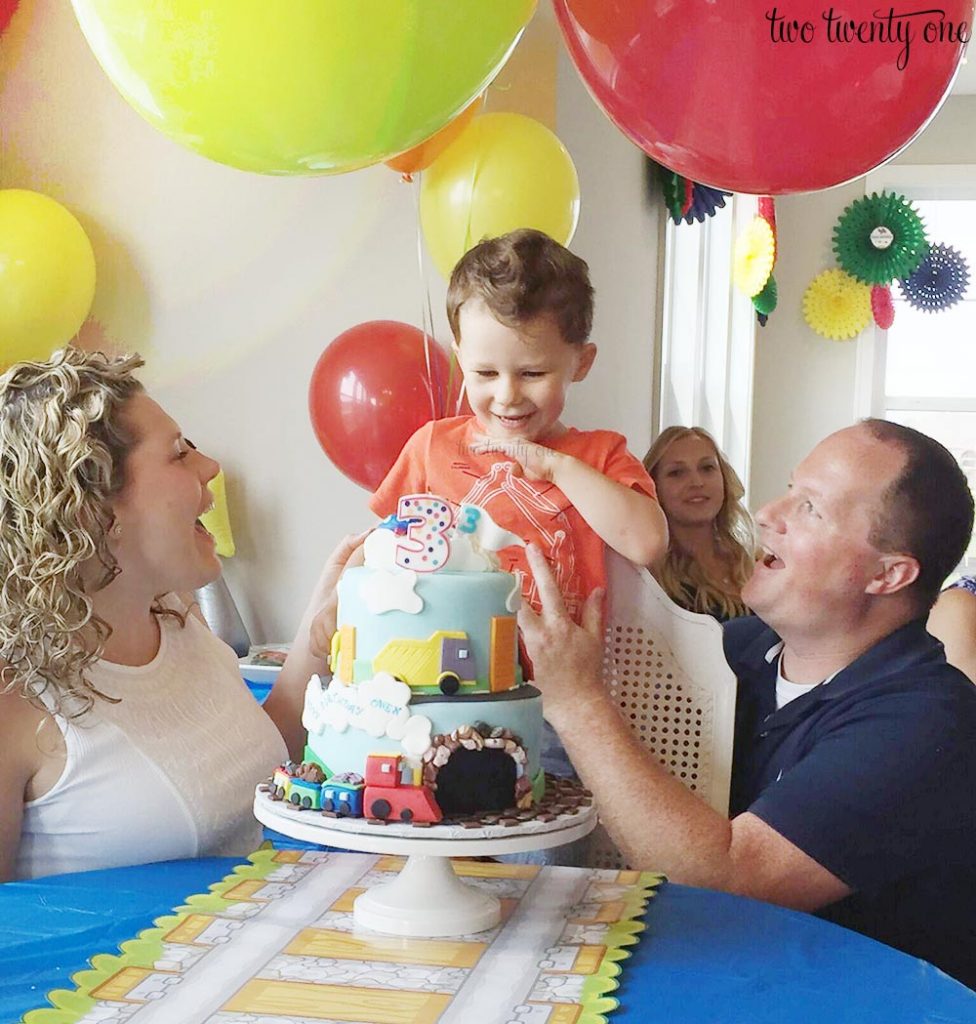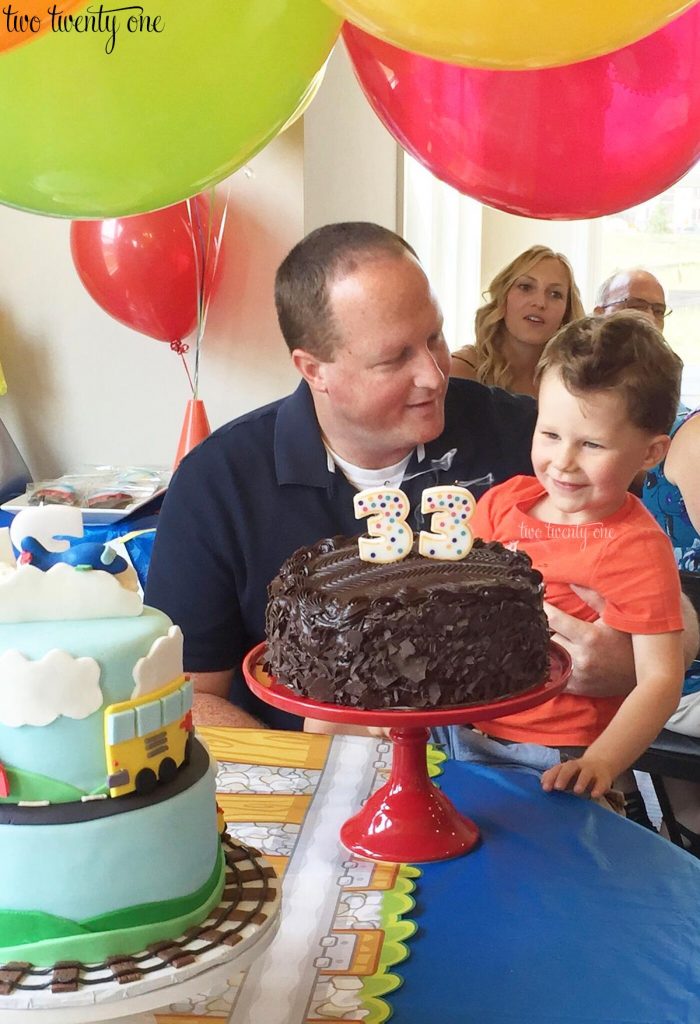 Sources
(Click on the item to be taken to the purchase site)
editable, printable transportation party pack
letterboard (can also be found in Target and JoAnn Fabric stores)
inflatable traffic/construction signs