Last Saturday I had my first baby shower, which was hosted by my mom, aunt, cousin, and best friend in my hometown in Northern Indiana. It was a wonderful shower. I loved seeing and catching up with everyone who came– some of whom I hadn't seen since our wedding in 2011.
The baby shower was held at the same location as my bridal shower over 3 years ago. The location, called The Old Republic, is basically the icon of my small hometown. Built in 1861, it's now a bed & breakfast and is used for events, but it used to be a family home, and once was separated into apartments. My dad actually lived in one of the apartments with his family when he was a teenager.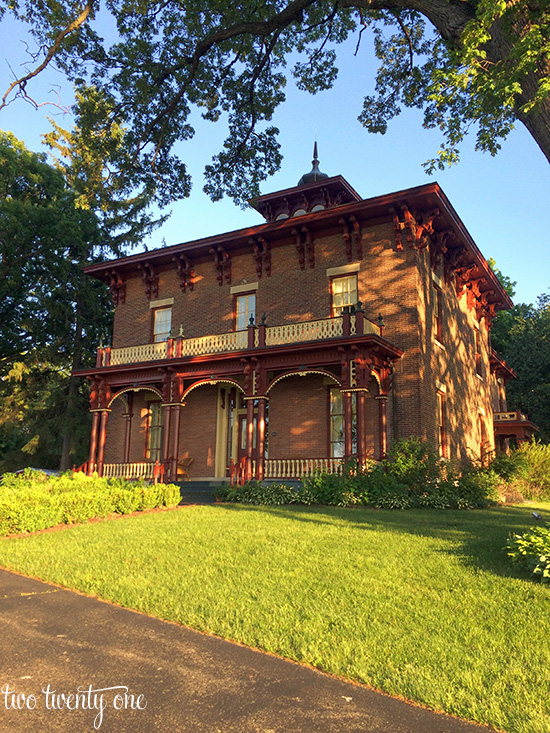 As you can see, you don't need many decorations because the house is pretty amply decorated on its own.
The guests chatted, ate, and played a couple games in this room. I opened presents in the adjoining room.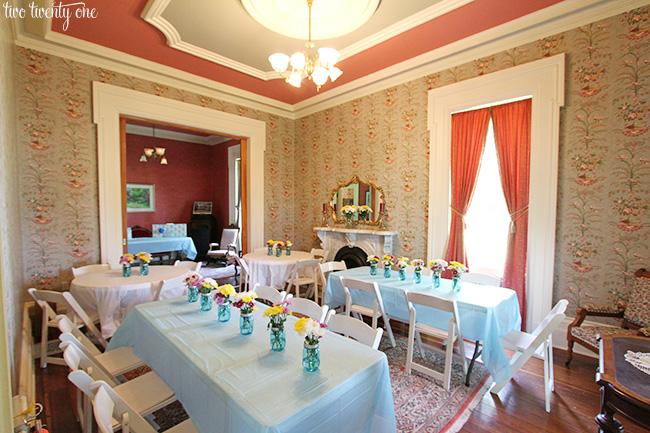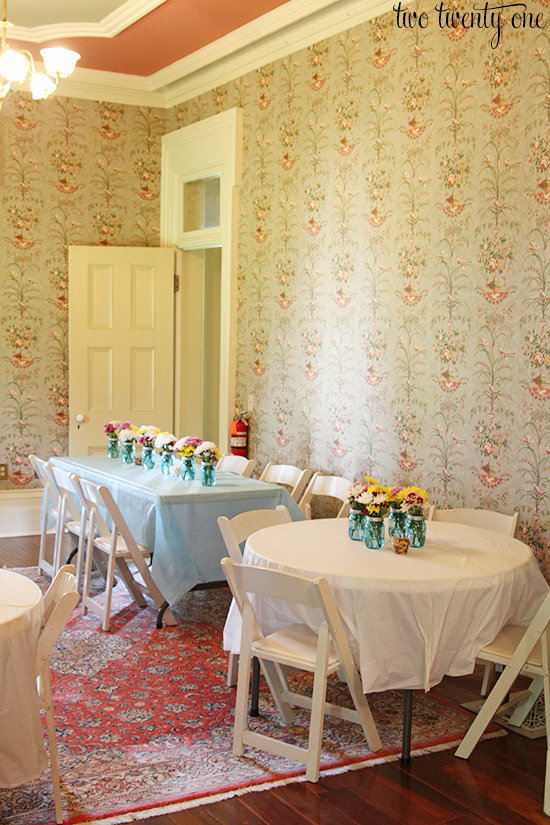 I know etiquette-wise the guest of honor isn't supposed to be involved with her own shower, but I helped out with some of the shower.
I haven't touched on it on the blog, but my stepdad has been battling some serious health issues this past year, and it's been tough on everyone, especially my mom– his primary caregiver. So I did what I could do to take some of the stress off of her, like having my pal Erin design the invitations, and I printed and mailed off the invitations. Good news about my stepdad is that he's doing a lot better now and will hopefully be well enough to go back to work in a couple months.
I also helped my mom with the centerpieces for the shower. Like with my bridal shower, we also used the centerpieces as the guests' favors. At the end of the shower, each guest was able to take a jar with flowers home with them as a thank you. Double duty, people.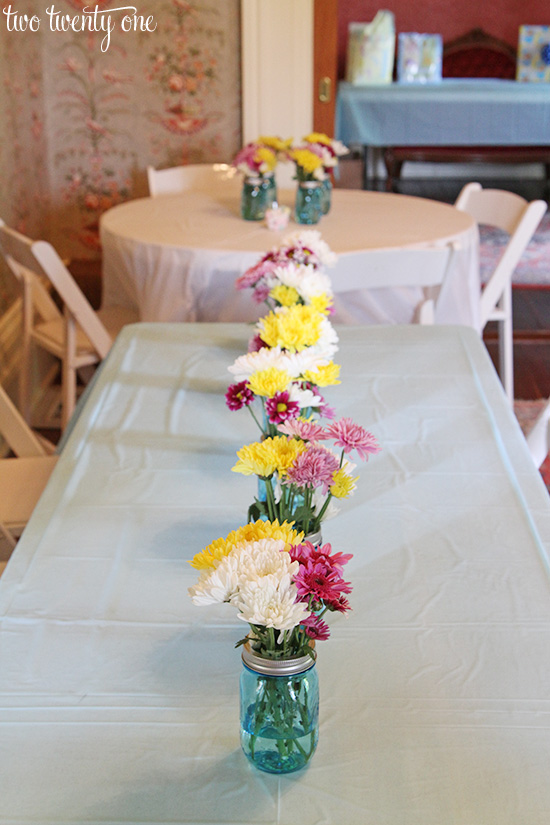 My mom bought blue pint-sized Ball mason jars (from Amazon) and different varieties of mum bouquets (from Sam's Club). The night before my shower, I helped her cut and arrange the flowers. We did the math and each centerpiece cost around $2.80. Not too bad, eh?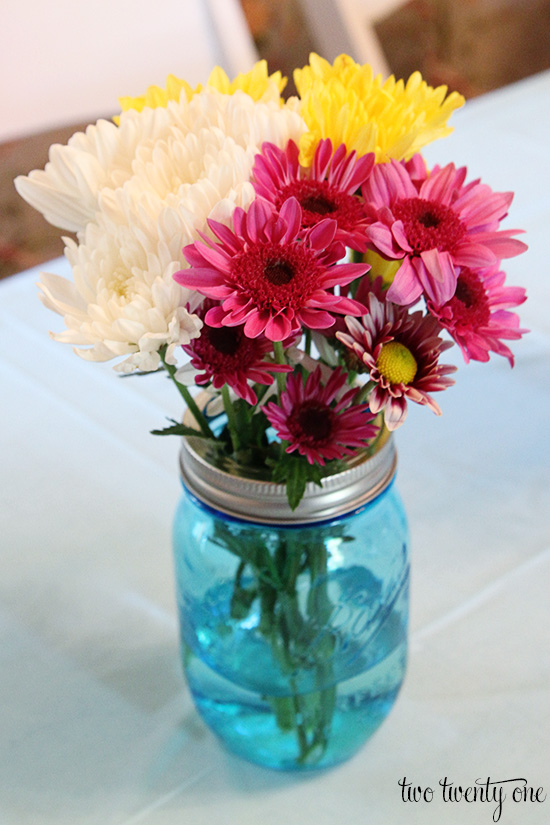 We had extra mums so we put them in a vase and used it as additional decoration on the mantel.
My best friend, Natalie, was in charge of games. One of games involved this banner with a bunch of baby stuff pinned to it. She left it up during the first part of the shower, not drawing attention to it, and then took it down. Later on, she announced that people had 5 minutes to list everything on the banner. Tricky, tricky.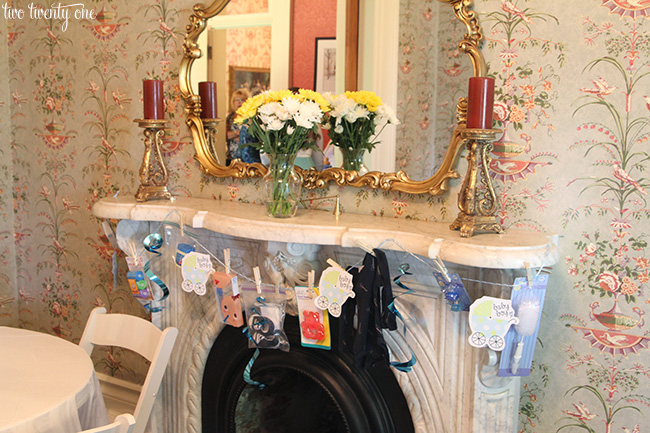 My cousin made this amazing baby buggy fruit salad. I definitely think she should quit her corporate job and go into business for herself making and selling these.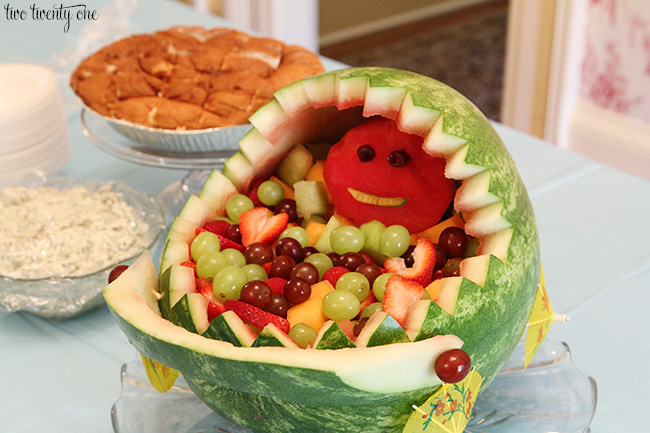 My mom made my grandma's sherbet punch. I added the ducks for flare.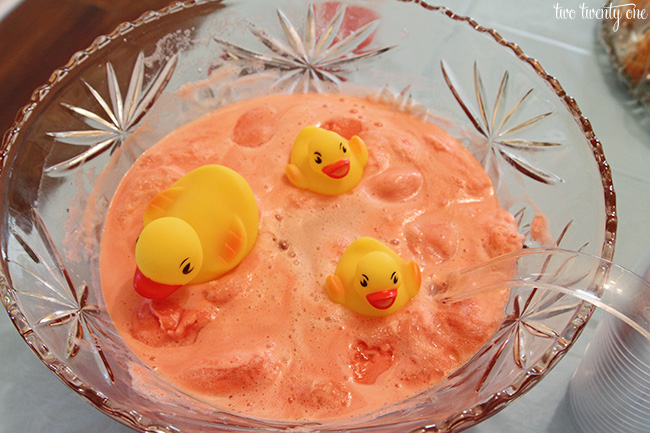 The cake was amazing– half chocolate/half white with strawberry filling.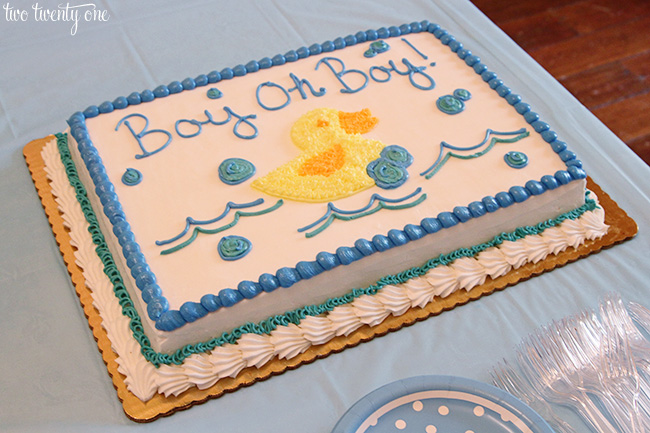 Here's a grainy cellphone photo of my swollen self with the cake.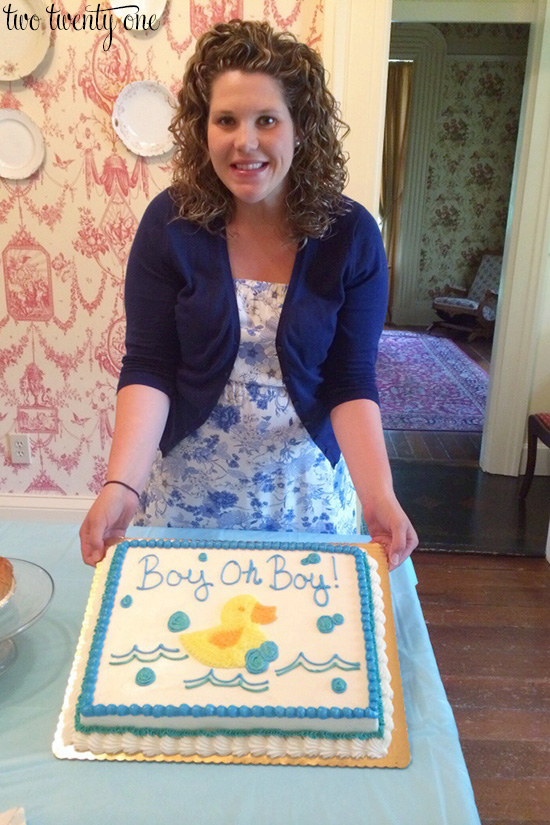 All in all, it was a lovely shower. The nugget and I were showered with lots of gifts. And everyone seemed to have a great time.