A Day In the Life + Giveaway
I was asked by Babyganics to document a day in the life to show Owen's daily adventures. Since he's only 2 months old he doesn't lead a very exciting life but we make the most of it.
Owen wakes up around 7 AM for his morning feeding and a diaper change. Then, he goes back to sleep for another 3-4 hours. During this time I usually get stuff done around the house or work on blog stuff. But I'm not gonna lie, sometimes I get a couple hours of sleep. So I don't really count his day as starting until around 10 or 11.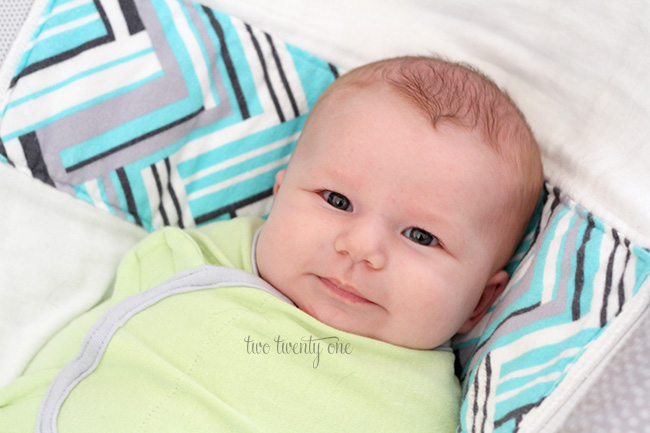 If he doesn't appear particularly famished, I change his diaper after getting him out of his Rock 'N Play and unswaddling (yep, that's a word) him.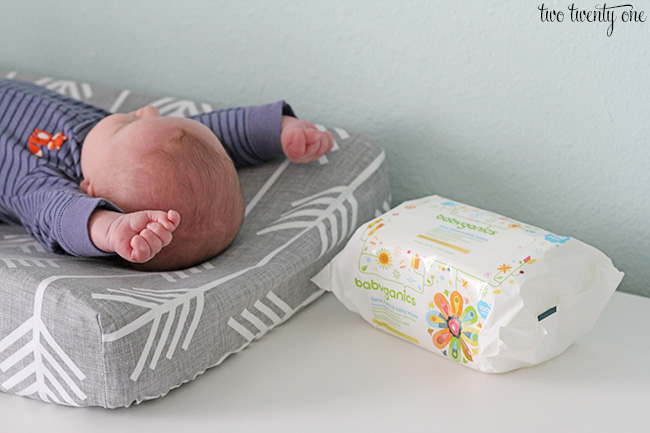 On this particular day, a Friday, Owen gifted me with a blow out of epic proportions. Almost all of his blow outs occur on Friday mornings. I think I should start mentally preparing myself for blow out Fridays on Thursday nights. Having the Babyganics Face, Hand, & Baby Wipes on hand in these situations is a must. The wipes are gentle on skin, can be used for diapering as well as on the face and hands, and are a soft, strong material.
Anyway, I typically bathe Owen at night when Brad is home to provide back up. But since Owen was such a hot mess, I decided to knock out the bath by myself.
He looks so relieved, doesn't he?
Owen typically likes bath time. It's where he laughed for the first and second times. Seriously, the most adorable thing ever.
And we have it on video. I may or may not watch it a few times a day.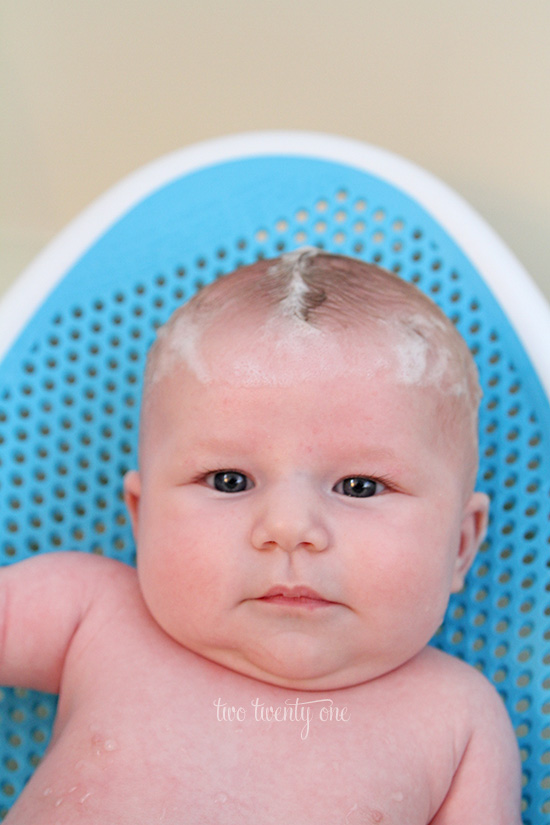 We always set up a little drying station on our bed, putting down one of our Ikea Tutig changing pads first (love these!). You never know when this kid is going to start free peeing, as we call it. We also grab our other after bath supplies– lotion, diaper, clothes. The Babyganics Moisturizing Daily Lotion is great because the thick formula moisturizes really well and absorbs into the skin without leaving a greasy feeling.
Before we run his bath, one of us throws his towel in the dryer for a few minutes to heat it up so it's nice and warm when he gets out of the tub. Since I was flying solo, I wrapped his towel in another towel to keep it warm while I bathed him.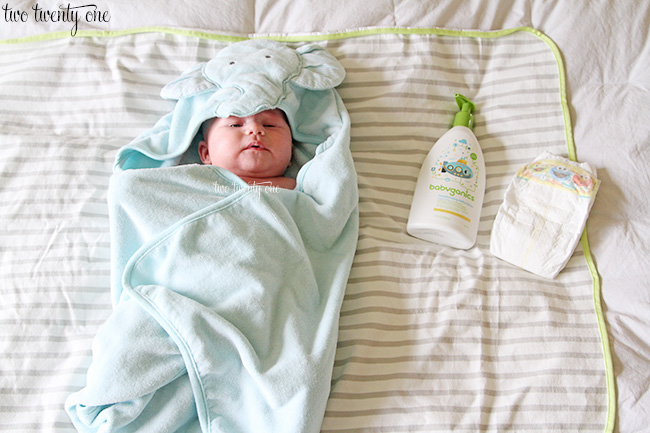 Owen loathes the drying off process. He screams his little head off.
So we have to hurry up, dry him off, apply lotion, slap on his diaper, and immediately pick him up to console him. Once he's calm we can put him down and dress him. At least he's predictable.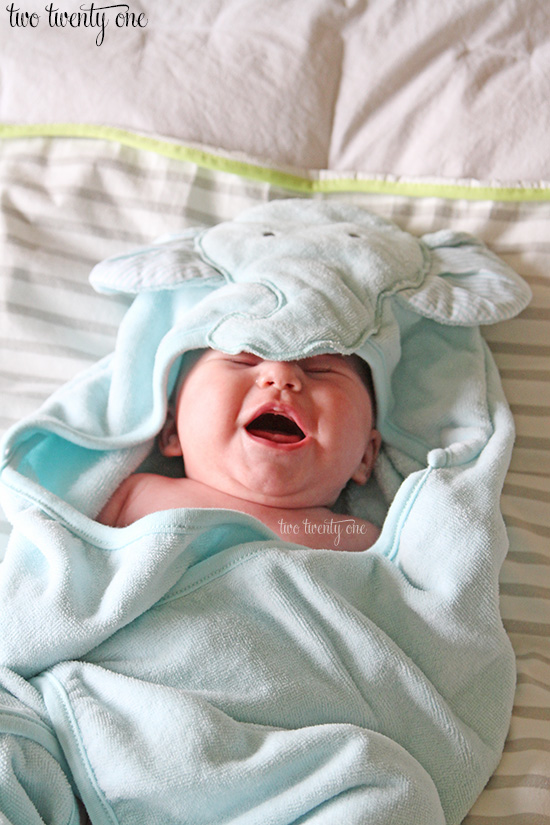 After his torturous drying off session, he was exhausted so he snuck in a little nap in his mamaroo. While he napped, I ate some lunch, unloaded the dishwasher, and put away his laundry.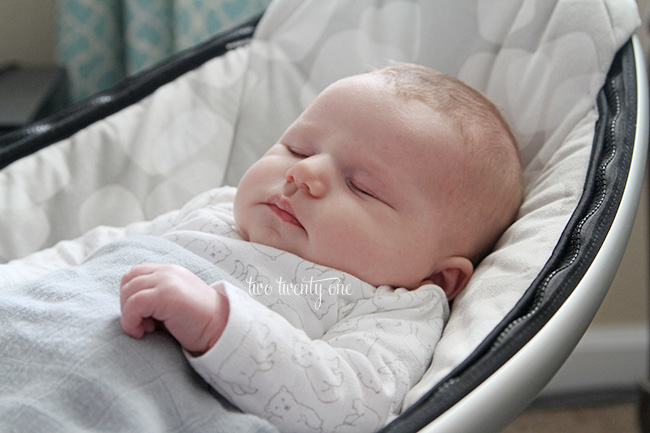 After waking, it was time to nurse.
Then, he fit in a little exercise action on his activity gym in my home office while I edited blog photos and responded to some emails.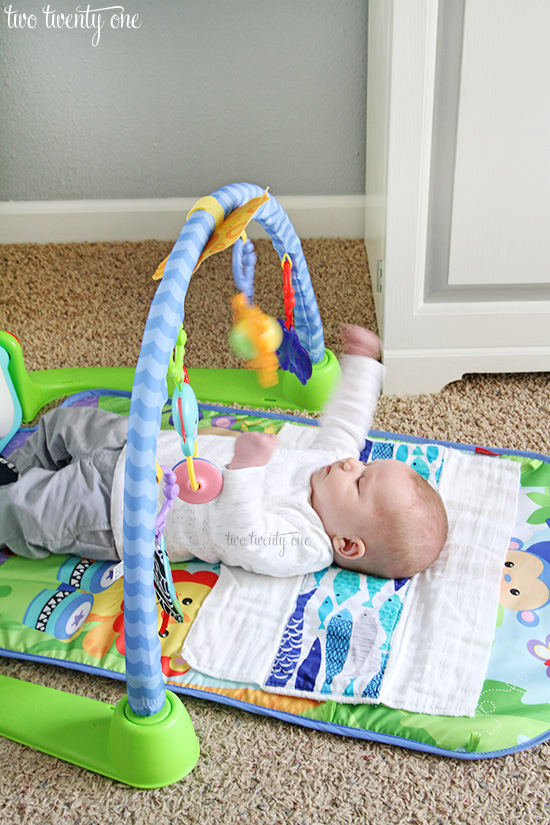 Owen worked up an appetite with all that exercise so it was time to nurse again. He fell asleep on me while I attempted to burp him so I snuggled with him for a while before putting him in his Rock 'N Play in my office so I could get some more work done.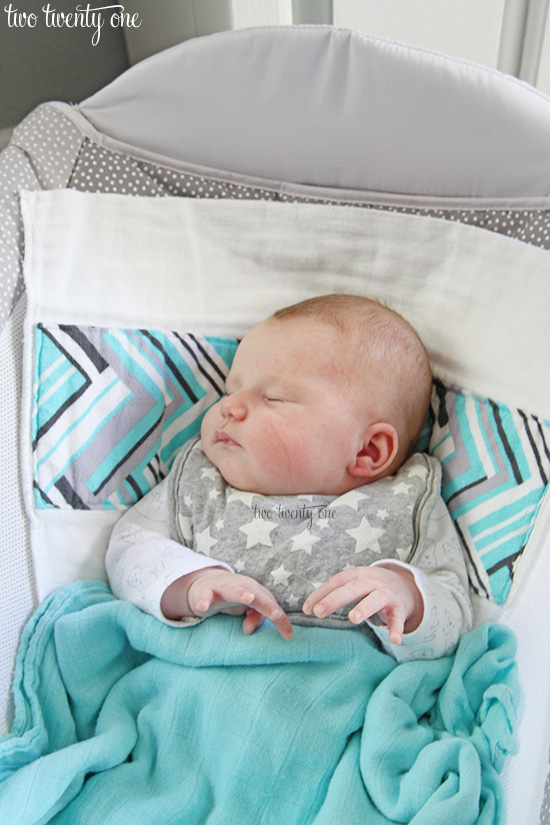 Every evening we take Owen and Jack on a walk around our neighborhood. Owen loves looking at his turtle friend.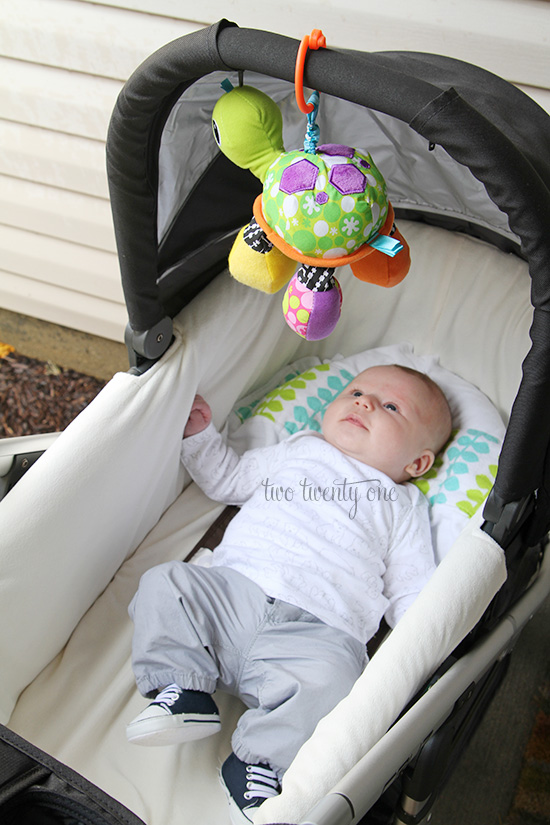 The rest of our night is basically a repeated cycle of activity time, diaper change, nurse, snuggle time, and nap until bedtime.
Our days aren't very exciting these days but I'll take it. I'm sure he'll keep me on my toes once he's mobile so I'm cherishing these laid back days.
Giveaway time! To enter for a chance to win a $100 Visa Gift Card, leave a comment below letting me know what daily moments you cherish most with your little ones.
Sweepstakes Rules:
No duplicate comments.
You may receive (2) total entries by selecting from the following entry methods:
1. Leave a comment in response to the sweepstakes prompt on this post
2. Tweet (public message) about this promotion; including exactly the following unique term in your tweet message: "#SweepstakesEntry"; and leave the URL to that tweet in a comment on this post
3. Blog about this promotion, including a disclosure that you are receiving a sweepstakes entry in exchange for writing the blog post, and leave the URL to that post in a comment on this post
4. For those with no Twitter or blog, read the official rules to learn about an alternate form of entry.
This giveaway is open to US Residents age 18 or older. Winners will be selected via random draw, and will be notified by e-mail. The notification email will come directly from BlogHer via the sweeps@blogher email address. You will have 72 hours to respond; otherwise a new winner will be selected.
The Official Rules are available here.
This sweepstakes runs from 11/12/2014 – 11/15/2014.
Be sure to visit the Babyganics brand page on BlogHer.com where you can read other bloggers' posts!