Blue Baby Shower for a Boy – Food, Decorations, & More
This past weekend I co-hosted a baby shower at my house for my very good friend, Jen. And while this will be her third child, it was her very first baby shower. So we tried to make this shower as special as possible for her.
And instead of doing a general recap, I thought I'd do more of a baby shower ideas and general party hosting tips type of post.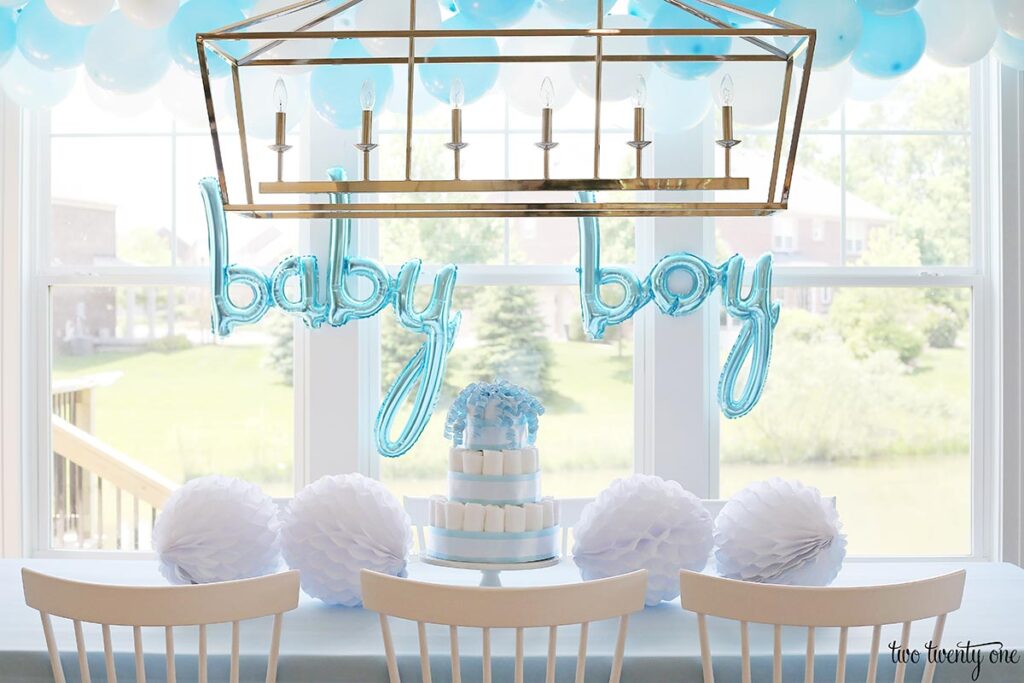 Baby Shower Food
Let's start with the baby shower food. The shower was at 1PM, which to me, means there will be some sort of lunch served. If you're wanting to do a cake and punch baby shower, I recommend bumping the time up to 2PM.
Since there were three of us hosting, we divided up the food. I made spinach dip with Hawaiian bread and a spring mix salad with balsamic vinaigrette, feta, and glazed cranberries and walnuts. The other co-hosts brought chicken salad on croissants and the option to put chicken salad on lettuce leaves, taco dip with tortilla chips, veggie tray, and fruit tray with fruit dip.
One thing I always forget is serving tongs. Thankfully, my neighbor has let me borrow her tongs for the past two parties I've thrown. But I'm proud to say that I ordered some of my own so I can stop bugging her.
And if you're looking to add a little something extra to the food spread, you can never go wrong with fresh flowers. I put some grocery store hydrangeas and chamomile in glass jars and a vase. Trader Joe's is my go-to store for fresh flowers.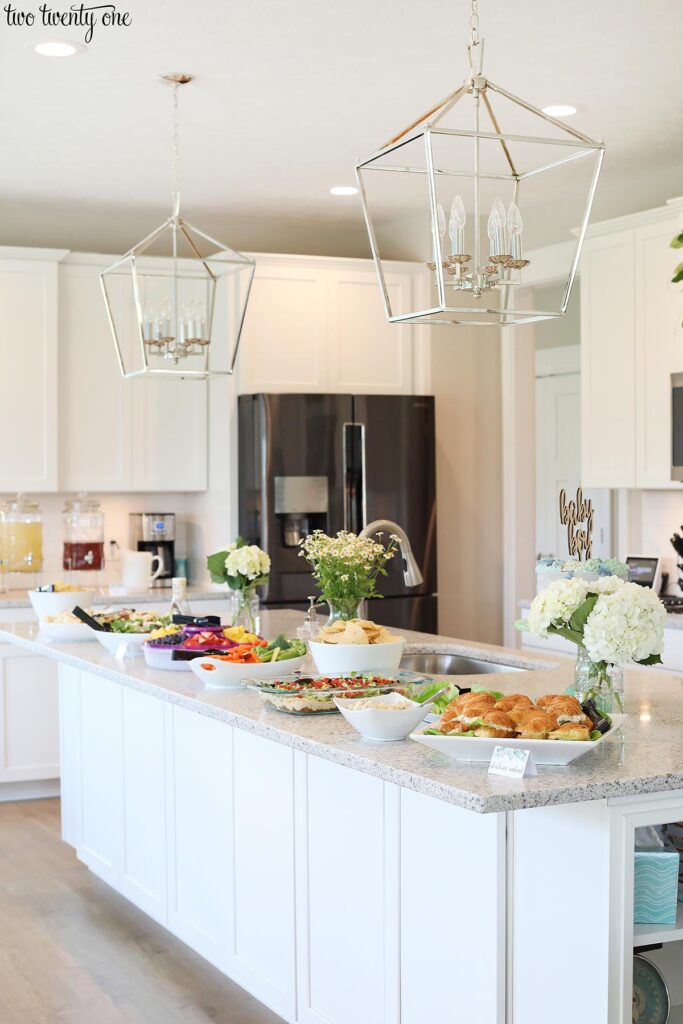 Food Tent Cards
I always put out food tent cards when I'm hosting any sort of party. From a progressive dinner to birthday parties, it's best to literally spell it out for guests. That way the host isn't constantly being asked, "What's this?" And if you know someone in attendance has dietary restrictions, you can note that in smaller text on the cards.
I designed and printed the food tent cards for the baby shower, but you can find them online, in-stores, or you can make your own with some card stock. Just cut the card stock into 4″ x 5.5″ pieces, fold in half, and write the description of the food on the card.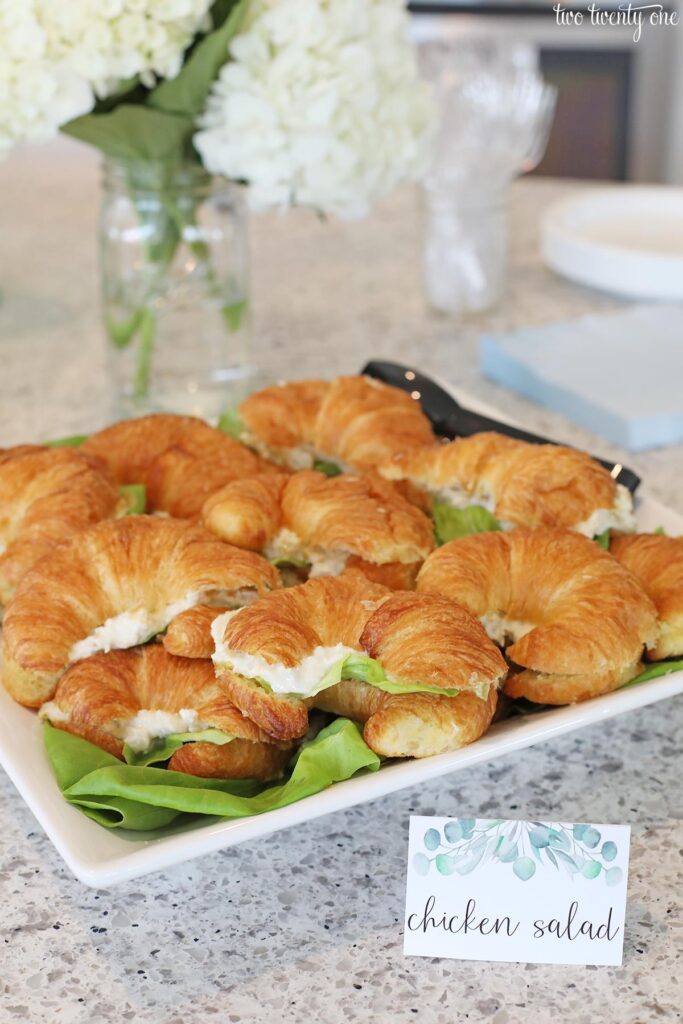 Dessert
Don't forget the dessert! Since the shower was on the intimate side, we opted for an 8″, three layer cake in the mama's favorite flavor– lemon. I ordered a 'baby boy' topper instead of having writing on the cake. Plus, the topper can double as nursery decor by trimming off the post.
Keep in mind you don't have to have a cake. There's always cookies, pie, donuts, etc. I say go with whatever the mom-to-be loves.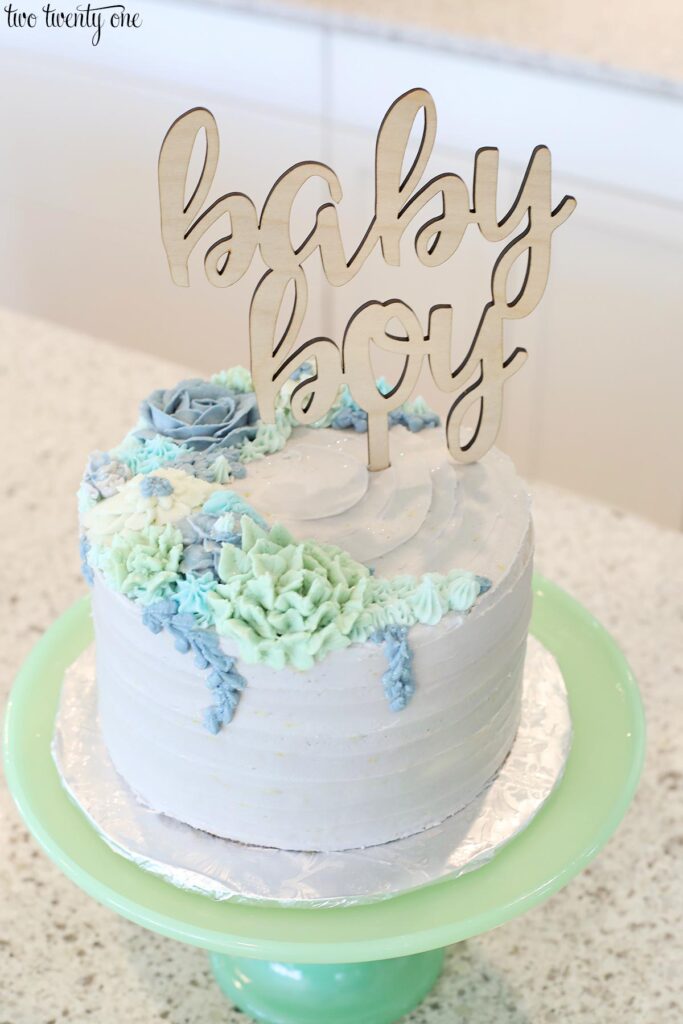 Cake cutting tip! When cutting a round cake, cut a circle in the center, and then cut slices around the circle. This creates more uniform slices.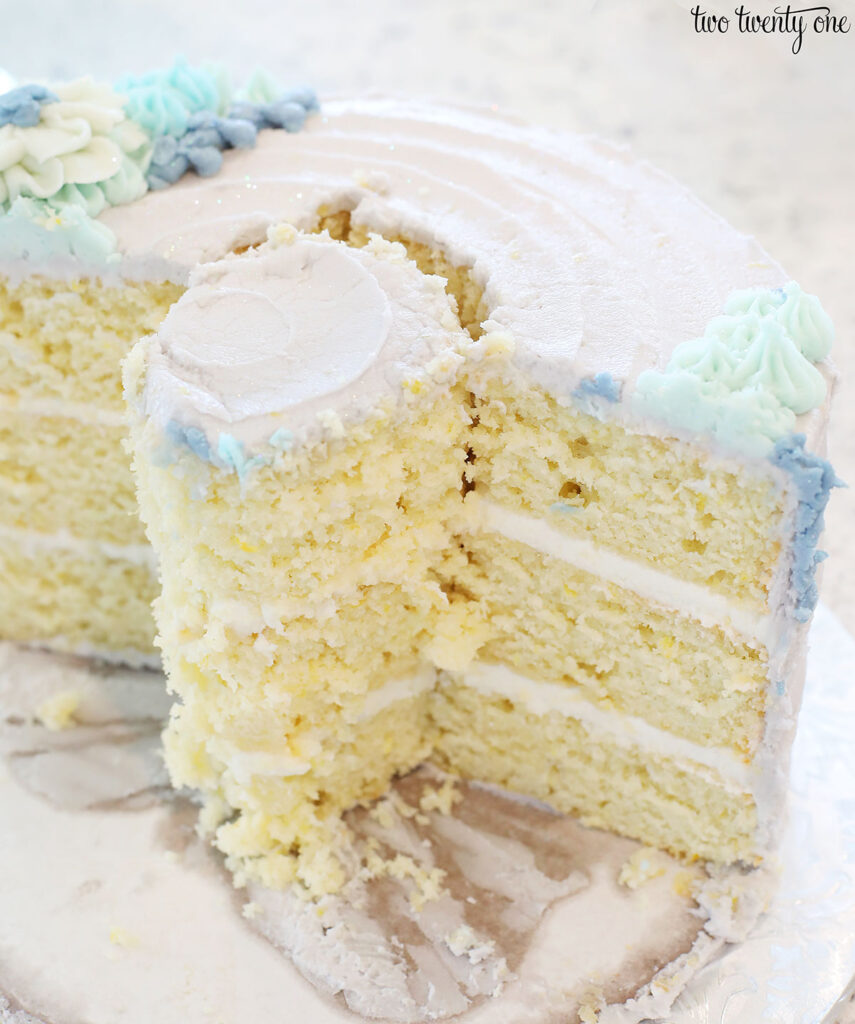 Drink Station
This area of our kitchen is always the drink station for parties. The countertop space is the right size for cups, the ice bucket, drink dispensers, pitcher of water, and even the coffee maker. I love using drink dispensers because I can pour 2+ gallons of beverage into one dispenser and walk away. If I have to refill it, I typically only have to do it once.
And because I'd rather spend time on other things, I typically buy pre-made lemonade from Costco. Another tip is if you are making a punch from scratch, mix it up beforehand and store the excess in a plastic gallon jug or pitcher. That way when it's time to refill, you can just pour it in the drink dispenser.
I moved my maidenhair fern to the drink station for the afternoon to add a little color to the drink area. Use what you got!
I didn't snap a picture of this, but I try to remember to set out a black Sharpie so people can write their names on their cups.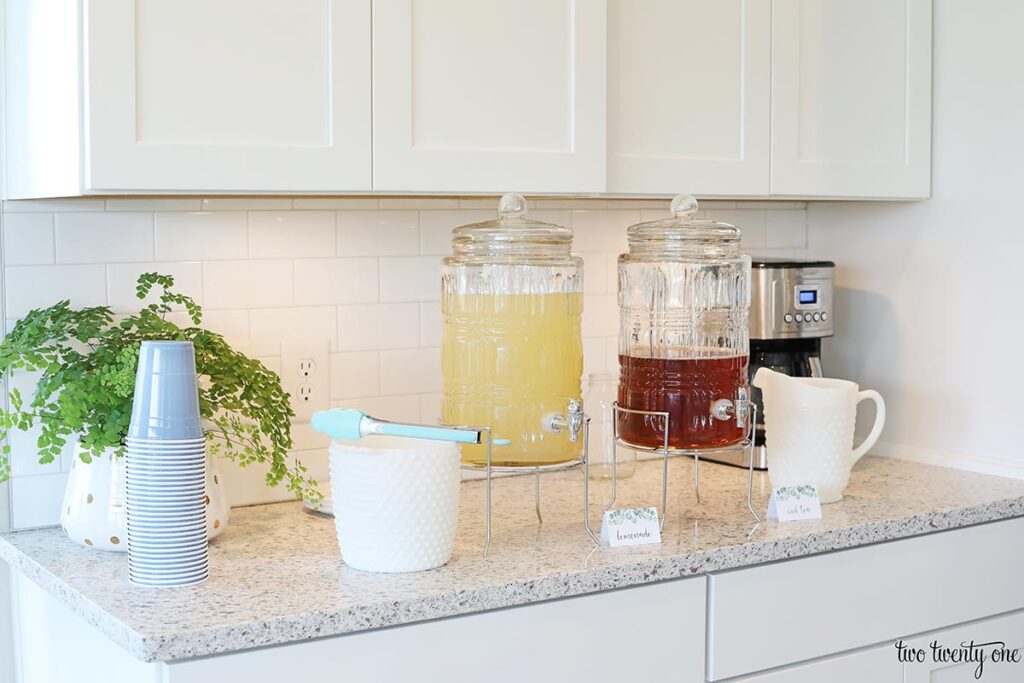 Gift Area
When throwing a shower, or any party where people will bring gifts, you always want a designated area for the gifts to go when people arrive. That's typically the fireplace hearth at my house. For this baby shower, I set a chair by the fireplace so my friend could sit right by the gifts and open them.
I decided to keep the mantel on the low key side in terms of decorations. But I did add the 'baby' balloon that I scored for $3 from the Target dollar spot.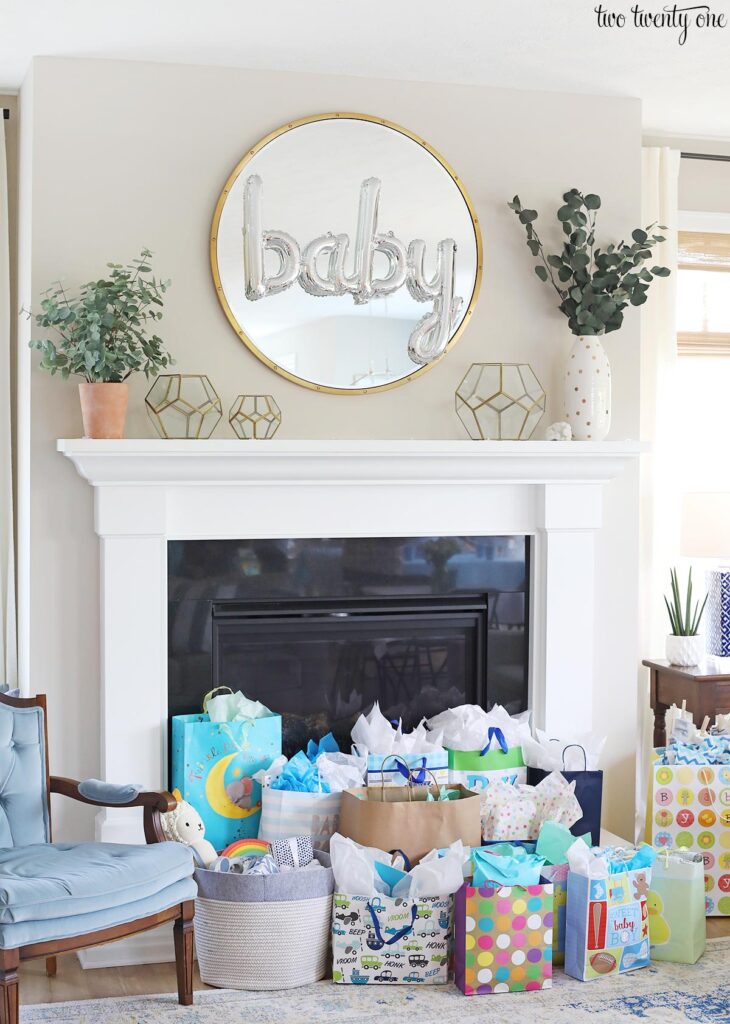 I know some people don't care for this, but I'm a fan of opening gifts in front of shower guests. I think attendees want to see the guest of honor open their gifts and see her reaction. And be sure to have a notebook or piece of paper and pen handy for someone to write down the who gave which gift.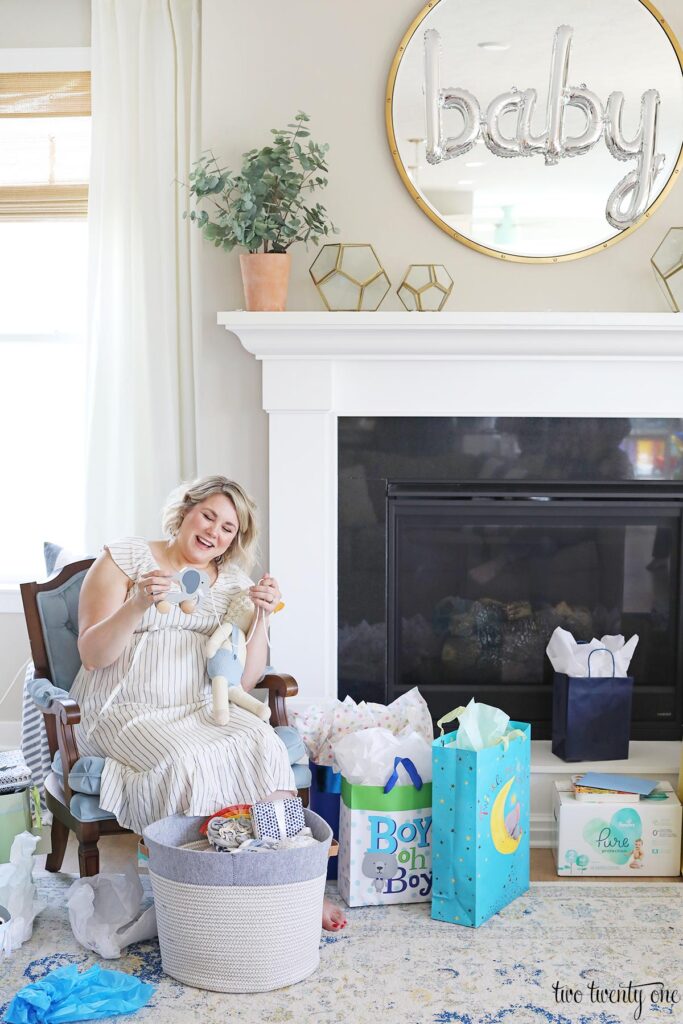 Decorations
You don't have to spend a ton of money on baby shower decorations. I made the balloon garland for less than $15. It's a big impact on a budget. Plus, balloon garlands are very easy to make. You can read my step-by-step tutorial here. And in case people couldn't already tell by all the blue, I added these script balloons to the windows with a little tape.
I keep a small box of different colored tissue paper honeycomb balls and fans that I use over and over again for parties. They're are nice because they're very compact when folded up.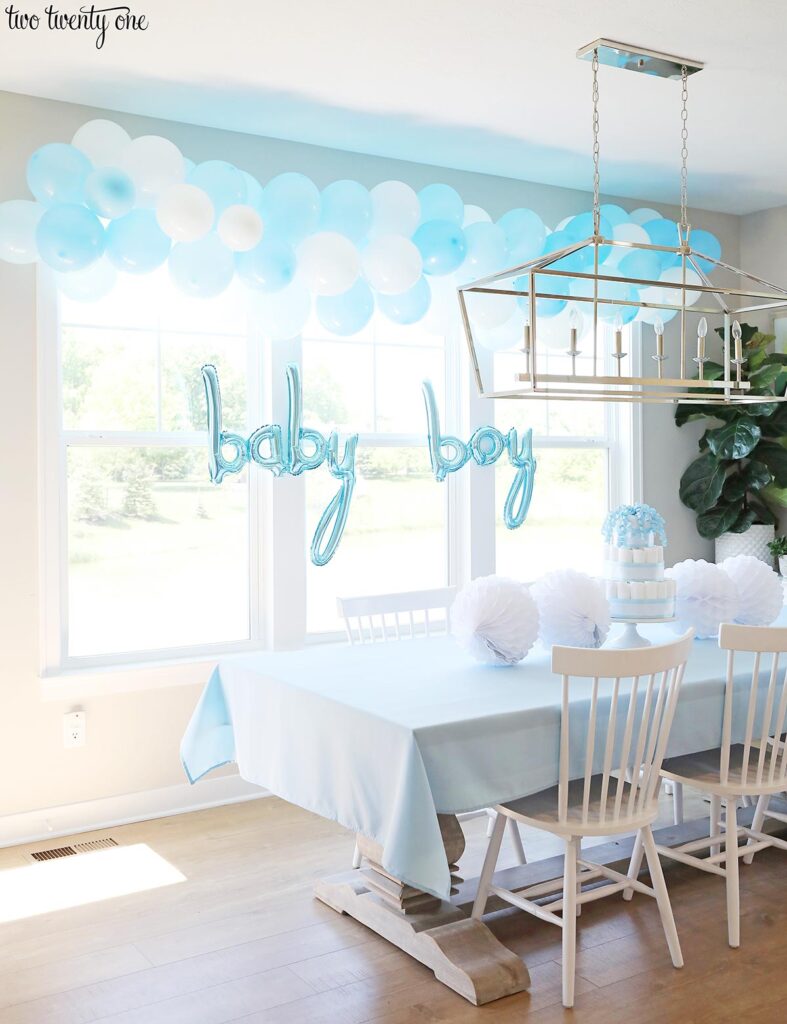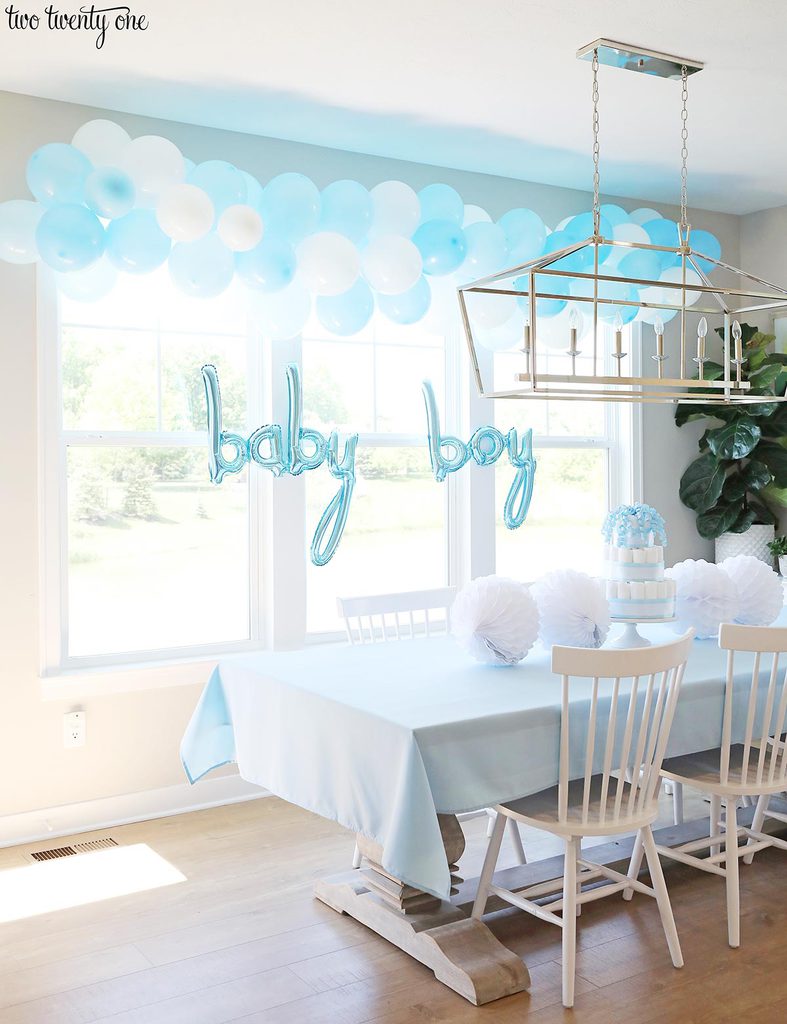 And gifts can double as decor. I've always wanted to make a diaper cake (tutorial to come), so I created this three-tiered cake to serve as the centerpiece for the main table. I put it on top of one of my cake stands for some extra height.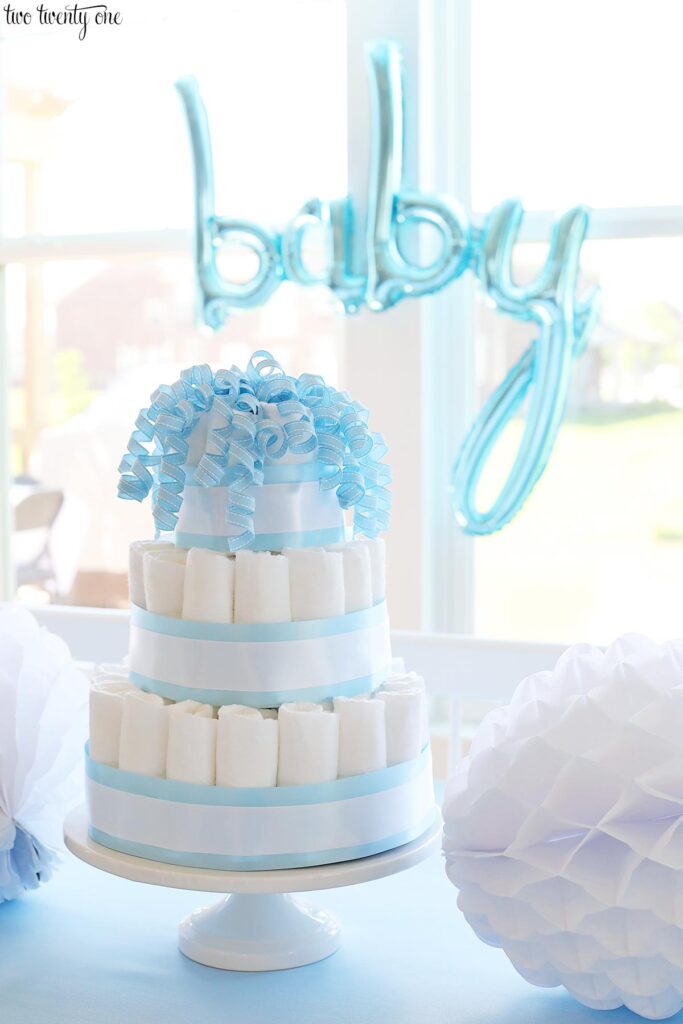 I also like using real tablecloths. They look better than plastic tablecloths and they're more environmentally friendly. And they're not as pricey as you'd think. I bought the baby blue 60″ x 126″ tablecloth for $13. But if you'd rather not spend the money on a colored tablecloth, buy some white ones that you can reuse since white goes with everything. I have a couple 52″ x 52″ white tablecloths that I keep for card tables because I don't want to store a bunch of small colored tablecloths.
And speaking of card tables, I didn't get too fancy with the table decor for those tables. Kroger had a bunch of flowers from Mother's Day in their clearance section, so I was able to make two bouquets of spray roses and baby's breath for a total of $7. But if you're on a budget, you can always cut flowers or branches from your yard.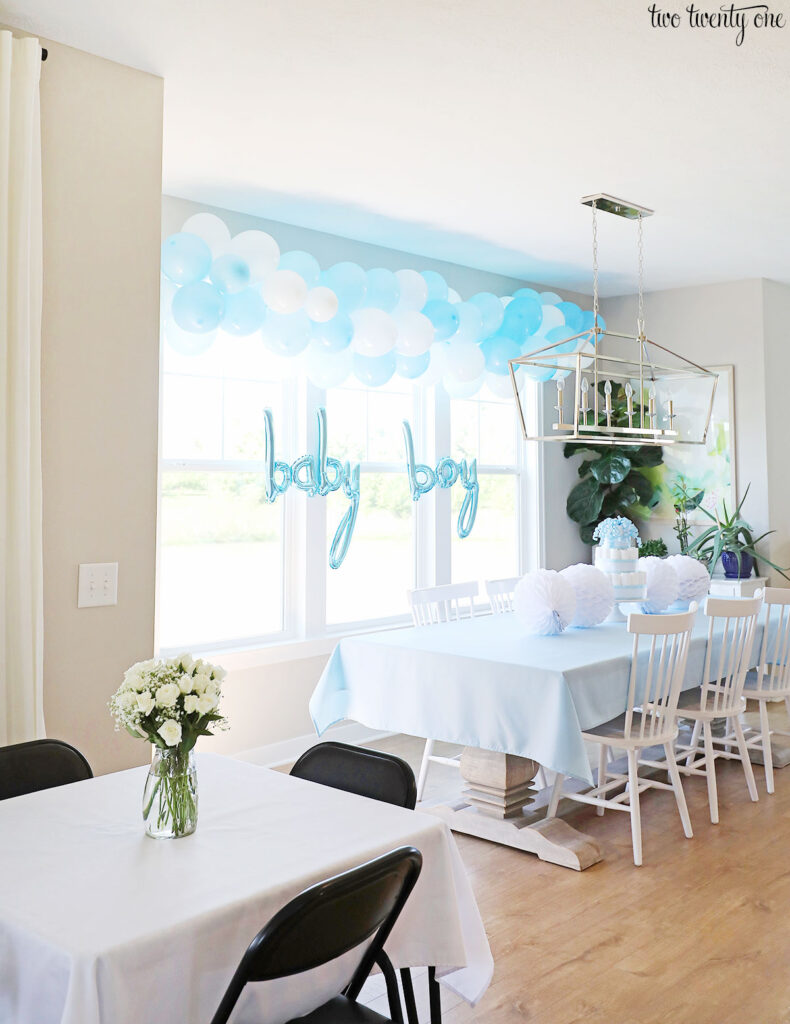 And remember, you can sell decorations, tablecloths, etc. after your party to recoup some money.
Baby Shower Games
I don't think anyone is a huge fan of baby shower games. But one game I can get behind is baby shower bingo. It makes the gift opening portion of the shower more interactive and forces people to pay attention. And this bingo game can be used for any sort of shower.
There are tons of free, printable bingo cards on the Internet. I designed the bingo cards for this shower, printed them on card stock, and cut them out.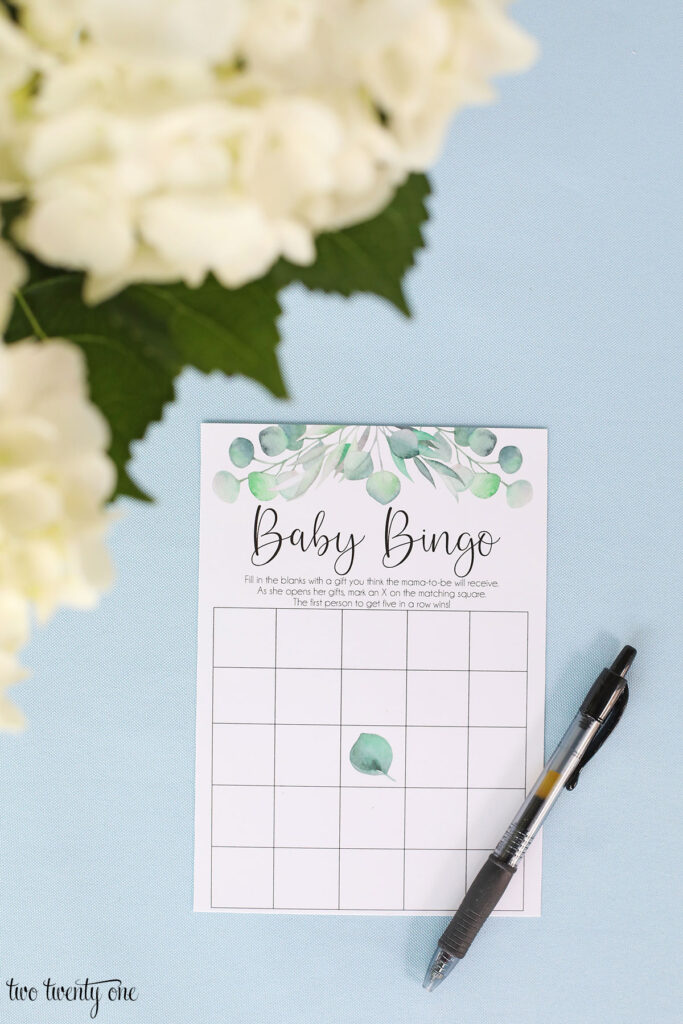 Gift Ideas
I'm big on sticking to people's registries. There's a reason why people create them. So if I'm attending a baby shower of a first-time mom, I'll typically buy things off the registry and throw in a set of handmade burp cloths. The burp cloths are always hit among my friends who receive them.
Since this is my friend's third child (and first boy), she didn't create a registry. Because of this, I felt more compelled to shower her with blue-colored items, keepsakes, and some practical gifts. I knew she'd love a cuddle + kind doll for her little man, especially after having two girls. And since he's a rainbow baby, I included a wooden rainbow puzzle. Some other things I put in the gift basket were a bath kit, baby wipes, nursing pads, breast relief packs, elephant pull toy, booties, set of bibdanas, set of muslin blankets, knit blanket, burp cloths, and a bottle of Prosecco (to drink after baby arrives).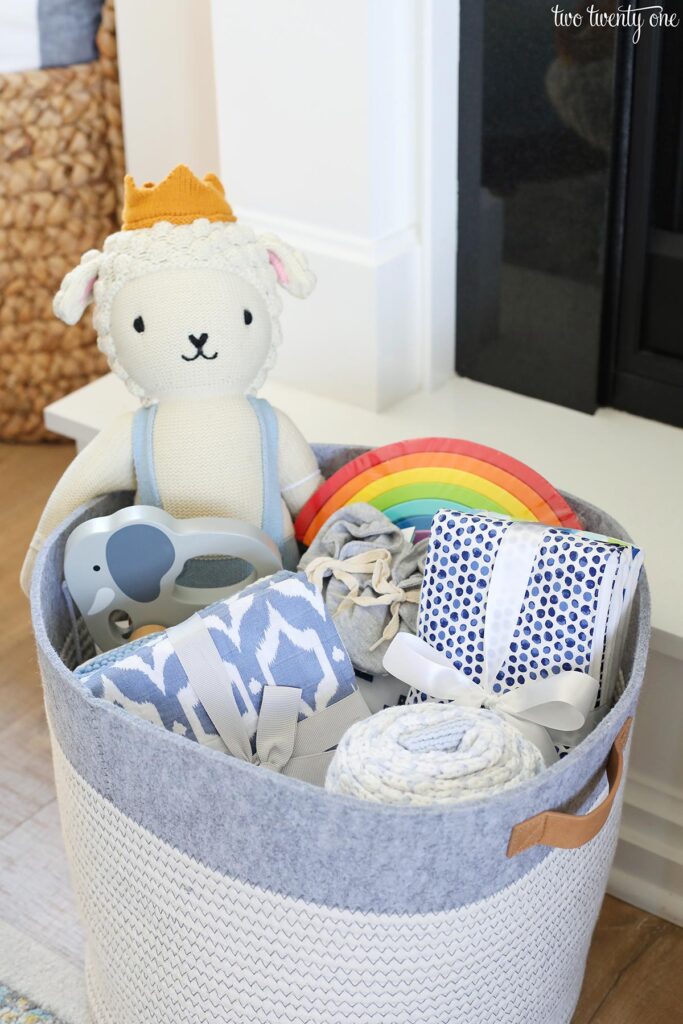 Baby Shower Favors
I don't think you can go wrong with food party favors or something living, like a puppies or succulents. For this baby shower, I opted for succulents. I bought a bunch of tiny terra cotta pots and planted some of my hens and chicks in them about 5 weeks before the shower so they could take root and fill out a little bit. Everyone loved the succulent favors.