What to Buy at Trader Joe's
Have you ever wondered what to buy at Trader Joe's? Yeah, me too. And I always like seeing what other people buy at certain stores so I figured hey, why not share my top picks from Trader Joe's.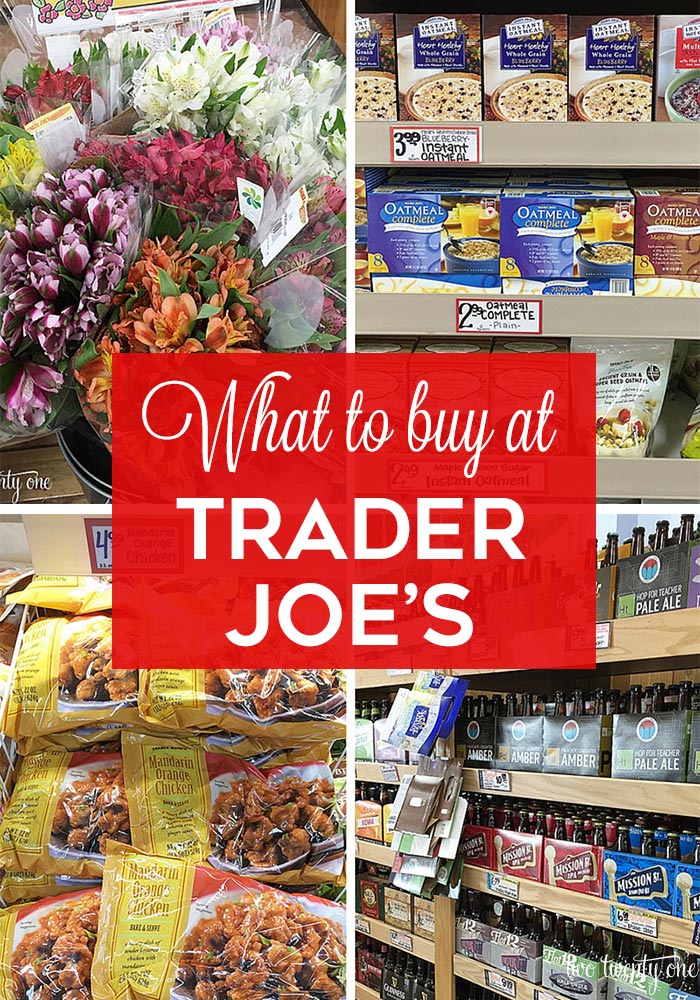 To see my up-to-date Trader Joe's favorites, head to my Instagram and check out my Trader Joe's Faves highlight!
I tried my best to get a good photo of the product and the price (keep in mind that some prices may be different depending on where you live) while entertaining my 18 month old, Owen, and not appearing to be a total weirdo taking photos of her groceries.
Tip: by turning your phone to silent people won't hear the camera shutter sound, thus drawing less attention to yourself taking photos of grocery store items.
Alright, here we go: what to buy at Trader Joe's.
Breakfast Foods
Owen really likes the apple & cinnamon (top right) and maple brown sugar instant oatmeal (lower left). I like it too because it's fast and easy to make.
When I was nursing Owen, I ate this oatmeal almost every day for breakfast and sometimes for an afternoon snack. I'm guessing it did the trick because we all know my kid had some major baby cheeks and rolls. So nursing and future nursing mommas, take note– eat all the oatmeal.
Tip: Speed up the cooling process (because toddlers are super demanding, especially when it involves their food) by popping the oatmeal in the freezer for a few minutes. I set Owen's bowl on this.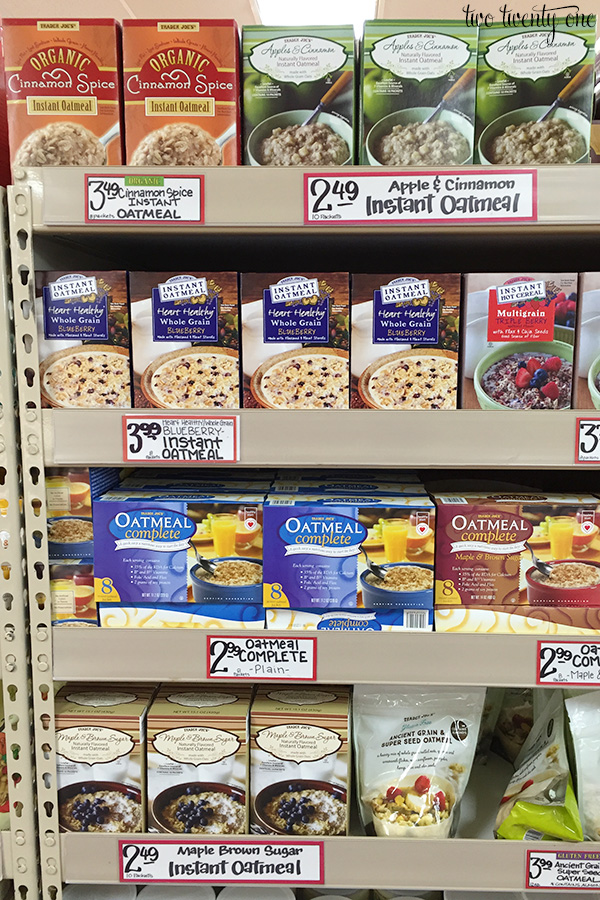 The waffles are also great for quick toddler/kid breakfasts. And for sometimes adult breakfasts when you just can't bring yourself to eat one more damn egg.
Warning: the blueberry waffles caused all of the food in our deep freezer to smell like blueberries, so I now keep the blueberry waffles quarantined in a one-gallon Ziploc bag in our fridge freezer.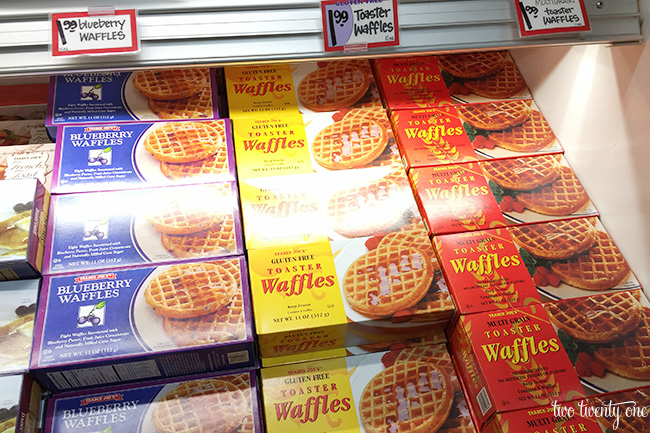 Emmett likes their gluten free and dairy free pancakes. Warning: they're very hot straight out of the microwave.
Owen also loves their silver dollar pancakes. He also loves Trader Joe's cereal bars for a quick breakfast (strawberry, apple, blueberry).
Tip: I put a little butter on the pancakes, and then I add a light dusting of powdered sugar, which is much less messier than syrup.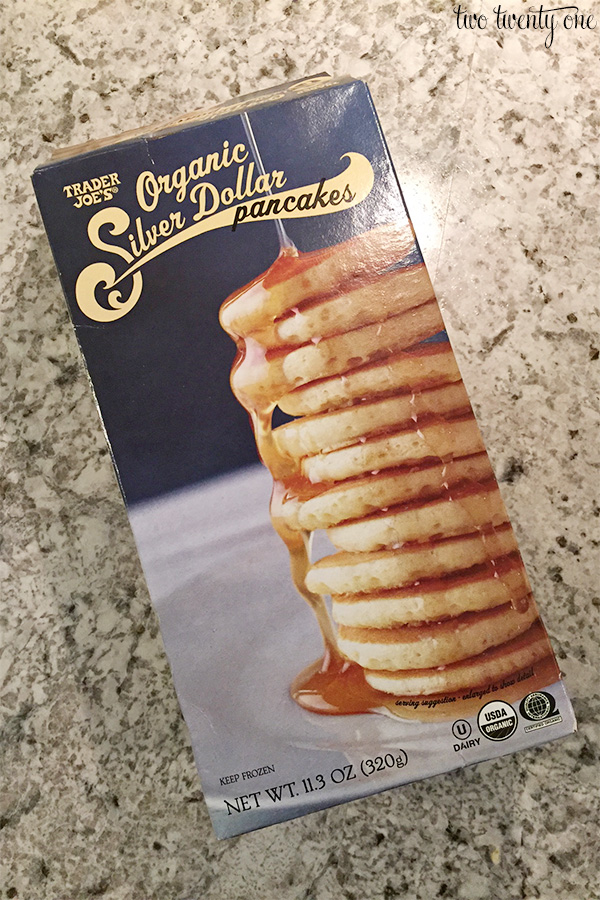 Trader Joe's has a great selection of frozen fruits.
The regular frozen blueberries (lower far left) are my favorite. I use them in our Saturday morning pancakes, or I'll defrost them in the microwave for a few seconds and then eat them with Greek yogurt. But I'm sure they're great in smoothies and baked goods, too.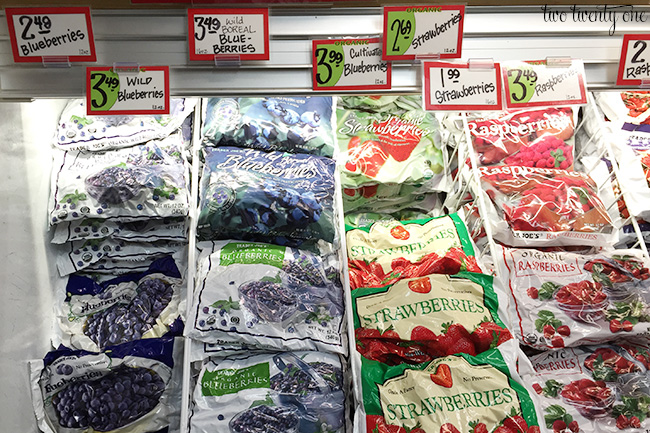 Speaking of pancakes, we love their pancake mix. It's ten times better than all the major brand name pancake mixes.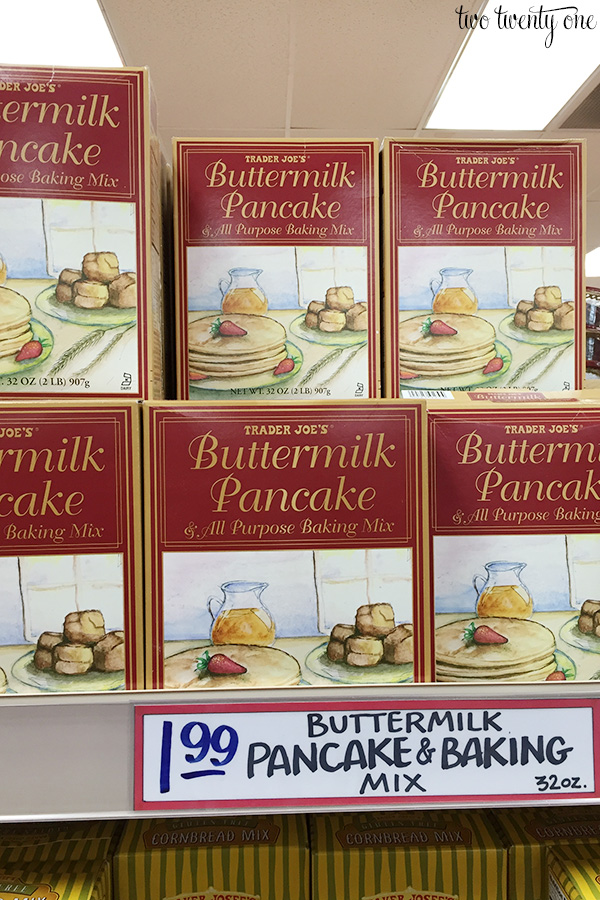 Since Owen doesn't like any form of milk (cow, almond, coconut, etc.) I have to make sure he gets his calcium from other sources. Thank goodness he loves Greek yogurt.
Tip: If you have a picky toddler, who especially doesn't like meat, keep Greek yogurt in the house as a backup. There's typically anywhere from 12-14 grams of protein in each container.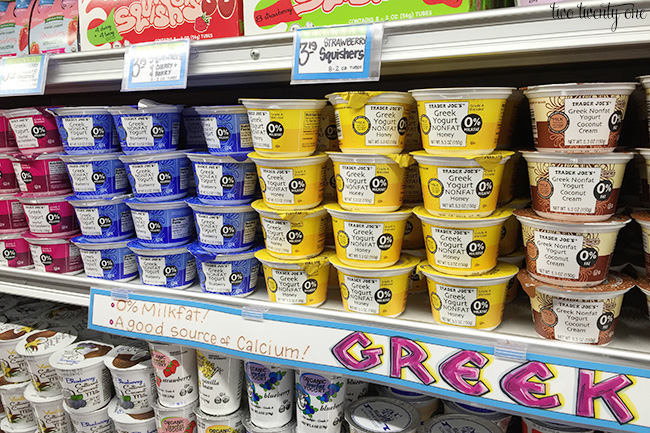 Lunch & Dinner Foods
I LOVE the tomato soup and the roasted red pepper and tomato soup. Both are great solo or with grilled cheese. I also like to sprinkle in some crunched up parmesan crisps.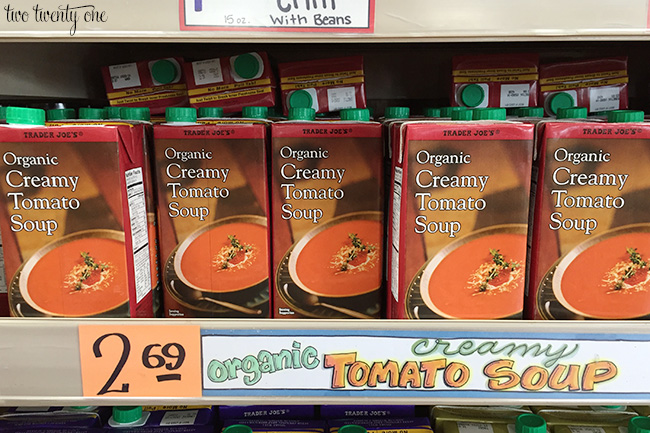 Since we have a small deep freezer in our garage, I typically stock up on their bags of frozen chicken breasts. The cashier always makes a comment because I buy 5-6 bags at a time. My go-to response is that we're preparing for the zombie apocalypse.
We switched to these chicken breasts from Tyson a few years ago, and we immediately felt better after doing so. Sorry, but chicken breasts shouldn't be the size of my size 11 feet.
I always prepare an entire bag at a time. So I'll thaw all the breasts, use a few in whatever meal I'm making that night, and then I usually bake the remaining chicken breasts to use in a different meal another night.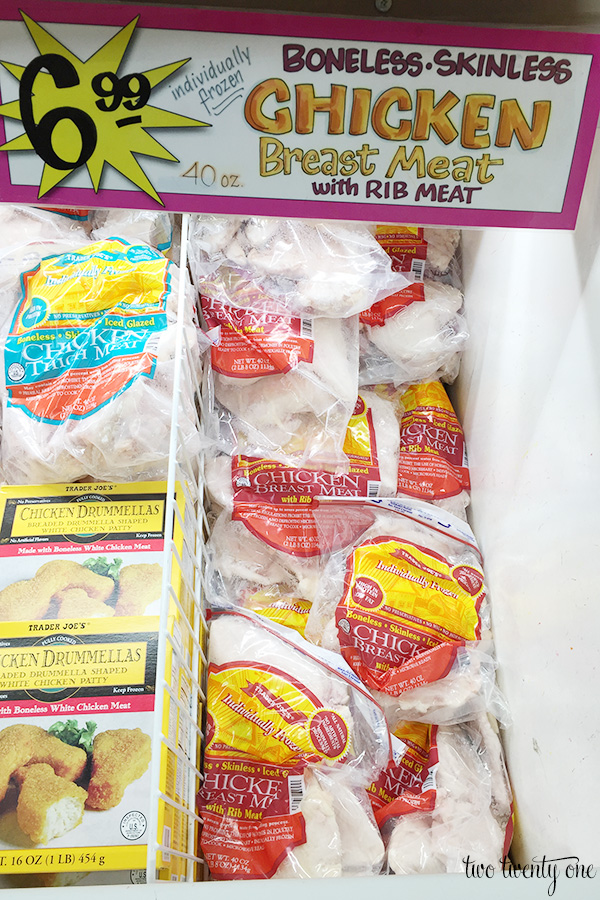 Sometimes Owen eats these chicken nuggets, sometimes he doesn't. I like them because they're made with real chicken breasts.
If you do buy these, keep in mind that they're raw and require 20 minutes to bake.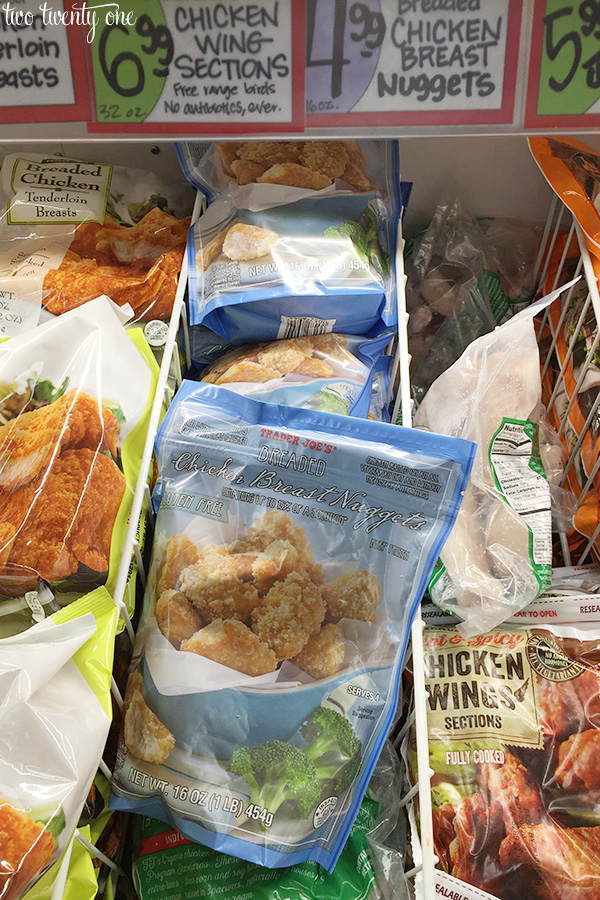 We've been buying the Mandarin orange chicken from Trader Joe's for years. It's great for those hectic nights because it's ready in less than 30 minutes. But like most frozen Asian food, it's packed with sodium, so I wouldn't recommend dining on this all the time.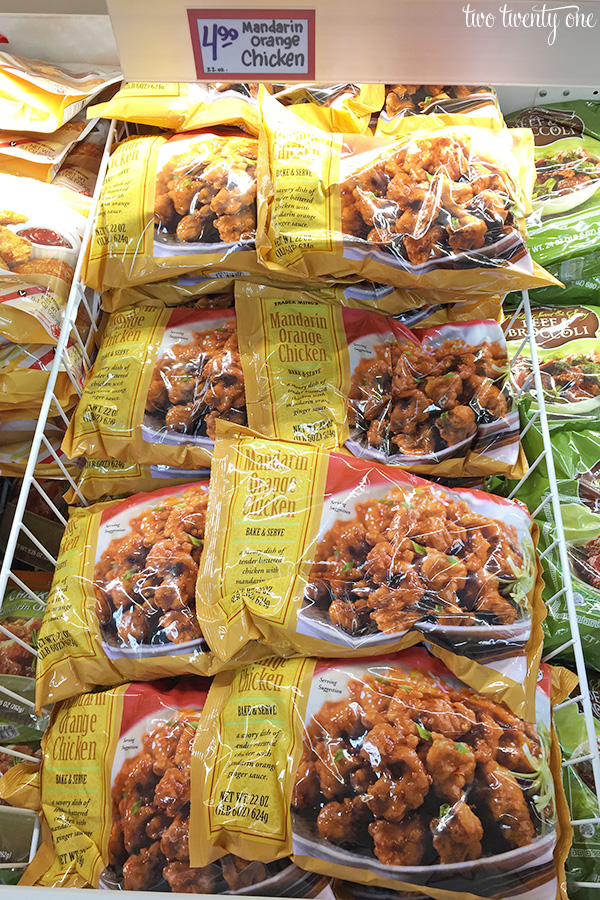 We always eat the orange chicken with the vegetable fried rice. I like to think the vegetables make up for all the sodium in the orange chicken.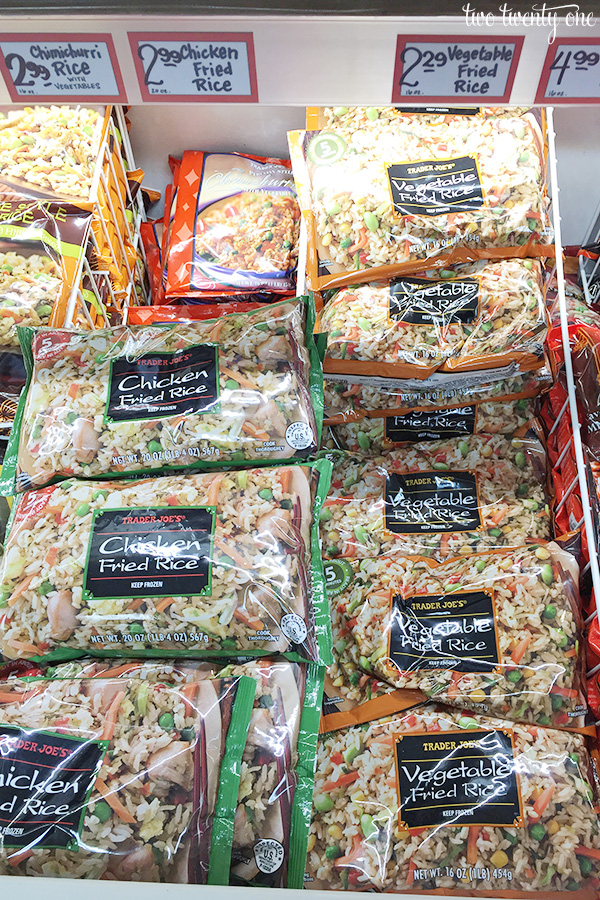 I keep a couple mushroom risottos in the freezer for a quick side dish.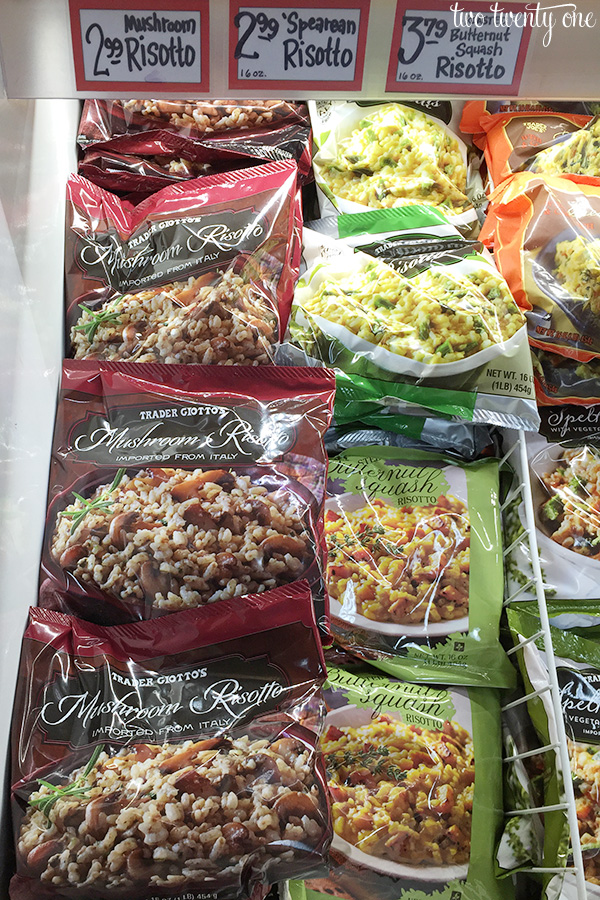 I haven't tried it yet, but Trader Joe's carries cauliflower rice. Which is amazing because it's a real PITA to make cauliflower rice. I bought a couple so I'll report back after I try it.
Update: I had the cauliflower rice, and it's delicious. SO MUCH easier than making it yourself. Well worth the $2 per bag in my opinion.
As you can see, there weren't many bags left so this is clearly a popular product.
Tip: Want to try something new at Trader Joe's? Look for the items that are sparse. There's usually not many left because people snatch them up.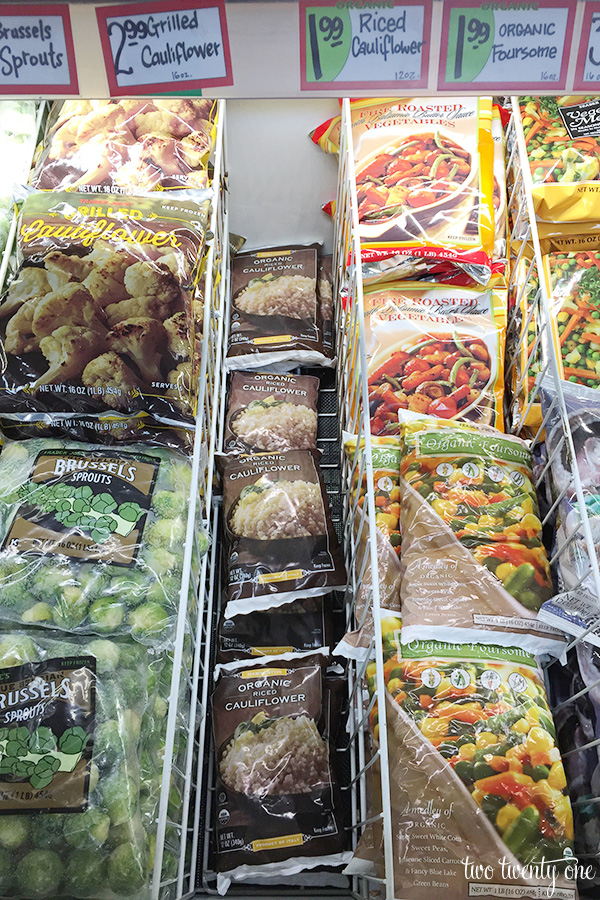 We love grilling pizzas on our outdoor grill during the summer, and Trader Joe's pizza dough, fresh pizza sauce, and Calabrese salami are our faves.
I wrote a post on pizza grilling tips here.
Tip: The pizza dough, pizza sauce, and salami freeze well, too. I put the dough in freezer bags and toss them in our deep freezer.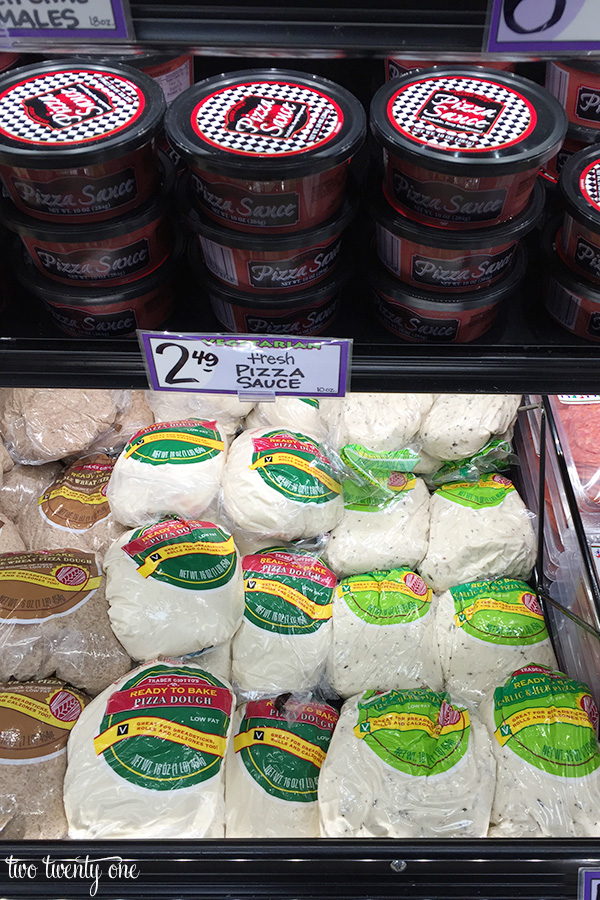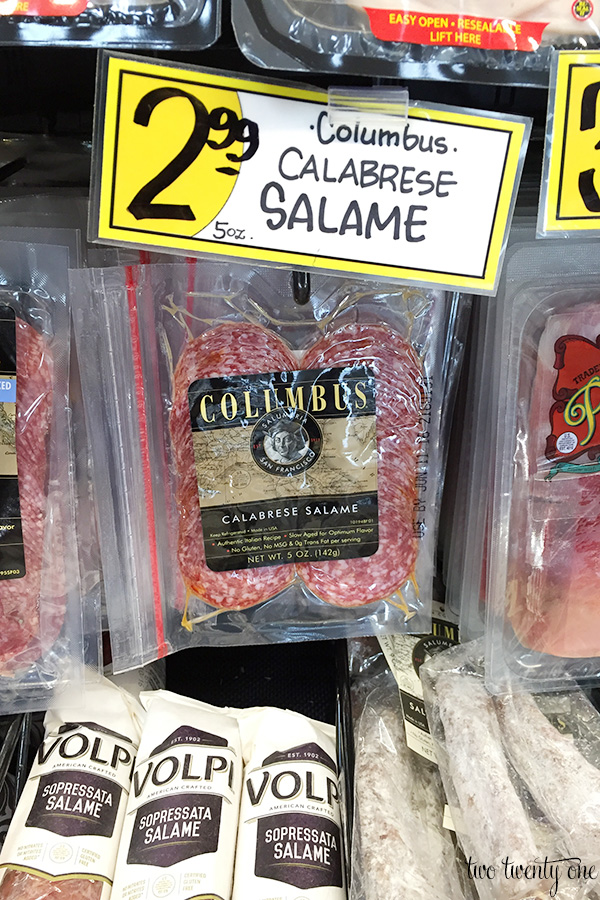 I always keep a couple jars of the tomato basil marinara in our pantry.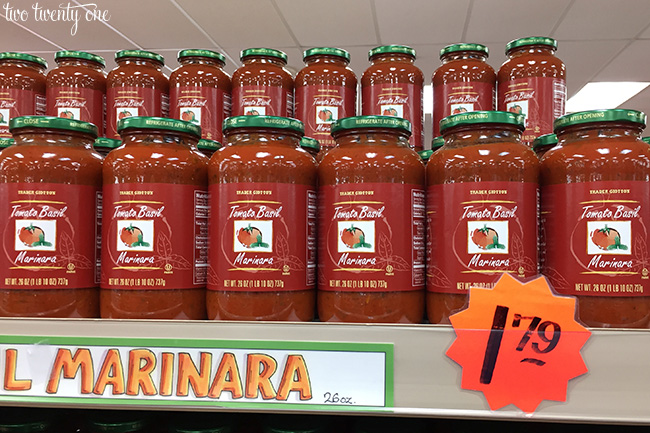 Snacks
The Corn Chip Dippers are great. And the newer Elote Corn Chip Dippers are amazing.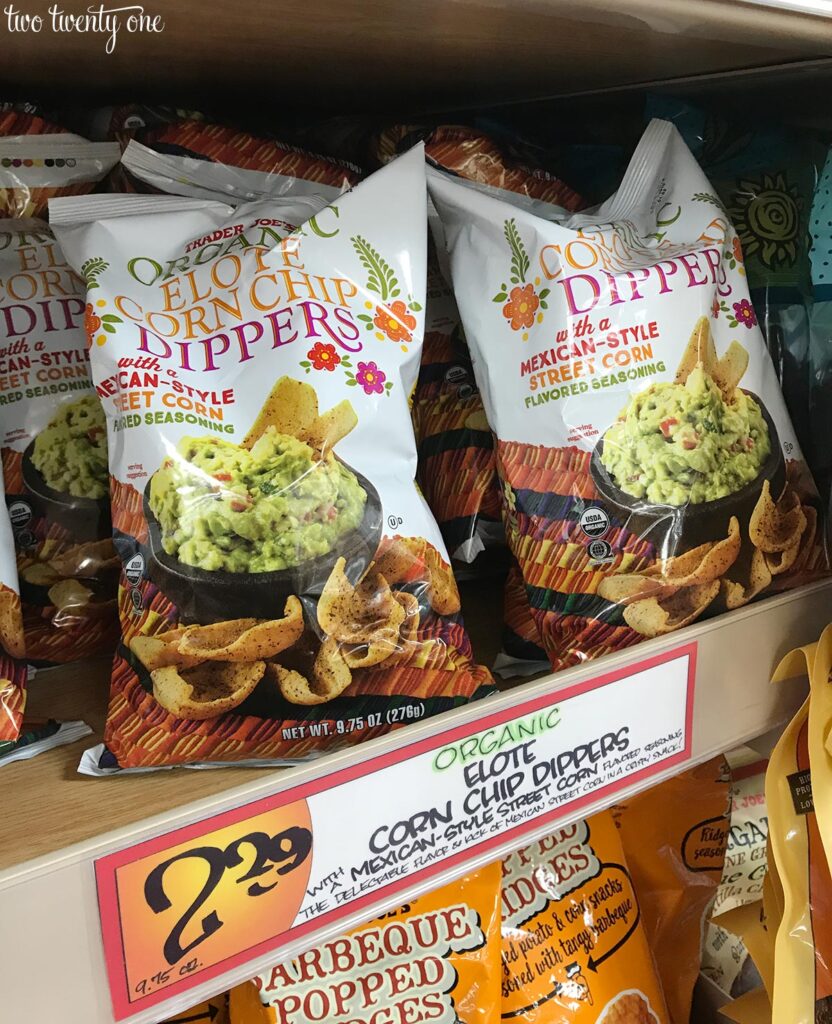 Kids love the Veggie Crisps.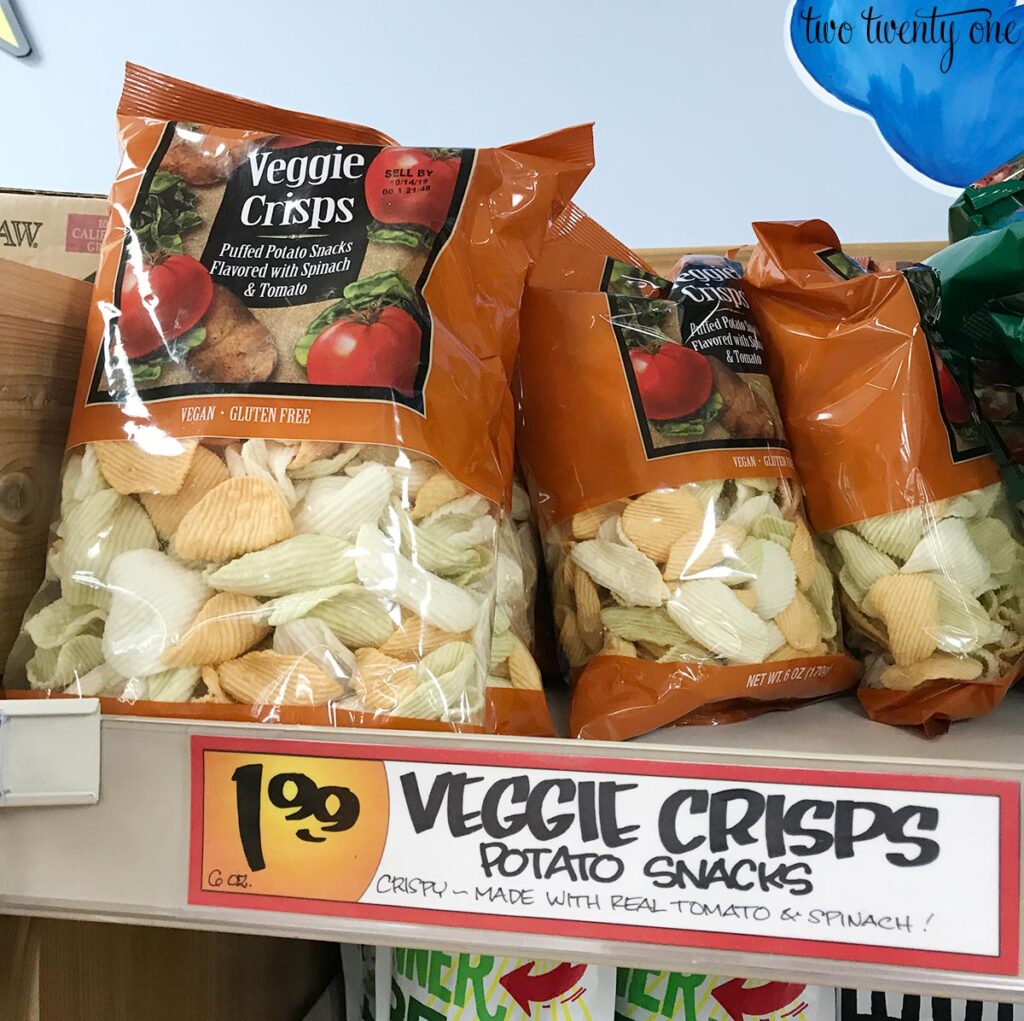 Our kids are all about fruit and veggie pouches. I keep these small pouches in the diaper bag. They're nice to have when toddler hanger sets in in the middle of Target.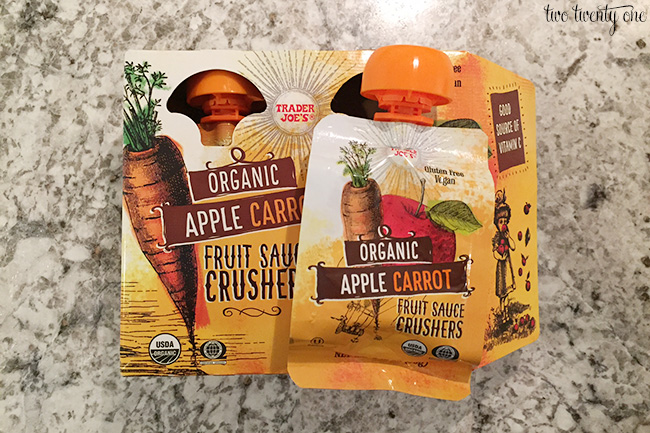 Misc.
I LOVE their cheese selection. Some of my favorites are: unexpected cheddar cheese, parmesan, double cream brie, and herbed goat cheese.
Their coconut oil spray is a staple in our house. I started using it back when I did Whole 30, and subsequently lost 20 pounds, and I've stuck with it.
The sun dried tomatoes are good too. I like them on salads.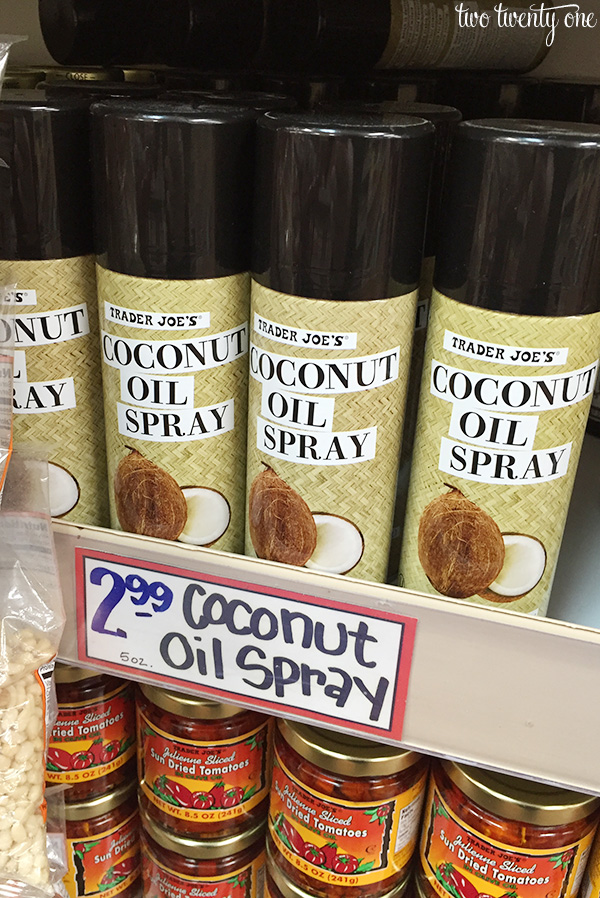 The pineapple salsa is good.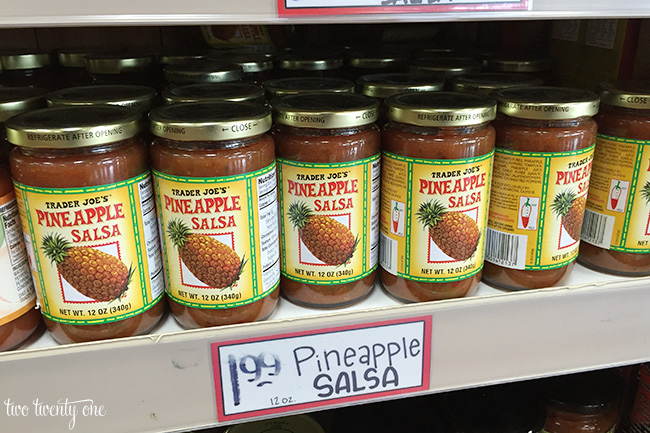 Trader Joe's has a great selection of cheeses. Back when I ate cheese more often, I loved their parmesan, double brie, unexpected cheddar, and herbed goat cheese.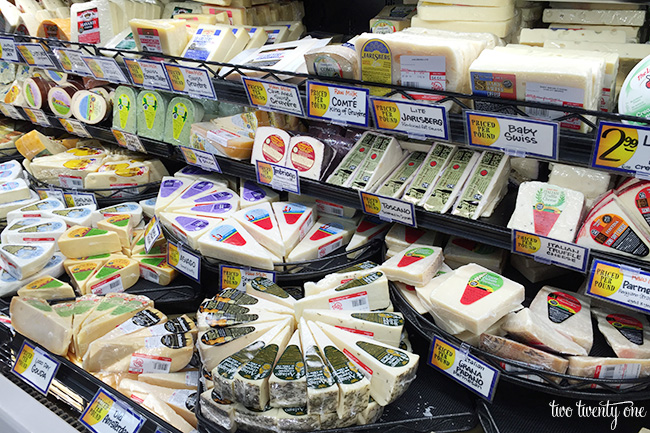 They also have tons of wine and beer for great prices. I'm not a fancy wine person so I usually go for the $6 bottle of bubbly pink moscato.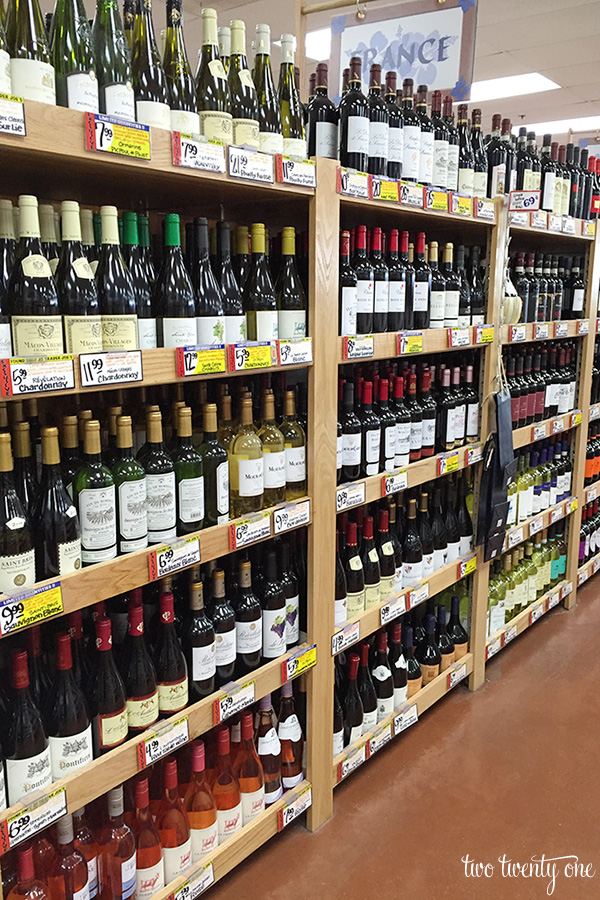 Like some other grocery stores, you can mix and match their beers if you'd like to try some before investing in a full 6 pack.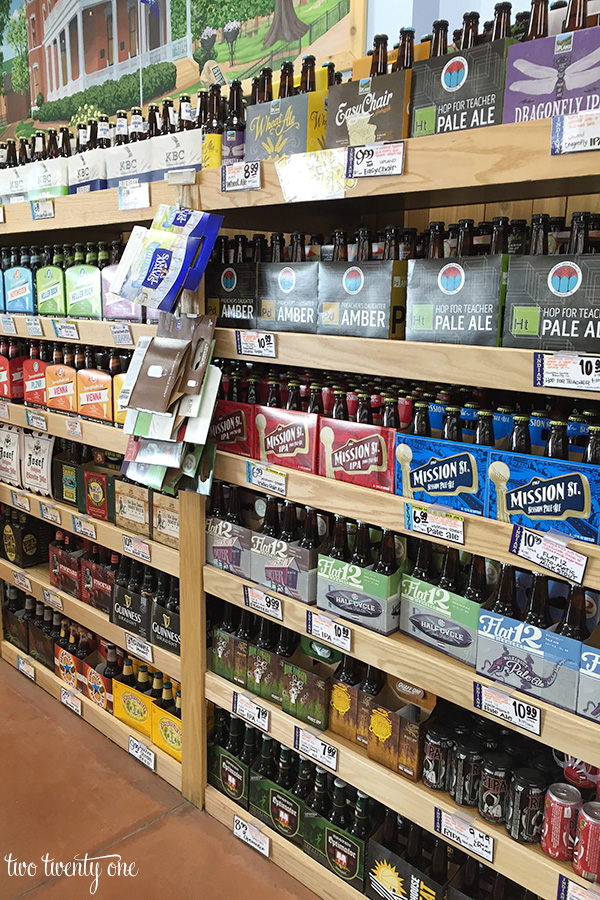 I always have to grab a container of these dark chocolate almonds. They're somewhat healthy because there's almonds in there.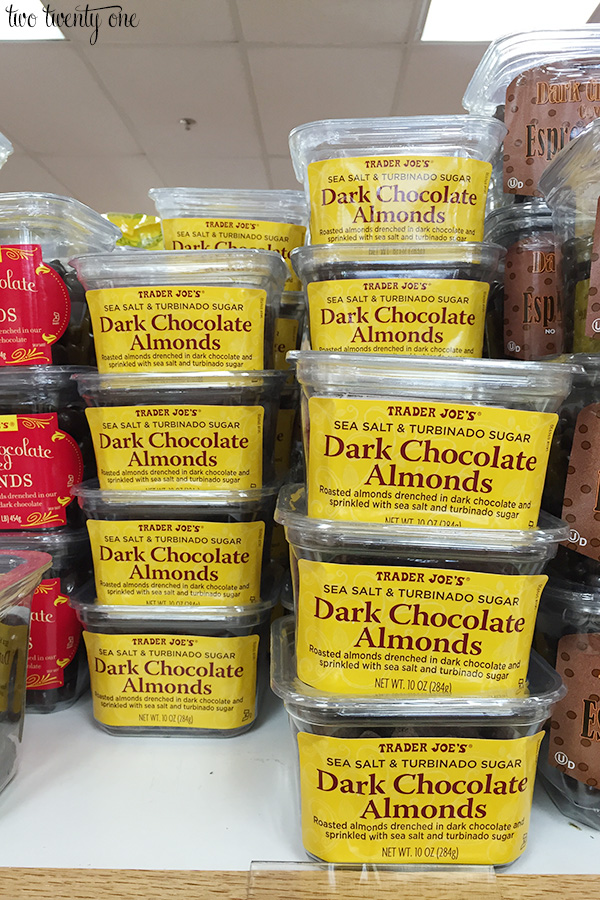 And at least one package of these chocolate covered almond toffee. These are also somewhat healthy because there's almonds involved.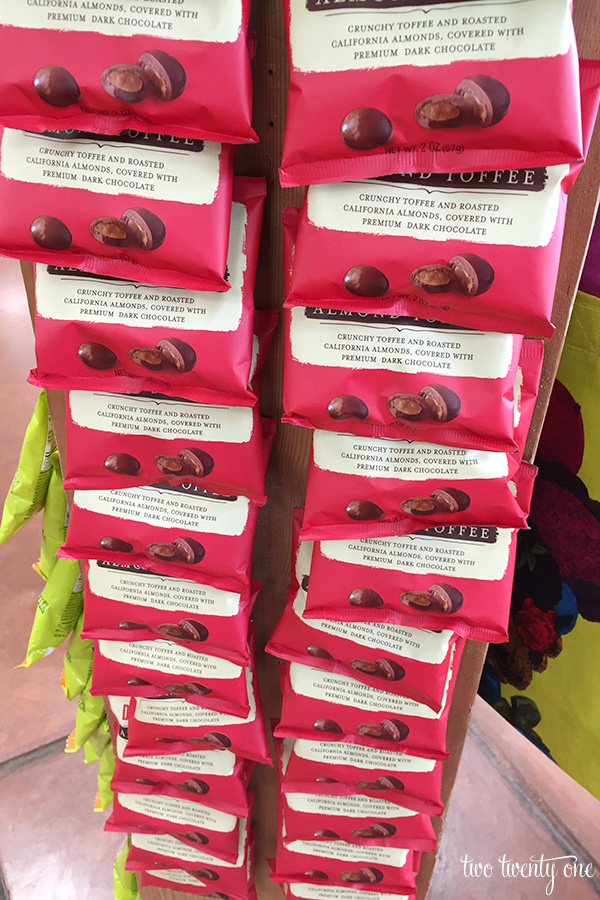 And you have to grab a Kringle. My number one favorite is raspberry. Pecan and cheesecake are pretty good too.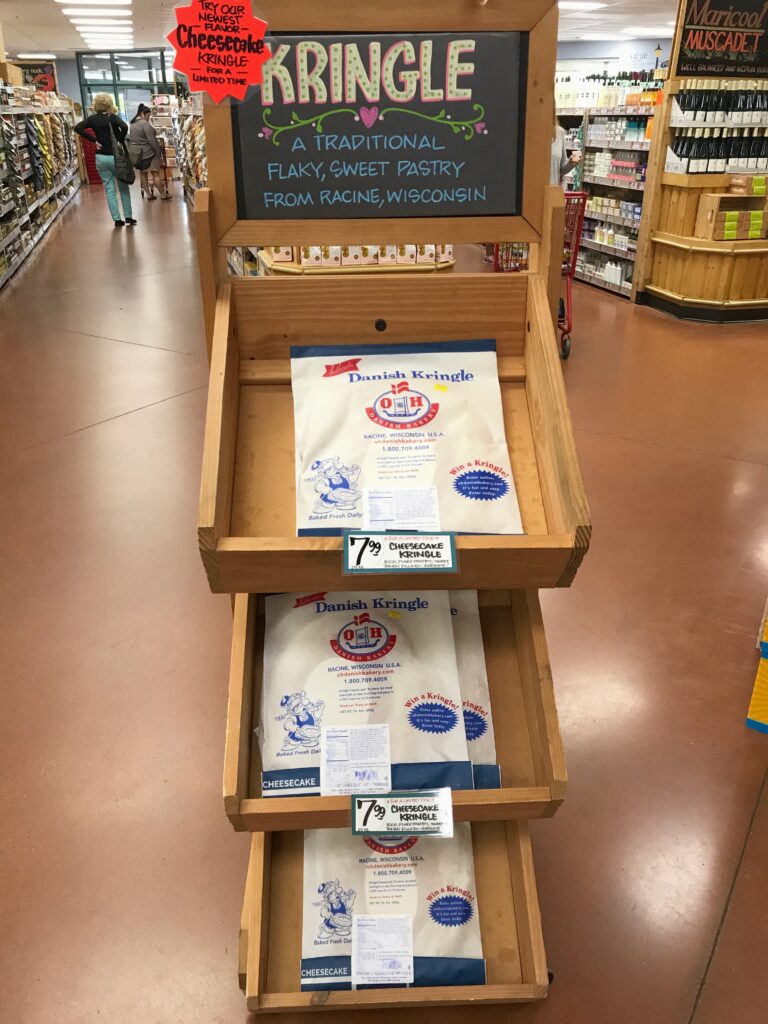 We even get Jack's dog treats at Trader Joe's.
I buy this particular flavor (they carry peanut butter flavored dog treats, too) because I like the unimpressed springer spaniel-looking dog on the front.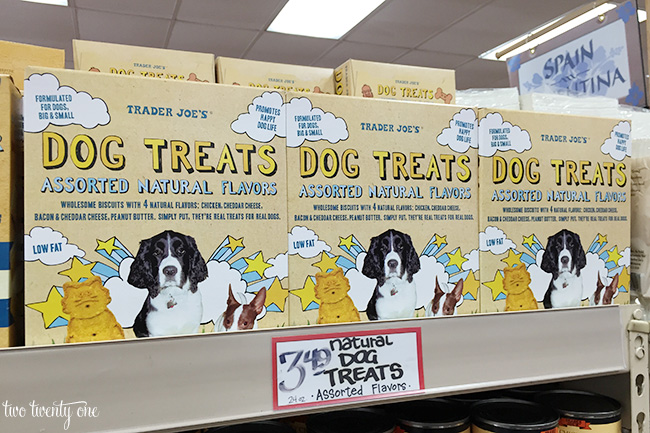 The flower selection is great.
Alstroemeria are my favorite grocery store flowers because they last forever– a great bang for your buck.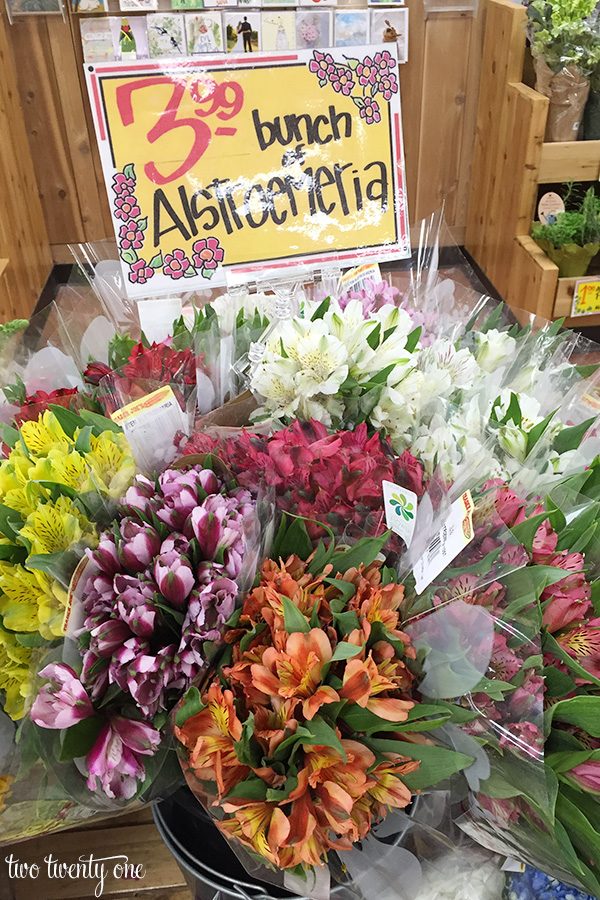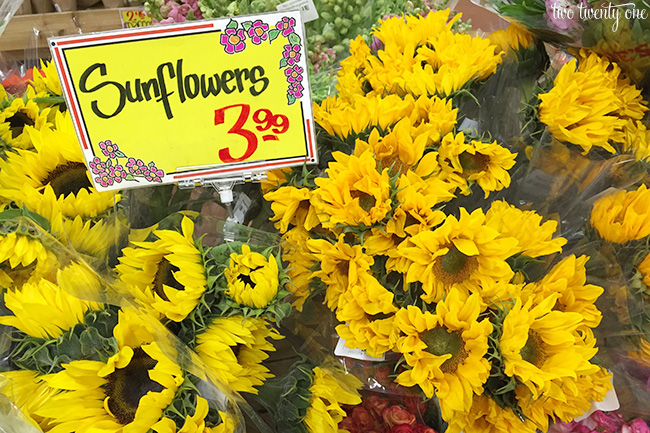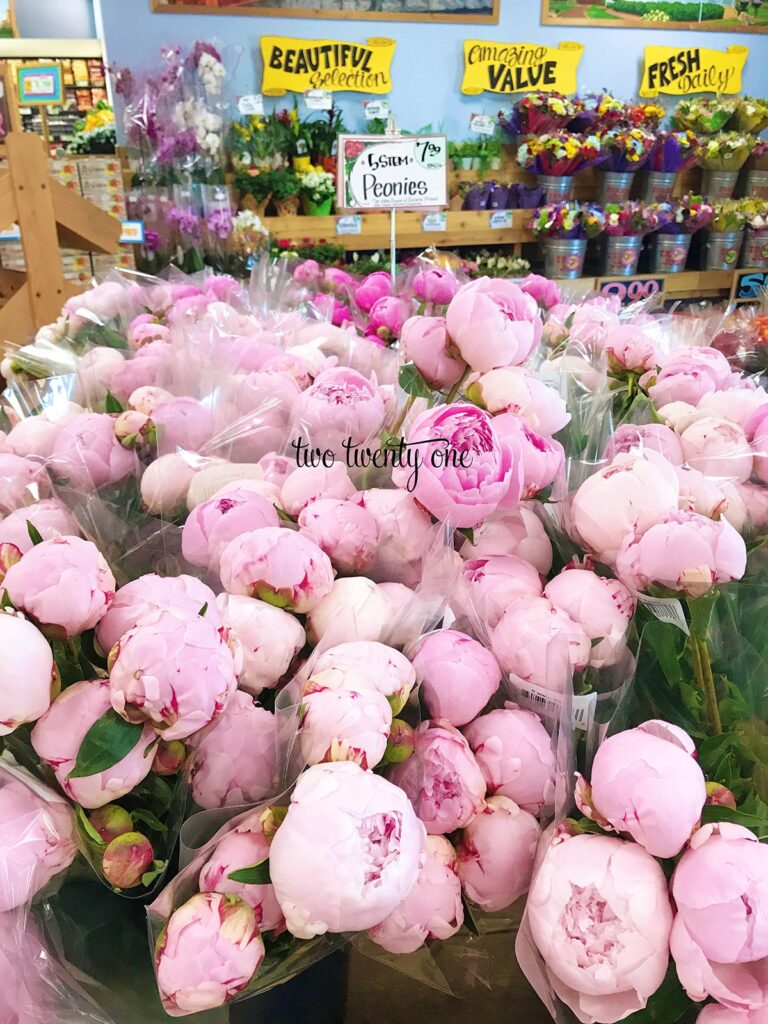 The potted orchids and herbs are also very reasonably priced.
I love this time of year because they bring out my second favorite flower– daffodils.
You better believe that I scooped up five bundles.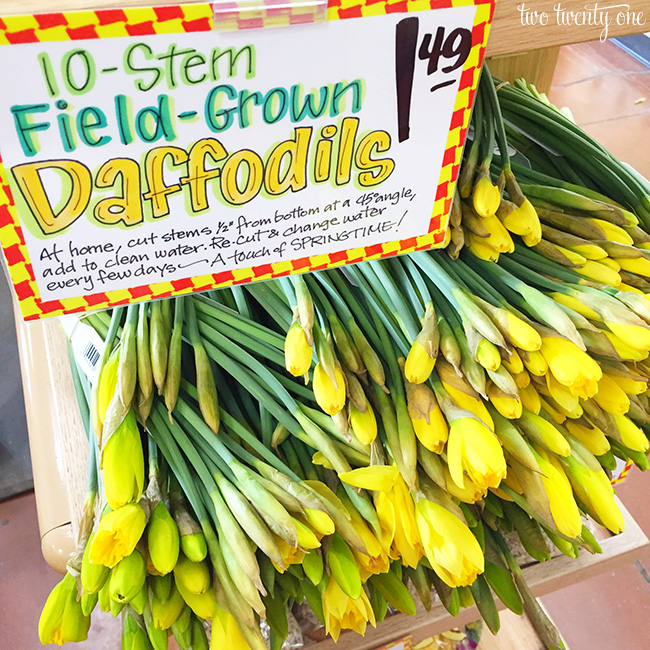 I also LOVE their greeting cards! They're beautiful, and they only cost $.99 each! And my store recently added little flower bouquets by the greeting cards.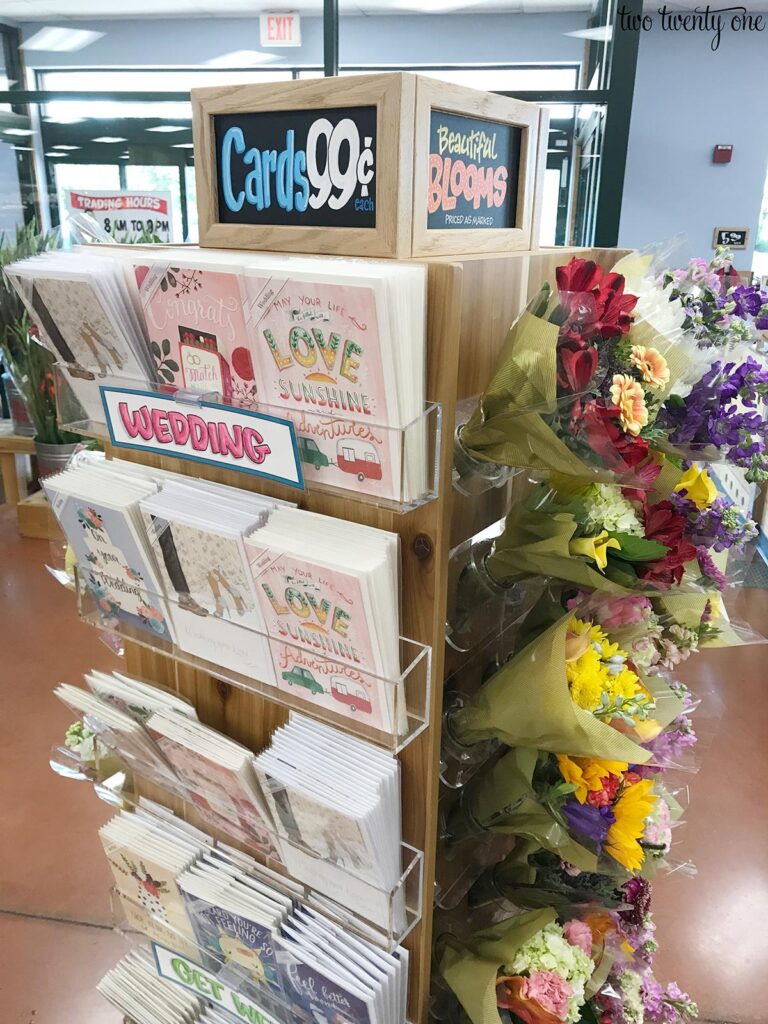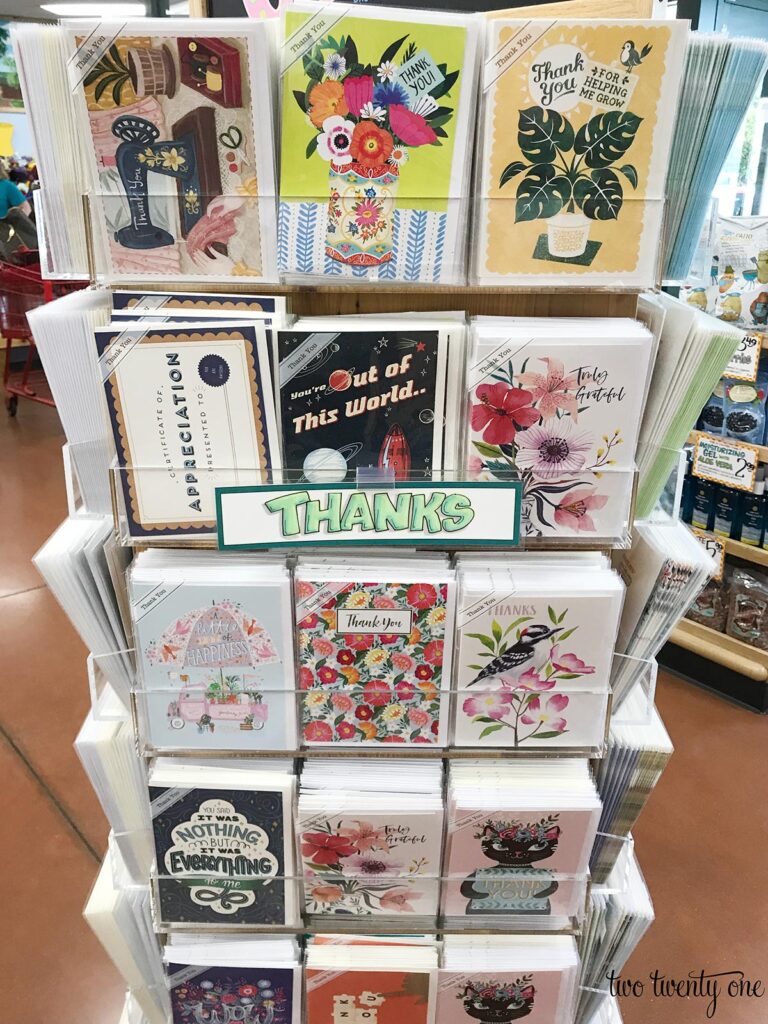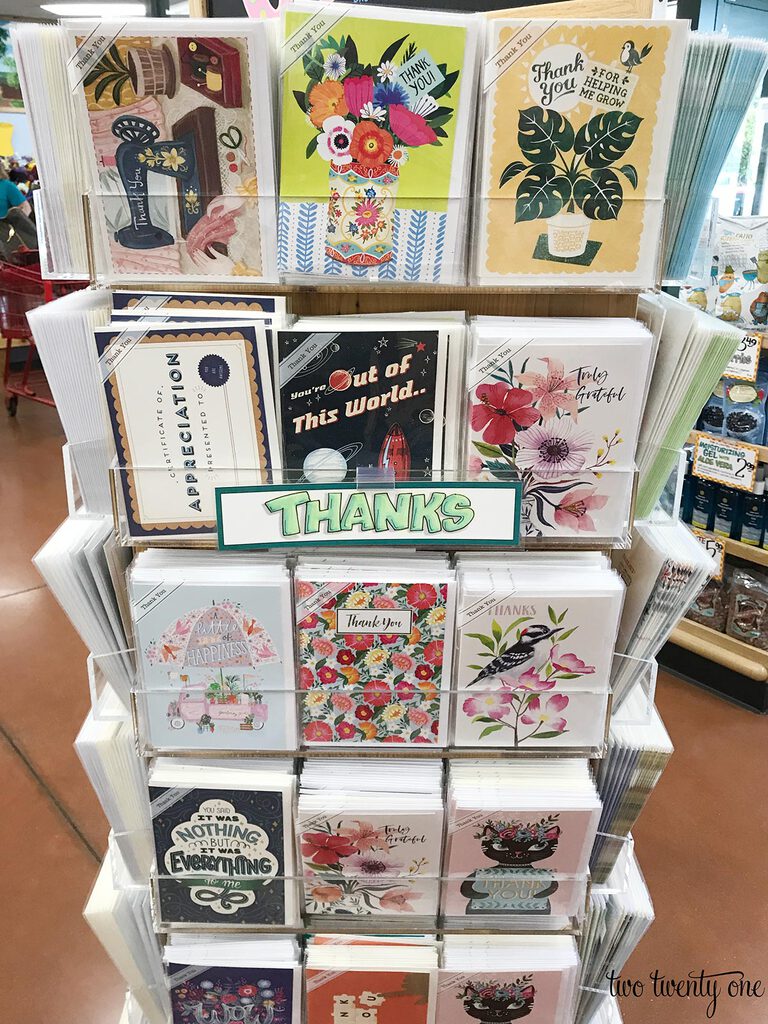 Home
I keep this Tea Tree Tingle shampoo, conditioner, and body wash in our guest bathroom shower for our guests.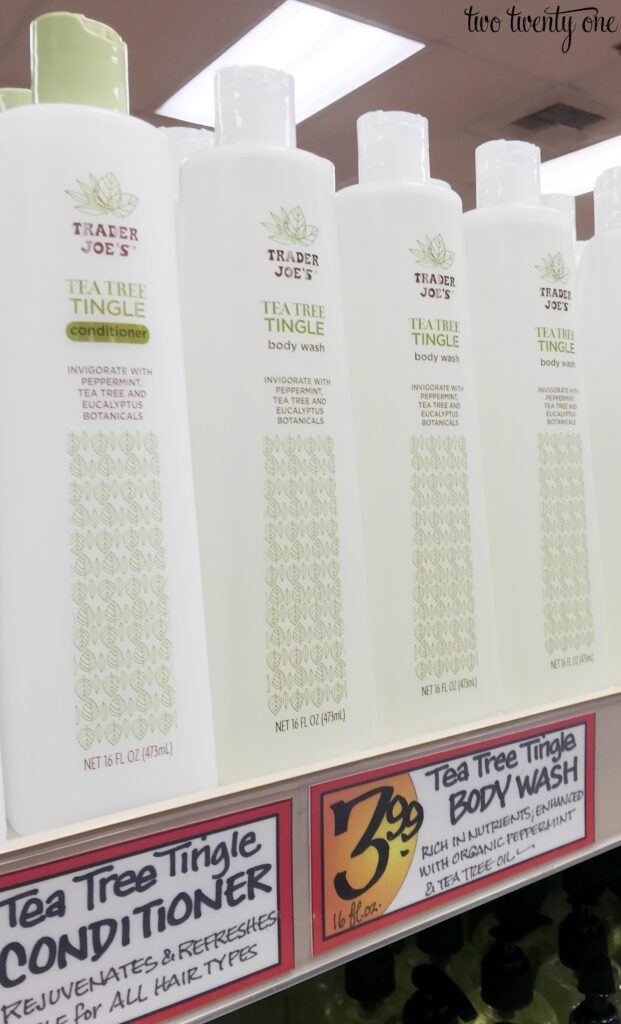 I recently grabbed these wool dryer balls, which are great.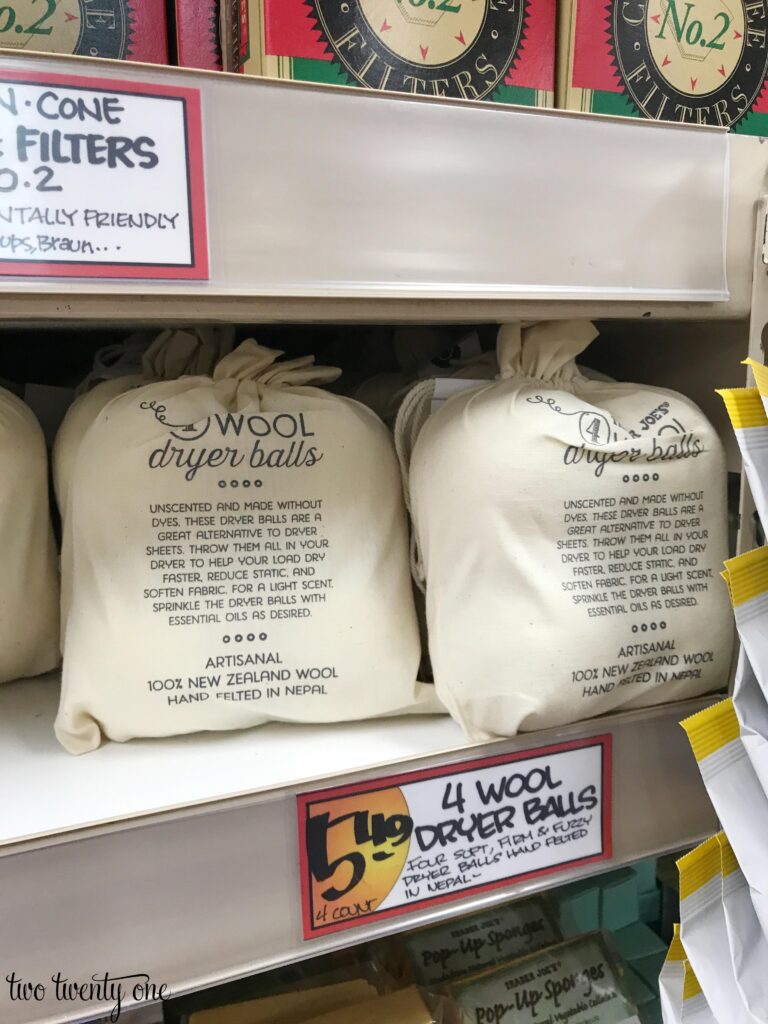 That concludes my Trader Joe's suggestions. I hope you enjoyed this post and found something new you'd like to try.
Keep in mind that the customer service at Trader Joe's is top notch. So feel free to ask them questions about products, or what their favorite picks are.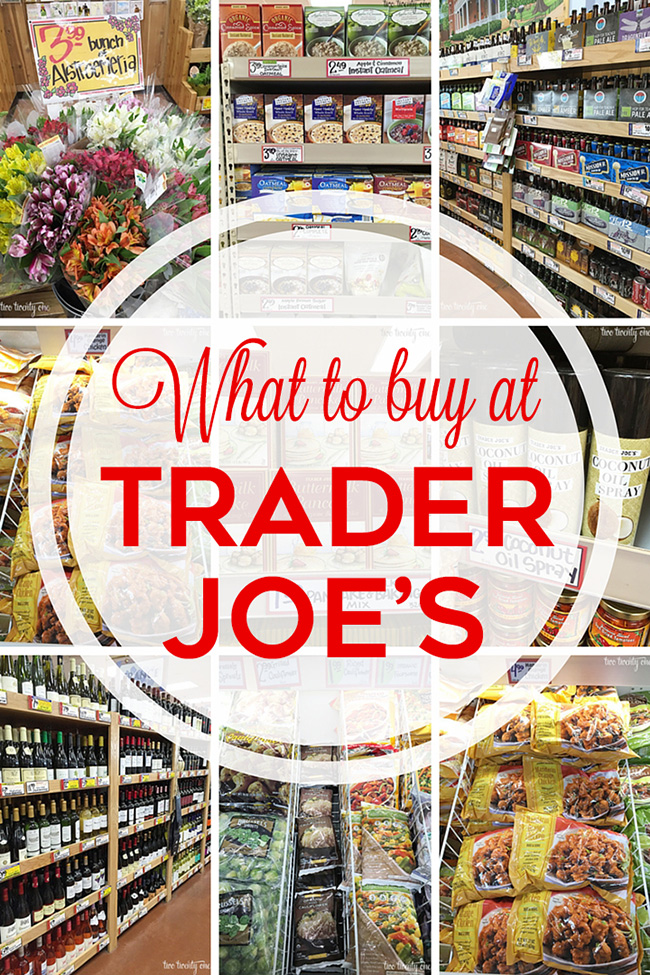 What are your favorite things to buy at Trader Joe's?
Did I recommend anything you think you'll try?