How I Lost 20 Pounds in 2.5 Months
Yesterday I laid down some groundwork about the lifelong struggle with my weight. Today I'm explaining how I was able to lose 20 pounds in 2 months.
Let me begin by saying that before I started this program I was miserable. I felt horrible after meals, especially dinner. I was a gross, irritable, bloated mess. I was also tired a lot– taking 1-3 afternoon naps a week.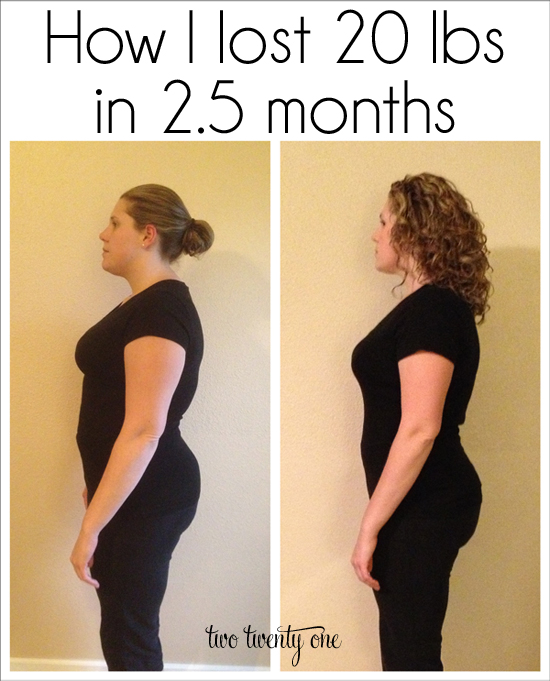 Getting Started
In May, I purchased this book.
If you're wanting to transition to a clean eating lifestyle this is the book you need to get. The book has everything you need. Don't waste your time trying to track down information on websites because it's free.
The book covers The Whole30 Challenge, which is basically 30 days of clean eating. But you don't have to do only 30 days. You can do 60, 90, etc. I'm not going to go into detail about the book, I'll let you read it yourself.
Whole30 is a stricter form of the paleolithic diet. You can eat certain meats, vegetables, fruits, and fats. Here's the shopping list if you'd like to check out all the foods. BUT don't print off the shopping list, get the food, and try the diet without reading the book. It doesn't work like that. You need to read the book first.
The creators of the book and program also came out with a 30-day guide to Whole30, complete with the science behind the program, step-by-step guide, and recipes. You can purchase the guide here.
The Food
I do a horrible job of photographing my food so I only have three photos to share with you– and they just so happen to be breakfast, lunch, and dinner.
Breakfast
My breakfasts usually consists of 2-3 whole eggs (they discuss how egg yolks aren't the devil in the book) with roasted peppers, 1/2 avocado, and fruit (strawberry, mango, pineapple, or apple). If I'm feeling lazy or running late, I'll have an apple and almond butter. But I can tell that I lose more weight on the days I ate eggs.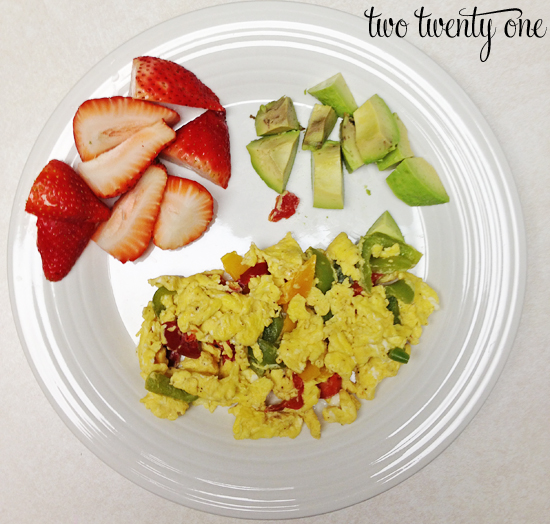 Lunch
For lunch, I typically make a salad and throw on some leftover meat from dinner the night before. I put all kinds of stuff on my salads to make them more interesting– strawberries, cashews, onions, avocado, kalamata olives, tomatoes, blueberries, etc. The book has dressing recipes in it but I'm lazy so I just use a balsamic vinaigrette.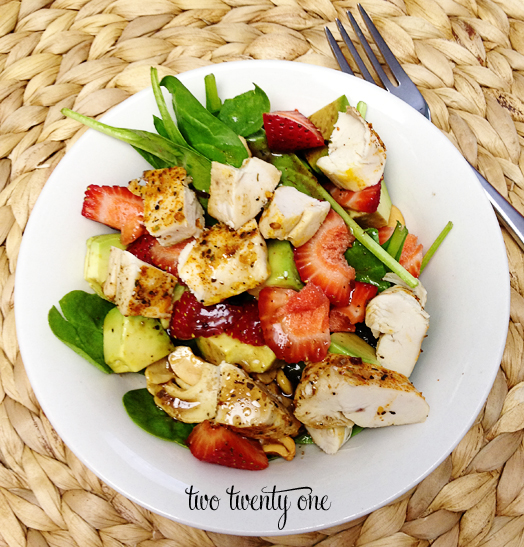 Dinner
We typically have chicken or beef for dinner. (I'm not a huge fish person.)  For the sides, I make either sweet potatoes with cinnamon, homemade sweet potato fries (with pumpkin pie spice and a little bit of lite virgin olive oil), roasted asparagus, mixed vegetables, roasted peppers, mushrooms, or broccoli. And 95% of the time we have leafy green salads (butter lettuce, leafy romaine, or spinach) with our dinners.
This specific meal is a hamburger topped with homemade guacamole, homemade sweet potato fries, and a spinach salad with onion, strawberries, and cashews.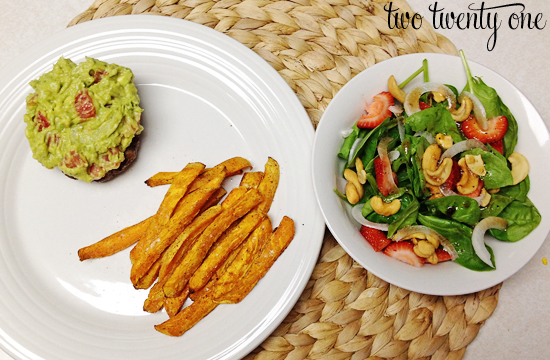 I cook and bake all of our food (that requires cooking and baking) in coconut oil. Trader Joe's has an awesome coconut oil spray that I use all the time.
The thing I love about the Whole30 program is that there's no calorie, carb, etc, etc. counting. There's no points to track. There's no shakes, drink mixes, etc. They tell you what foods you should eat and how big your portions should be. That's it.
Exercise
Okay, let's talk exercise. I haven't really exercised since starting the program. But my idea of exercise is doing a 1 hour weight and conditioning class or a 1 hour kickboxing class. However, Brad and I take Jack on 20-40 minute walks every evening. And once a week we would play on our co-ed softball team. I need to work more weight lifting back in because I like how I feel (and look) when I'm toned, and muscle burns more calories than fat when your body is resting.
Eating Out
I should probably cover eating out, huh? If I'm too tired after work to cook, Brad and I hit up either Jimmy John's, where I get an Unwich (usually a #16) or Chipotle, where I get a burrito bowl with chicken, grilled veggies, salsa, guacamole, and lettuce (no rice, beans, cheese, sour cream). If we go to a nicer sit-down place I order some sort of meat with a salad and vegetable or a large salad with chicken.
Results
After following the program, besides the weight loss, I feel ten times better. I rarely get bloated after eating. My energy level is up (I no longer require naps). And I feel like my head is clearer.
If you plan on trying out the Whole30 program just remember: the key is to focus on what you CAN eat rather than what you can't eat. Take the time to try new foods and recipes.
Have you tried the Whole30 program? How'd it go?
Is the Whole30 program something you'd be interested in trying?
EDIT (August, 18, 2015)
I wrote this post 2 years ago. I managed to keep the weight off for a few months without being super strict (I still didn't crave sugar or carbs as much) until I got pregnant (my first pregnancy) in November, 2014. I found that Whole30 was hard to follow while being pregnant, so I didn't really stick to it while I was pregnant. Like most women, I gained weight during my pregnancy.
After giving birth to my son in August, 2014, I exclusively breastfed him for 11 months until July, 2015. I wasn't one of those lucky ladies who sees their baby weight fall off while nursing, instead the baby weight stuck to me like glue. So I tried doing Whole30 in January, 2015 while nursing my son, but I noticed a drop in my supply so I stopped the Whole30 program because feeding my infant was more important to me than losing the baby weight. Now that my son has weaned, I intend on starting Whole30 again soon to reset my metabolism and curb sugar cravings so I can lose the baby weight.
EDIT (May 20, 2016)
While I haven't fully committed to doing the program since giving birth to my son, I've kept up with a lot of the eating habits I learned while doing the program. For breakfast I usually have eggs and avocado and for lunch I typically have a big mixed salad with chicken. And I still snack on apples and almond butter. Since my last update last August, I've lost 32 pounds.