Sherwin Williams Sea Salt – Master Bedroom Wall Color
A great, calming shade of blue, Sherwin Williams Sea Salt is great if you're looking for a neutral pop of color. It is one of my favorite colors for bedrooms! We chose this color for our own master bedroom to just say no to white walls. Keep reading to see what it looks like in real life!
I finally recovered from the plague and was able to paint our master bedroom Sherwin Williams Sea Salt, a great blue green paint color, with Brad's assistance over the weekend. We're wild and crazy thirty-somethings. Let me tell you.
I feel like I should also add that I'm doing this room in reverse order of how you're supposed to execute a room makeover. The main reason why I'm going rogue is that we're borrowing my parents' ladder because our ladder isn't tall enough. So please don't follow my lead on this one.
While the majority of you voted for Sherwin Williams Comfort Gray when I asked you to vote on bedroom paint colors, Sherwin Williams Sea Salt was my winner because I felt more comfortable with it. I just kept thinking Comfort Gray would be a dark color that I may get sick of eventually.
SW Sea Salt Satin Vs. Flat
When it comes to painting rooms in our house, I always go with flat paint because it minimizes the texture on our bedroom walls. (You can read more of my tips on painting textured walls here.) And as you can see in the photo below, it also makes the bedroom color appear slightly darker, even when it's in the brightest times of the day. Which is what makes me think the Comfort Gray would've been too dark for me. It could have potentially worked as an accent wall, but I just wasn't quite ready to commit to that just yet. Listen, I'm not an interior designer, okay?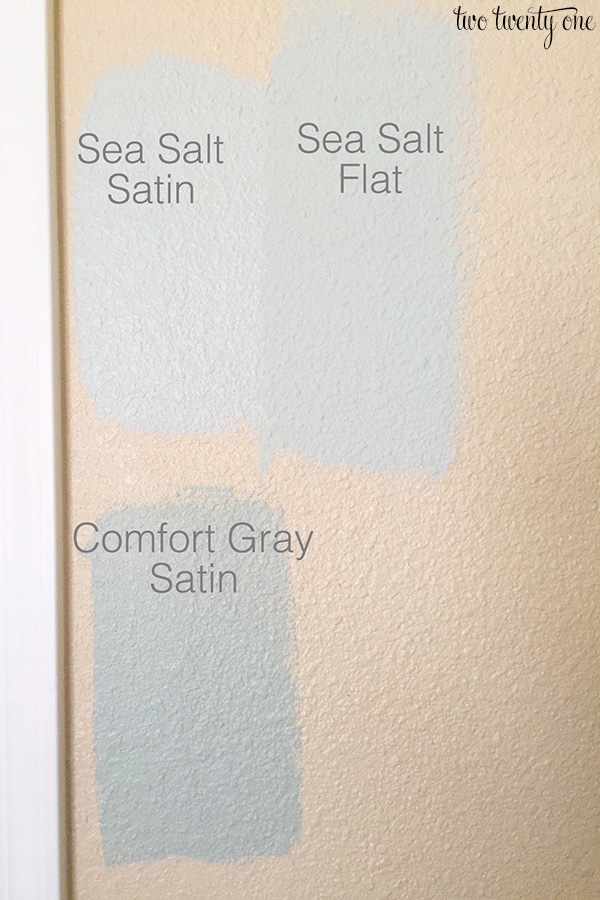 My Favorite Sherwin Williams Paint
My friends at Sherwin-Williams hooked me up with two gallons from their Emerald paint line, which is an acrylic latex paint and primer. Man, did I love working with this paint. One coat is all it took. And the interior flat has excellent washability.
Note: I didn't get on the ladder like that, it's partially collapsed so we could get around it. Safety first around these parts.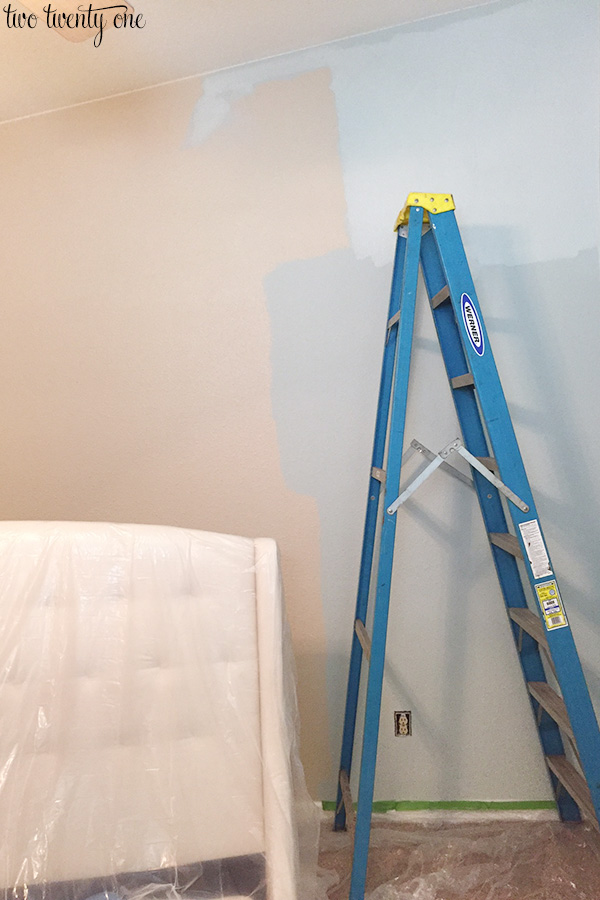 To review, here's what the bedroom looked like before.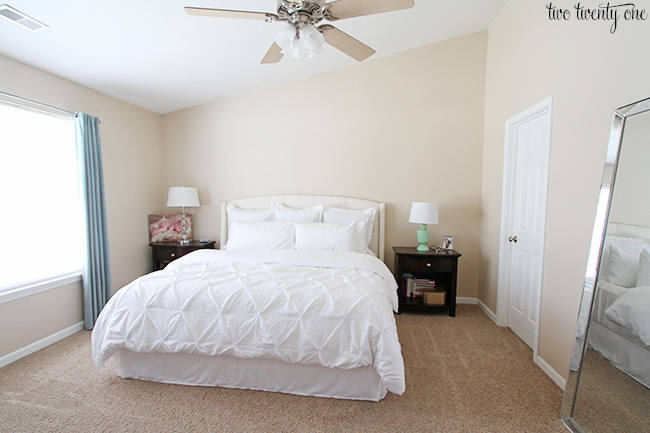 And here's what it looks like now.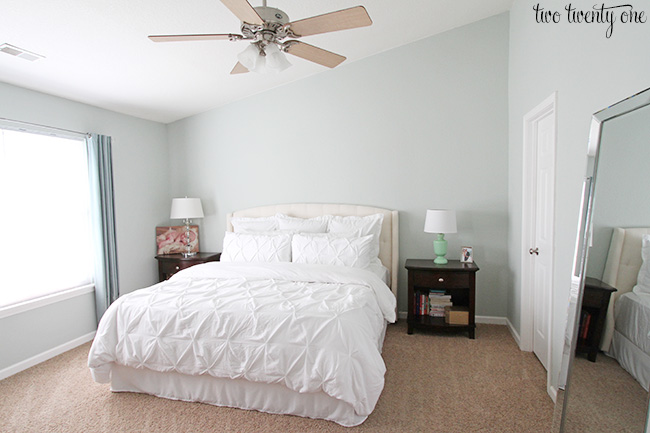 Another before: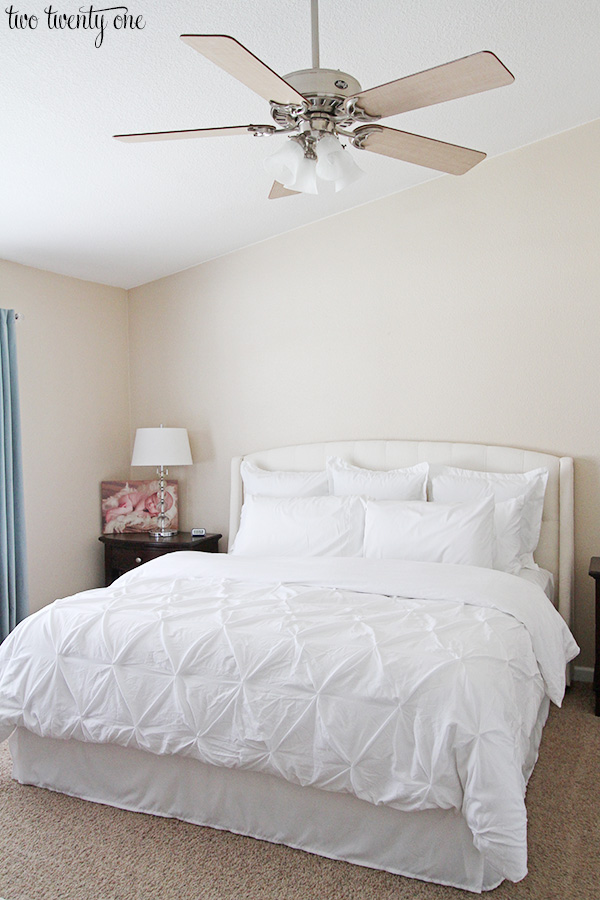 And after: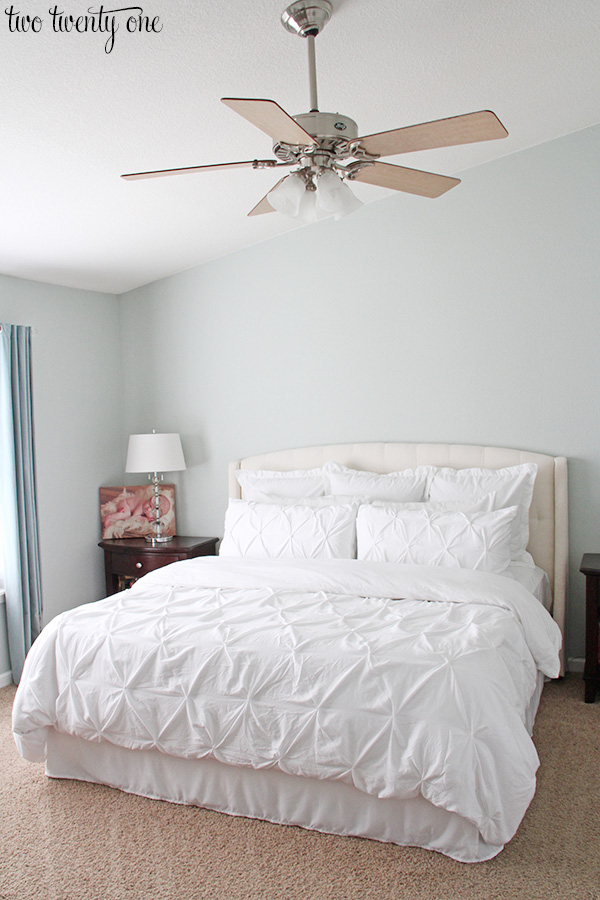 I love the sea salt color. It's one of my favorite paint color choices I think we have made in our home. It looks great with our white trim and bedding, cream headboard, carpet, and our dark wood nightstands and dresser.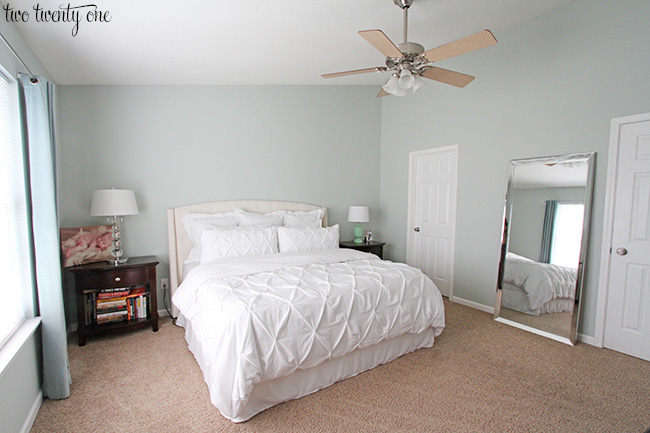 I'm obviously going to have to change the decorative accents in the room to round out the color scheme, but one thing at a time.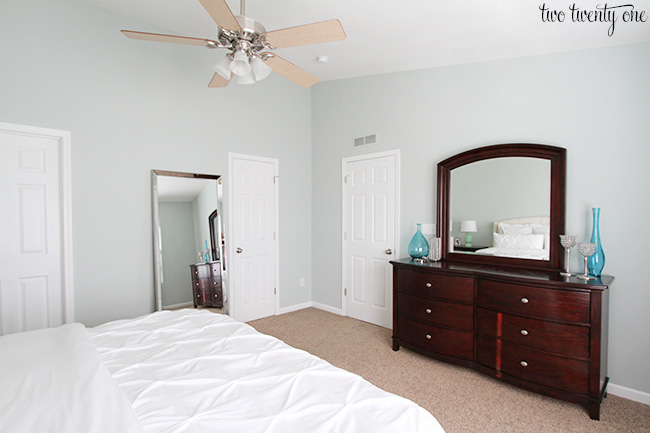 Like I said, new accents are in order. But doesn't the dresser look good with the painted Sea Salt walls?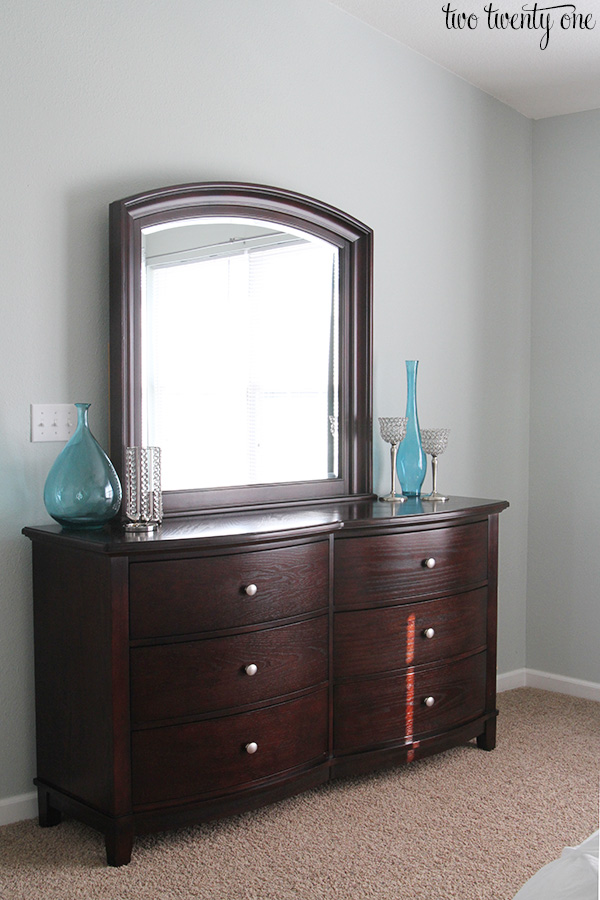 I'm still debating on what accent colors I want to use, so leave any suggestions below.
At this point, I need to get new curtains, curtain rod (I'm raising that baby up higher), lamps, accent pillows, wall art, and some decorative accents.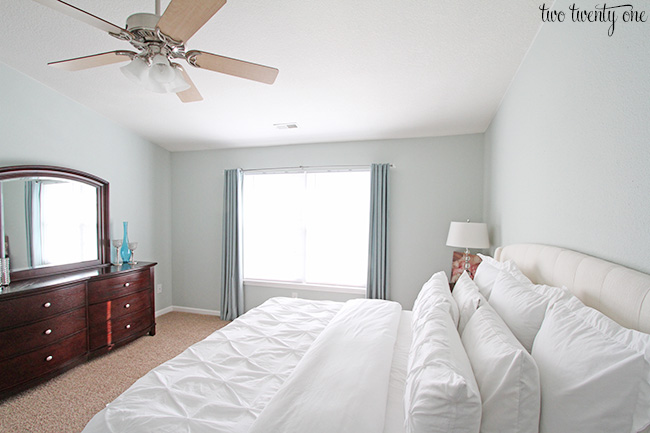 I like how airy and serene the Sherwin Williams Sea Salt looks with our cream headboard and white bedding.
This color would also look great in a living room, laundry room, or master bath. Or dining room! Or any room for that matter. It's so versatile of a color that it is a great neutral backdrop that provides a hint of a color.
But instead of just telling you that it would look good in your own house, let me show you a few of my friends rooms who have Sherwin Williams Sea Salt in their own homes! That way, you can see what it looks like in other rooms to hopefully give you some inspiration. You can also see how much light really does affect the way this color looks.
Sherwin Williams Sea Salt in Bedrooms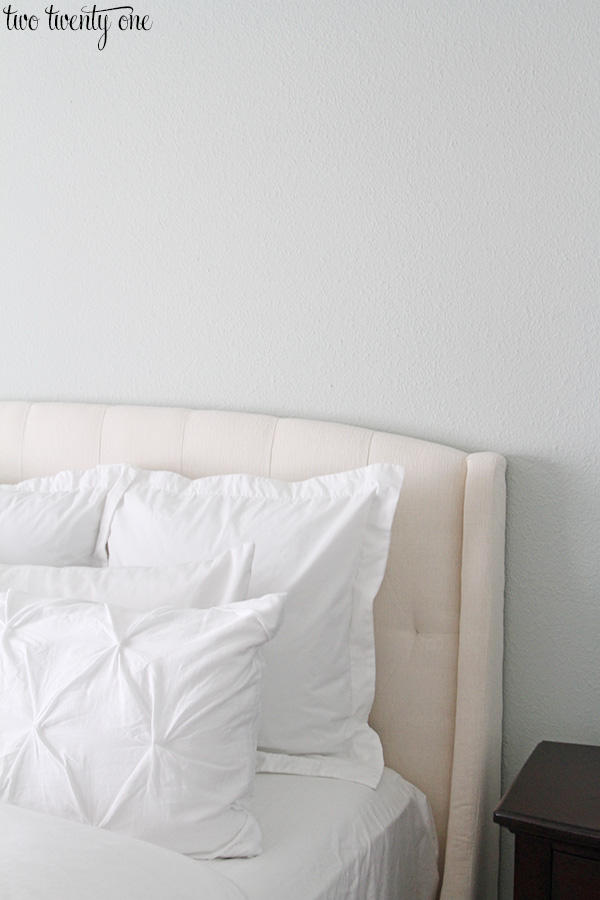 Wait, this room looks familiar. Ha! It's because it's mine.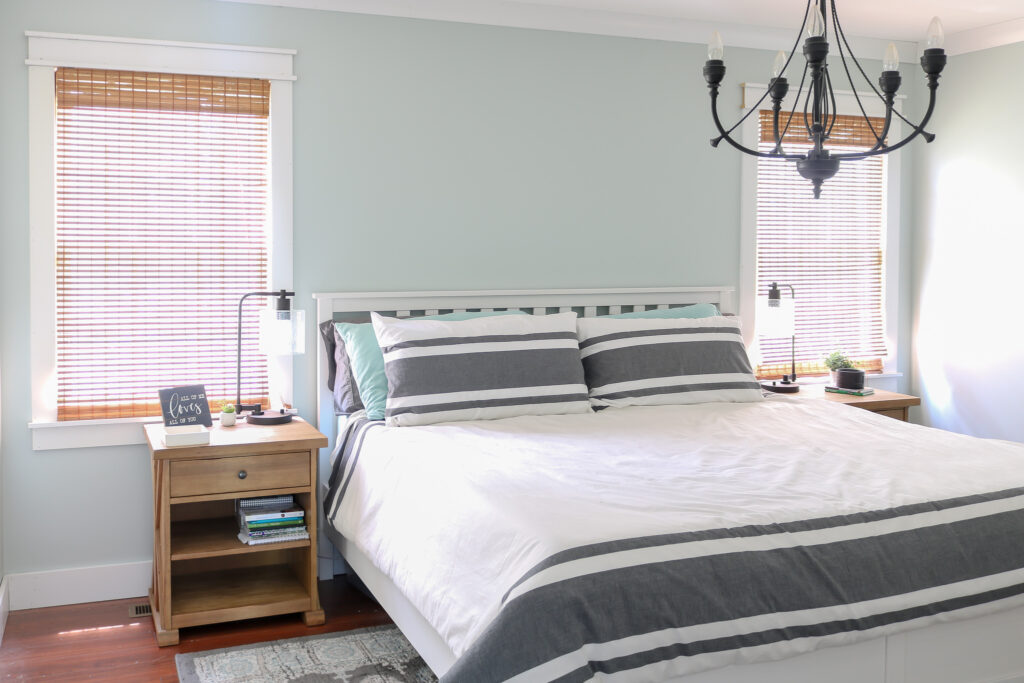 My friend Carmen from Living Letter Home has Sherwin Williams Sea Salt in her bedroom. Because of all the natural light that comes through those two windows, you can see the bright, yet calming blue undertones of this color. This is why I feel like Sea Salt is such a great choice for a bedroom paint color because it's soothing, but not too bright. Sea Salt is often described as a "coastal" color, which it definitely can be but what I like is that Carmen's style is not what she (or I) consider coastal in any way. It just goes to show that you don't have to have this in a beach house for it to be beautiful. I mean, I don't live near a beach either.
Sherwin Williams Sea Salt in Bathrooms: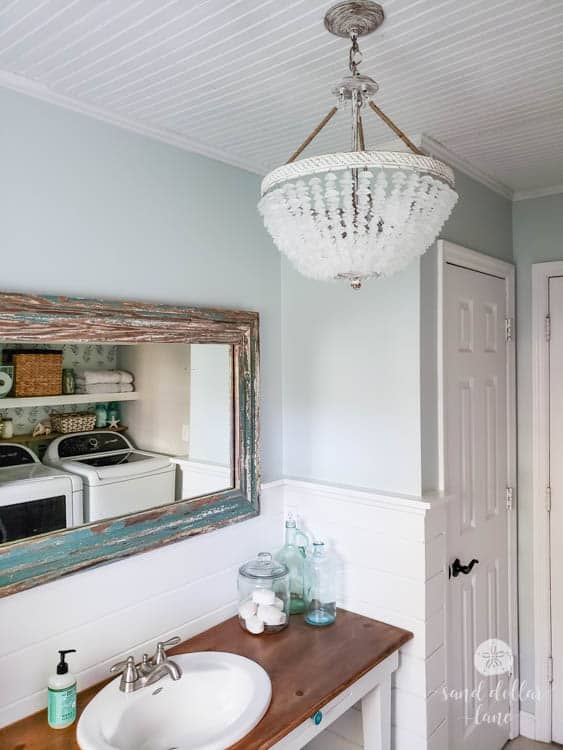 How stunning is this coastal bathroom (slash laundry room) from Leen and James at Sand Dollar Lane? I love the blue in the rest of the decor accents they have put in this room to pull out its true undertones. This is giving me major decor inspo for our bedroom!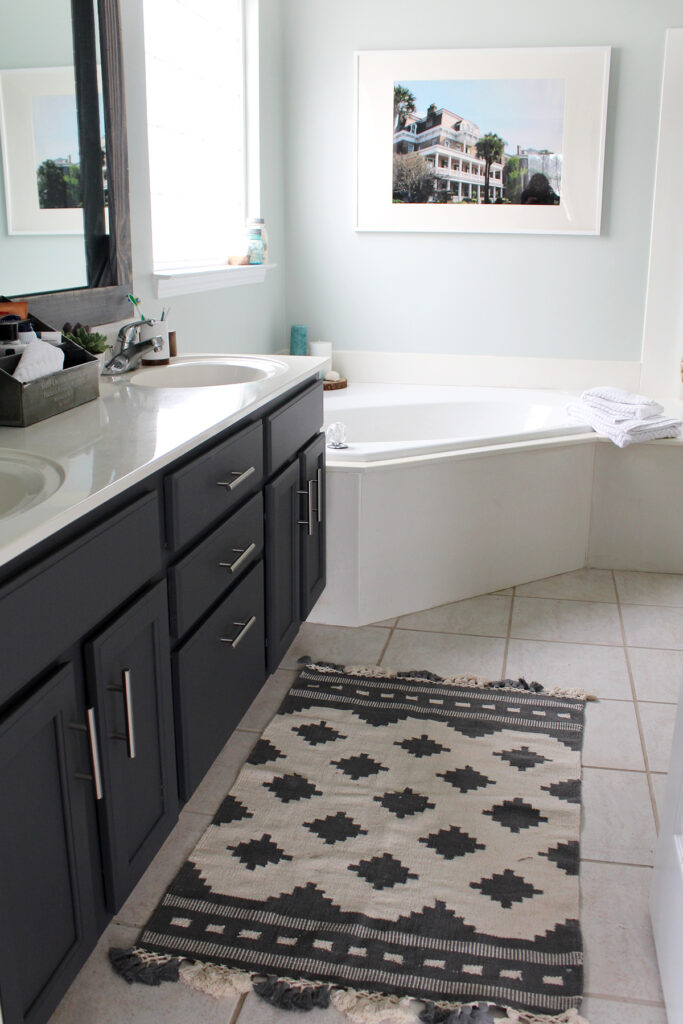 Julia from Tag & Tibby redid their entire bathroom (for just $300!) and used SW Sea Salt as their wall color. I love the artwork she has over her tub of a coastal plantation style beach house. It just ties everything in together so well!
Sea Salt In Living Rooms: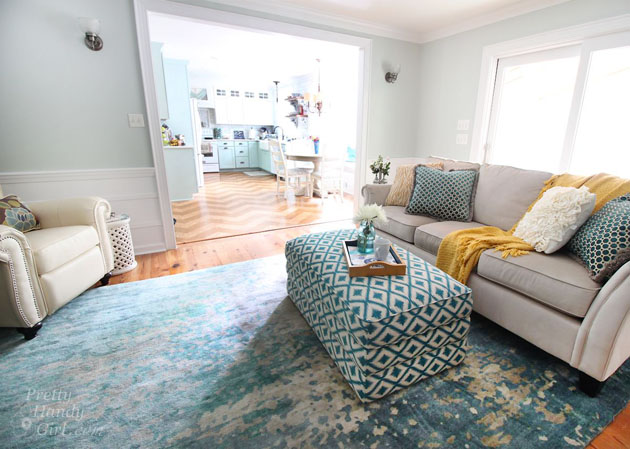 Brittany from Pretty Handy Girl knocked it out of the park on this one. I still can't get over the before of this room. Another case of "paint can fix just about anything"!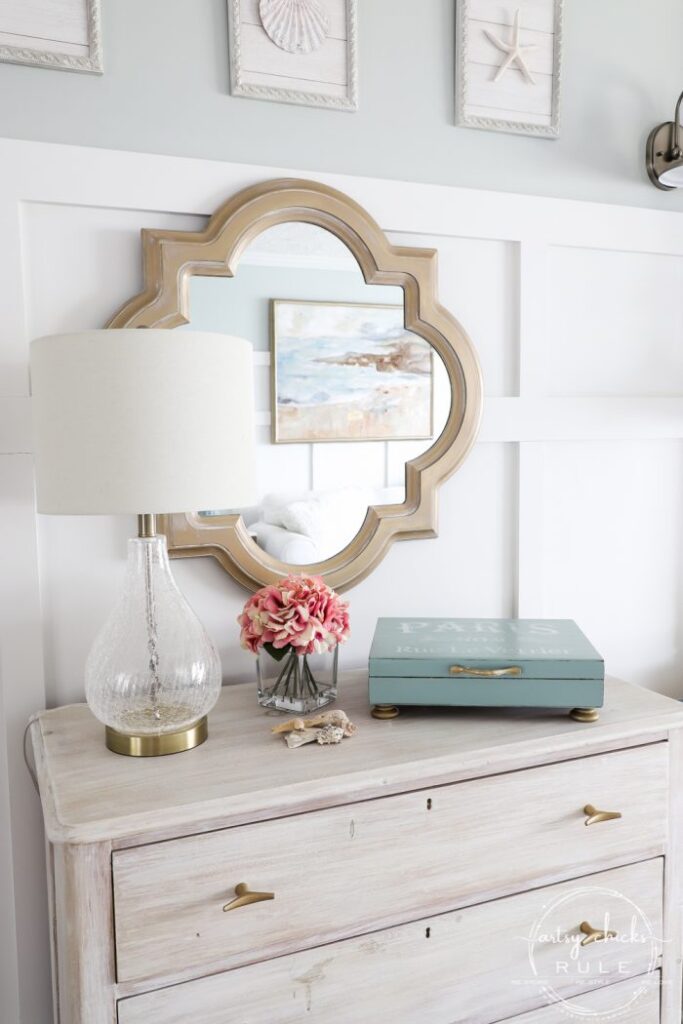 Have mercy. Pardon me while I pick my jaw up off the floor from this gorgeous living room from my girl Nancy from Artsy Chicks Rule. This whole room is a showstopper, but I just love the decor ideas she's brought in to pair with this paint color.
Oh, and just in case you are wondering for all of you out there who may be confused
Does Benjamin Moore have Sea Salt too?
Yup. They sure do. I'm not sure who is in charge of naming their paints, or even who had it first, but I have a feeling somebody got fired over it. Okay, maybe not, but still. That's super confusing. Benjamin Moore Sea Salt actually is more of a tan. I had a hard time believing it too and when I Googled, I assumed that it was just people mixing up the maker of the paint, but lo and behold, it existed. In case my vote counts anywhere, Sherwin Williams Sea Salt is definitely my pick over Benjamin Moore's version. Sorry Benny.
While we had the bedroom torn apart, Brad also went through and changed out all of the electrical outlets and switches from the dated almond color to crisp white. Here's a tutorial on how to do that in case you're interested.
Here's what the completed bedroom looked like. You can see more of the finished space here.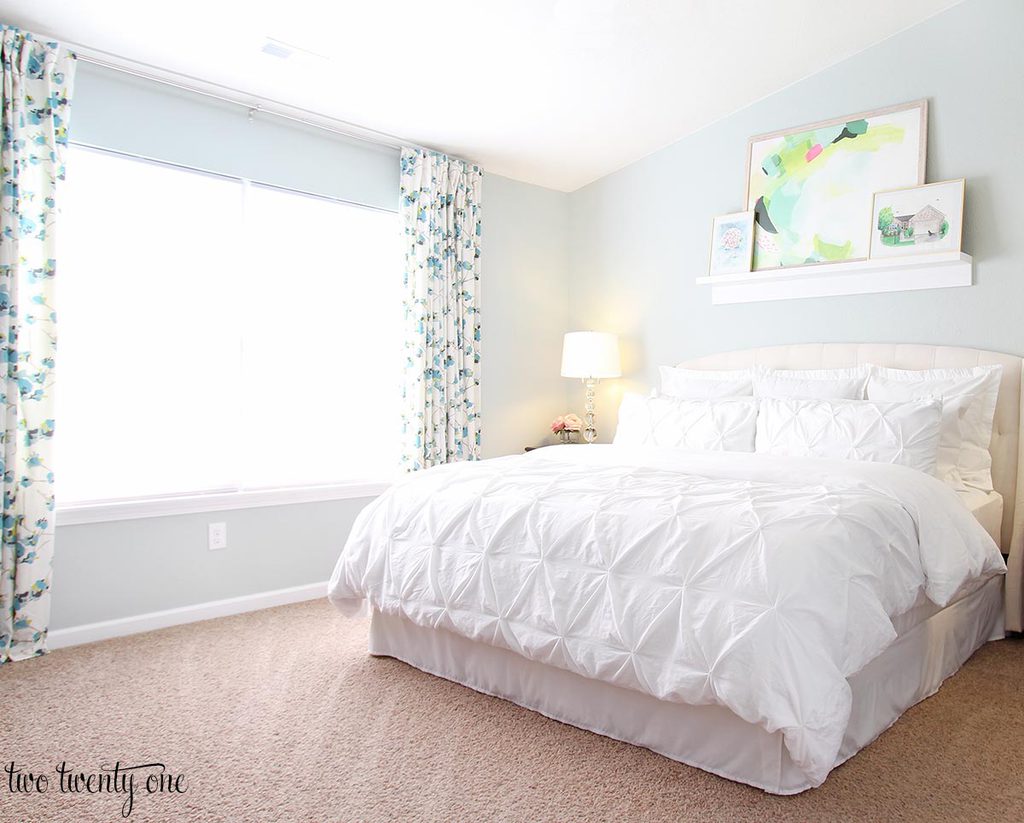 FYI, our duvet cover set can be found HERE.
 So, what do you think of the color? Do you have any more bedroom paint ideas that I may have sparked in your brain?
Follow the journey of making over my master bedroom below!