Master Bedroom Curtain Options
Let's talk master bedroom curtain options today. I feel like that's next big decision I need to make after painting the room.
I took the liberty of Photoshopping six different options into a photo of our master bedroom. It's kind of crazy how curtains can completely change the look and feel of a room, as you'll see with the six photos below.
Option 1 | ivory ruffled
These curtains create more of a monochromatic look, but the ruffles provide nice texture. And the ivory color would go with our headboard and white bedding. These curtains would give the room a serene, relaxing feel.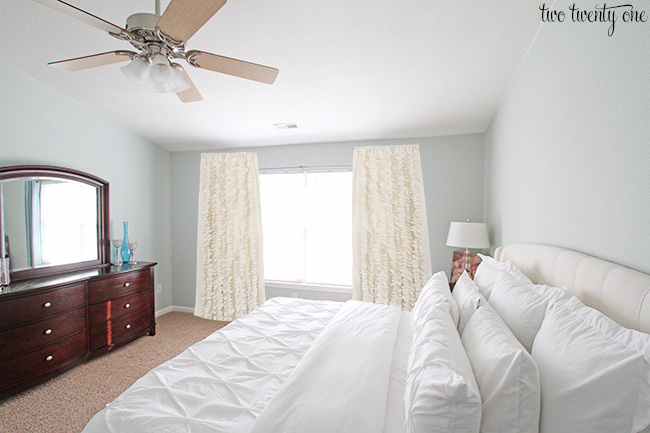 Option 2 | green paisley
I was curious to see how a green printed curtain would look in the room because the Sea Salt wall color looks more blue than green in our bedroom. I'm kind of indifferent– I like them but I don't know if I love them.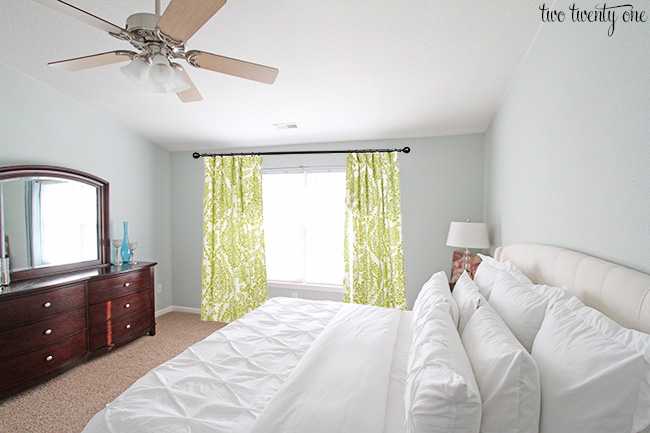 Option 3 | pink floral
When I spotted these curtains I thought, "Ooh, that'd be a fun pop of color!" The question is, will my husband let me put pink floral curtains in our master bedroom? I already asked him this, and I believe his response was, "You're going to do whatever you want anyway." He's come to learn me so well after our 10 years together.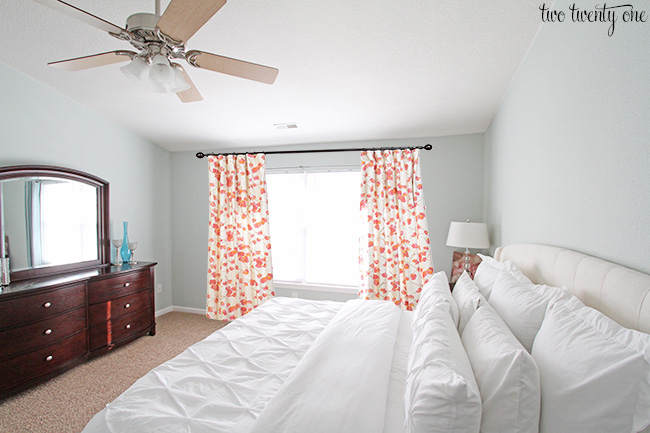 Option 4 | teal floral
This is the same pattern as the pink floral curtains. I like this look because all the blue in the room is cool and calming, but the pattern kicks it up a notch. Maybe Brad would be more okay with these because they're blue floral…?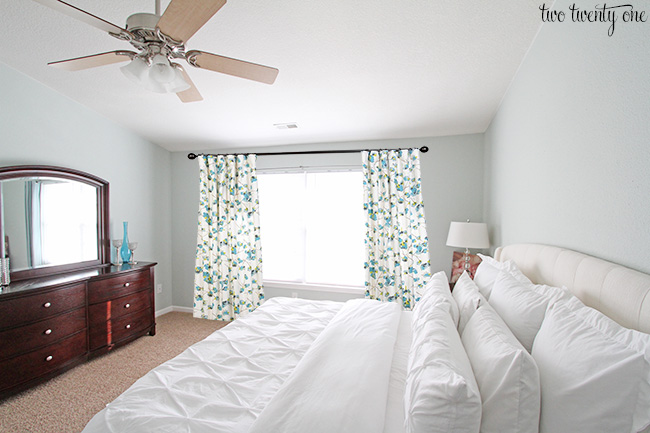 Option 5 | blue patterned
After seeing the teal floral patterned curtains in the room, I decided to find and try out a bolder, darker blue. I like how these curtains look with our dark wood dresser.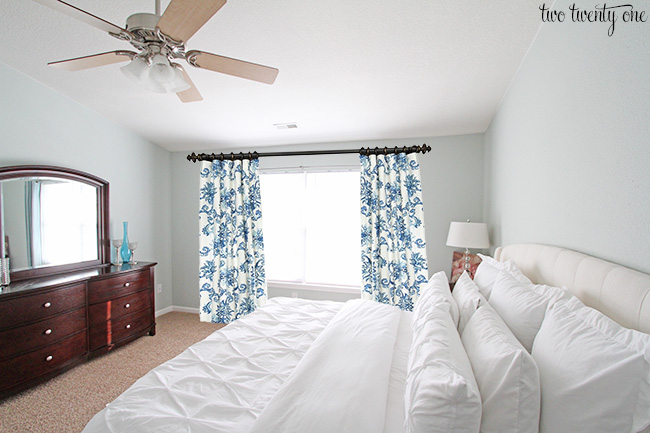 Option 6 | yellow fretwork
A lot of readers suggested yellow accents, so I found these curtains and plugged them into the room. While I like them, I'm not so sure how they'll look with our dark wood furniture though.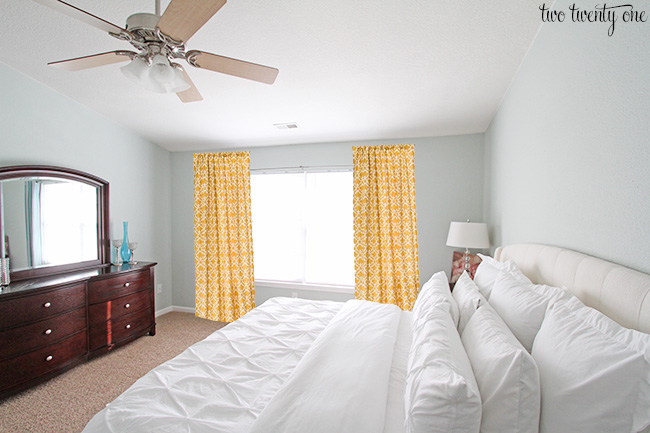 Alright, tell me what you think. Vote for your favorite curtains below (you can only choose one)!
And feel free to elaborate on why you chose what you did in the comment section!
FYI, our duvet cover set can be found HERE.
Follow the journey of making over my master bedroom below!
This post contains affiliate links.
Funds from affiliates help pay for web hosting, domain registration, email delivery, the occasional bottle of wine, and other fees to keep twotwentyone.net up and running. Thanks for your support! I appreciate it!