I don't really do New Year resolutions, words, or phrases. It's just not my thing.
But one thing I've promised myself that I would do this year is purge. And there's only one reason why I need to purge.
We have too much crap unused stuff in our house.
This past weekend I decided to take on the linen closet in our master bedroom because I haven't touched it, organizationally-speaking, since we moved into this house over 6 years ago.
Here's what the closet looked like Saturday morning. I'm surprised nothing fell out when I opened the door.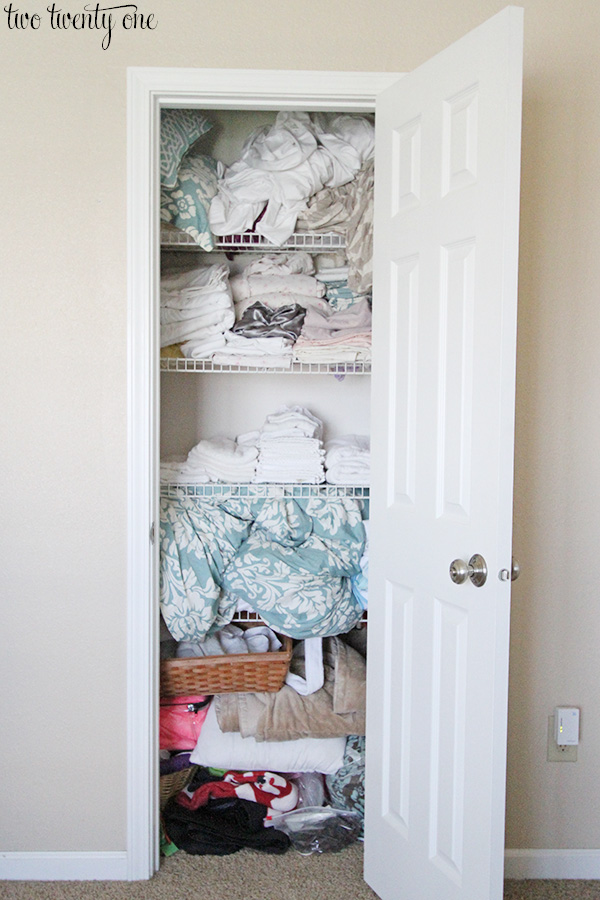 For starters, we had way too much stuff we hadn't used in years– bed linens, throw pillows, regular pillows, blankets, baskets.
See the white sheets with light pink flowers? I've had those since I was in eighth grade. They were the sheets I used on my first queen size bed, and I loved them.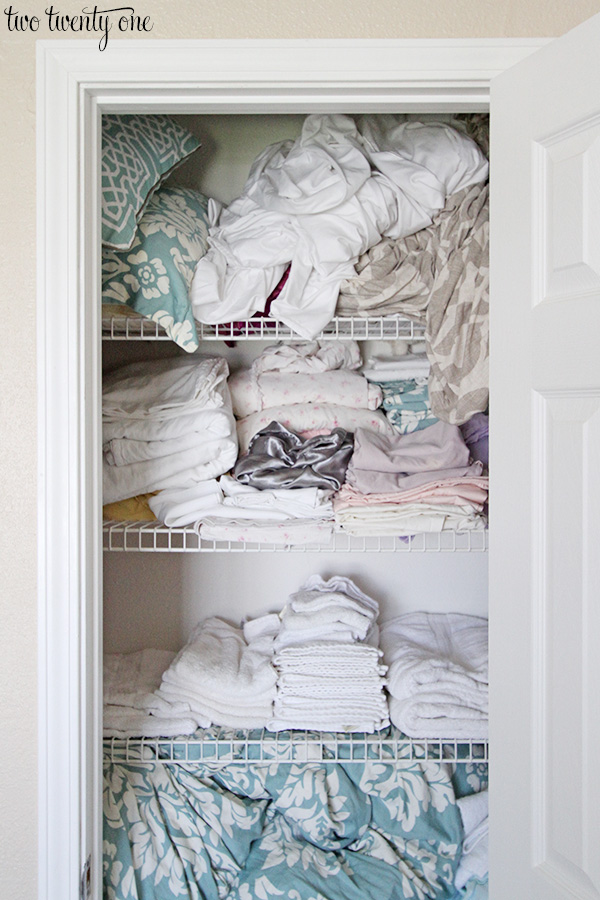 Please tell me I'm not the only whose closet looks looked like this.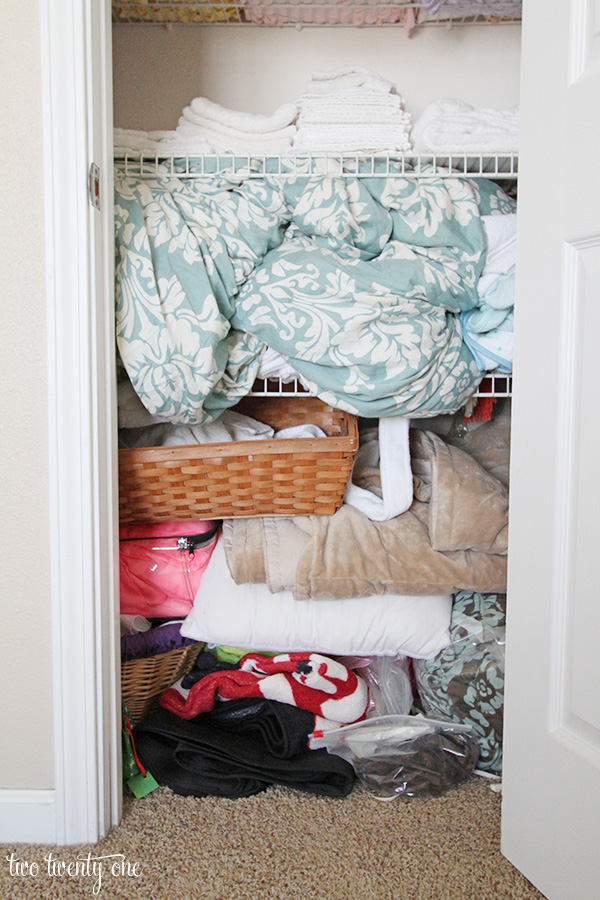 I started by clearing everything out. E-V-E-R-Y-T-H-I-N-G.
And then I vacuumed the carpet inside the closet and sucking the cobwebs out of the corners with the vacuum.
Now, I will say that for a 1,600 square foot house, there's a lot of storage space. We have a small coat closet in our entryway, a small linen closet in our hallway, a large walk-in pantry, ample storage in our laundry room/utility room (especially after we updated it last year), and this large linen closet in our master bedroom.
The linen closet in our bedroom is roughly 65 inches wide, so the opening may be small but it's quite large in there, which is difficult to capture in photos.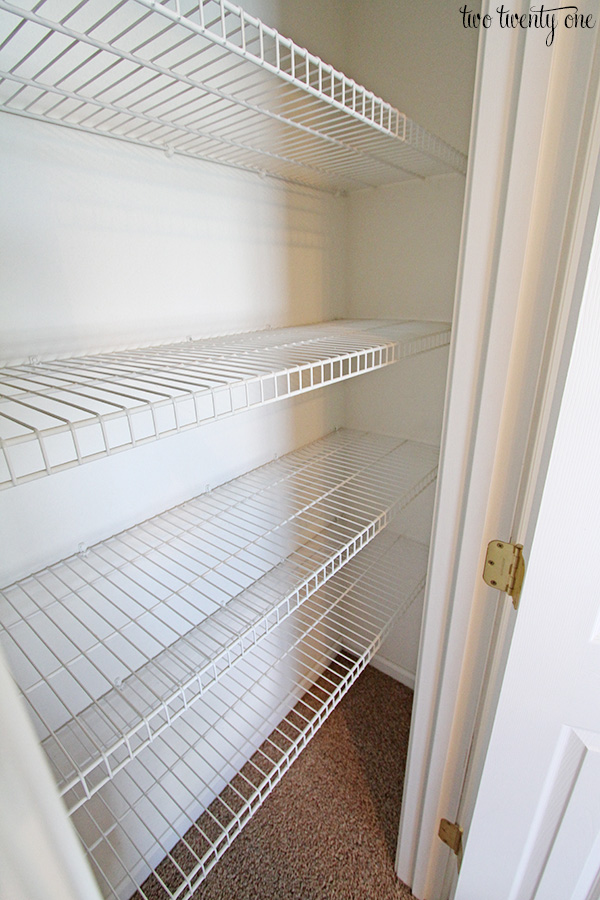 After deciding what things would be donated or given to family members, I started putting things back into the closet.
Let's start with the upper right.
I put two decorative Christmas pillows and a vintage comforter on the upper right top shelf.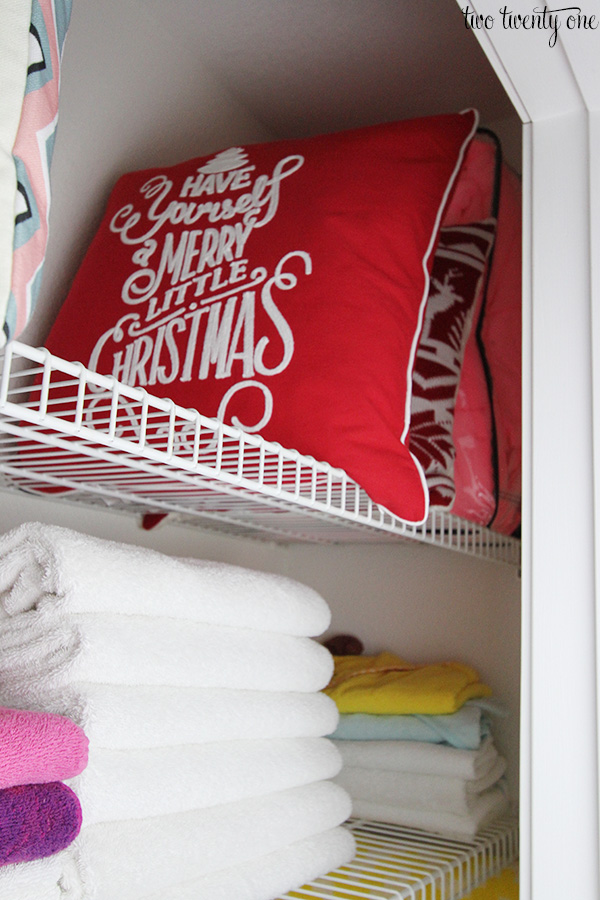 Here's a better look at the comforter. My dad got it when he was serving in the Vietnam War. He gave it to my grandmother when he came back and told her his eldest daughter should get it one day. It's so pretty but I'm terrified to put it out and risk something happening to it.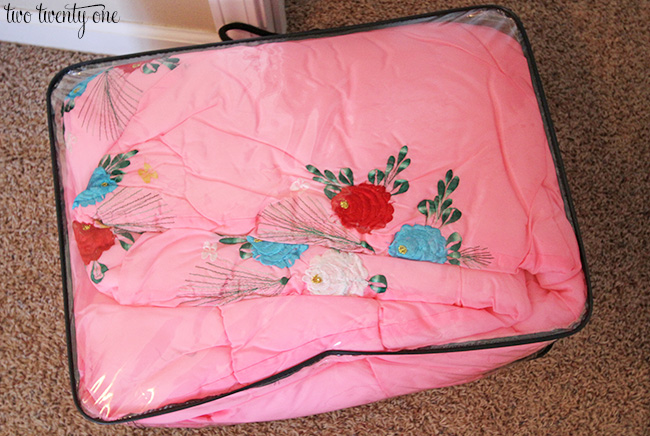 I put some more decorative pillows on the upper left side of the shelf.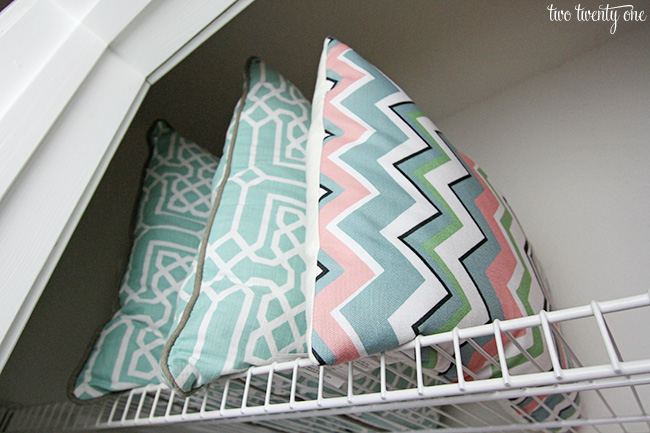 The second shelf from the top is for our linens, and the third shelf from the top is for guest linens. I'm weird, and I like having separate linens. Plus, our bed is a king and the guest bed is queen, and I would always get the sheets mixed up so I'd have to unfold them to read the tags to determine the size. Now I won't be mixing anything up with my new system.
You may notice the abundance of pillow cases on our shelf. It's because I have this thing where I never use the same pillow case every night– I think it keeps my skinner clearer to not reuse a pillowcase. I talk about it in detail in this podcast with Liz Marie from Liz Marie Blog. I know it sounds weird but I swear by it.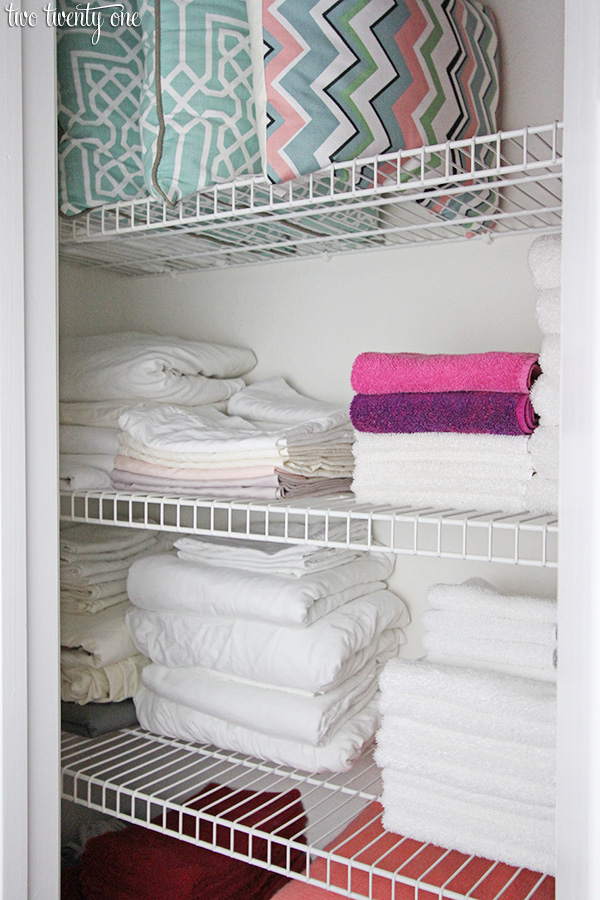 I love using white towels because I can bleach them. Seriously, I haven't bought a new white towel in probably 5 years because the ones we have still look like new.
In case you're wondering, I tell the difference between our towels and the guest towels by cutting the tags off of our towels and washcloths and leaving the tags on all the guest towels.
The pink and purple hand towels are what I use after I wash my face. My makeup tends to stain white towels, even with bleaching, so I use the colored towels, which don't show the stains.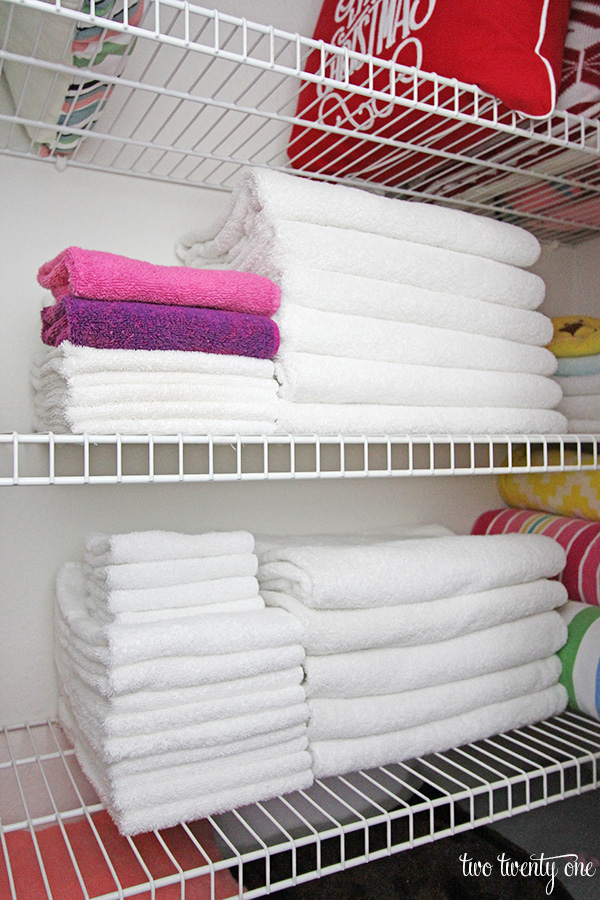 Owen's hooded towels are to the right of our towels.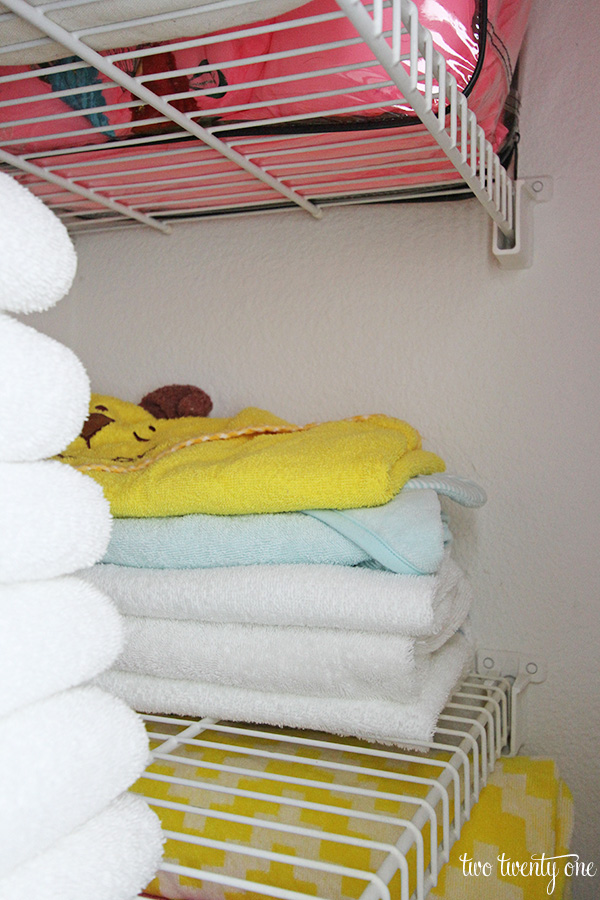 And our six beach towels are to the right of the guest towels.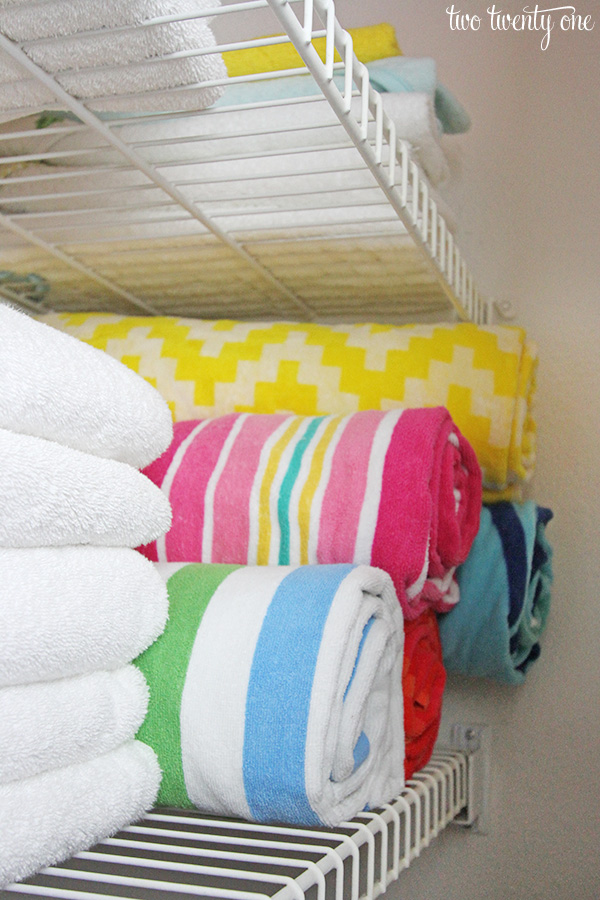 The bottom shelf is used to store a heating pad (not pictured), the red towels we use to dry off Jack (kind of pictured), and some blankets.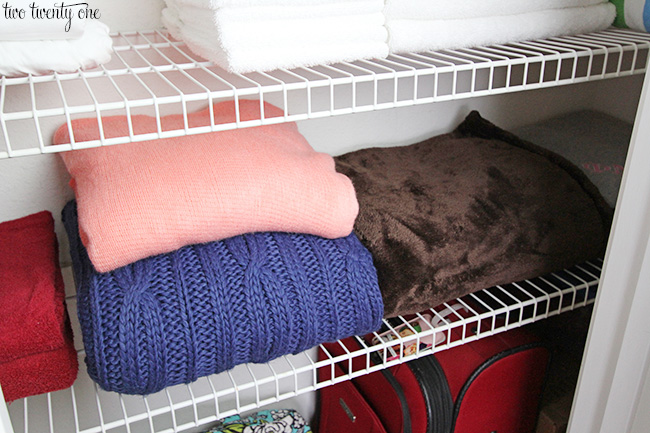 I had so much room available when I was done purging that I was able to move my weekender bag and carry-on suitcase (similar), which were residing in our walk-in closet, into the closet.
I also store my vintage ceramic Christmas trees in the closet (one is in the box behind the suitcase). There's also a small storage bin and our garment bag behind the red suitcase.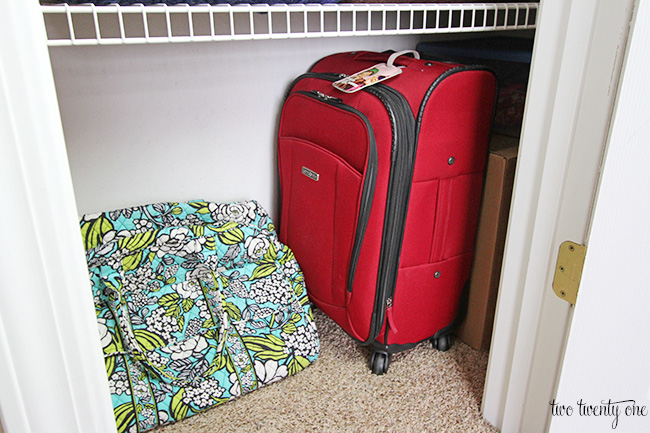 The other ceramic Christmas tree is in the old box.
I couldn't bring myself to part with the duvet cover set I used throughout college because I freaking love it so I put it in a space saver bag and slid it beside the box.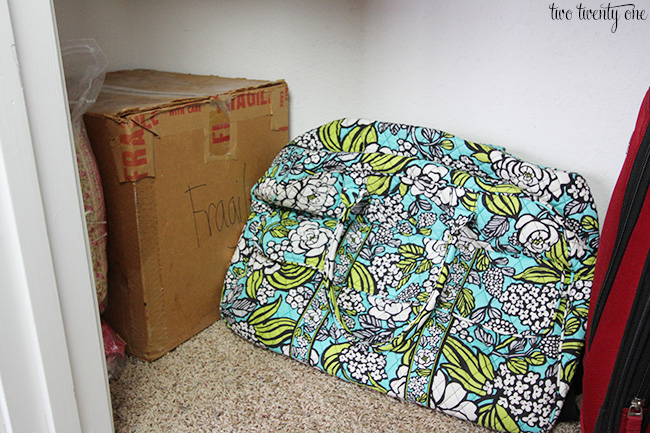 And here's the final product!
When I was done it actually looked like I needed to put more stuff back in it. But I didn't because I'm sure some random things will make their way into the closet, so I think it's best to leave some empty space.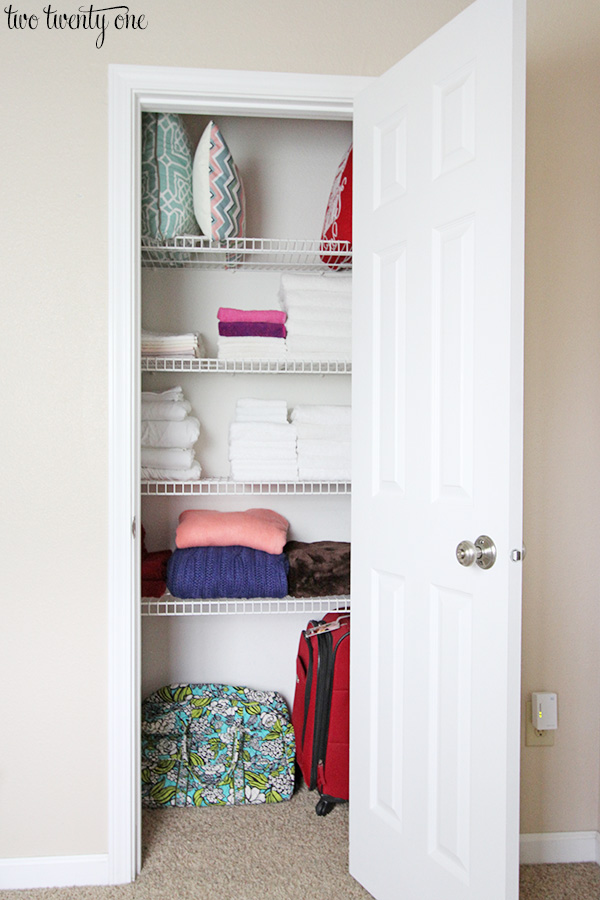 Are you purging this year too?

This post contains affiliate links.
Funds from affiliates help pay for web hosting, domain registration, email delivery, the occasional bottle of wine, and other fees to keep twotwentyone.net up and running. Thanks for your support! I appreciate it!