For Christmas this past year I made Brad help me build a shelf for above our bed. I'll save you the "tutorial" because it was a freaking nightmare. Mostly because while I attempted to fill nail holes in it, it fell off of the saw horses in our driveway and got some nasty dents and gauges and we ended up having to saw off a few inches.
Anyway, the shelf looked awesome for Christmas, but afterward I was kind of stumped on what I should put on it.
I had two custom paintings waiting to be framed– one is a fourth wedding anniversary gift from Brad and the other is a custom painting of our house. I figured they'd work on the shelf, but I needed something larger to fill the space. So when I came across this art print, I knew it was perfect. Not only is it gorgeous, but it includes our wedding colors– pink and green.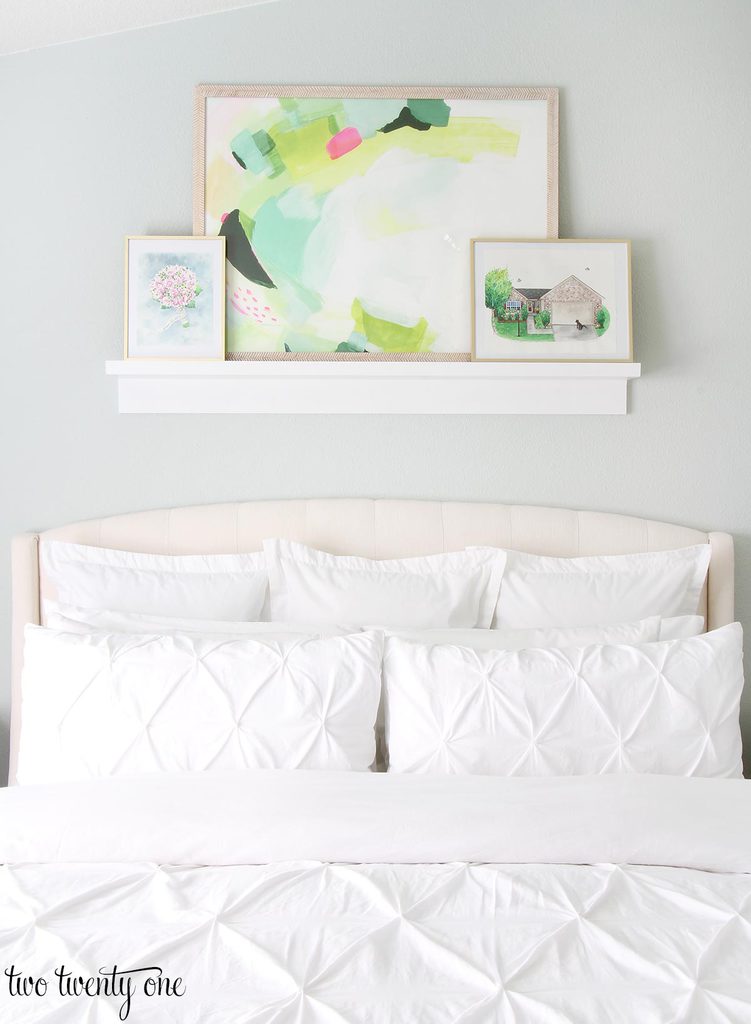 Ladies, if you're looking for a wedding anniversary gift idea (specifically your 4th anniversary), send your husband this link. I love the custom painting of my wedding bouquet. Michelle, the artist, even added my late grandma June's wedding band, which was attached to my bouquet, into the painting.
The bouquet painting and house painting are in these very affordable brass frames. The mattes that come with the frames didn't fit the paintings very well, so I just positioned the paintings on top of the mattes.
I chose the whitewashed herringbone frame to give the art print a little warm and extra visual interest.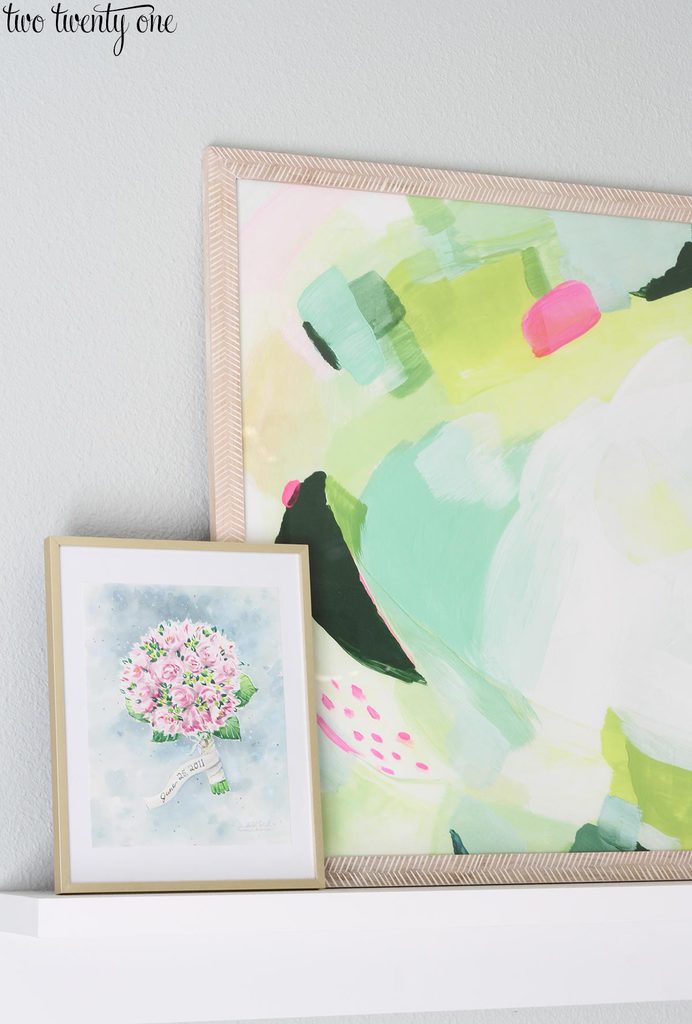 While I have you here, I guess I'll give you a little tour of the master bedroom.
The mirror was a HomeGoods find, circa 2013. It was $130, but it had a scratch, so they marked it down to $100. And then I used a gift card, so it was essentially free to me.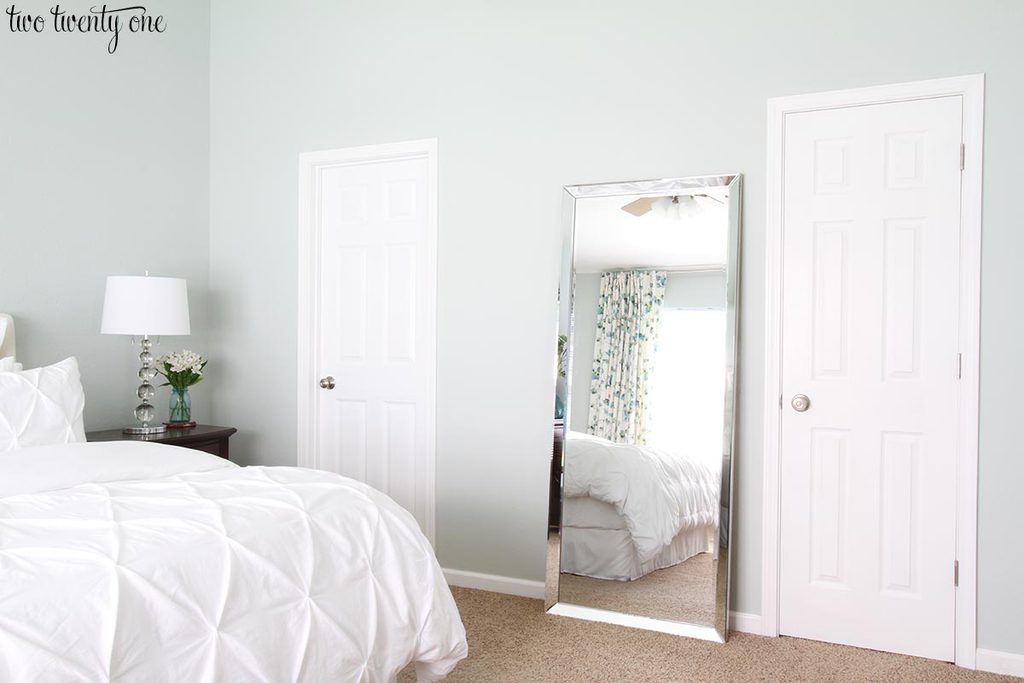 This dresser matches our nightstands and former queen-size bed. When we got our upholstered king-size headboard and bed, I sent the queen-size bed to live in my parents' basement. The chair was a Craigslist find.
f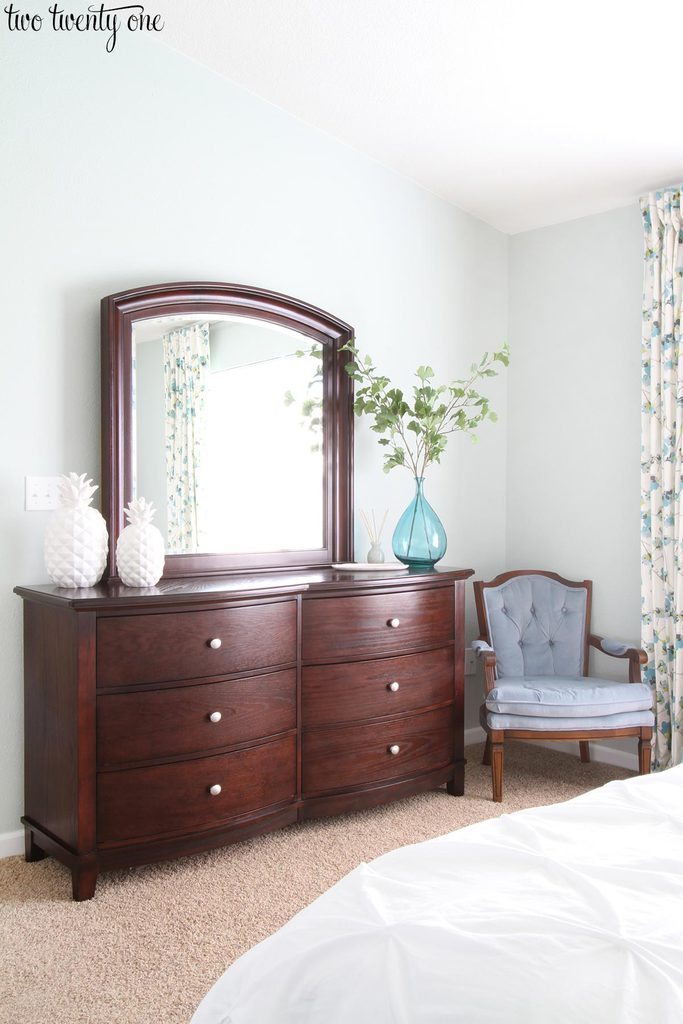 Let's quickly look back and see what the room used to look like.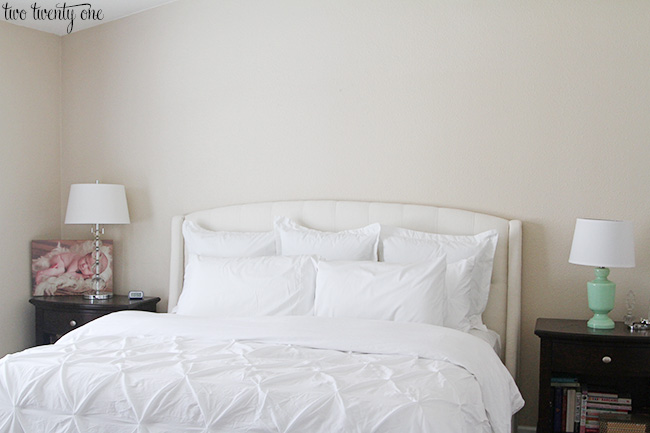 And here's how it looks now.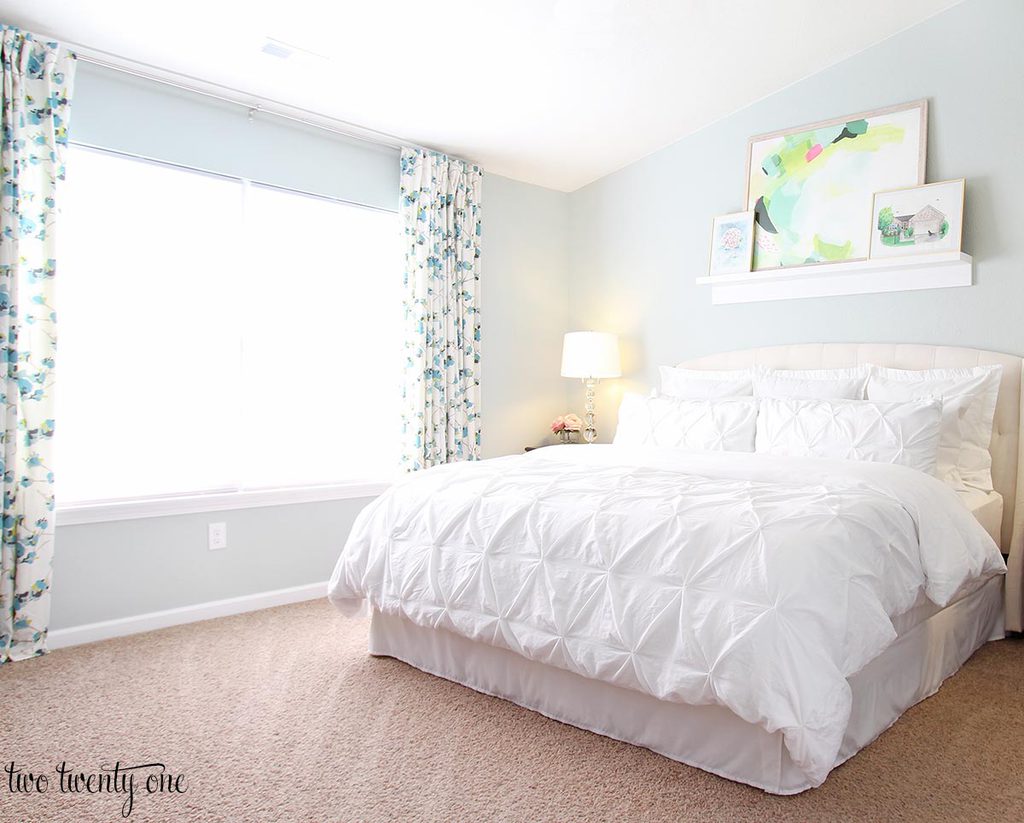 I think the art print and paintings add the right amount of color to the room– don't you?
SOURCES
wall color … Sherwin-Williams Sea Salt
art print … found here
bouquet painting … Custom Portraits by Michelle
house painting … Custom Portraits by Michelle
brass picture frames … found here
headboard … found here
mattress … Saatva Luxury Firm
duvet cover … found here (it's currently on sale)
sheets … found here
bedskirt … found here
curtains … they're sold out everywhere I look, but they're called 'teal dogwood'
mirror … HomeGoods (similar // similar)
dresser … JCPenney, circa 2009
white ceramic pineapples … HomeGoods
jewelry tray … found here
Big thanks to my friends at Minted for gifting me the art print!