Mudroom Lockers Organization
"What do you store in your mudroom baskets?" is a question I've been asked a handful of times. So today I'm sharing my mudroom lockers organization system. In case you missed it, yesterday I shared the basics on our mudroom lockers— where they're located in our house, having them built by our builder, finding baskets to fit the cubbies, etc.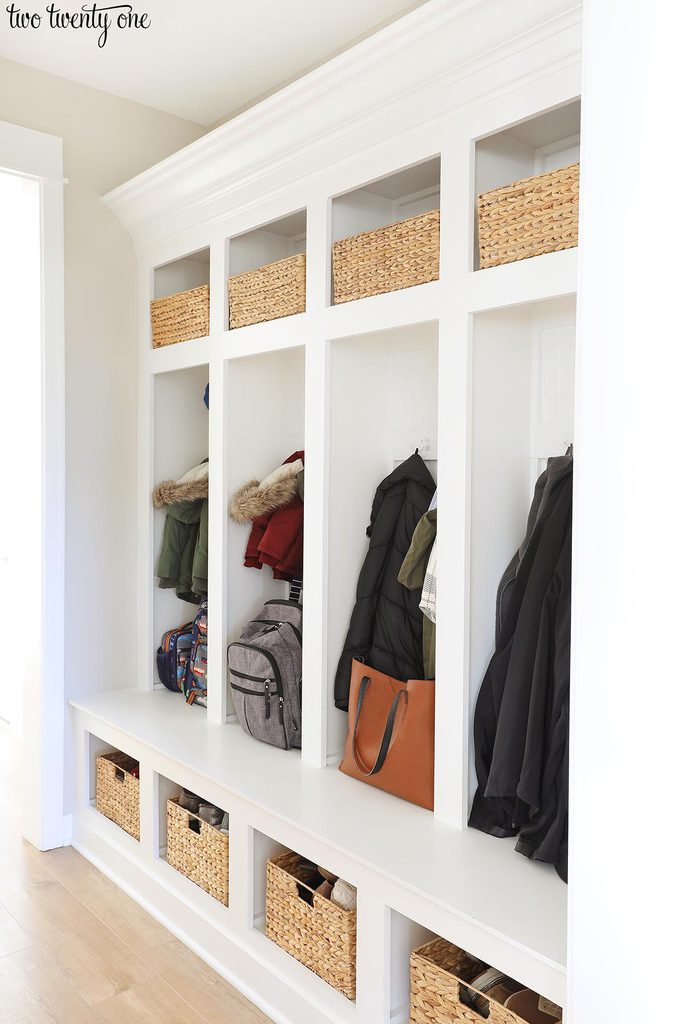 Mudroom Lockers Organization
The boys' lockers are on the left side. Each locker in our mudroom has two double hooks and plenty of space on the bottom portion for a bag or two.
This is the order of the lockers:
1. Owen
2. Emmett
3. Me
4. Brad
Side note: Emmett's red winter coat is on sale for $11 right now. Owen's green winter coat is on sale for $22.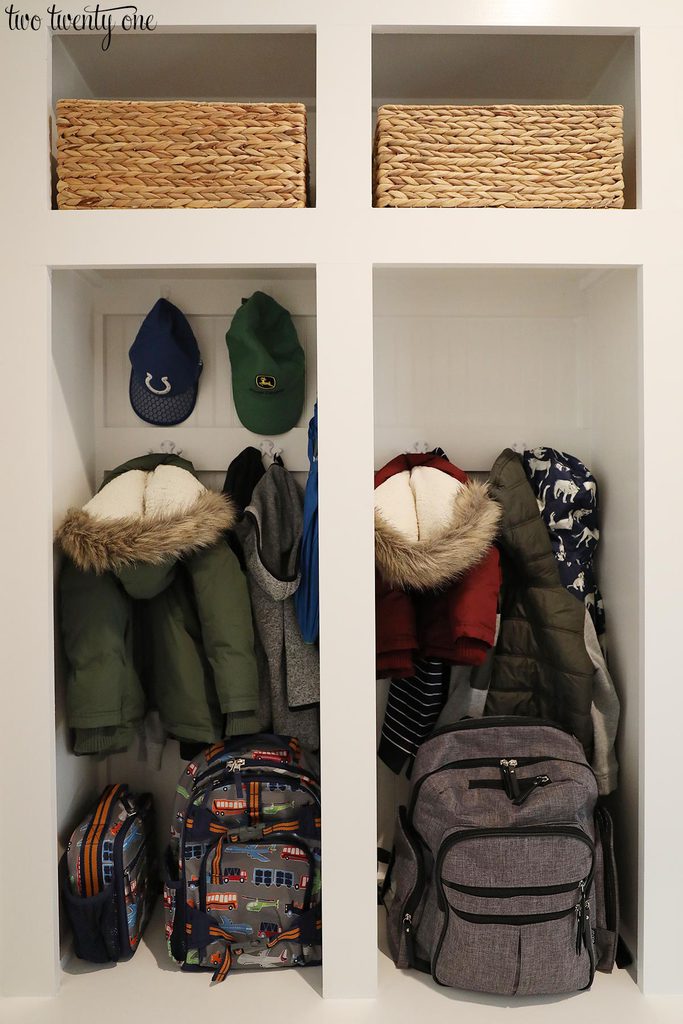 I added removable hooks to Owen's locker so we could easily hang his hats and umbrella. These hooks for the hats and this hook for the umbrella.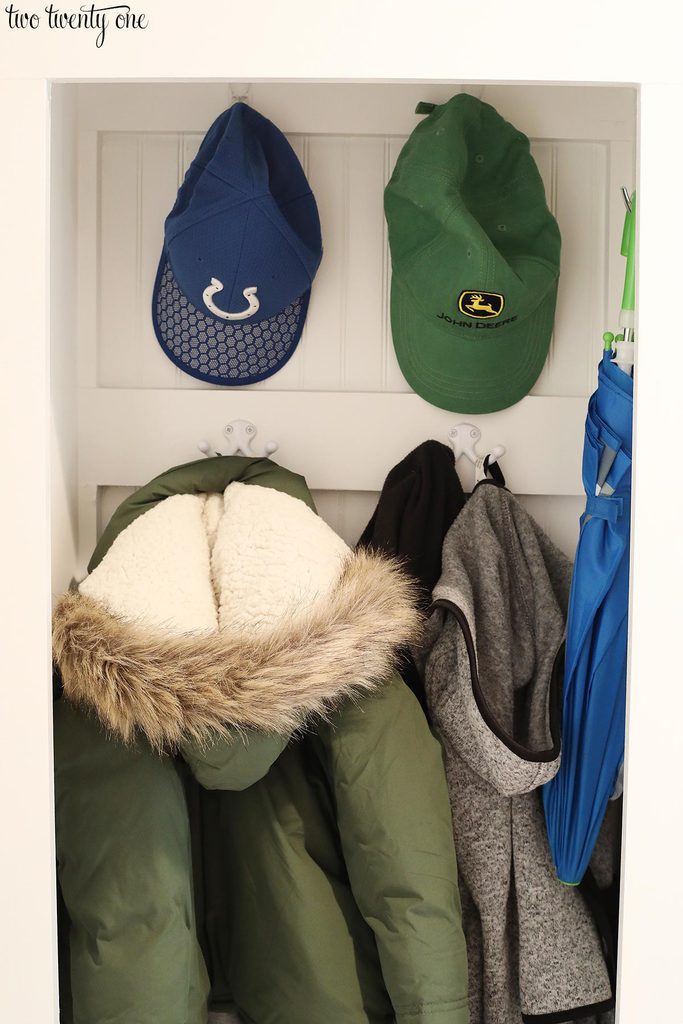 My locker and Brad's locker are on the other side. I love that green rain jacket, btw. I've had that reversible brown and black tote for a couple years, and it still looks great.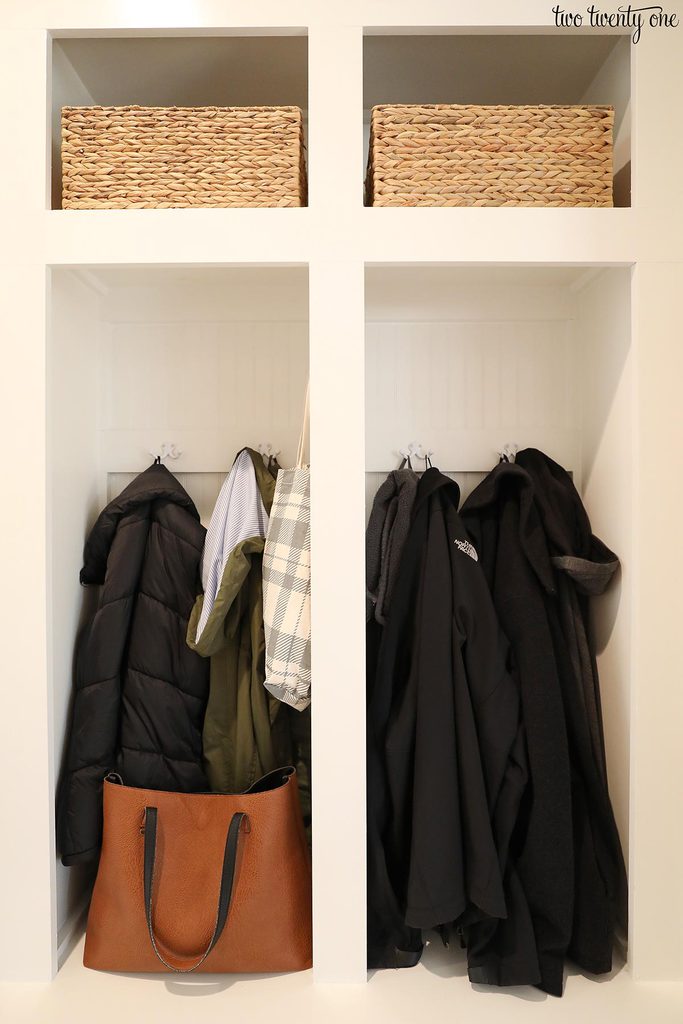 I added a removable hook to my locker for my reusable bags that I use for making returns to stores and other random things.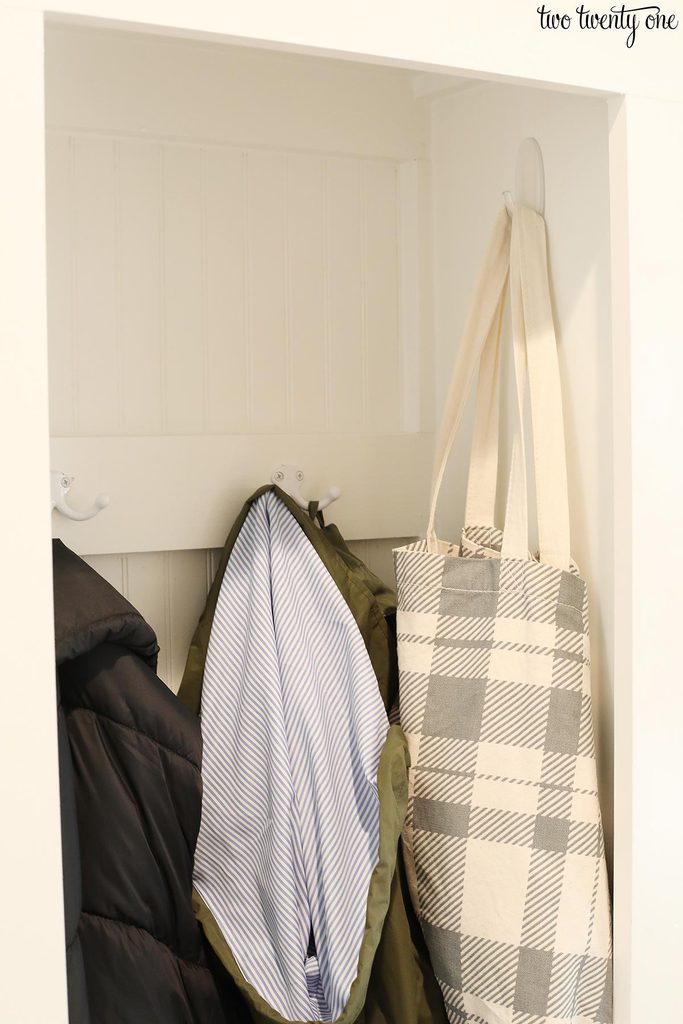 Shoe Storage
The boys' shoes and socks are kept in a basket under Owen's locker. My number one tip with kid socks is to store them with their shoes, not in their dresser. It's just so much easier that way. The boys don't have tons of pairs of shoes so the joint basket method works. Plus, mama needs two shoe baskets so I steal Emmett's.
I store their clunky winter boots that they wear to play in the snow in the coat closet in our entryway.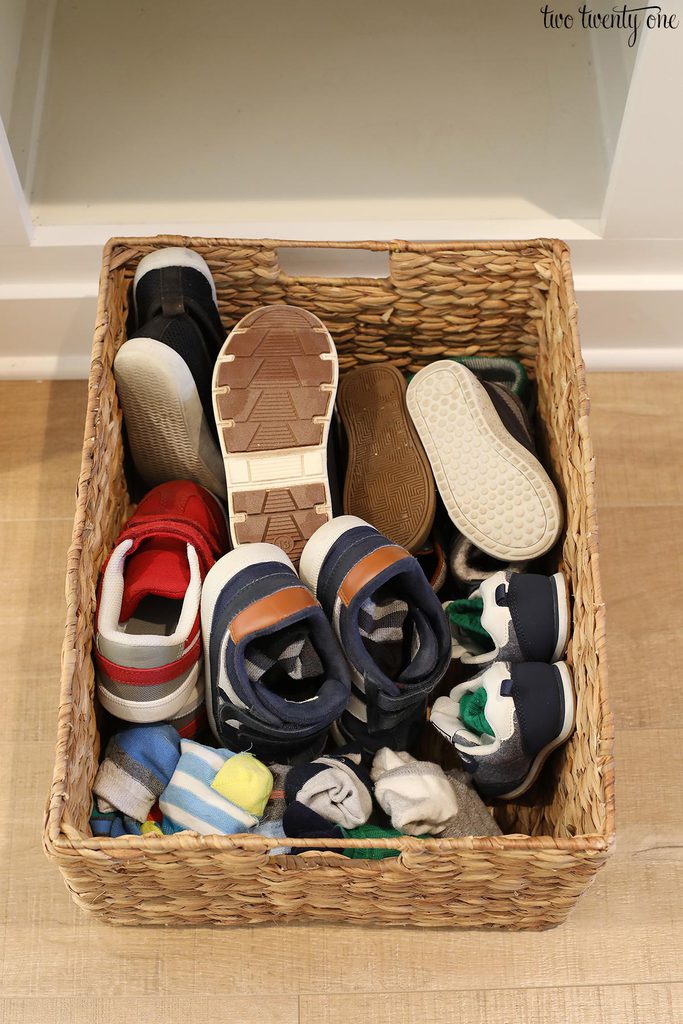 Sorry not sorry.
I rotate my shoes around. So my sandals are upstairs in my closet during wintertime. When the weather warms up, I'll rotate my booties out and into my closet.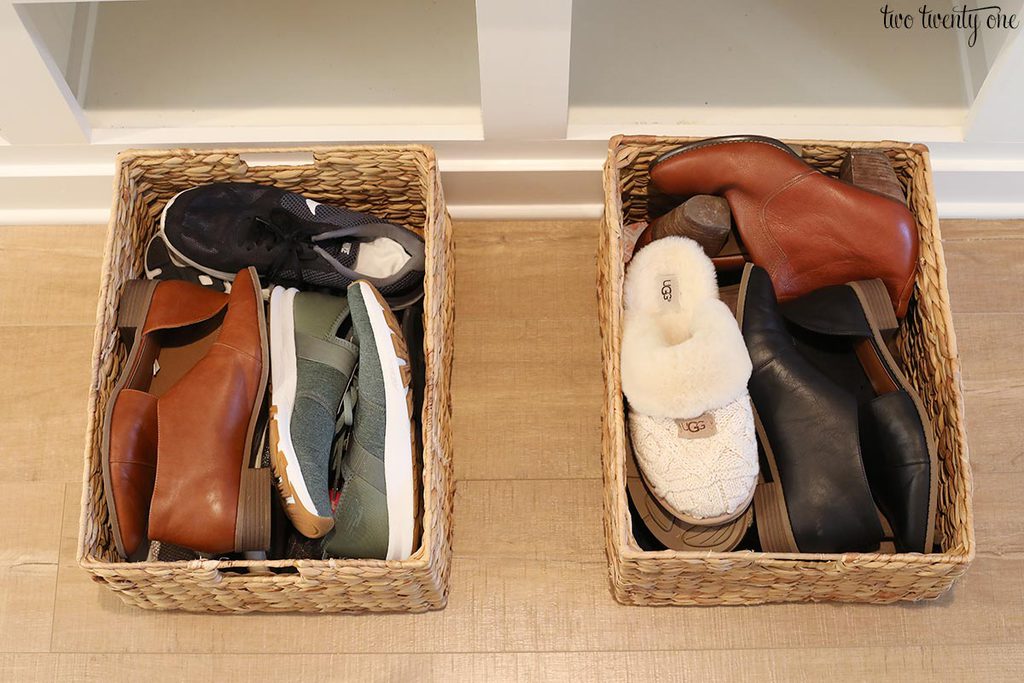 The basket under Brad's locker is also used for storing his shoes, but I figure it's not necessary to show you.
How I Keep the Mudroom from Smelling Like Feet
Since the mudroom is essentially in the middle of our downstairs, I didn't want the smell of stinky feet emitting from the area. But I didn't want to use air fresheners because I didn't want to smell floral stinky feet. So I had the bright idea to add a removable hook and charcoal air purifying bag to the back part of each shoe cubby. Within a day, any trace of smelly shoes was gone. All I have to do is put the bags outside in direct sunlight for at least an hour once a month to reactivate them.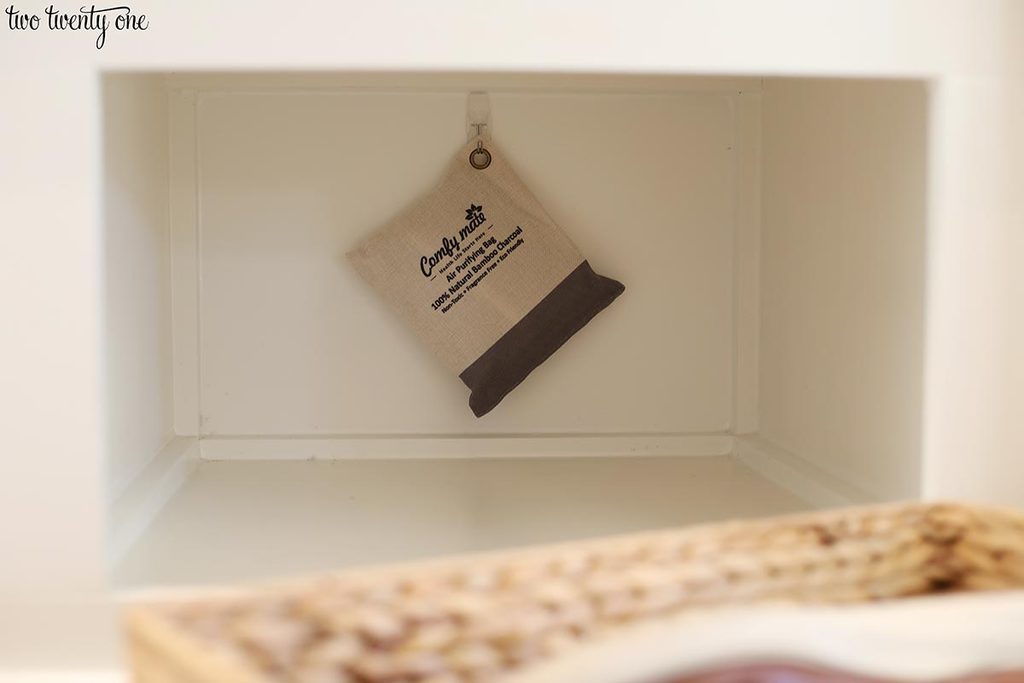 Upper Cubby Baskets
The cubby basket above Owen's locker is where I store the boys winter hats, gloves, and mittens. Owen's things are on the left and Emmett's are on the right.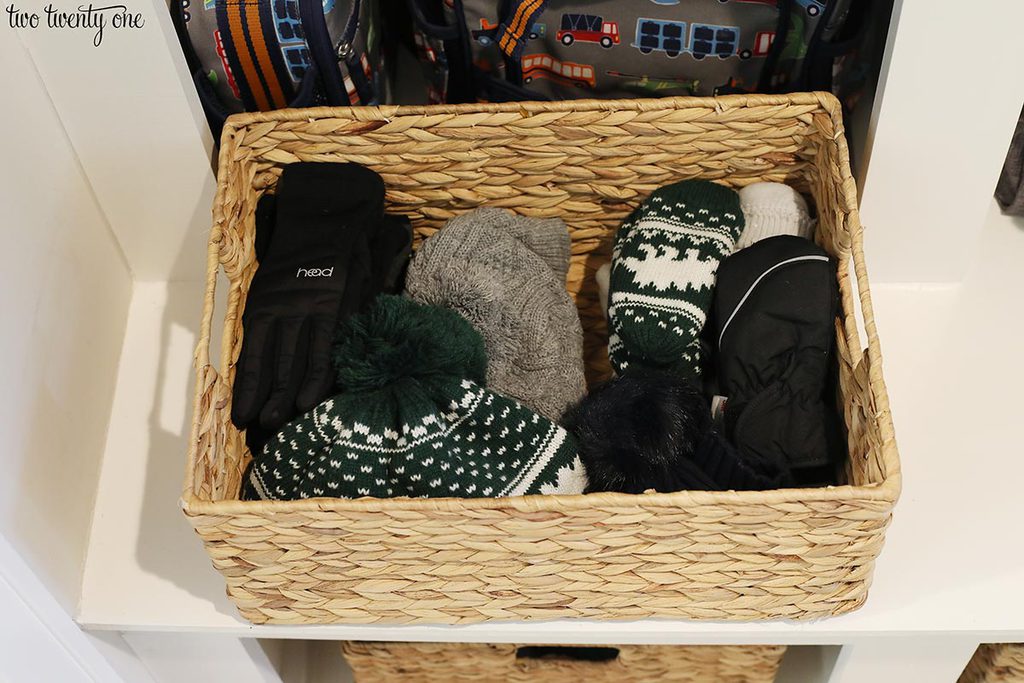 The cubby basket above Emmett's locker is used to store a bunch of random stuff. The boys' ear protection is stored in the blue bag. We have a pair of noise canceling headphones for each boy. They come in handy for fireworks and Monster Jam. There's also some things that we may need to add or rotate in to the diaper bag– extra changing pad in a zippered pouch, roll up bib, disposable table mats (great for restaurants), tissue packs, and a stroller hook. I also hang their sunglasses on the back part of the basket.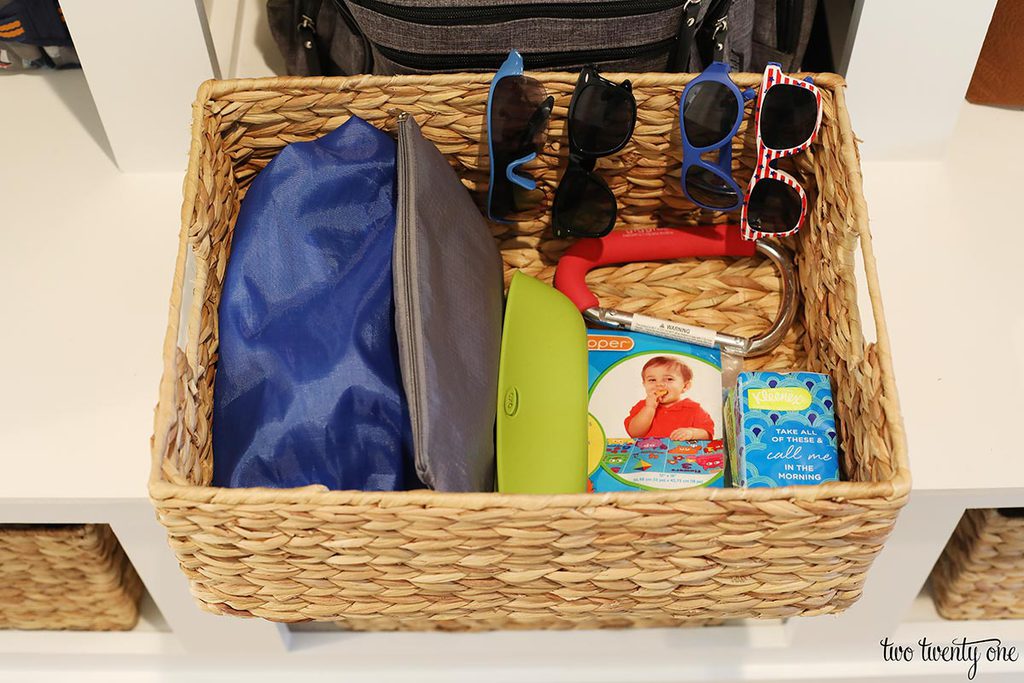 My upper cubby basket contains my sunglasses, winter hats, ear muffs, gloves, & mittens, and travel wallet. Instead of lugging my everyday wallet with me when I travel, I pull out my driver's license, insurance card, cash, and necessary debit/credit cards and put them in my travel wallet. That way I'm not traveling with a bunch of misc. credit cards or gift cards.
And why yes those sunglasses are identical. When I find a cheap pair that I love, I buy 4-5 pairs because I know I'll break or lose them. I can't be trusted with fancy sunglasses.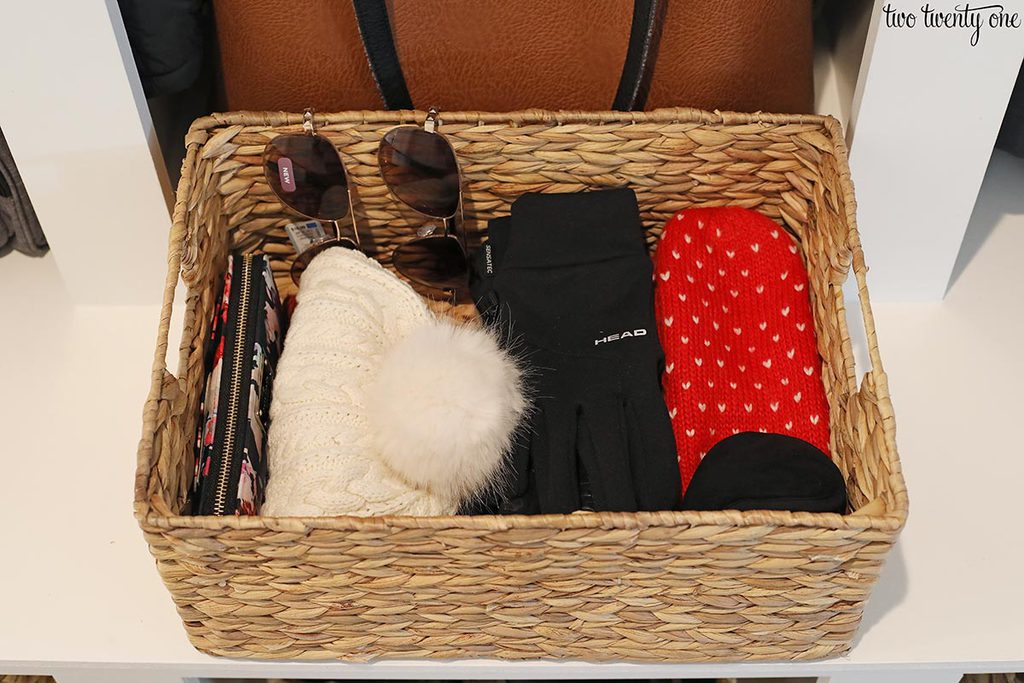 Let's conclude the mudroom lockers organization with the cubby above Brad's locker is pretty basic. It contains three things– ear muffs, a hat, and a pair of gloves.