Tips for Creating an Organized Kids Closet
This post is sponsored by Better Homes & Gardens at Walmart. All opinions are my own.
It's a New Year so that means resolutions and all that jazz. I don't make New Year's resolutions, but I do try to set goals for myself. And one of those goals for this year is to tackle Owen's room. We're still ironing out the design for his room, but in the meantime, I figured we'd start by organizing his closet. Because, trust me, it needed some help.
So today I'm sharing some tips for creating an organized kids closet.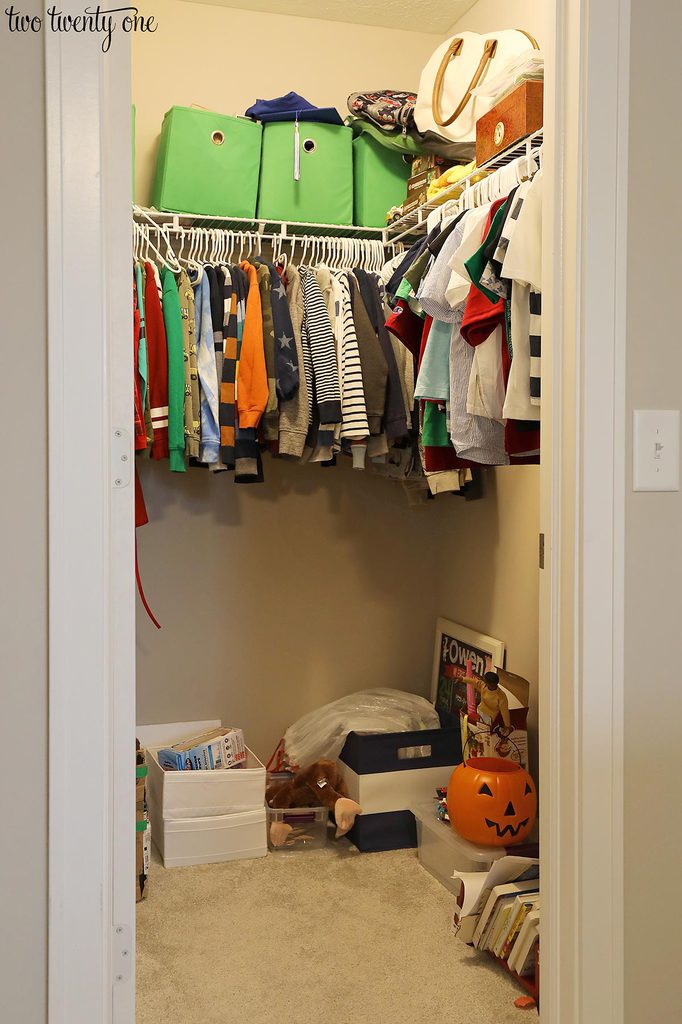 1. Remove Everything from the Closet
I find that when dealing with closets, it's best to take everything (or almost everything) out of the space. Then, sort through the items outside the closet and put back the items you wish to keep. The only item I leave in the closet is clothes on hangers.
2. Go Through the Clothes
I like to leave the tops on the hangers because it's easier to cycle through everything when they were hanging up versus laying in a pile. We organize Owen's shirts by sleeve length. Short sleeves go on the right side, long sleeves go on the back side of the closet. His pants and shorts are stored in his dresser in his room.
When going through the clothing, if a shirt is too small, I take it off the hanger and put it in the necessary pile.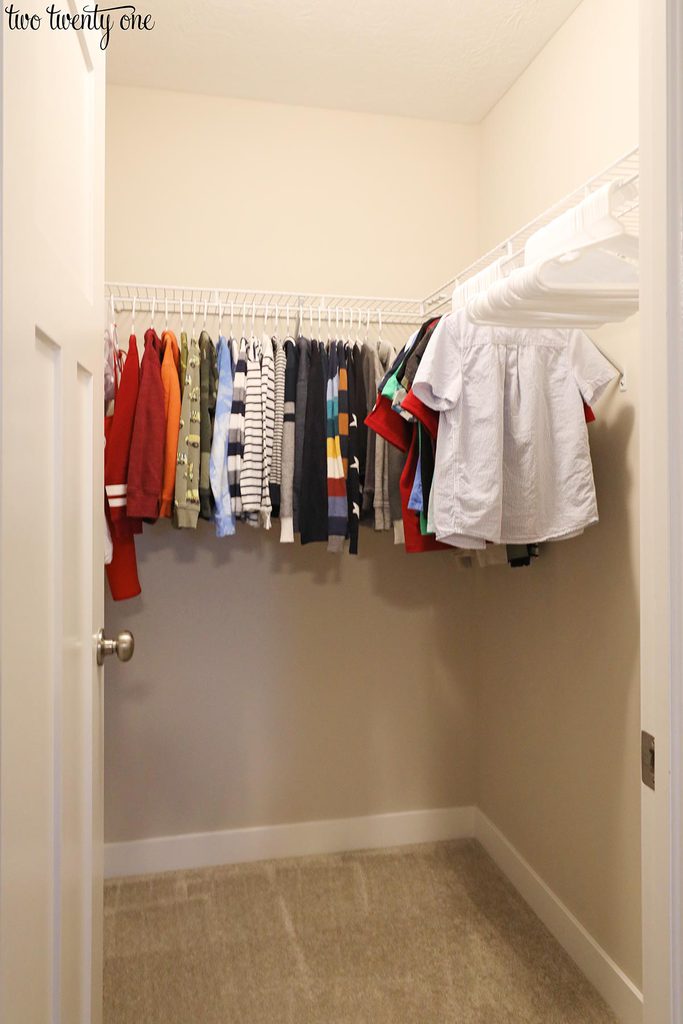 I make four piles: hand-me-downs for Emmett, consign, donate, and recycle.
This is the hand-me-down pile.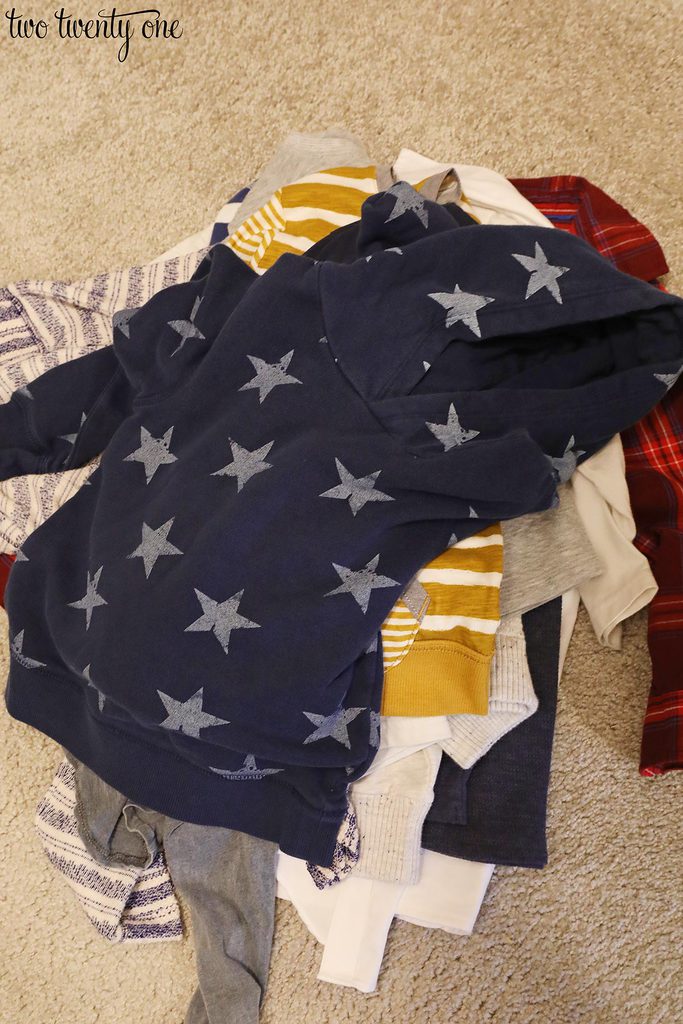 3. Add Storage
If you've been here a while, you may remember Owen's closet in our last house. I love adding storage space to closets, especially organized kids closets, whether they're large or small. For Owen's current closet, I went with a white, 6-cube storage organizer. This organizer is perfect for the closet. Owen can store items in the six cubes and on top.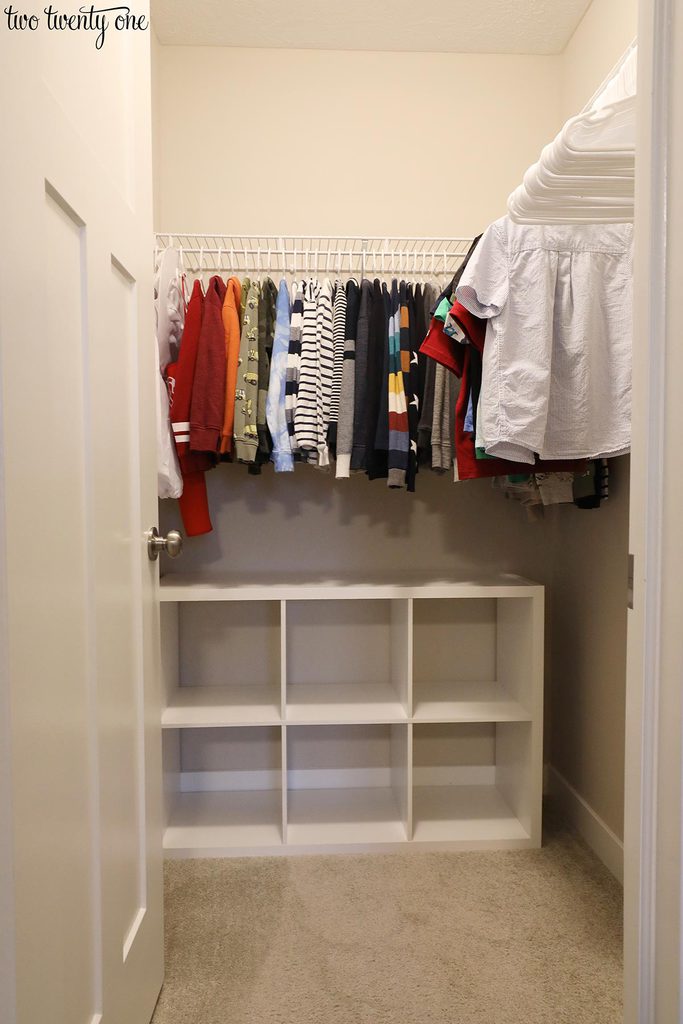 4. Organize with Containers
Another thing I love about cube storage organizers is the ability to add baskets. I went with these woven hyacinth baskets to add some warmth to the closet. Plus, they're neutral and timeless so they can be used in other places around the house.
You can use the baskets to store more clothes, seasonal clothing and accessories, shoes, sports equipment, kids toys, stuffed animals, etc.
Another container you can add to the closet is a hamper for dirty clothes. Our laundry system works better when the kids don't have hampers in their rooms, but if that works for you, definitely add one.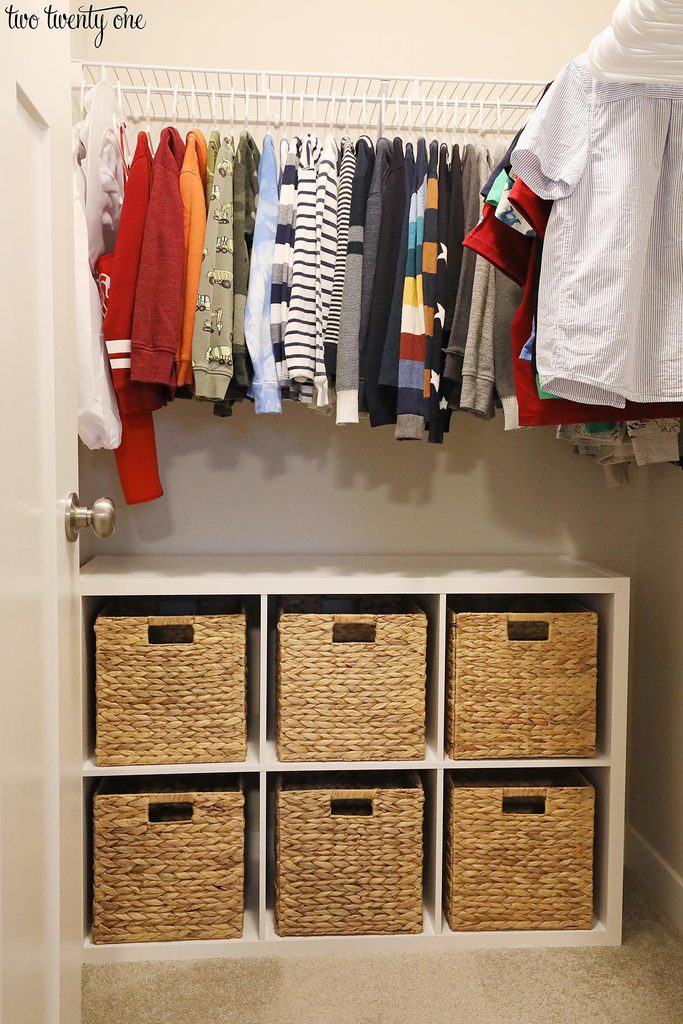 5. Use Vertical Space
Take advantage of as much space as possible in a closet, especially if you have a smaller closet. That means making use of the shelf above the clothes. And if you don't have a shelf above the clothes, add one. Keep things tidy with, you guessed it, more baskets.
I used four medium wire baskets in Owen's closet. The baskets come with removable liners so they conceal the contents inside– streamlining everything and making the space less visually overwhelming. I used the wire baskets to store items Owen doesn't use often– his soccer gear, sweaters that are too big, sentimental items, extra hangers, etc. Owen's weekender bag is also on the shelf.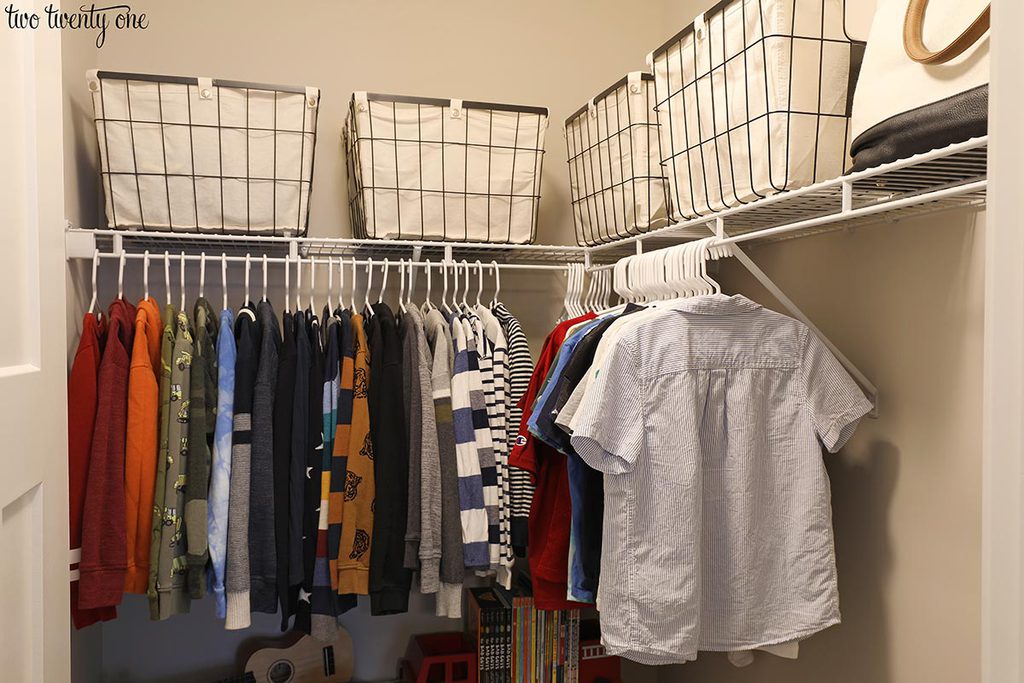 6. Personalize
I like to add a little personalization, so I put some of Owen's things on top of the storage organizer.

7. Add Hooks
Like I said above, take advantage of as much space as possible. Since Owen is only 6 year old and a little over 4 feet tall, I added a wall mounted hook rack to the wall about 36 inches above the ground. This way Owen can easily hang things on the hooks. Plus, there's enough space between the hook rack and the kids clothes.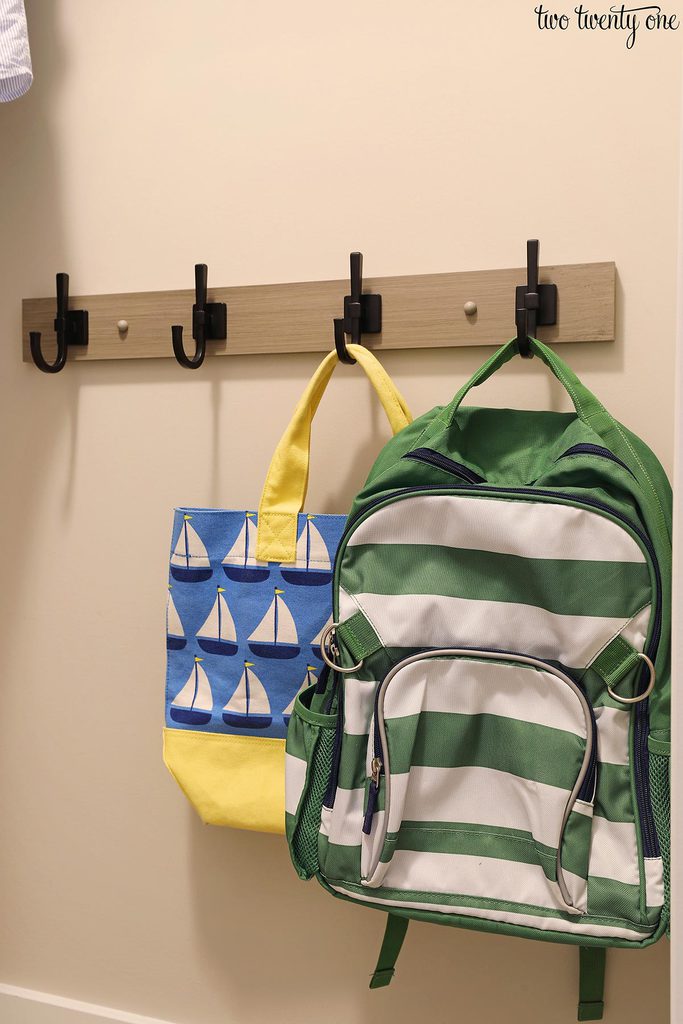 Since Owen's closet is big enough, I added a floor pillow. Just something for him to sit on when he wants to hide from his little brother and read a book. The pillow can be tipped up when not in use so we're not tripping over it when we need access to the closet.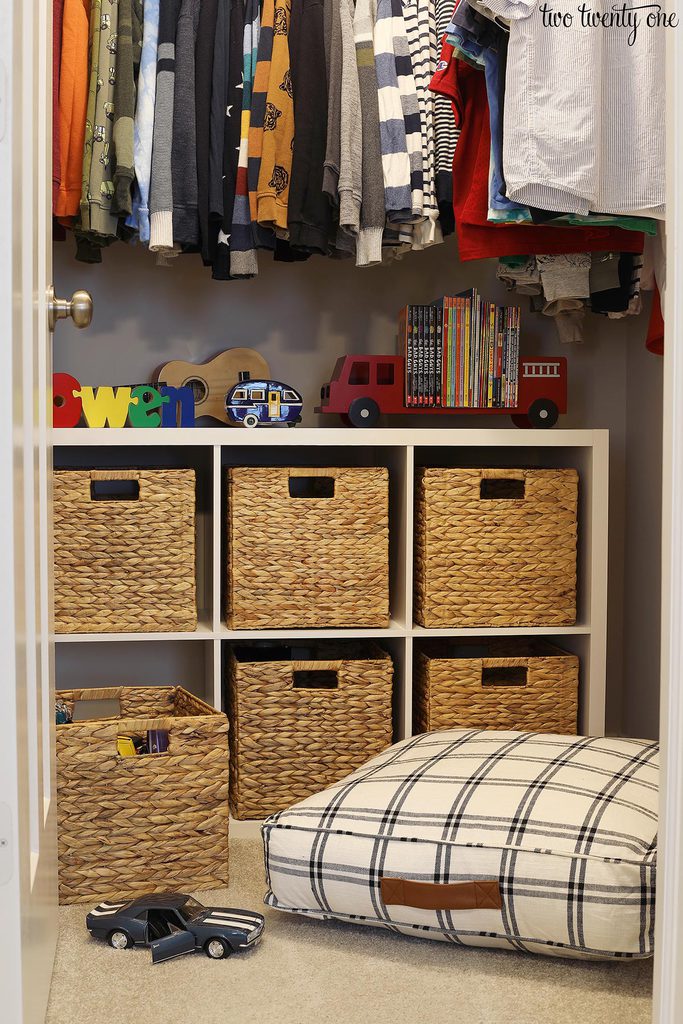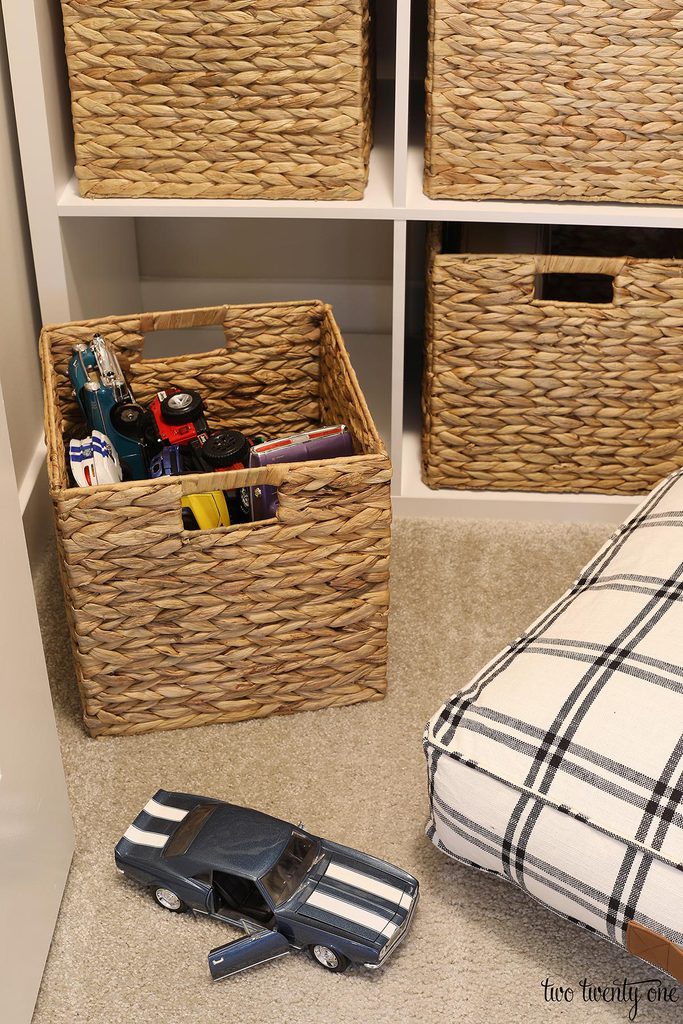 Now Owen's closet is more organized and functional. But it's also a little space where he can chill out if he wants.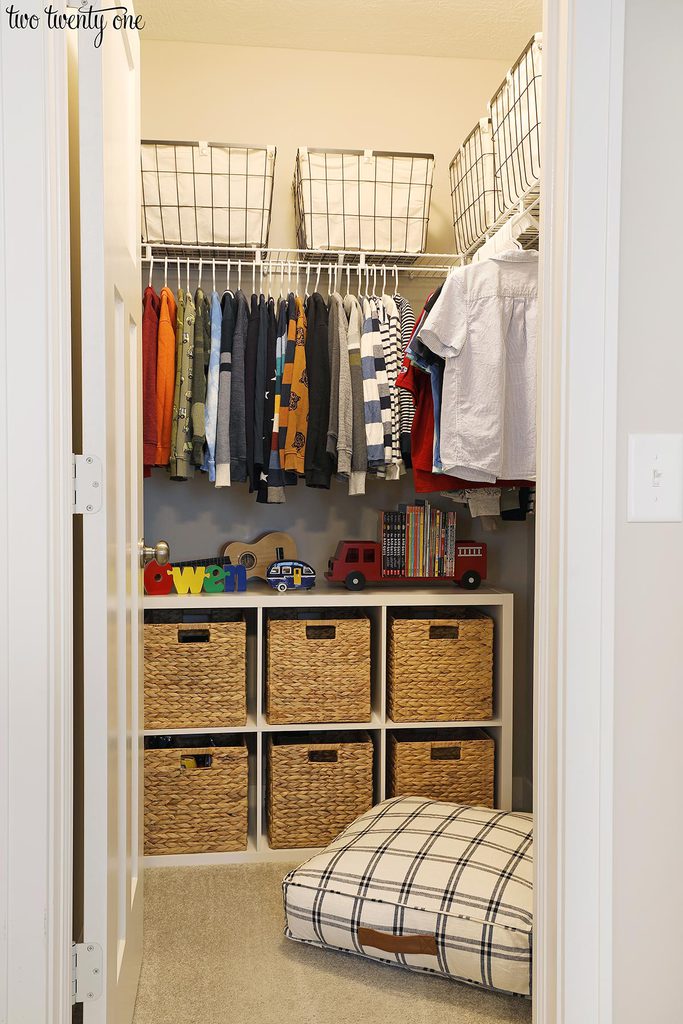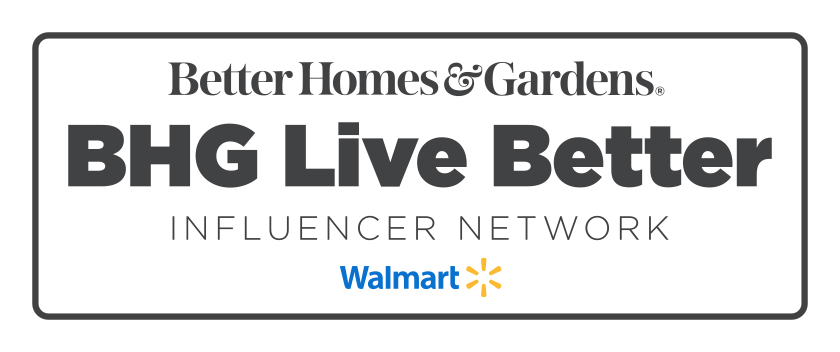 This post is sponsored by Better Homes & Gardens at Walmart. All opinions are my own.