Toddler Diaper Bag Organization
Over a year ago I shared Owen's diaper bag for when he was a newborn/infant. Now that he's a toddler, I thought I'd share what the diaper bag looks like.
I carry around about the same amount of stuff that I did when Owen was an infant, it's just that the stuff has changed.
Up until he was around 7 months we didn't worry about bringing snacks in the bag because he was exclusively breastfed. But now I make sure I have a bag full of snacks for him whenever we leave the house. Because no one likes a hangry toddler.
I also always carry these handy, disposable placemats in the diaper bag. They stick to restaurant tables and when you're done you peel them off. I bought them after attempting to wipe off a restaurant table and no matter how much I wiped it, the wipe I was using never looked white.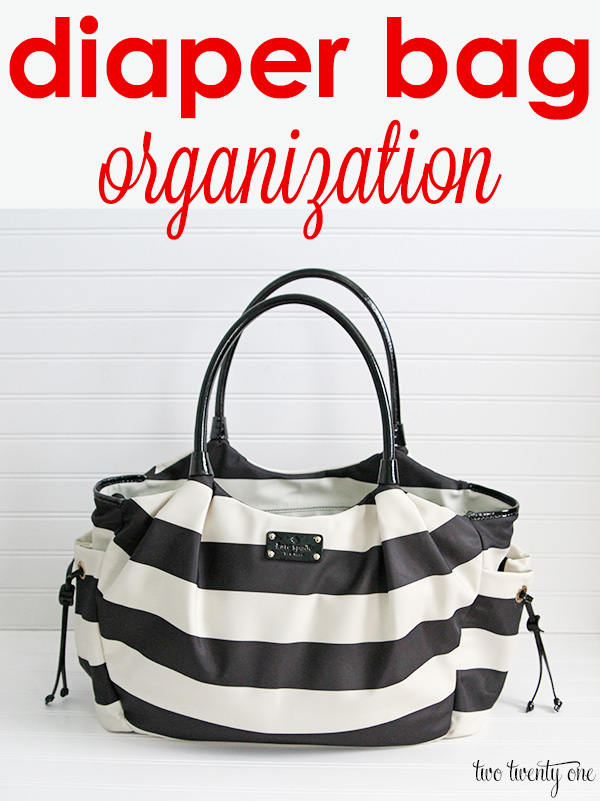 Let's start with the baby toddler stuff:
• wipe clutch
• extra change of clothes
• diapers
• diaper bags
• pacifier (to be used only for DEFCON 1 situations)
• roll-up bib (love this thing)
• tissues, boogie wipes, wet ones
• biodegradable disposable, stick-on placemats
• mommy hook (I use it for this handy purpose)
• bag of snacks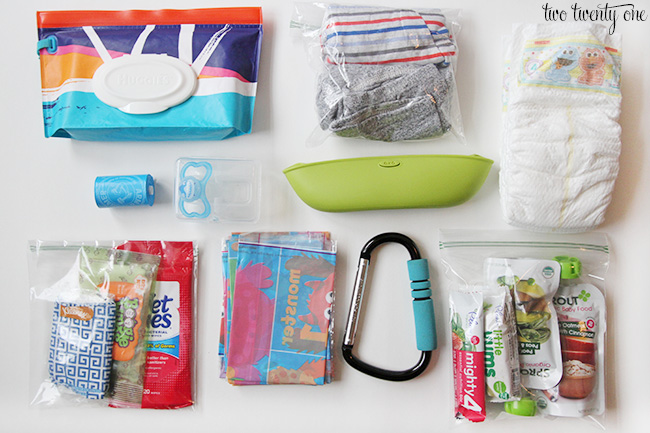 And here's the things I keep in the diaper bag for myself:
• ZonePerfect Perfectly Simple bars
• wallet (similar)
• cosmetic bag (see what I keep in it here)
• portable phone charger (similar)
• iphone
• sunglasses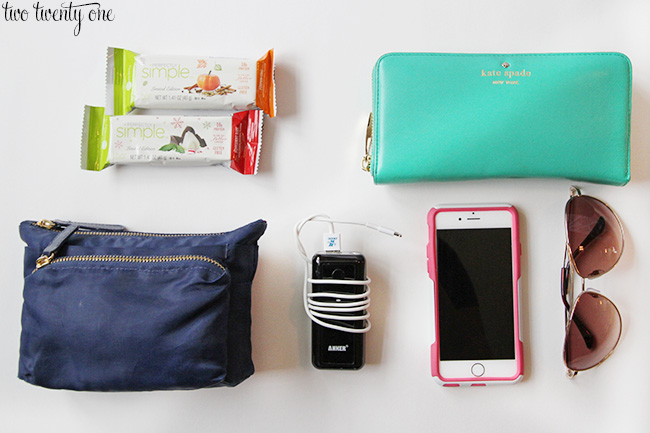 There's not many pockets inside the bag (something I don't really like about the bag) so I put most of the stuff in the middle.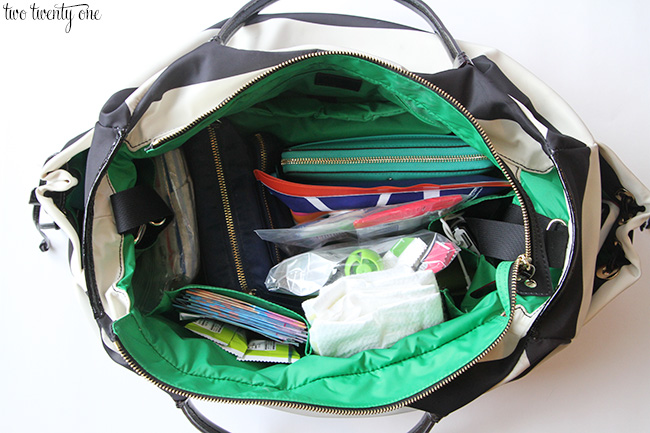 I've become kind of obsessed with these ZonePerfect Perfectly Simple bars that I found at Target. They're nice to have in the diaper bag when we're out and about running errands, and lately, Christmas gift shopping. They have 10 grams of proteins so they help hold me over until lunchtime. The limited edition peppermint bark is my favorite flavor, followed by pumpkin chai.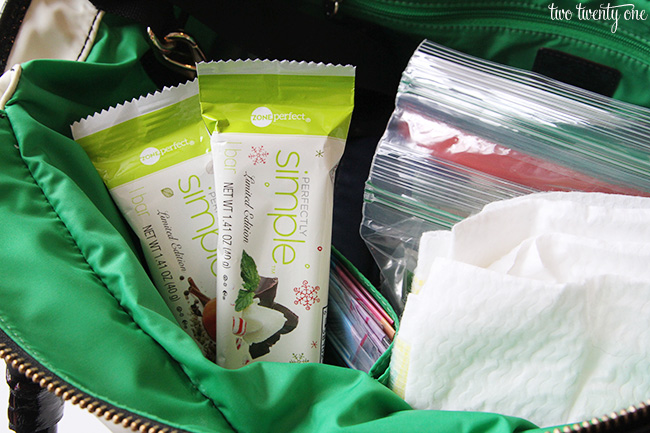 I keep my sunglasses and phone in one of the side pockets.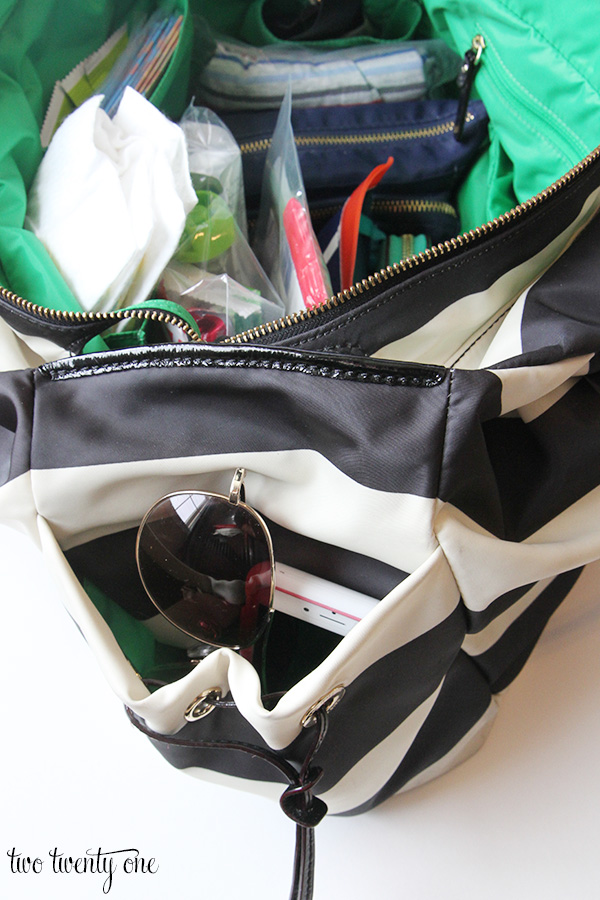 And my keys and mommy hook in the other side pocket.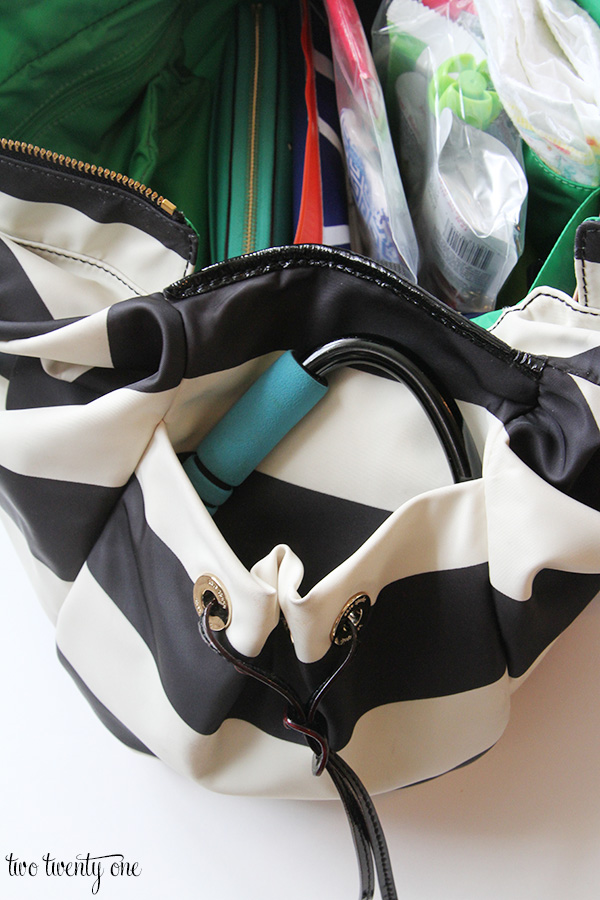 In case you're wondering, the diaper bag is a Kate Spade Stevie diaper bag (similar one found here and here) that I scored for a steal during on of their flash sales when I was pregnant with Owen.
What do you keep in your toddler diaper bag for your little one and yourself?
 This post is sponsored by ZonePerfect Perfectly Simple. As always, all opinions are 100% my own.