This past weekend three of our best friends threw us an awesome couples' baby shower.
The theme was Indiana University, where Brad and I met. Brad also proposed on campus and we were married in Bloomington, where IU is located. So it only made sense to work IU into the next major event in our lives.
The shower was a laid back cookout type of shower where both guys and gals were invited to celebrate with us.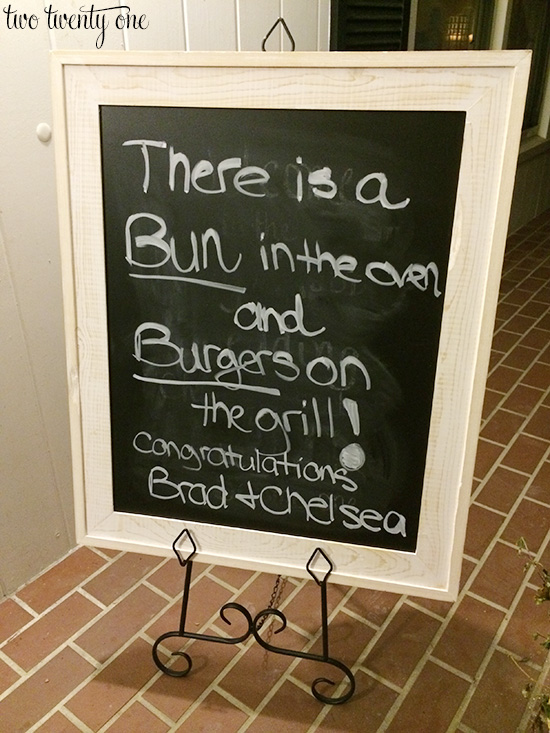 Our friend and one of the hostesses, Kristin, made this amazing IU diaper cake.
They set up the indoor drink station on their dining room built-ins.
The smaller lemonade pitcher was my preggo non-alcoholic lemonade. The larger drink dispenser was designated for the electric lemonade. I didn't expect our friends not to drink just because I can't. I'm not that cruel.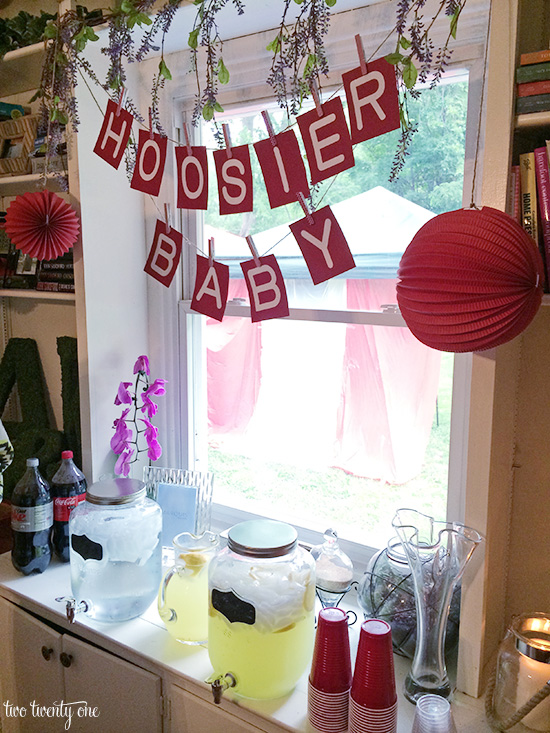 There was a pretty awesome spread of food.
The menu consisted of steak burgers, hot dogs, chips and dip, strawberry salad, cole slaw, veggie tray, tortilla chips, salsa, and guacamole.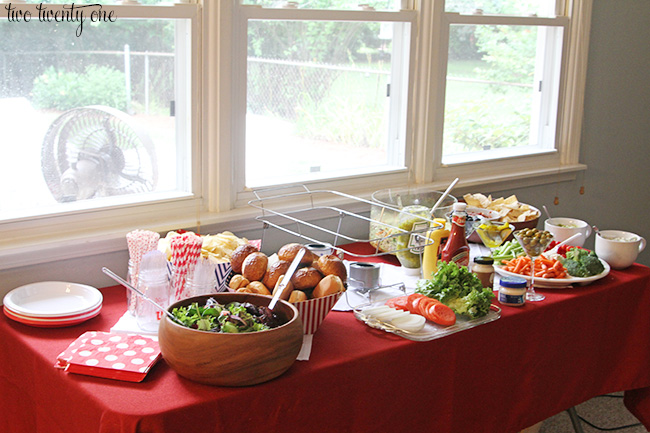 No party is complete without paper straws and mason jars. And most importantly, an IU themed party isn't complete without Nick's mason jars.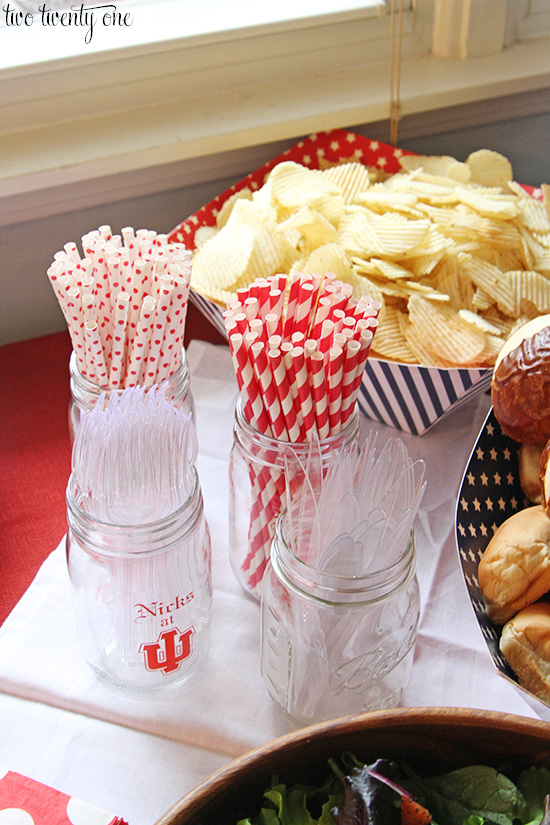 How cute is the ice cream sundae bar?
They put vanilla ice cream on ice in the big white bucket and guests were able to build their own sundaes.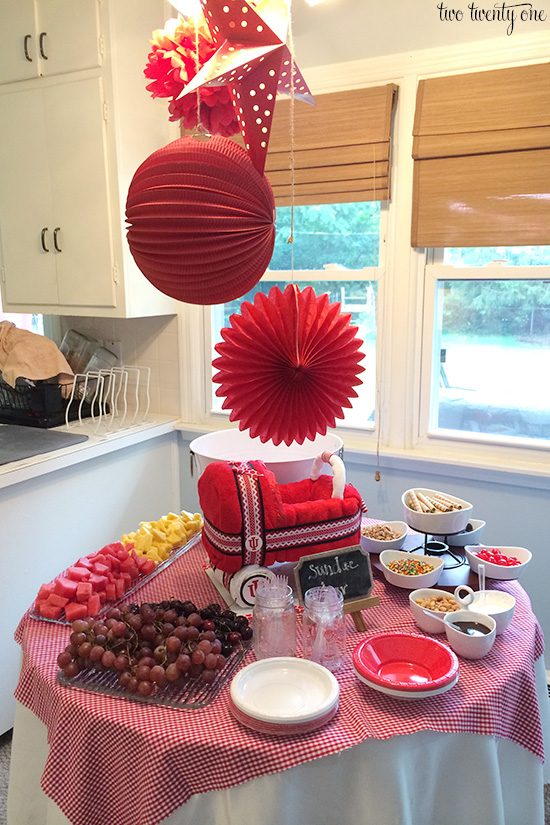 The centerpiece of the sundae bar table was this adorable IU baby carriage by Lynsey's Custom Diaper Creations.
Lynsey is a loyal, local reader who was sweet enough to offer to make us a diaper creation for the shower. You seriously have to check out her stuff. She can make anything into a diaper creation— castle, fire truck, airplane, tank, guitar, etc. She also makes bridal towel cakes, wipe cases, diaper cakes, and more.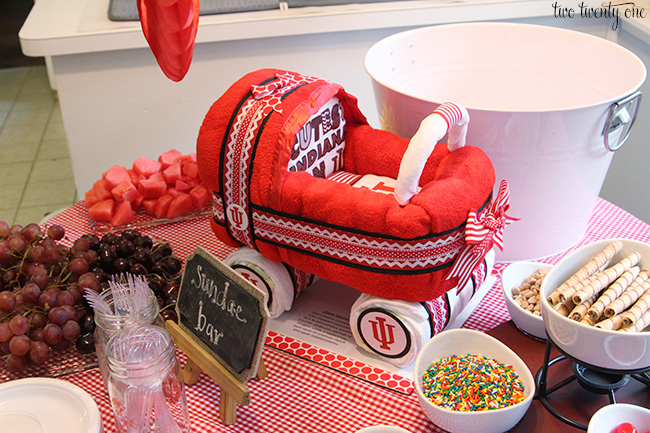 Outside, my best friend, Natalie set up different carnival games for people to play. We had fish bowl, pin drop, ring toss, gun show, and Bozo Bucket.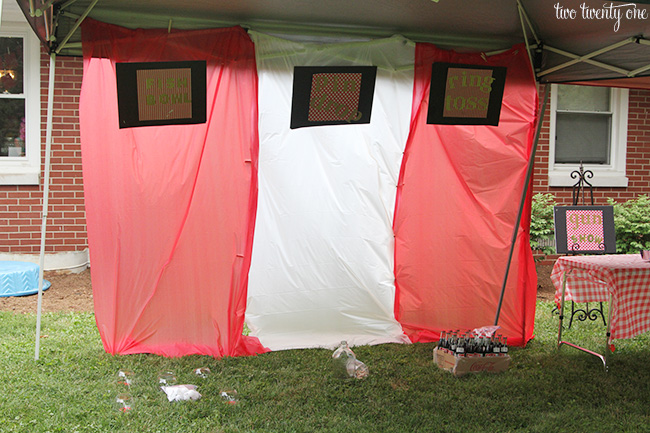 Bozo Bucket was a staple at every childhood birthday party my brother and I had growing up. I'm pretty sure if you grew up in the Chicago/Northwest Indiana area it was mandatory to have Bozo Bucket at your birthday party.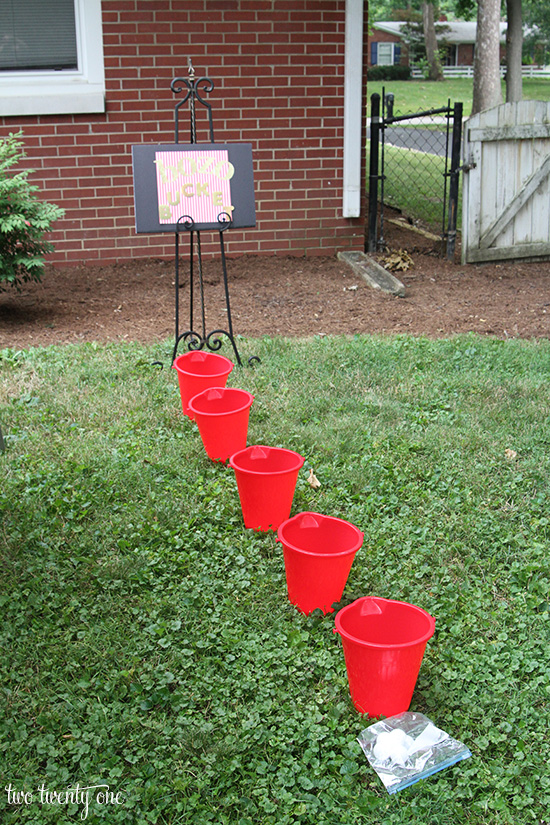 The prize table was a wonderful smorgasbord of random awesomeness.
Everyone took home a scratch off lotto ticket, mustache sunglasses, and a miniature bottle of vodka as their favor. We keep it classy around here.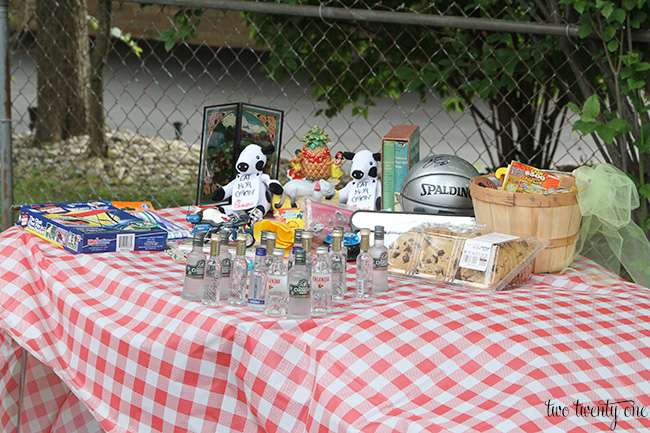 All in all it was a wonderful shower. Brad and I are lucky to have friends who are like family to us celebrate the nugget's arrival.
And while I'm talking baby showers, a few weeks ago Brad's mom, grandma, and aunts threw me a great baby shower in Brad's hometown.
It was a whale/under the sea themed shower.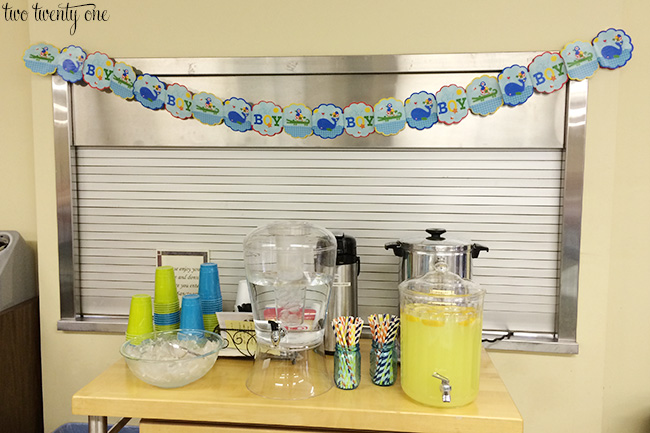 Miniature cupcakes from Gigi's and cookies from our favorite bakery in Evansville, Donut Bank, were served.
We actually had the same kind of cookies as the favors for our wedding, only they were IU themed– obviously.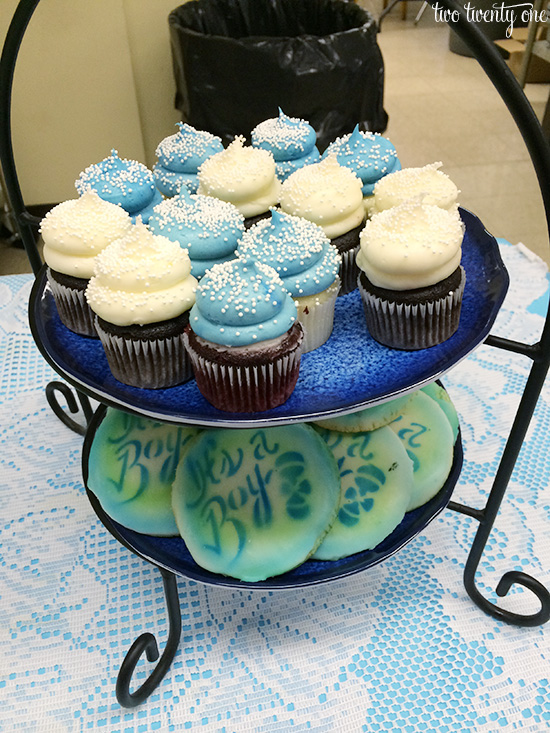 The candy bar served as favors for the guests.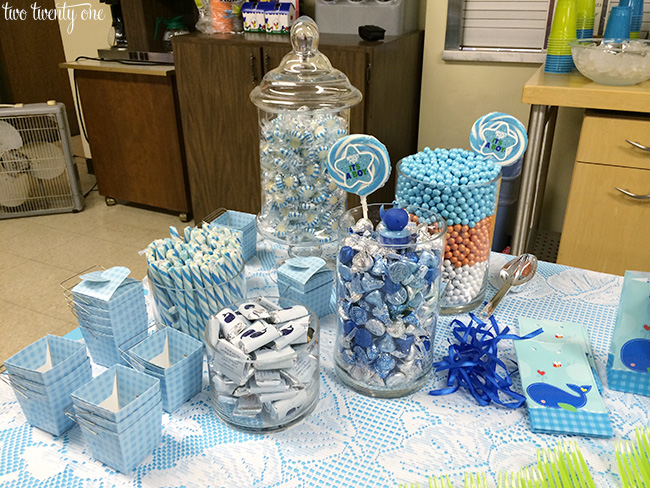 Well, that's it for baby showers.
The nugget is due to make his appearance exactly one month from today.
Which I'm really looking forward to since developing sciatica this weekend. Holy smokes, you guys, this stuff is no joke. I could barely walk yesterday, and Brad woke up to me sobbing at 6AM because I needed to go to the bathroom and get a drink of water and I couldn't get out of bed. (And I like to think that I have a high pain tolerance.)  I'm actually rescheduling my dental visit this morning out of sheer embarrassment because of my inability to walk normally. I see my OB/GYN today so I'm hoping the doctor has some suggestions for me. I've been icing it and doing stretches but it's still extremely painful when I walk. I've heard going to a chiropractor can help so I'll see if the doctor has any recommendations.