I thought I'd share a summer staple in our house– couscous salad. It's a great, light salad that you can prepare in minutes, and, if you're like us, with vegetables from your garden.
This is a my go-to salad to bring to summer cookouts with friends. It's a nice break from store-bought potato salad or cole slaw.
And I'm not kidding when I say it takes minutes to make. That's mostly because I use a box mix of couscous, which is ready in minutes. Sorry, I can't be Martha Stewart and harvest my own couscous.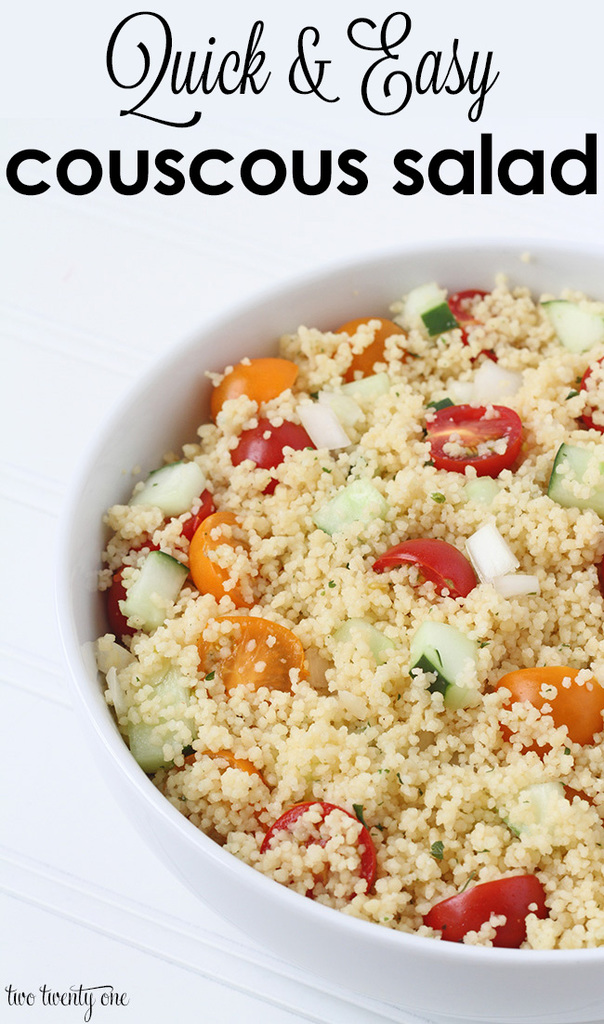 My favorite brand of couscous to use is Near East– roasted garlic and olive oil. You can find it in almost any grocery or big box store.
It takes about 7 minutes to cook the couscous (2 minutes to boil the water and 5 minutes to let the couscous set up), so in the meantime I prep the vegetables.
For this particular salad, I used red and golden cherry tomatoes from our garden, half an onion, and half a cucumber. For some reason cucumbers don't grow well in our garden.
When the couscous is done, I toss the veggies and couscous together in a bowl, slap on a lid, and pop it in the fridge to cool.
Let's say you don't have fresh vegetables in your house and you don't have time to run to the store. Another way I prepare this salad is by using canned petite diced tomatoes, which we always have in our pantry. I put the tomatoes in a colander, rinse, and drain them. Then, when the couscous is ready, I toss the tomatoes in. Fastest salad ever.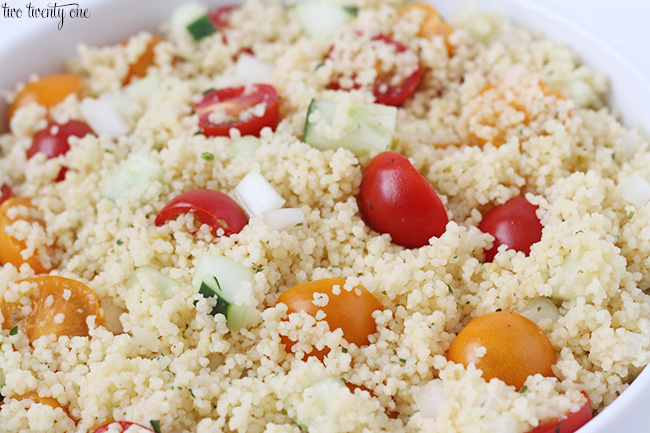 You can add almost anything to this salad. I was going to throw in some kalamata olives, but Brad isn't a fan so I left them out. Fun ruiner.
In other food news, remember last week when I said our first attempt at making a pizza on the grill didn't go so swell? Well we made another pizza on the grill this week, and it was a huge success. Seriously, Brad was requesting pizza the next night like a crazed teenager. Second time's a charm I guess. I hope to post a recipe with tips in the next couple weeks.