What To Steal From The Hospital After Popping Out A Kid & Other Advice
I couldn't think of a good title for today's post so I just went with the above– if you're a frequent reader I know you'll understand.
To be clear, it's not stealing. You're technically paying for this stuff as part of your hospital stay so you might as well take what you can get. Also, I was TOLD by my nurse to take certain items because they would otherwise be thrown out, and I ASKED my nurse for a few additional items to take home. It's not like I waddled out of the hospital with packages of giant pads and tubes of petroleum jelly shoved up underneath my dress.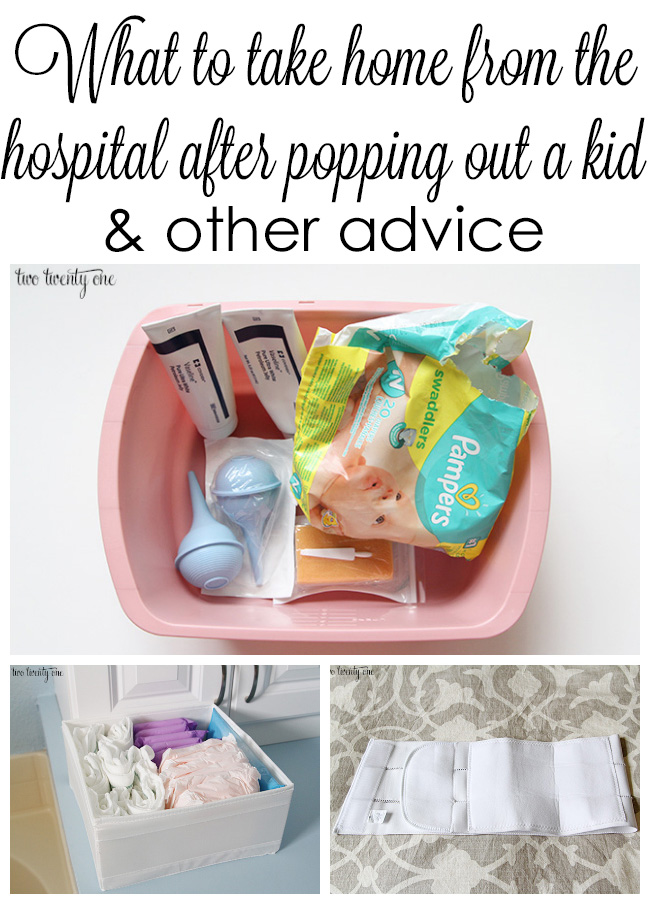 A lot of you told me in the comment section of this post what I should pack in my hospital bag. Many also told me what to bring home from the hospital (thank you!) so I made note and followed through.
During my hospital stay I made a list on my phone of supplies I wanted ask my nurse to round up for me before I went home. The morning I was going to be discharged, I asked my nurse if I could have some extra things to take home. She gladly obliged, wrote down everything I wanted, and brought it all back to me an hour later.
To be clear, here's what I requested: 1 petroleum jelly, a couple pairs of mesh undies (the nurse brought back 5), 1 .25 oz lanolin sample, 1 package of pads (the nurse brought back 2).
Let's start with the female personal care items. Many of you said, "TAKE THE MESH UNDIES, ALL THE MESH UNDIES!" So I did. They really are quite nice so don't fear the mesh undies. Embrace them. My nurse said you can hand wash and line dry them to get a few more uses out of them but she said they tend to fall apart if washed in the washing machine. FYI.
I brought home 8 pairs of mesh undies, a couple packages of the gigantic monster pads, a peri bottle, and two packages of disposable wash cloths.
I set up a personal care basket in our master bathroom to keep things organized.
A note about pads: After I ran out of the monster hospital pads, I busted out some Always and Kotex pads. But after a while, they started to cause severe dryness down there. So I switched to these pads and these pads, and my nether region returned to normal. Well, besides bleeding nonstop for 6 weeks.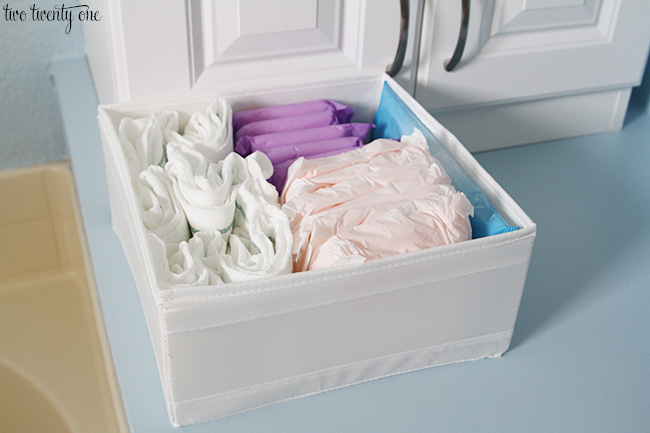 I also asked for an abdominal binder as soon as I could get out of bed. I ended up needing a C-section (see Owen's birth story), but I planned to ask for a binder whether I had a vaginal birth or C-section.
Seriously, this thing is wonderful. Your belly feels so weird after being stretched to the max for months and then deflated like a balloon. The binder helps give support and sucks everything back in. It also helps after a C-section when you cough or laugh.
Mine is kind of scratchy so I wear it over my nursing tank, and then I throw on a lightweight t-shirt.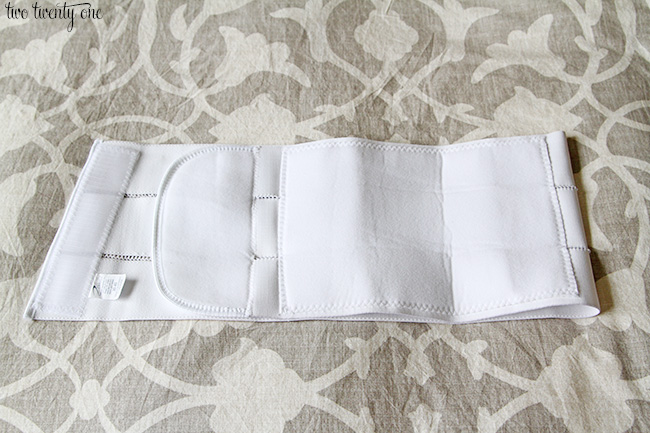 Now on to the baby stuff. I'm just going to list everything.
• small tub for sponge baths (good puke bucket for the future)
• sponge/brush for baths
• petroleum jelly
• leftover diapers from the bassinet
• leftover wipes from the bassinet
• bulb syringes
We had enough pacifiers at home, but I'm sure you could also ask for a couple more at the hospital.
I'm breastfeeding, but if you plan to formula-feed I'm sure you can ask for more formula to take home as well.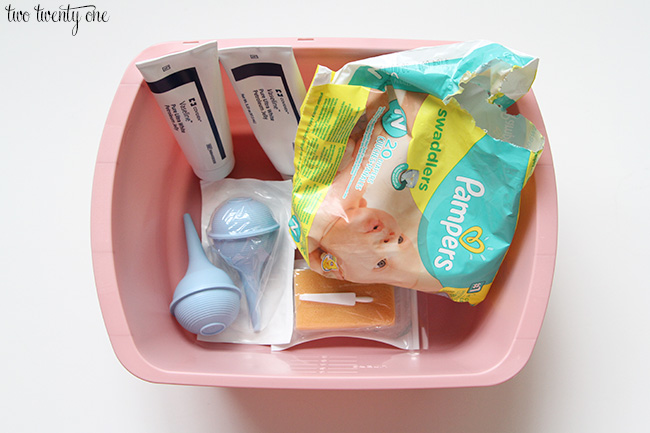 My lactation consultant also gave me a bag of stuff to take home. If yours doesn't automatically give you things, ask for them. Remember, it never hurts to ask.
Here's what she gave me:
• 6 breast pump compatible nurser bottles
• 6 slow flow nipples
• 2 lanolin samples (.25 oz)
• 2 breast pump flanges
• box of nursing pads
• nursing sleep bra
NOTE: Every hospital is different. I wasn't charged for the additional items my nurse gave me to take home. Trust me, I looked at my itemized bill. And please don't comment or email me and attempt to school me on hospital finances and how me taking home a few extra pads and mesh underwear is going to cause my hospital to go bankrupt.
While not on the topic of stuff, here are some other things I learned while in the hospital.
1. You'll forget about being self-conscious. I've never been nude or semi-nude in front of so many people in my entire life. I also never had so many people touch me in so many places in my entire life. I got over myself and any body-conscious feelings I had very quickly. It helps to think that this is their job and they see naked people all the time so you're just another naked person. Or that's at least that's what I hope medical professionals think…
2. Accept your nurses' help. They're there to help and care for you. Let them.
3. Speaking of nurses' help, don't feel bad sending your baby to the nursery so you can get some rest. Brad and I felt really guilty about this at first. But, at night, when we would try to have Owen sleep in his bassinet in the room with us he would cry. The nurses said he wouldn't cry in the nursery so I don't know if he could smell me and wanted to be held or what. We finally gave in and would let the nurses take him for a couple hours, they'd bring him back to nurse, and then take him back to the nursery so we could get a couple more hours of sleep. I ended up looking at it as free professional babysitting.
4. Utilize your hospital's lactation consultant. Ask them to assess your baby's latch and check for frenulum issues. The morning after I gave birth I asked my nurse if the lactation consultant could see us as soon as possible. So if the LC doesn't come around or your nurse doesn't mention it, definitely ask to be seen. I saw mine a total of three times while I was in the hospital. In between the times she would check in, I would jot down questions I had for her in my phone. And ask for your LC's card before leaving the hospital so you can call her if you have questions.
5. Keep in mind that the pain won't last. At least that's what I tried to focus on when the pain from the contractions was bringing me to tears. The pain is only temporary, well, at least for most people. It's a few days of pain and discomfort, and then it gets better. And when it's all over you have an amazing prize–  your beautiful baby. I also have to admit that now that I'm on the other side, I don't remember the pain being that bad. But when it was happening? Woo, buddy.
6. One word: Colace. I was a little surprised that I had to ask my nurse for this. I figured they'd want to help a sister out and would be passing out Colace like Skittles, but that wasn't the case. They were also weird about me bringing my own from home, which I kind of understand. But I wasn't messing around in this department. And trust me, you shouldn't either.
7. Document your experience. I kept a notebook and pen on my hospital tray table. Anytime something happened, I would write down the time and the event (ex: dilated to X, Y% effaced). While I know it's not necessary, this helped me keep Owen's birth story straight. I'd actually suggest having your partner write things down. I lost track of what happened after my contractions got really intense so I had to go back through text messages to some of my girlfriends to piece things together. It would have been helpful if I had asked Brad to man the notebook.
8. Definitely take a nursing pillow even if you don't plan on nursing. I brought my Dr. Brown's Gia pillow (which I LOVE). It's great to nurse with, plus it's a lot more bendable and cushiony than a Boppy so it can contour to your body better. Both Brad I used it to support our arms and Owen while we snuggled with him. I HIGHLY recommend getting one.
Here's two-day-old Owen and me snuggling post-nursing session with the Gia pillow. Please excuse my crazy hospital bed hair.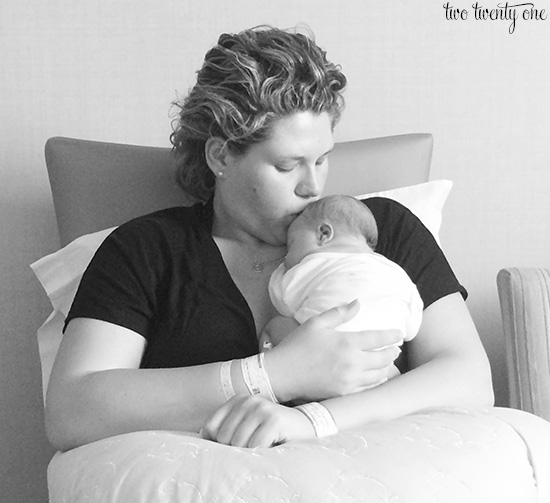 There you have it. I hope some of you found this post to be insightful and helpful. Best of luck birthing your beautiful babies!
I recreated my baby registry HERE if you'd like to check it out!
PLEASE anchor your furniture and electronics! A child dies every two weeks as a result of a tip-over incident. I strongly encourage you to read my blog post on how to anchor furniture and electronics HERE. Let's keep our babies alive and well.