Gifts for 4 Year Old Girl
I'll be honest, I don't know a ton about what 4 year old girls are into these days. But I got some help from some girl moms to compile this list of gifts for 4 year old girls.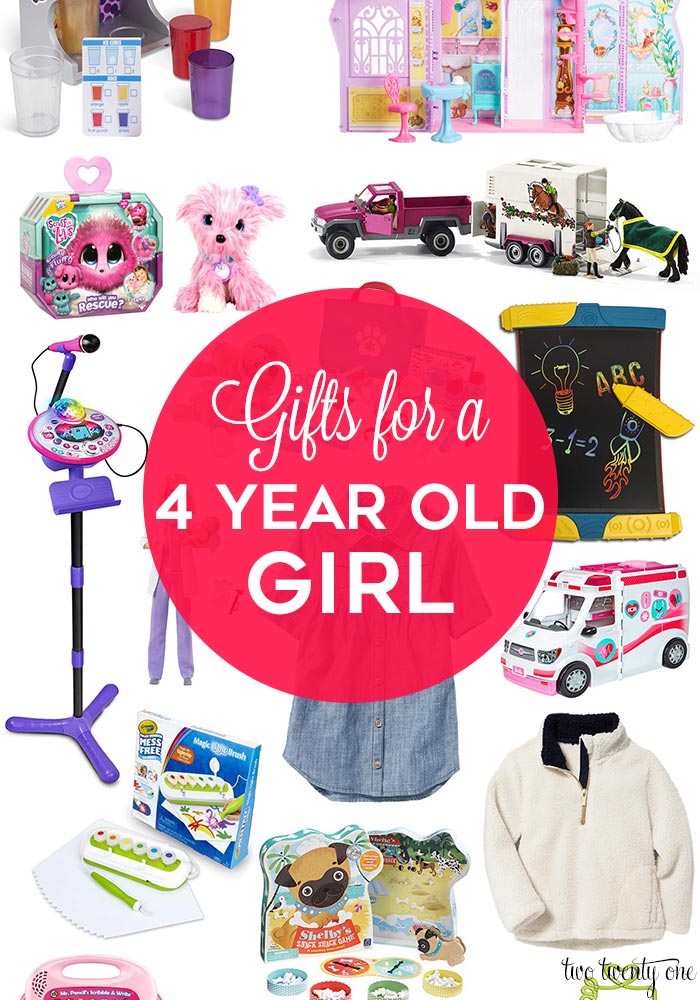 Keep in mind that preschool boys would be interested in some of these toys. In fact, Owen has or is getting five of these toys.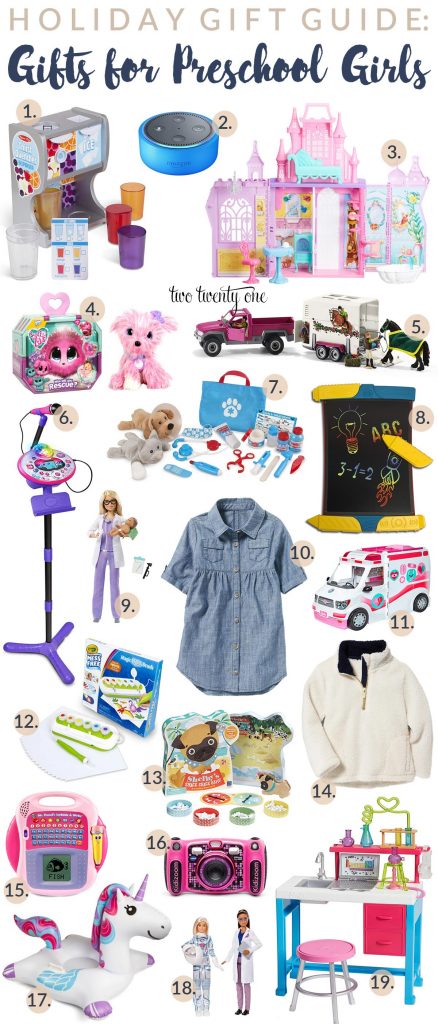 1. drink dispenser
Imma buy this toy drink dispenser for Owen so I can play with it.
2. echo dot kids edition
Got a kid who's always yelling at your Alexa device to tell a joke? Get them their own dot. And this is a cool feature mentioned in the listing: "1 year of FreeTime Unlimited gives you access to over 1000 Audible books for kids, like Beauty & the Beast and Peter Pan, thousands of songs, and kid-favorite games and skills from Disney, National Geographic, Nickelodeon, and more."
3. disney princess pop-up palace
Tight on space? This Disney Princess Pop-Up Palace is perfect because it collapses into a compact unit with a carrying handle.
4. little lives scruff-a-luvs
It's like those expanding towel disks, but a rescue dog. Kids put the mound of fur into water and presto! a scruff-a-luv rescue dog emerges. One of the reviews says to apply some conditioner and rinse. So maybe include a hotel-sized conditioner in the gift box.
5. pick-up with horse trailer & horse
Owen actually owns this horse trailer set, and loves it. He played with his girl cousin's horse trailer set over Labor Day weekend and begged for one. And while this specific set is a little pricey, it's very durable. He's dropped it multiple times, and it's still kicking.
6. karaoke machine & mic
I got something similar to this karaoke machine & mic for Christmas when I was 4 or 5, and I loved that thing. There's even a video of me singing Down By the Bay that my family greatly cherishes.
7. pet vet play set
Owen got a very similar pet vet set after his tonsillectomy and adenoidectomy.
8. boogie board
This boogie board writing tablet is great for kids who like to draw. There's zero mess. And you can take photos of their art Perfect for restaurants, car trips, or flights! It connects to an app where you can take a photo of the artwork and then save and edit the art in the app.
9. pediatric hospitalist barbie
Only buy this Pediatric Hospitalist Barbie if you're prepared to answer the "Where do babies come from?" question. A great gift for your niece!
10. chambray shirt dress
This chambray shirt dress is adorable– and not pink!
11. barbie mobile care clinic
This Barbie ambulance comes with a working siren, x-ray machine, and a stretcher, among other things. I would've killed for this thing as a child.
12. 
Magic Light Brush
A paint set that includes a magic light brush unit, 6 color Wonder paints, and 18 blank color Wonder paper sheets. The brush lights up to indicate the paint color. And the paint will only appear on the special paper– not on skin or walls.
13. puppy counting game
One of Owen's friends got this counting game (currently on sale for 50% off!) for her birthday, and I immediately came home and put it on his Christmas wish list. The game helps teach numbers and counting. It also helps develop strategic thinking and fine motor skills. There's also a similar game that's 31% off!
14. 1/4 zip sherpa pullover
I need this sherpa pullover in my size.
15. mr. pencil's scribble & write
Kids can partake in six activities that introduce writing, drawing and spelling with the help of Mr. Pencil.
16. 
Camera with MP3 Player & Headphones
This camera is really cool. Owen's friend has it, and the kids had so much fun taking turns taking photos during a play date at the park a few months ago. My friend recommends getting an SD card to go with the camera.
17. unicorn snow tube
A unicorn snow tube is best for your gift recipient living in the northern part of the United States. Although with climate change, it could snow a foot in Louisiana this winter. Who knows.
18. astronaut and space scientist barbies
Yessss, STEM Barbies.
19. barbie science lab
Yessss, more STEM Barbie toys. And it's currently on sale for 53% off!