Maxi-Cosi Bohemian Blue Collection
This post is brought to you by Maxi-Cosi. As always, opinions are 100% my own.
Happy Friday, friends!
Before I get into today's post I thought I'd give you all a bumpdate. I hit the 38 week mark yesterday. Crazy, right?
You may remember last week how I wrote about my very painful sciatica. Well, I'm happy to report that my sciatica symptoms are gone. I went to a chiropractor, who specializes in obstetrics, last Thursday, and I started to feel better the next day. By Sunday I was feeling 100% better. I've gone back twice since, and I'll continue to go once a week until the nugget makes his appearance just to make sure everything stays aligned. So if you're a preggo and experiencing sciatica, I highly recommend seeing a chiropractor, especially one who specializes in OB.
Alright, on to today's topic:  I'm excited to announce that I've been asked by Maxi-Cosi to participate in their Bohemian Blue brand ambassador program. What exactly does this mean? Well, Maxi-Cosi has graciously gifted me three items (Kaia stroller, Mico AP infant car seat, Pria 70 convertible car seat) from their Bohemian Blue line to review and share my experiences with all you mamas and mamas-to-be. Trust me, I'm beyond grateful to have received these items for our nugget.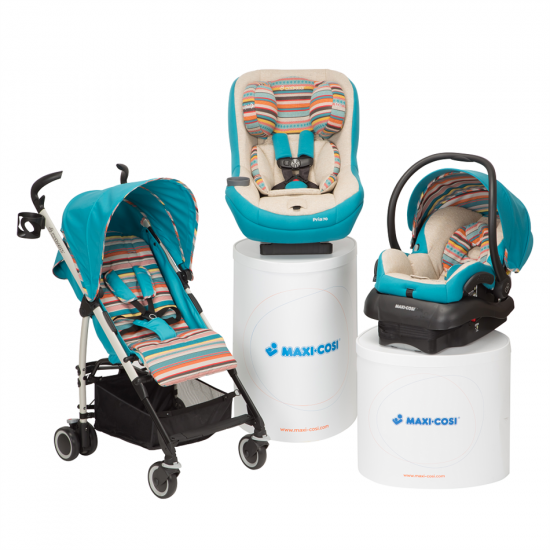 I'm really excited about this opportunity because I know how hard it is to select baby items (hello, hours upon hours of research) so I'm hoping I can help some of you with your decision making by testing out these products and letting you know my honest opinions about them.
The Bohemian Collection is inspired by hand-crafted items with a focus on tactile fabrics, playful color, and authentic patterns. I love this unique line because it has a different look than a lot of baby stuff you see out there. And not only are the products attractive, they receive top safety scores in crash tests, which is obviously more important than looks.
This post is brought to you by Maxi-Cosi. As always, opinions are 100% my own.
This post contains affiliate links.