At the end of every year, I share my favorite things. It's always a random mix of items I've purchased throughout the year, that I love and would recommend to a friend. Most of the items are great gift ideas for others. Some of the items are great to make life with kids easier. And some are great to put on your own wishlists. Or hell, buy some for yourself.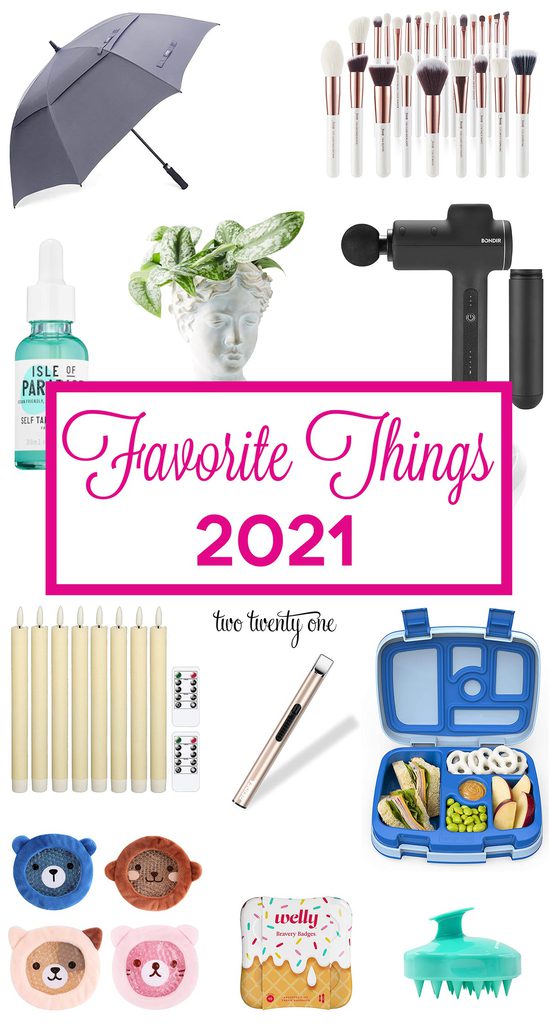 Alright, let's get into it.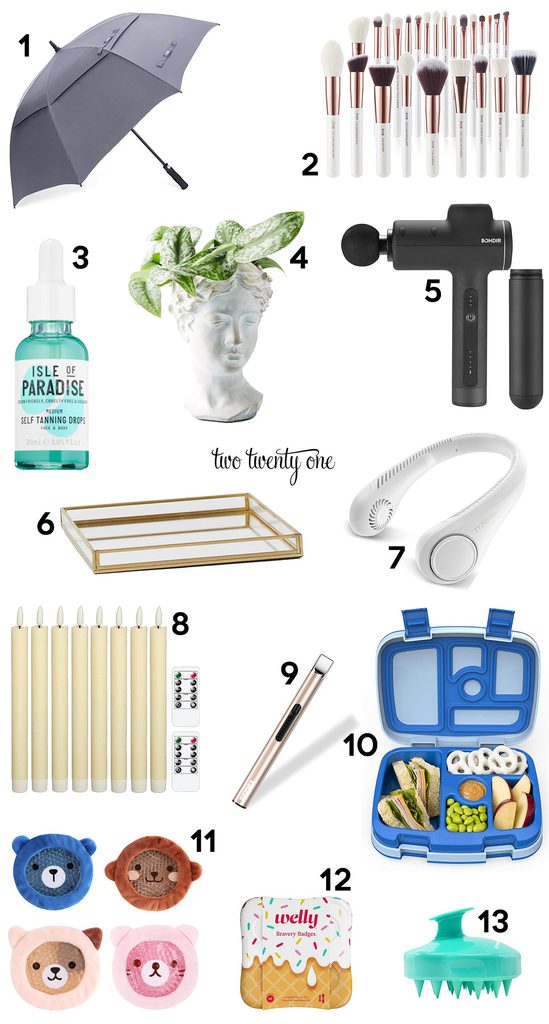 1. Umbrella
Owen rides the bus home from school, and the weather doesn't care when he's supposed to get home. So when it's pouring rain, I throw on my favorite rain coat (on last year's Favorite List), my favorite rain boots (on 2019's Favorite List) and grab my gigantic, 68″ umbrella. I typically take Owen his shark umbrella (super cute and there's tons of other designs) to use because that's what he prefers but both of us can easily fit under the umbrella together.
This thing is a hoss. Did I mention that it's a huge umbrella? It has a 5′ 8″ diameter, in case measurements in inches isn't your jam. The umbrella has a double-canopy design and fiberglass frame so it's difficult to be blown away if there's a gust of wind. Plus, it's so big, I can tilt it down against the wind and still be covered from the rain. It opens quickly with a push of a button and comes with a handy carrying sleeve with a strap to fit over your shoulder. The umbrella also dries quickly because it's made out of pongee, a silk-derived fabric. If you think the 68″ is too big, there's two other sizes– 62″ and 58″. It also comes in different colors.
I love this umbrella so much we have three— one for my car, one for Brad's car, and one we keep in the house for the bus stop. It would be the perfect umbrella to take to kids' outdoor sports when they play in the rain.
2. Makeup Brush Set
At the age of 36, I'm trying to get into makeup. For our family photos this past August, I purchased this 25 piece makeup brush set because my friend Meg, makeup blogger extraordinaire, recommended them. Do I use all of the brushes? No. But for the price, it made more sense to buy this set than to buy five different brushes separately. I'm obviously no expert, but I think they do a great job of buffing, stippling, contouring, and blending makeup on my face.
3. Self Tanner
Self tanner > sun. This is a lesson I learned in my late twenties. This year I finally picked up a self tanner. I fought it for years because I didn't want to look orange or splotchy. I've been using these self-tanning drops since this spring, and I really like them. Obviously no product is going to give a sun-kissed glow like that perfect ball of plasma, but this comes pretty close. It comes in three shades– light, medium, and dark. I use the medium shade.
I will say there's a learning curve. You add the drops to your moisturizer. Take it easy at first with only one drop. When I'm getting ready for bed at night, I put a big dollop of moisturizer in my left palm. Then, I add the drops and mix them with the moisturizer. Next, I slather the moisturizer on my face, neck, and chest to make it look like my entire upper body was in the sun, not just my face. This is 2021, not 2002, friends. Then, I take a baby wipe and carefully go over my eyebrows because I feel like the self tanner dyes my eyebrow hairs. Finally, I go to bed. The next day, I wake up with a lovely glow.
4. Bust Planter
If you follow me on Instagram, you know how much I love this Grecian bust planter. She lives on the dresser in our living room. I had my Maidenhair fern in the planter (before I accidentally drove it to near-death). While I rehabbed the Maidenhair fern, I swapped in my Pilea, and OMG she's stunning. It's such a cool look with the traditional bust planter and the modern shape of the Pilea. The bust comes in two sizes. I have both, but I find the small to be way too small. So definitely go with the large. To keep the planter from getting gross, I always put the plant pot inside another container so there's never sitting water inside the planter.
Note: The bottom of my planter has some sharper spots so I put four felt pads on the bottom so it won't scratch the dresser top.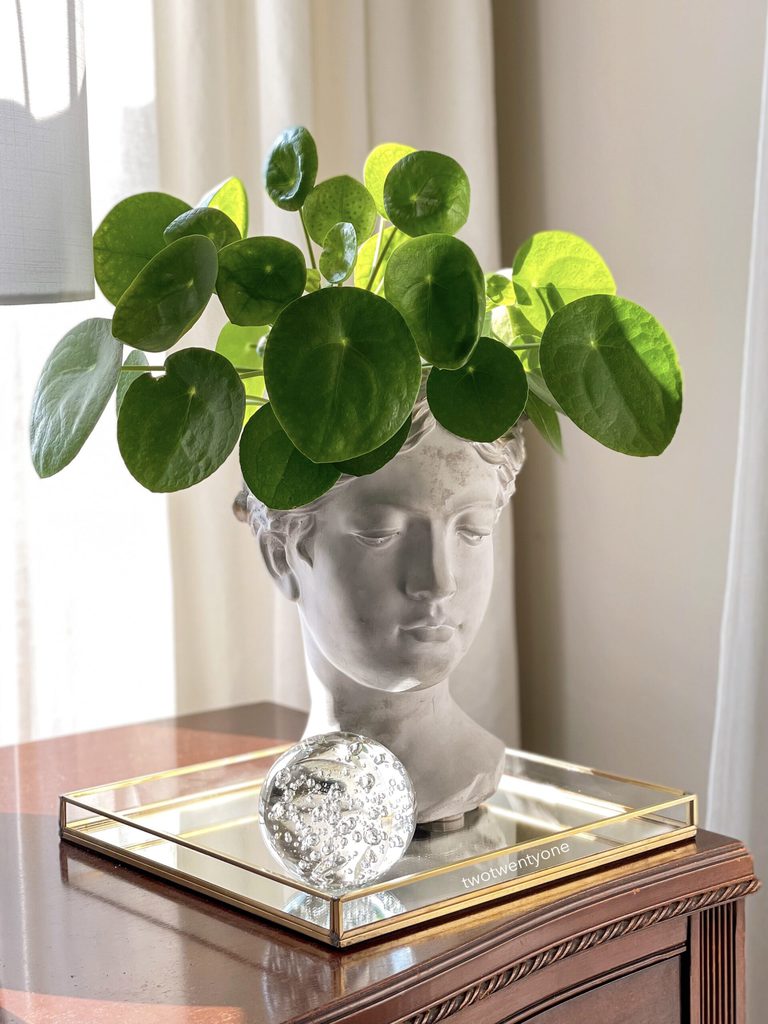 5. Massage Gun
I was blessed with two children who blessed me with back issues. Sciatica while pregnant and then a bulging disc post partum. It's super fun. I purchased a massage gun to use on my lower back and glutes in the morning, along with my morning back stretches, because my back hurts the most after laying down all night. I can use the massage gun on myself with the handle extender, but I often have Brad use it on me because I like a lot of pressure to really get into the muscles. The massage gun comes with six, interchangeable heads and a handy carrying case. It has a pretty long charge life. I bought mine from Costco, but if you're not a Costco member, you can purchase it here for a little more.
6. Mirrored Tray
As with witty coffee mugs, you can never have too many trays. It's just a fact of life. I love this square mirrored tray. The tray typically lives under the bust planter in the living room. But you could use it anywhere in your house.
7. Neck Fan
I bought Brad one of these neck fans for his birthday… and I bought another for myself. It's great for those summer days lifeguarding your children in the blazing heat. The neck fan is also great when you're trying to get ready for family photos and your anxiety has really kicked in and you're starting to sweat off your makeup. Speaking hypothetically, of course.
8. Flameless Tapers
These flameless tapers is a recent purchase but I love them already. First, they look real. I tricked many of you when I shared the tapers in my new candle holder on Instagram Stories the other night.
What makes the candles look real? Allow me to tell you. They're made out of real wax. There's a black 'wick' that looks like a real wick, but it's not real. The flames flicker so they look like real flames.
Here are the other things I love about these flameless tapers. They come with a remote. You can put them on 2, 4, 6, or 8 hour timers. And I didn't realize this at the time, but once you put them on the timer, they will come on at the same time every day. My living room tapers come on around 1:30PM and turn off 8 hours later at 9:30PM. The flames can be in candle mode or light mode (meaning they don't flicker). The brightness of the candles can be adjusted. And finally, I can have pretty tapers without burning my house down or one of my blessings lighting themselves on fire.
9. USB Lighter
These USB lighters were all the rage last year. And I thought why not try one. So I did. And I really like them. I like the compact size, compared to those clunky disposable lighters. They're also a lot more aesthetically pleasing. One con is that you have to be careful with getting wax on the arc tips. If you get wax on them too many times, it won't work any more. Another con is that kids can use them easier than disposable lighters. There's two steps involved with the USB lighter— turn the lighter on (switch on the bottom) and then shift the button on the lighter to create the arc. But it's not the same as the safety that's on disposable lighters. For this reason, I keep my lighter out of reach of my blessings. And I never let them see how I turn it on. We also talk about how they're not allowed to touch lighters. Enneagram 6, out.
10. Bento Box
I bought a bento box for Emmett's preschool lunches this year. Not because I wanted to be like those Bento box moms and make cute shaped sandwiches (although I do use this sandwich cutter sometimes) and fruits. But because he likes to eat hummus, and I was tired of saving disposable dressing and dip containers and lids from take out food to put the hummus in. Plus, I wanted to get him something that he could open and close by himself, without the assistance of his teachers. His Bento box, which is adorned with monster trucks because duh, opens by flipping up two latches. The box is leak-proof and the tray pops out for easy cleaning. And the box can fit in his classic-size Pottery Barn lunch box. The Bento box also has rubber-coated edges so it doesn't slide around on the table. I use these ice packs in his lunch box to keep his hummus cold.
11. Ice Packs
You know when kids become obsessed with Band Aids? They bump into the sofa. I NEED A BAND AID! They fall off their scooter but there's no open wound. I NEED A BAND AID. Well, this past spring I was determined to break this vicious cycle. Why? Because I was tired of having to get them a Band Aid and apply it to their skin because they don't have the fine motor dexterity to do it themselves. I was also tired of wasting perfectly good Band Aids for injuries where no blood was present. So I trained my kids that "Band Aids are for blood." It's catchy, no? I also bought these very cute ice packs. Now, when they fall off the couch, they run to the fridge freezer and grab an ice pack. We keep them in the freezer with the sleeves on because it's just easier that way.
12. Bandages
When you or your kid are actually bleeding, I love Welly bandages. They stay on so long. It's like wizardry. We love them so much Brad and I use them. I love all the cute patterns too.
13. Scalp Massager
Owen is not a fan of me washing his hair. I was almost convinced he wasn't actually my child because I love a good scalp massage at the salon. We had been leaving washing his hair up to him, but after examining his scalp this summer, I determined he wasn't doing a good enough job. But since he doesn't like me washing his hair, I came up with a solution– a scalp massager. When he's washing his hair, I have him grab the scalp massager to make sure his scalp is getting shampooed too. So far, it's worked out great.
14. 40 Ounce Tumbler
This is a write-in. I wasn't going to include the coveted Stanley 40 oz. tumbler because I didn't know it's available at multiple retailers now. I know they sell out quickly on the Stanley site and it causes anxiety. I bought Brad a granite tumbler for his birthday, and I bought a cream tumbler for myself because duh. We really like them. I love the handle. It's very convenient when I'm lugging 28 things to/from my car because why take multiple trips when I can struggle to carry everything in one trip? I also love the gigantic size. I don't have to make trips to our fridge to fill it up as often. Because of the small bottom, it fits in our car cup holders. I haven't drank hot liquids in it, but it does keep cold liquids cold. Another thing I like is that it doesn't have a rubber ring that can get all moldy and gross. If you want a couple more color options, REI has four to choose from.
15. Joggers
I'm adding these joggers to the list. My time with them has been sort, but I'm in love and I don't care who knows it. The joggers super soft, stretchy, and lightweight. I can't believe I'm saying this, but I like them more than leggings. They're made of Go Dry fabric so you can work out in them. And they have pockets! The joggers come in a wide variety of colors and prints. They, understandably, get a 4.75 out of 5 star rating (4,400 reviews). The joggers fit true to size. I'm 5'10" so I tried a pair of talls, but they looked like MC Hammer pants on me. So unless you have a very long inseam, stick to the regulars.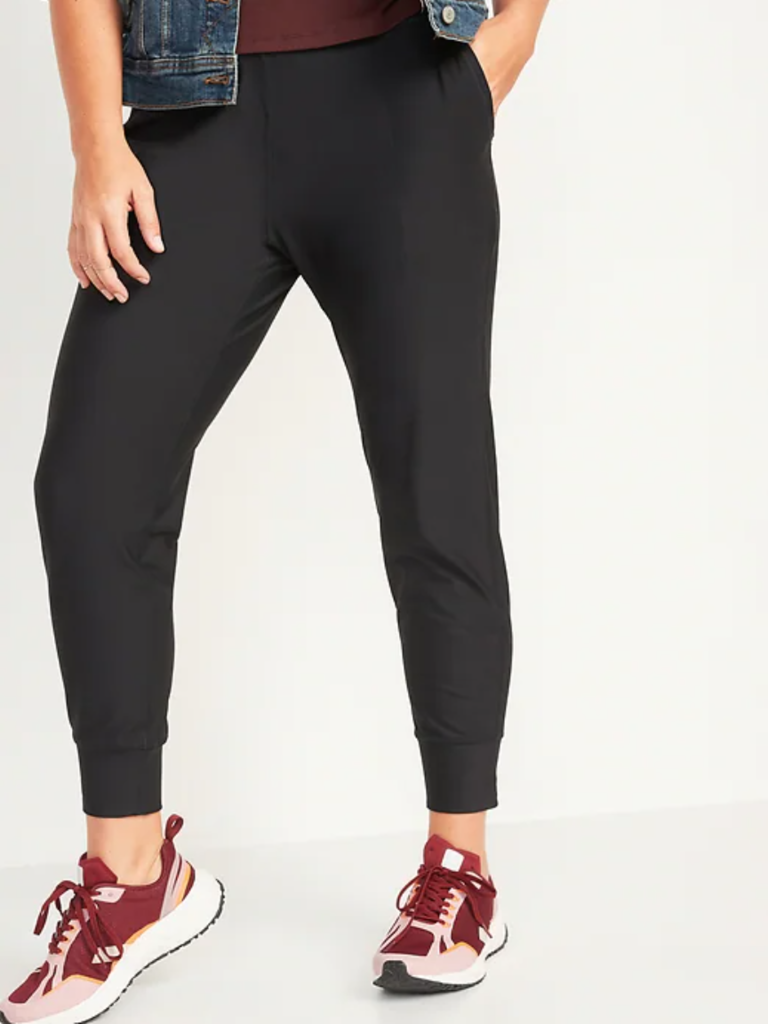 Happy Shopping!
This concludes my Favorite Things 2021. If you're looking for more gift ideas, check out my gift guides page. There you'll find all my other favorite things lists, gift ideas for kids, gift ideas for your mom and/or MIL, travel must haves, gifts for him, etc.