It's time for my favorite things 2020! This is a bunch of random stuff I loved this year. And I'm talking random. From lip balm to shoes to potting mats. So if you have no idea what to put on your Christmas list this year. I got you. Have someone else pay for you try out the stuff I like.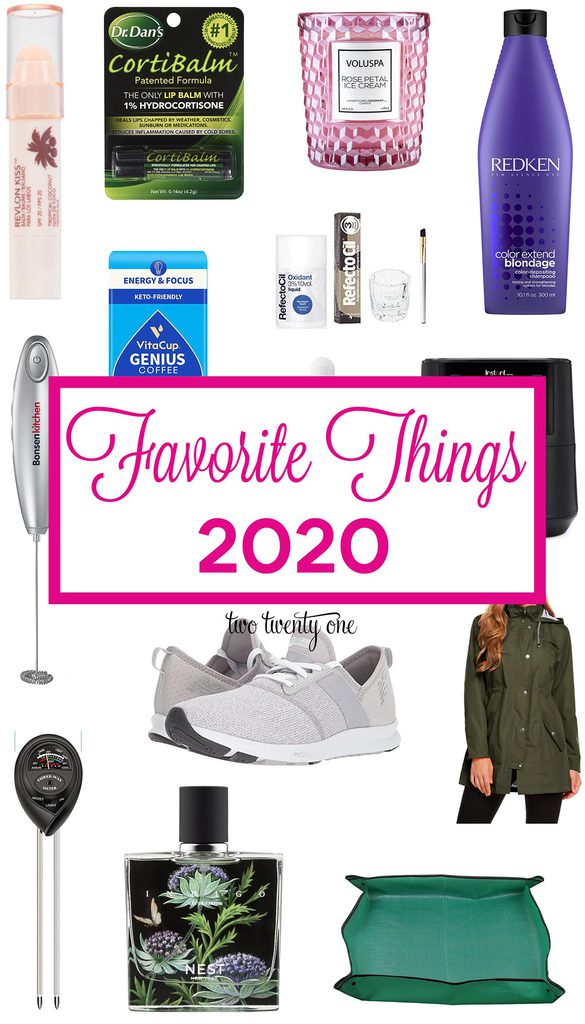 Alright, let's get this random product party started.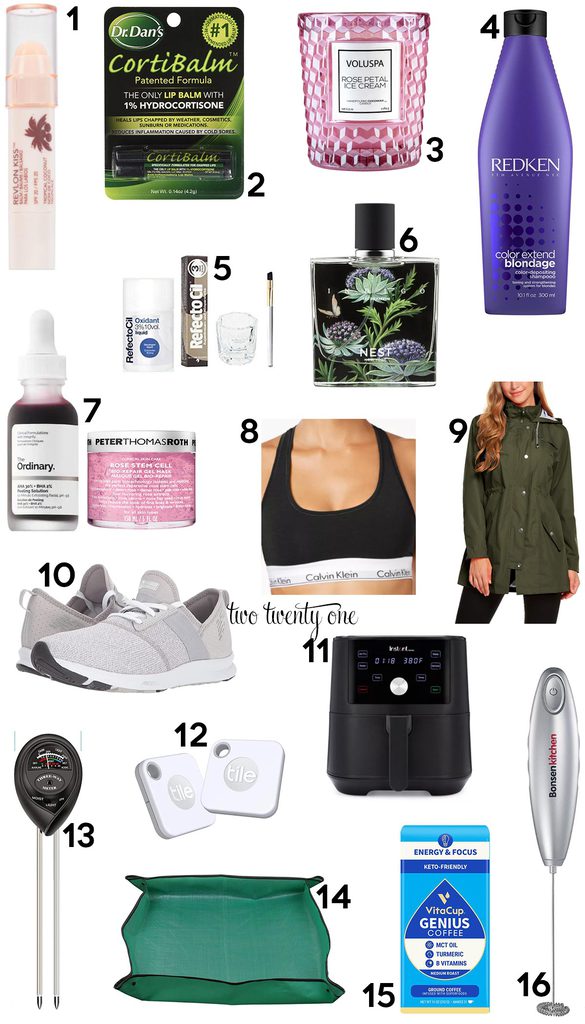 1. Lip Balm
This has become my daily lip balm. It comes in a few different shades/flavors. I've only tried the Tropical Coconut, and I love it– smells so good. It has a very subtle pink hue to it, but my lip color remains the same. The balm just gives a nice glossy look. I'm also pretty picky about how lip balms and glosses feel. This one isn't sticky at all. It also has SPF in it which is nice.
2. CortiBalm
CortiBalm is my go-to in the winter when my lips are dry. My dermatologist recommended it to me. I also tend to crack my bottom lip open when I sneeze because I'm a violent sneezer. A little bit of CortiBalm and my lip is healed in a couple days. Warning: it tastes terrible. So I have to put it on right before bed. And then I top it with the coconut scented lip balm. I only use this during the day if I'm really struggling. But the quick healing is worth the awful taste.
3. Rose Petal Ice Cream Candle
My current favorite candle. Notes of vanilla bean ice cream, tart raspberry, marshmallow vanilla crème & sugared rose petals. It's a very girly scent. I read an online review that said, "Smells like my childhood cereal Captain Crunch, berries, roses, unicorns and heaven." I concur. The candle is coconut oil based which burns cleaner than soy, which is a bonus. This size is the most bang for your buck. But if you just want to try it out, I'd go with this size. Plus, it comes in a pretty container that you can keep and reuse.
If you're looking for something to add to your gift stash (everyone has a gift stash right?), I recommend getting this trio set (my fave two scents are included). I like to separate the set and add an individual candle to a gift. Or you can gift the whole set to someone so they can sample three different scents and keep the containers as tea light holders. When the trio set is on sale, you end up paying a little less than $10 per candle.
I bought the trio when it was on sale a few months ago to sample two other scents, and I really love the Rose Otto. It smells just like roses, but not in a grandma kind of way. It's perfect for spring/summer.
4. Purple Shampoo
When everything shut down in March, I was in desperate need of a highlight. My highlights were starting to turn rather brassy because we have hard water. I remembered my stylist recommending this purple shampoo the last time I saw her. I love it. It keeps my highlights from getting brassy. I only wash my hair once or twice a week (hello, naturally curly hair), so I just mix in a little bit of the purple shampoo with my regular shampoo once a week. Warning: a little goes a long way with both shampoos.
5. Eyebrow Dye Kit
I started dying my eyebrows at home about a year ago. My journey began with Just for Men Beards, but I've since upgraded to this eyebrow dye. All you have to do is mix it up and paint it onto your brows. I leave it on my brows for about 5 minutes. Tip: set a timer on your phone. If you're worried about the dye staining the skin around your brows, put on a little petroleum jelly with a Q-tip around your brows. It'll act as a barrier. I like dyeing my brows because then I don't have to fill them in as much.
6. Perfume
I'm not a huge perfume person, but I decided to try out Indigo by Nest, and I love it. Notes of Italian lemon, orange bergamot, Moroccan tea, Kashmir wood, and wild figs from the south of France. Note the wild figs are from the south of France. That's important to me because I don't know about you but I can really smell the difference between figs grown in the south of France and figs grown elsewhere. I always get compliments on it when I wear it. It's probably the wild figs from the South of France. The perfume is sold at Sephora so if you want, you can go in-store and smell it and ask for a sample before buying.
7. Weekly Face Peel and Mask
I wrote about these two products in my favorite skin care products post, but I wanted to highlight them again. I try to use the peel followed by the mask at least once a week– twice a week is my goal. First, I put on the peel for 10 minutes. Then, I wash it off and put on the stem cell mask. I leave it on for 3-4 hours, washing it off before I go to bed.
My favorite skin care products post is another good resource for gift ideas.
8. Bralette
I lived in these bralettes this summer. I'm still living in them and intend to continue to do so. Super comfortable. Great for wearing around the house. I sized up one size for a looser feel.
9. Raincoat
I actually bought this raincoat last year, but I never shared it. It comes in an array of colors. Sizes S-XXL. I have the green. The lining is really cute. It's TTS, although I wish the sleeves were a little longer. I liked it for running in to pick up Owen from preschool when it was raining. So much handier than fighting an umbrella while carrying Emmett. Other moms would often compliment it and ask where I got it.
10. Everyday Shoe
I've had these shoes for almost two years, but like with the raincoat, I don't think I've ever shared them. They're my go-to everyday shoe. My gray pair is my go-to, but I have three other pairs in different colors. They come in a bunch of colors and patterns. Sizes 5-12, regular and wide widths. I feel like they run a smidge on the big side, so I'd size down a half size. I wore them all around Disney World (35 miles in 4 days) in February with no issues. You can get them from the New Balance site or Zappos. Both offer free shipping & return shipping. The all black version of the shoe is on sale for less than $35!
11. Air Fryer
When we were in the lockdown phase earlier this year, my kind friend Brandie surprised me with an air fryer. I really like it. The kids' chicken tenders are no longer soggy. Our sweet potato fries are crispy. I bought this air fryer cookbook. It's great. My favorite recipe is the broccoli au gratin.
12. Tile
I lost a key fob to my car or Emmett hid it somewhere. Either way, it's missing and the replacement fob costs over $100. I only have one key fob left, so I invested in a Tile. Attach the Tile to your keys, download the app, do the setup, and you're ready to go. To find your keys, open the app, hit the "find" button, and the Tile attached to your keys will ring. Fingers crossed the other fob shows up so I can slap the other Tile on it. They also make Tile stickers for remotes and a Tile for your wallet.
13. Moisture, Light, pH Meter
A moisture, light, and pH meter is a houseplant must have. I really only use it for the moisture meter aspect. Stick the meter 2″ into the soil. If the top 2″ of soil is dry, it's time to water. I water most of my plants when they're at the 3-4 mark. Make sure you don't measure in one spot, I usually stick the meter in three different spots in the soil. Seriously, if you're struggling with your houseplants, buy this meter.
14. Potting Mat
I love this foldable potting mat. I use the mat inside and outside when I'm potting or repotting plants. It keeps the dirt and mess contained. Then, I can take it outside and shake off everything when I'm done. When I'm not using the mat, I fold it up and store it in a bin.
15. Coffee
I decided to try VitaCup coffee after my friend Carmel posted about it. She said she noticed a bunch of new growth with her hair. At the time, I was losing a lot of hair, so I was willing to try anything. I don't know if I can attribute this entirely to the coffee, because I'm also taking a multi-vitamin and biotin, but I have noticed less hair shedding when I run conditioner through my hair in the shower. And I've noticed patches of hair that's 2″ long that I never noticed before. The coffee also tastes really good. It's pricey, but I only drink 6 ounces a day. Plus, if it's helping my hair, I'm willing to pay the price.
16. Milk Frother
I'm sure a lot of people are going be all "really, Chelsea, a milk frother?" And yes, really. I don't know what took me so long to invest in a milk frother. I use it to froth my creamer and half and half (I do a little of both). It definitely ups my coffee game and makes me feel like a fancy lady. Bonus: I can mix chocolate syrup into the kids' milk at warp speed with the frother.
This concludes my favorite things 2020. I hope you found a gem or two from this well-rounded list.
Need more Christmas list inspiration? Check out all of my gift guides HERE. And my favorite skin care products post is another good resource for gift ideas.