When I was little, I thought it would be so cool to have a bedroom fireplace, surrounded by Tiger Beat magazine posters of Devon Sawa and JTT. Because duh. And as a 35 year old woman, that dream has finally come true— minus the Devon Sawa and JTT posters. But I'm not ruling that out entirely.
The sitting area in our primary bedroom is perfect for a fireplace. This is how it looked when we moved in.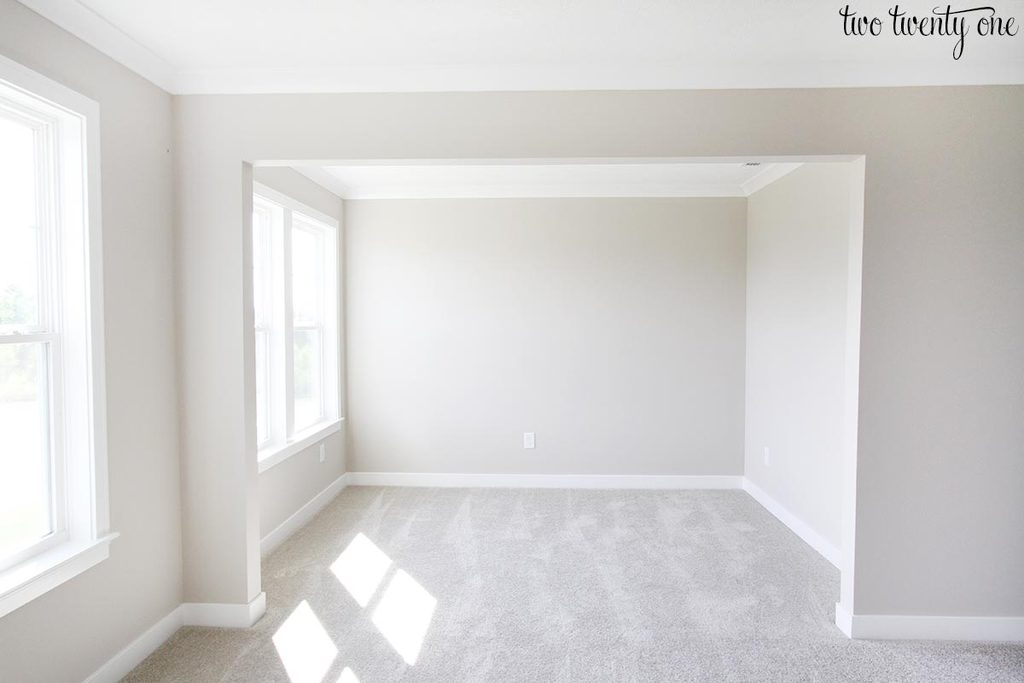 You may remember this summer when I had to turn the sitting area into Brad's home office because he's working from home for the foreseeable future.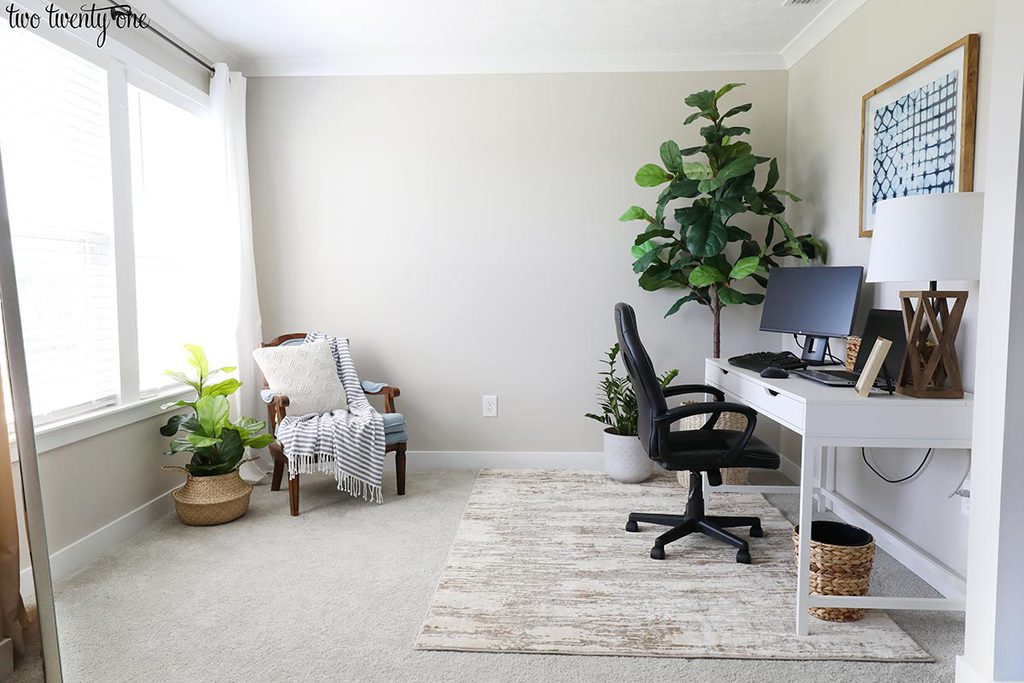 Determining the Size
But that didn't stop me from still wanting my fireplace and at least one nice chair to sit in. So in September I started eyeing and researching electric fireplaces. My goodness they have come a long way. I was debating between two different fireplaces, so I measured out the dimensions of both on the wall and marked them with painters' tape. I like to do this before any big purchase. I'll mark the dimensions of a chair on the floor, a piece of art on a wall, a rug. It's my biggest tip for figuring if something is going to look right in a space. So commit that to memory– mark everything out with painters tape first.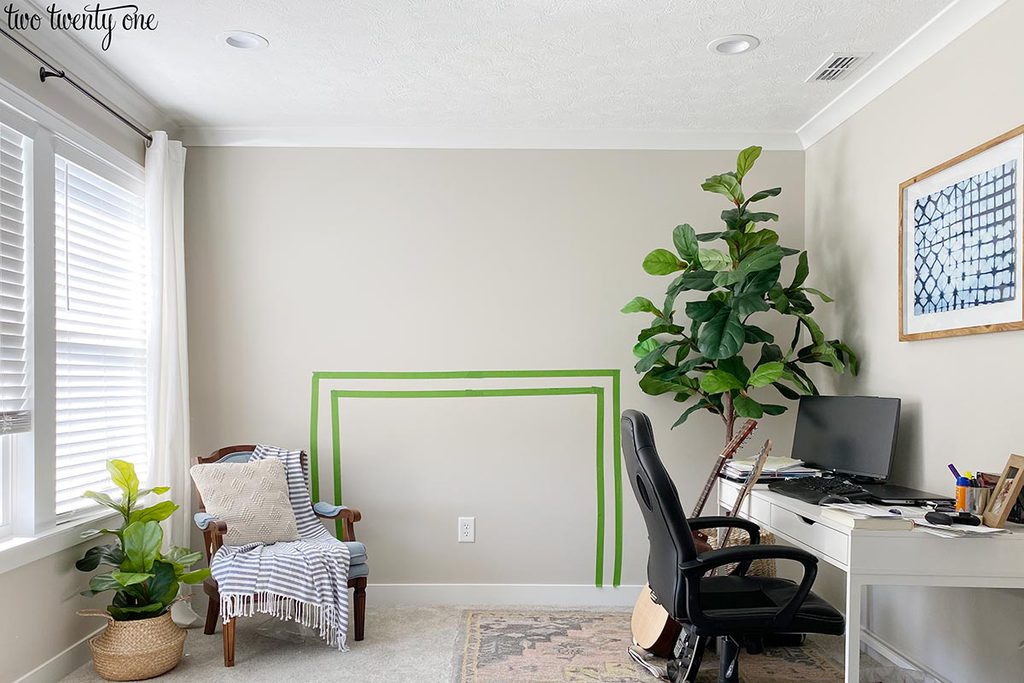 See, I even marked the bottom of the fireplace and my potential chair.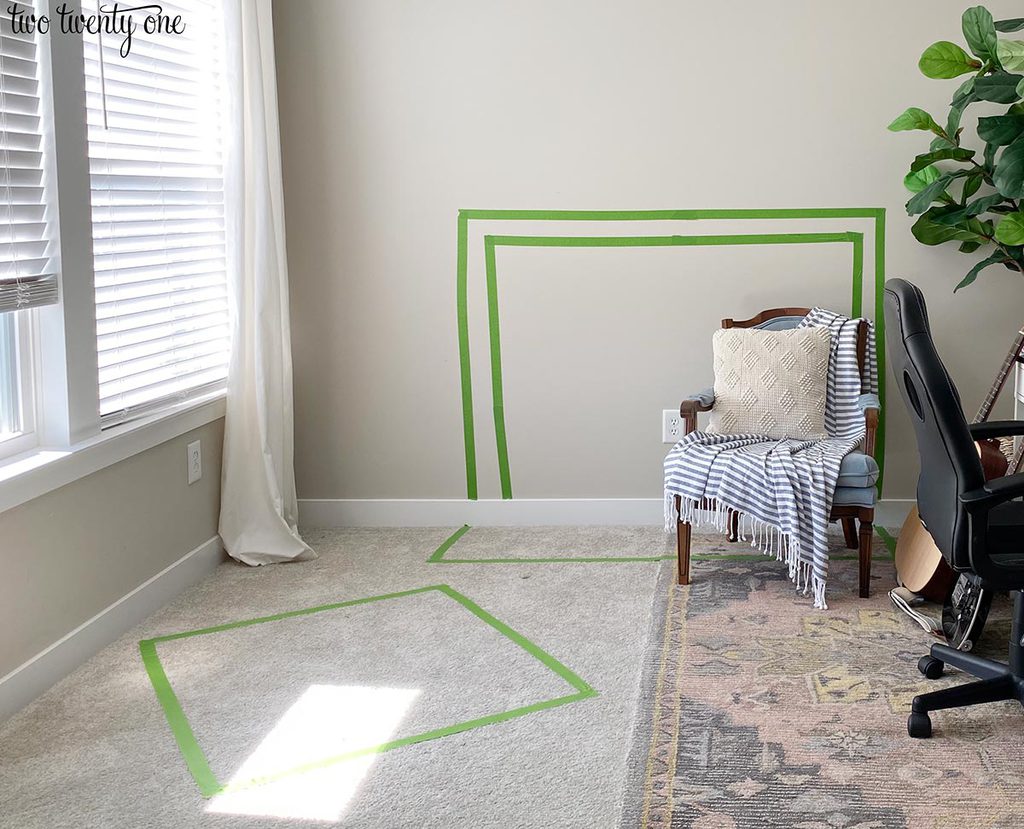 Harlan Grand Fireplace
I ended up choosing the Real Flame Harlan Grand fireplace in white. (It's also available here! Plus there's a 15% coupon right now.) I wanted something substantial in size and with a timeless look. I bought the fireplace from Target.com because I had a bunch of gift cards stacking up from previous Christmases, and I could use my RedCard. I saved $175 with the gift cards and $31 with my RedCard. So in the end, I dropped $650 on the fireplace, which isn't terrible IMO.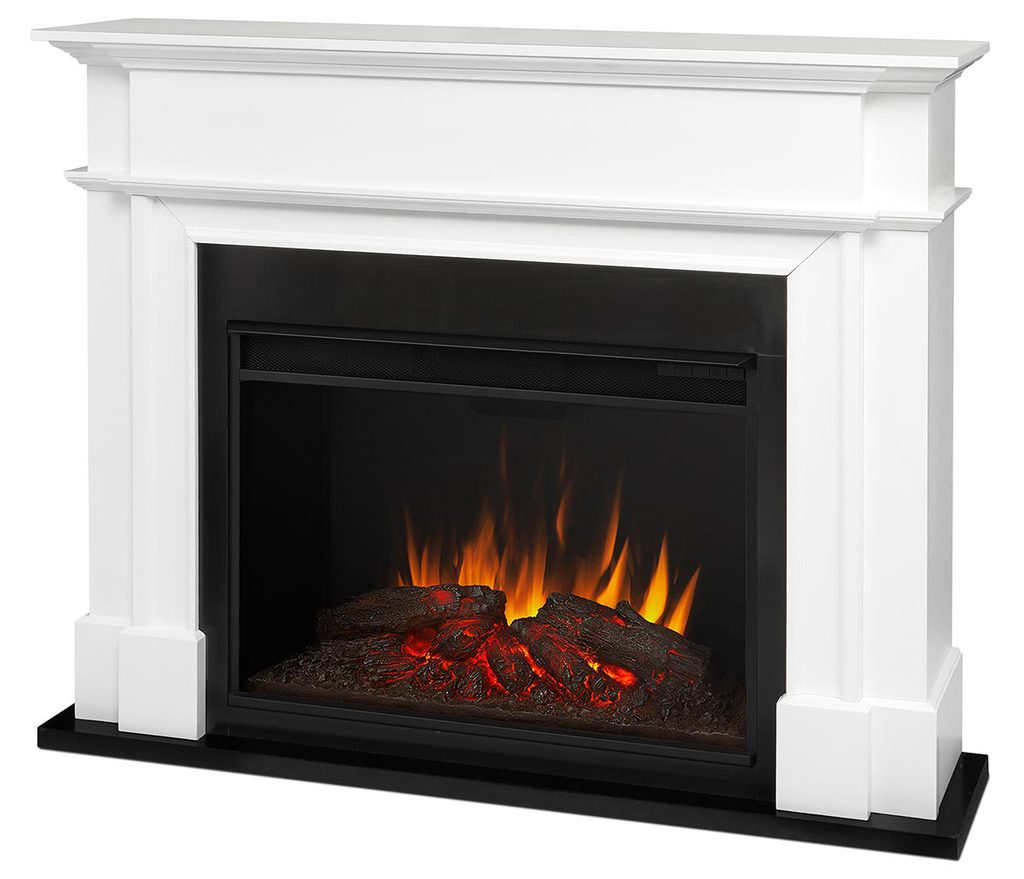 And here's the new bedroom fireplace in the sitting area with the new comfy chair and Brad's desk.
You may also recognize the Target clearance section basket turned side table. A week ago I shared on IG Stories how I cut off the handles and flipped it over to turn it into a table.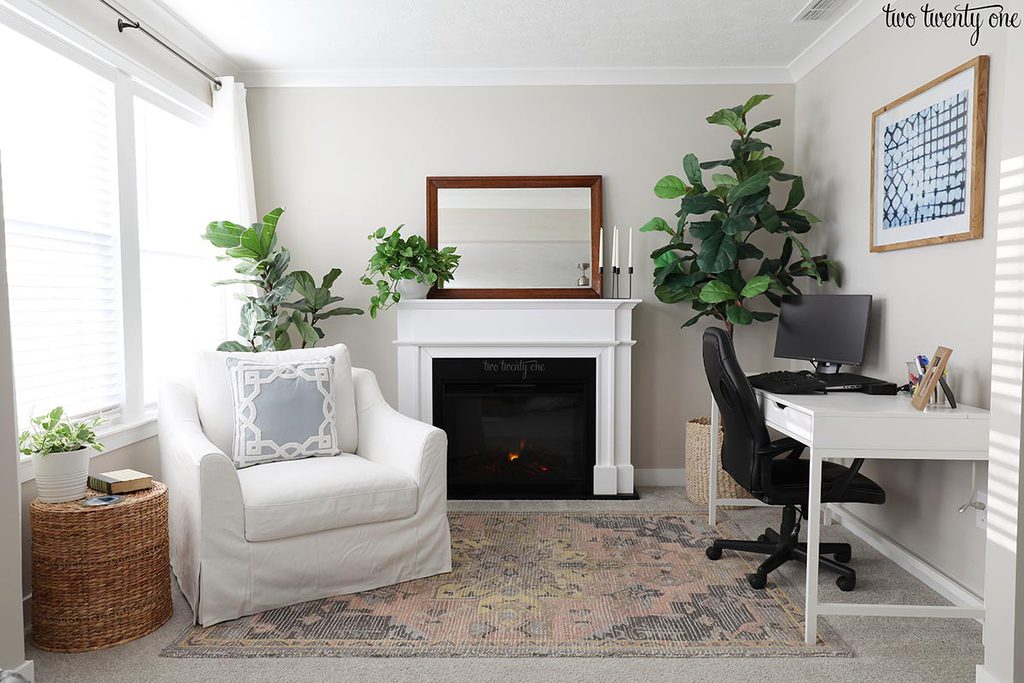 Lots of Features
We even cut out the baseboard so the fireplace could sit flush with the wall and appear more realistic. Don't worry, I'll share a blog post showing how we did all that.
The fireplace comes with a remote with a bunch of options. The heat function can be turned on or off. Uh, hello cozy fireplace on summer nights with the air conditioner blasting. We can also adjust the flames. There's even a timer. Like I said, these electric fireplaces have come a long way in the past five years or so. I'll share a video on Instagram Stories of the fireplace in action.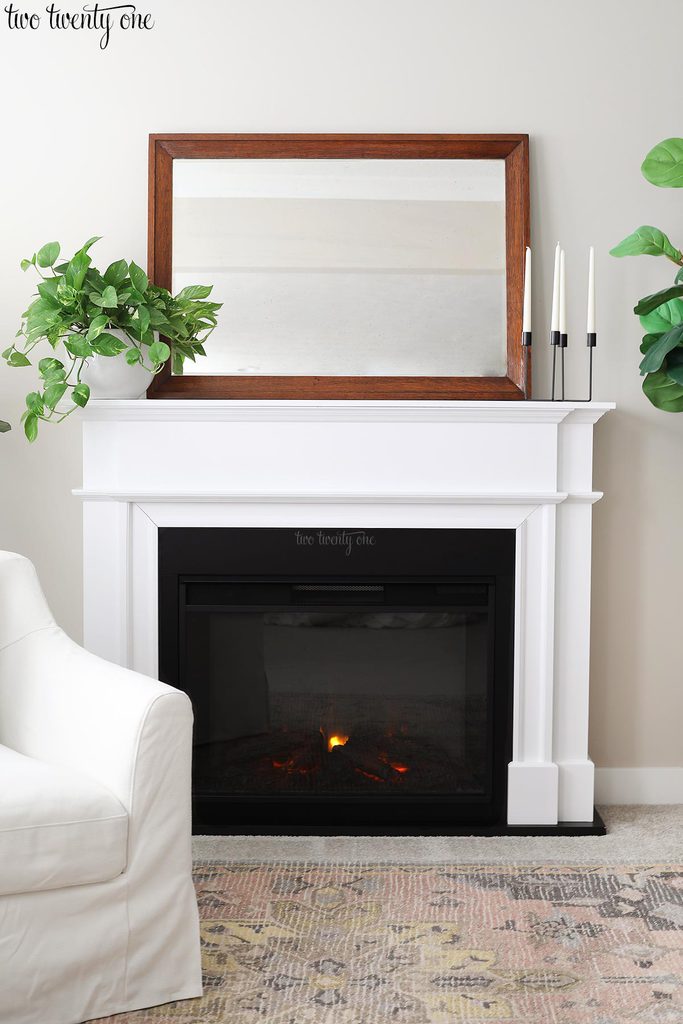 Decorating the Mantel
If you follow me on Instagram, you probably saw the antique dressers I was cleaning up and re-finishing in the garage back in September. Both dressers came with mirrors, so I took the hinges off of this one. Now it's my bedroom fireplace mantel mirror. And because it's so old, the mirror has started to silver, giving it the mercury glass look. You can kind of see that in the photos. So much more character than a brand new mirror.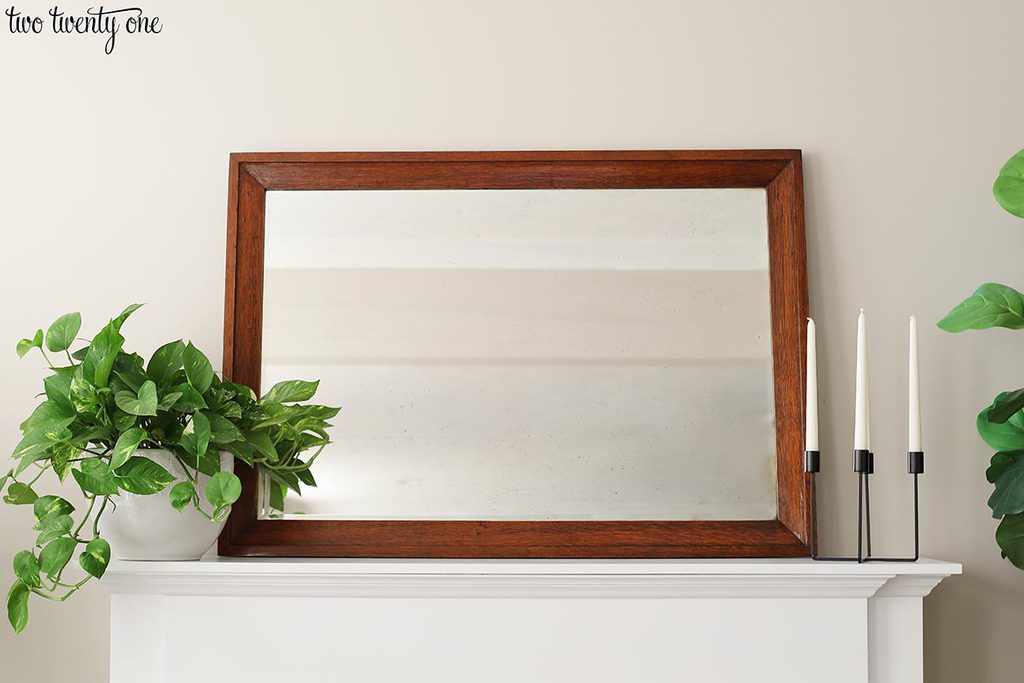 The mantel is also the perfect spot for my golden pothos. Pothos are notoriously easy houseplants. So if you're wanting to get into houseplants, I recommend starting with a pothos.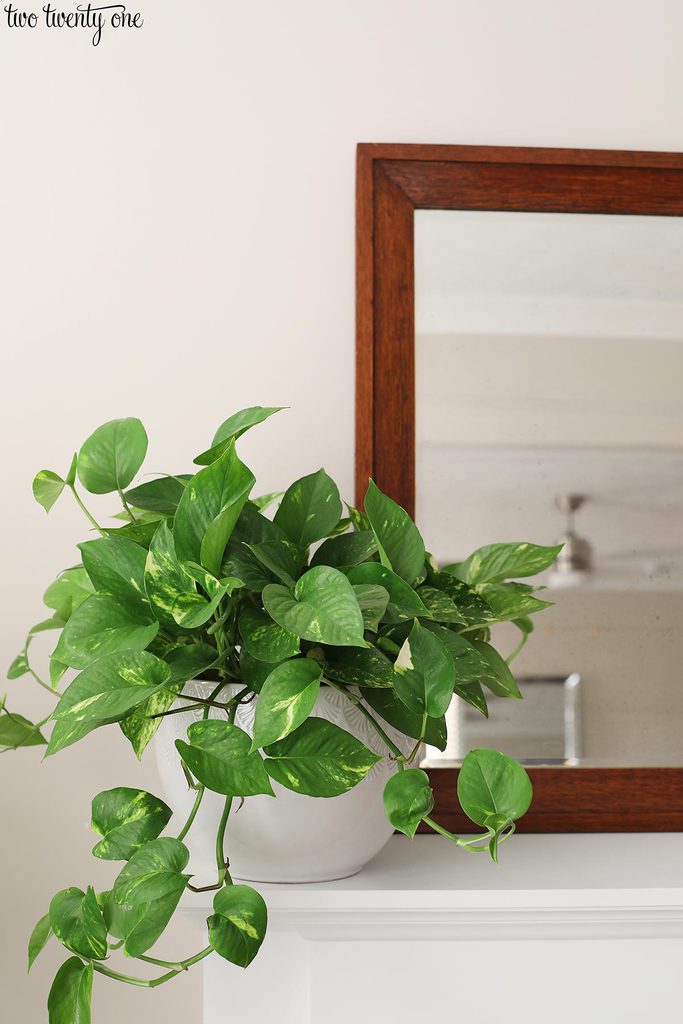 The Comfy Chair
I wanted to add a comfy chair to the sitting area, but I didn't want to spend a ton of money. After grilling Chelsea about her chair, I dragged Brad to IKEA and bought the last two Farlov chairs in stock. But they only had one chair slipcover in stock. So I tracked some down and asked my friend Rachel to buy one at her IKEA in Seattle and ship it to me. The other chair is currently living in our loft because it can't fit in the sitting area with Brad's desk. And I may end up not putting it in there because now I'm not convinced two would look good in there.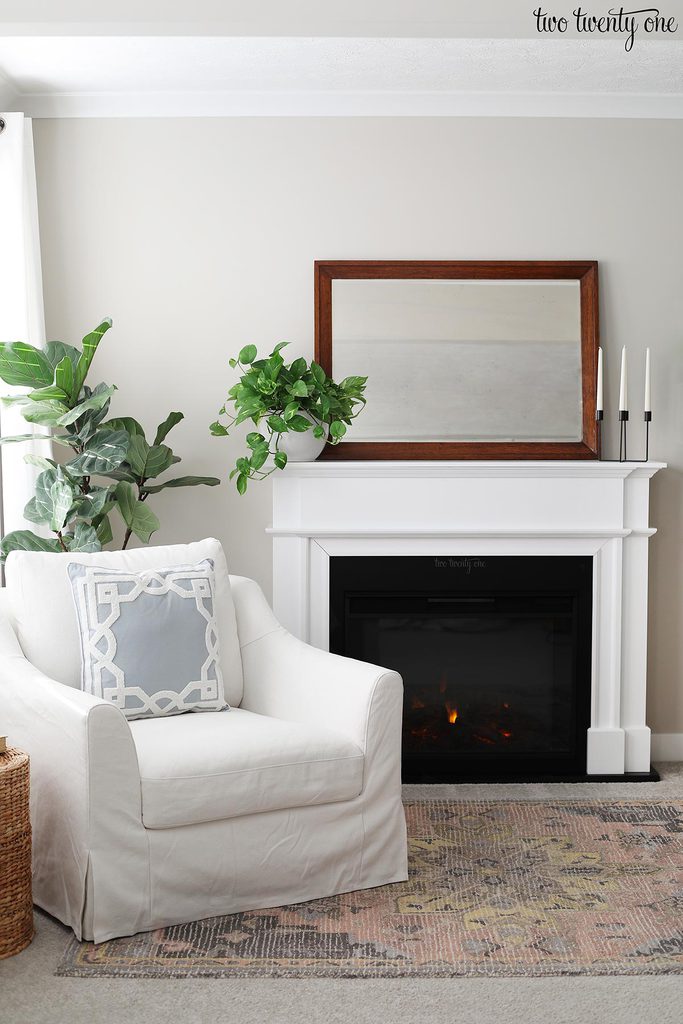 Brad still works on this side of the room every day. I mean, how many people can say their home office has a fireplace?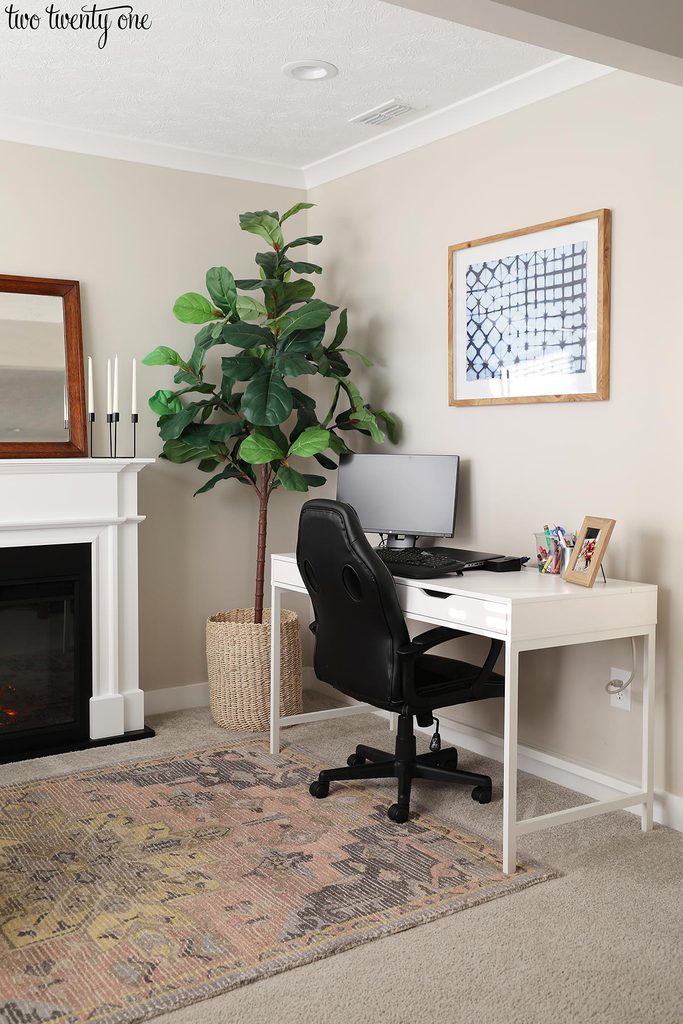 Owen's Bedroom Fireplace
Allow me to end with this cute story. After we assembled the fireplace, Owen said he wanted a fireplace for his room. So I fashioned him one out of a box. Then, he decorated the mantel with a photo of him and Emmett, a gourd and a pumpkin, a soccer trophy, and the fireplace "remote" he made out of Erector set pieces. I added the festive jack-o-lantern garland. But we need to swap out the fall stuff for Christmas now. I still need to craft some flames out of construction paper, and it'll be fully functional.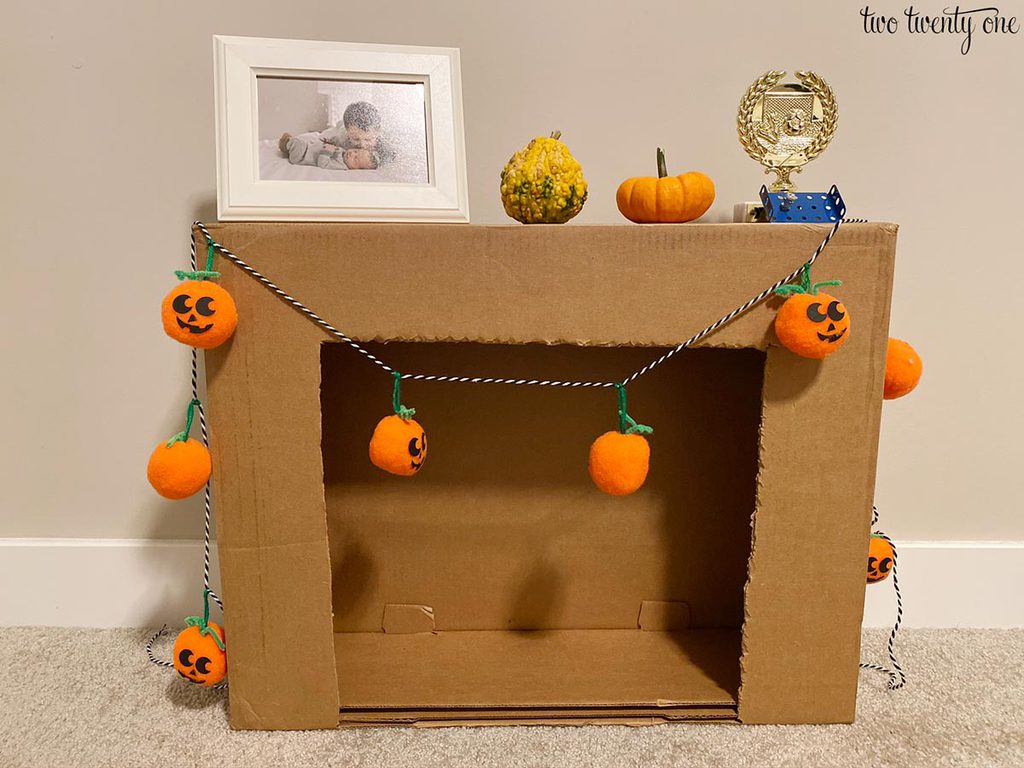 Sources
fireplace … here, here, here, here
mirror … antique
candleholder … H&M
planter … HomeGoods
pothos … Home Depot
chair … IKEA Farlov
side table … Target
rug … Target
desk … IKEA
chair … I don't know. It's not attractive anyway.
wall art … Target
7′ faux fiddle leaf fig … Pottery Barn
faux fiddle leaf fig basket … Target