White and Silver Christmas Tree
Yesterday I shared our main bedroom sitting room fireplace. And you know I couldn't have a new space in our house and not decorate it for Christmas. So I added a white and silver Christmas tree. Because that's my business.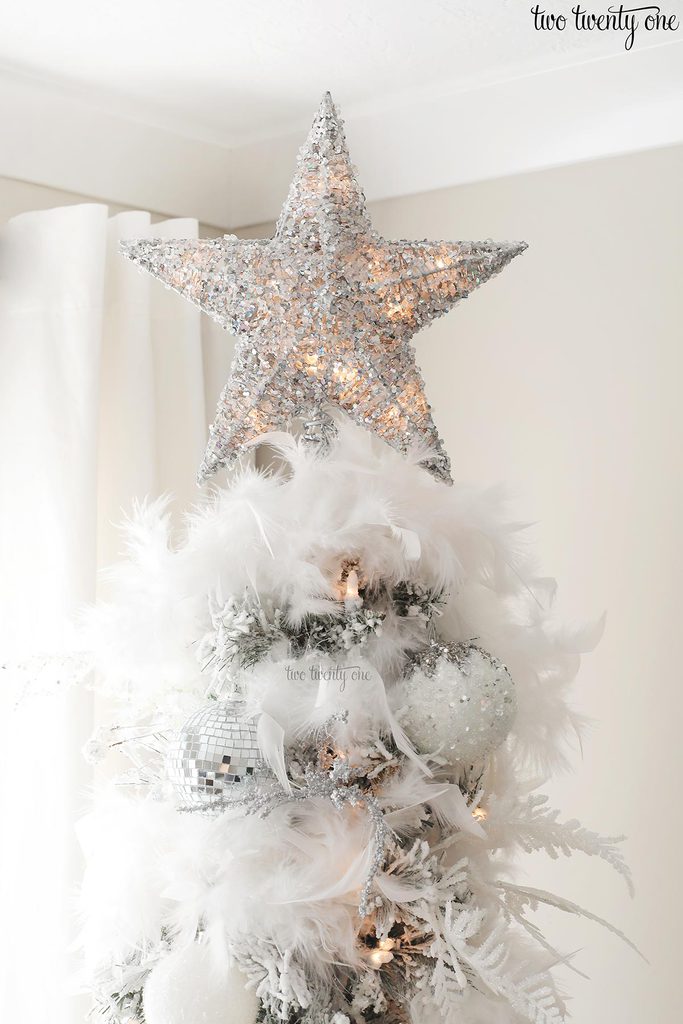 White and Silver Christmas Tree Inspiration
The white and silver Christmas tree was inspired by the glam Christmas tree I created a couple years ago. And by 'inspired' I mean I took most of the things that I used on the glam tree and used them on this tree. That's because I'm trying not to buy new Christmas decor this year and use what I already have.
I think this tree is very 'Chelsea in 20 years without children in the house'.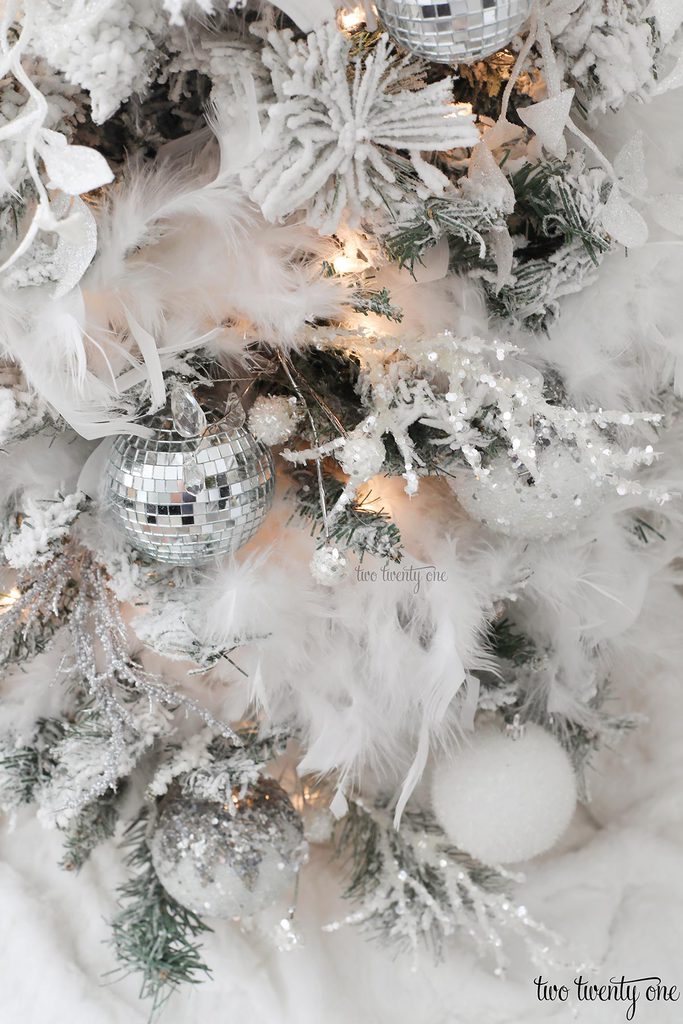 The Tree
I scored this 7′ slim flocked tree for $80. And when it showed up on our front porch (two days early), Brad found it and was all, "You bought another tree?" I, of course, played dumb. But it didn't work. He's since come around to it and appreciates the tree being the backdrop of his work video meetings. 
The tree skirt is a piece of faux white fur from JoAnn Fabric. To give it some body, I shove plastic bags underneath. I doubt Martha Stewart implements that technique.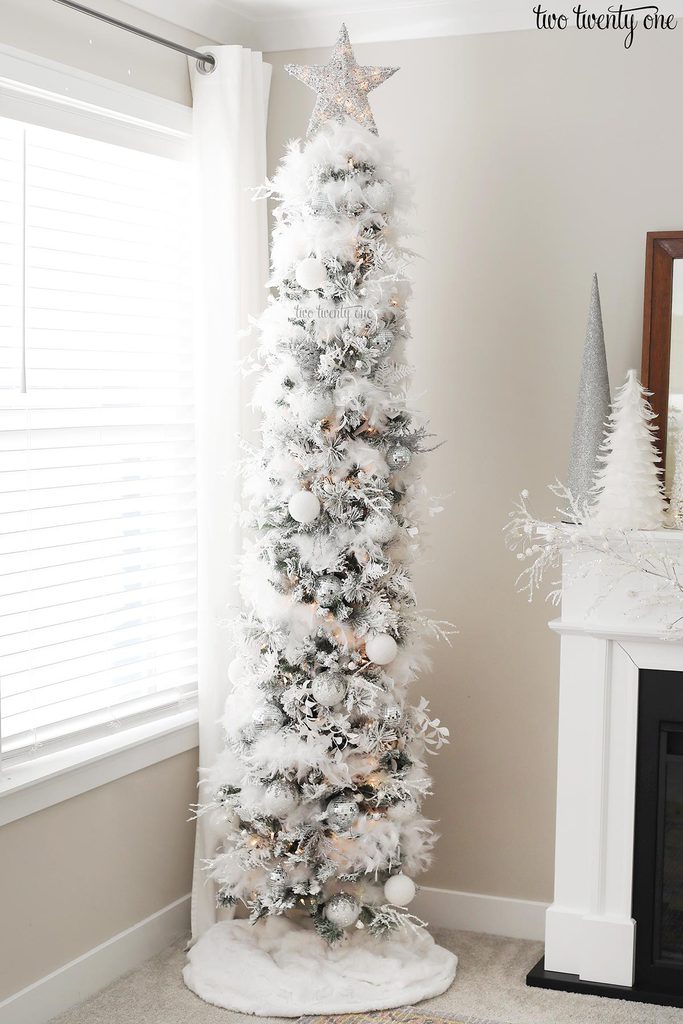 The Decorations
The tree is adorned with feather boas, disco ball ornaments, white and silver ornaments, snowball ornaments, and various white and sparkly picks. I even took apart a garland I had to create some of the picks. Again, using what I already have this year.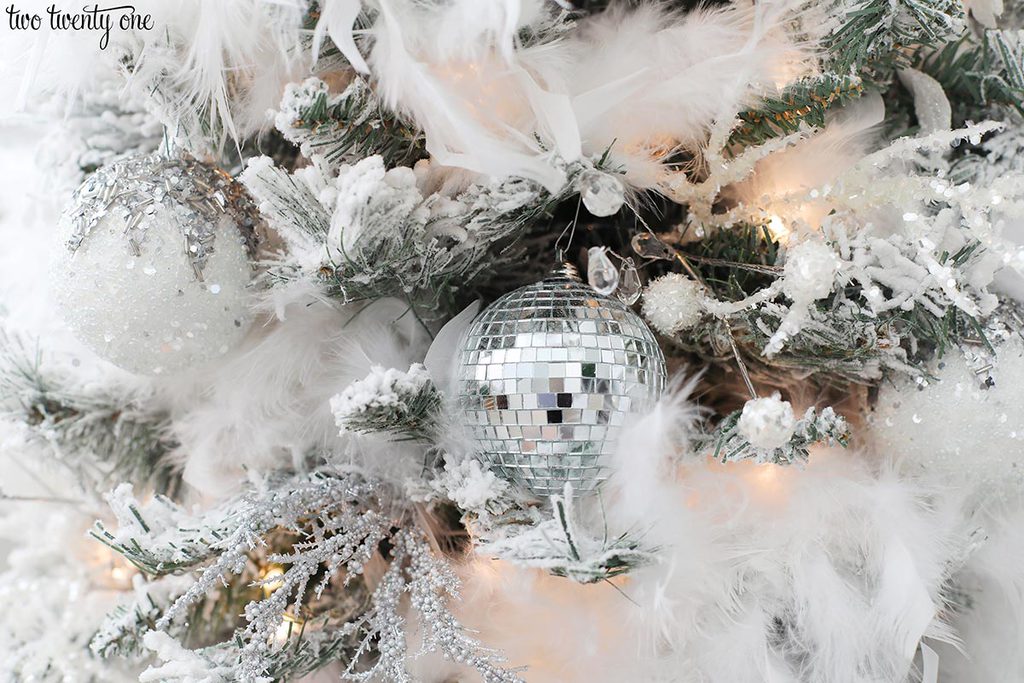 I love how the feather boas look like snow on the tree. All I do is cut regular feather boas into smaller sections. At night the lights glow through the boas. It's very pretty and rather romantical.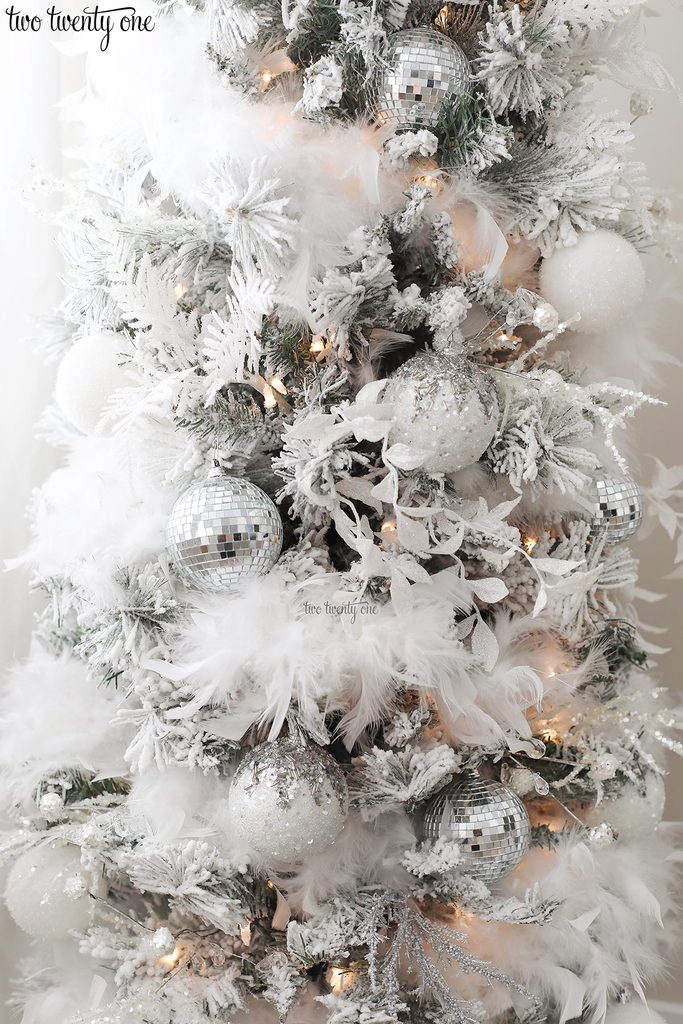 After sending a photo of the tree to a friend, I said, "Why do I always turn into an extra AF 65 year old woman when decorating my Christmas trees?" It's an odd phenomenon. I see a Christmas tree, and my brain screams "More! More! More!" See my peppermint Christmas tree and red and white Christmas tree for examples.

I can't wait to share the rest of this decorated space with you. Brad has the fanciest Microsoft Teams background of all his colleagues. Just saying.
Sources
star topper … Kohl's, circa 2008
feather boas … Walmart, Amazon, Michael's
disco ball ornaments … AtHome — similar
white and silver ornaments … AtHome
snowball ornaments … AtHome — similar
tree skirt … JoAnn Fabric
I'm teaming up with Stephanie from Casa Watkins Living for a Christmas Tree tour. Colleen from Lemon Thistle is the next stop. But be sure to check out all the gorgeous Christmas trees in the tour.

Monday:
Casa Watkins Living // Up To Date Interiors // Taryn Whiteaker Designs // Cherished Bliss // Thou Swell // Cassie Bustamante
Tuesday:
The DIY Mommy // PMQ for Two // Jeweled Interiors // Kate Decorates // Banyan Bridges // Making Home Base
Wednesday:
Monica Wants It // House of Hipsters // Cuckoo 4 Design // Delineate Your Dwelling // Lolly Lane // Mango Manor
Thursday:
Two Twenty One // Lemon Thistle // Iris Nacole // Au Petite Salon //  Whispering Pines Homestead
Friday:
The Handmade Home // Our Fifth House // Tag & Tibby // Daly Digs // House Homemade // Love Your Abode