Kids Christmas Tree and Playroom Wall
I've been decorating a small kids Christmas tree in our playroom for a few years. It's an easy and fun way to add some Christmas cheer to the space. I also decorate the wall behind the tree because it's the only area of wall in the in playroom— the other walls are covered in windows or a half wall.
I teamed up some of my talented blogger friends who are also sharing their fun and festive spaces for two days of my annual Holiday Home Tour – Kids Edition. Please be sure to check out all the adorable kid spaces and trees decorated for the holidays at the bottom of the post. And if you're stopping by from Bright Green Door, hello! You can read more about me here.

Kids Christmas Tree
First, this is our "pretty" kids Christmas tree. If you'd like to see the Christmas tree Owen, age 6, decorated in his bedroom, click here. Owen helped me decorate this tree in the playroom, but he has free creative license when it comes to the tree in his bedroom.
This kids Christmas tree is a 4 foot, pre-lit white tree.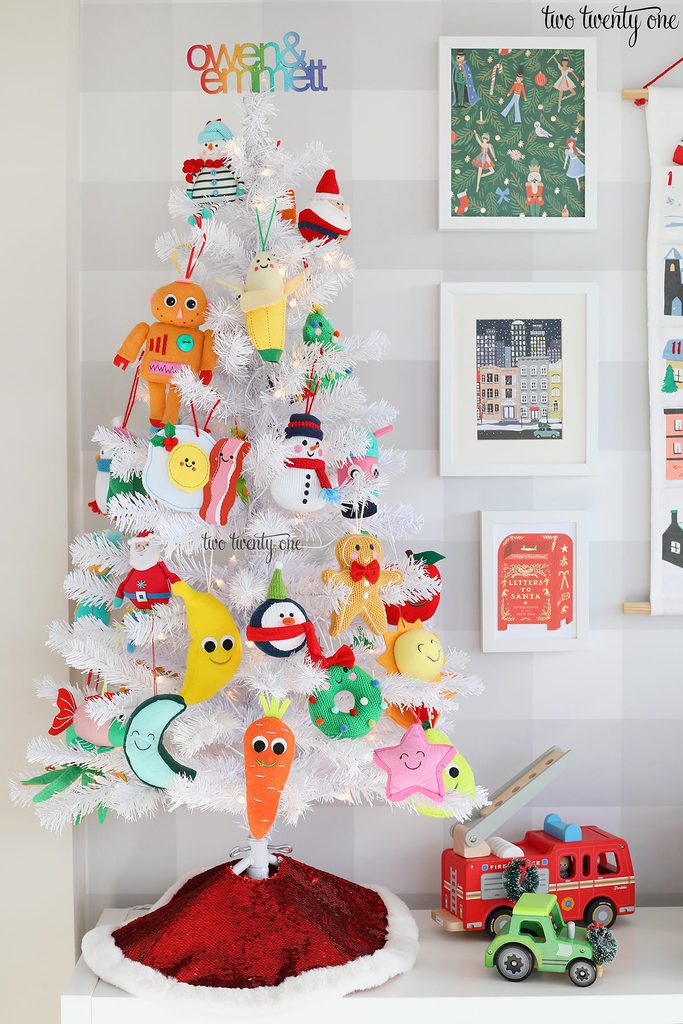 Colorful Ornaments
I love colorful ornaments on a white Christmas tree because they really pop. And with kids, it helps if they're kid friendly soft and unbreakable. Almost all of the ornaments on our kids Christmas tree are from the Target Wondershop line. I've been collecting them for years. If you spot some you like, buy them. Because the really cute ones sell out quickly, and I've never seen them bring back designs the following year.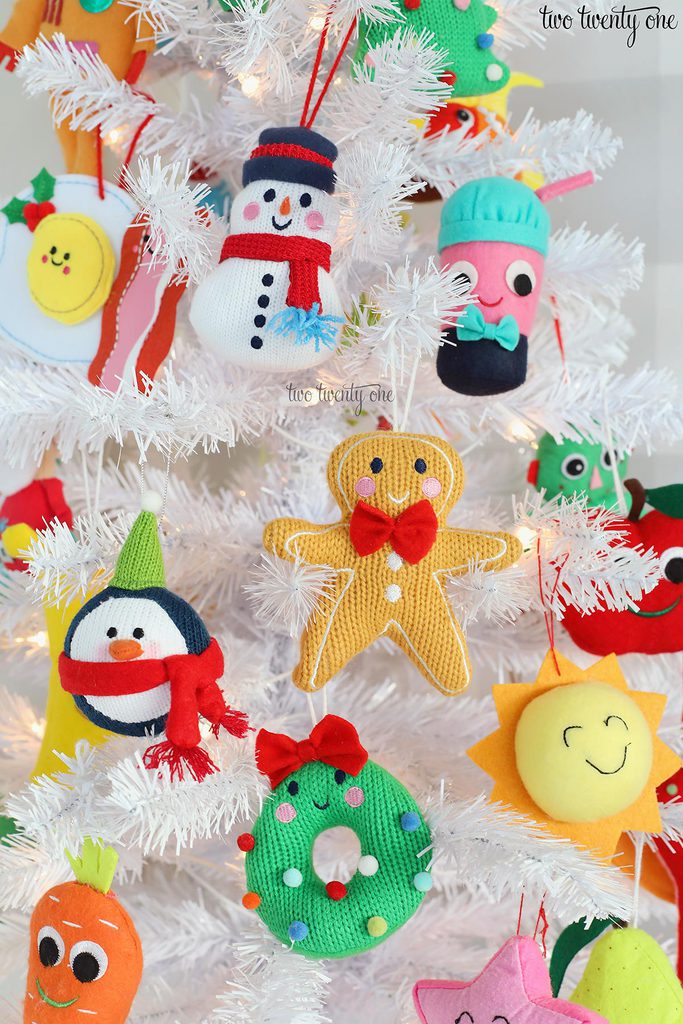 Custom Tree Topper
Two years ago, I asked my friend, Jacque, if she could make a tree topper of the boys' names. She made me an awesome red tree topper, and started selling them in her Etsy shop. She sells them unfinished, painted in a variety of colors, and now she offers rainbow. Jacque graciously sent me a rainbow tree topper this year. Isn't it adorable? It's so much more special than a star.
CLICK HERE TO BUY A PERSONALIZED TREE TOPPER!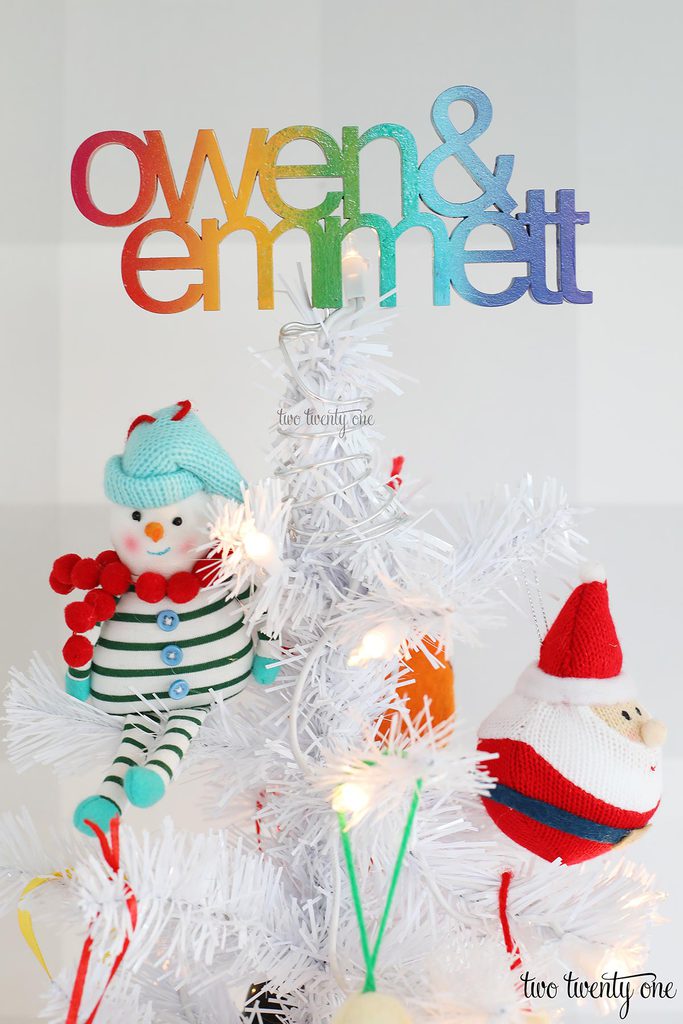 Christmas Wall Art
Last year, I added this peel and stick wallpaper to this slice of wall. And adding some Christmas wall art is a great way to bring some holiday cheer to the room. And you don't have to spend a bunch of money on actual Christmas wall art. I like to frame wrapping paper, gift bags, greeting cards, and holiday kid art in inexpensive IKEA frames.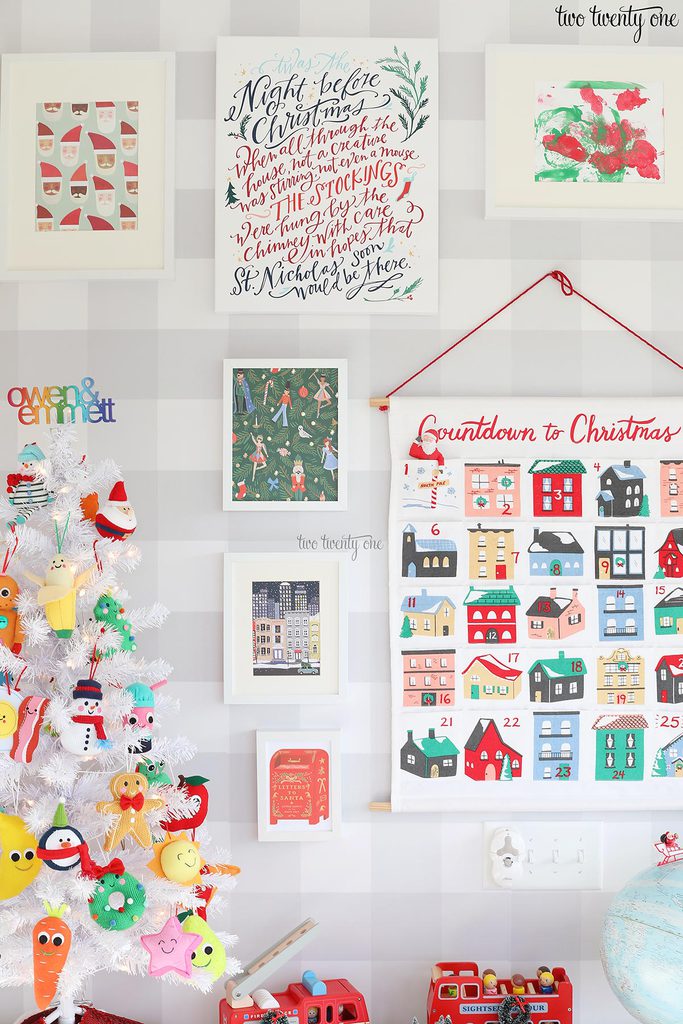 Hit Up After Christmas Sales
The Nutcracker print is actually cut from a gift bag. And the snowy city scene was cut from a different gift bag. I bought both during after Christmas sales last year with the intentions of turning them into wall art this year.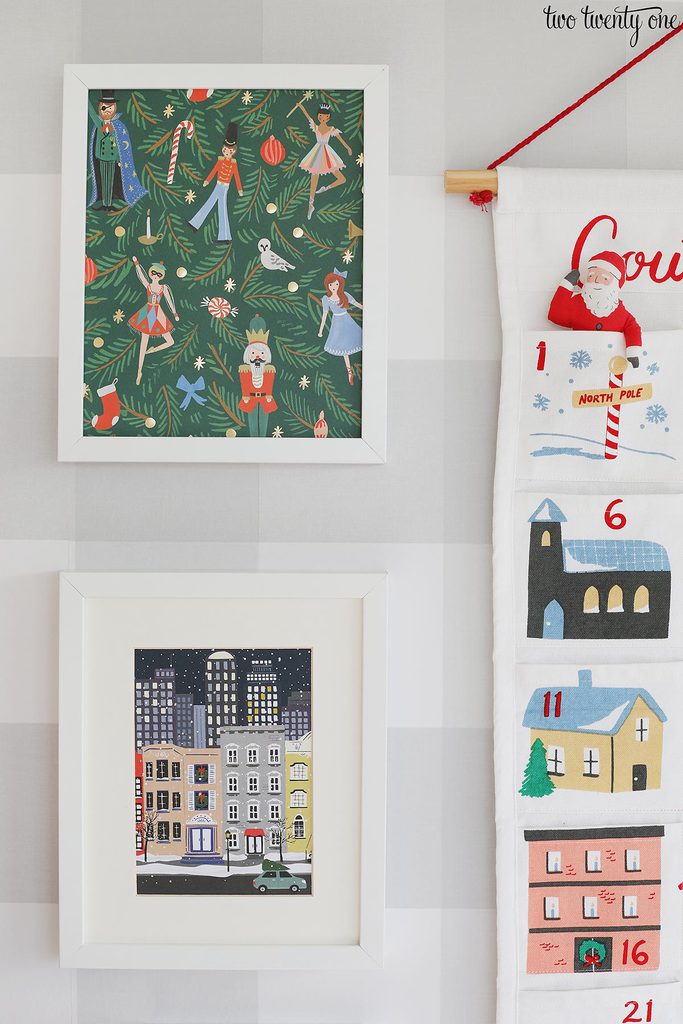 The multicultural Santas is wrapping paper. The only non-paper products on the wall is the Night Before Christmas canvas and Countdown to Christmas advent calendar.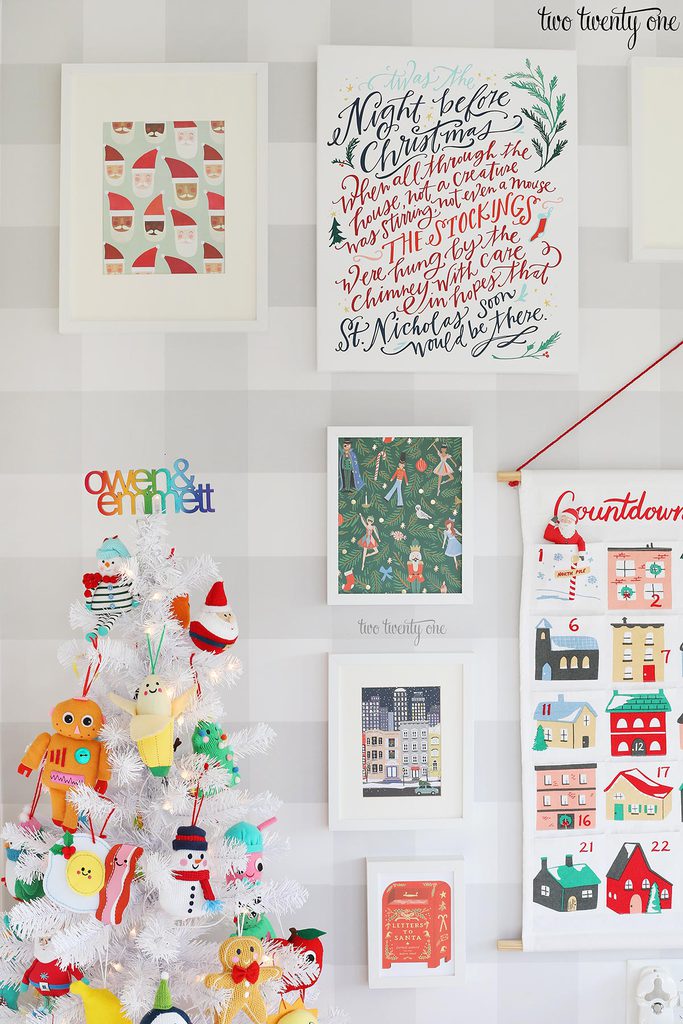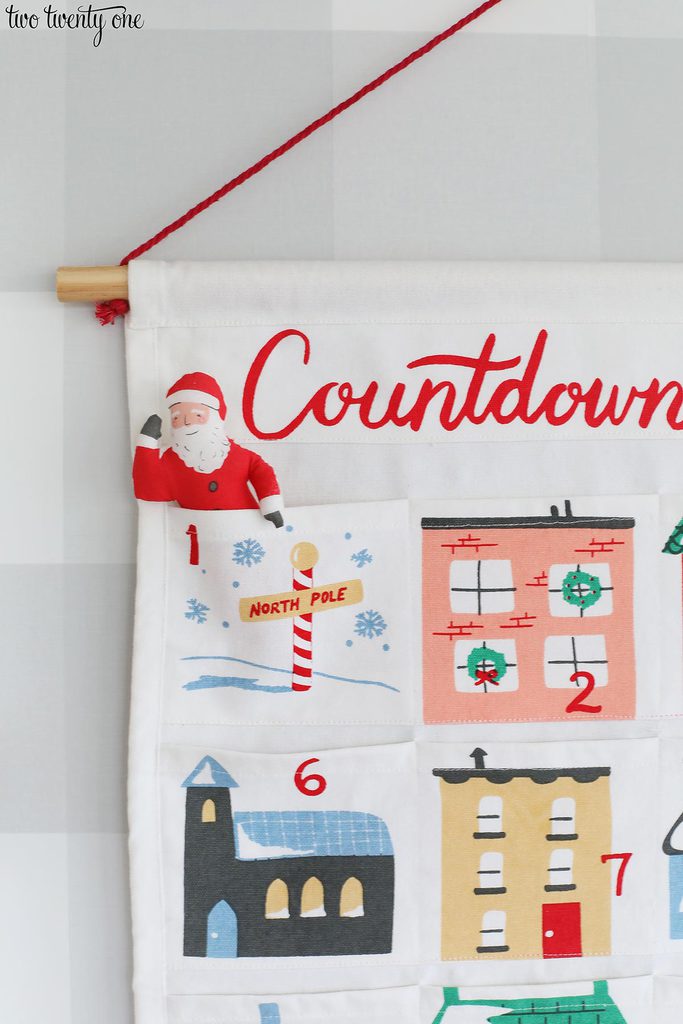 You know how Bob Ross says "Happy little trees"? This is our happy little wall.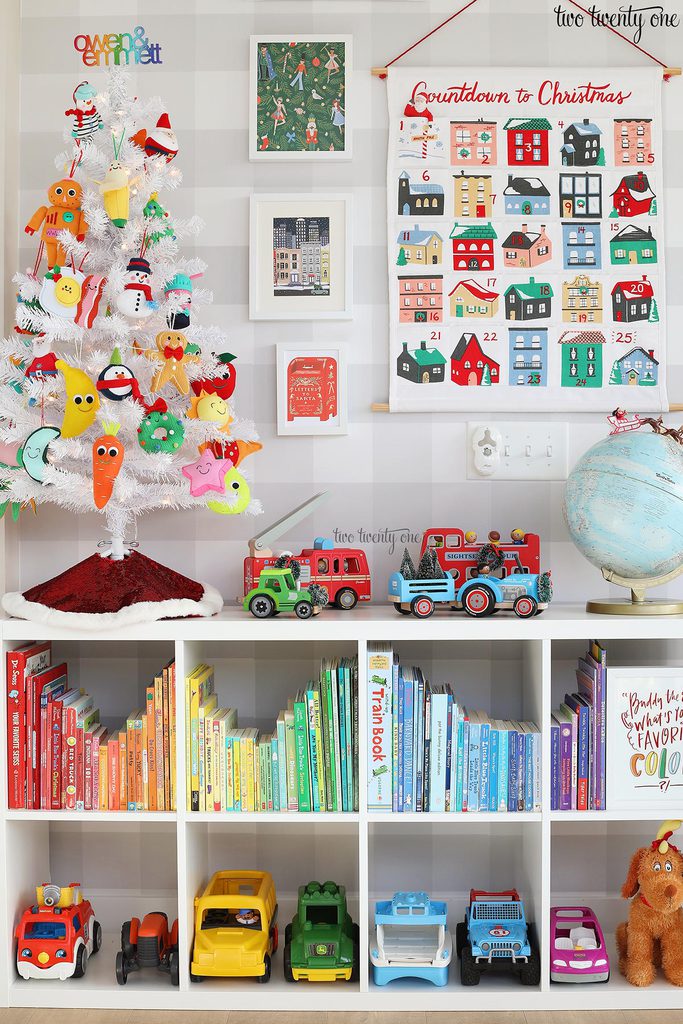 Use What You Have
I didn't spend any money decorating this space for Christmas this year. When it comes to decorating a kid room for Christmas, utilize what you already have. Grab toys and books in seasonal colors to display on bookshelves and dressers. Decorate kids Christmas trees with stuffed animals and other toys.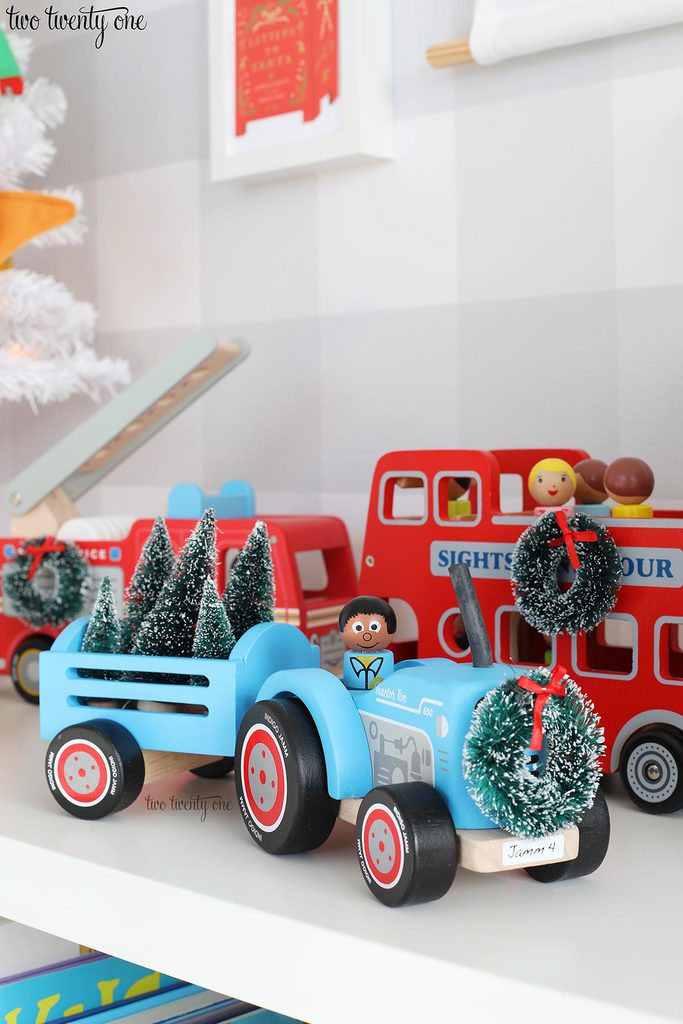 Add Little Touches of Christmas Cheer
I like to take things an extra step and add miniature bottle brush wreaths and bottle brush trees to toy vehicles. They stick on with a double sided tape or glue dots.
Every toy double decker bus needs a holiday wreath, right?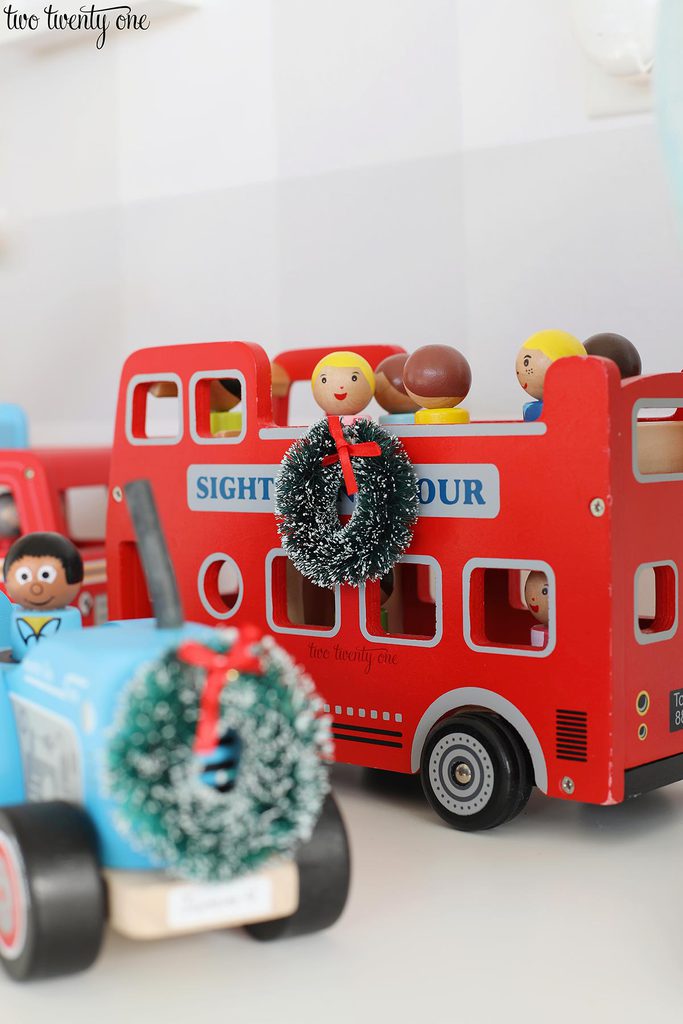 Can you even? Because I cannot.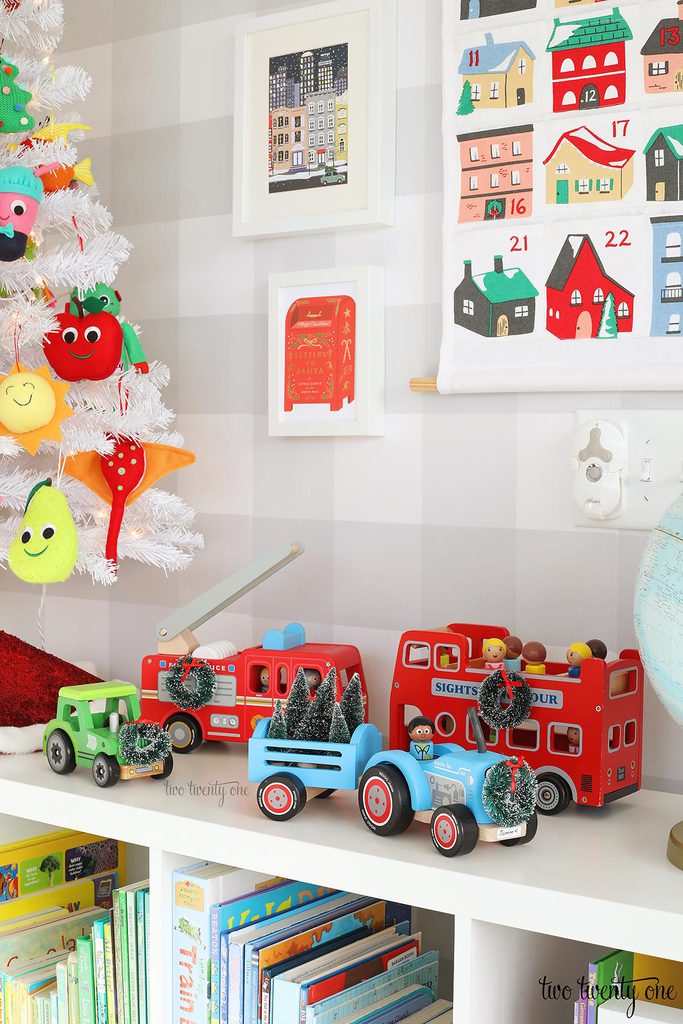 And don't forget your globe! I thought this up a four years ago when I first decorated Owen's room for Christmas. All you have to do is secure a miniature Santa with his reindeer to the globe with double sided tape or glue dots.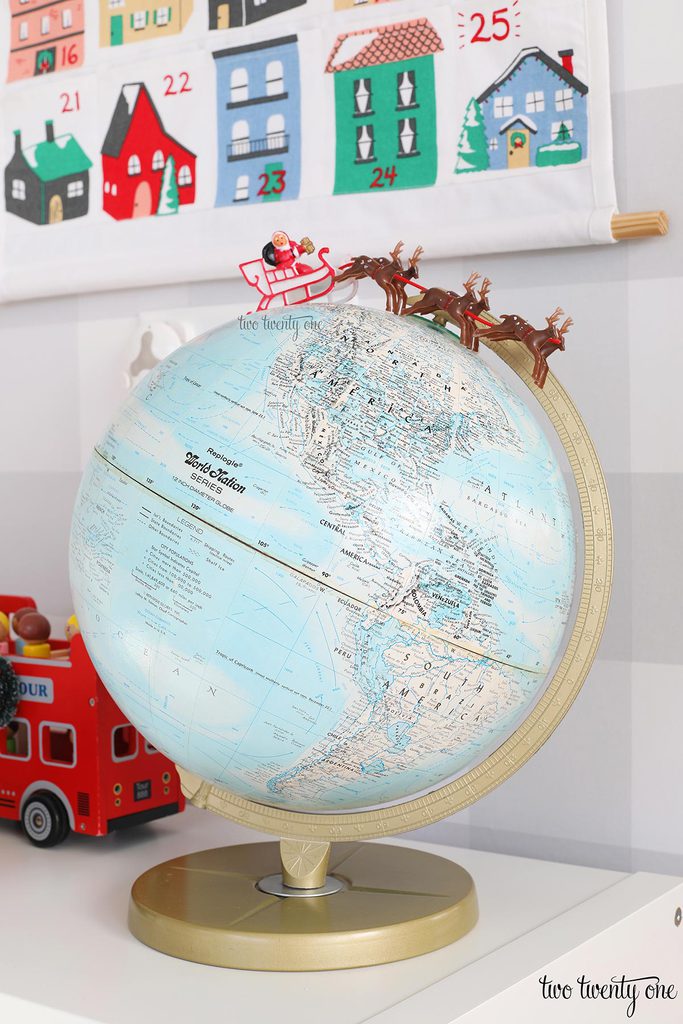 Don't let this photo fool you. I have to keep my kids away from the bookshelf until I can take a photo. And then it goes back to looking like a jumbled mess. But at least I have a photo to know it can look pretty.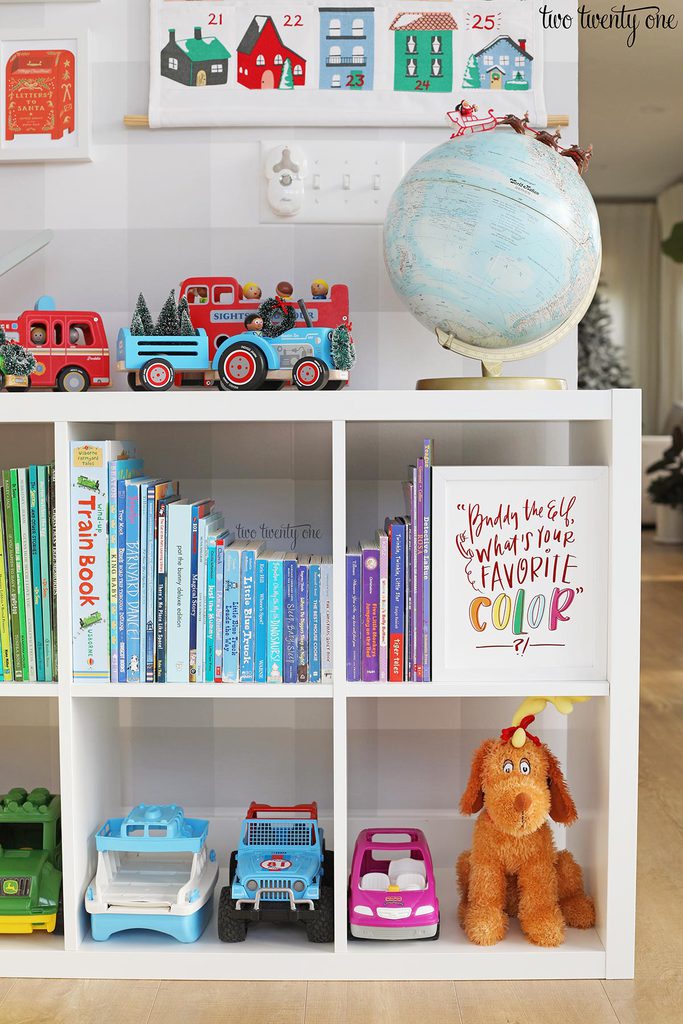 If you haven't decorated a kid area for Christmas, I definitely recommend it. It's honestly my favorite area of the house to decorate because it's so colorful and happy. Plus, it's fun to feel some of that childhood Christmas magic.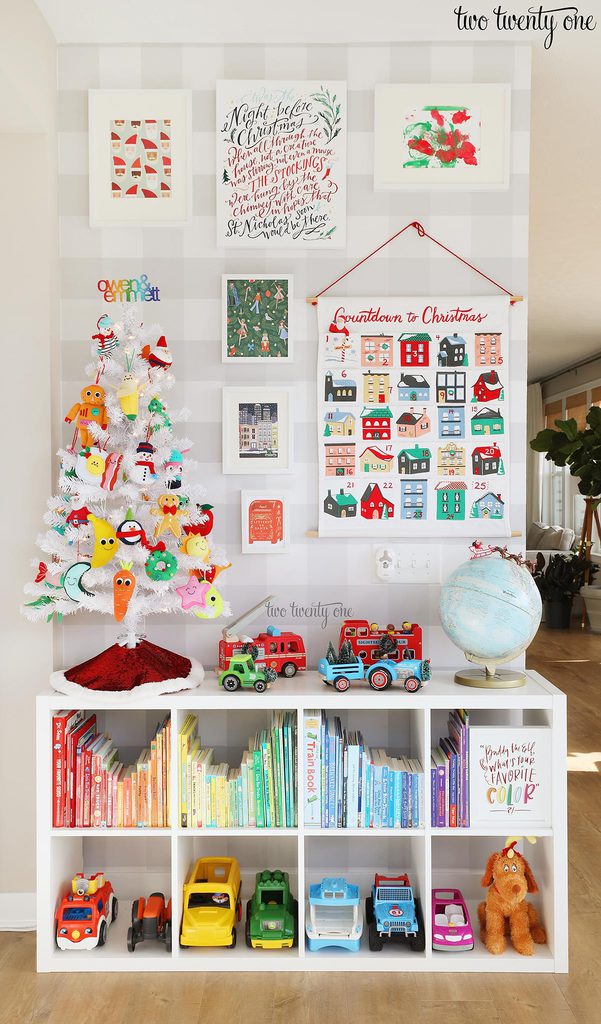 I've teamed up with some of my talented blogger friends who are also sharing their fun and festive spaces for the Holiday Home Tour – Kid Edition. Please be sure to check out all the adorable kid spaces and trees decorated for the holidays. And if you're following the tour, Love and Renovations is next!
MONDAY
Two Twenty One // Love and Renovations // Lemon Thistle // Stacie's Spaces

The Organized Mama // Design Improvised // Inspiration for Moms // Bright Green Door

TUESDAY
Making Home Base // T. Moore Home // Casa Watkins // Up to Date Interiors

Living Letter Home // Home on Poplar Creek // DIY Decor Mom // Kate Decorates // The Goat Abode