Family Christmas Movie Night
This post is sponsored by Better Homes & Gardens at Walmart. All opinions are my own. 
One of my favorite holiday childhood memories is watching Christmas movies as a family. Now that I have kids of my own, I wanted to recreate one of my fondest holiday memories with them. So I executed a cozy family Christmas movie night in our basement.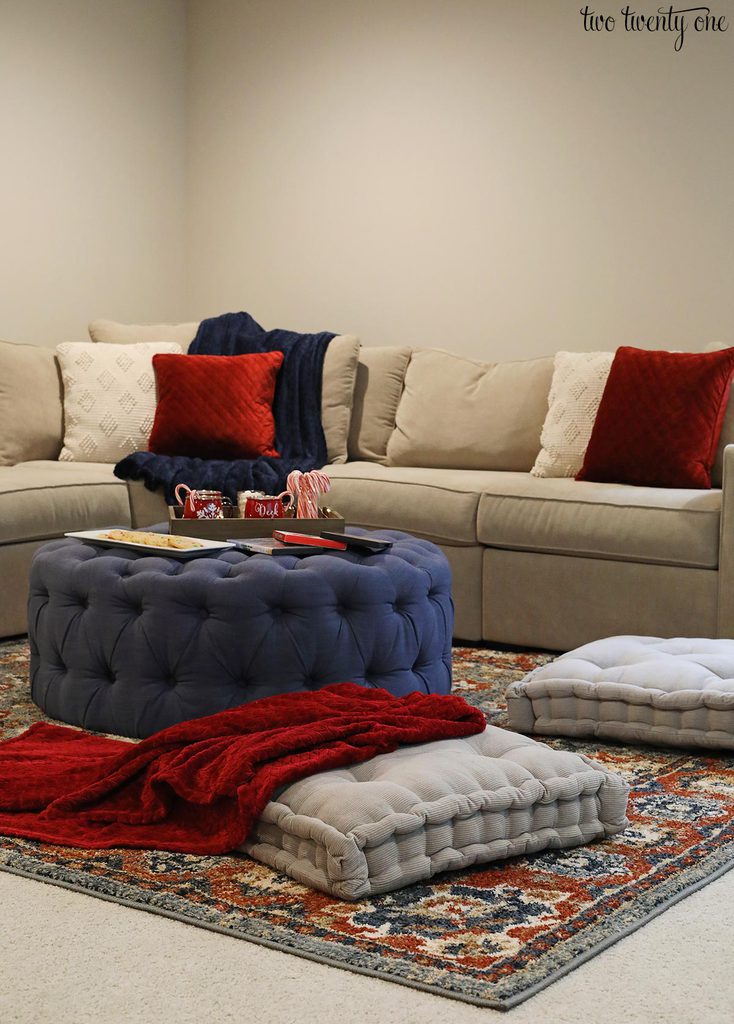 Christmas Movies
It's not family Christmas movie night without Christmas movies. We let the kids choose a couple of classics– A Charlie Brown Christmas, The Grinch Who Stole Christmas, and a collection of classic Christmas movies like Frosty the Snowman and Rudolph the Red-Nosed Reindeer.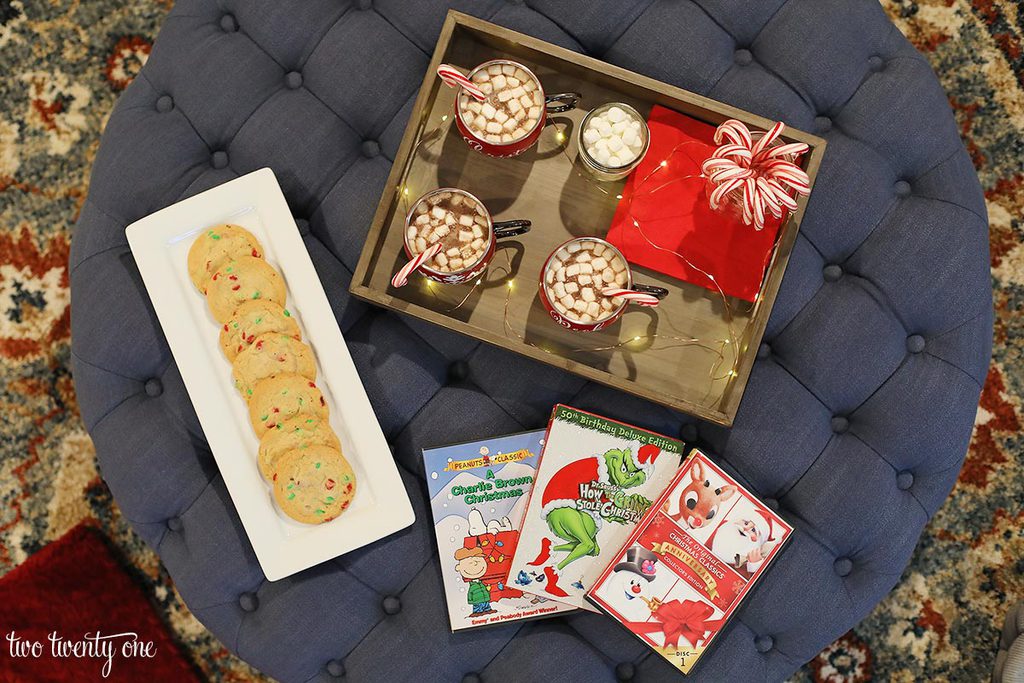 Hot Cocoa and Cookies
Since Emmett is too young for popcorn, I thought it was cruel to have it present but tell him he couldn't eat it, so we went with hot cocoa and cookies. Neither child complained. But because Emmett can't be trusted with an open container, especially in areas with soft surfaces, his hot cocoa was served in a lidded cup with a straw. The rest of us enjoyed our hot cocoa and marshmallows in these festive holiday mugs.
I like to add a peppermint candy cane to each hot cocoa. It dresses up the mug (presentation is everything), and adds some peppermint flavor (my favorite) to the hot cocoa.
I also highly recommend using a tray like this gray wash wooden tray. If any spills occur, the tray will help to contain any liquids. A solid tray is a must in our basement because of the tufted ottoman.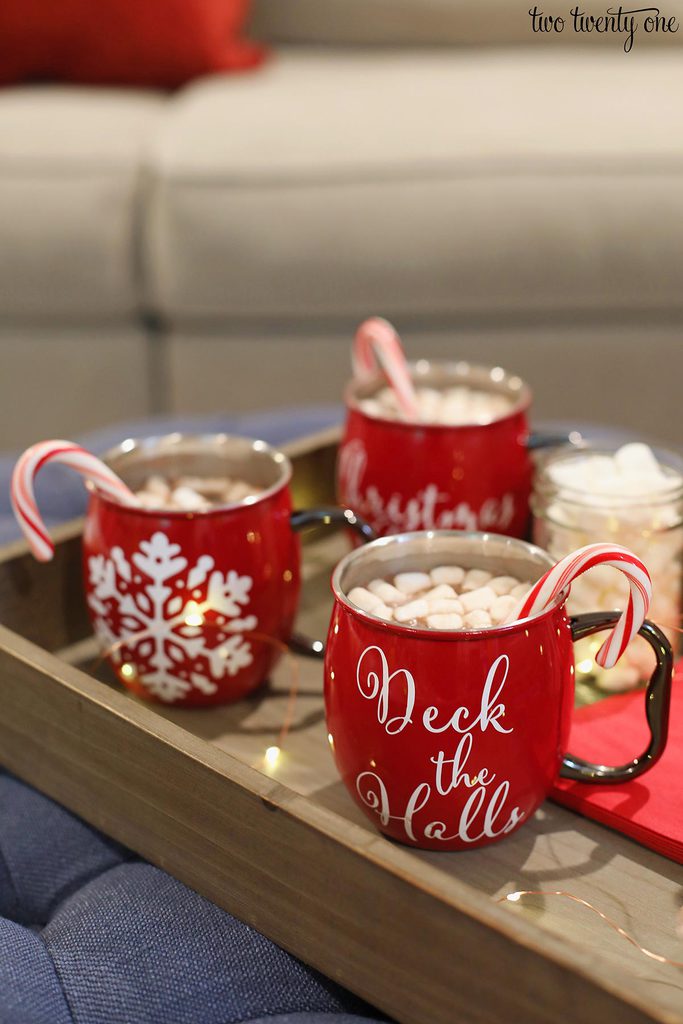 Magical Fairy Lights
Fairy lights are required for a couple reasons.
1. Festiveness. There's something about fairy lights that makes regular things more magical.
2. So you can see the cocoa tray in the dark while movie watching. Think of the fairy lights as those landing strip lights at an airport.
Tip: Hide the battery pack in the candy cane jar.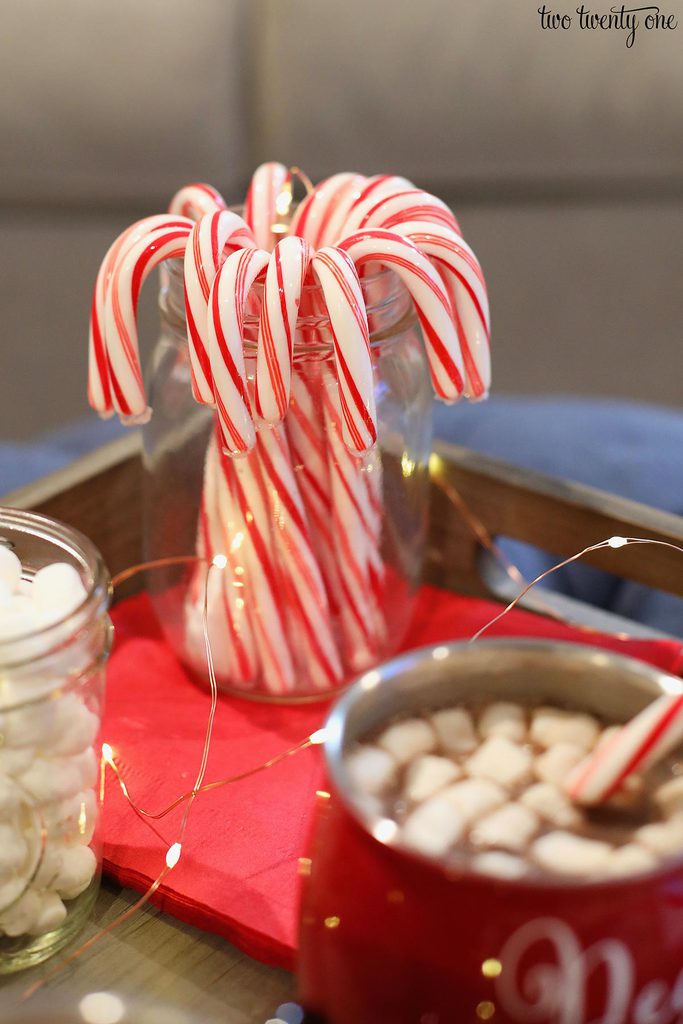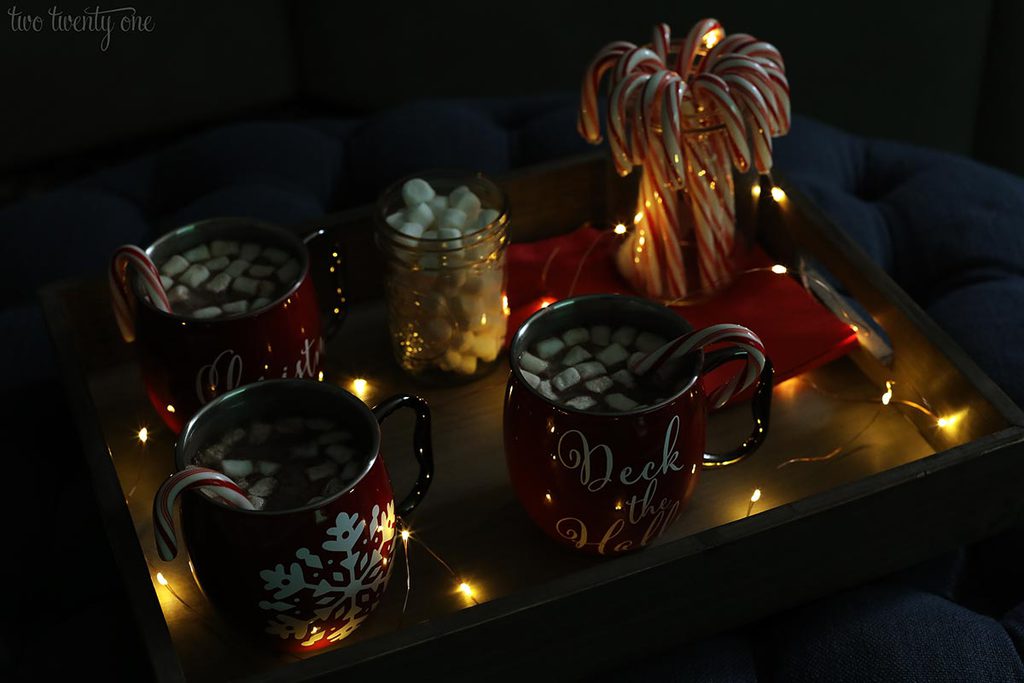 Up the Coziness
Cozy Cushions
Our kids, Emmett especially, like to lay on the floor when watching movies. So I ordered two of these corduroy tufted floor cushions in the color smoke. They're so soft, and they have a handle so the kids can easily pick them up and put them away when they want to play with toys on the rug.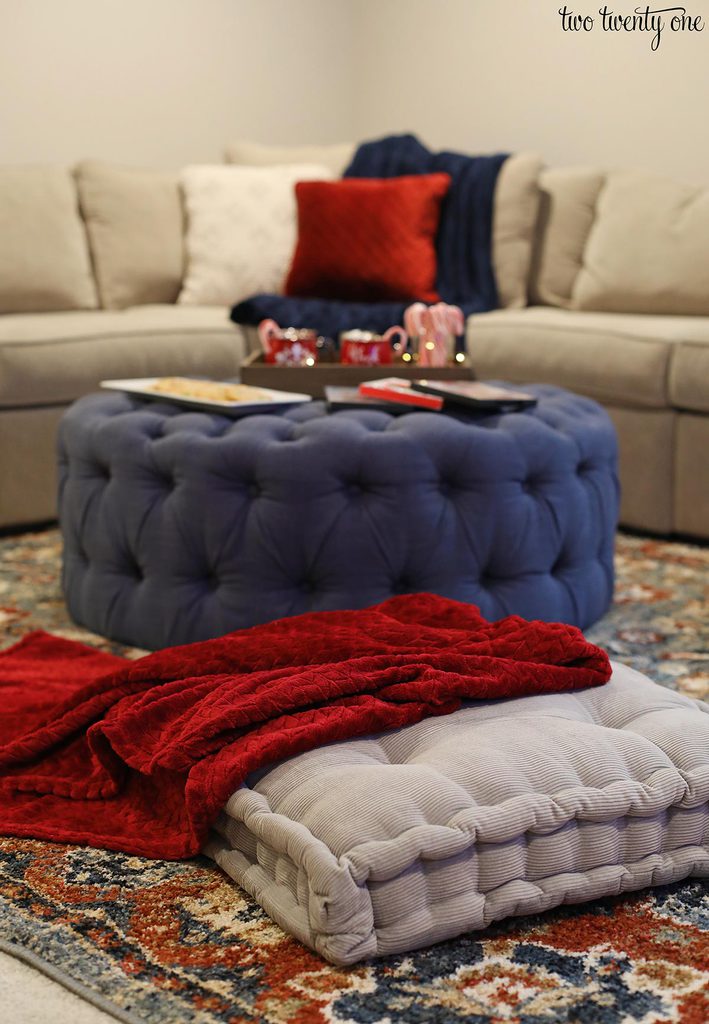 Comfy Rug
A comfy and cozy rug under your feet, or body, is a must. We recently added this Better Homes & Gardens at Walmart Persian border rug for the basement sitting area. It's so plush and soft. The rug also helps soften the floor when the boys jump off the couch and miss their floor cushions.
Soft Blankets and Pillows
Our basement can be on the chilly side during the winter months, so I made sure to have a couple oversized velvet plush throw blankets and velvet quilted throw pillows for us to snuggle up with.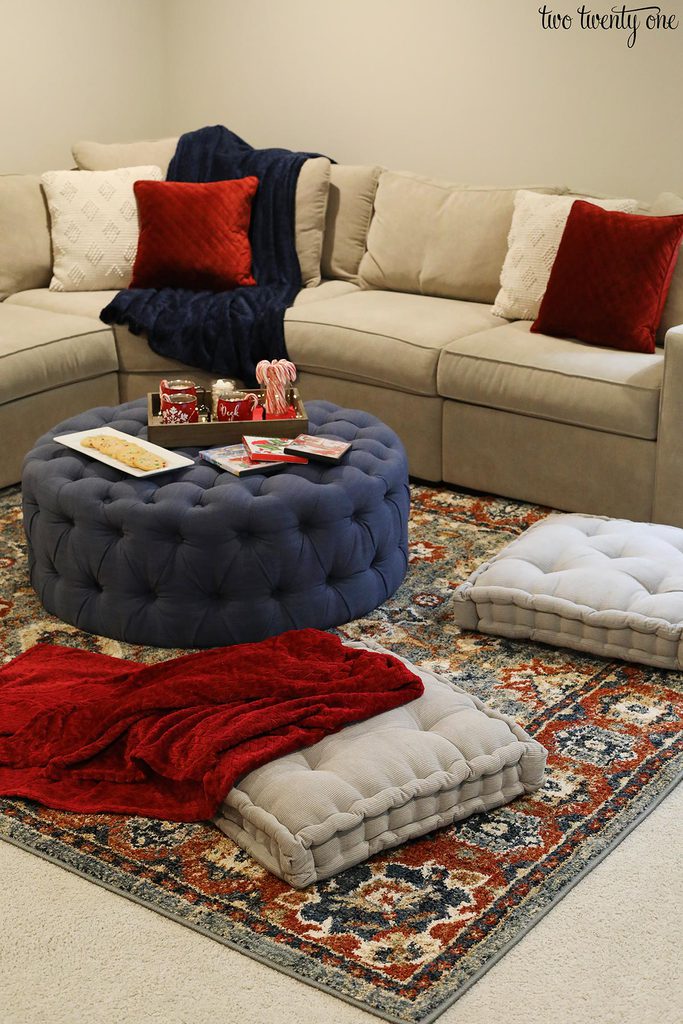 I hope our little family Christmas movie night inspired you to create some holiday memories with your family.
Cozy Gift Ideas
And if you're looking for some holiday gift ideas, I put together these two cozy-themed gifts.
Movie Night In
The first gift is perfect for a night in, snuggled up watching movies. Place the faux fur throw blanket into the wire basket with a holiday-scented candle and a box of chocolate and/or wine.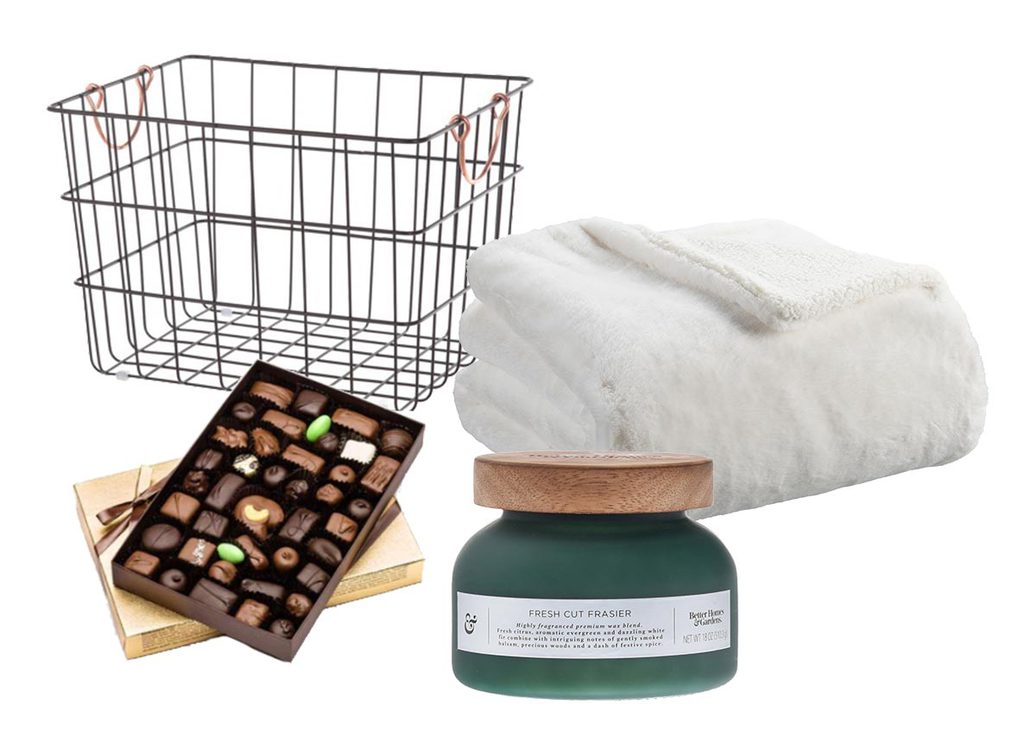 The second gift is a cozy way to spread holiday cheer with home baked cookies and cocoa in festive mugs. Fill a wooden tray with festive mugs and hot cocoa mix. And top a white platter with cookies.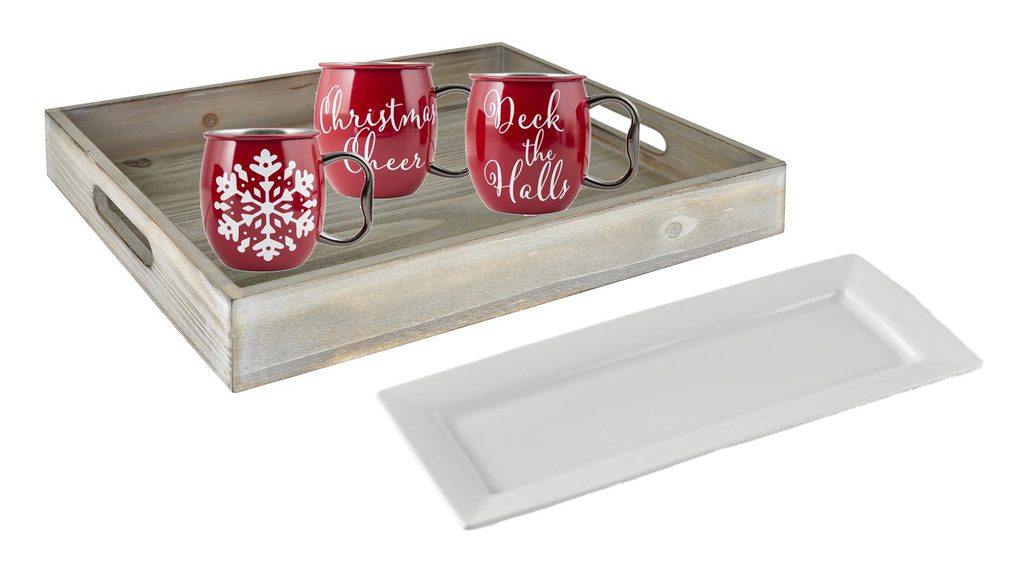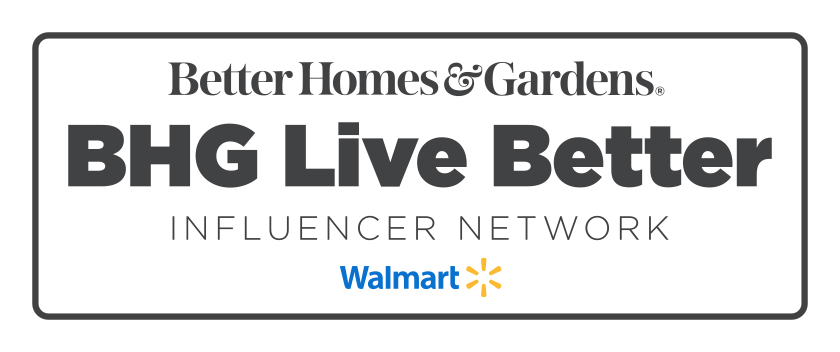 This post is sponsored by Better Homes & Gardens at Walmart. All opinions are my own.