Hello, friends! Around this time last year I shared my Christmas wish lists (responsible and materialistic) with you. So I thought I'd share my 2012 wish list with you because I'm the nosy type who always wants to know what other people are putting on their Christmas lists.
Let's get this party started!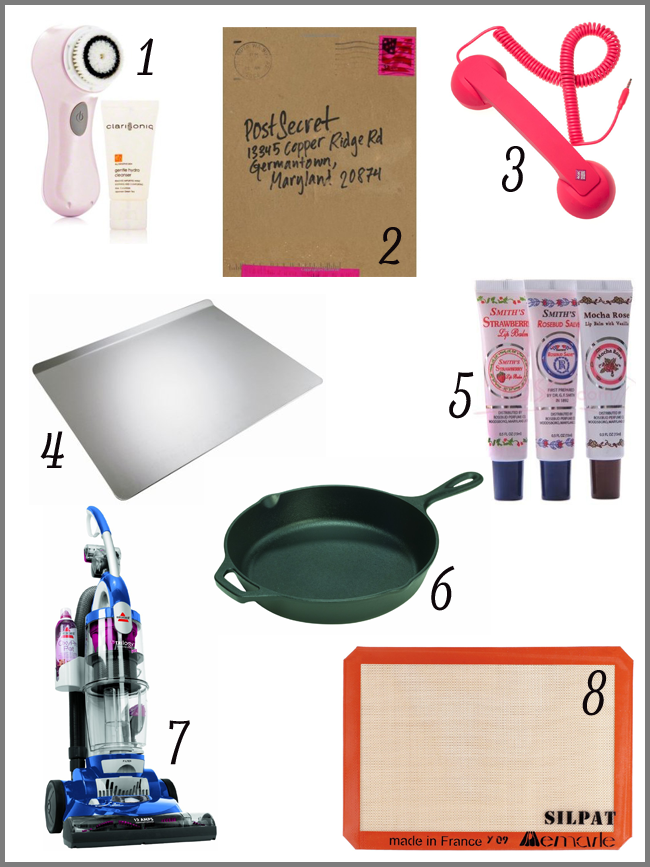 1. Clarisonic Mia Skin Cleaning System:   I bought a similar skin cleaning system a couple years ago. It worked well until it stopped taking a charge. I had good results with it before it decided to crap out on me. My pores got smaller, my skin looked and felt smoother, and it got all of my makeup off my face.
2. PostSecret: Extraordinary Confessions from Ordinary Lives:  Holy. Smokes. Have you guys heard about PostSecret? My best friend informed me of it a couple months ago. Basically, people send postcards with their confessions/secrets to this Frank Warren guy, and he posts them on the PostSecret website. You HAVE to watch the PostSecret YouTube video here. The first postcard they show has been the most memorable to me. While watching the video I got the chills. I had tears in my eyes. Guh. So good. So real. (Plus the song that's played with the video is one of my favorites.)
3. Retro POP phone handset:  For hour long phone conversations with my BFF. Duh.
4. 20″ x 15.5″ Air Bake baking sheet:  This is one bad mama jama. I don't know what baking was like before my Air Bake baking sheets. You guys, these are life. changing. Especially this one because it's MASSIVE. Seriously, I can fit 12-20 cookies on one of these bad boys.
5. Smith's lip balms:  Love these! They smell good, and they're smooth, not sticky.
6. Pre-seasoned cast iron skillet: I blame Michelle for this one. I want to make a giant chocolate chip cookie like she did. But I'll add ice cream on top of mine.
7. Vacuum:  I'd really like a roomba but they're $350. I asked for a vacuum last year but Santa showed up with other stuff, which was fine. It'd be nice to have a new vacuum since ours is old and the pile adjustment gadget is broken. Blah. Being an adult.
8. Silpat Baking Mat:  Another life changing baking utensil. You. Must. Get. One.
What's on your Christmas wish list this year?
Do you have any of my wish list items on your wish list? Wish list twins!
Have you tried any of the items on my wish list?
Don't forget to enter the Staples $100 gift card giveaway!