Card Catalog Christmas Vignette
When it comes to Christmas decor, I don't typically decorate with the traditional Christmas colors. But when I found three vintage stockings at the Goodwill Outlet, I decided to mix things up this year. It was obvious to me that the card catalog was the perfect place to hang the stockings. I'm pretty sure I'm going to love decorating the card catalog for every holiday.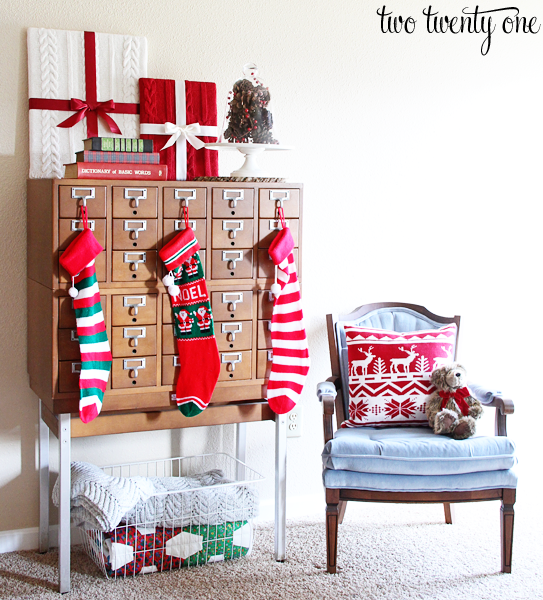 The vignette was created with some old things, some new things, and some DIY'ed things.
I used a cake stand, cloche, pine cones, and berries I already had on hand. The slice of wood was purchased at JoAnn for about $6. I know it's silly to buy wood, but I didn't want to scour Craigslist for free wood and make Brad get out the chainsaw. Sometimes it's just easier to pay a little money than to deal with a headache. But if any of you in the Indianapolis are cutting down a tree anytime soon, cut a handful of slices for your dear friend Chelsea, will ya?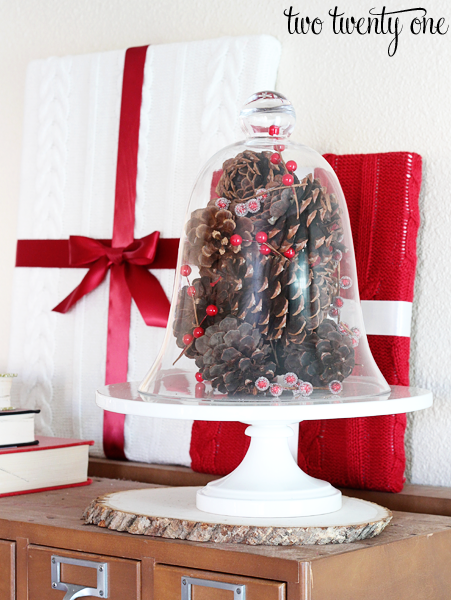 The red and white sweater presents were made by yours truly. I still don't know what to call them. Suggestions welcome. I'm posting the tutorial on how I made them tomorrow. Can I get a "heck yeah!" for a Saturday blog post? (Please stop by tomorrow. I barely ever do Saturday posts because I feel like no one will read them.)
UPDATE:  Here's the sweater present tutorial.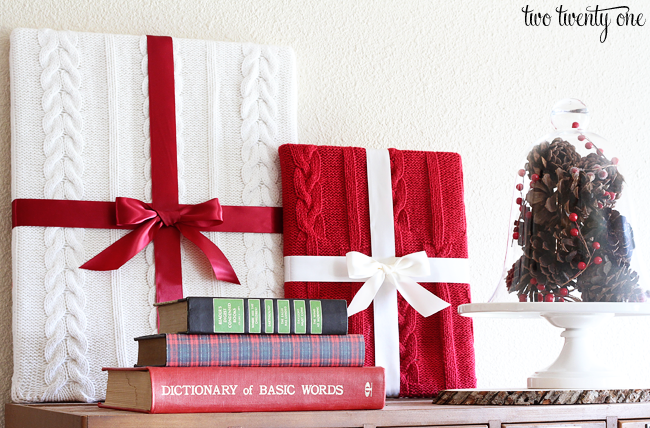 The books are from my thrifted collection. I used leftover scrapbook paper from my 'JOY' letters on the middle book. I used double sided tape to secure the scrapbook paper to the book. Beyond easy.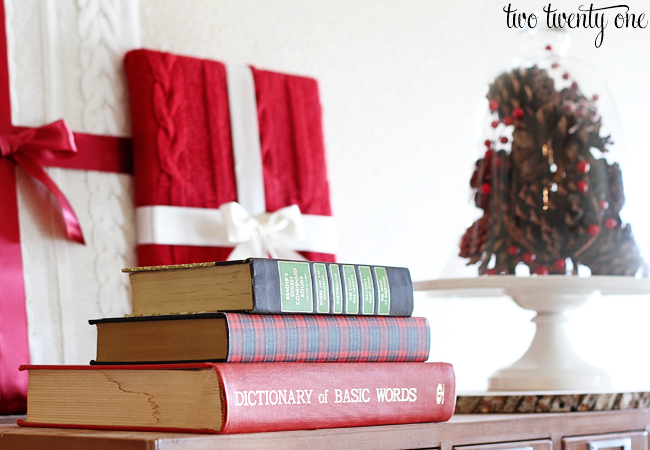 Like I said, the stockings were Goodwill Outlet finds. I was probably a little too excited when I found them. But then again, I'm excited when I find anything awesome at the Goodwill Outlet (see: here and here). $1.50 for three vintage Christmas stockings FTW.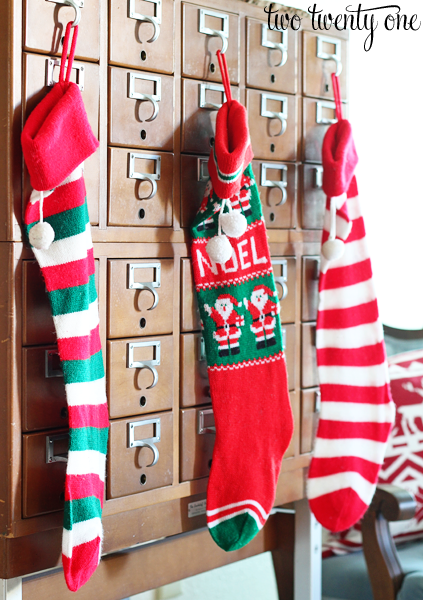 I kept my great-grandma's quilt and the blanket my great aunt knitted for Brad and me in the wire basket. I did flip around the quilt so the red and green squares were showing.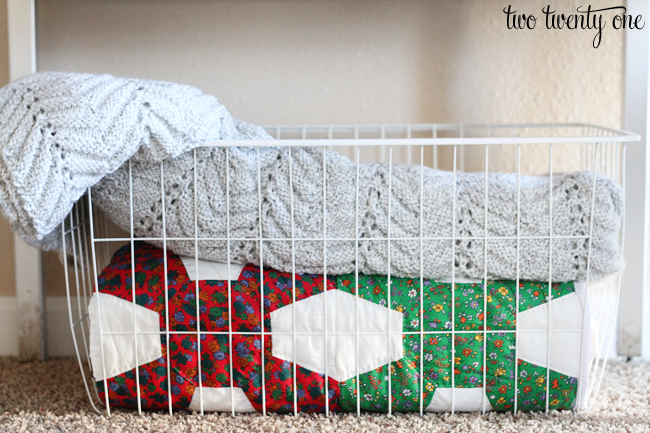 I'm happy with how my traditional Christmas color vignette turned out. This is the only spot in our house where I used the red, white, and green color combo. Make sure you come back next week to see the rest of my Christmas decor.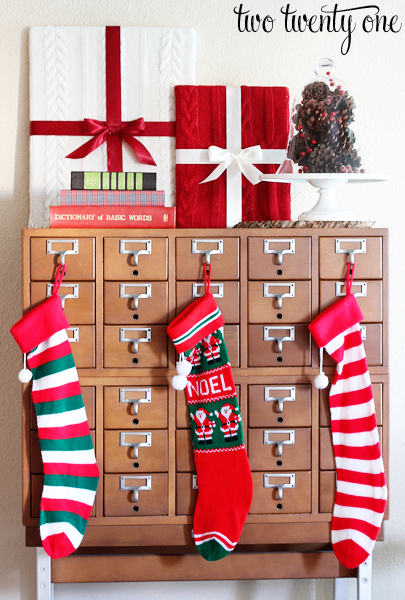 Will you dare to deck the halls on Monday morning for Dare to DIY? Need some extra inspiration? See how Kim, Michelle, and Rachel decked their halls.
Curious about the card catalog? Read about it here.
Do you decorate with traditional Christmas colors?
What are you doing tomorrow? Your answer: Coming back here to read the sweater presents tutorial. (I'm still taking name suggestions.)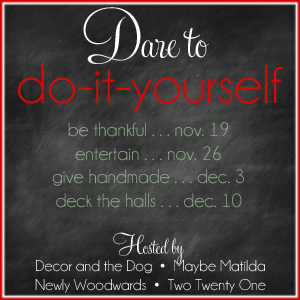 I'm sharing this at the following parties: Home Stories A to Z, Tatertots and Jello, House of Hepworths, The Shabby Creek Cottage, Tidy Mom, Liz Marie Blog, Craftomaniac, The Shabby Nest, Positively Splendid, Whipperberry, Funky Junk Interiors, Classy Clutter, Today's Creative Blog, Uncommon Designs, Miss Mustard Seed, I Heart Nap Time, Southern Hospitality, Inspired by Charm, Shannanigans, and Serenity Now.
Check out my other Christmas projects!
[catablog_gallery id="1514″ catablog template="gallery"]