Yesterday I showed you guys my card catalog Christmas vignette. And today I'm back to show you how I made the sweater presents. Get. Excited.
It's kind of crazy the things you can do with old sweaters. I've seen people cover different objects with sweaters: vases, wreaths, pillows, candle holders, furniture, lampshades, cuffs, trees. The possibilities are endless. When I was putting together my card catalog Christmas vignette I realized that I needed something tall to put on top of the card catalog in the back for some height. Light bulb. Cover the canvases that have been sitting in my home office for months with sweaters and make them look like presents. I have a genius thought every now and then.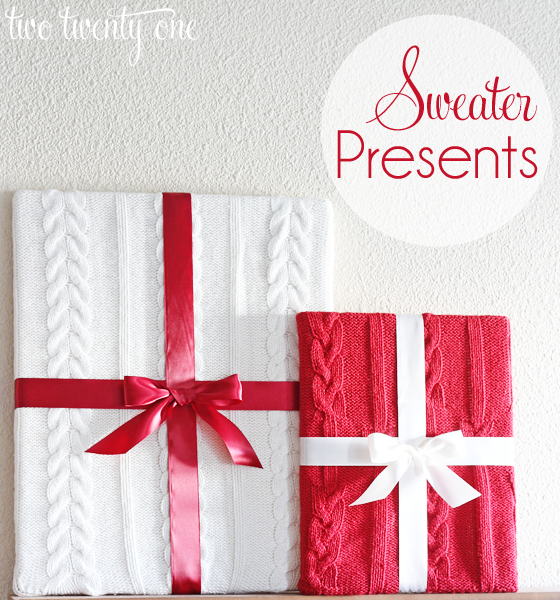 Here's what you'll need:
• sweater
• canvas or a rectangular object (piece of wood, picture frame, etc.)
• hot glue
• ribbon
I picked up the cable knit sweaters at Goodwill on half off Saturday so they were $2.25 each. To save money I would have used pieces of wood, but I already had two canvases collecting dust so I just went with them. This could easily be a $5 or less project.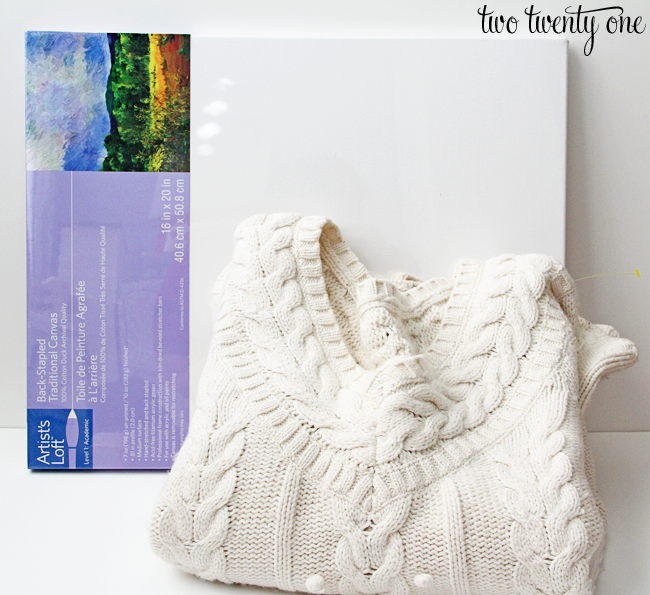 I started by cutting off the arms of the sweater, and then separating the front from the back. I laid the back of the sweater on the canvas and centered it so there was about an inch of overhang on all four sides.
Then, I flipped the canvas over and started hot gluing the sweater to the canvas frame.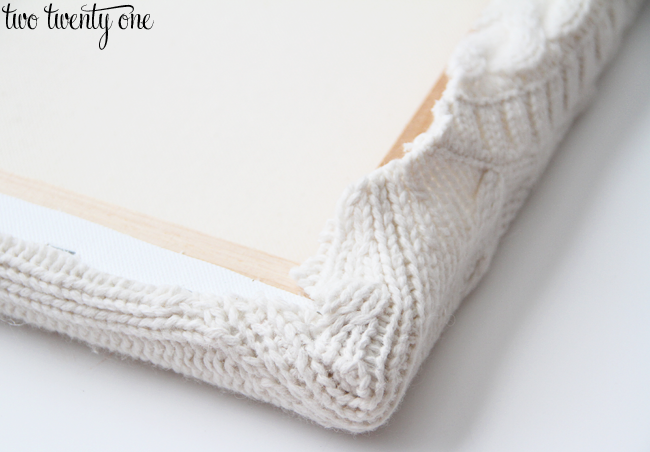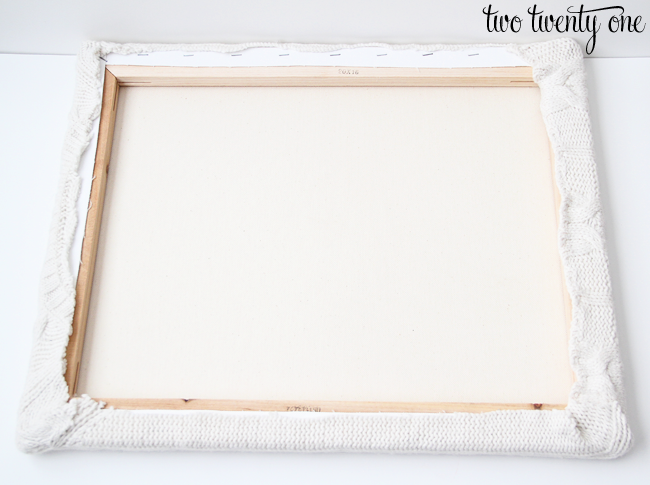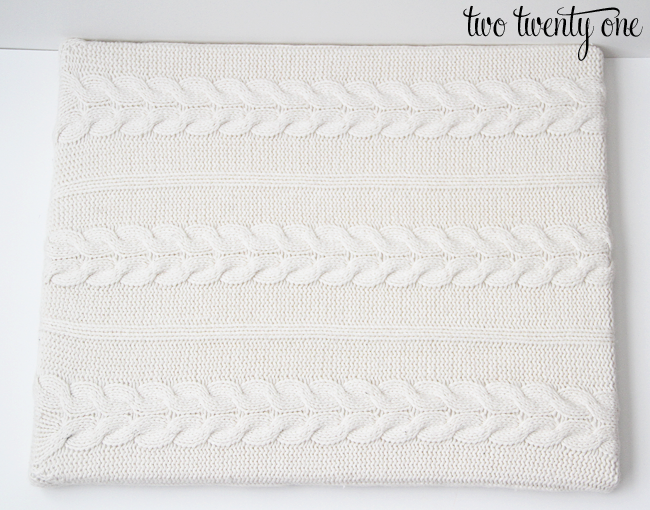 Now, on to the ribbon. I cut two pieces of ribbon, centered them, flipped over the canvas, and hot glued the ribbons into place.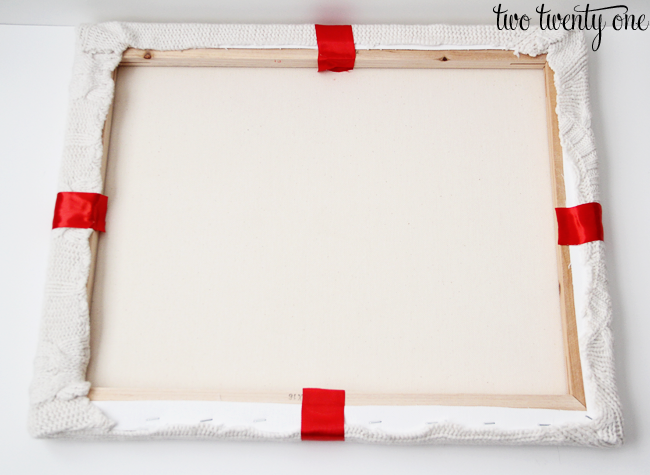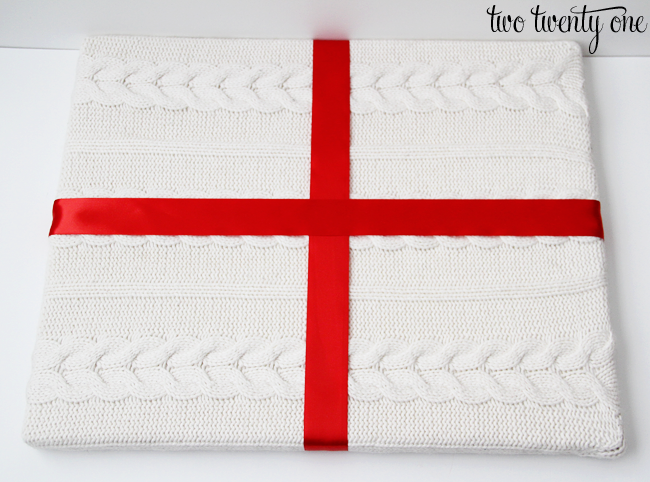 I made a bow with the ribbon and hot glued it where the ribbons intersect. It's as simple as that.
This whole project took about 15-20 minutes. In case you're wondering, my canvas sizes are 16×20 and 11×14.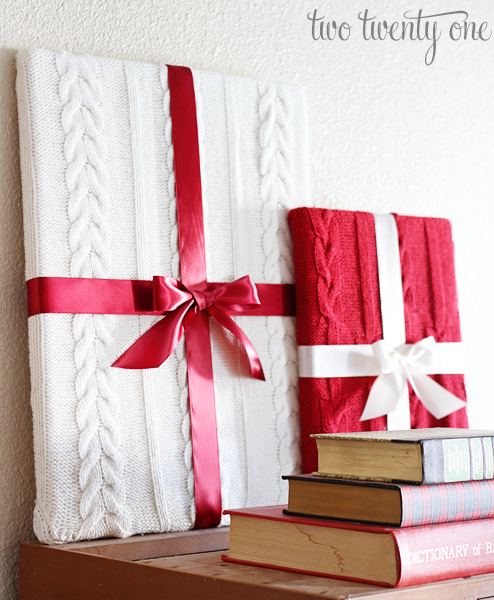 Don't throw away your sweater scraps! I saved the front of the sweater so I can cover something else with it. I saved the arms, cut them down to about 8 inches, and attempted to turn them into faux riding boot socks but I ended up looking like Santa Claus from the knees down. Perhaps you'll have better luck than me.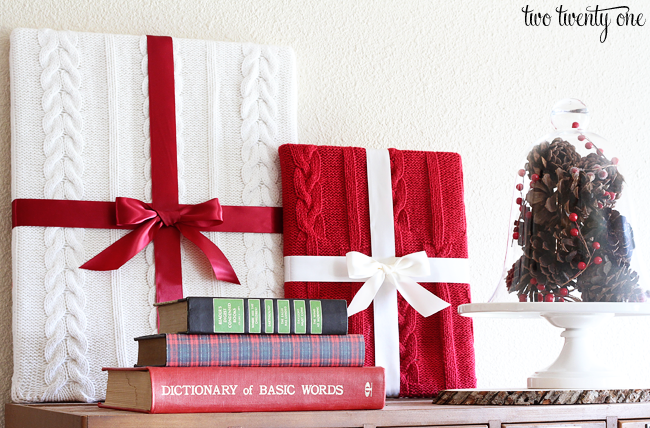 I'm sort of in love with my sweater creations but I'm biased. Now I find myself thinking of other things I can cover with sweaters. Nothing is safe.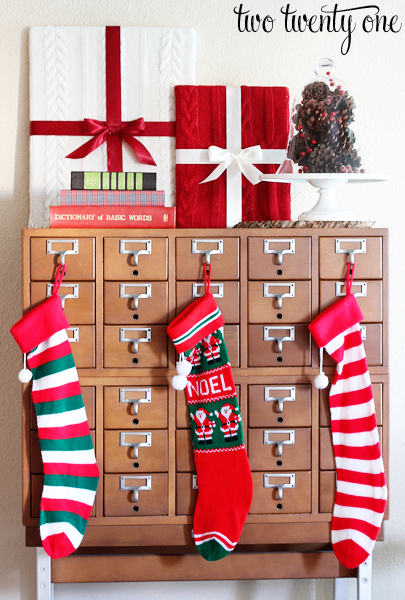 What do you think of the sweater presents?
Have you covered anything with a sweater, other than your body?
Don't you love cable knit? It's my favorite.
Want more Christmas goodness in your life? Check out my other holiday projects here.
Stalk away!