This post is sponsored by Tuesday Morning. As always, opinions are 100% my own.
Gift giving can be tough, so today I'm sharing some gift giving made easy tips.
One of my biggest tips for gift giving when you're stuck, is to go with a theme. Whenever I'm having a tough time deciding what to buy someone, I usually come up with a theme and go from there. I recently headed to Tuesday Morning and rounded up some great gift ideas to share with you.
Chocolate Lover
This gift is probably one of the easiest– buy any and every form of chocolate, put chocolates in a basket with some crinkle paper. Done.
I picked up all of these name brand chocolates from Tuesday Morning, and many are higher end brands like Harry & David, Godiva, and Williams & Bennett– all for great prices.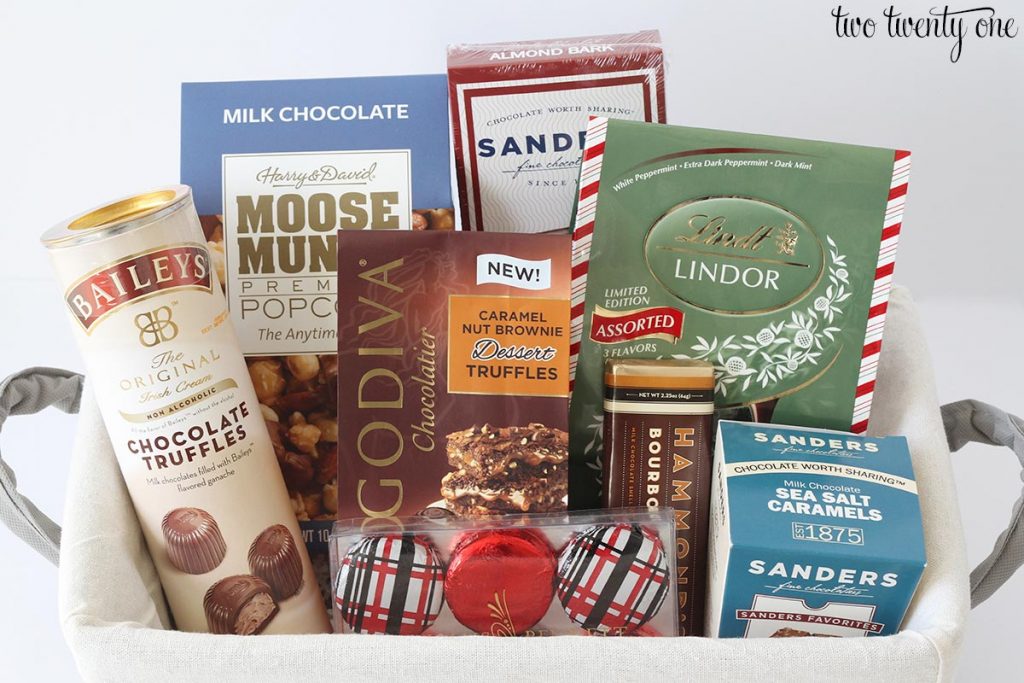 Hot Cocoa
Ask yourself– who doesn't love cozying up to a nice mug of hot cocoa? I'm pretty sure 98% of people love hot cocoa.
For this gift basket, I included peppermint hot cocoa, peppermint stirrers, dark chocolate hot cocoa, white chocolate hot cocoa, chocolate hazelnut wafer rolls, marshmallow stirrers, and two white and gold mugs.
Tip: make sure the mugs are microwave safe.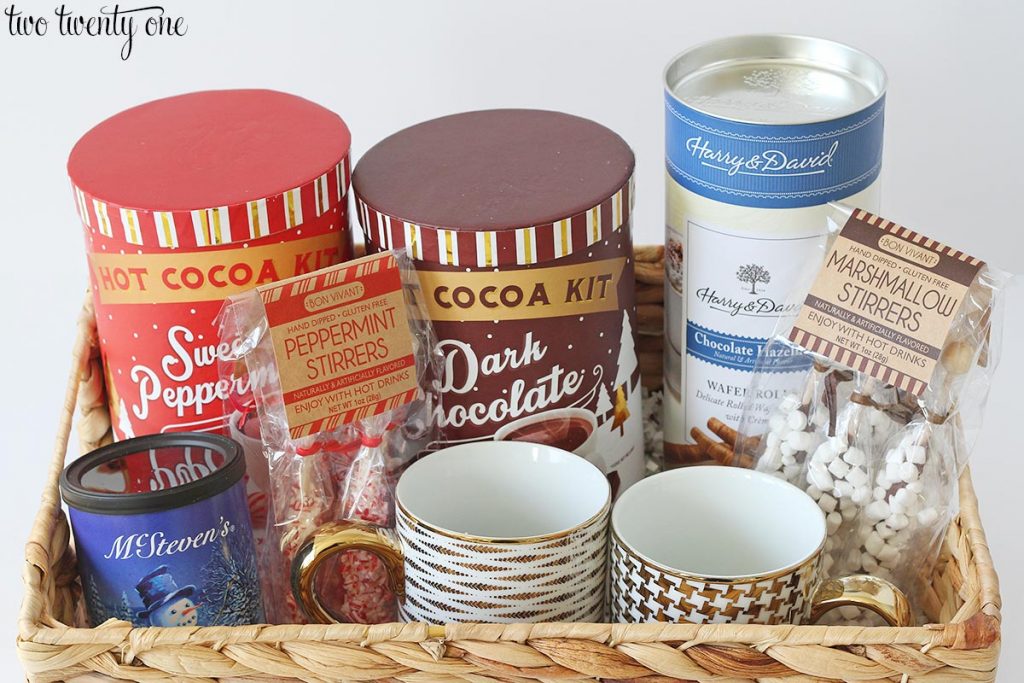 But let's say you're on a tighter budget or you need a more low-key gift.
Grab two or three things within your theme and tie them together with a pretty bow. Instant $10 gift.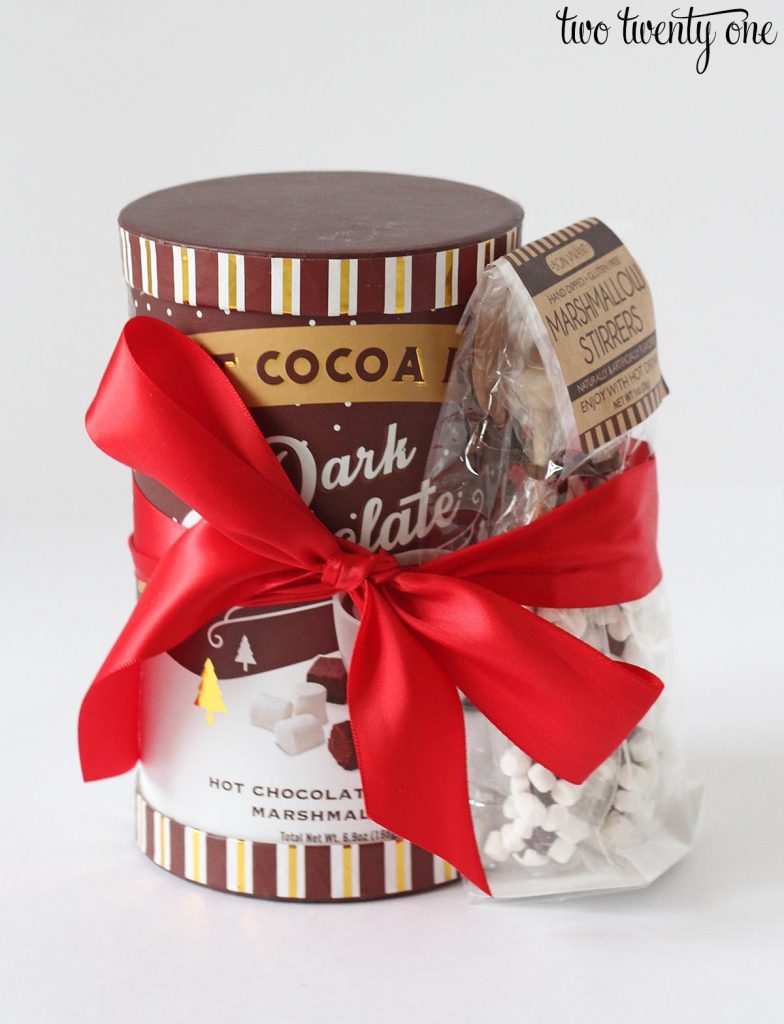 Pamper
Know someone who needs a little pampering? Throw together some fun beauty and bath products– face masks, under-eye pads, bath bombs, scented epsom salt, face & body scrubber, etc. I like putting everything in a basket the gift recipient can use in the future.
And remember, if you don't want to spend a lot of money, pick a few things and put them in a smaller basket.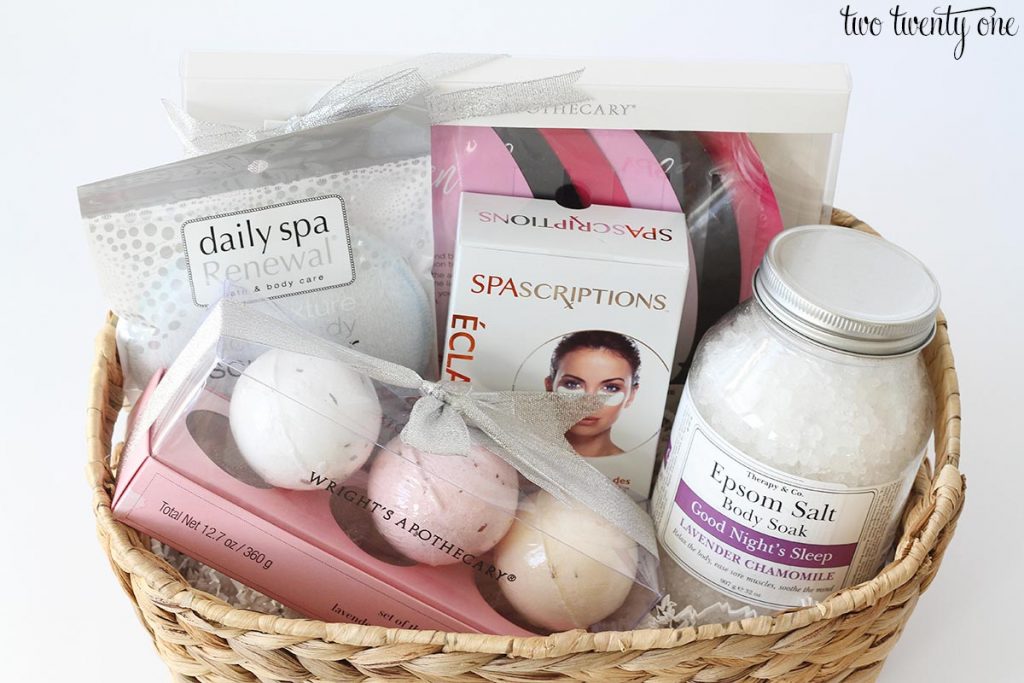 Hostess, Or Anyone
If you're ever in the need of a last minute hostess (or anyone, really) gift, grab a cheese or cutting board, kitchen towel, and wooden spoon. Tie them together with ribbon and tadah!
I used the ribbon that came with the pack of three towels to tie everything together. But I saved the other towels to give for gifts in the future.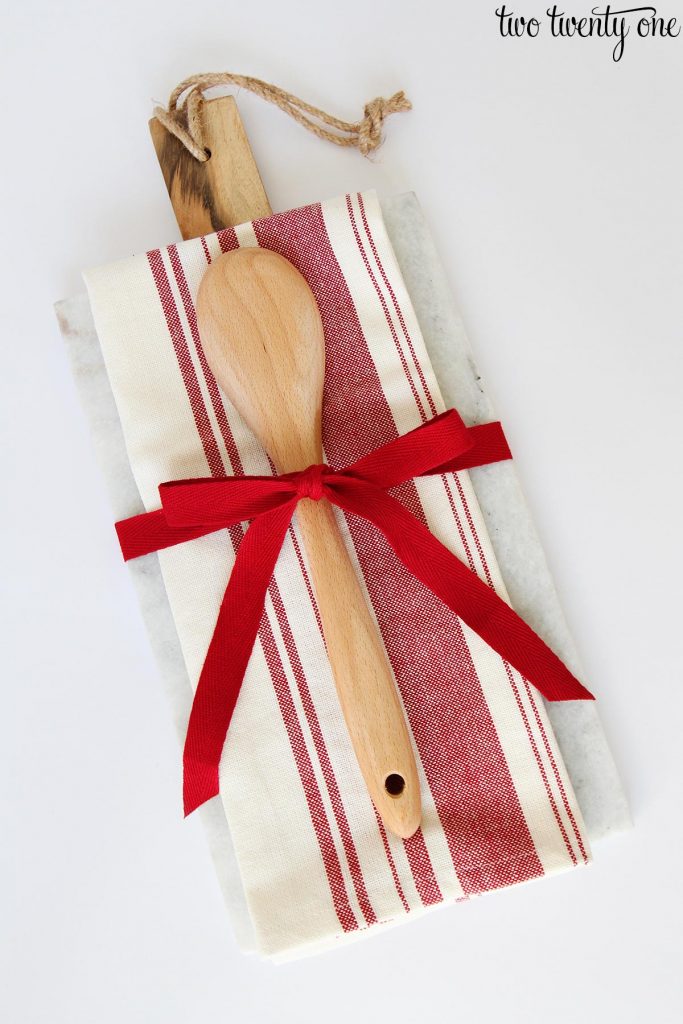 To up the Christmas gift factor, I tucked a sprig of greenery under the bow.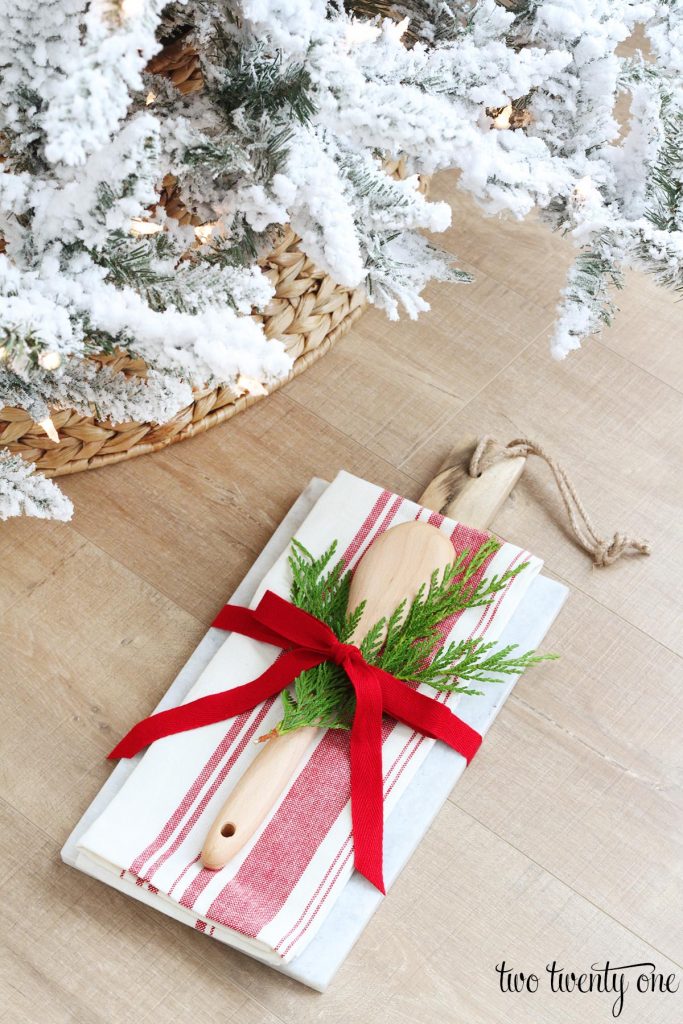 For the pamper gift basket, I wrapped it in cellophane and added a silver bow.
I will add that the cellophane I picked up from Tuesday Morning is the real deal. A lot of the time when I buy cellophane, it tears easily, but not this stuff. Plus, it was a 40-inch by 15 feet roll for $2.99.
Side note: I'm clearly drawn to natural woven baskets.
If you don't have time to wrap up the basket in cellophane, there's nothing wrong with slapping a bow on something in the basket to distinguish that it's a gift.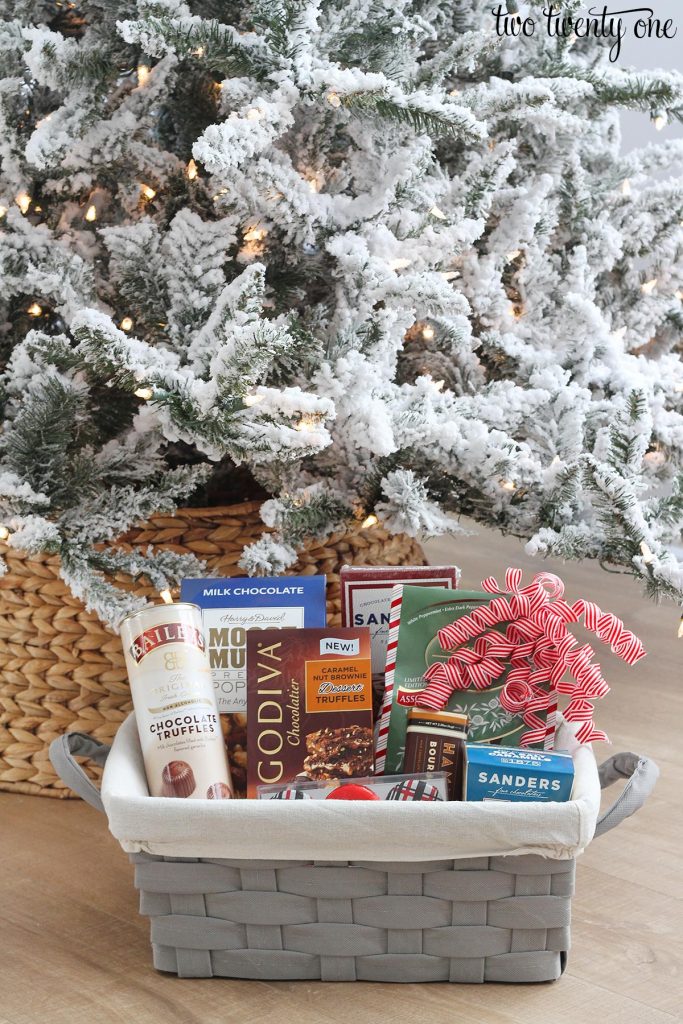 Happy gift giving!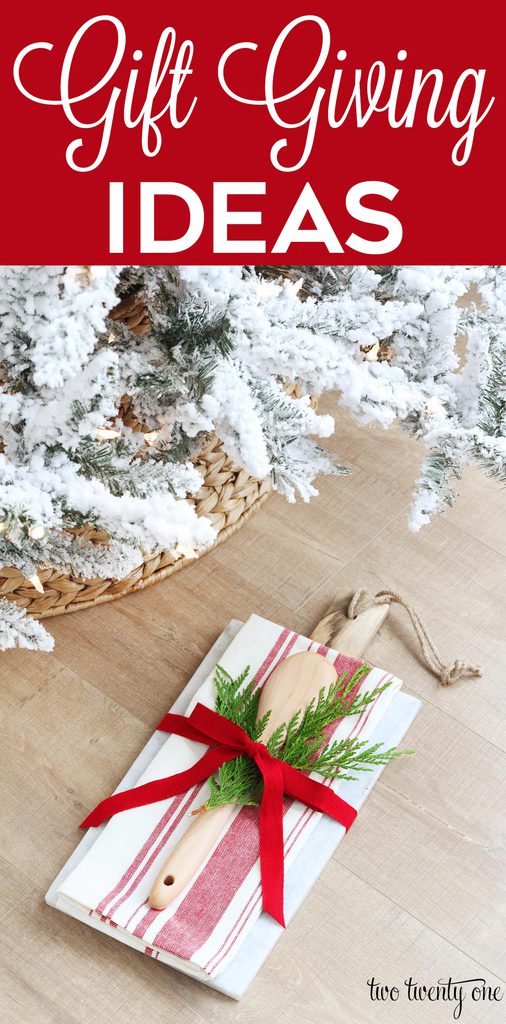 This post is sponsored by Tuesday Morning. As always, opinions are 100% my own.