This post is sponsored by Better Homes & Gardens at Walmart. All opinions are my own. 
Would you believe me if I told you we only have one wall in our house with family photos on it? I've been really slow to put things on the walls for a few reasons, but this year I'm trying to work on that. So I decided to create a stairway gallery wall of family photos– something we look at all the time.
Just look at this sad a boring wall.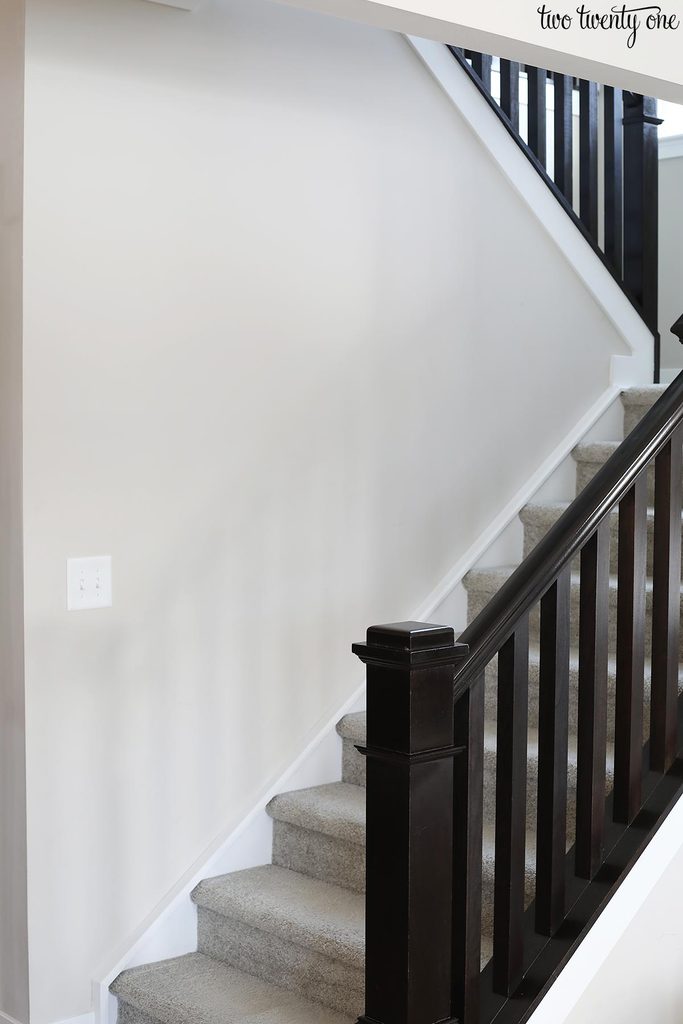 Stairway Gallery Wall
I decided to go with twelve black 11×14 frames with white mattes. But to make sure they'd fit the wall, I made templates from brown paper bags. Seriously, hold on to their Trader Joe's bags. They always come in handy for me.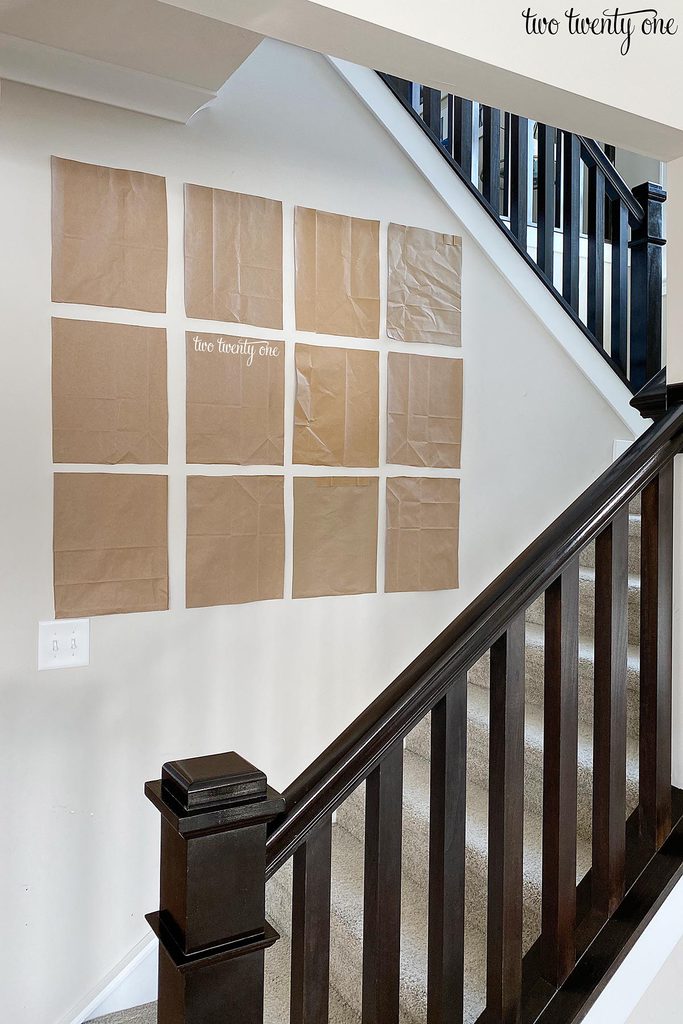 After arranging the templates, I got to work picking out which family photos I wanted to include in the gallery wall. I knew I wanted to do the photos in black and white for a cohesive look. When it came to the specific photos, I decided to do two of each type of photo. Two family photos, two photos of the boys together, a photo of Brad with each boy, a photo of me with each boy, two photos of the boys– one when they were younger and one that's more current. And it worked out that I'm kissing Owen in our photo together and Brad is kissing Emmett in their photo together.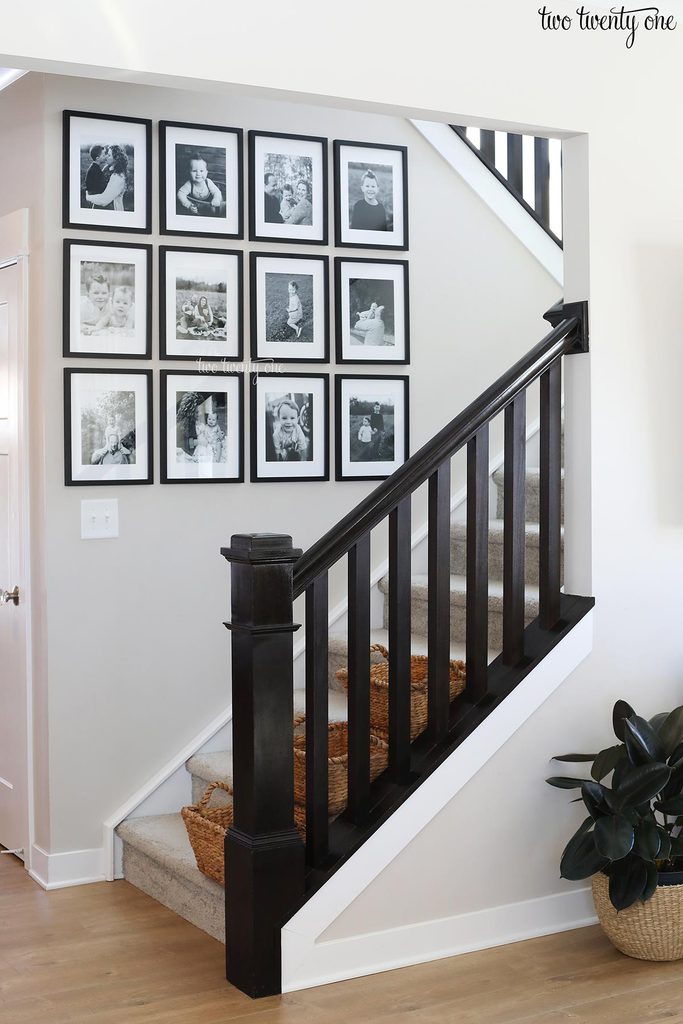 Since our kids run and down the stairs multiple times a day, I used some mounting putty for added security, especially the on the lower frames on the wall.
I love how the stairway gallery wall turned out. It's nice to our family photos displayed instead of sitting on an external hard drive where no one can see them.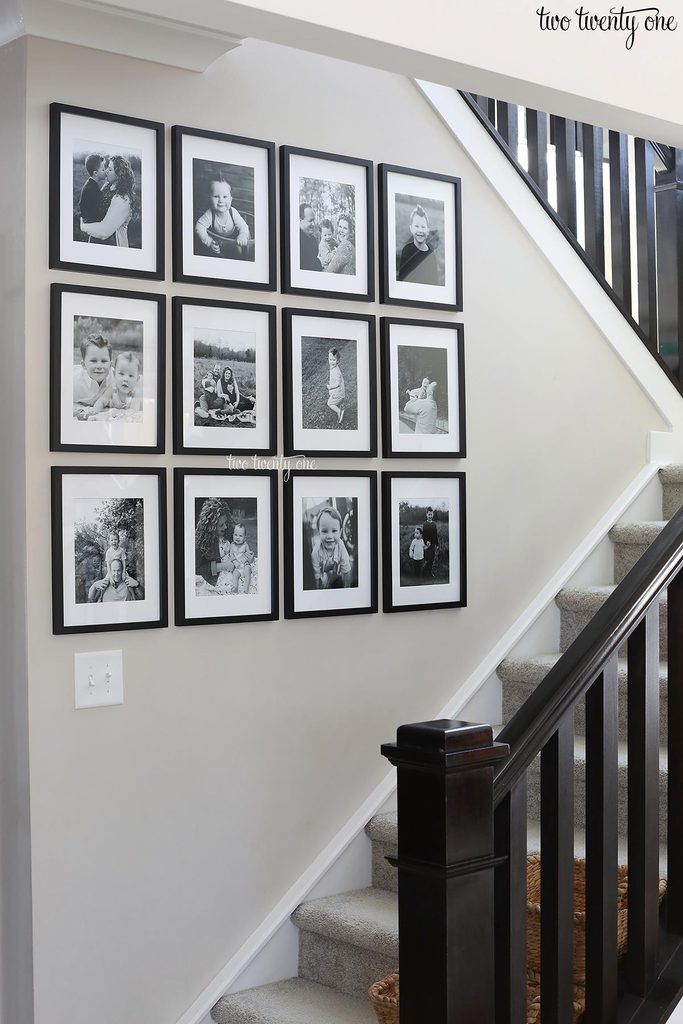 After completing the gallery wall, I thought the stairway landing needed a little sprucing up.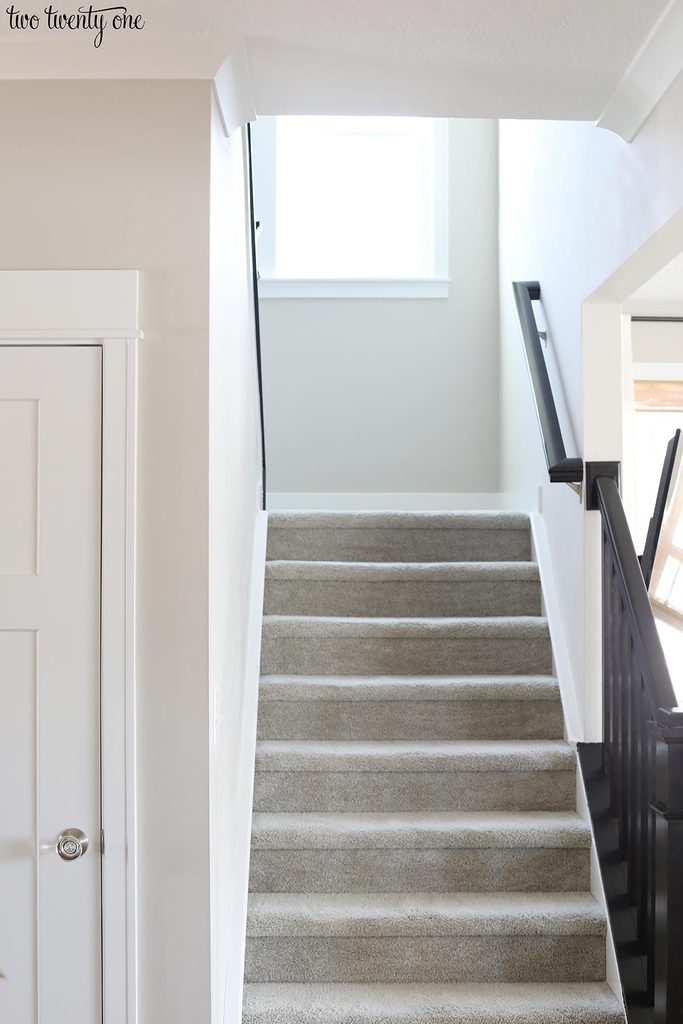 Stairway Landing Plants
So I added some potted plants to the landing.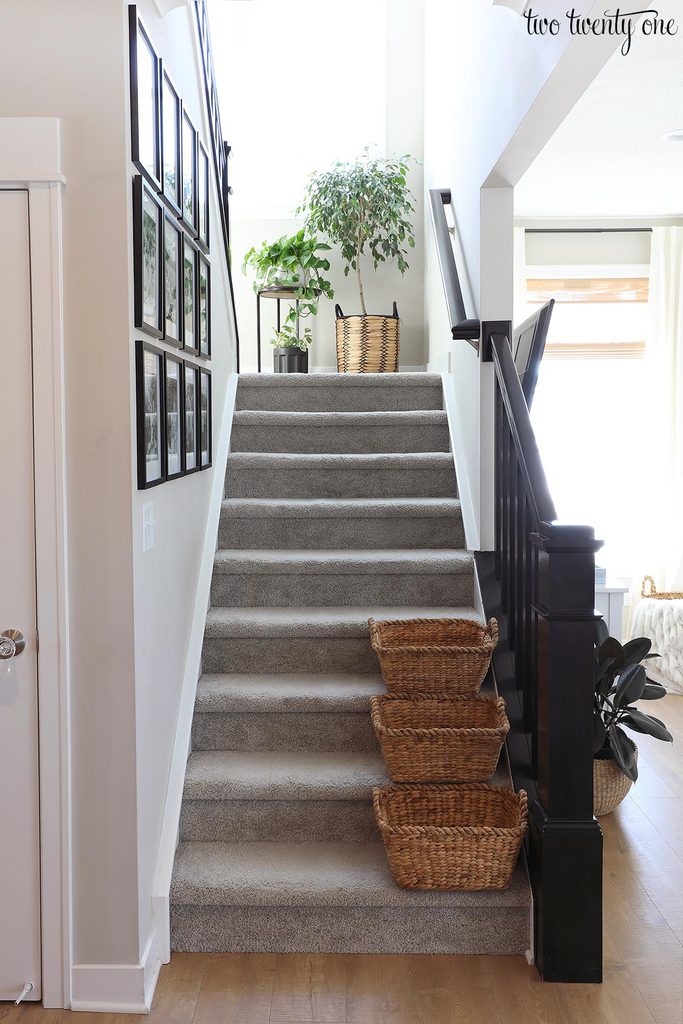 There's not a ton of space on the landing, so I chose plants that didn't occupy a ton of space. So my golden pothos could trail, I put it on a plant stand. I set my young pearls and jade pothos in a black planter underneath the plant stand. And my weeping fig is in a woven basket with black details and handles. To add some height to the fig, I put a container inside the basket. Keep that in mind when working with plants– if it the container will allow it, you can always give the plant a little boost.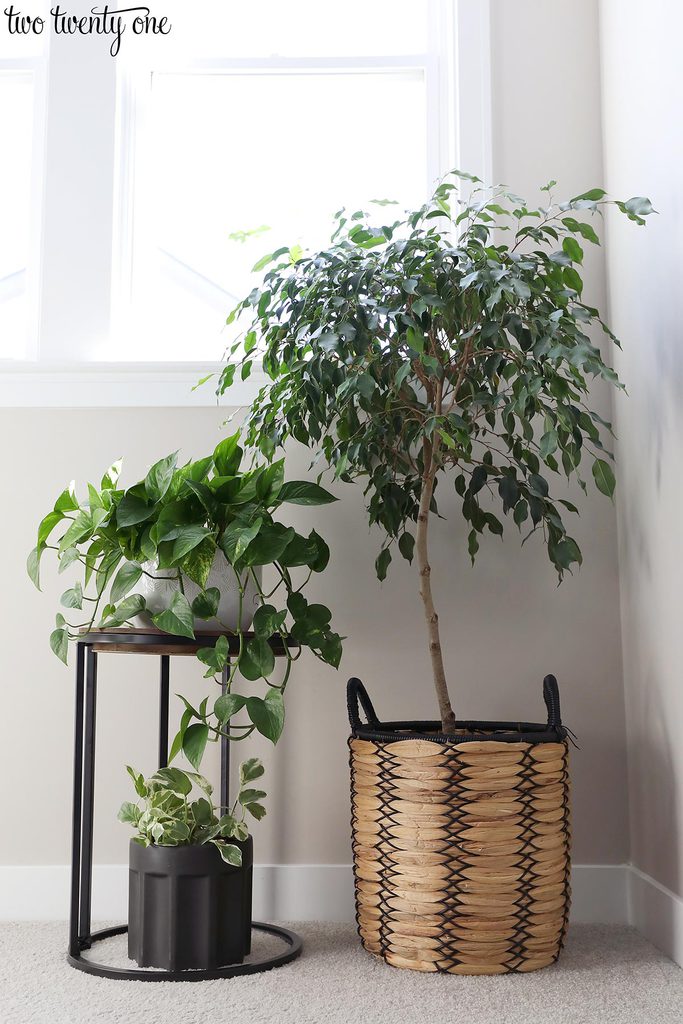 Basket System
I don't know about you, but our stairs were always scattered with stuff that need to make the journey upstairs. The cluttered look was starting to get to Brad and me, so I decided to implement a basket system. Each kid has a basket and Brad and I have a basket. This way Owen can look in his basket before going upstairs and grab whatever is in there and take it to his room. And now we don't have to look at cluttered stairs.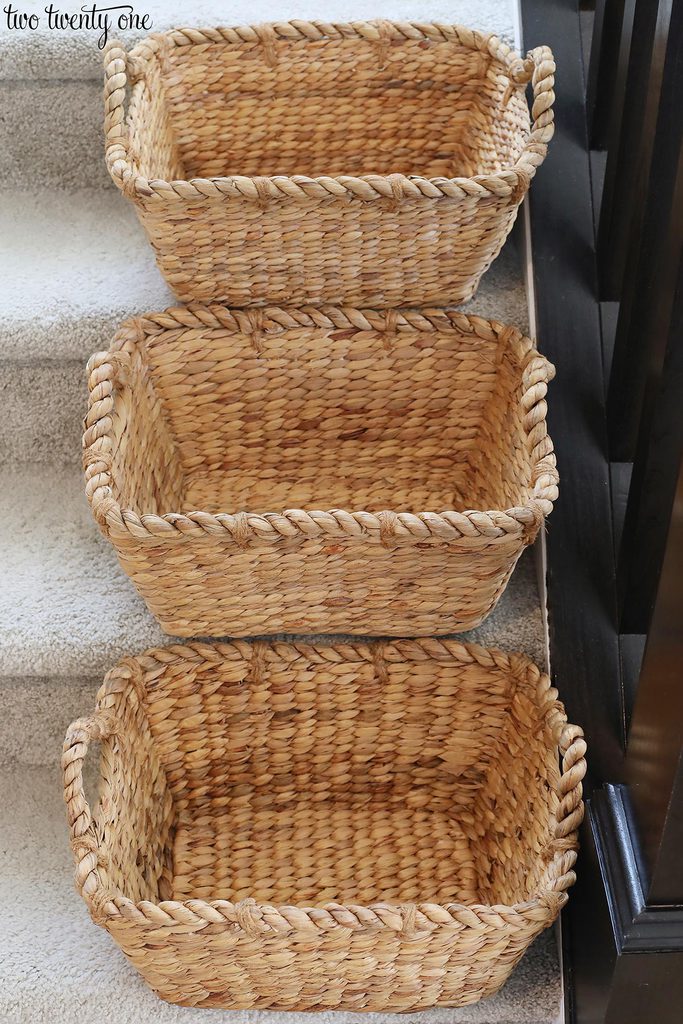 The view walking up and down the stairs is a lot more enjoyable these days. I highly recommend adding photos and plants to your stairway. A fun chandelier is also a must.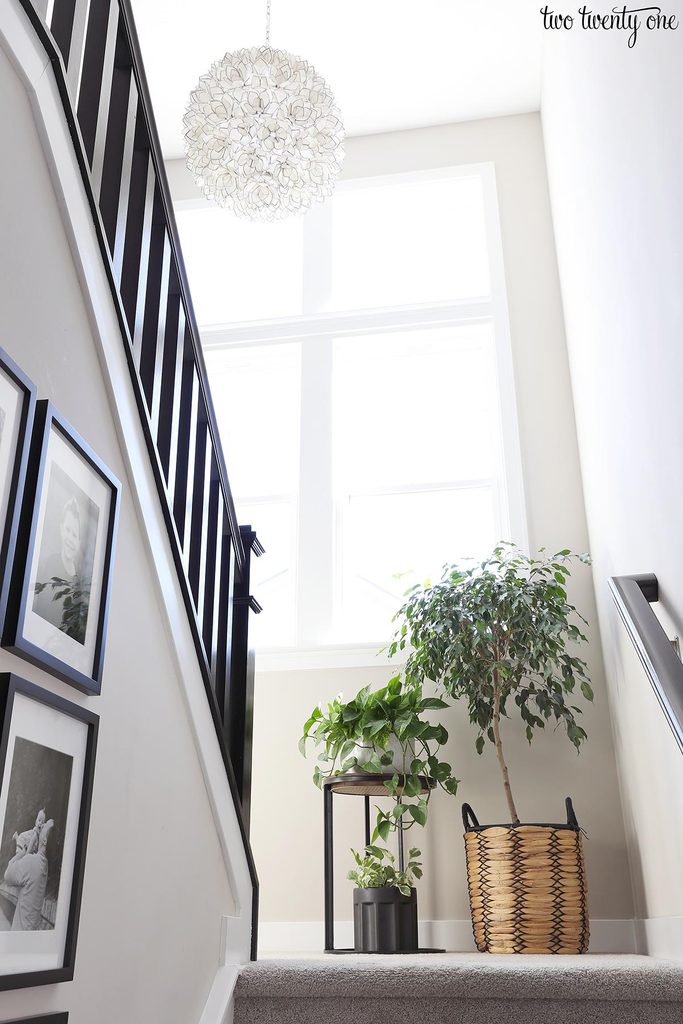 This post is sponsored by Better Homes & Gardens at Walmart. All opinions are my own.