When it came to lighting selections while designing the house, I went with the most basic lighting package (no extra cost) because I didn't really care for any of the lights our builder had to offer. That's one the caveats of a production builder– options are limited and they aren't that great.
The old stairway light wasn't terrible, but it wasn't the look I was going for– I wanted more of a statement light in the stairway.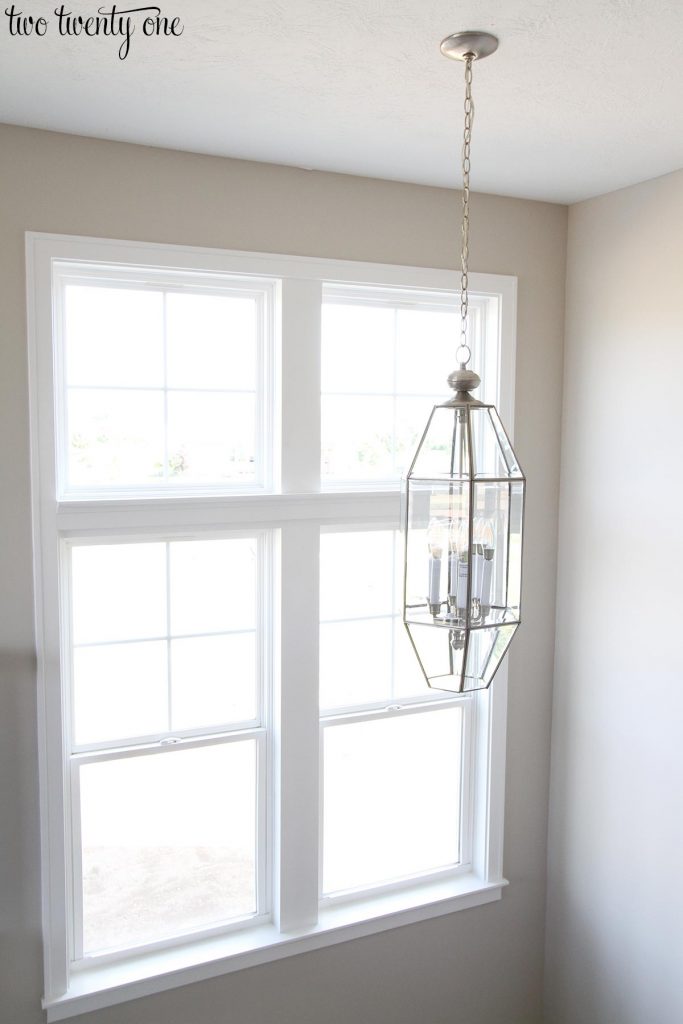 So we took it down and donated it to our local Habitat for Humanity Restore.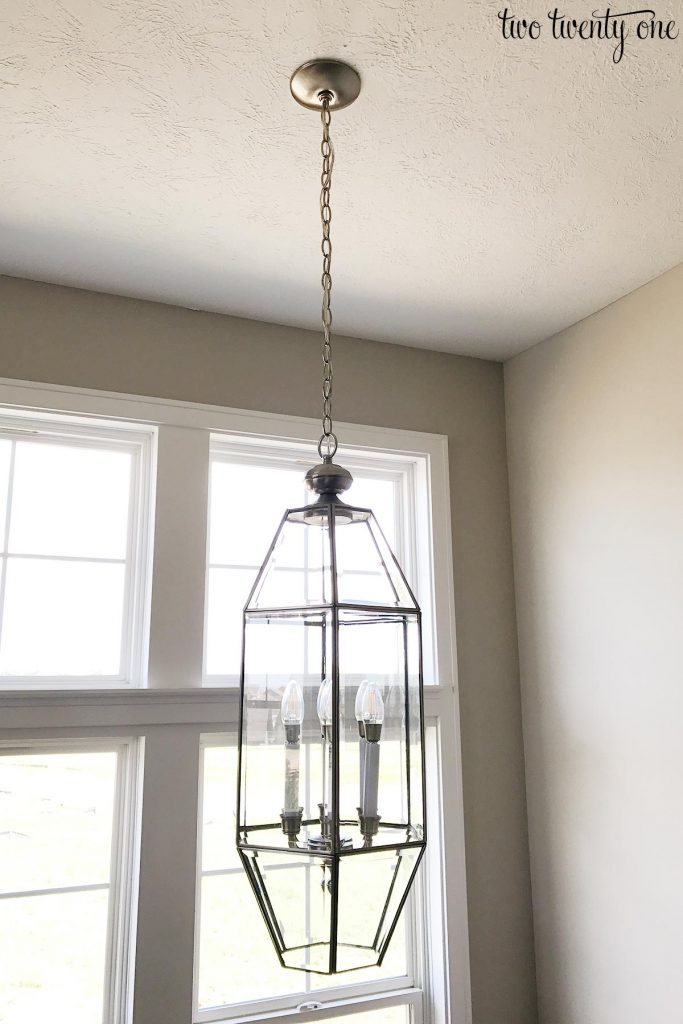 I had been eyeing the new light for months. I even went so far as to Photoshop it into a photo I took of the stairway at the model home– just to be absolutely sure it was the light I wanted.
One day, I was telling my mom about the light, a capiz-shell pendant, and she said she and my stepdad wanted to gift it to us as a house warming present, which was very sweet of them and really appreciated. They got us a water softener for our last house. So while the light isn't as practical as a water softener, it's definitely prettier.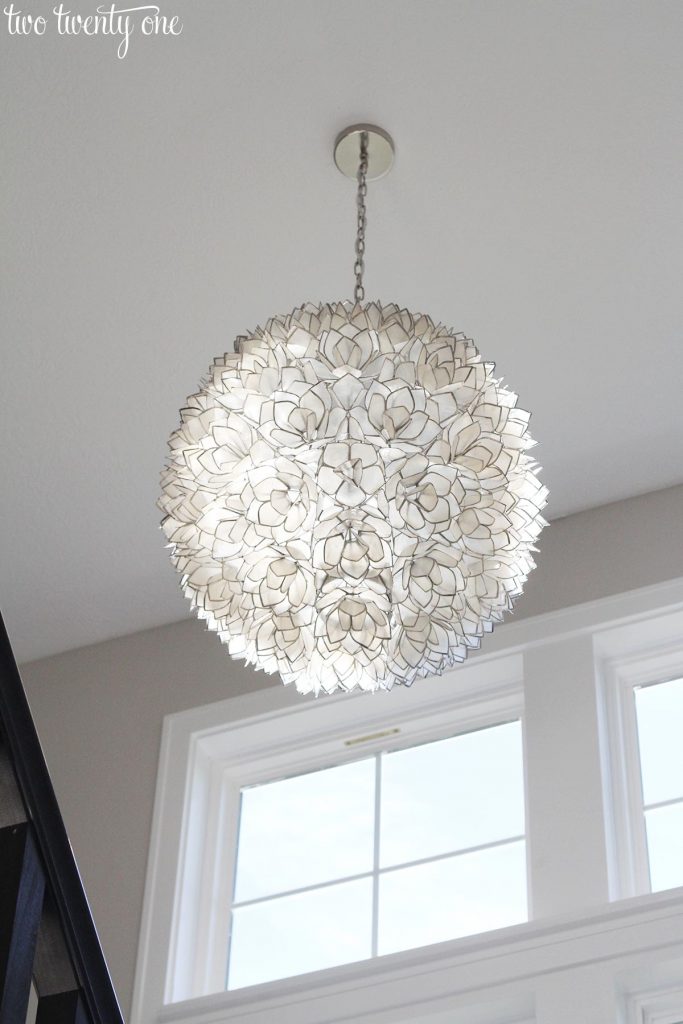 I probably took way too many photos of the light, but I'm kind of in love with it so that's my excuse.
Here's how it looks like with the light on during the day. (I rarely turn it on during the day though, because so much light pours through those windows.)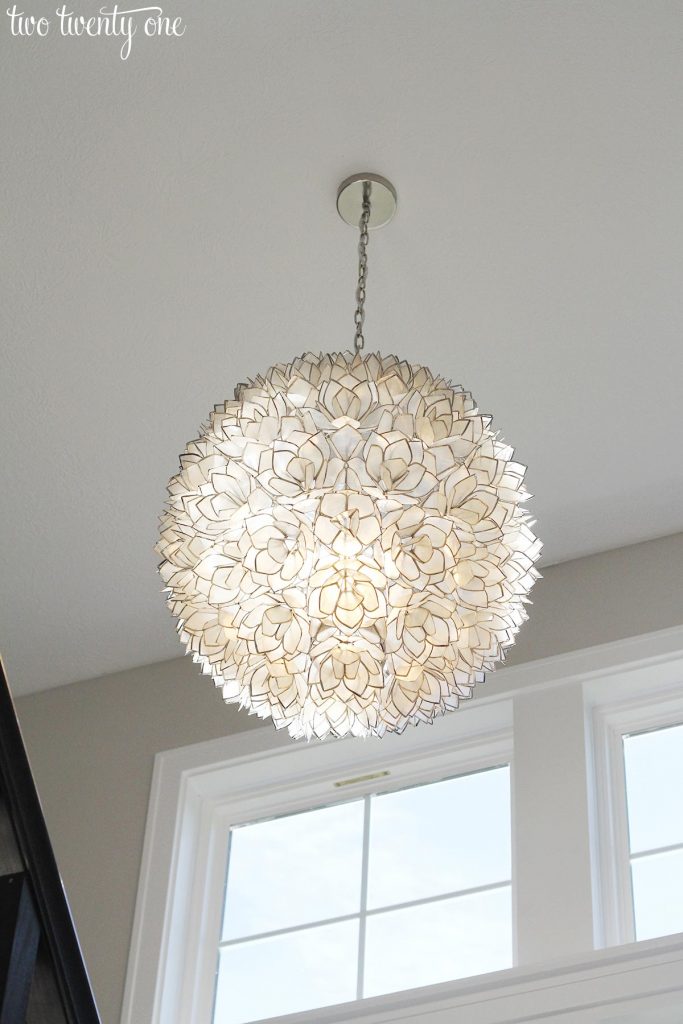 I'm not going to lie, hanging the new light was pretty awful. My father-in-law is an electrician, so I enlisted him to help take down the old light and put up the new one. I'm pretty sure I have to wait a couple months before asking him for another favor. He did say he hopes I never want to change the light out again. I don't think that will happen.
That's my father-in-law on the 10 foot ladder, my 6'6″ brother-in-law standing on the other side of the ladder (you're not supposed to do that) holding the light, and Brad providing assistance from the stairs while battling a bloody nose. Owen and I were there for moral support.
She was totally worth it though.
Right, my helpful light-installers?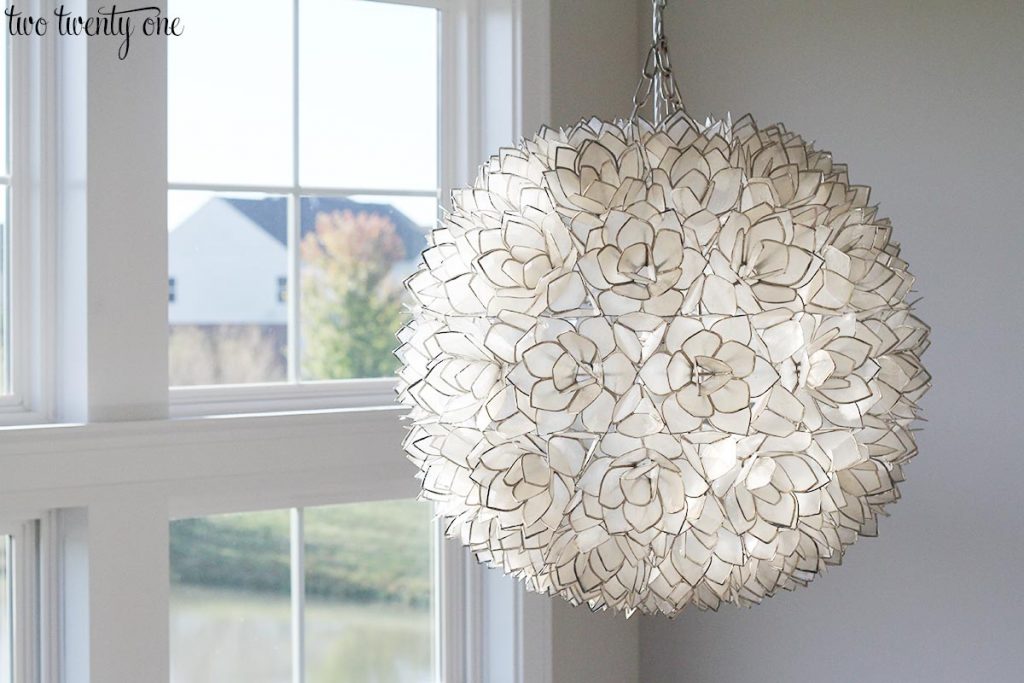 Don't ask me what it's like to dust the light because I have no clue.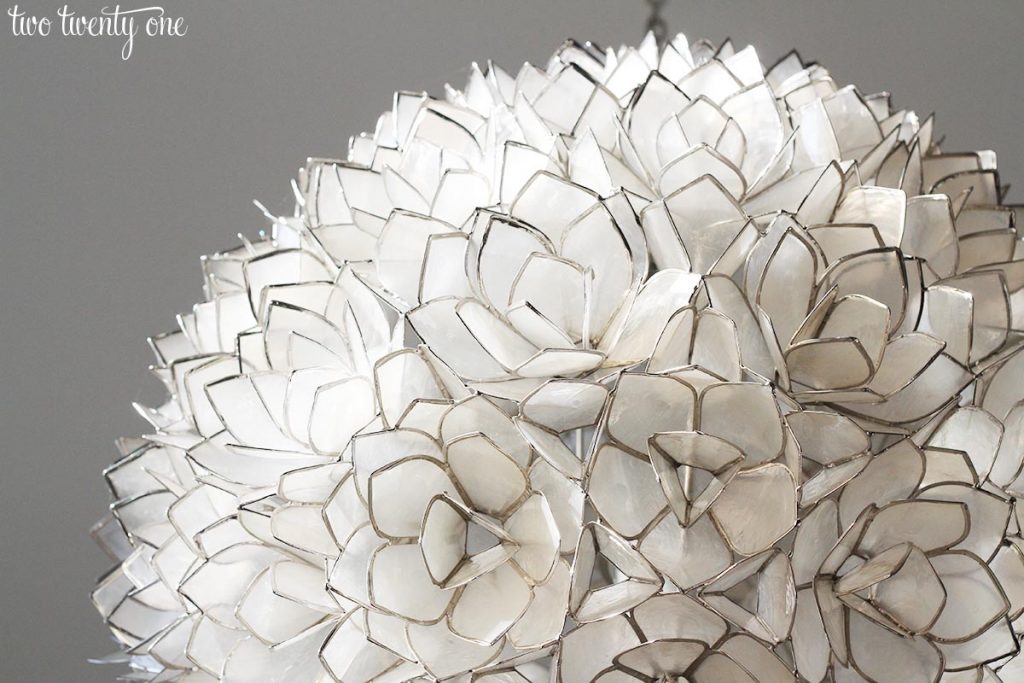 The capiz-shell pendant is a show stopper at night. I've been told it looks like the Times Square NYE ball from outside.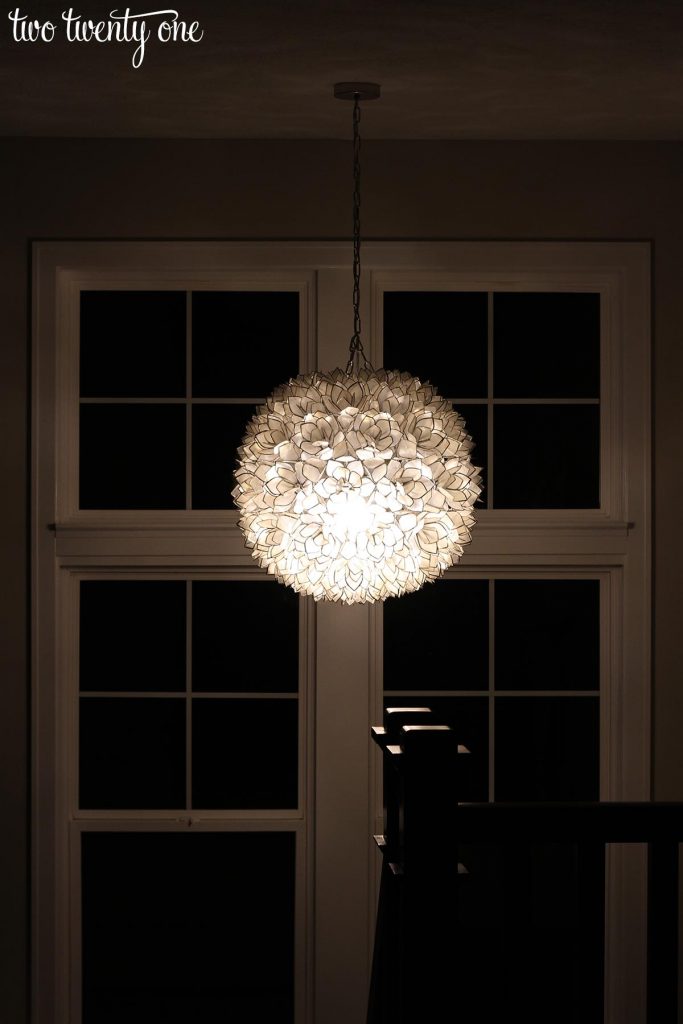 It's hard to see in the photo, but it reflects these cool designs all over the ceiling and wall at night.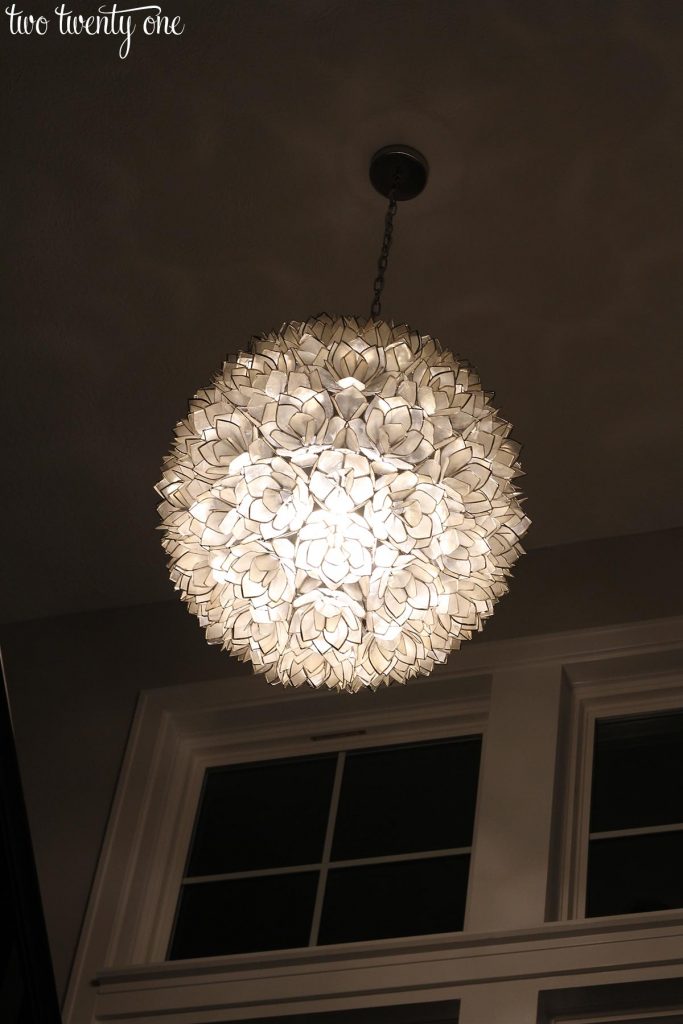 Hopefully our future neighbors appreciate it as much as I do.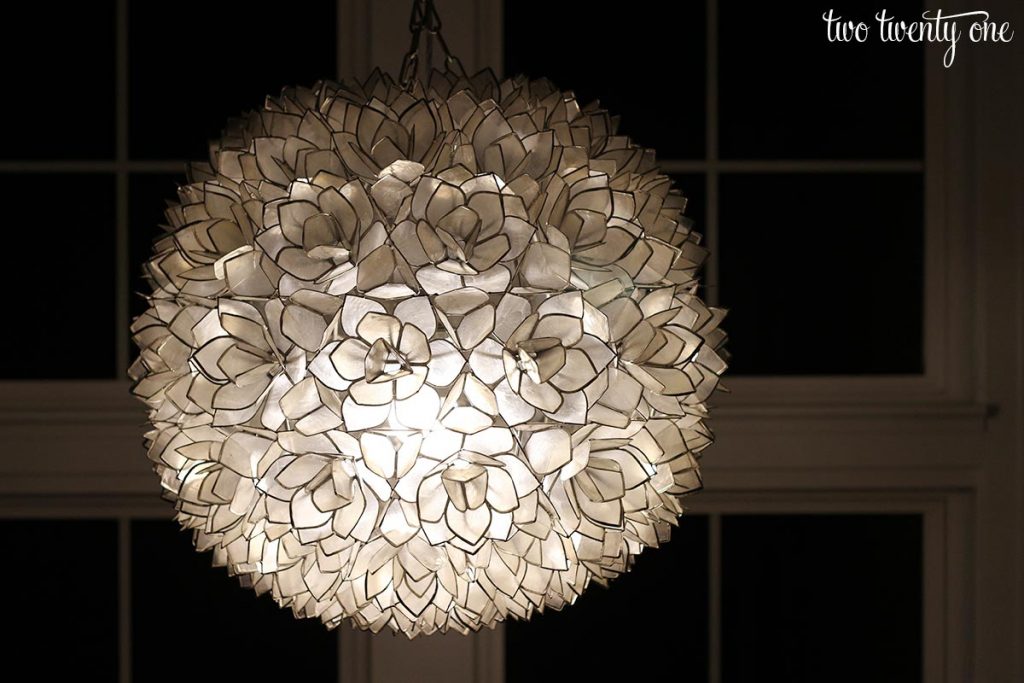 While the lightbulb isn't very hard to change, I still purchased a dimmable LED lightbulb that's supposed to last 13+ years.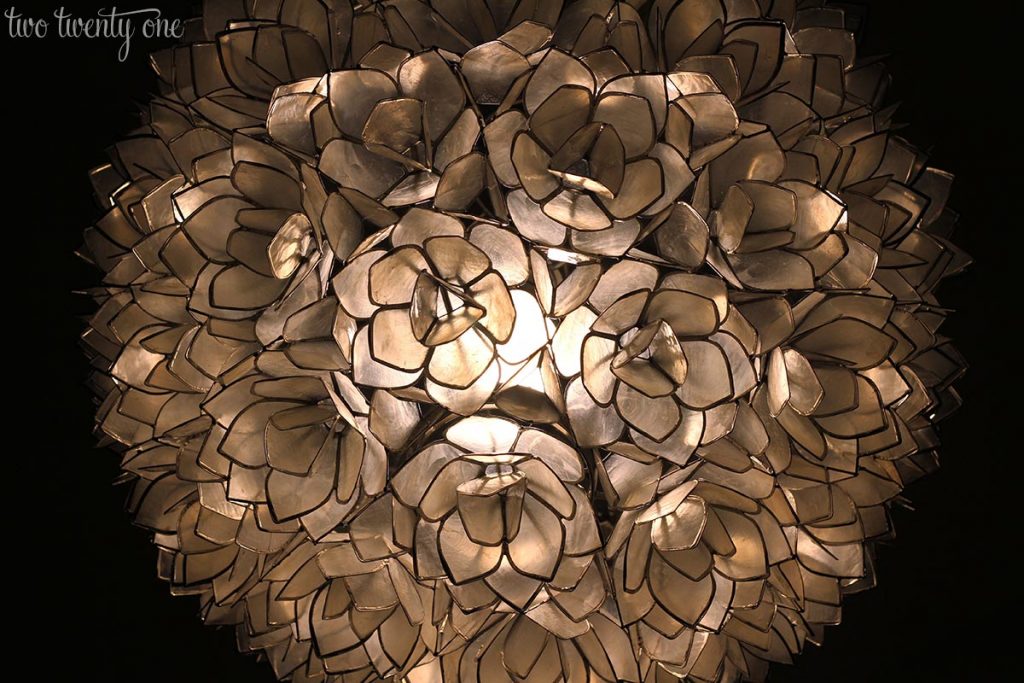 In case you're considering this capiz-shell pendant, wait for it to go on sale. I kept an eye on it for a few months to see how low they would go on the price. When it went on sale for 30%, I told my mom. The shipping cost is a buzzkill though.
The light is currently 25% off, but I don't think free shipping ever applies because it comes in such a large box.
 All in all, I feel like it's a really good light for the price.
Don't forget to leave me your 2017 gift guide suggestions here!