Building a House: Building with a Production Builder
As promised, today I'm kicking off my Building a House series, which will consist of a handful of posts covering different topics in regards to the home building process. In this post, I'm laying the groundwork by explaining the basics of production home building.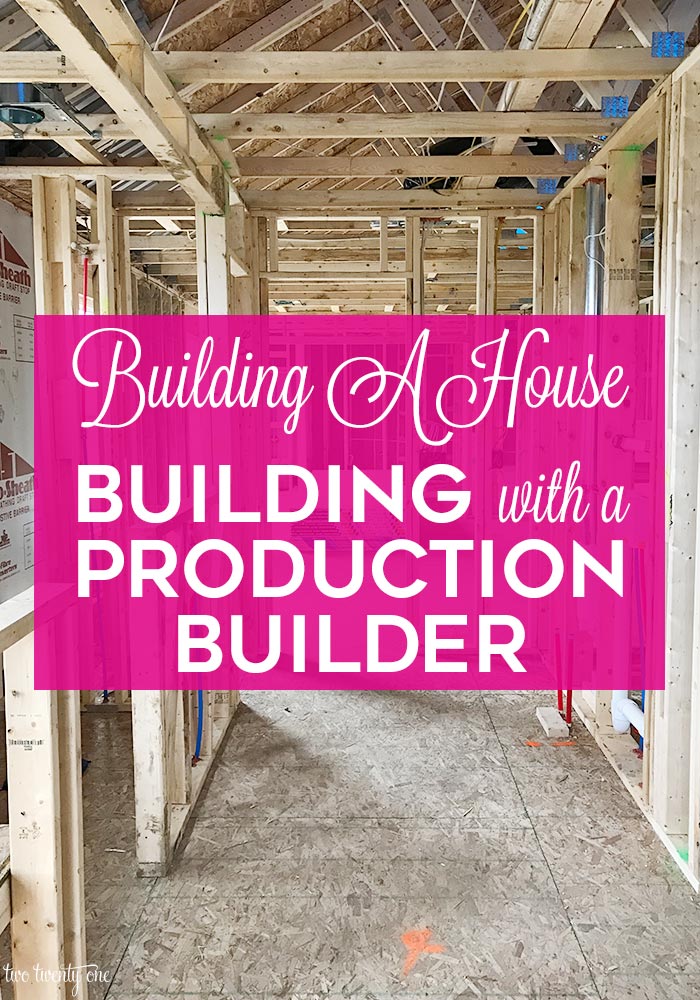 Our house was a production build, not a custom build. Most new construction in our area is done by production builders. The custom home market for homes under $500,000 is very sparse in our area, so unless one can afford such a house, they typically have to go with a production builder.
When we went into the building process, I knew a little bit about production builds because I've had friends build production homes and I even have friends who work for production builders, but there was a lot of stuff I didn't know about– like how limiting some the design choices are. For instance, we could pay extra for flat colored walls and flat white ceilings and semi-gloss trim throughout the house, BUT we could only choose from six Sherwin Williams colors. Or we could choose to not pay extra and all the walls, ceilings, and baseboards would be painted white. There was no negotiating a different Sherwin Williams color or sheen– trust me, I tried. We couldn't buy our own paint and ask the builder's painter to use that paint– trust me, I asked. That's not how production building works. You have to choose from the options you're given. There's no deviating.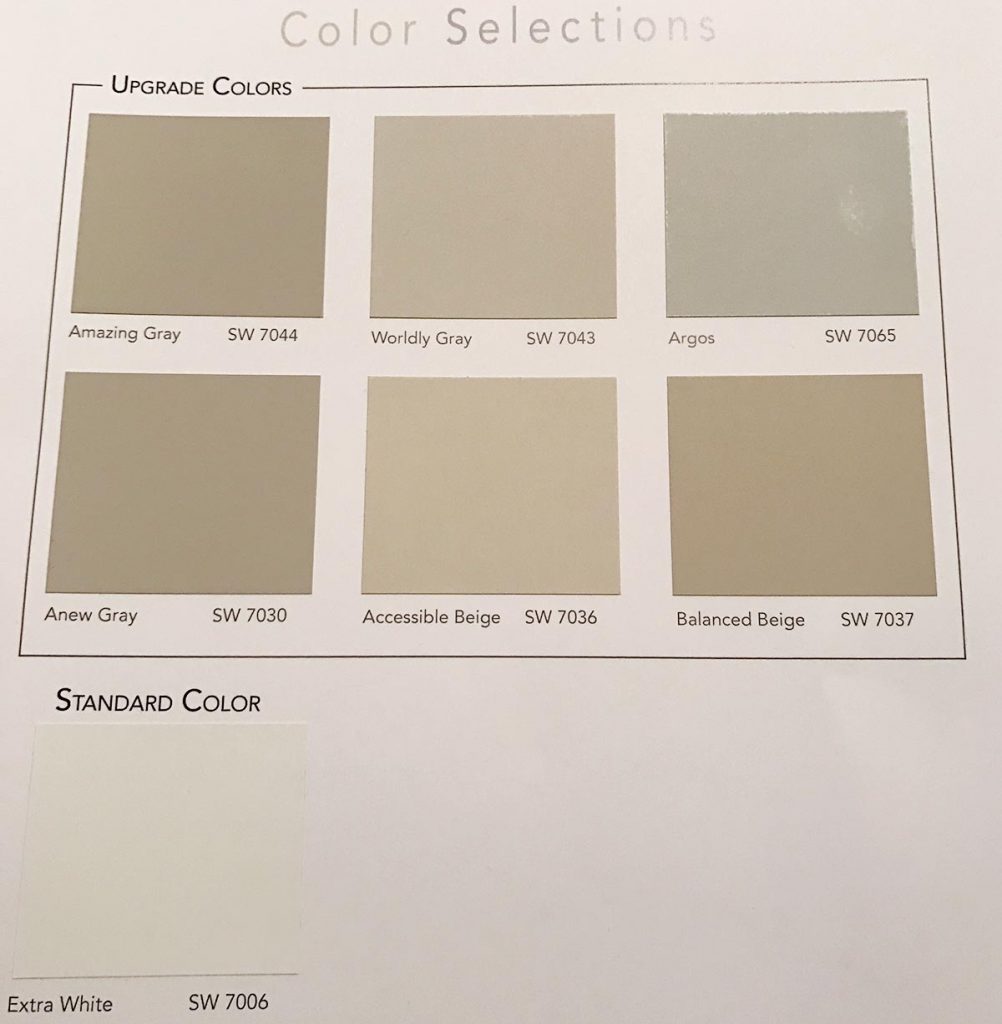 (Our entire interior is painted SW Worldly Gray.)
But what I found limiting may be better for others who have a hard time deciding on things and need less options or those who don't have a particularly strong passion for home design.
Note: All of this may vary dependent on your area and your builder. I'm sharing our specific experience with a production builder.
The Basics of Production Home Building
Production builders are like a one stop shop. A lot of builders buy a parcel of land, divide the land into lots, and then build homes on those lots. Every home is built by the same builder. The builder hires the trade partners (contractors), typically with a bidding process. The buyer has no say in what contractors are used. This takes a lot of work off of the home buyer in terms of taking time to vet contractors. But then again, you don't know the quality of contractors you're getting since it's completely left up to the home builder.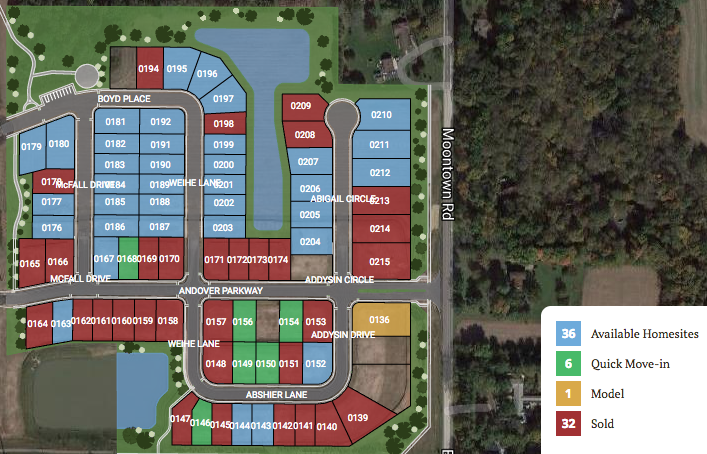 With each builder, there are usually different tiers of neighborhoods– first-time, move-up, luxury. And there can be tiers inside tiers. Our builder offers different levels of move-up homes (i.e. homes starting from $225,000, homes starting from $350,000). Keep in mind we live in Indiana where home prices are low. Our specific neighborhood is considered a "move up" neighborhood, one step down from our builder's custom/luxury homes.
Within each neighborhood there are anywhere from 5 to 15 floor plans to choose from with 1-3 different elevations per floor plan. After selecting a floor plan and elevation, buyers choose their favorite design/style options from a menu of choices selected by the builder. Different levels of upgrades, also called options, are available in several product categories, but those are also limited to what is chosen by the builder. Upgrades cost additional money.
 When buying with a production builder, the price of the lot is typically included as a package with the home, although sometimes builders make you pay a 'lot premium' for particular lots. Having the lot included in the purchase of the home makes things simpler for the buyer because the builder handles all the permits and running and setting up utilities. The buyer just has to call the utility companies a couple weeks before they close on the house and get the utilities scheduled to be turned on in their name.
There are also different qualities of builders. Our builder is considered one of the best production builders in the area, which is why we went with them. They were voted builder of the year in 2016 and our realtor, who's a friend of mine and had clients build with them in the past, highly recommended them. I also have a friend who built in the first phase of our neighborhood who recommended them, saying they only had a few slight issues with their house. But with all of those good recommendations, we still ran into issues.
Meet with a Sales Counselor
After researching the neighborhood, builder, and picking out a couple floor plans we liked, I called up our realtor and asked what usually happens when you want to build. She said we needed to meet with a sales counselor. In our initial meeting with the sales counselor, we walked the model home, decided on the floor plan we wanted, picked out the upgrades, and chose a lot. Our realtor also attended most of our meetings with the builder.
We probably spent the most time on the upgrades. There's a base/standard floor plan for every house. And you can go through the house and add upgrades. A lot of builders will offer changes to the floor plan. Like in our house, instead of having a 5th bedroom on the main level, we paid to upgrade to the morning room, which we use as Owen's play room. Our master bedroom originally has a large sitting area, but we paid to upgrade and have an ensuite bathroom put in the guest bedroom. You can also upgrade other things like casing windows and adding more recessed lights or more rough-ins, etc. I'll dive deeper into this stuff in my post about the designing the house, and what it's like to go to the design center.
You can see in the floor plans below, you can upgrade the floor plan to have a gourmet kitchen, covered patio, and guest suite. There are also optional windows, doors, tray ceilings, cabinets, railings, 3-car garage, etc. throughout. All of those options are considered upgrades.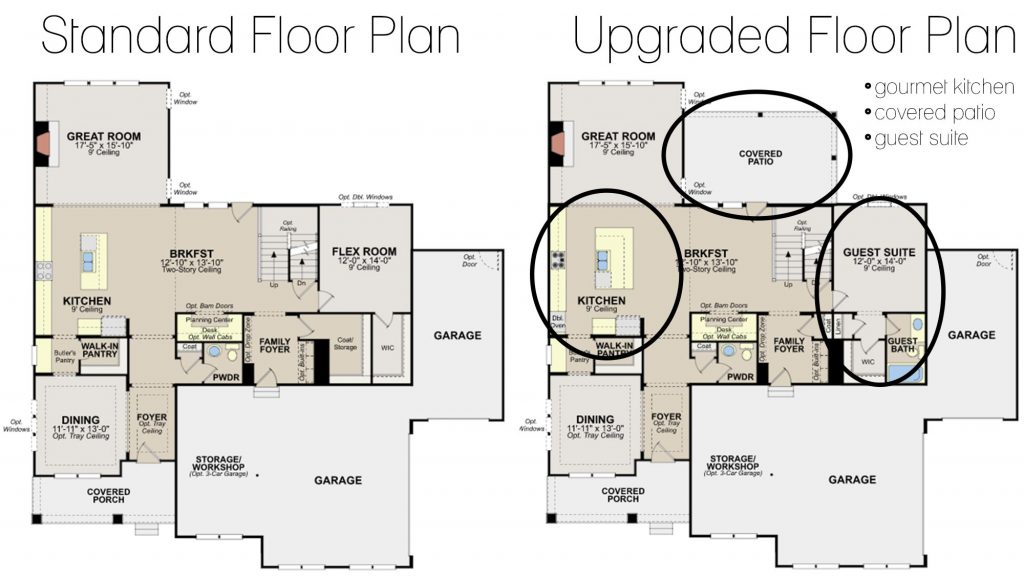 Once we decided on our upgrades, the sales counselor totaled everything up and gave us a price on the house. It was the beginning of January and things were slow, so he gave us a week to make our decision as to whether we wanted to build or not. When we decided to build, we signed a contract and gave the builder a deposit in order for them to hold the lot. Later on, we had to give a bigger deposit in order for them to begin construction.
Design Center
When it comes to the design center, you have to go with the choices offered by the design center. For example, let's say I didn't like any of the main, hard surface flooring options the builder offered, even after going through all the flooring in the 3 different upgrade levels, I'd just have to suck it up and pick one. (I love our main flooring laminate, btw.) Because I cannot go out, buy my own flooring, and ask the builder to install it for me. Like I said, you get what you get.
A lot of people will get basic packages (no upgrades, no additional costs) with things like lighting fixtures and upgrade the lights to their liking down the road. We did that with our stairway light, which we donated to Habitat for Humanity Restore since it was still brand new. You can also pay for rough-ins (the electricity is run to the place where a light will go, but the builder doesn't install a light). We have rough-ins in 8 rooms in our house. All of the bedrooms, minus the master, are currently being lit with lamps until we decide on ceiling fans/lights.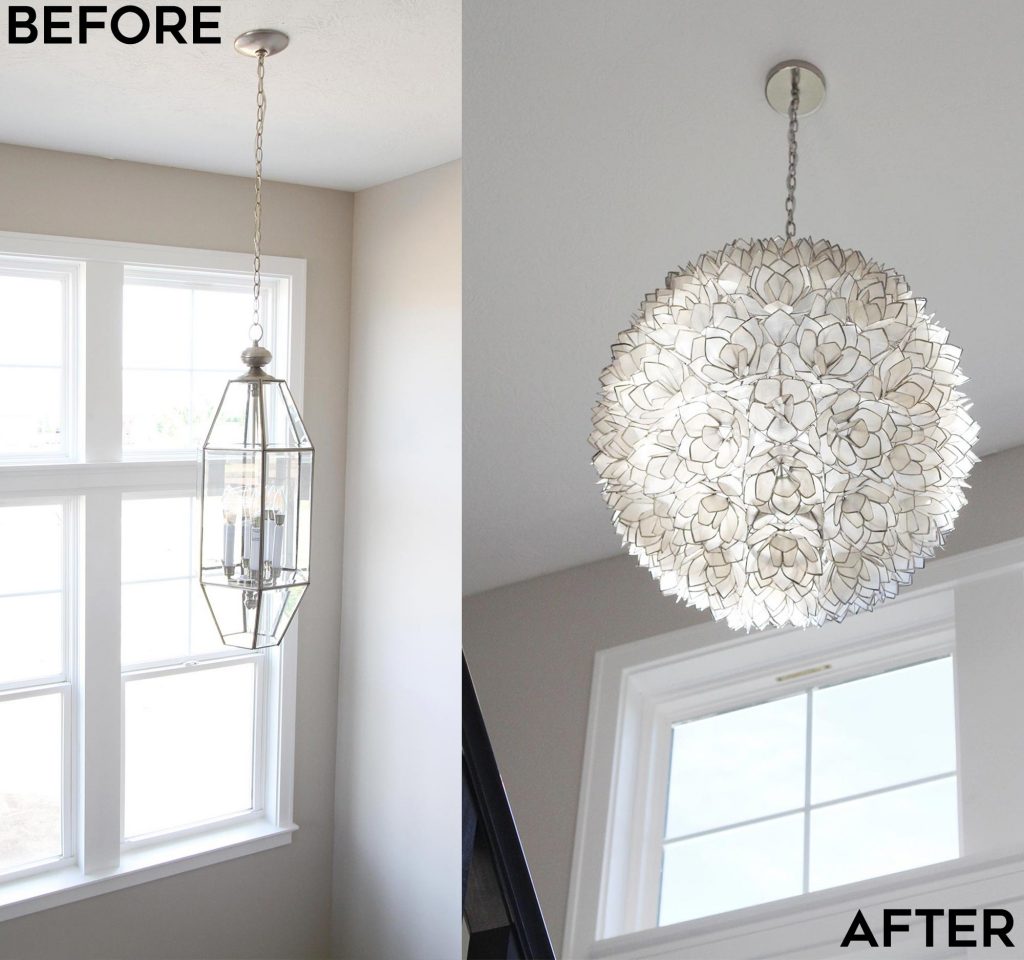 You may also have a limited amount of time to make ALL of your design choices. We had about 2 weeks to decide on everything. And I mean everything– all interior and exterior finishes, upgrades, number of lights, placement of lights, number of electrical outlets, paint color, etc. After signing off on everything, if you wanted to make a change, you had to pay $500. But after a certain point, I think once construction began, you couldn't change anything at all. Our builder wouldn't break ground on our house until we signed off on all of our choices. I had no clue this was an aspect of production building until we went through it.
I'll expand more on the design center experience in another post.
Construction
After all the design choices for the house are signed off, construction begins after the builder gets all the proper permits. Our builder operates on a 120 day build cycle, meaning the empty lot is turned into a completed house within 120 days. I did the math, and from the day they dug our basement to the day we closed was 119 days.
Construction is broken down into five stages– foundation, framing, mechanicals, drywall, and trim & finish. Our basement was excavated, plumbed, and poured within 15 days. The house was framed in 4-5 days.
When it comes to the actual building of the house, the buyer has to go with the builder's trade partners (contractors). The buyer can't choose their own contractors.
Walk Throughs
Throughout the building process there are different meetings the buyers attend. The first is the construction meeting, where the buyers meet with their assigned project manager to go over the final floor plan, upgrades, and finishes. Typically, each neighborhood has one project manager who manages all the builds in that neighborhood.
The second meeting conducted with the project manager is the pre-drywall orientation. This takes place when all the framing, electrical, HVAC, and plumbing has been completed. The project manager and home buyer(s) walk through the house and make sure all the selections and options have been installed. During this walk-through we noticed certain things were missing– like the coax cable for our modem. So I highly recommend attending this meeting with your project manager.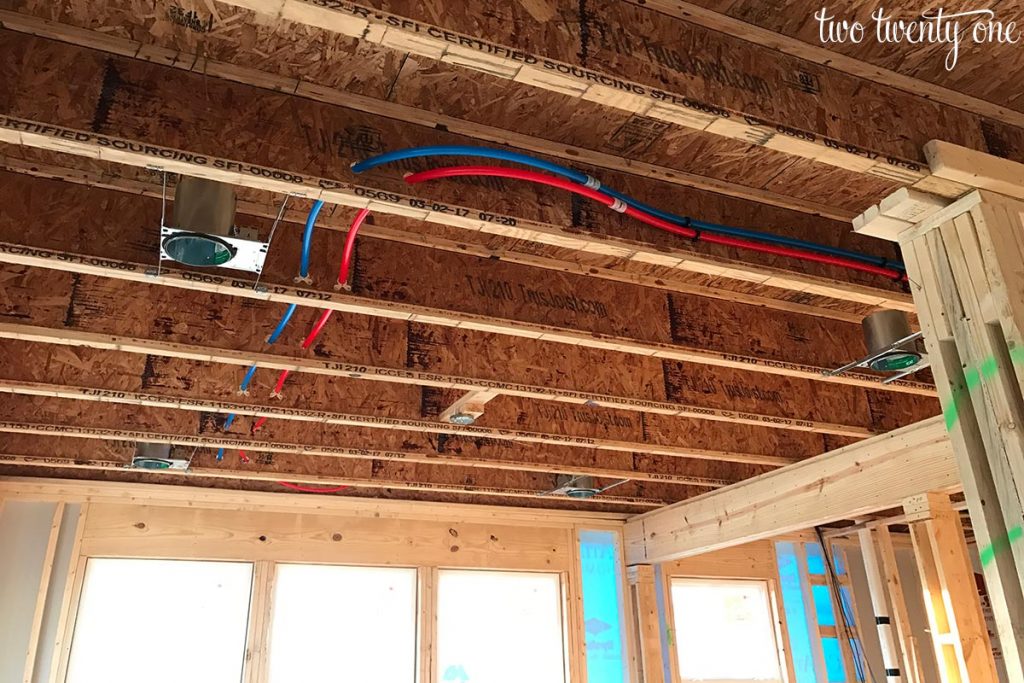 The third meeting is the pre-closing orientation. The home buyer(s) spend 3-4 hours walking through the house with the project manager and pinpoint things that need to be addressed before closing. Our project manager put post-it notes on things we wanted to be fixed.
The final meeting is the pre-closing re-walk which is the final inspection on the day of closing. The home buyer(s) walk through the house with the project manager and observe the things that have been addressed. And in our case, make note of things that still needed to be fixed. If there are things that still need to be addressed, they're added to the "We Owe" list. The project manager and home buyer(s) sign off on the "We Owe" list.
Our realtor was present for all of these meetings except the construction meeting. We found it beneficial to use a realtor, and should we ever build again, we would use our realtor again. (If you're in the Indianapolis area and ever looking for a realtor, shoot me an email or message and I'll pass around our realtor's info.)
I'll also add that we hired an independent home inspector to do an inspection on the house. I highly recommend doing this. Had we not hired the home inspector, we wouldn't have known/realized that the builder had cut a truss (and reinforced it) in our attic to fix the ceiling/wall in our master bedroom. Because they cut a truss, we required that they give us an engineering letter stating that the structure was sound.
BUILDING A HOUSE SERIES
Don't forget to check out the other posts in my Building a House Series!
Note: This was our experience, which I hear is similar to other production builders. But all of this may vary dependent on your area and your builder.