Today I'm sharing our mudroom. You've probably seen them on Instagram Stories, and I've shared a photo or two on here, namely in house tour when we first moved in. But I've never devoted a blog post to it.
With that said, one of my goals for this year is to share more of our house with you. I know I haven't shared as much of the house as people would have expected over the past two and a half years. And that's because I started to hate this house and our decision to build it because of everything we went through during the building process and then after we moved in. The major things being having the front porch torn out and replaced twice, needing all the bathroom vanity tops replaced, not being able to use our master bathroom for 3 months because the shower was torn out and replaced twice, and then discovering there was a misplaced I-beam under our first floor. All while pregnant with Emmett. But as time has gone on, and we haven't experienced any other major issues, my relationship with the house has improved.
Mudroom Location
The mudroom isn't necessarily a room. It's more like an alcove in the hallway that spans from our staircase on one side of the house to our pantry on the other side of the house. It's to the left of the door to the garage. And it's to the right of the entryway before entering our living room. If you want a good idea of the layout of our downstairs, I recorded videos last Christmas and put them in my Home highlight on Instagram– it starts around the 14th slide.

A Mudroom is Built
Before I show you what it looks like now, I want to share what it looked like while we were having the house built. The mudroom built-ins were an upgrade. When we crunched the numbers it made the most sense to just pay for the upgrade since we would've spent almost as much on supplies as the builder was charging to build the built-in lockers.
This the view after coming in the door to the garage and turning left. The opening in the background of the photo is our basement stairs.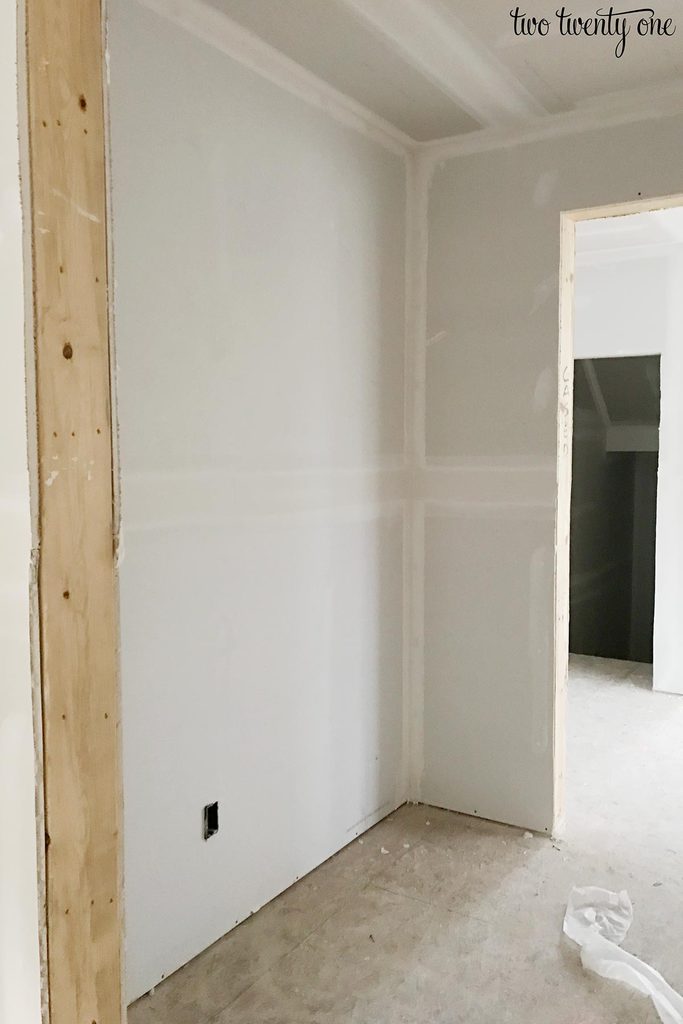 They installed the built-ins pretty quickly. I'm guessing it took them a day or two, max.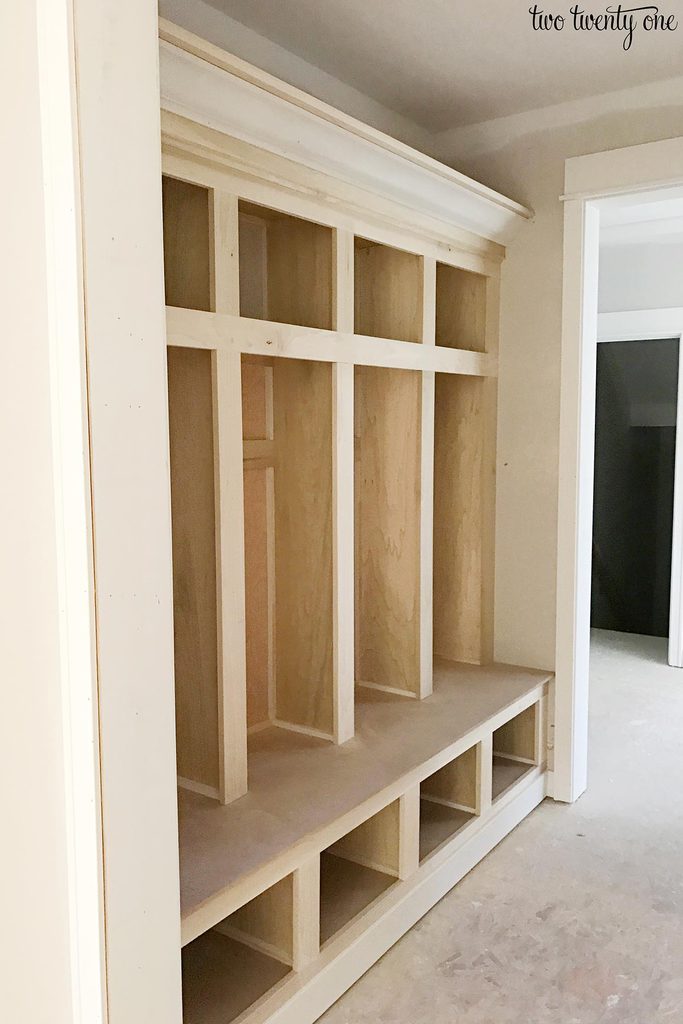 Our major complaint is the paint they used. It's been two and a half years, and it's still tacky. If we set a paper down on the paint and leave it for a couple days, we have to peel it off of the paint. And the wood is starting to bleed through the paint in some spots. So eventually, I'll have to prime and paint it.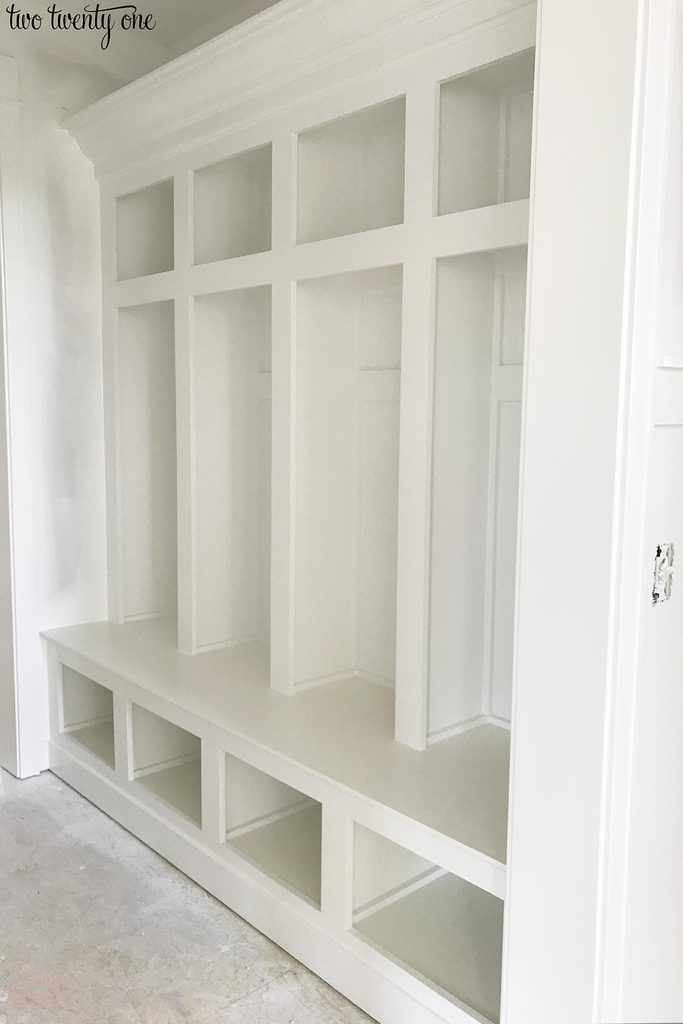 Here's how it looked when we moved in.
And here's how the mudroom looks now.
Lockers
We each have a locker space. Owen is on the far end, then Emmett, me, and Brad. This isn't all of our stuff. A bunch of our winter coats, snow pants, snow boots, and lighter coats are stored in our coat closet by the front door. We rotate stuff in and out of the lockers, dependent on the season. So come spring, all of our winter coats will go into the coat closet.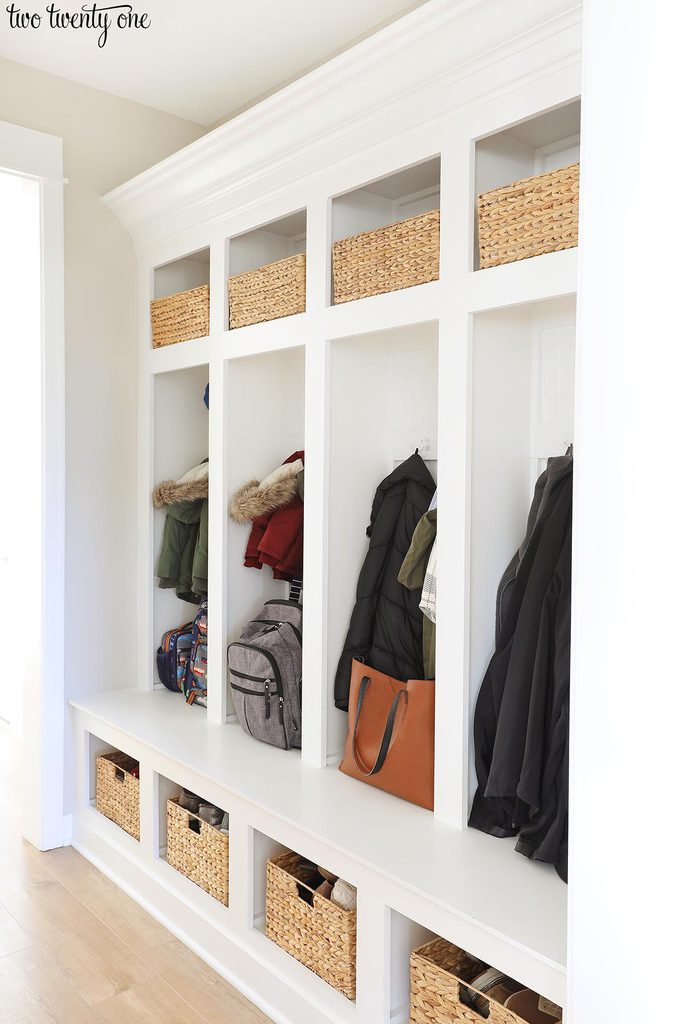 Owen stores his hats, coats, umbrella, backpack, and lunchbox in his locker. Emmett's locker houses his coats and the diaper bag.
Since this is Indiana and the weather can change in mere minutes, I keep a winter coat, nice jacket, and outside jacket in both of their lockers. Emmett also has a raincoat.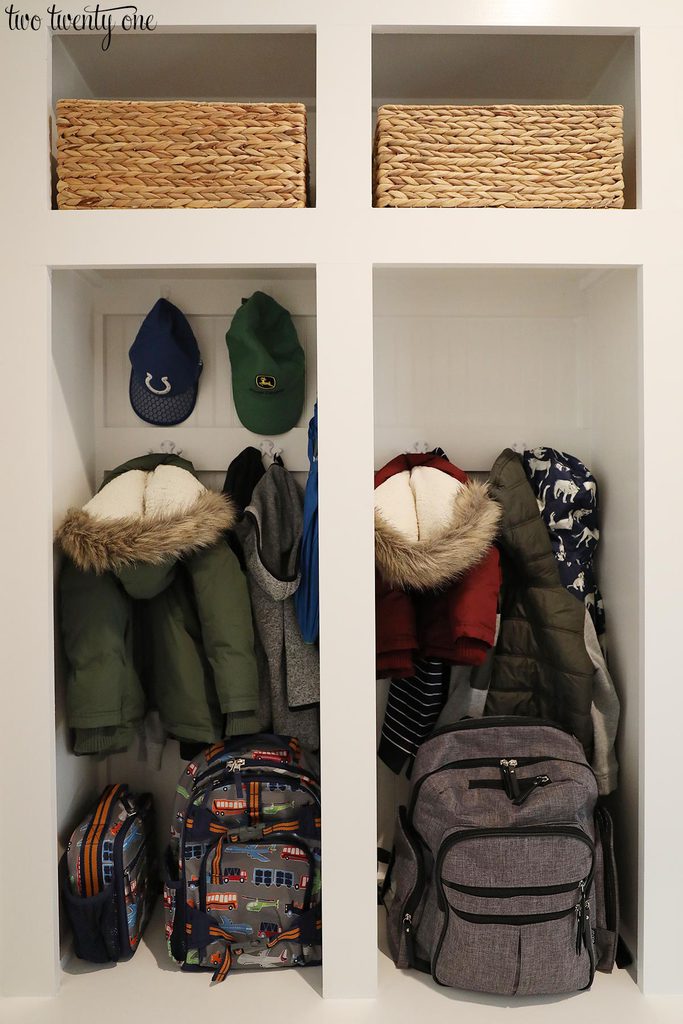 The contents of my locker changes often, but I usually always have a puffer vest, raincoat, and lighter jacket. I keep my heavy winter coat in the coat closet because I really only wear it when we do an outdoor activity. I also store some reusable bags in my locker. The bags are mostly used for returns. I'll put all my Target returns in bag X and any other returns in another bag.
Brad's locker houses his various jackets. His heavy winter coat stays in the coat closet with mine.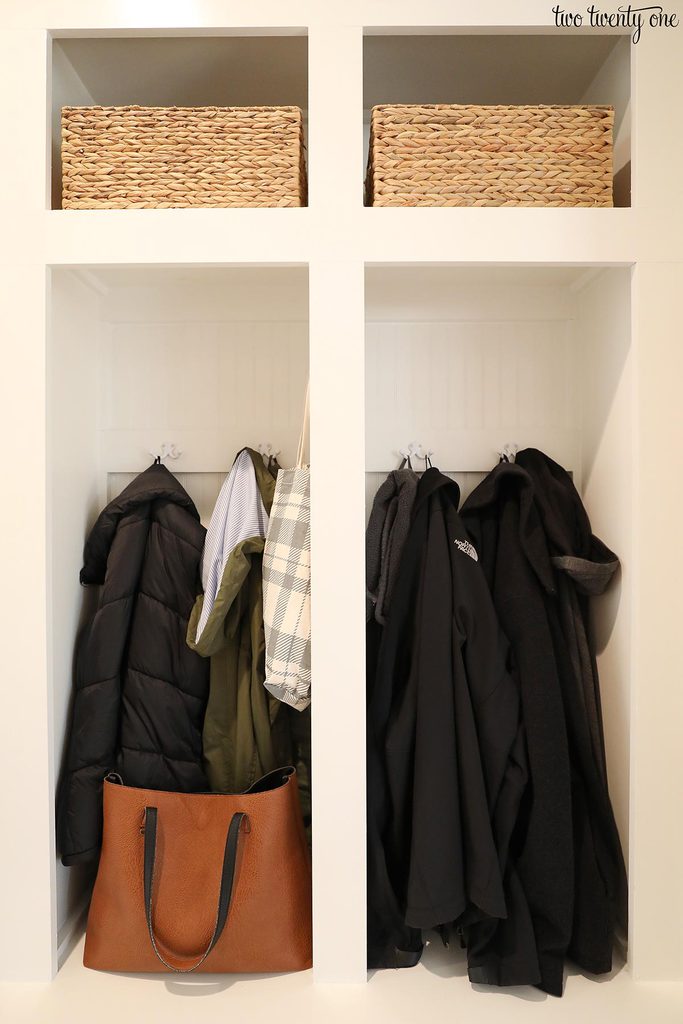 Locker Cubbies
When most people do built-in mudroom lockers, I feel like they base the dimensions of the cubbies on the size of basket they'd like to use. We had the opposite happen, so I had to find baskets based on the size of the cubbies, which proved to be difficult.
I stalked HomeGoods and Marshalls like a mad woman for months to find baskets that perfectly fit the top and bottom cubbies. It took me a few months to find four of each. I've even bought a couple back-ups when I've spotted them. Just in case.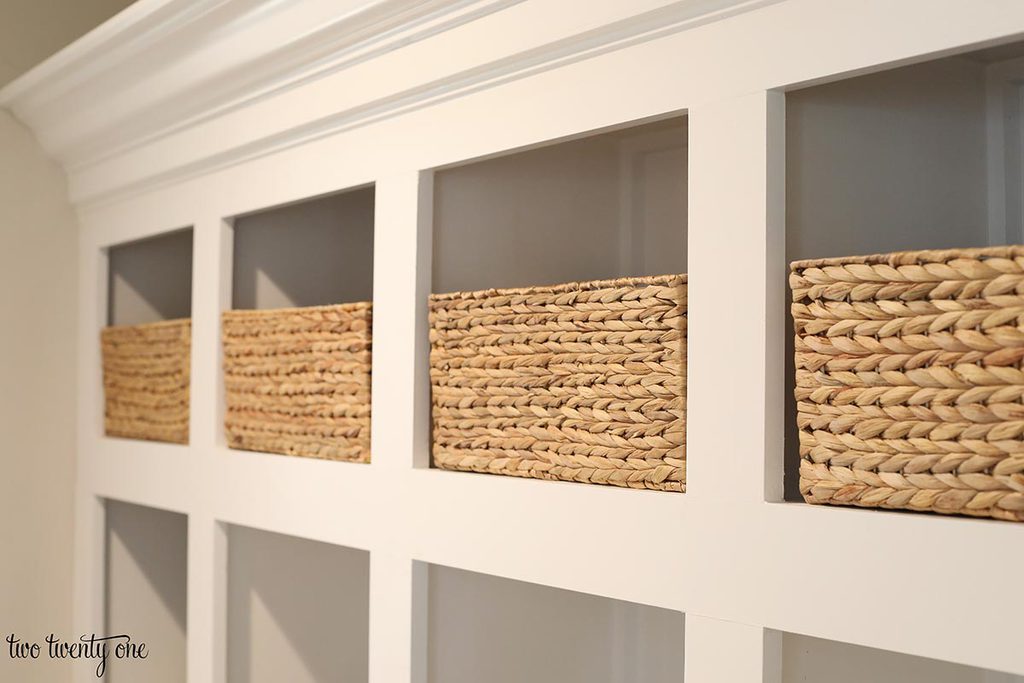 Tomorrow I'll share exactly how we use the baskets and how I organize them. I also have a couple of other tricks I use in the mudroom.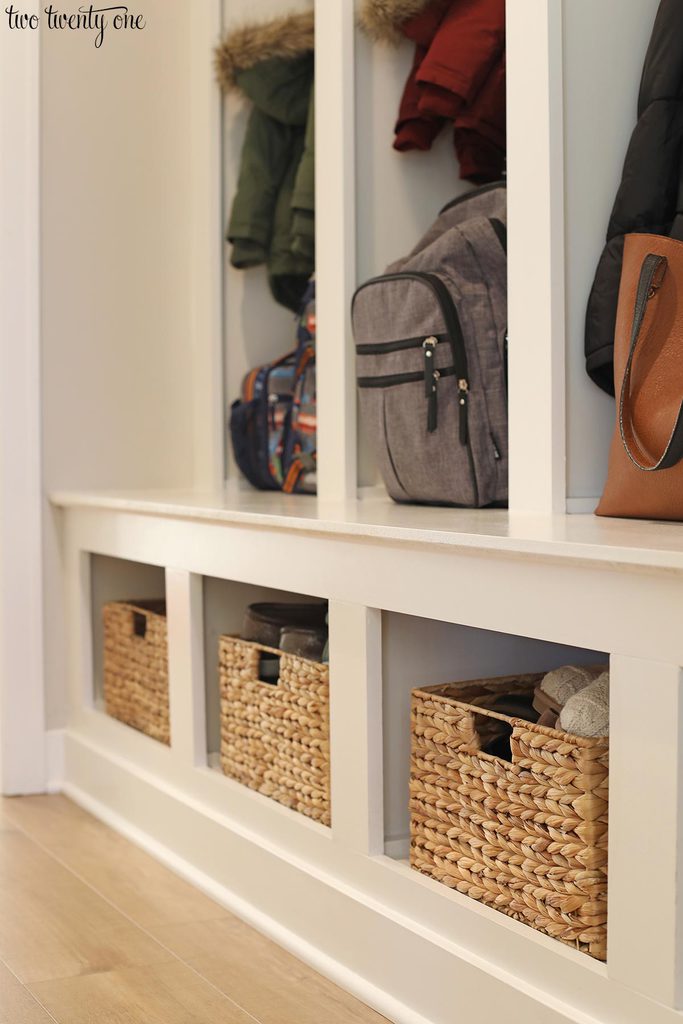 Across from the lockers is a wall with board and batten with a beadboard detail. The builder's original plan was to install coat hooks on the board and batten. I thought that was an excessive amount of hooks, and I didn't want people seeing a bunch of hanging coats and/or bags as they walked into our main living area from the front door. So I put in a change order to eliminate the hooks. But the carpenters installed the hooks anyway, so the holes had to be filled and painted over.
I still need to figure out what to do with the open space above the moulding. I've thought of putting photos or artwork there. A chalkboard would be fun, but I detest chalk. I'm open to suggestions, so if you have one, leave a comment.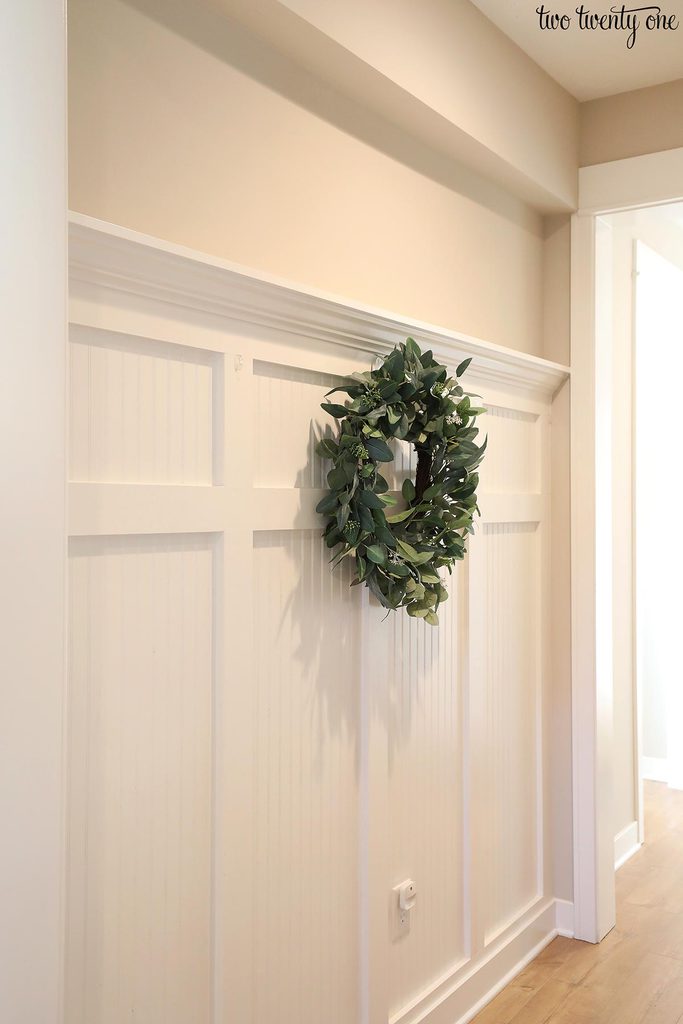 This year, I displayed some of the Christmas cards we received in the little alcove.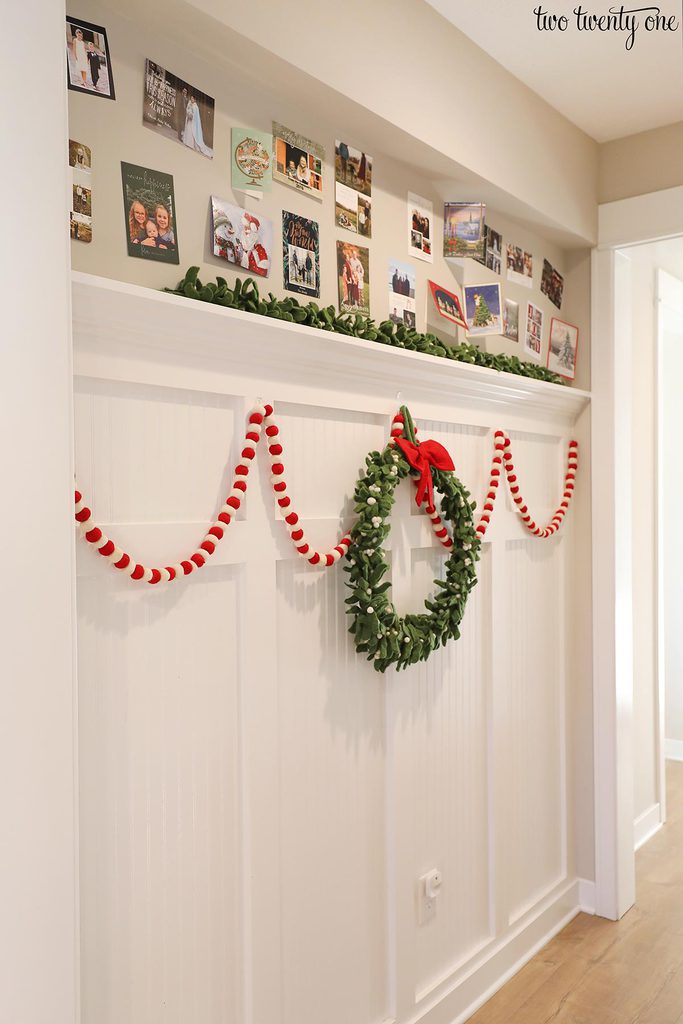 Be sure to come back tomorrow to see what we keep in the baskets and how I organize everything. I'll also share how I keep this area from smelling like feet.