Prepping for a House/Pet Sitter
This upcoming weekend, Brad, Owen and I are heading out on our first family vacation. It's also going to be Owen's first time flying (wish us luck).
We're meeting up with 26 members of Brad's extended family for our second Alaskan family cruise. A bunch of us went on our first Alaskan cruise back in 2006, and we're super excited to go again because Alaska is gorgeous. (Be sure to follow me on Instagram and Facebook so you can follow our adventures!) We're flying out a couple days early to tour around Seattle before getting on the ship, which should be fun because neither Brad nor I have been to Seattle.
A lot of bloggers try no to publicize when they're away from their homes because they're afraid of burglars. I'm not afraid of that because we have an alarm system, a dog that's very territorial, and we always have a house/pet sitter.
We boarded Jack for a week one year when we went to Florida and it was a disaster. After that, we swore we'd never board him again. Thankfully, we have friends and family members who are willing to watch Jack at our house whenever we go out of town. It's nice because it gives Jack some sort of normalcy.
Our friend, Jason, is going to be house/pet sitting for us while we're in Seattle and on our Alaskan cruise. And lucky for Jack, Jason is in the tech industry and works from home, so Jack can receive belly rubs and lounge outside and come in for a drink of water whenever he wants.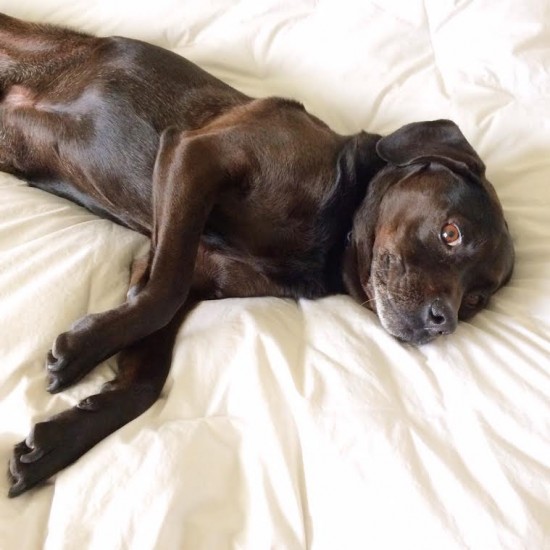 So today I thought I'd show how I get everything ready for our house/pet sitters.
I always post general information and instructions on our fridge because I think that's a logical place.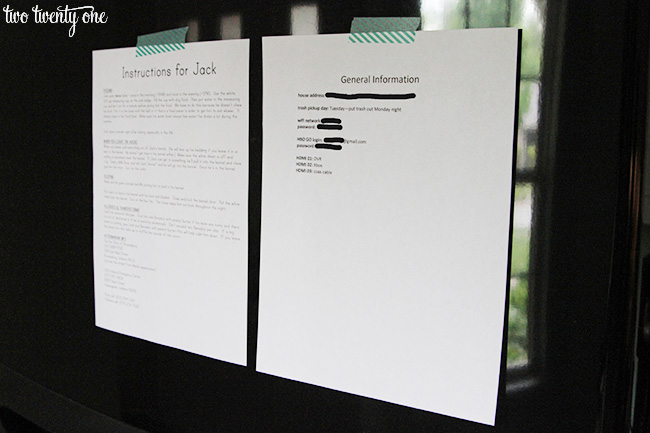 The general information paper has our address (in case of an emergency because I don't expect our friend to know our address off the top of his head), trash collection day, wifi network name and password, our HBO GO account login and password, and some other random TV-related stuff.
I also leave instructions for how to care for Jack, like when to feed him, how much to feed him, etc. In addition, I include our vet's information and the 24 hour emergency vet info– just in case. I even include little tidbits like what to do when he's moaning/whining in our entryway. In case you're curious, that means his ball has rolled under our entryway table, and he'd like for someone to get it for him. Once when my cousin was house/pet sitting for us, Jack was doing this and she couldn't figure out what was wrong so she texted me. I immediately knew what the issue was, so I include this kind of stuff in case it comes up and whoever is watching him can't figure out what's wrong.
I always text our front door, garage door, and security alarm codes and information to whoever is staying in our house. In case they have people over, I don't want that information plastered on the fridge.
This is kind of a no-brainer but I make sure to put fresh linens on our guest bed and stock the guest bathroom with fresh towels and toilet paper. I also tell our house/pet sitters where they can find the extra linens and toiletries, should they need them.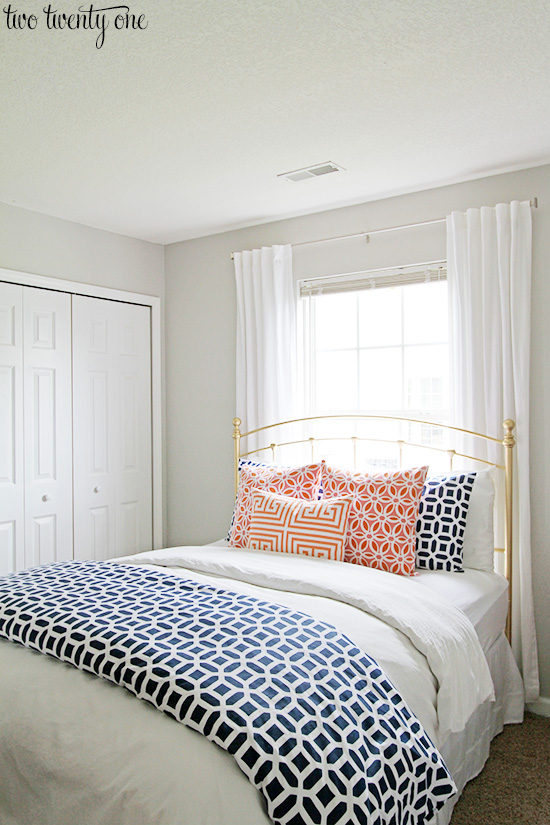 If our house/pet sitters have time, we invite them over for dinner and go over stuff with them before we leave for vacation.
We always pay our house/pet sitters because they're doing us such a huge favor. But Jason won't take monetary payments from us, so instead of paying him with money, we stock our beer fridge with his favorite beers, buy his favorite snacks, and leave a few gift cards to local restaurants for him to use while he stays at our house.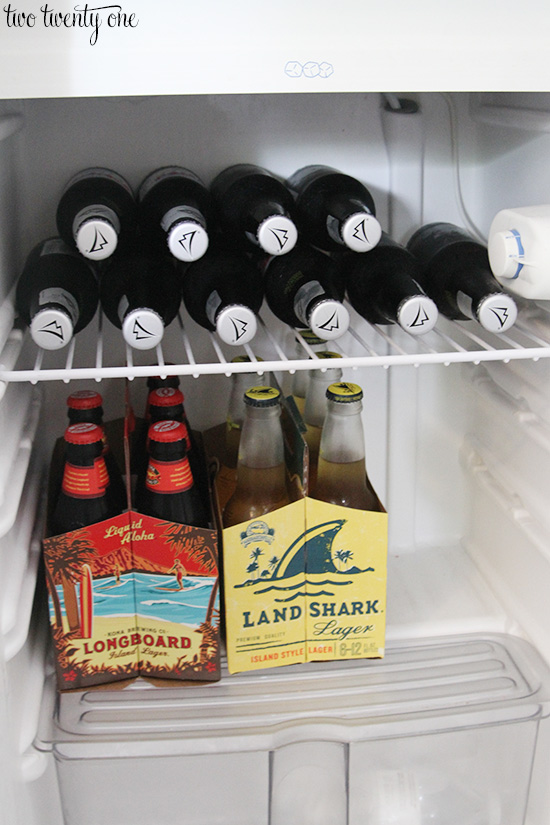 I hired our 10 year old neighbor to water our plants and garden while we're away. She's always looking for ways to earn money so I figured I would offer the job to her, after talking with her parents first. The other day she came over and I showed her which plants to water and how to work our garden hoses.
Brad jokes that I'm overly detailed when it comes to prepping our house for house/pet sitters but I figure leaving too much information is better than too little.