Tips for Taking a Meal to Others
Due to popular demand from those who follow me on Instagram, I'm sharing my tips for taking a meal to others. This is something I do when someone I know has a baby, a death in the family, is recovering from surgery, etc. It's just a nice way to show people you're thinking of them. Plus, who doesn't love eating a meal they didn't have to prepare?


What to Take
Before you start planning the meal, be sure to ask if someone in the family has an allergy you need to be aware of. I also ask if there's things they like or dislike.
When taking a meal to a family, I always include a main, side, and dessert. Sometimes I'll include two sides if it's a bigger family or a family with teenage kids who'll eat more than a toddler or preschooler. If I'm taking an Italian-type meal, I'll throw in some garlic bread.
I always incorporate a vegetable, which is usually in the form of a salad. A tossed salad takes only a few minutes to put together. Empty a bag of fresh greens into a pan, top with halved grape tomatoes, olives, and parmesan. When taking a tossed salad, I suggest including a bottle of dressing. I do the same with toppings like sour cream– just buy a smaller container and give it to the family.
Tuscan pork sausage & pepper spaghetti • baby greens with grape tomatoes, black olives, & parmesan • balsamic vinaigrette • garlic bread • fudge brownies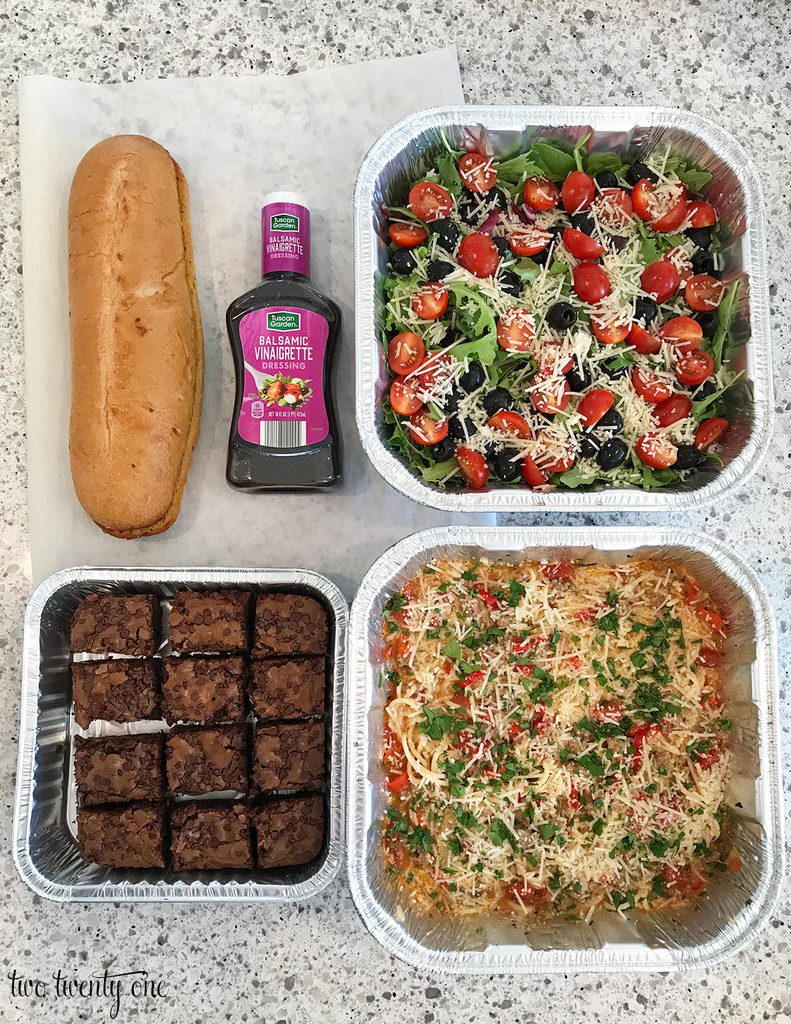 chicken enchiladas • diced tomatoes, shredded lettuce, sour cream • corn and black bean salad • spanish rice • pumpkin chocolate chip cookies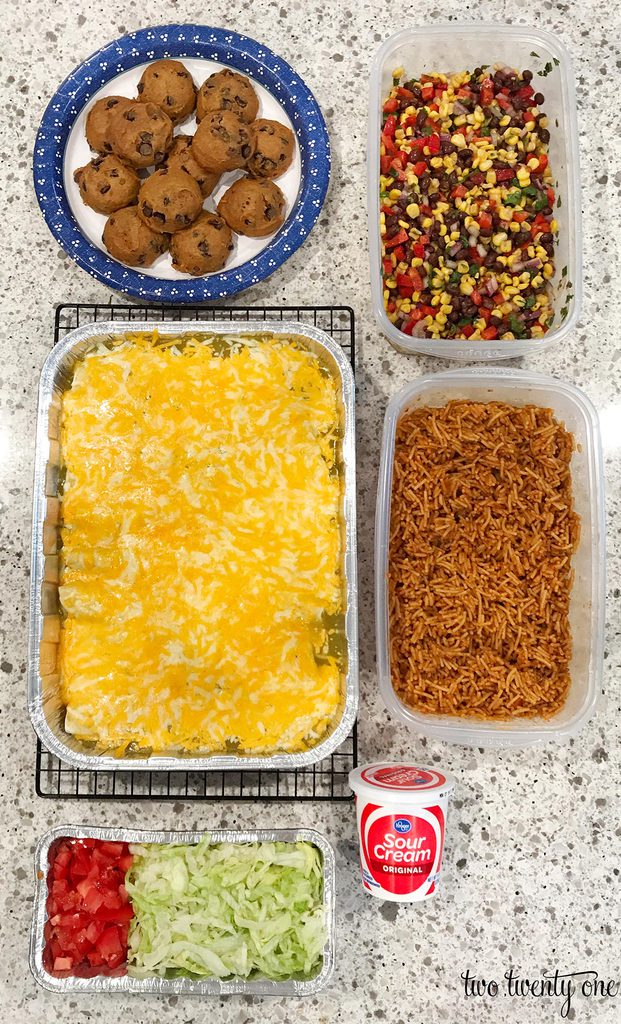 chicken burrito bowl • dice tomatoes, lime, green onions • lime crema • fudge brownies

It Doesn't Have to Be From Scratch
You don't have to take meals made from scratch. If I don't have time to make a meal, I take some shortcuts. One way I do that is by grabbing a pre-made entree from Costco. Their stuffed peppers are pretty good. However, they lack ample cheese, so I also add some more. Because, cheese. So if you want to take a homemade meal but you don't have a ton of time, buy pre-made.
Costco stuffed peppers • baby greens with feta, candied walnuts & cranberries • mini bundt cakes with chocolate ganache & mini chocolate chips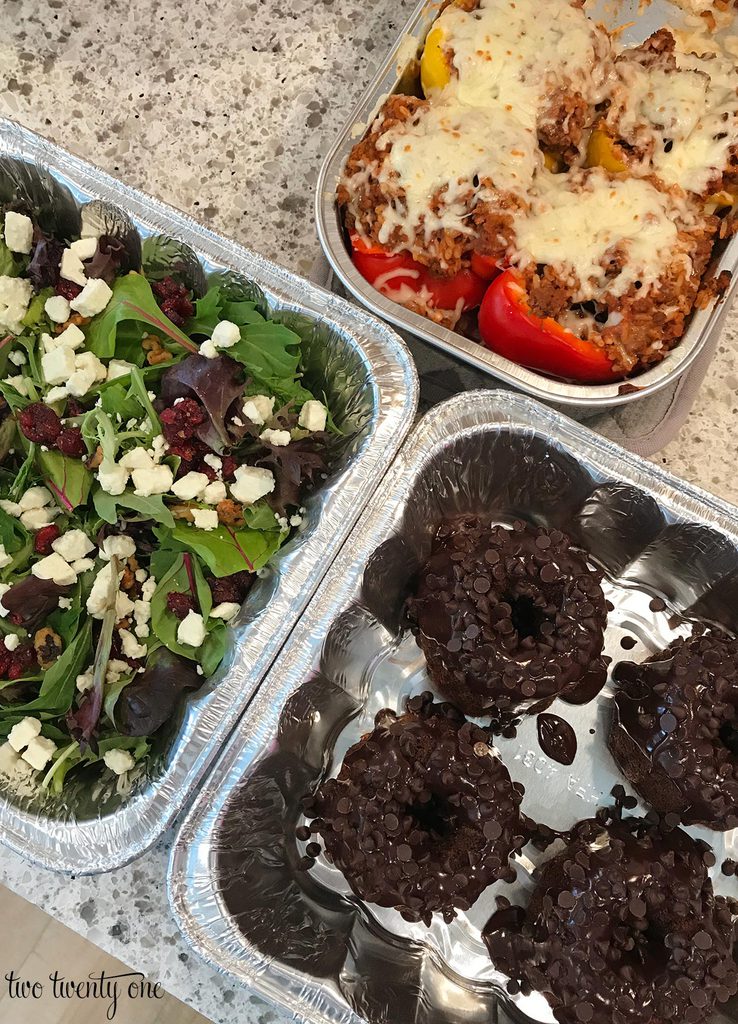 Packaging the Food
Aluminum foil pans all the way. I don't want to burden the family with washing and returning containers to me. With foil pans, the family can rinse and reuse them or rinse and recycle.
The foil pans work for just about any food, cold or warm. If the recipe requires baking in the oven, I'll bake the food in the pan and cover with foil to transport. To save money, you can buy foil pans at Dollar Tree for $1 each.
Sometimes I'll use paper plates for desserts and slide the plate into a gallon Ziploc bag, but I'm try to stray away from using one-time use products. For smaller things like sauces and toppings, I try to use baby food containers. But most of them aren't leak-proof so keep them upright. They're plastic but can be rinsed and recycled. There's been times I've used inexpensive, reusable plastic containers, but I tell the family to keep them.
pork carnitas with pickled onion and lime crema • cilantro and diced tomatoes • jasmine rice and tortillas • corn and black bean salad • chocolate cake (from Brad's Costco birthday cake)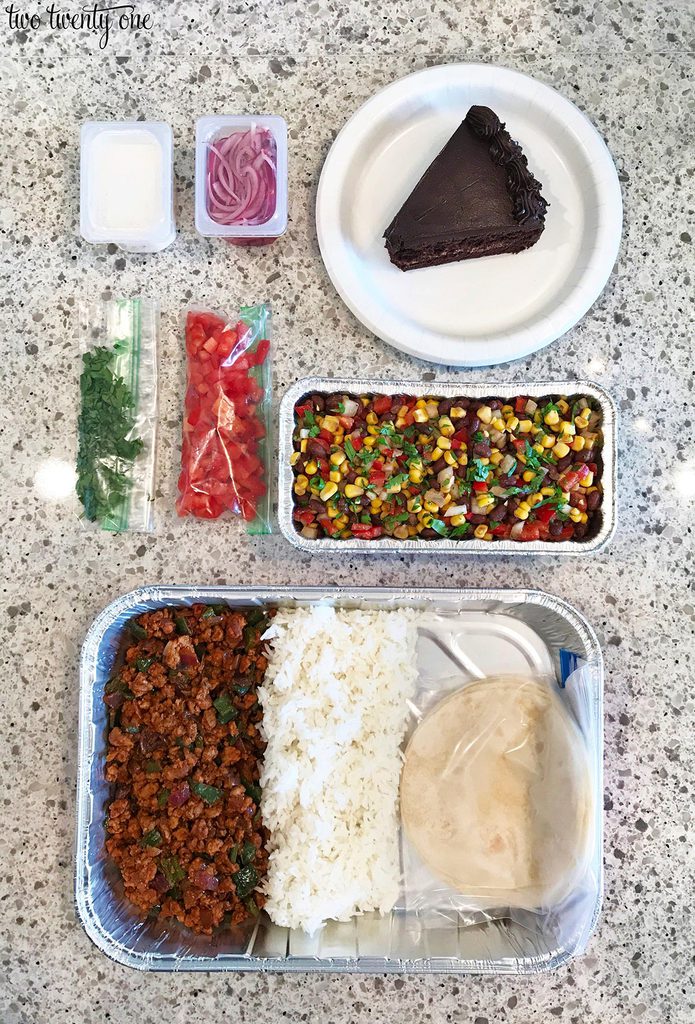 Transporting the Meal
When taking a meal to others, I recommend using a reusable bag or even a larger box, like from Costco. The IKEA Frakta reusable bag is my go-to mode of transport. If there's a hot container fresh out of the oven, wrap it in a towel so the food stays warm and so the container doesn't melt the bag. I take the bag inside, unload everything, and then take the bag with me.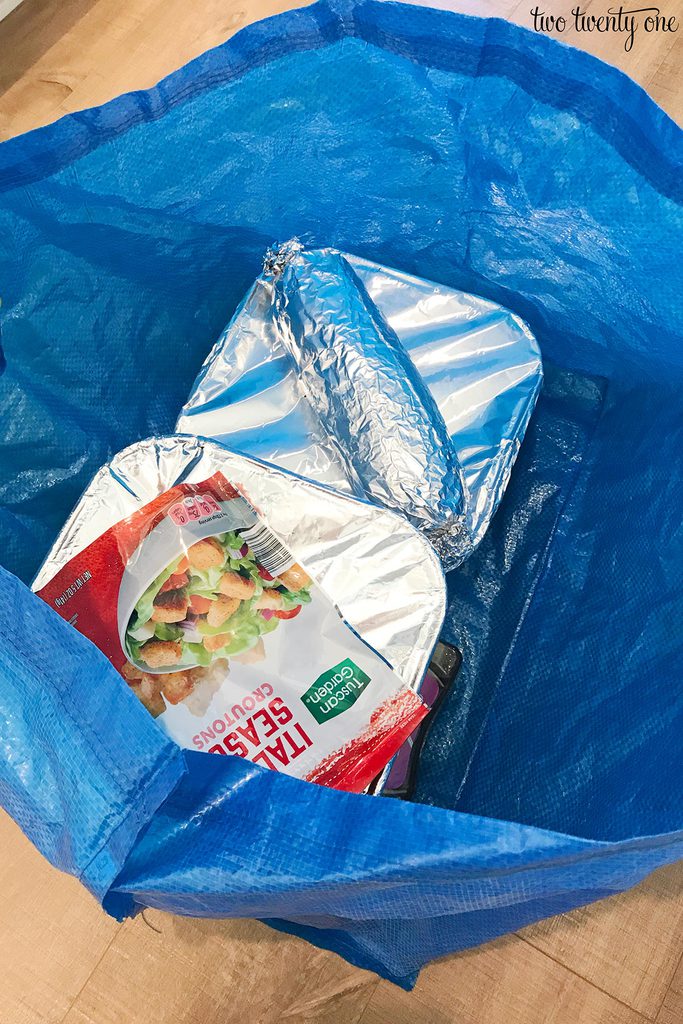 Include Disposable Eating Utensils
If you want, you can include paper plates, napkins, and flatware so the family doesn't have to do any dishes. It's not eco-friendly, but it's a one-time thing.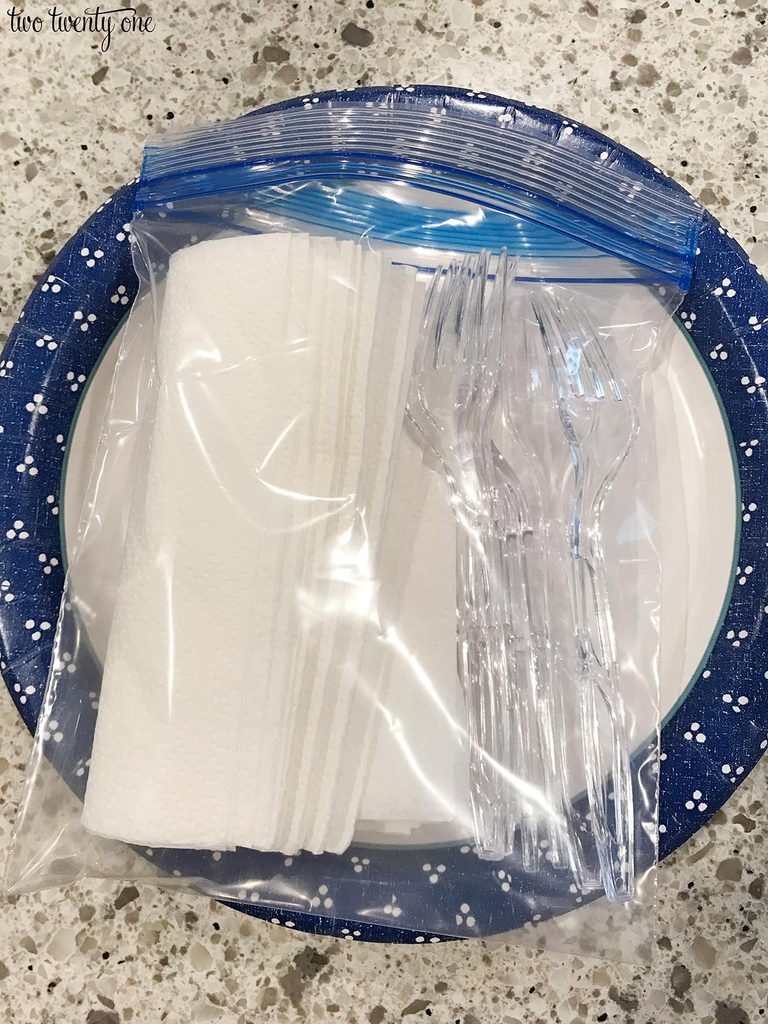 Money-Saving Tip
Making an entire meal for a family can add up. That's why I shop at Aldi. When I buy most of the ingredients at Aldi, I can make a meal for around $25-$30. The items in the photo below were used to make a Tuscan sausage and pepper spaghetti, tossed salad, and garlic bread.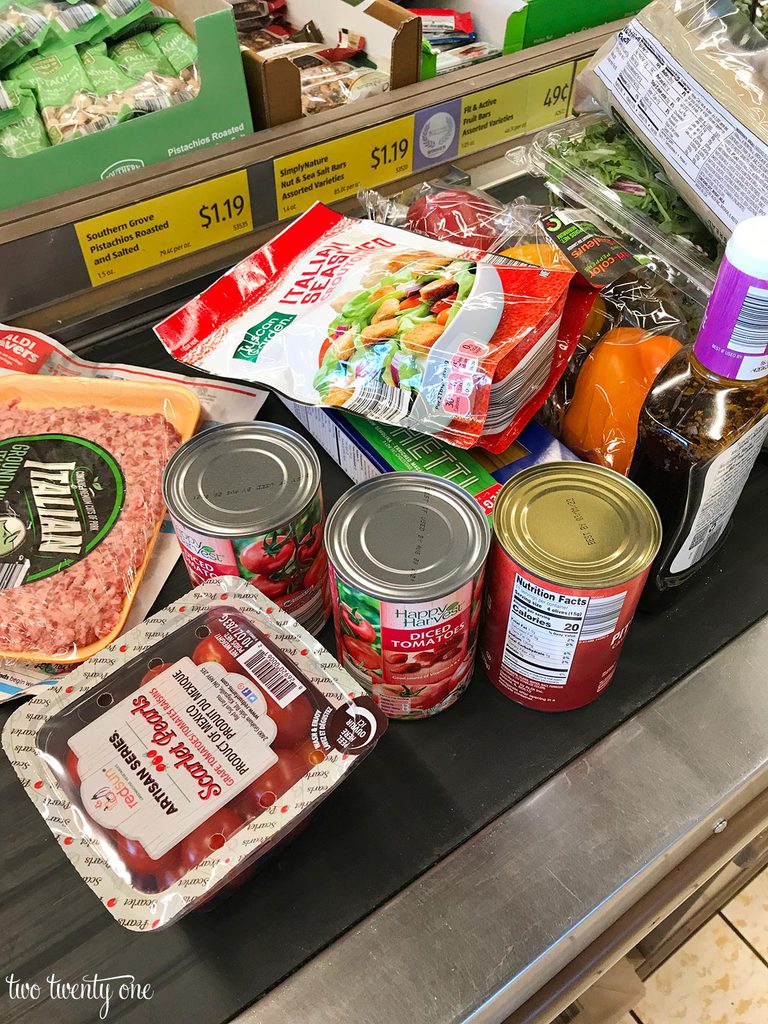 Dessert Shortcut
I make and take brownies quite often for the dessert. Because I don't have time to make brownies from scratch, I use a boxed mix (Betty Crocker fudge brownies FTW). BUT I mix in some chocolate chips and top with mini chocolate chips. Boxed brownies, but fancier.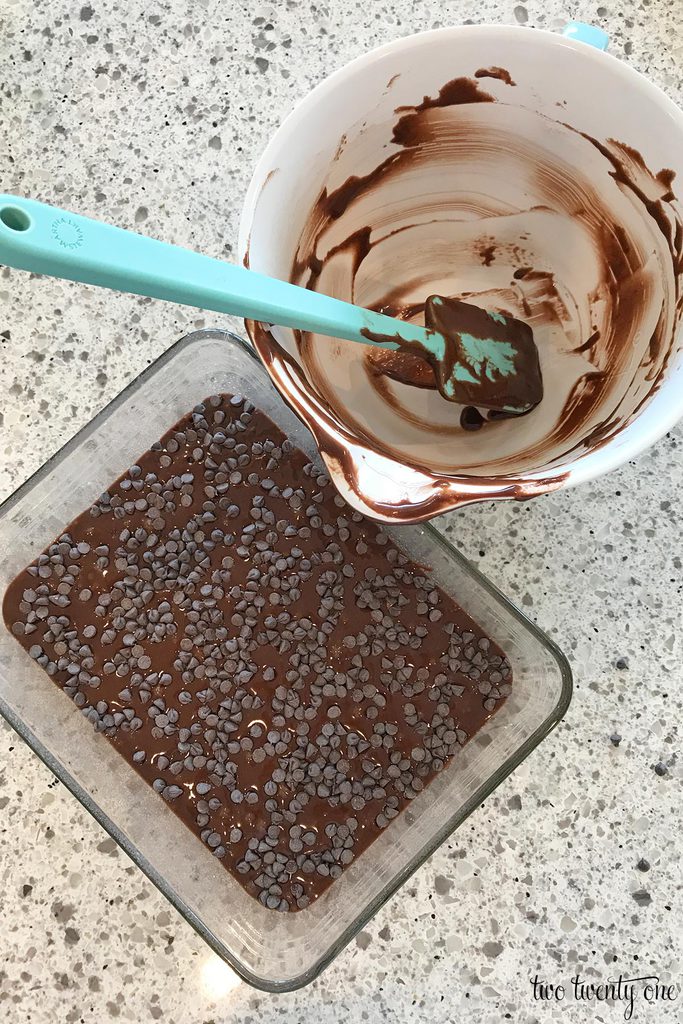 I use this handy, $5 utensil to cut the brownies. Seriously, life changing when it comes to the art of cutting brownies. Buy yourself one now, thank me later.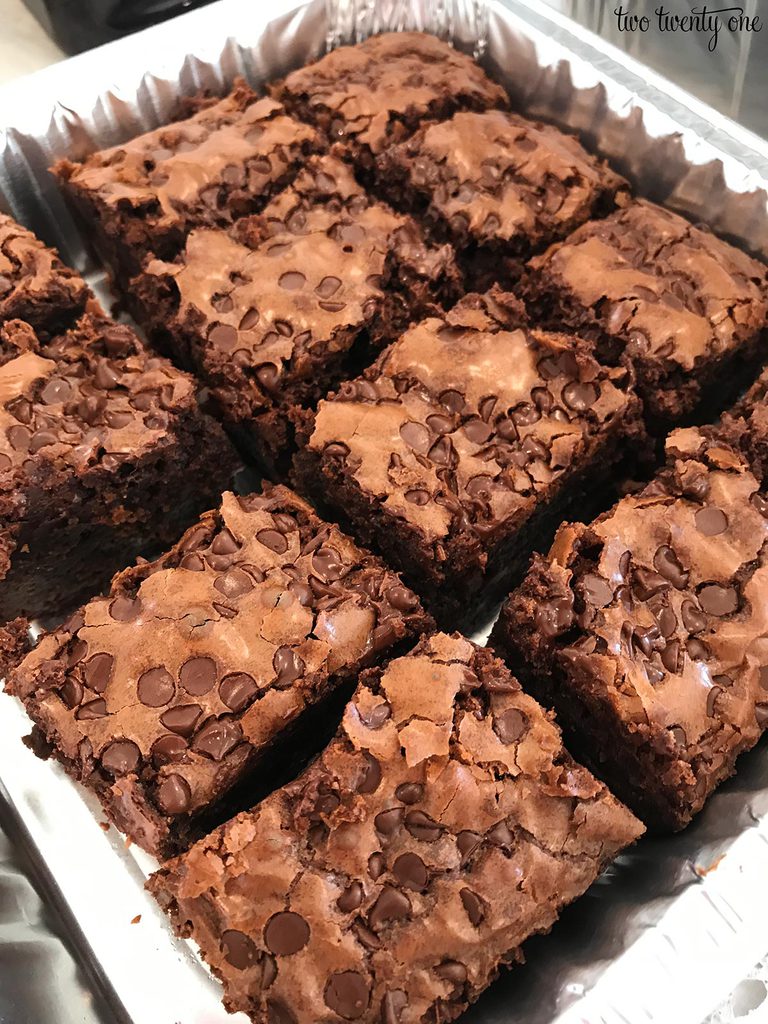 I'm working on some recipe posts for some of the recipes mentioned in this post.