I'm sharing exactly what I buy at Aldi to create a delicious Aldi charcuterie board. And I'm showing you how to make one for less than $25!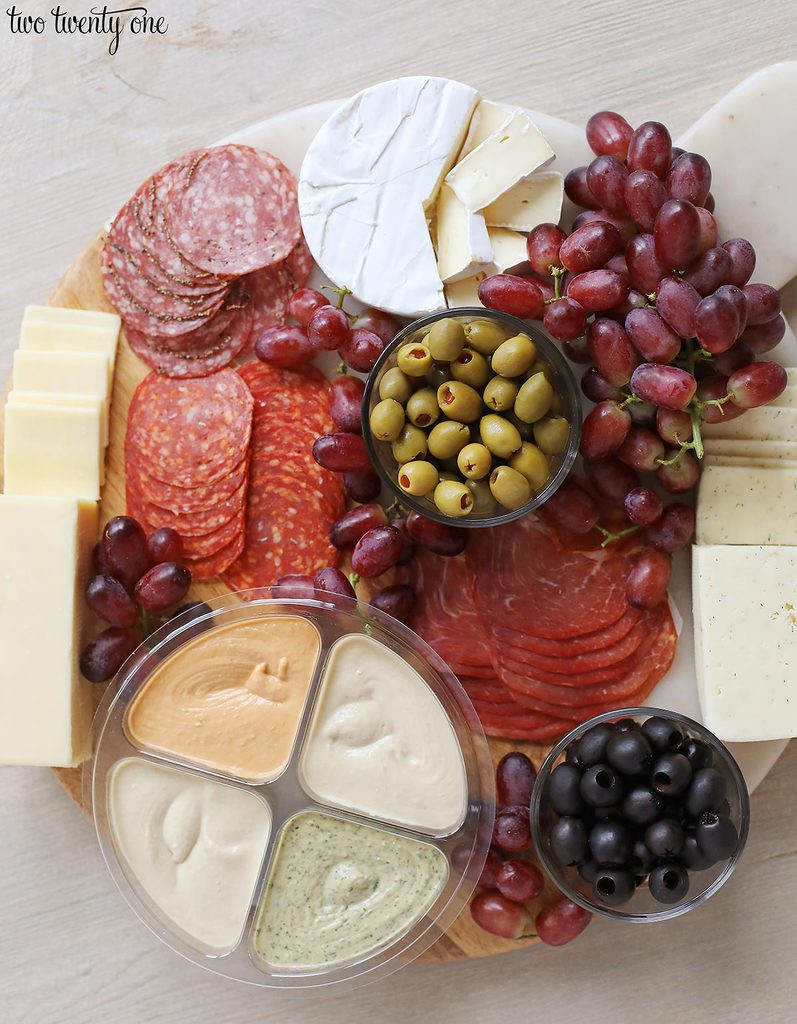 How to Pronounce Charcuterie
Charcuterie is pronounced "shahr-ku-tuh-ree".
What's A Charcuterie Board?
Charcuterie is a form of cooking devoted to prepared meats. So a charcuterie board includes prepared meats, but many charcuterie boards include cheeses, fruit, nuts, and etc.
How Do You Put A Charcuterie Board Together?
You can see exactly how I assemble my charcuterie boards in this post. Most of the items on that particular charcuterie board are from Trader Joe's.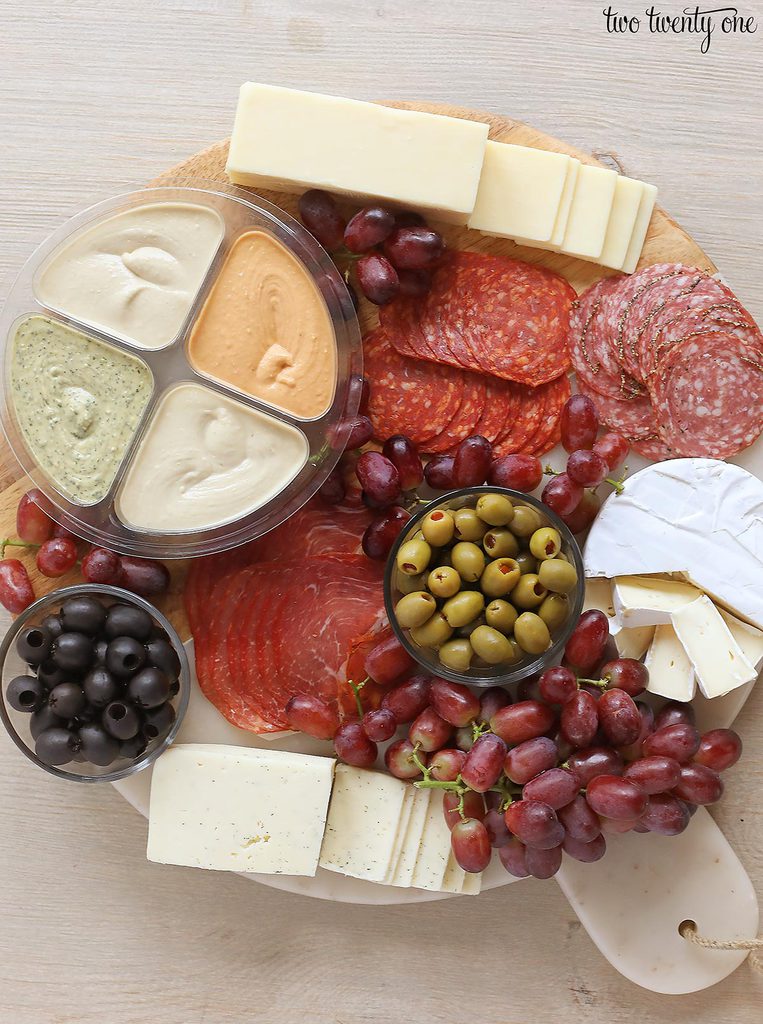 What Can I Use as A Charcuterie Board?
I like to use a large wooden and marble cutting board. I also like to use this board. It's also budget-friendly with its $23 price tag. But any larger cutting board will do. You can use acacia or bamboo cutting boards. For easier clean up, put a sheet of parchment paper or wax paper on top of the cutting board before placing the charcuterie board items on top.

What Goes On An Aldi Charcuterie Board?
Meat
Aldi has a great selection of cured meats. For this particular charcuterie board, I used a variety package of three different meats– peppered salami, pepperoni, and hot capocollo. You can also typically find prosciutto at Aldi.
Cheese
I included three types of cheeses– brie, havarti dill, and white cheddar. All three are very good. If you want to branch out a little, Aldi carries flavored goat cheese, gouda, edam, classic havarti, parmesan, blue cheese, etc. And depending on the season, they various artisanal flavored cheeses. Plenty of cheese to craft your own Aldi cheese board!
Olives
I usually add olives because they're inexpensive and add more flavor to a charcuterie board. You can use Spanish Manzanilla olives, black olives, and/or Kalamata olives. I went with Spanish Manzanilla olives and black olives.
Fruit
My go-to charcuterie board fruits are grapes and apples. For this board, I opted to go with only red, seedless grapes. I prefer to wash the grapes and leave them on the vine. Aldi also has a pretty good dried fruit selection if you'd like to add some to your board.
Hummus
It's kind of unconventional, but I like to include a hummus quartet for any vegetarians or vegans who may be in attendance. Plus, like with the olives, it adds four different flavors to the board. If you're a hummus fan, I highly recommend trying out the Aldi hummus quartet, which includes classic, roasted red pepper, roasted garlic, and cilantro jalapeño. So good.
Nuts
Aldi has a great selection of different nuts– almonds, pecans, walnuts, cashews, pistachios, and more.
Crackers
I don't put these on the board itself, but I like to get the Aldi cracker assortment. All of the crackers get mixed into a large white bowl that I place next to the charcuterie board.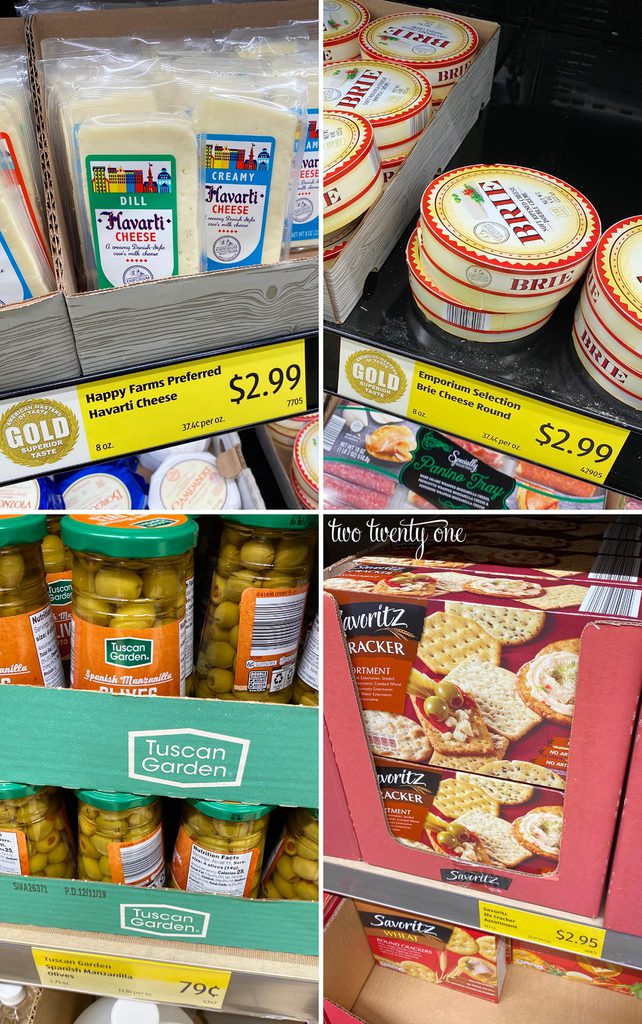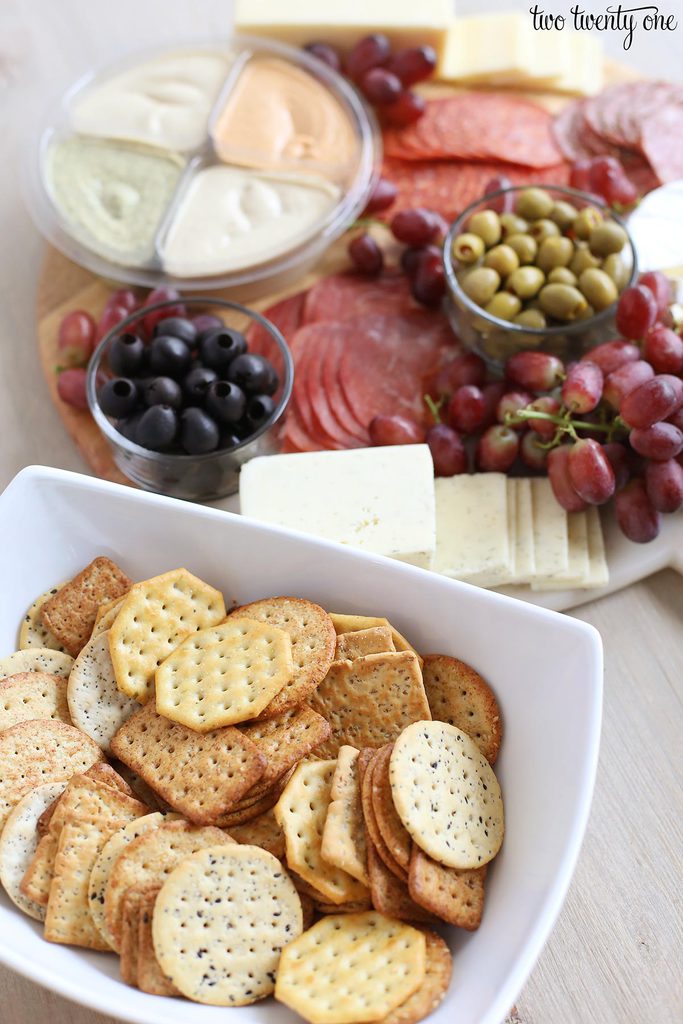 The octagonal rosemary crackers are THE BEST. So fill your plate with those before others catch on and eat all of them before you get a chance to snag some.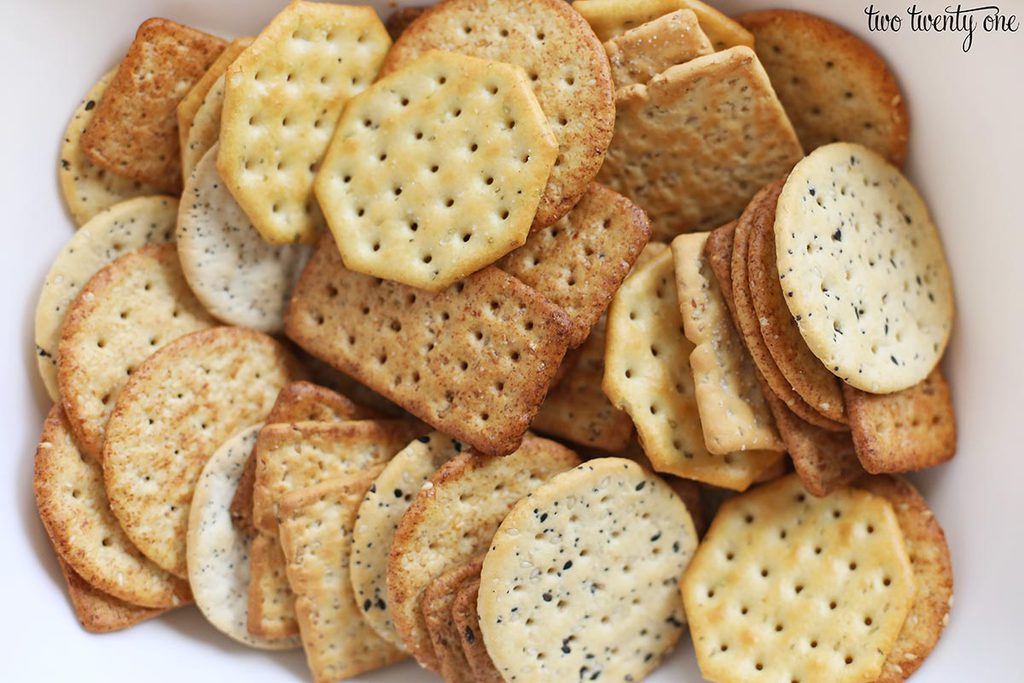 Are Aldi Charcuterie Boards Expensive?
No! Aldi charcuterie boards are extremely affordable. I bought everything you see on the charcuterie board PLUS the cracker assortment for– drum roll, please. $24.33. That's right. 3 meats, 3 cheeses, 2 types of olives, a hummus quartet, 1.5 pounds of grapes, and 72 crackers for less than $25!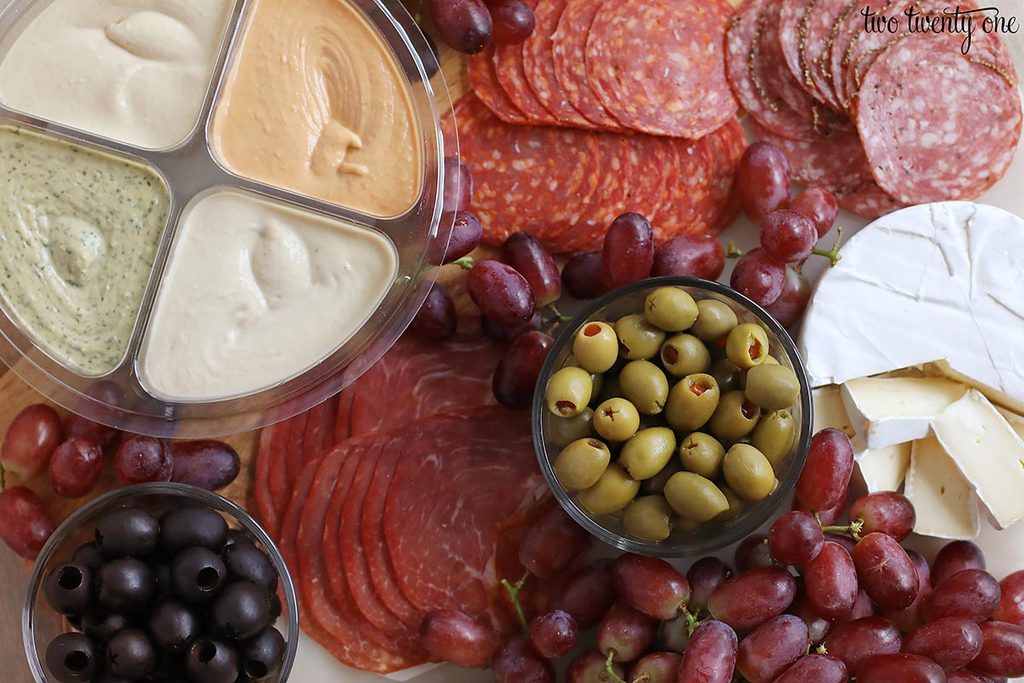 If you recreate this Aldi charcuterie board on Sunday, be sure to share a pic on your Instagram Stories and tag me! I'd love to see what you come up with and share it on my IG Stories.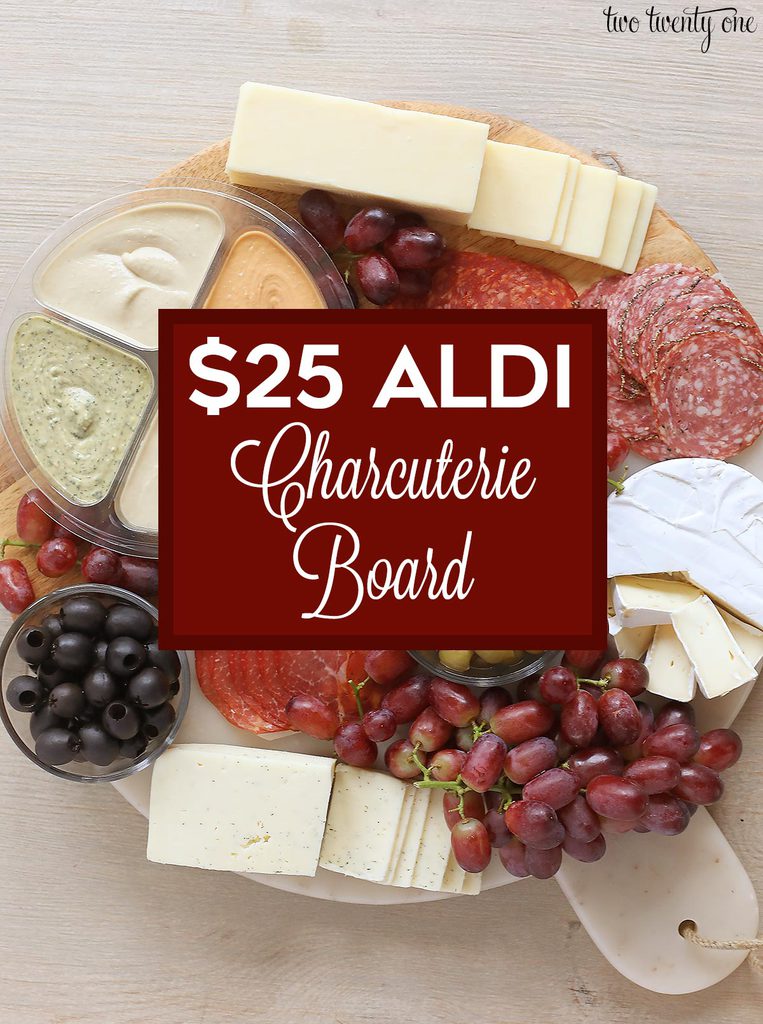 I've teamed up with a group of nearly 20 bloggers who are sharing a wide arrange of boards– from charcuterie boards to dessert boards. So be sure to check them out!

Hallstrom Home | A Blue Nest | My Sweet Savannah | Cassie Bustamante

Happy Happy Nester | Inspiration For Moms | Art of Everyday Living | Twelve On Main

Craftberry Bush | Jennifer Maune | Zevy Joy | Modern Glam

My 100 Year Old Home | Tatertots and Jello | Two Twenty One | Today's Creative Life

Sanctuary Home | She Gave It A Go | The Design Twins | Pink Peppermint Design