Chocolate Salted Caramel Toffee Cake
Last Sunday, I shared a pic on Instagram Stories of a chocolate salted caramel toffee cake I made. I ended up getting a bunch of messages asking for the recipe. And because I can't leave anyone hanging, I'm sharing the recipe, which is super easy.
Warning: this cake is rather rich. But who wants a wimpy cake anyway?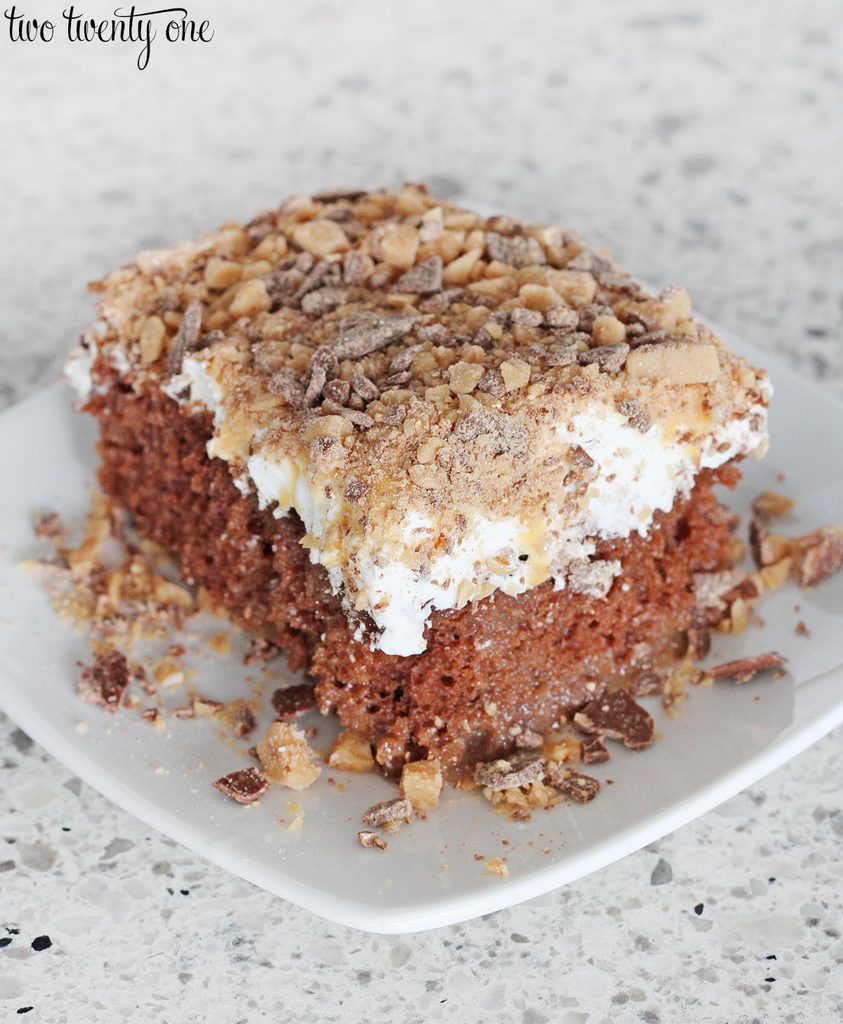 One of the nice things about this cake is that it can be made a day or two in advance. And if you make it during winter and it's really cold outside, you can store it in your garage. Covered, of course.
This is my favorite 9×13 cake pan. Plus, it comes with a lid. It's by the same company that makes my favorite baking sheets.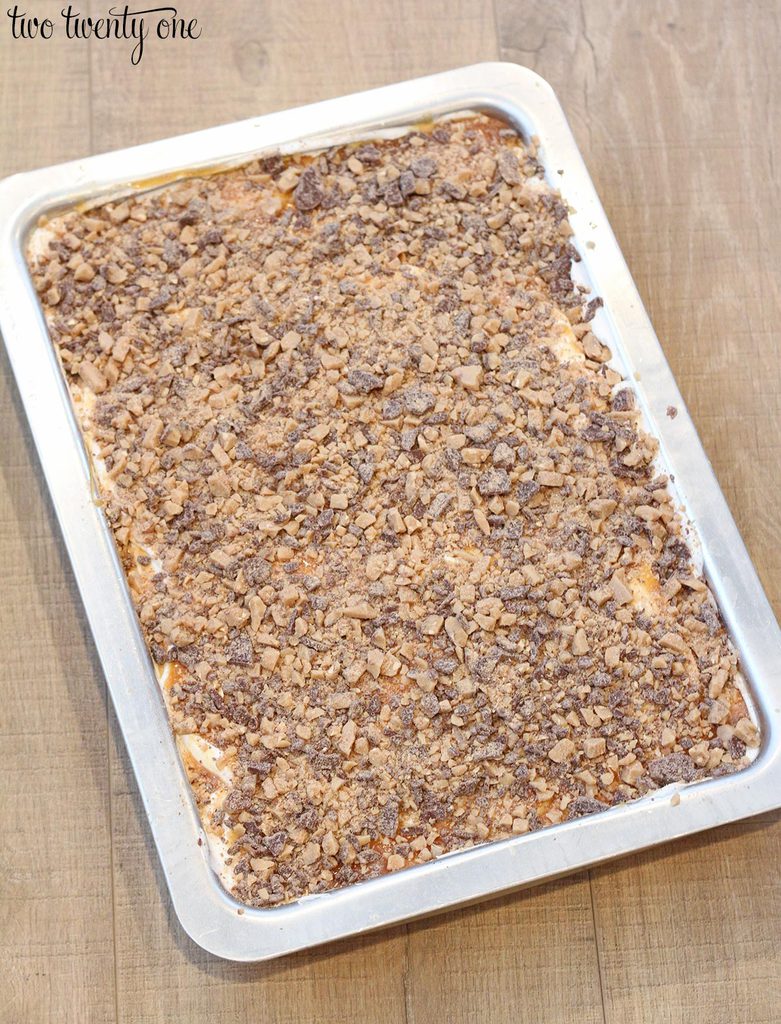 This cake is a version of Better Than Sex Cake. And it's considered a poke cake. Meaning you poke a bunch of holes in the cake, while it's still warm, with the handle of a wooden spoon. But not a spoon with a thick handle– more like 1/4 of an inch. I poke holes every half inch to inch. Poking the holes allows the liquid ingredients to seep down into the cake.
I used a salted caramel sauce to make it a chocolate salted caramel toffee cake but you can use regular caramel sauce if you can't find the salted variety. I know Trader Joe's makes a salted caramel sauce, but I used an 11.5 oz jar of Smucker's Salted Caramel Topping, which I picked up at Kroger, one of our local grocery stores. And if you ever have a hard time locating caramel sauce/topping in a store, always search around the frozen food section.

Chocolate Salted Caramel Toffee Cake
Ingredients
1

German chocolate cake mix

1 14

oz.

can sweetened condensed milk

1 11.5

oz.

jar salted caramel sauce

1 8

oz.

container whipped topping

1 8

oz.

package Heath Milk Chocolate Toffee Bits
Instructions
Bake cake according to package directions for a 9x13 inch pan. Cool for 5 minutes. Poke holes across the top of the cake-- every 1/2 inch to inch.

Slowly pour the sweetened condensed milk over the top of the warm cake.

Slowly pour most of the salted caramel sauce over the top of the warm cake, reserving some for later.

Let cake cool completely.

Top cooled cake with whipped topping.

Drizzle remaining salted caramel sauce over whipped topping.

Sprinkle toffee bits on top.

Refrigerate and serve from the pan.