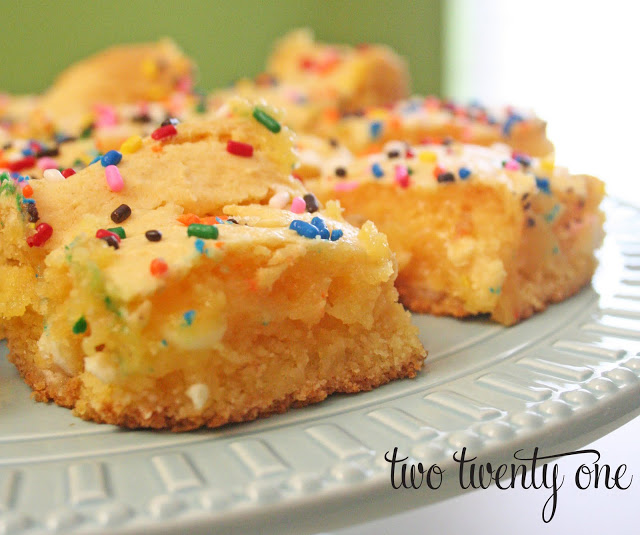 So I'm guessing we all know about Pinterest by now. If you haven't, you're missing out.
One of the things I love about Pinterest is all the yummy recipes people pin from wonderful bloggers.
All you Pinheads know what I'm talking about. Well, while pinning one day l
ast week, I saw these amazing looking cake batter blondies.
I quickly pinned it for later… and later came the next day. I didn't even have to go to the store– all the ingredients were in our pantry and fridge. Love that.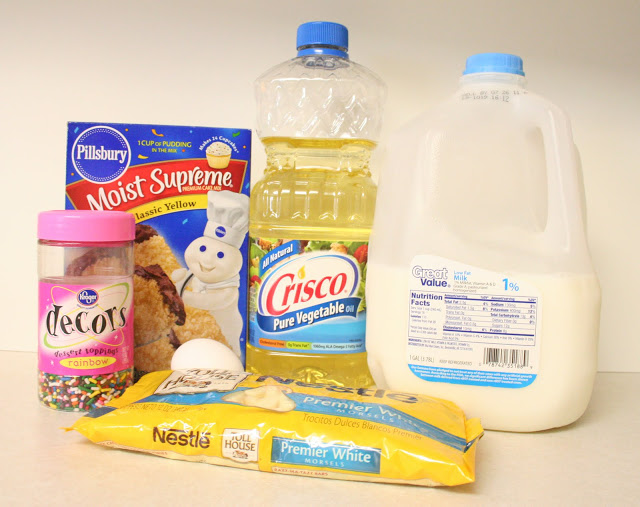 sprinkles or jimmies (who else calls them jimmies?), yellow cake mix, 1 egg, vegetable oil or canola oil, milk, and white choc. chips.
 The original recipe is from girl meets life. I tweaked the recipe a little and added extra white chocolate chips and didn't mix the sprinkles into the batter.
INGREDIENTS
1 yellow cake mix  •  1/4 cup canola or vegetable oil  •  1 egg
1/2 cup milk  •  3/4 cup white chocolate chips  •  1-2 TBSP. sprinkles (optional)
INSTRUCTIONS
1. Preheat oven to 350 degrees.
2. Combine cake mix, oil, and egg in a large mixing bowl.
3. Slowly add milk to bowl. You want the batter to remain as dense as possible.
4. Mix in white chocolate chips.
5. Pour mixture into a greased 9×9 square pan.
6

. Bake for 30 minutes or until the edges begin to turn golden brown.
Now I'll add that the recipe I was following called for 1/2 cup of white chocolate chips, but I made the rational decision to use 3/4 cup because you can never have too many chocolate chips. It also called for canola oil, but I went rogue and used vegetable oil. I'll switch to canola oil after that bottle of vegetable oil is kaput.
Here's your handy recipe card! Click on the recipe card to download it.