Laminate Wood Flooring FAQ
We had laminate wood flooring in our old house, and we loved it. So when it came to choosing flooring this house, we wanted to go with a lighter-colored laminate again. Our color options were limited because we did a production build. But I'm so glad our builder offered the color we ended up going with because it's my absolute favorite.
Is laminate durable?
Laminate wood flooring is very durable because it's made of pressed wood, making it more resistant to scratches and water. So it's perfect for families with kids and pets. Due to its durability, the lifespan of laminate is 15-25 years.
Is it easily scratched?
I've only found one set of scratches on our floors. And I'm 99% sure it was because one of my darling children too the sharp edge of a metal car to the floors. I need to find a stain pen that will match so I can fill in the scratches.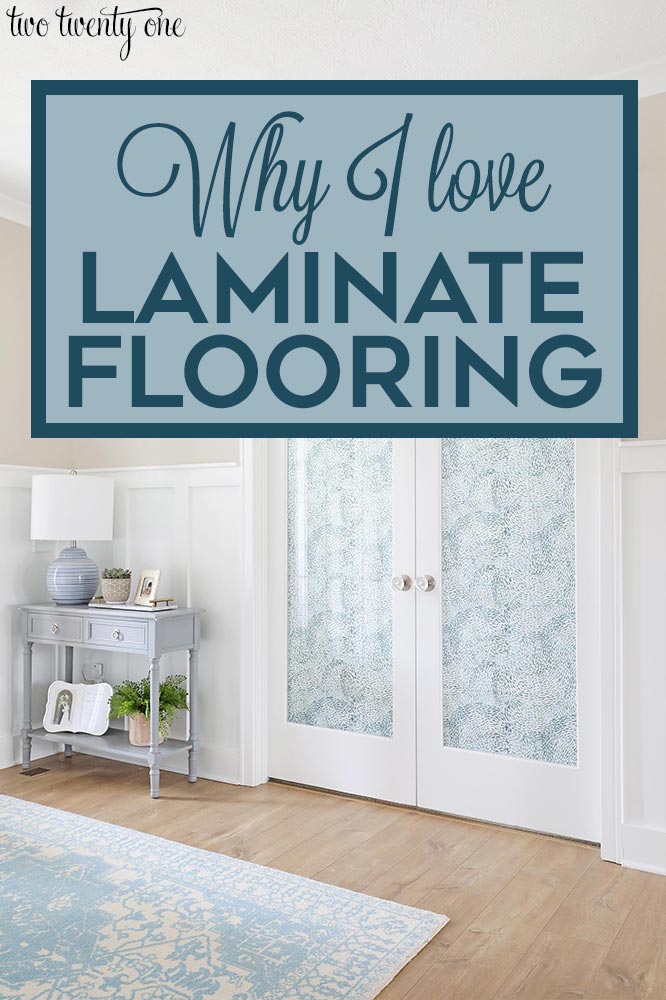 How does it do when it comes to spills?
Laminate does fine when it comes to spills, BUT you have to mop up the spill as soon as possible. You can't leave standing water on laminate, especially the seams. If water sets for too long on the seams, the seams can start to swell and warp.
How much does laminate cost?
The cost of laminate can vary greatly, ranging from $.80 to $3.00 per square foot and underlayment ranges from $.30 to $.80 per square foot. Then, you also have to figure in the cost of installation, which is $2 to $3 per square foot.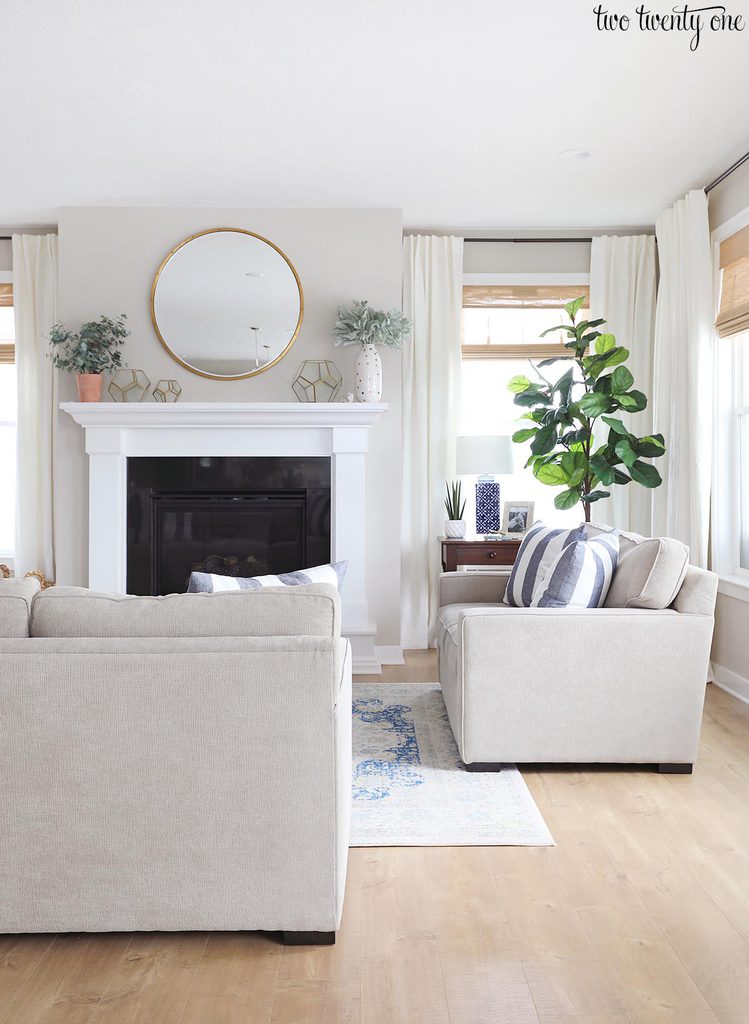 What color is best?
While dark floors are pretty, I prefer light-colored flooring. Light-colored floor doesn't show dust, lint, crumbs, etc. nearly as much as darker flooring. I've also found that if there's some wood grain and variation in coloring, it also helps to hide things. Laminate flooring with some texture also makes it look more realistic. Light floor also makes a space look brighter and airier.
I also think more of a matte finish (like ours), gives the appearance of real wood. Shiny laminate flooring looks fake, in my opinion.
This is a sample of our flooring on top of the darker version at our builder's design center. It's so hard to picture an entire first floor of a house based off of 1.5-foot by 3-foot flooring sample.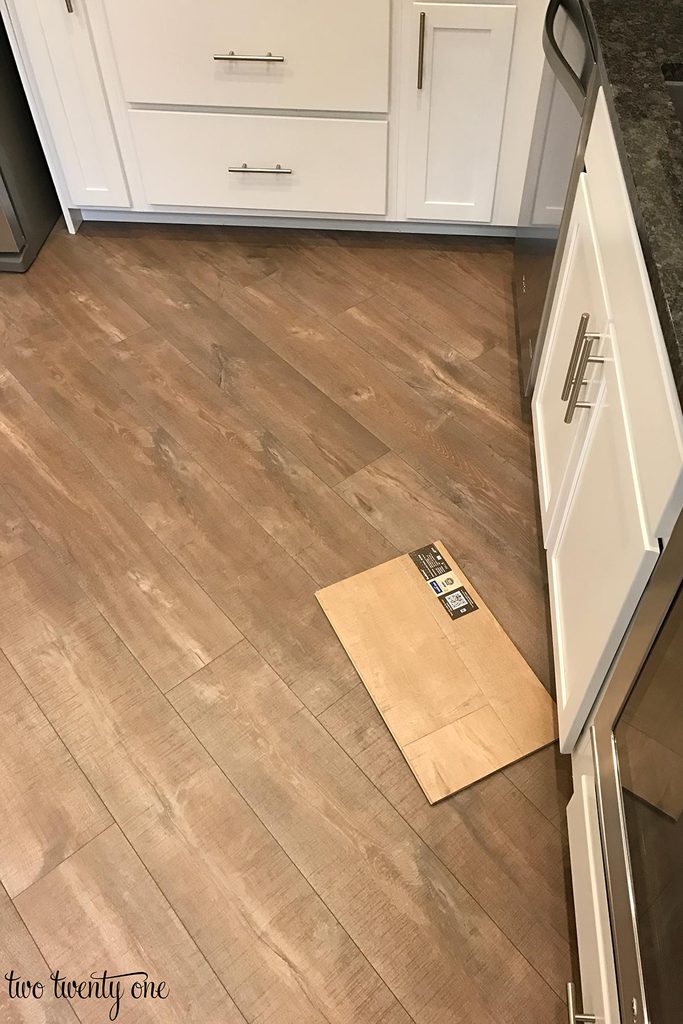 What about plank width?
Laminate wood flooring plank width varies from 3-inches to 10-inches. Our flooring is 8-inches wide, and I love it. Paired with the lighter color, it really makes our first floor look bright and open. It also gives more of a modern rustic feel.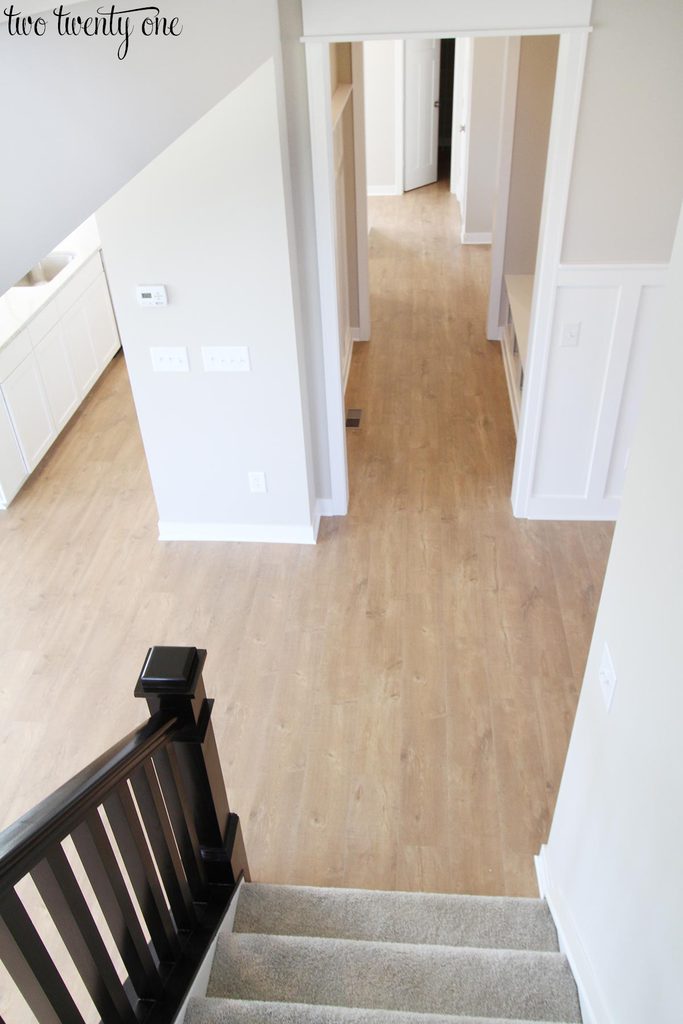 Is it easy to clean?
Yes! We use our cordless vacuum on it almost everyday (holy messy children). When it comes to mopping the floors, our cleaning lady uses a damp mop and this cleaner. If I need to mop between cleanings, I bust out this bad boy. And if the floors need a quick dusting, I use these on our Swiffer dry mop.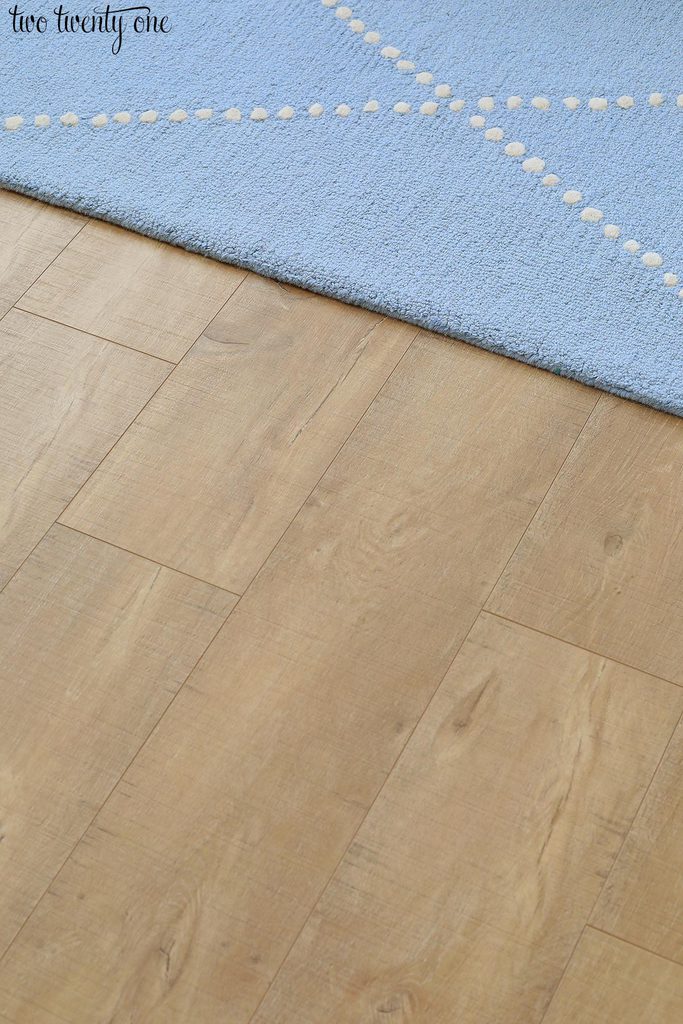 What are your exact floors?
Our flooring is by QuickStep Reclaime in the color Malted Tawny Oak. Again, I love them so much I'd marry them.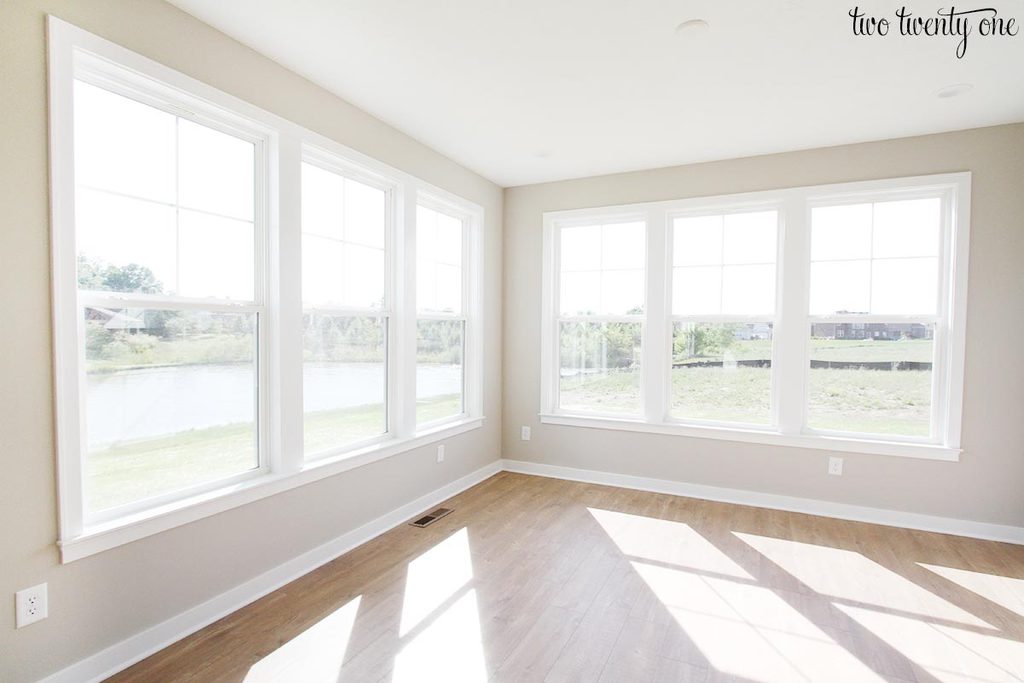 What direction should you lay flooring?
These days, most floors are laid parallel to the longest run or wall. We didn't have any say with this when our floors were being put in, but I like how they did them. The floors are parallel to the back wall of the house, which is one big open area.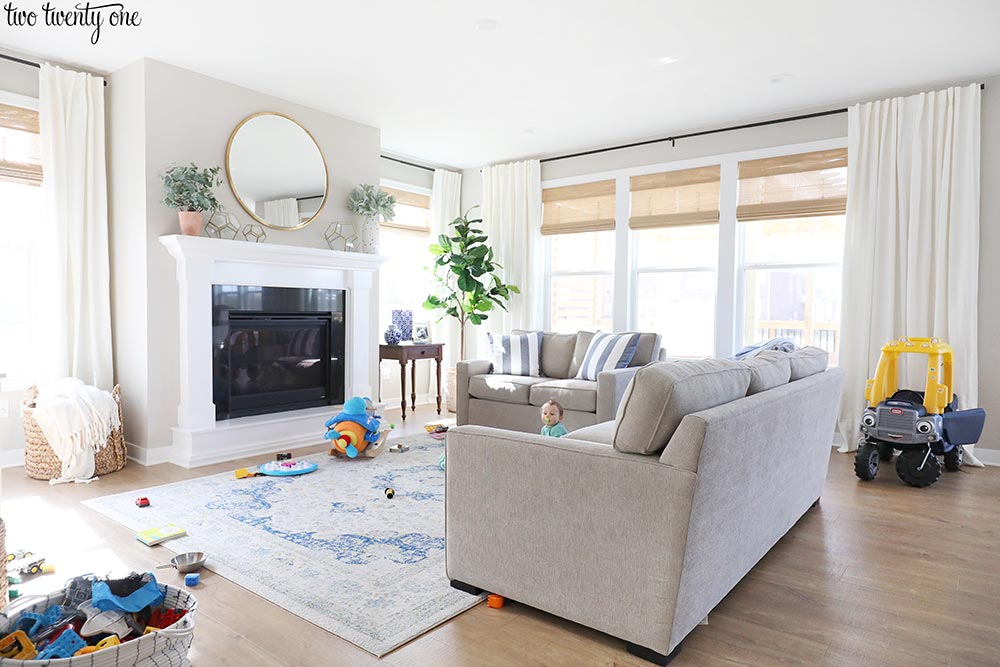 It also makes sense in our kitchen. I can't imagine the floors going horizontal instead of vertical between the island and the counter.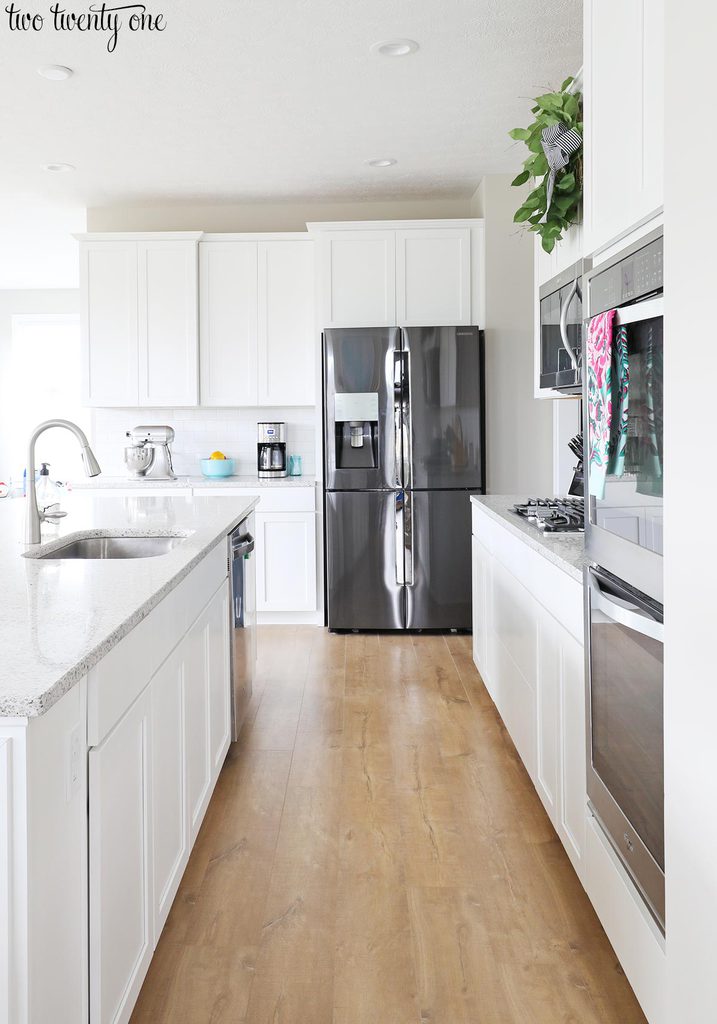 How do you mix other wood tons with your floors?
I just do. I think our floors are a good neutral-colored wood tone.