Laminate Countertops Update
A little over a year ago we had new laminate countertops installed in our kitchen. I've had some questions about how they're holding up so I figured I'd do an update on our Formica Argento Romano laminate countertops.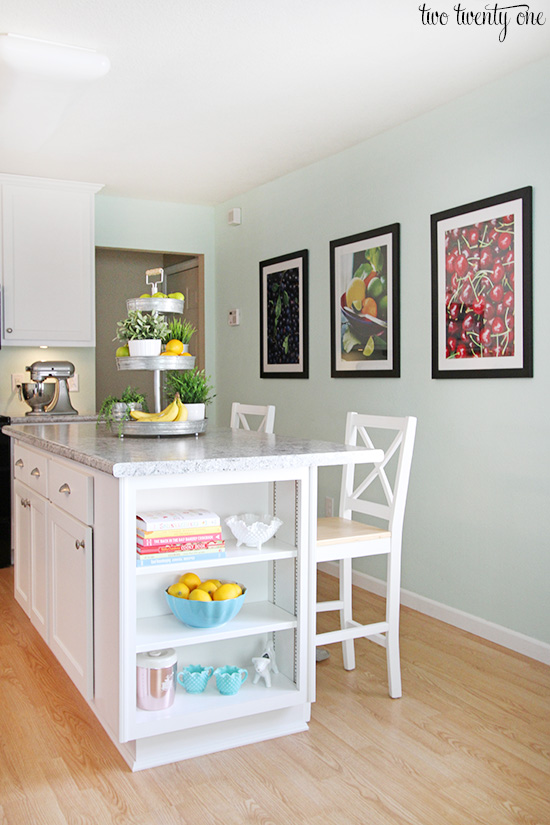 We went with laminate for a couple reasons. The major reason was because we live in a starter home neighborhood. I'm guessing 95% of the houses in our neighborhood have laminate countertops. And to check my guess, the other night I went online and looked at about 15 homes that have sold in the last few years in our neighborhood and all but one had laminate countertops. So I feel like if we had splurged on solid surface countertops, we would make a small fraction back of what we paid for them whenever we sell this house.
With that said, laminate is a fraction of the cost of solid surface countertops. We paid $1,400 for about 55 square feet of countertop space (that includes labor). So the laminate came out around $26 per square foot, which is a lot more economical than $100-$225 per square foot for granite.
The countertops have held up amazingly well over the past year. To be honest, they still look brand new.
We haven't had any issues with staining. In fact, I'm surprised by how stain resistant it is. If I spilled a little red wine or dropped some grape jelly on our old laminate countertops, it would take a couple days for the stains to come out. But with our new countertops, everything wipes up with no trace of a stain.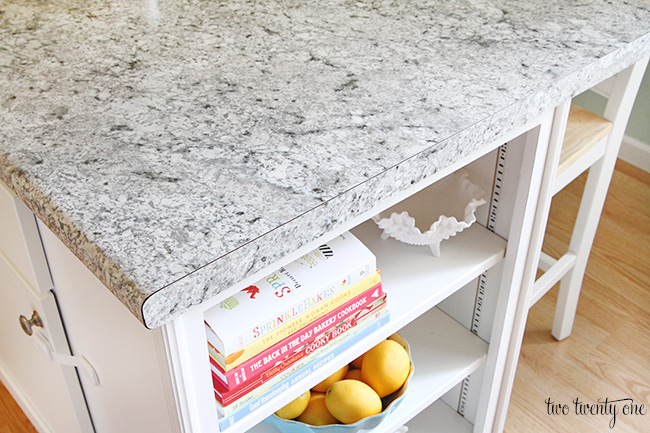 What's nice about the Formica Argento Romano pattern is that it hides basically everything.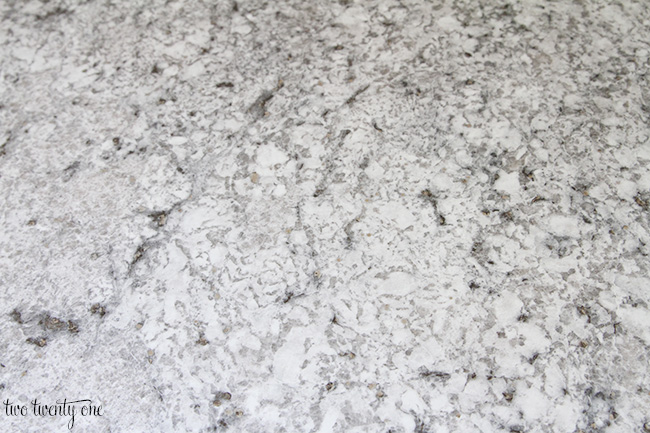 We always use cutting boards, but I did have a knife slip once while I was chopping vegetables. It made two tiny scratches that no one can see unless they're looking for them.
You can see the scratches in the photo below. I used a 1 inch pin for scale.
And speaking of hiding everything. I put the pin down and couldn't find it for a few seconds. I had to eventually get eye level with the countertop to see where it was. But I take that as a pro vs a con.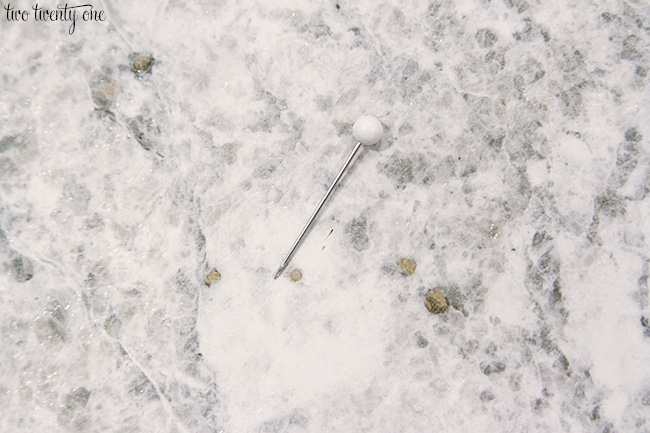 At least twice a month, I like to polish the countertops. It leaves them looking shiny and feeling smooth.
I also use this stuff on our laminate bathroom countertops.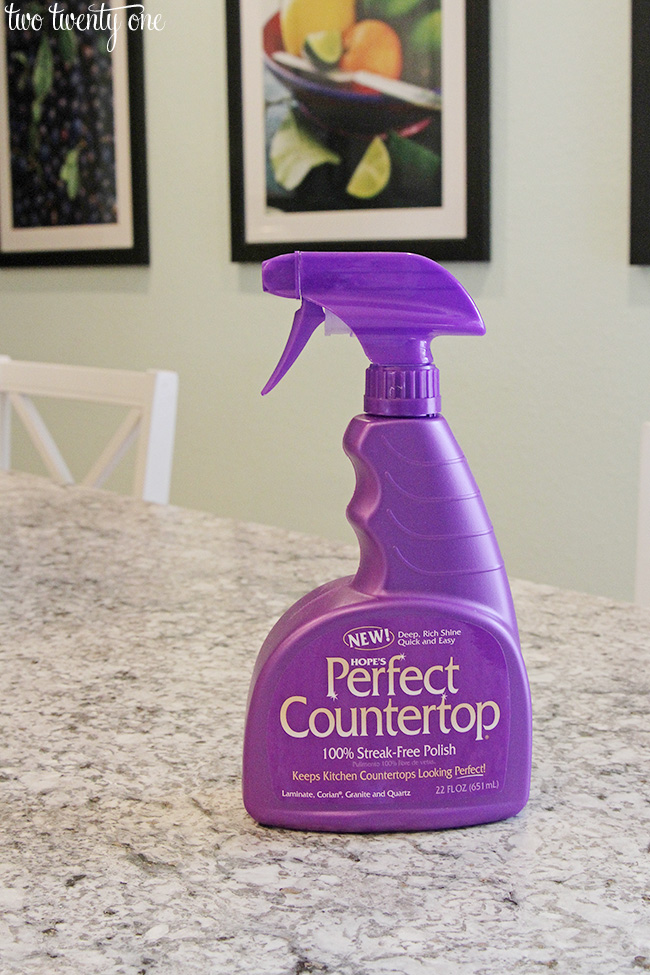 The edges have held up well. No chips, scratches, or dings to report.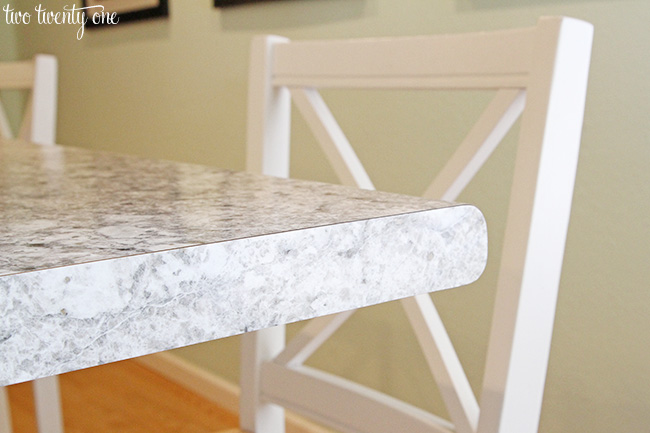 I'm still really happy with the E2000 edge we went with. It helps give the appearance that the laminate is real stone.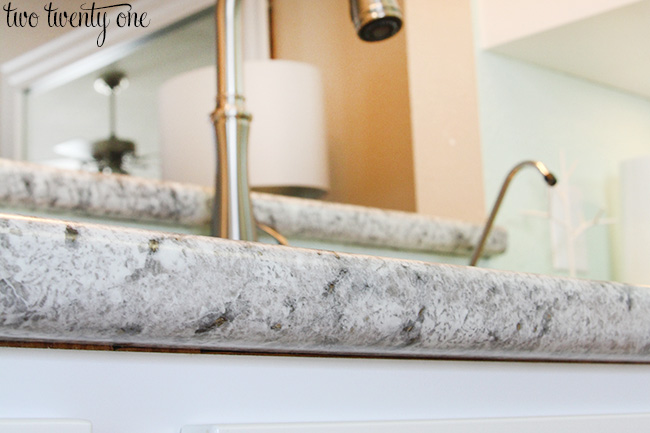 I've had some questions about the etching, like if food gets stuck in the etching. The answer is no, we haven't had a problem with food getting stuck in the etching. And I prefer the etching because it gives the countertops a more realistic look.
You can see the etching in the light spots.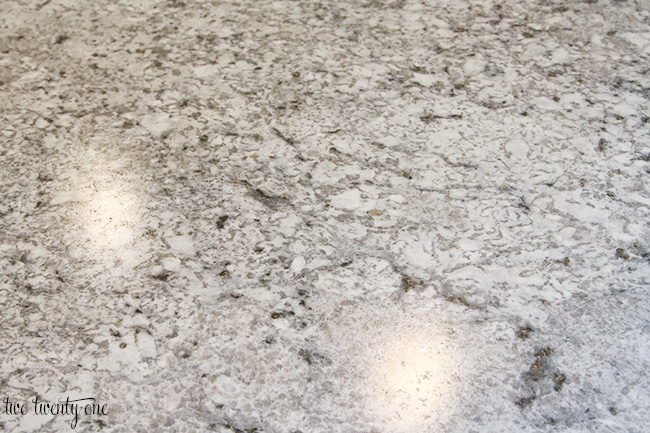 We used clear silicone caulk around the edges of our kitchen sink to keep water from seeping in. While we were at it, we also used the clear silicone to seal the space between the countertop and the wall. We wanted to make sure that in case a glass of water spilled or some water worked it's way behind the sink while doing dishes the water wouldn't pour down the crack and into the cabinets. The silicone has held up well.
After having the countertops installed we talked about a backsplash. While I'd like to put one in, it's not currently at the top of our list. If we do end up putting one in, I'd probably go basic and do a white subway tile with gray grout.
Yes, I still have the tiered stand. I did a post on tiered stands, which you can find here.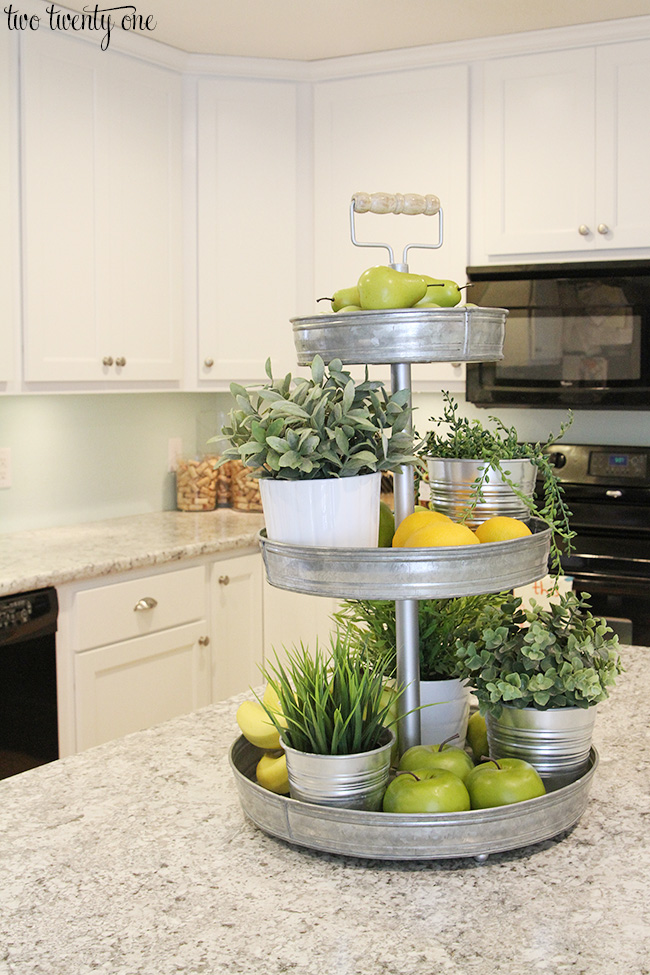 In conclusion, I'm still very happy with our choice with laminate and with the Argento Romano design.