Today's post isn't anything groundbreaking, but since I like seeing how others organize their kitchen, I thought I'd share a little corner of ours. I've shared how I organize the little cabinet next to our oven, which houses all of my baking sheets and cooling racks. So if you guys enjoy this kitchen cabinet and drawer organization topic, let me know because I wouldn't mind sharing how I organize other parts of our kitchen.
When our kitchen cabinets were renovated I had to empty every single cabinet and drawer in our kitchen. While this was obviously a chore (mostly because we have so many cabinets and drawers), it was blessing in disguise because I was able to better map out our kitchen organization.
One area I tackled was our coffee station. We have a coffee station because Brad isn't lucky enough to be married to a woman who supports spending $3-4 at Starbucks every morning. Seriously, do the math–$4 a day, 5 days a week, 50 weeks a year. That's $1,000 A YEAR! Sorry, I don't play that game. I'm perfectly fine spending a little extra dough on Dunkin Donuts coffee (~$6.99 per bag) in order for him to make coffee at home.
Our coffee maker, which is plugged into our electric/USB outlet, sits on a small area of countertop to the left of our kitchen sink and to the right of our fridge. We used to store all the coffee necessities (coffee, filters, travel mugs) in the drinkware cabinet above the coffee maker. But since it's only a single cabinet, we were running out of space. So I decided to put the drawer, which was a former junk drawer, under the coffee maker to use.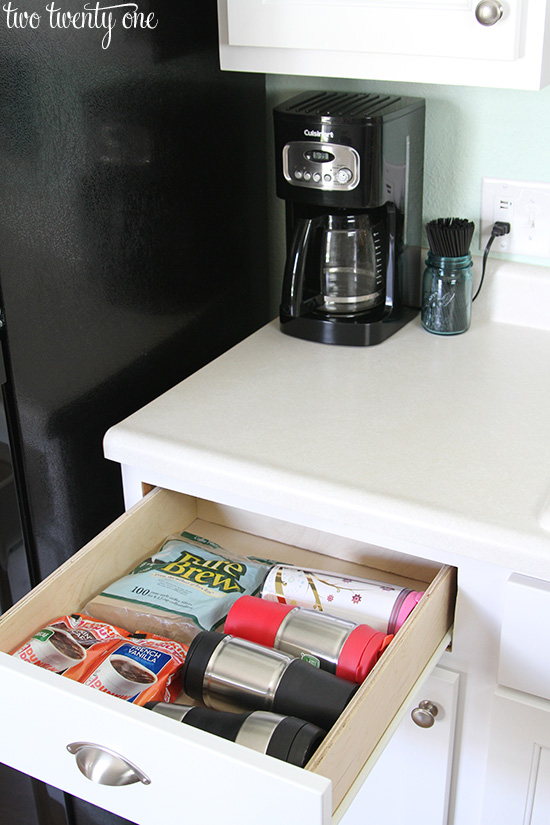 The coffee filters, coffee, and travel mugs fit nicely in the drawer. I even have space to stock up on extra coffee and put it in the back of the drawer.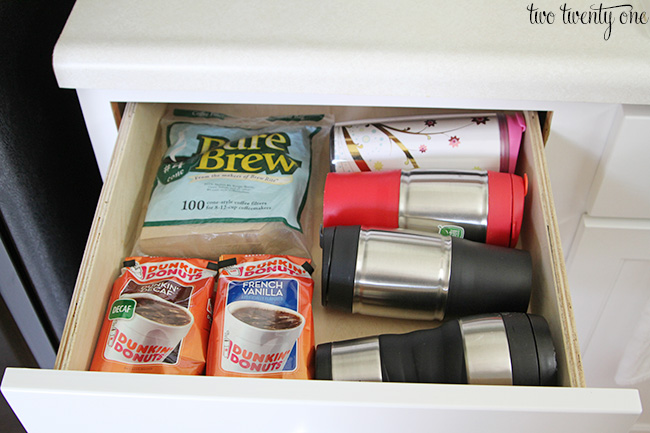 It was a rare occasion when I took these photos because I always have extra Dunkin Donuts French Vanilla coffee packages so Brad never runs out of his liquid crack for his workday mornings.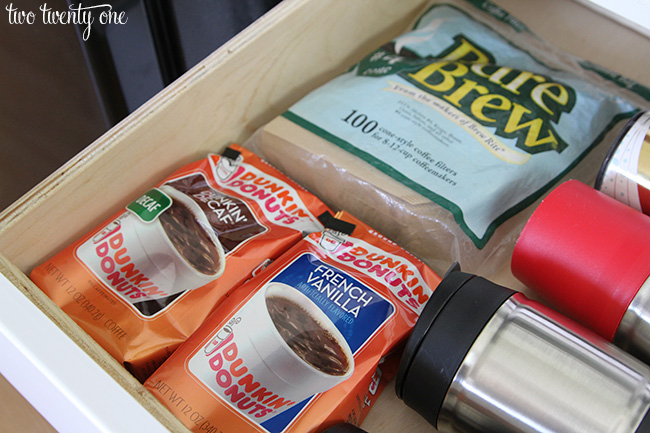 I love how the travel mugs fit in the drawer. Now they aren't taking up precious real estate in the drinkware cabinet above.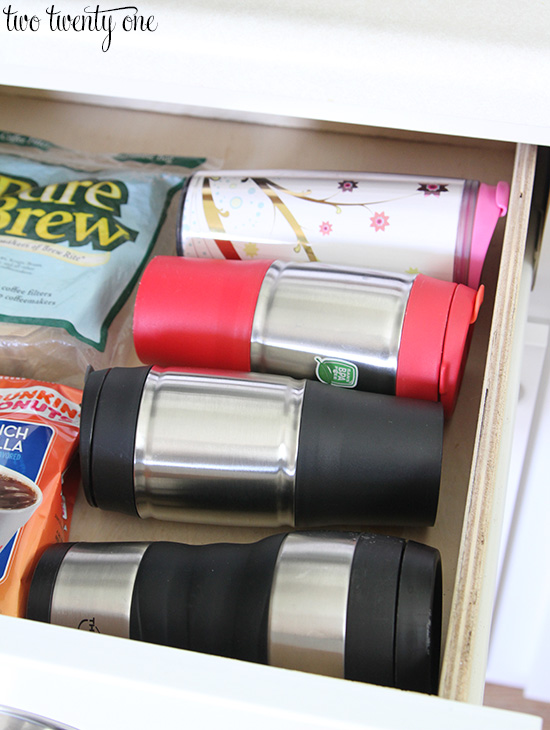 Brad puts local honey in his coffee every morning– we've heard it helps with allergies and he has wicked allergies. Since the honey will leak all over the drawer if we lay it down, we store it in the cabinet above the coffee station.
Interested in seeing where the creamer lives in our fridge? See here.
What do you think about the coffee drawer?
How do you organize your coffee supplies?